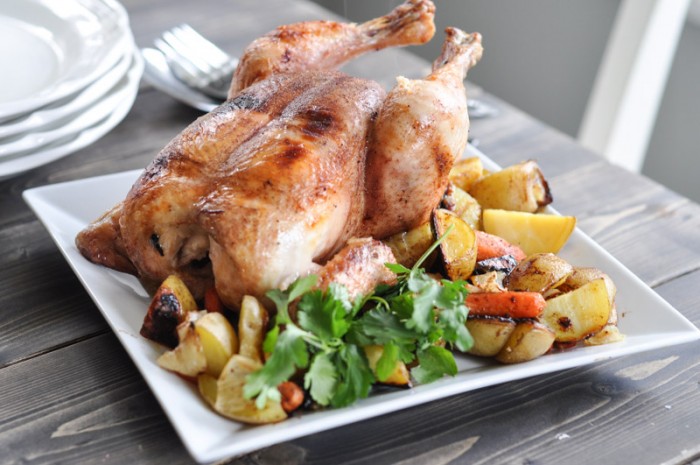 I have a few recipes that I consider "no-fail". I use them for dinner parties, for Sunday nights, and for times when I just don't feel like being experimental.
I want my potatoes and gravy, and I want them to be good.
One of my favourite go-to recipes for having people over is my no-fail roast chicken. You may notice that the chicken breast has a couple of bumps on it.
It's because I roast it upside down for half of its cooking time – it's the indents from the rack.
But aesthetics aside, roasting the chicken upside down makes for a really moist bird. It's a compromise I'm willing to make.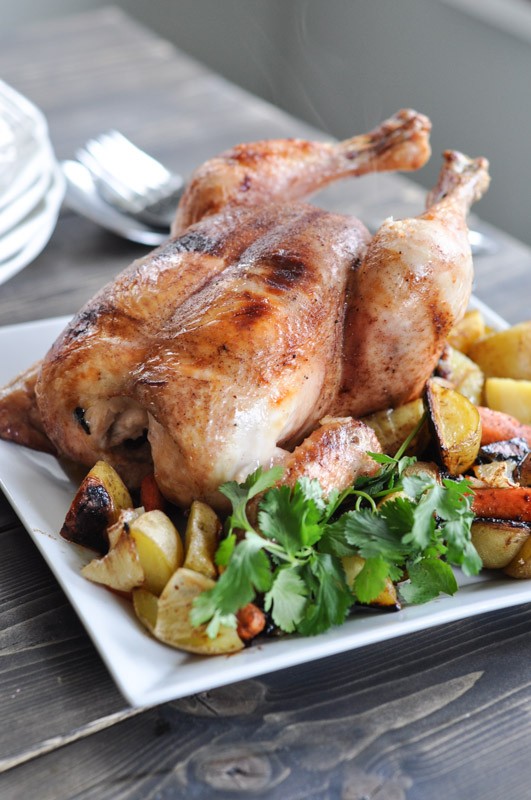 I like to roast the chicken with the veggies – mainly because it makes them delicious. And because the rub I put on the chicken is made up of cinnamon, salt and sugar – the veggies taste a little bit like autumn. Add some gravy and you can't help yourself from gobbling them down.
A little tip – when you're flipping the bird over halfway through cooking time, flip the veggies too. They'll get blackened on one side from the sugar rub falling below. Mixing them up prevents one side from getting super dark.
No-Fail Roast Chicken Recipe
Ingredients
1 roasting chicken
potatoes, carrot, onions all washed and chopped into 1" or less chunks
1/3 cup sugar
1/8 cup salt
2 tbsp cinnamon
Instructions
Preheat the oven to 500 degrees (yes, that's right!)
Wash and dry the chicken and place it on a rack in a large roasting pan
Mix the sugar, salt and cinnamon in a bowl
Rub the chicken with the mixture all over its body and in the cavity of the chicken
Place it back on the rack UPSIDE DOWN
Cook the chicken in the 500 degree oven for only 15 minutes - the skin will blacken - that's okay!
Turn the oven down to 450 degrees for another 15 minutes
Take out the pan and flip the chicken over breast-side up; stir the vegetables
Cook the chicken at 425 degrees for 30 more minutes - You will want to watch your bird here. If it's starting to brown too quickly, pop a foil tent on top of it.
Remove from oven, check for doneness with a thermometer
Serve with gravy!
https://www.suburble.com/2015/04/no-fail-roast-chicken-recipe.html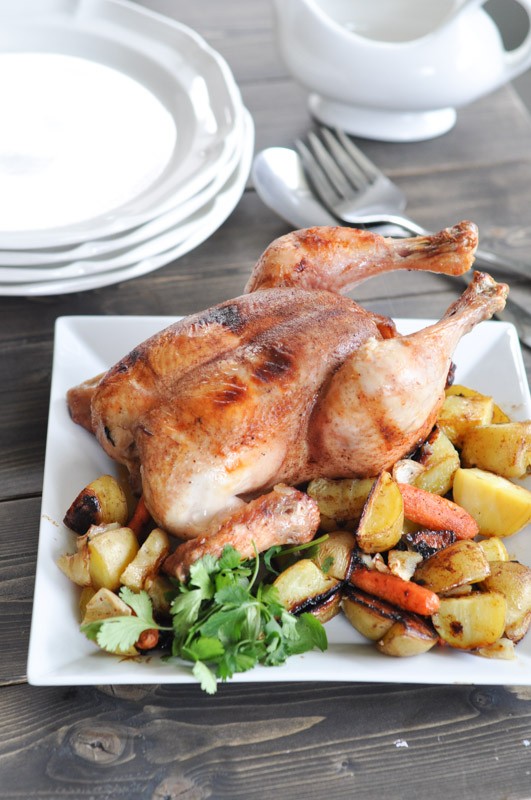 I was pretending to be Jamie Oliver when I made this meal, and was whizzing around the kitchen all, "I'm crushing it!" – then, I made a cardinal kitchen error. I grabbed a handle of a pot on the gas cooktop.
And instantly scorched my fingers.
It was a burn that I couldn't bounce back from. I held my fingers under the cool water and cursed myself. Mr. Suburble had to leap up and finish off the dinner prep, and the girls stood there, horrified.
Lila – our Food Network aficionado and future little chef – was trembling. I don't think she had realized just how hot the oven is. She had asked me just that night, "How old do I have to be before I can make you dinner?"
I think we tacked on an extra year or two onto the original age I said.
Don't be a faux-Jamie and forget your oven mitts, friends. You'll end up with blistered fingers and a wounded ego.
But try this chicken dish! It's a good one!