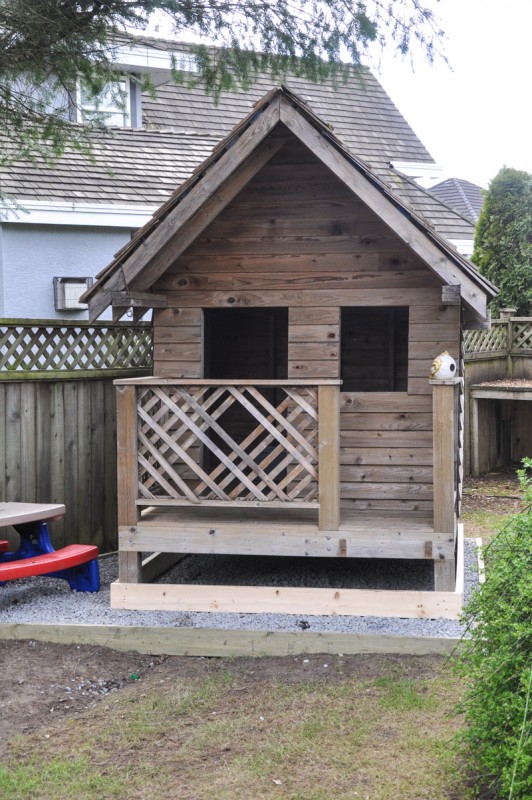 We're doing it again, folks.
And I couldn't be more excited.
At our last house, we had a playhouse that was very dear to my heart. It started as a slightly beaten up, older-model – previously loved by a little girl who had grown too old for it.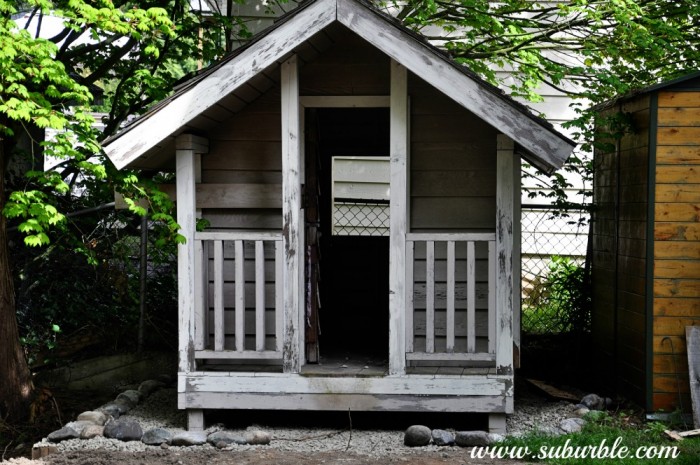 And after four hours of sanding, painting, and Mr. Suburble coming outside for the umpteenth time saying, "Are you done YET!?!?" (the girls were just two and four years old at the time, he was probably sick of being the Goldfish Getter)…
I was happy.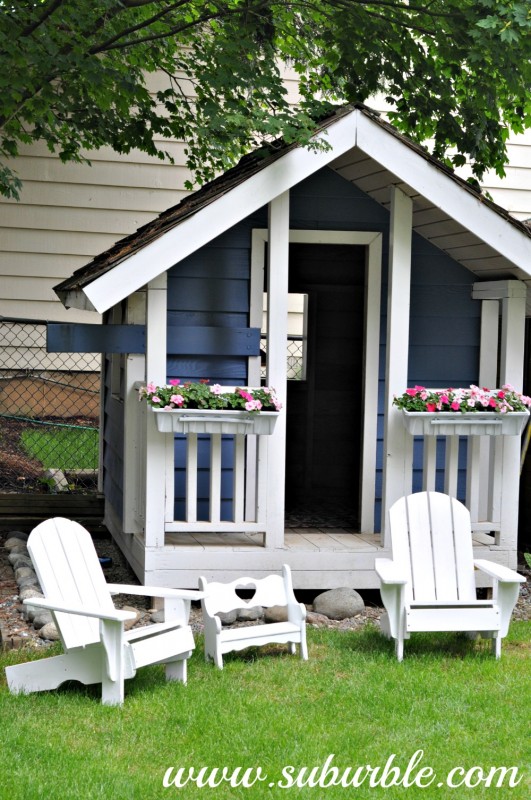 You can read all about it way back here – in the beginning days of the blog. And here is where I shared how I hacked these Home Depot flower boxes so that they would work on the railing.
I was so sad to leave that playhouse. But then, one day, Mr. Suburble got a call from a guy at work.
"Hey, Suburbs, we've got a playhouse just sitting here on an empty lot. Did you want it?"
Ummm… yes we do. We want it very much.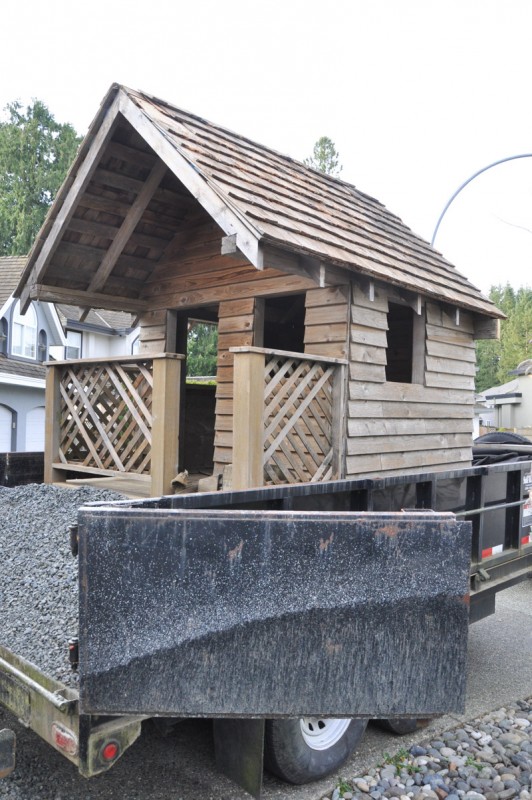 So it marched its butt right onto a trailer and drove itself over to our house. And it brought some gravel, too, because it was a thoughtful playhouse and knew that it should bring a peace offering.
As it was going to require a lot of creativity getting the hulking thing into our backyard.
See, our new lot is shaped like a pie-piece. And this means that unlike our old lot, which was wide and open, this one doesn't have much space on either side of it.
Definitely not a giant playhouse-shaped space.
We debated taking the playhouse apart, but that seemed like too much work and way too much potential for destroying everything – especially my dreams of playing Playhouse Decorator.
Some minds might see that house and think, "Oh yeah, that would come apart in six pieces."
I look at it and think, "Ugh. Too hard. Leave it on the driveway. It will be a driveway playhouse…. that could be a thing, right?"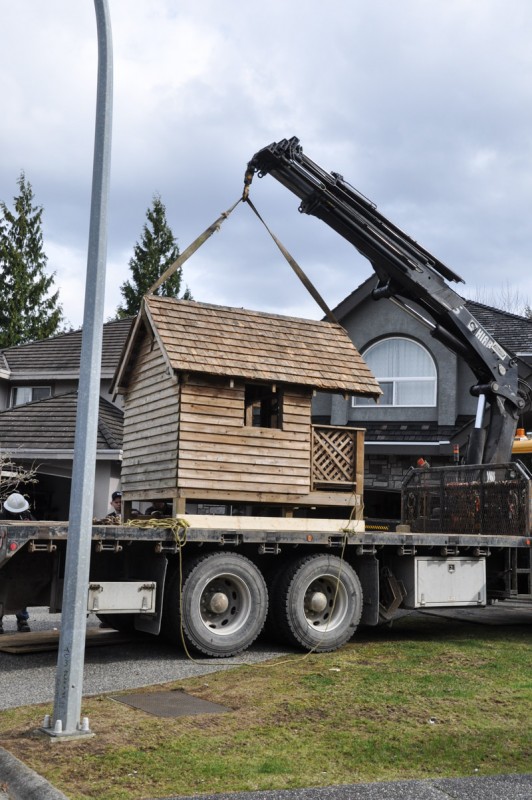 Thankfully, we know people that don't believe in driveway playhouses. They believe in cranes.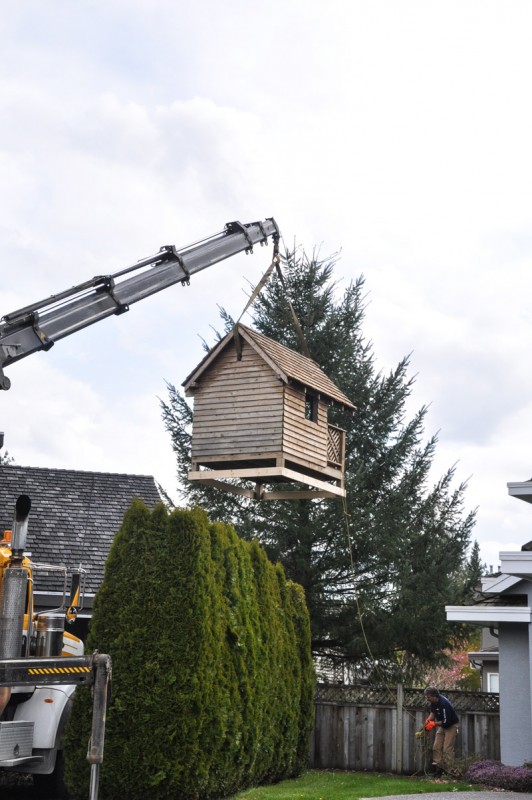 You can imagine the crowd that was watching from the road. I was one of them…. snapping pictures and mumbling, "Oh please don't fall on the house… please don't…"
But it didn't.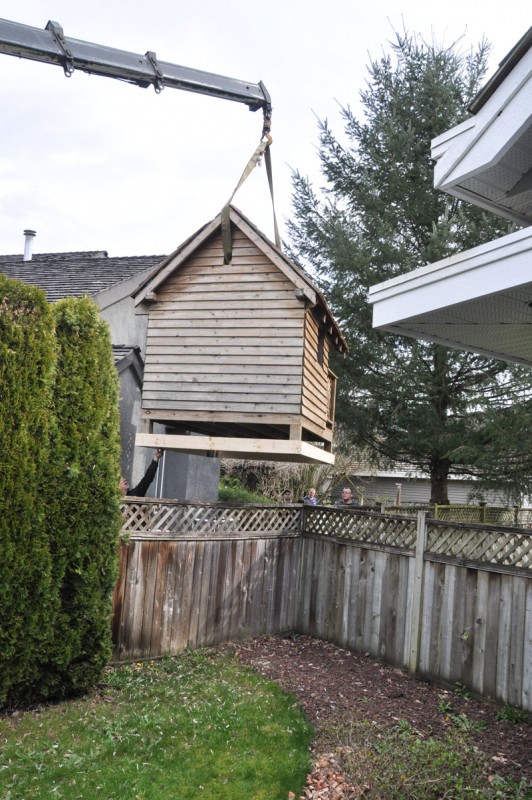 The boys used their crazy crane and rope skills to guide the playhouse into the little space between the fences….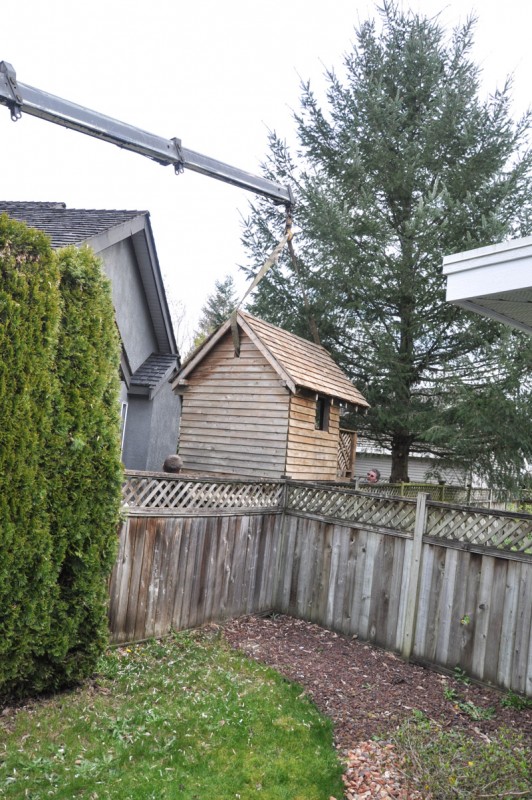 … and nestle it into its new corner.
Hooray! Thank goodness for skilled friends who will spend their holiday mornings helping us take on crazy endeavours like this.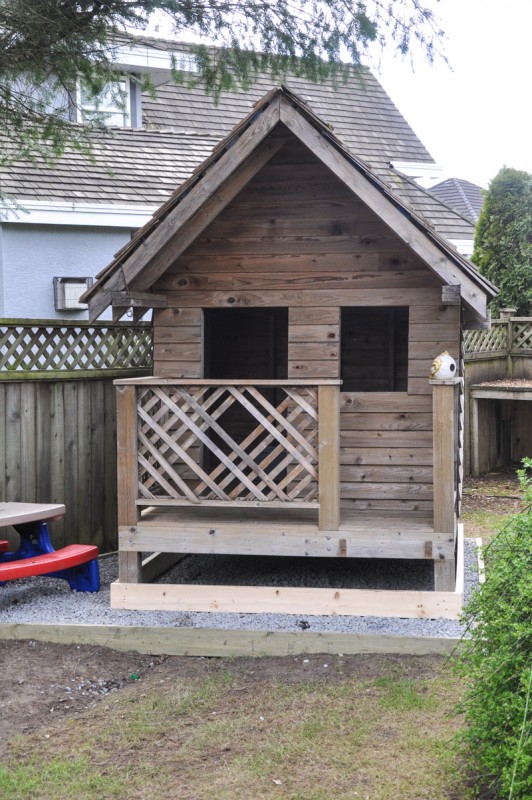 Welcome home, little playhouse.
Let the makeover BEGIN!
It is taking everything in me to not put some sort of RuPaul meme here right now. This little house is a diamond in the rough. I cannot WAIT to work on it!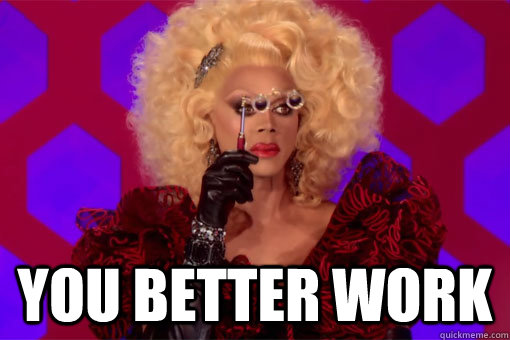 Sorry. Couldn't help it.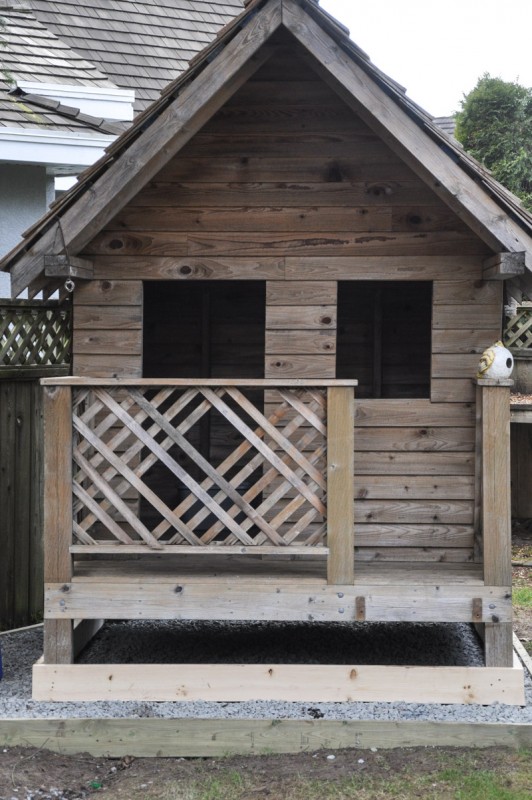 The playhouse has great bones – and is just waiting for a bit of love to freshen it up.
Of course, the snaggled-tooth lattice has to be one of the first repairs. Also, the weird no-stairs situation… that needs some attention.
I want to paint, and find some shutters, and get some flower boxes… and basically have a decorating attack all over this thing.
But first… let's talk colours. What do you see when you look at this beast? Blues? Greens? Greys?
I'm curious to see what others think.

I'll save my opinions for the end. I don't want to sway you.