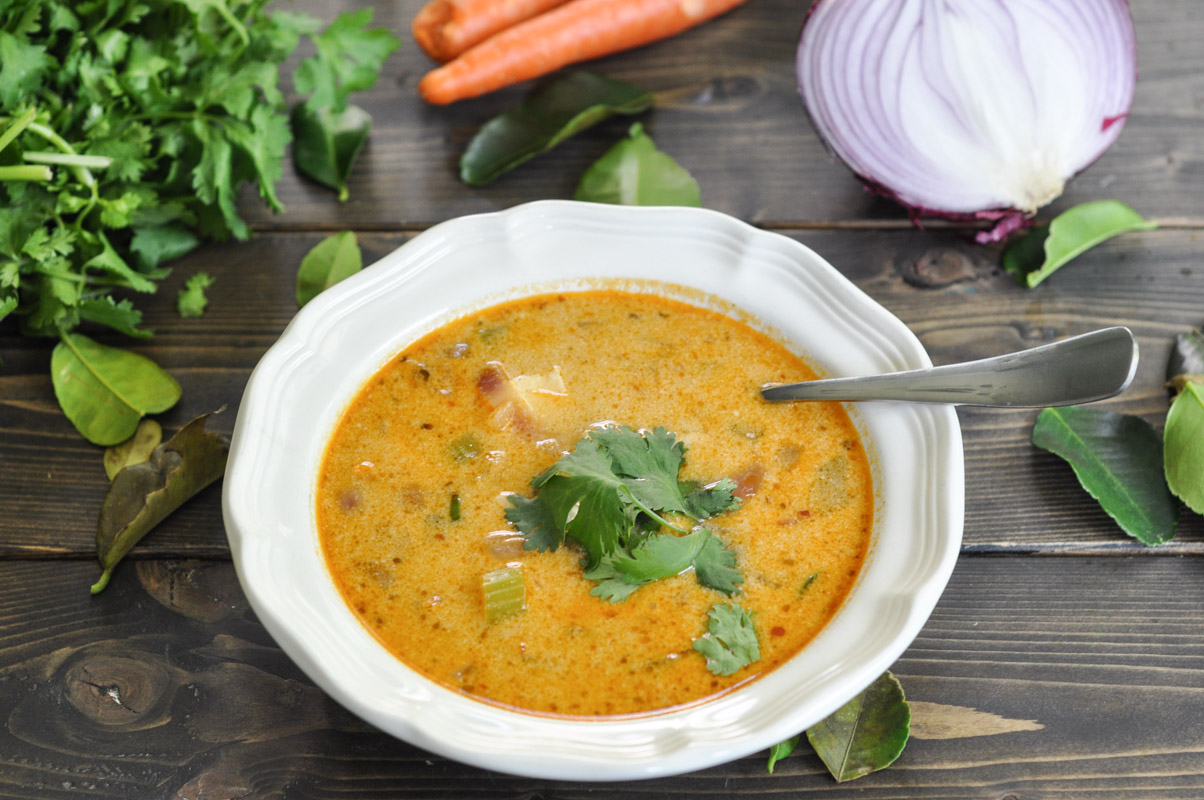 This past week, I took a hands-on Thai cooking class at a local restaurant.
I had been looking forward to this for weeks, and I was not disappointed. After three hours of playing with ingredients and tasting dishes, I felt inspired and empowered as I left the restaurant.
I knew that I had to make a Thai soup again.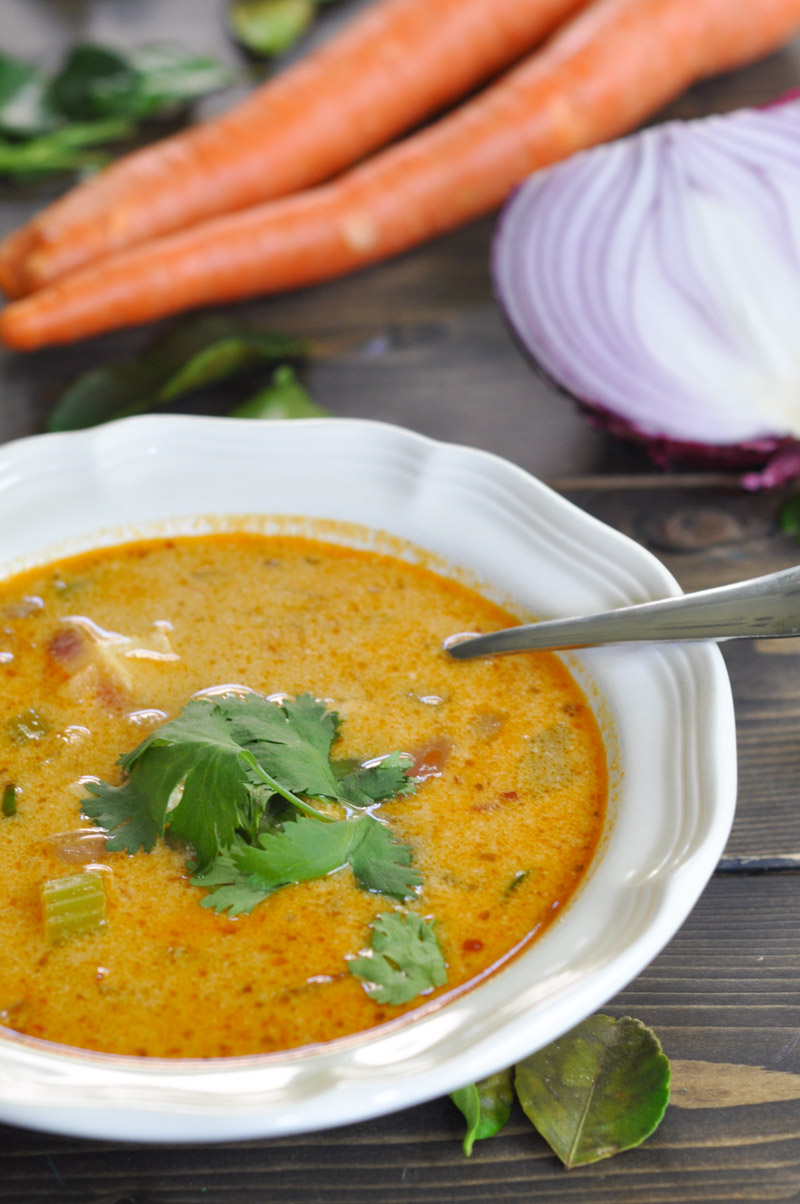 I had naively associated Thai flavours with noodle dishes or cool summer salads. I hadn't thought about how delicious the heat of red curry and the tangy coconutty flavours would be as a lunchtime soup.
I headed to the pantry and grabbed a few staples…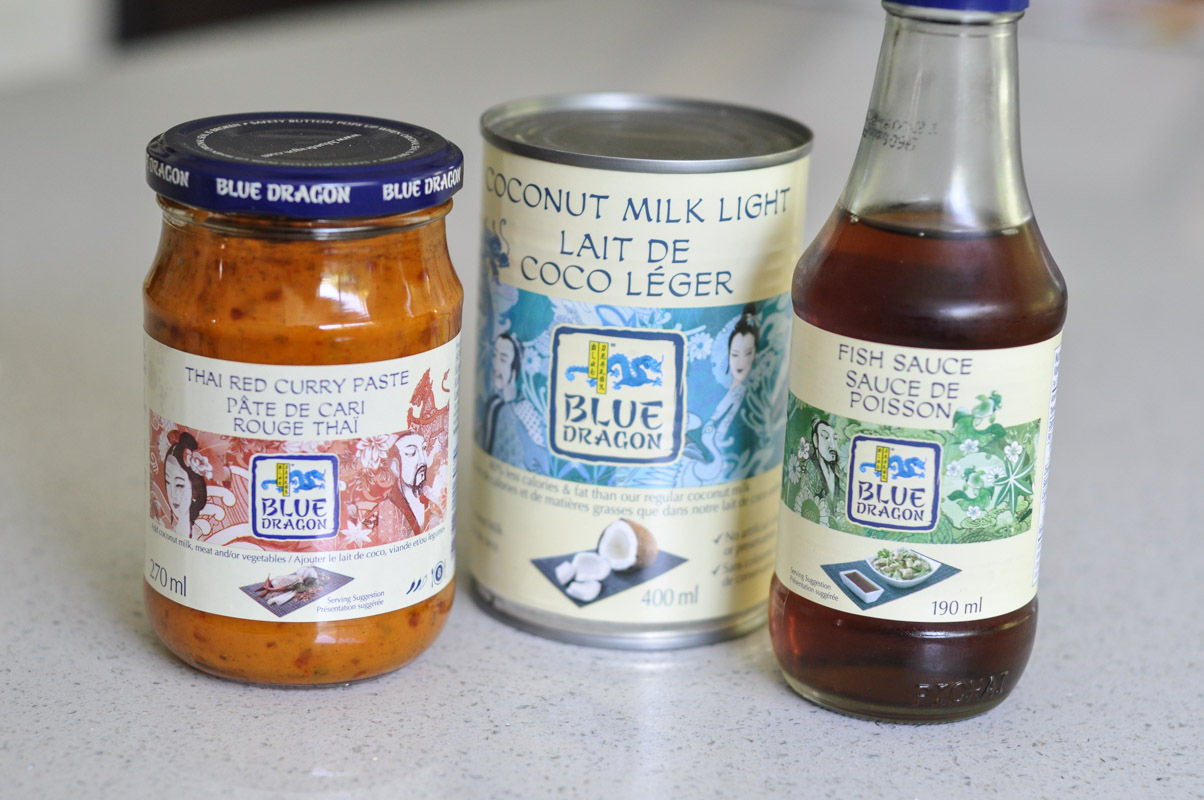 I had Blue Dragon's Thai Red Curry Paste, Light Coconut Milk, and Fish Sauce – the latter I am learning to appreciate in my Thai adventures.
I started with two tablespoons of Red Curry paste, and I will say – it brings some heat. If you prefer a milder curry flavour – one tablespoon might get you the flavour you're after. The Fish Sauce adds a salty flavour to the soup. Add it slowly and taste it frequently. I prefer my curry to be a bit spicy and sweet, whereas some people seek the combination of the heat and the savoury.
Thai Red Curry Soup with Chicken
Ingredients
2 tablespoons Blue Dragon Thai Red Curry Paste
1 can Blue Dragon Light Coconut Milk
1-2 tsp Blue Dragon Fish Sauce
2 cups chicken broth
1 lb diced boneless, skinless chicken breast
2 tbsp olive oil
3 cloves of garlic, finely chopped
1/2 a red onion, diced
2 carrots, peeled and diced
2 stalks of celery, diced
1 tsp of white sugar (optional)
Thinly sliced lime leaves (optional)
Cilantro for garnish
Instructions
In a soup pot, heat up 1 tbsp of olive oil and then add all diced vegetables - sautee for five minutes
Once vegetables begin to get soft, add curry paste and continue to sautee until very fragrant
Add coconut milk and broth - stir while bringing to a boil over medium heat
Turn down to a simmer and add fish sauce to taste - here is where I add a couple of pinches of sugar, simply because I like the curry to be a bit sweet - it's up to you.
In a separate frying pan, add the other tbsp of olive oil and heat over medium - add chicken and sautee until cooked through
Once chicken is cooked through, add to the soup and continue to simmer for 3-4 minutes
Add lime leaves - if you like - in the last two-three minutes of simmering
Serve with cilantro as a garnish
https://www.suburble.com/2015/08/thai-red-curry-soup-with-chicken.html
I gobbled down this soup for lunch, and I can see it being a solid vegetarian dish, too, if you didn't want to add the chicken.
This soup was a quick and easy lunch creation, and had enough left over for dinner or a meal for the next day. Add whatever is lurking in the crisper in your fridge. It's a great soup for all year 'round!
Looking for more spicy recipes? Visit Blue Dragon on their website, their Facebook page, or on Twitter!
I am part of the Blue Dragon Canada ambassador program and I receive special perks as part of my affiliation with this group. The opinions on this blog are my own.