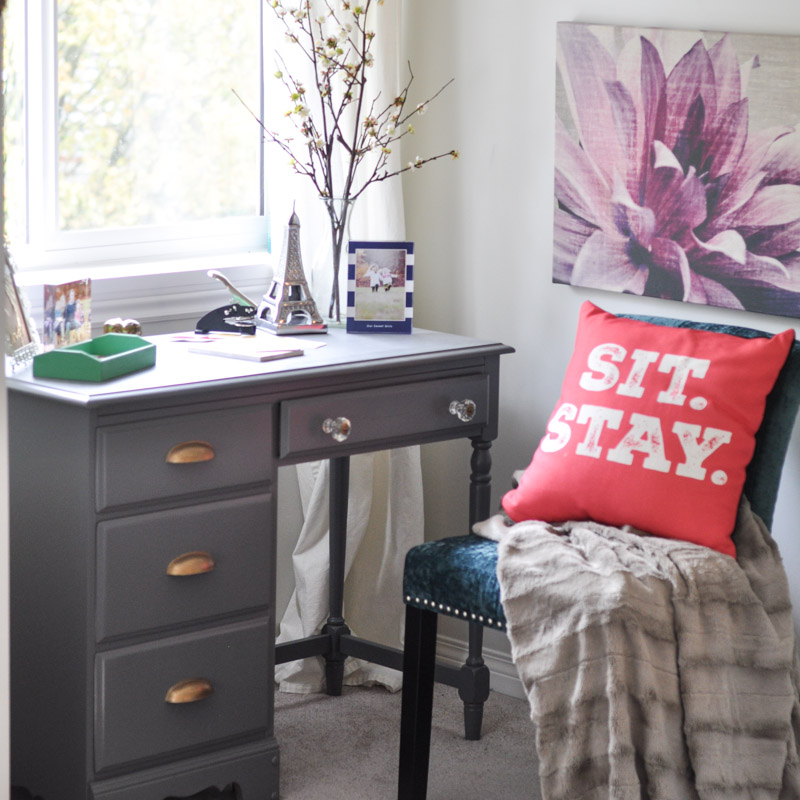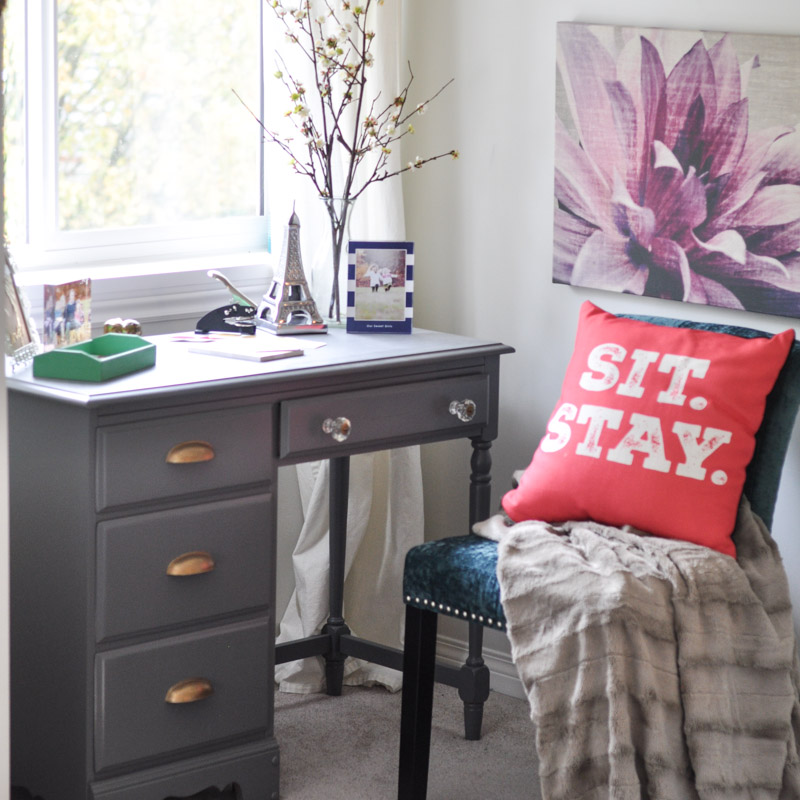 There is a corner of our master bedroom that I've been quietly working on for a while now. It started with Mr. Suburble hauling home a neglected little desk from decades ago..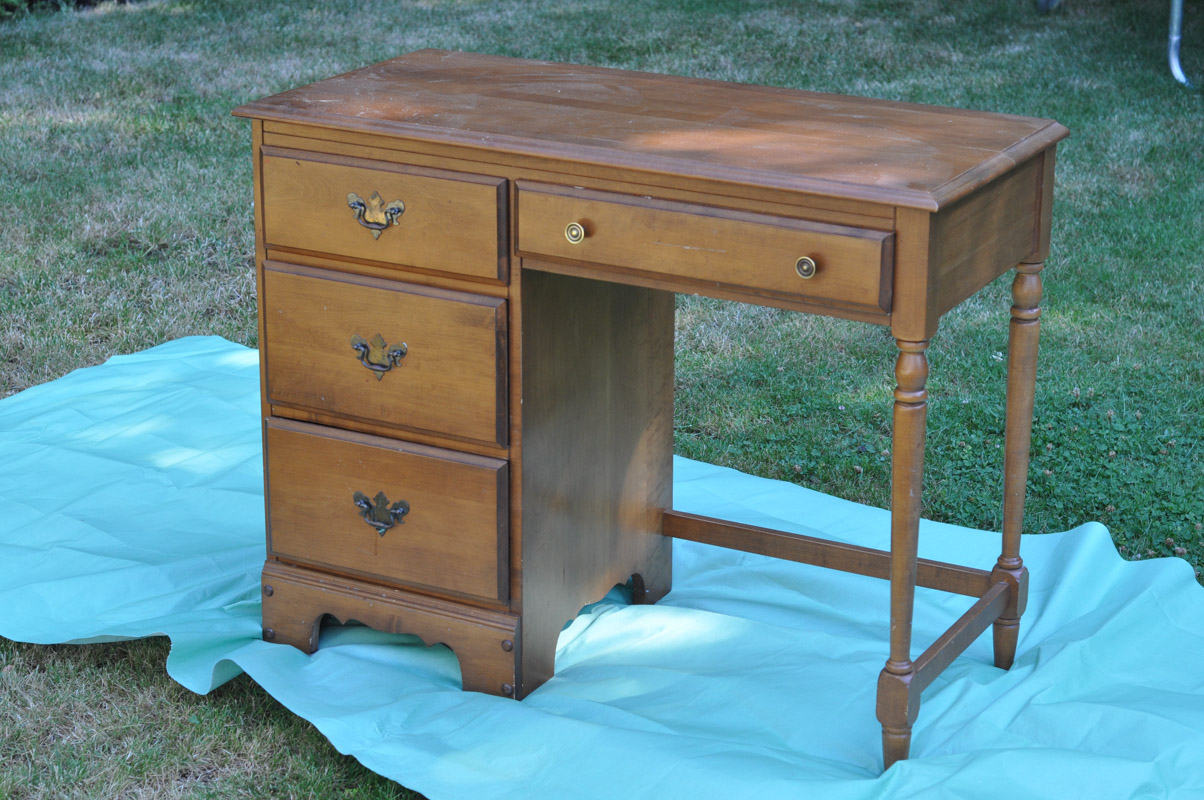 A coat of paint and some new hardware went a long way with this little diamond in the rough.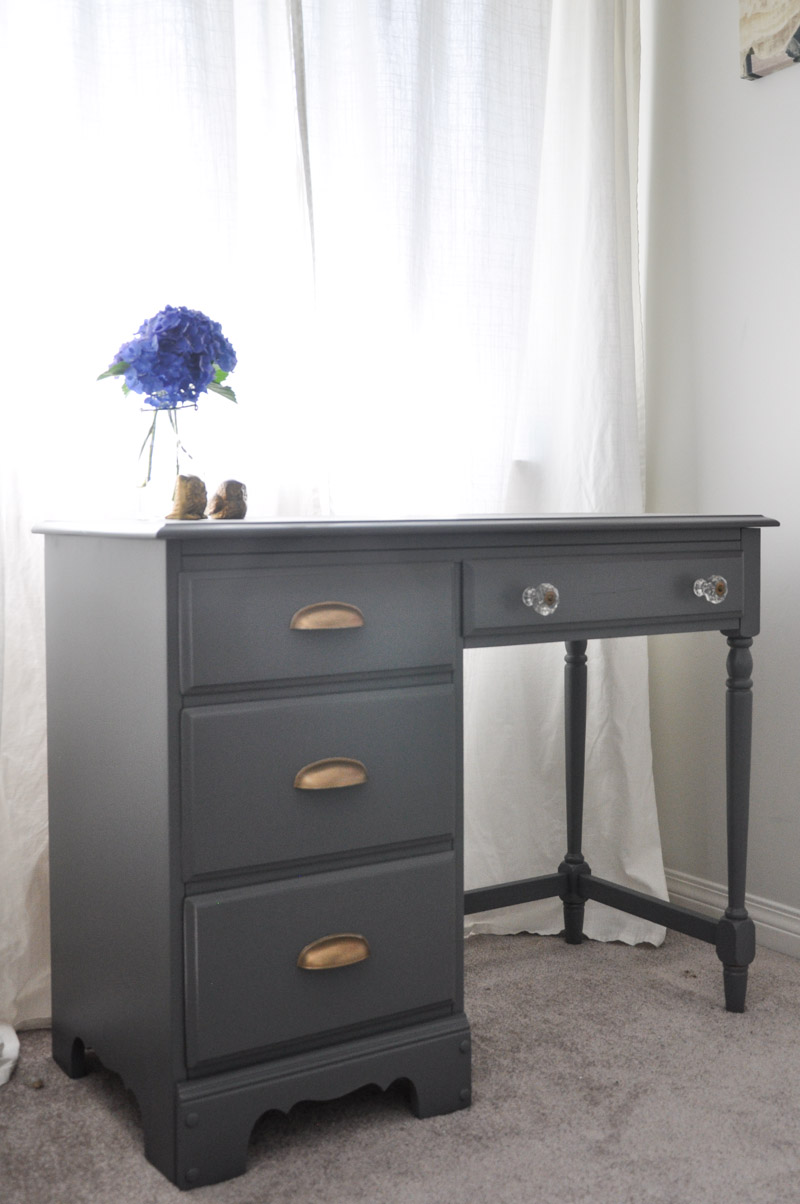 I envisioned sitting there in quiet parts of the day – or the night – writing at my laptop. Mr. Suburble has a terrible habit of not wanting to go to bed until I do. By being able to work upstairs, this way he can get some sleep – and I can get some work done.
First, I had to find the chair.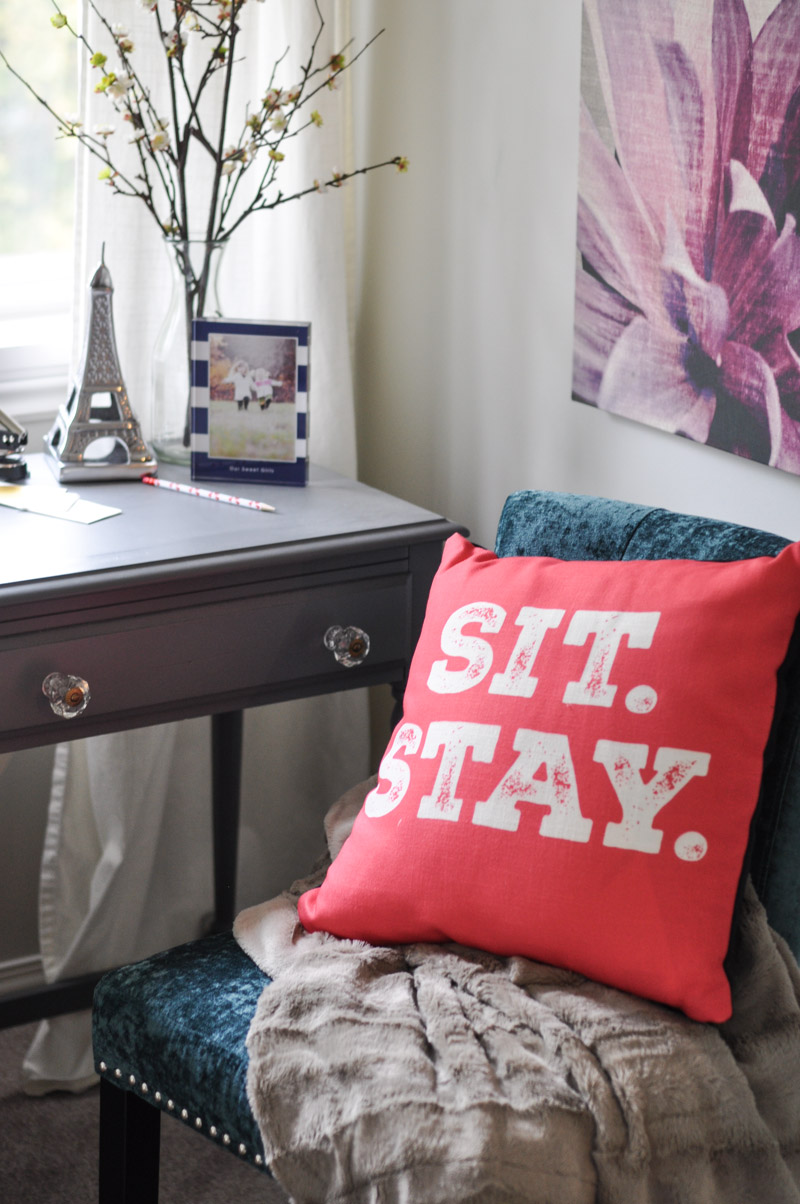 I found this blue upholstered number at Home Sense. It has a nailhead trim and is comfortable to sit in. It's perfect for perching upon to write, read, or type away.
I love the coral "Sit. Stay" pillow. It's an invitation to the little nook.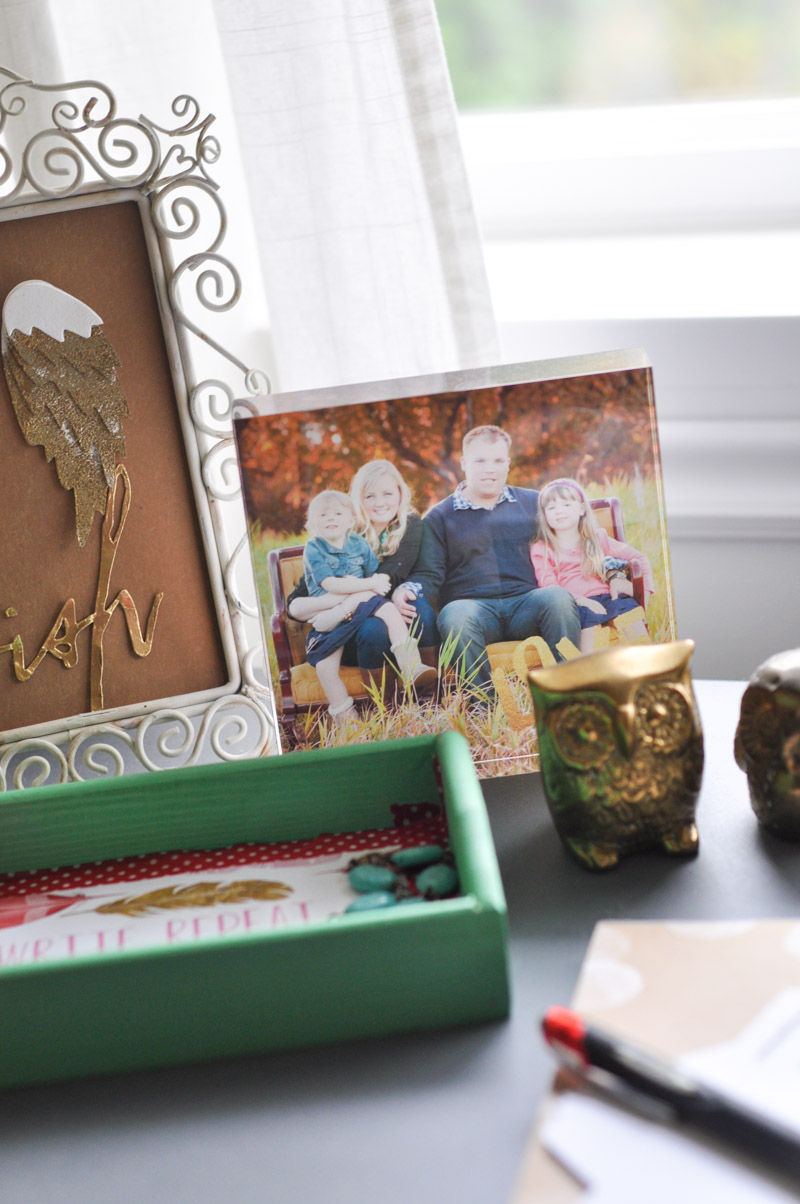 A big problem for me on desktops is that I have a bunch of little bits and bobs that seem to spread around the work area. A tray keeps everything together and keeps clutter in one place.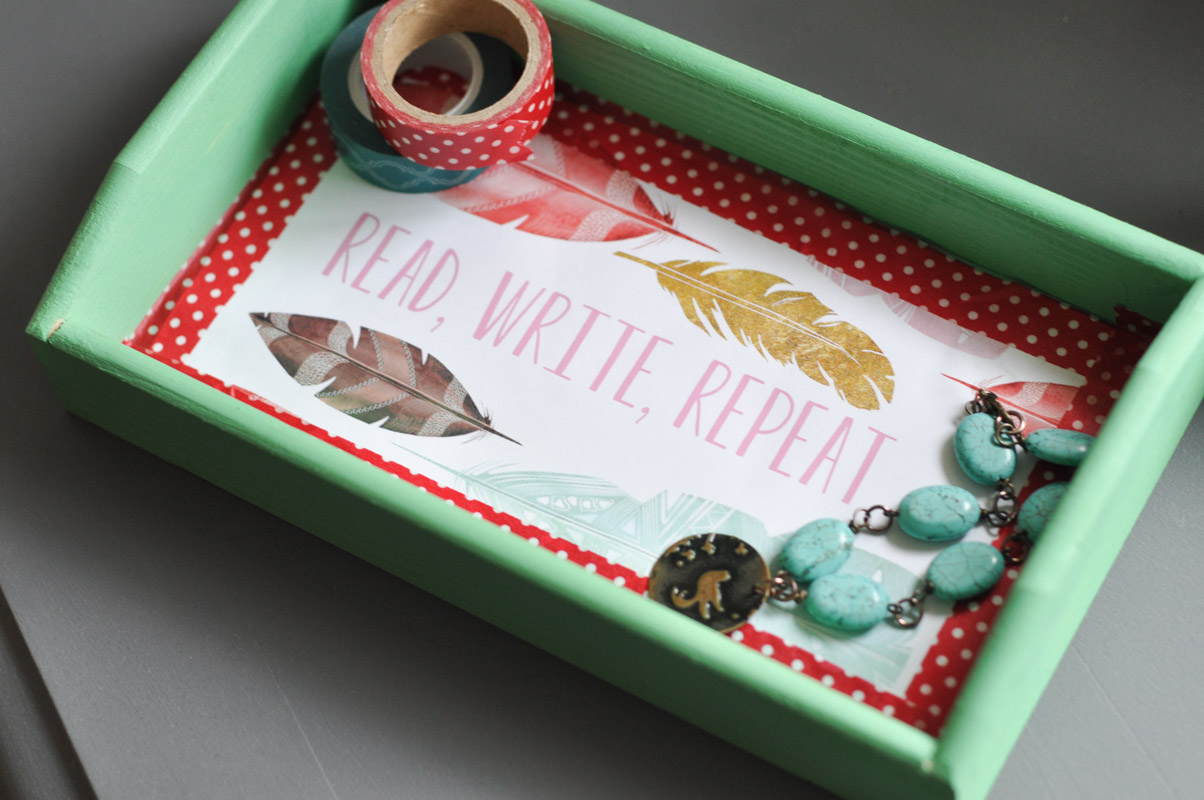 This little tray was a quick project with just a lick of paint and some personalized wrapping paper.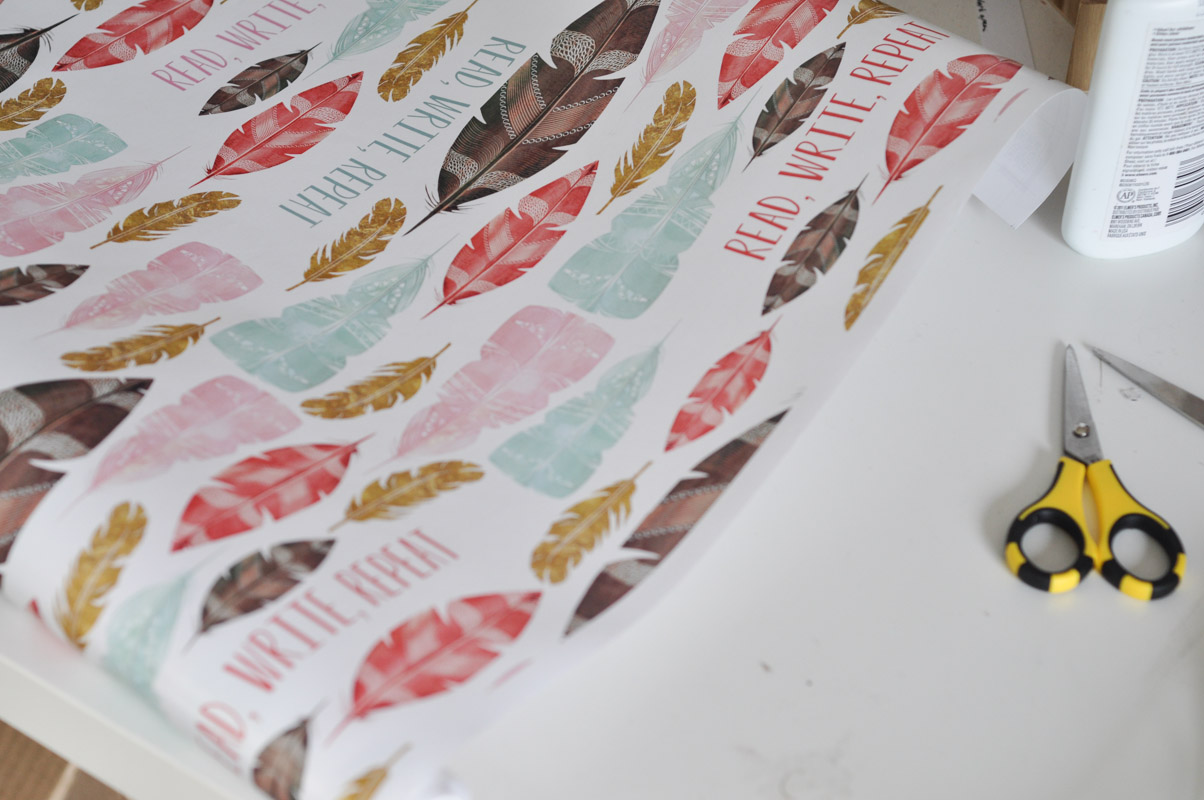 I created this gorgeous feather-print wrapping paper on the Tiny Prints website. "Read, Write, Repeat" is something that I'm trying to remind myself of this year.
It was in Stephen King's "On Writing" where I read that a writer cannot be good unless he or she reads. This little phrase is a reminder that while it's great to want to create all of the time, it's important to also make time to read.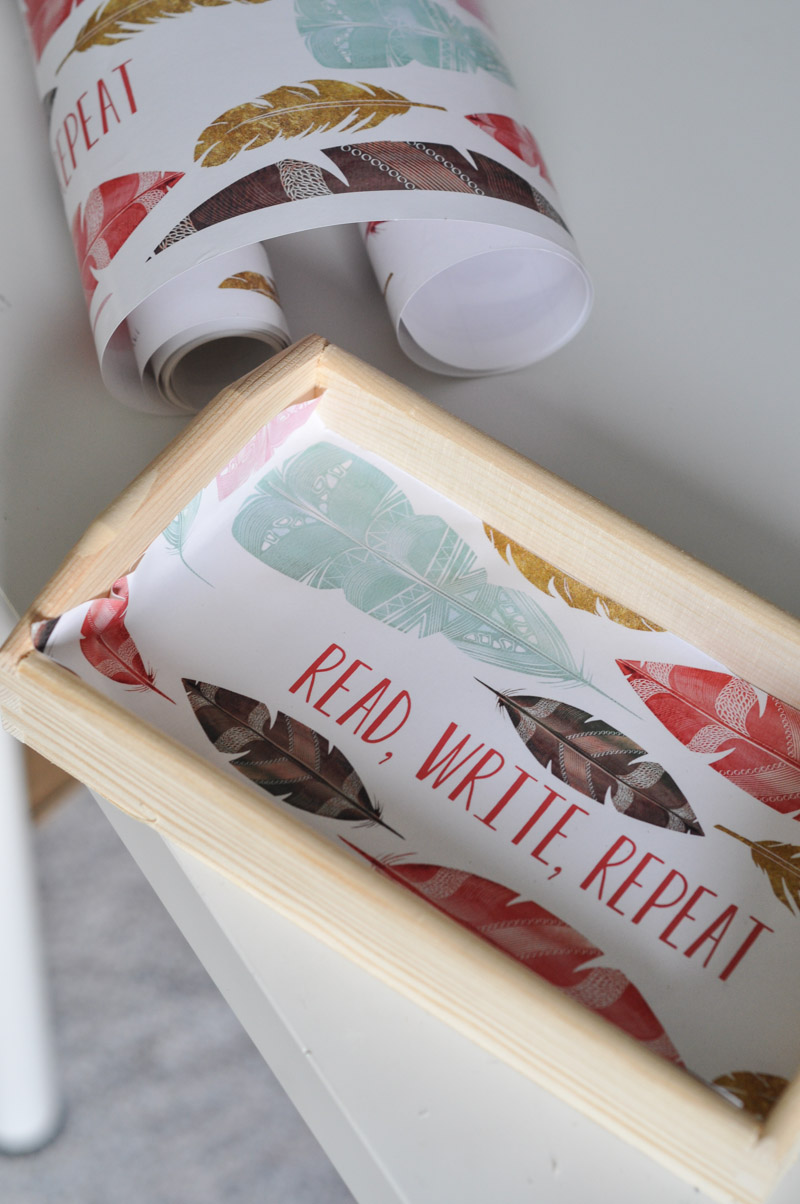 I cut out a portion of the paper and fit it into an unfinished wooden tray.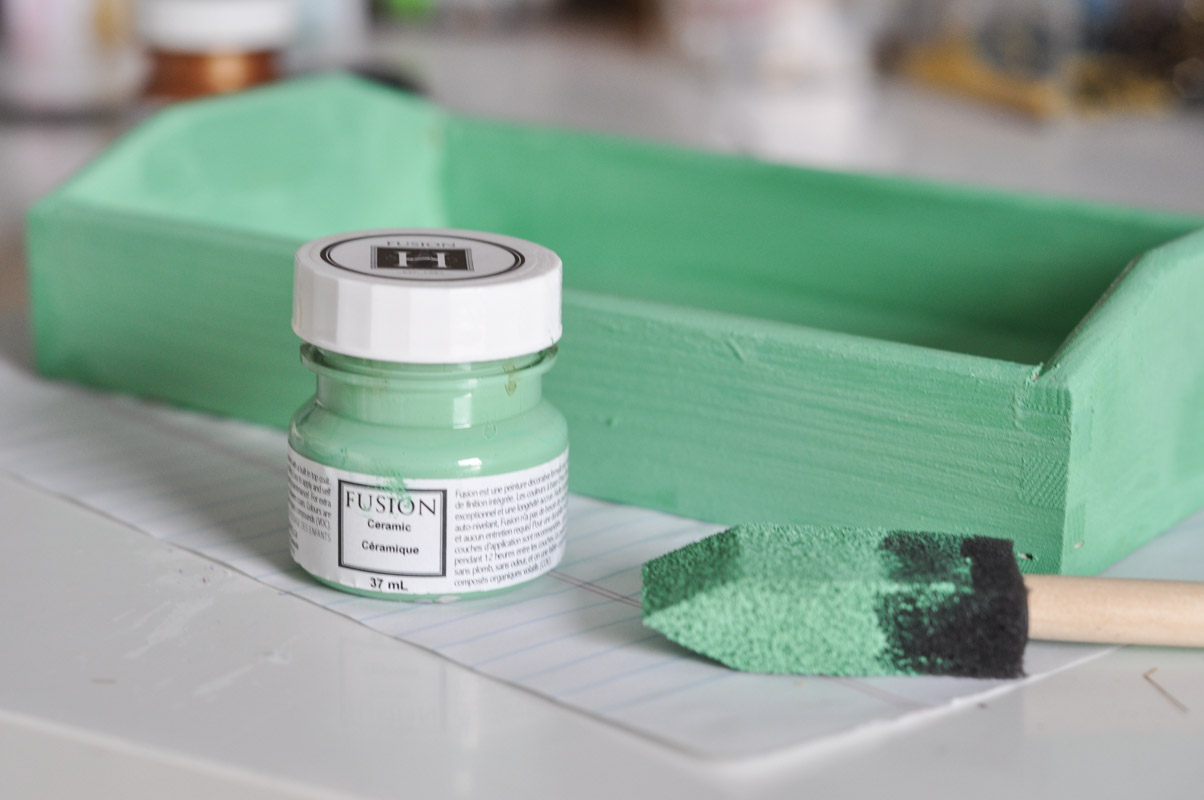 Then I put the paper aside and gave the tray a coat of Fusion paint in ceramic. It's a fun colour that would pop out against the dark grey desktop.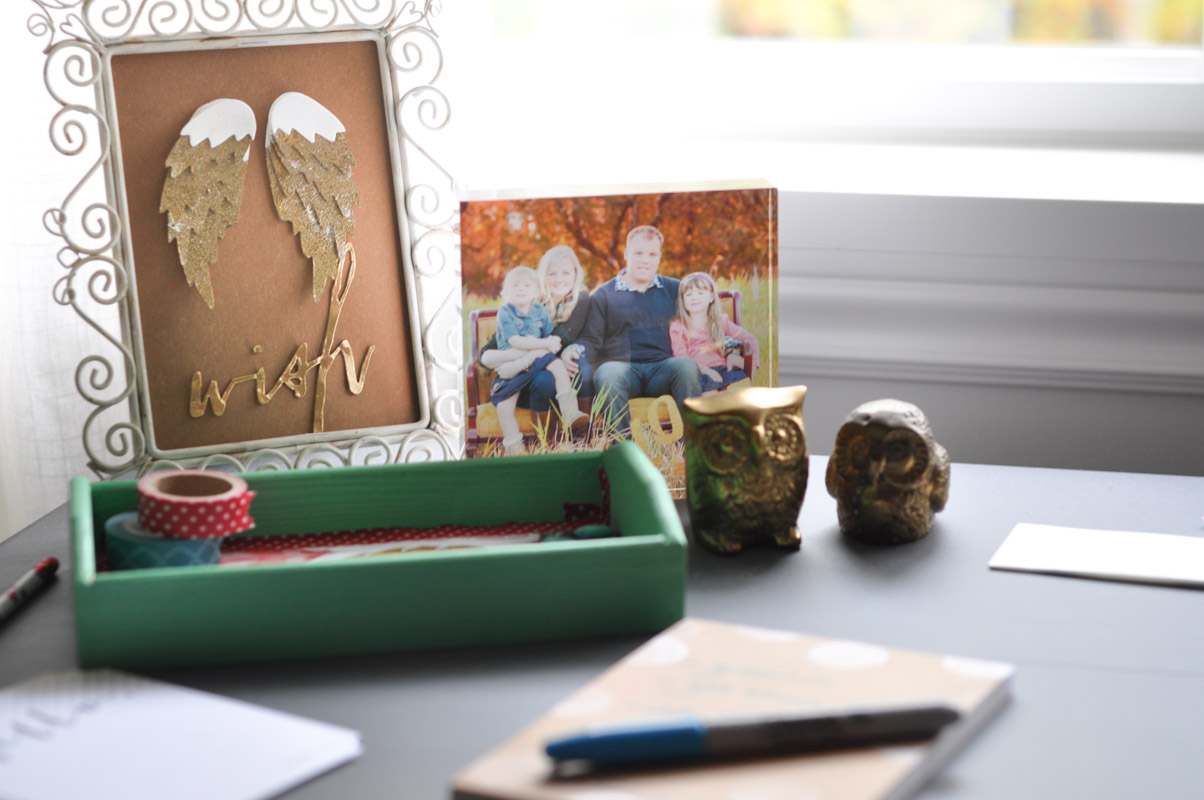 Instead of Mod Podging the tray, I opted to glue the paper down and then seal the edges with red and white polka-dotted washi tape. The tray isn't going to see any hard use. It's just me and a few odds and ends.
But if this was going to live where my children run, I'd definitely put a coat of Mod Podge – or two – to seal this tray top.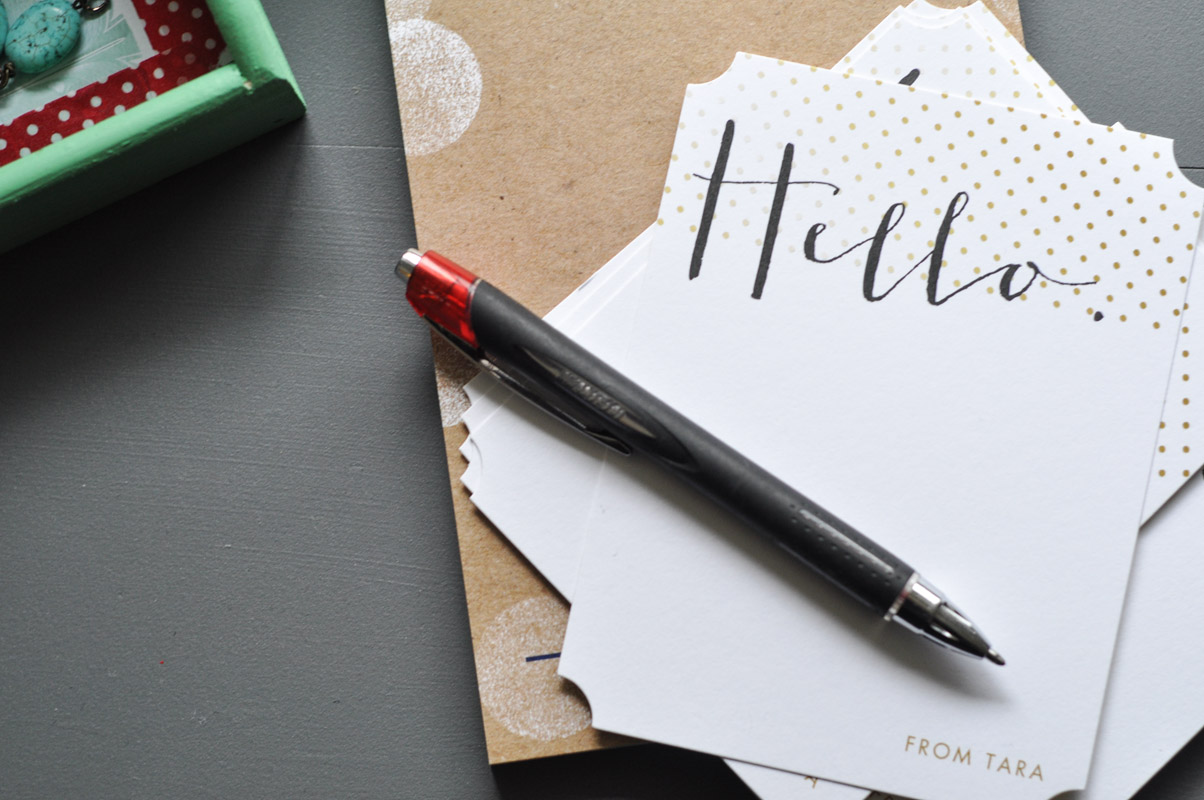 I've treated myself to a bit of fun stationery. I'm still a big fan of "snail mail" – despite the fact that email does rule my life most days. It makes stamps and pens that much more special.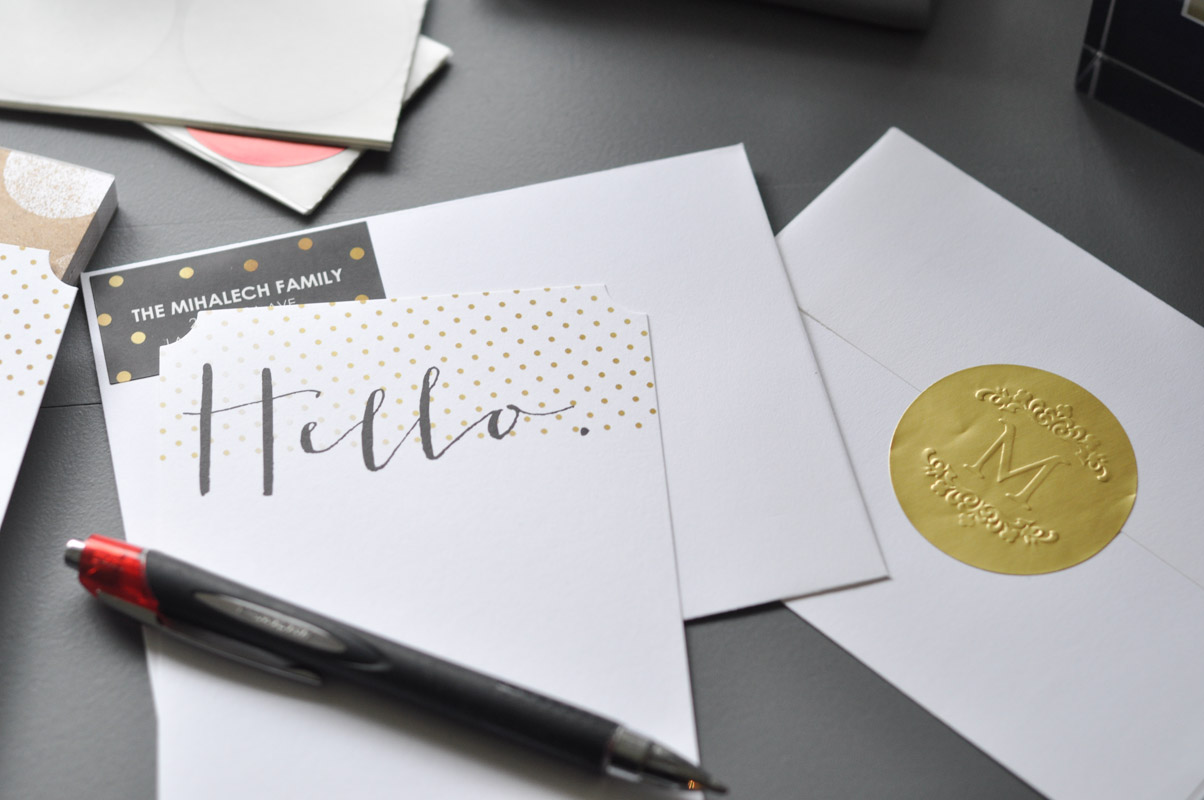 Can you read this and not sing Lionel Richie?
If so, you're a better woman than I.
"…. is it me you're looking for?"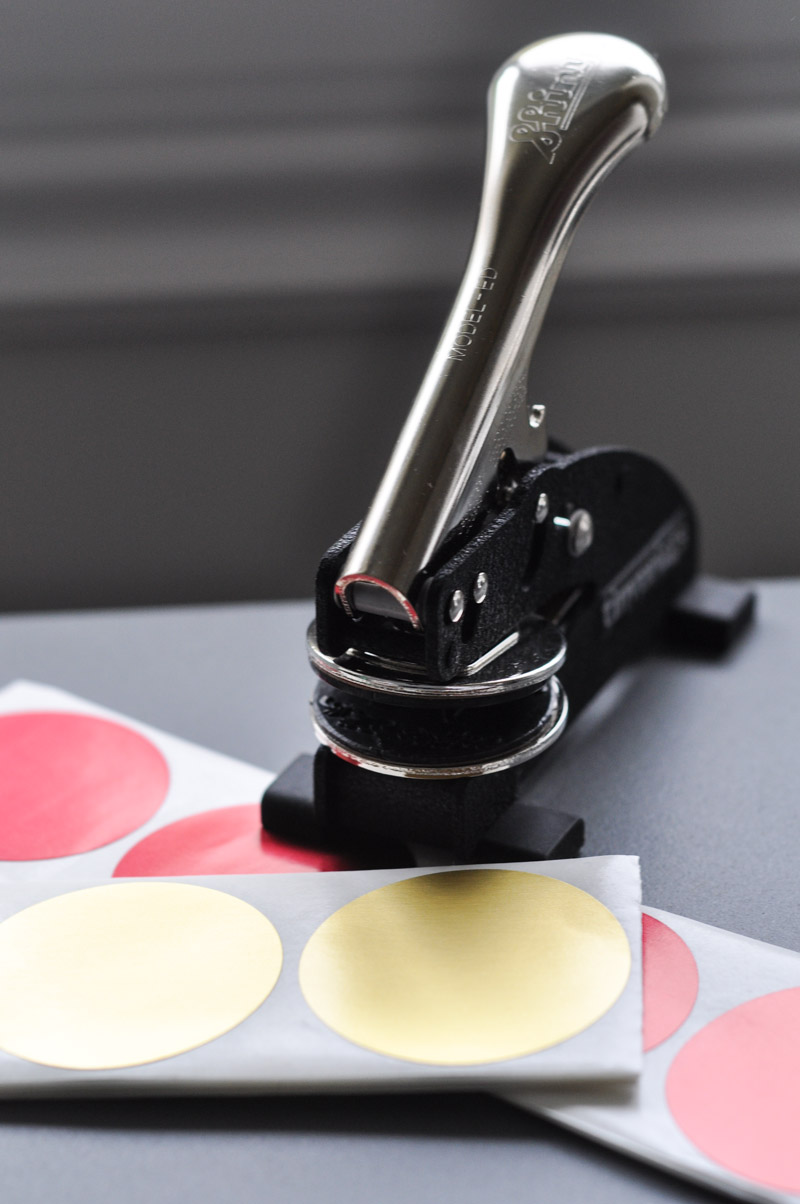 There's nothing quite like an embossed seal at the back of an envelope. I know… I'm old fashioned, but it's a little detail that gives me a thrill.
It's all fancy-like. Stationery is something I like to be finicky about.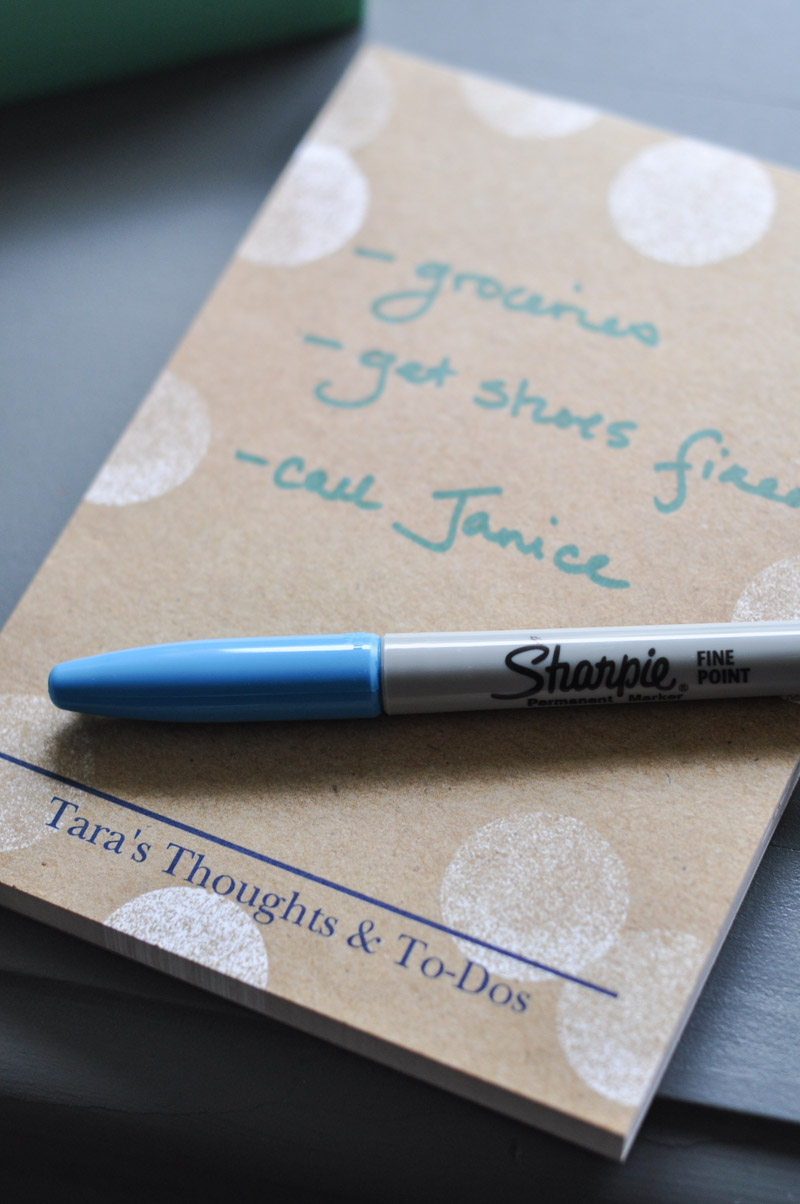 Because what is more satisfying than writing with a Sharpie?
Not much. Just ask my girls. It's a treat and a half to scribble something with a permanent marker – and a mother whirring overhead making sure that all permanent inks stay only on paper.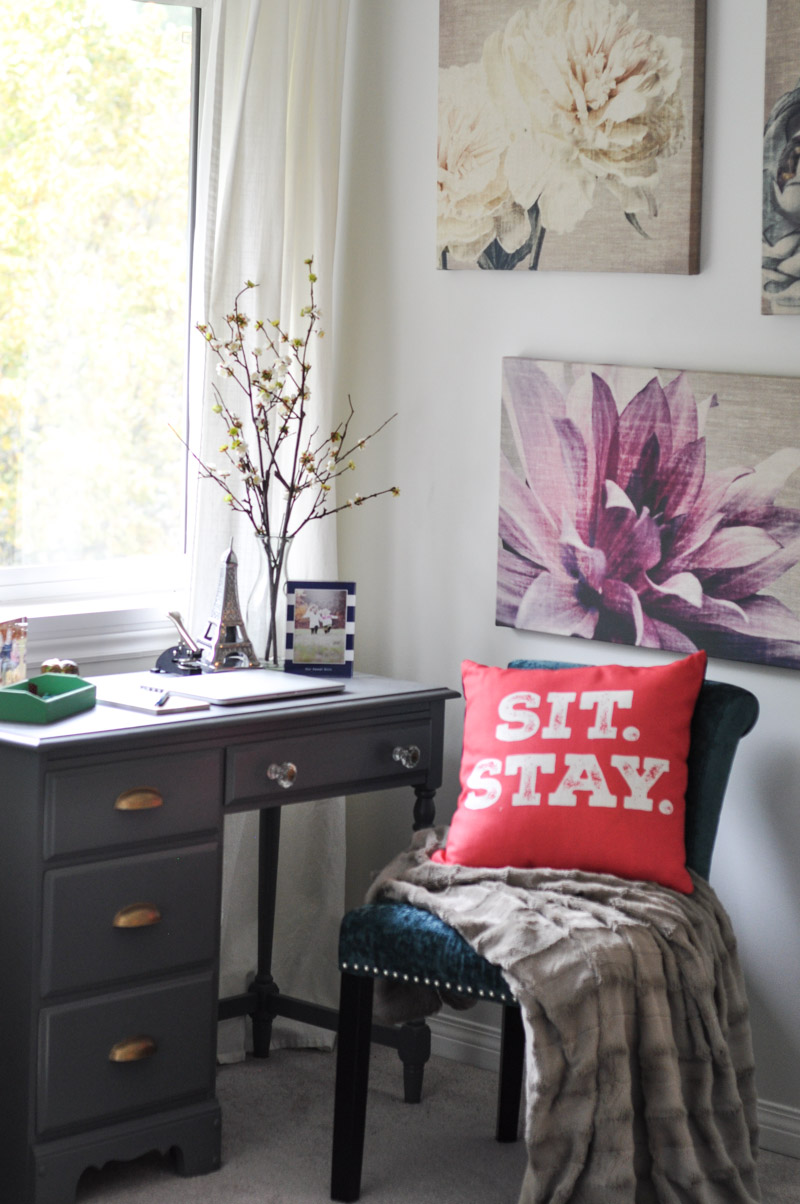 All that's missing from this picture – aside from me, bundled up in the blanket – is a cup of hot tea.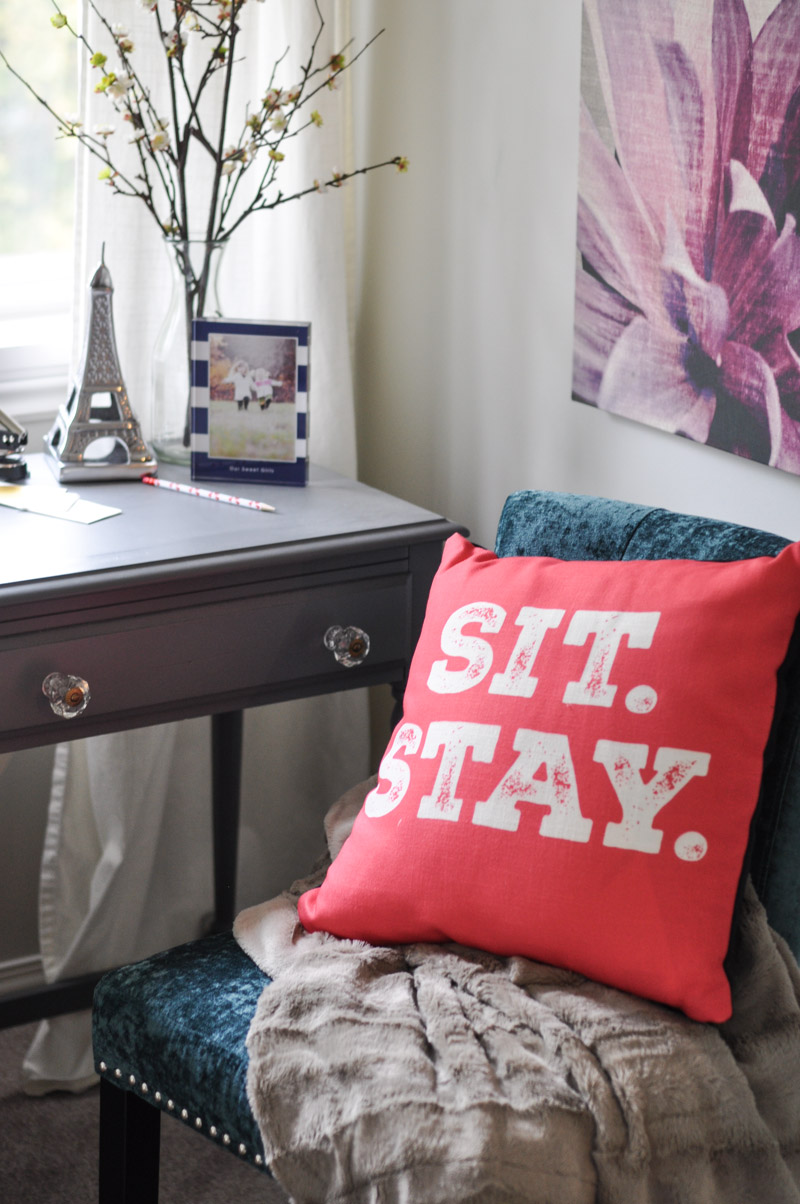 It's a little place for me to be. One that isn't in the hub-bub of life, but is instead tucked away – in a corner by a window.
I can't wait to get to work.
Source list:
Desk: Craigslist
Chair: Home Sense
Throw: Indigo
Pillow: Tiny Prints
Wooden Tray: Consumer Crafts
Pillow, Wooden Tray, Wrapping Paper, Acrylic Photo Blocks, Notepad & Notecards, Embossing Stamp and Seals: Tiny Prints
Paint: Fusion Mineral Paint