Yes, it's called "Christmas crack". You may have had it before, or if you're like me, your friend will bring it to your house one night after she had a baking extravaganza.
"Christmas crack?!?!?" You'll say, and she'll nod her head vigorously as she puts a container of these little bark pieces in your fridge.
And then you'll find yourself sneaking pieces while you work throughout the day. And then after dinner. And suddenly… you ate it all.
Whoops.
The wonderful thing for those of us that are pressed for time is that recipe is just barely baking. The whole process takes less than 20 minutes.
The traditional recipe for this caramel and chocolate treat involves saltine crackers. But I wanted to change things up a bit, so I grabbed some ginger biscuits.
I was sent some Nairn's Oatcakes to try out with my gang. I ate nearly all of the berry biscuits with my tea, but the stem ginger flavoured ones got me to thinking… what if I dressed these up a bit? With chocolate?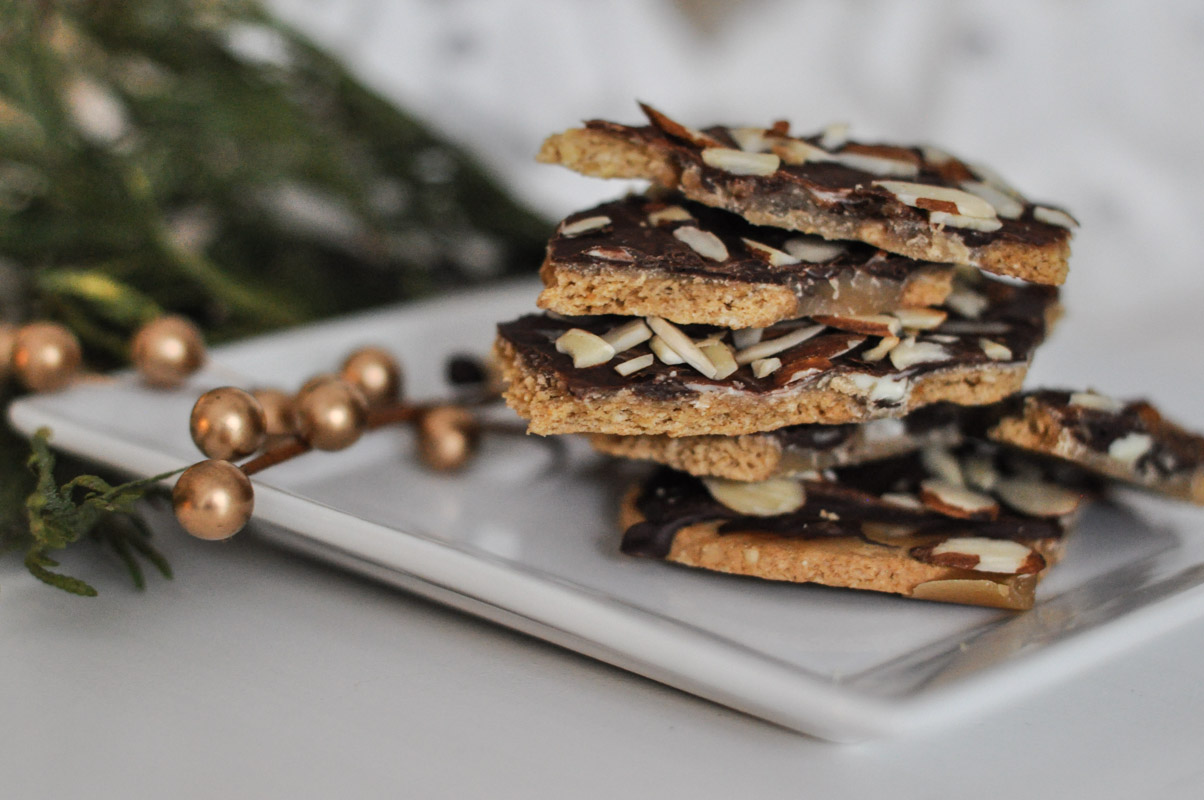 The ginger taste of the biscuits adds a holiday flavour to this already addictive recipe. Caramel, chocolate chips (both semi-sweet and white) as well as a sprinkling of slivered almonds top everything off.
This recipe is simple. On a baking sheet lined in parchment – as the caramel and chocolate is best not spread all over your cookie sheet – spread out a single layer of biscuits. I used about a package and a half.
Unlike saltines, these crackers are just a bit sweet, and they have that slightly sharp ginger taste that I love.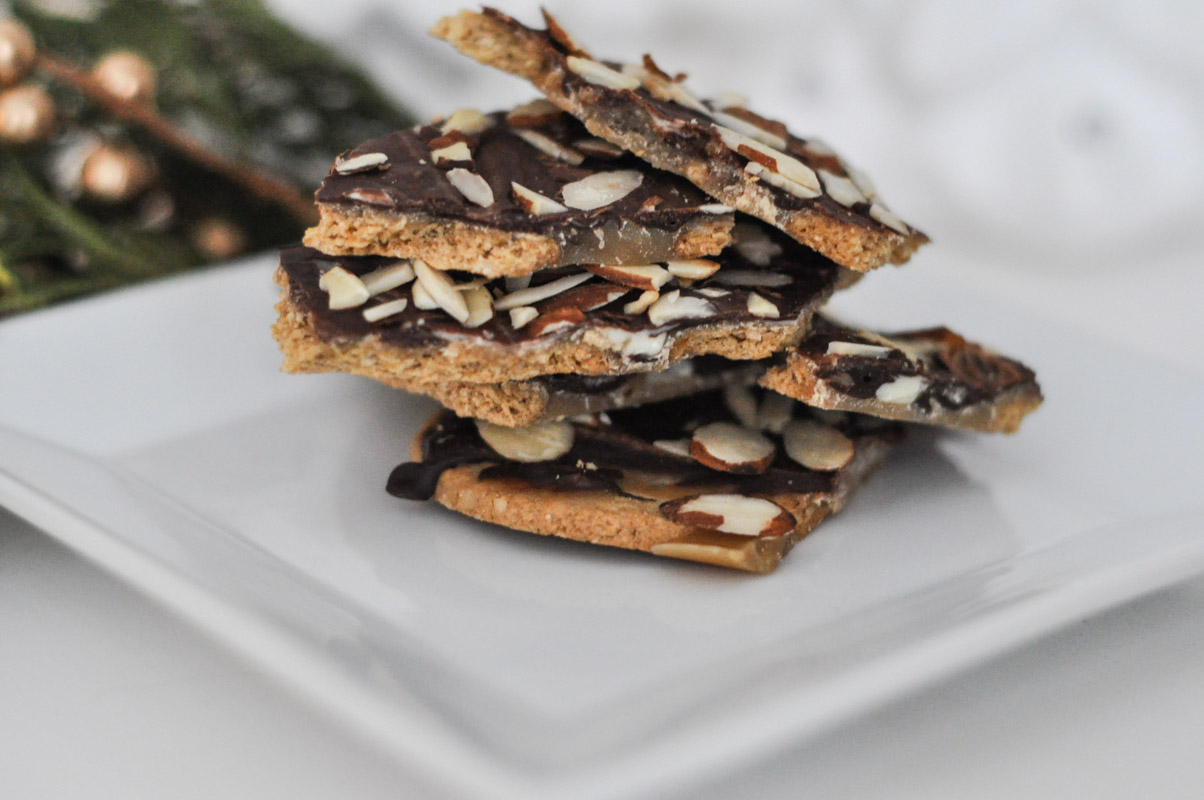 Ingredients
1 1/2 packages of Nairn's Ginger Biscuits
1 cup butter
1 cup brown sugar
1/2 pkg of semi-sweet chocolate chips
1/2 cup of white chocolate chips
1 cup slivered almonds
Instructions
Line a cookie sheet with parchment paper and pre-heat the oven to 350 degrees
Place biscuits side-by-side on the cookie sheet and put aside
In a saucepan over medium heat, melt down butter and sugar until just boiling - stir constantly to avoid burning
Put caramel aside for three minutes, stirring occasionally, to let thicken
Once caramel reaches desired consistency, spread over biscuits
Put cookie sheet in oven for 7-8 minutes, until caramel is boiling
Remove from oven and let sit for 2 minutes, then sprinkle chocolate chips over the caramel
Leave chocolate for 2-3 minutes to melt, and then spread with a spatula to create chocolate layer
Top off with sprinkling of slivered almonds
Place in freezer for 20 minutes to harden
Remove from freezer and break into "bark" pieces
Store in a sealed container in the fridge
https://www.suburble.com/2015/12/ginger-christmas-crack.html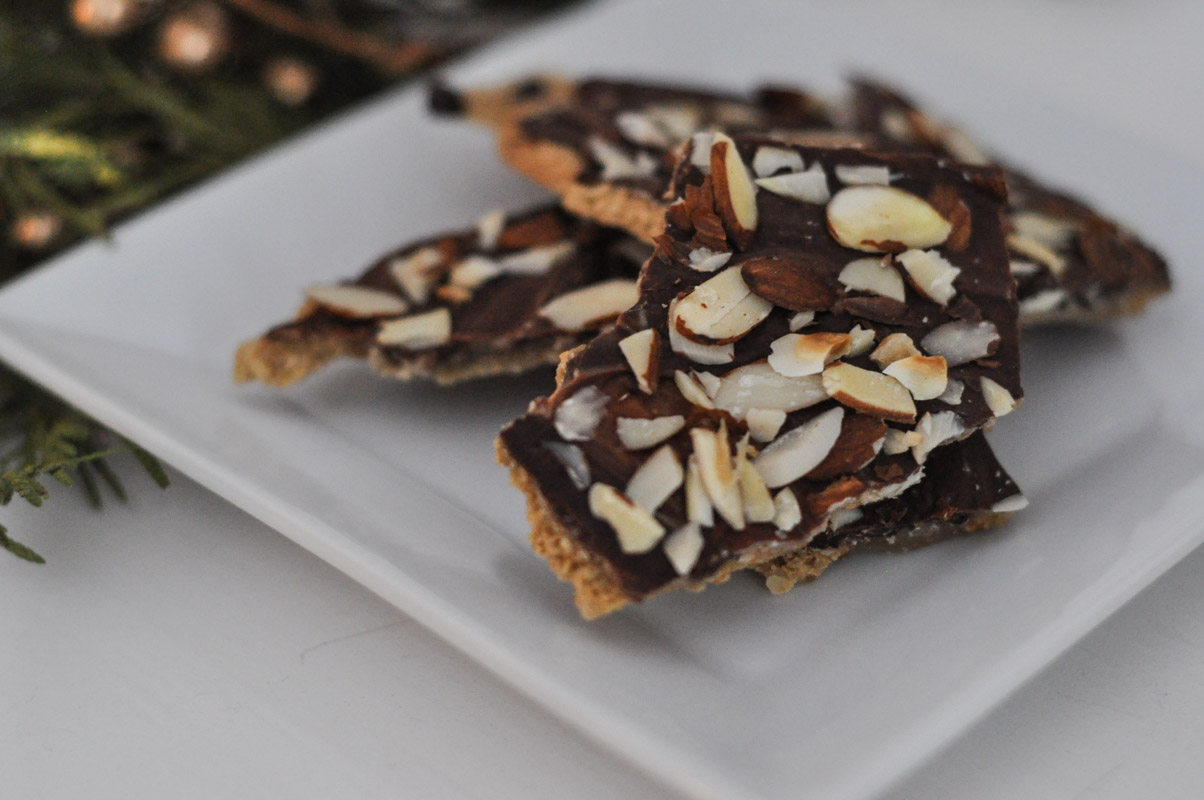 Already, one of my kids has discovered the "addictive" nature of this dessert. She's constantly giving me big puppy-dog eyes and asking, "Can I have one of those weird chocolate-cookie-treat-things?"
Sure, kidlet. Grab me one too.
Thank you to Nairn's for sending us a little package of their delicious Scottish Oat Biscuits to have at snack time. I love that they have ingredients that I recognize and are really tasty. They've completely changed the "Christmas Crack" game for me!