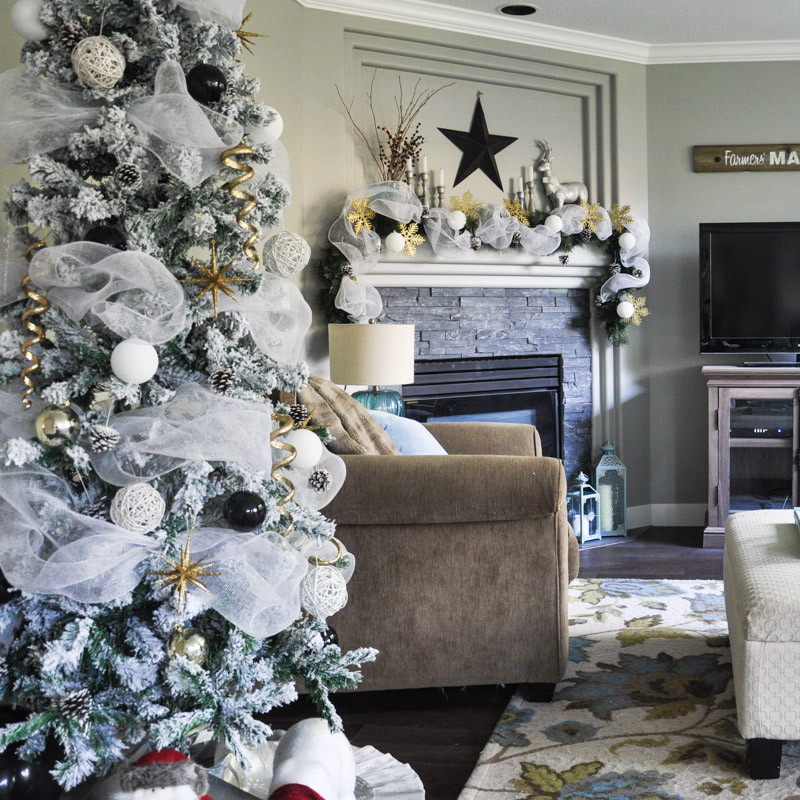 This year, I'm thrilled to participate in a Canadian Bloggers Christmas Home Tour. For those of you who haven't gone on a "virtual" home tour before, this is essentially a way to peek into how a bunch of us decorate for the holidays… but you get to be at home, in your pjs or yoga pants, while you stroll through our decked halls.
Once you've taken a gander at my Christmas festiveness, please visit the girls' links at the bottom of this page. They've got some incredible spaces – and ideas – to share!
Decorating for Christmas this year was especially exciting, because I finally splurged on something I had been hankering for for a while.
I was very excited to invite a flocked (fake) Christmas tree into our house this year.
Mr. Suburble raised his eyebrow when I unpacked the snowy branches. "This is IN right now? This tree that barfs snow everywhere?"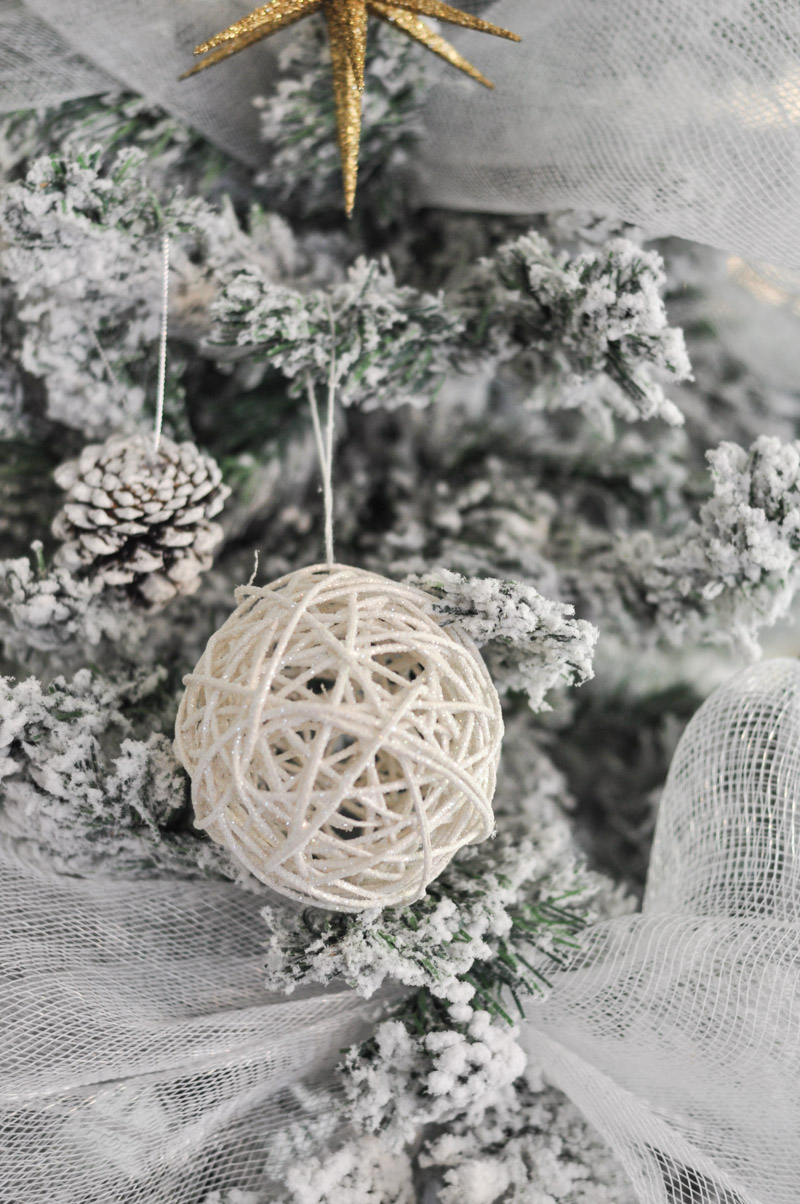 Umm… yes. This is not only "in", but it's what I love.
Do you remember the spray-on snow that used to go on windows – and then have to be washed/scraped/pleaded off come January? – I feel like a flocked tree is my less-troublesome, more-beautiful version of that.
Oh, it does make a pretty mess when you first unbox it… but it's been very well-behaved ever since.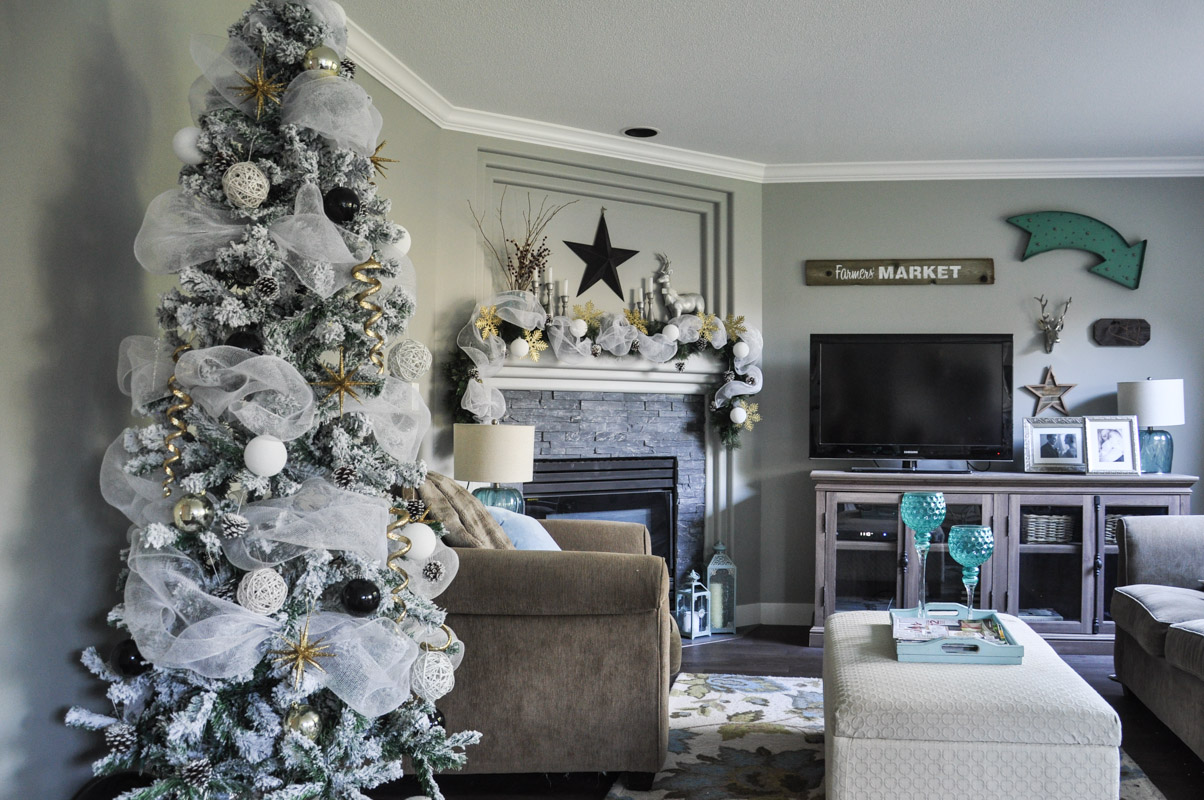 The family room has been done up in white, gold, and black. I got a "thin" tree for this space, as it's already quite precious with real estate.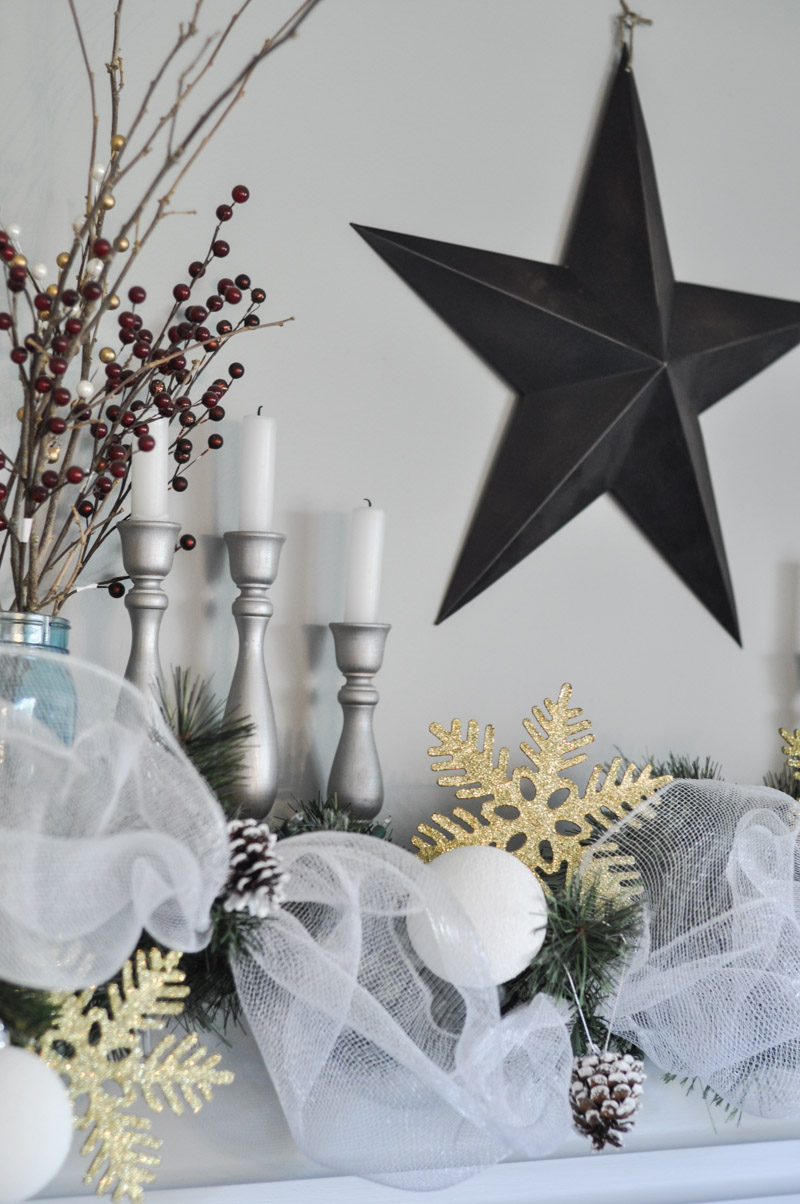 My big obsession this year was with decor mesh. I used this stuff wherever I could.
To excess… you might say.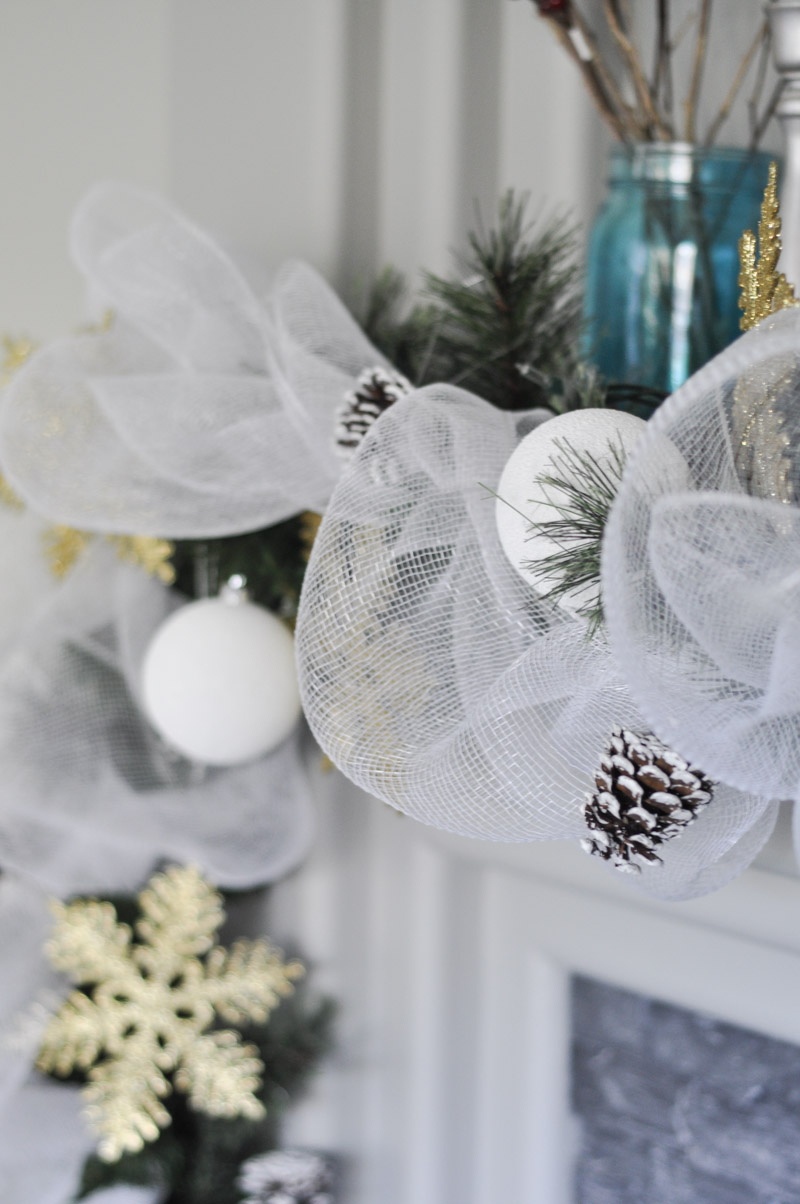 But I wouldn't.
I got so many of my decorations for this room from Canadian Tire. I was really surprised at how lovely their new line of Christmas decor is.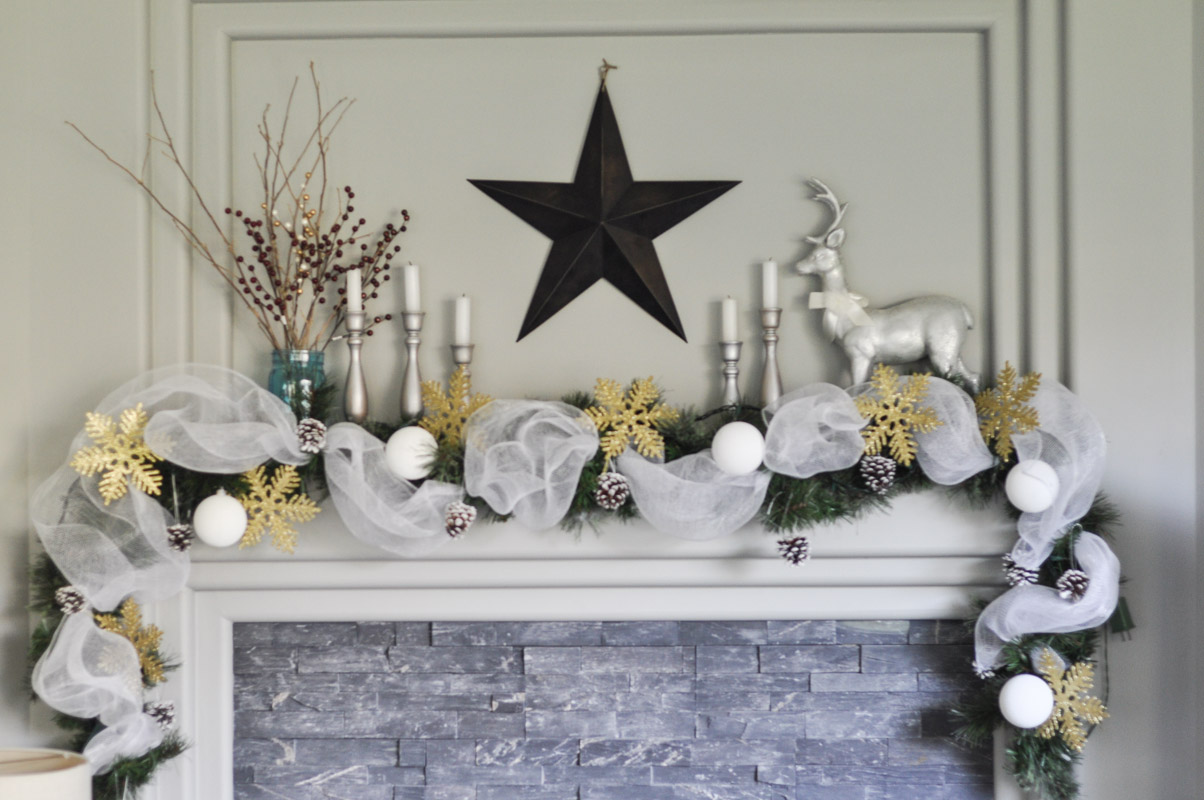 My mantel always looks so big and happy at this time of year. I've lamented about the strange drywall "art" of this fireplace before, but I think that having this top-heavy presentation of Christmas really beautifies this space.
If only I could figure out how to have garland be natural for the other three seasons of the year….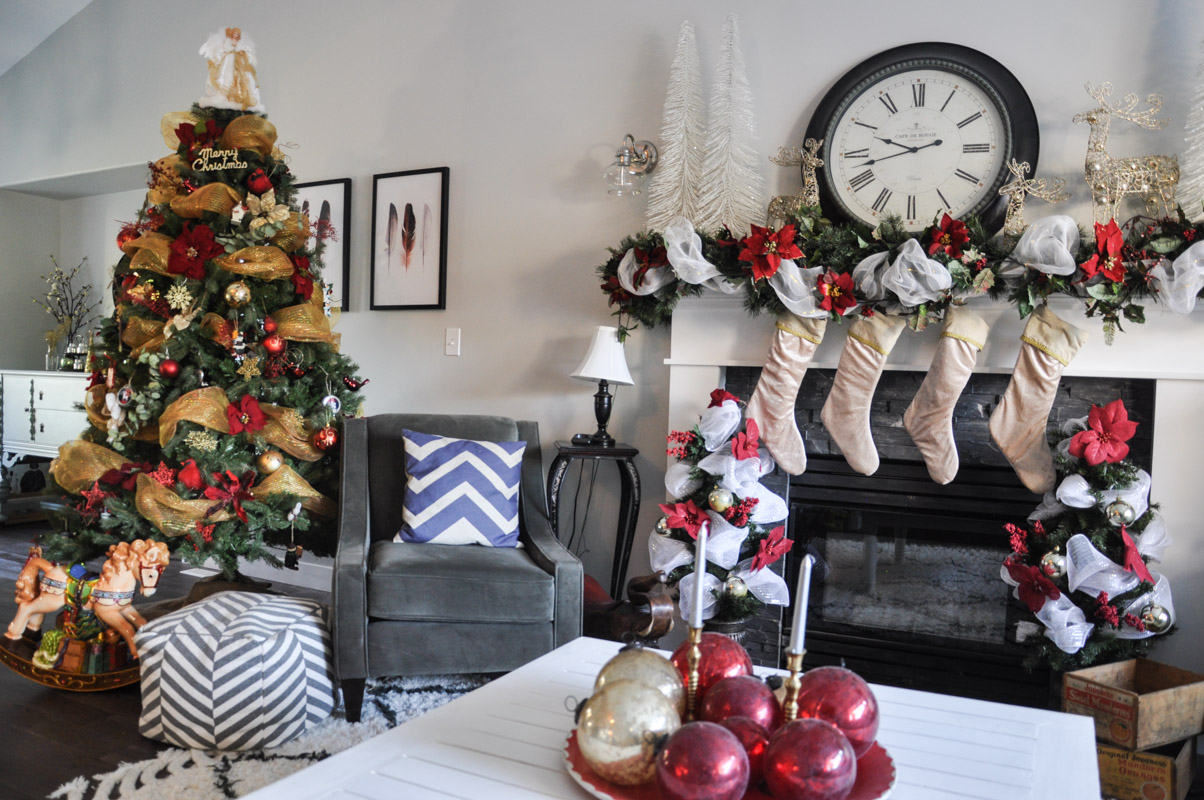 As a contrast to the muted family room, my living and dining room is where the colour comes to play.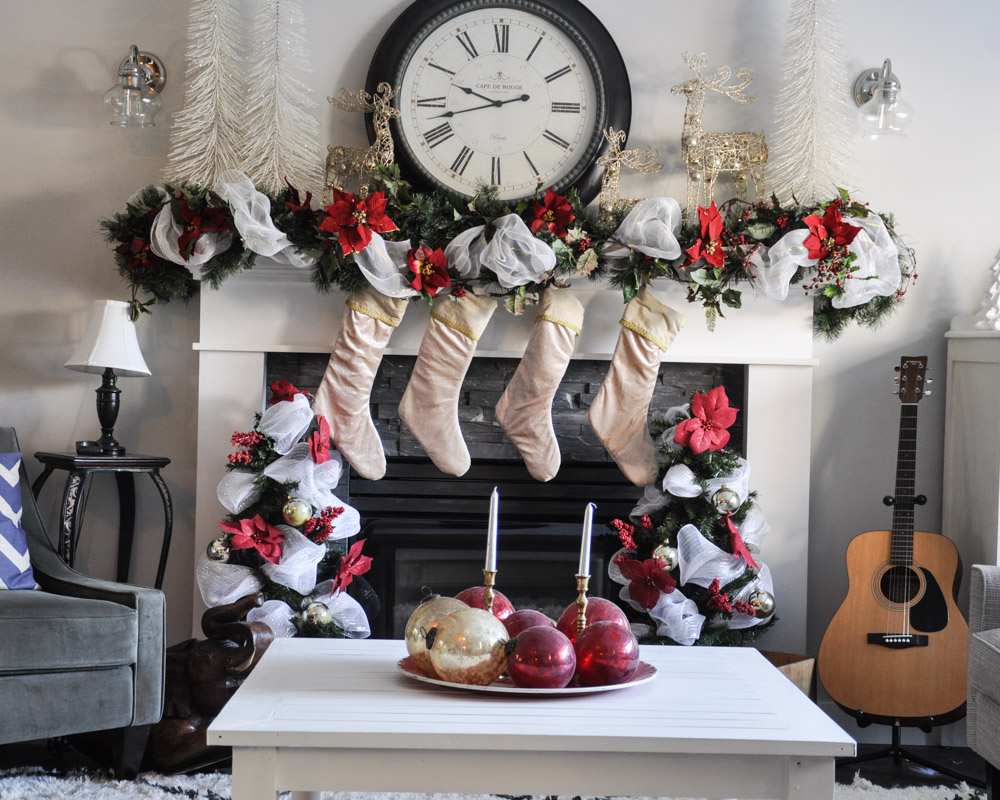 I've been collecting red and gold ornaments for years. And thankfully, as classic Christmas colours, they never go out of style.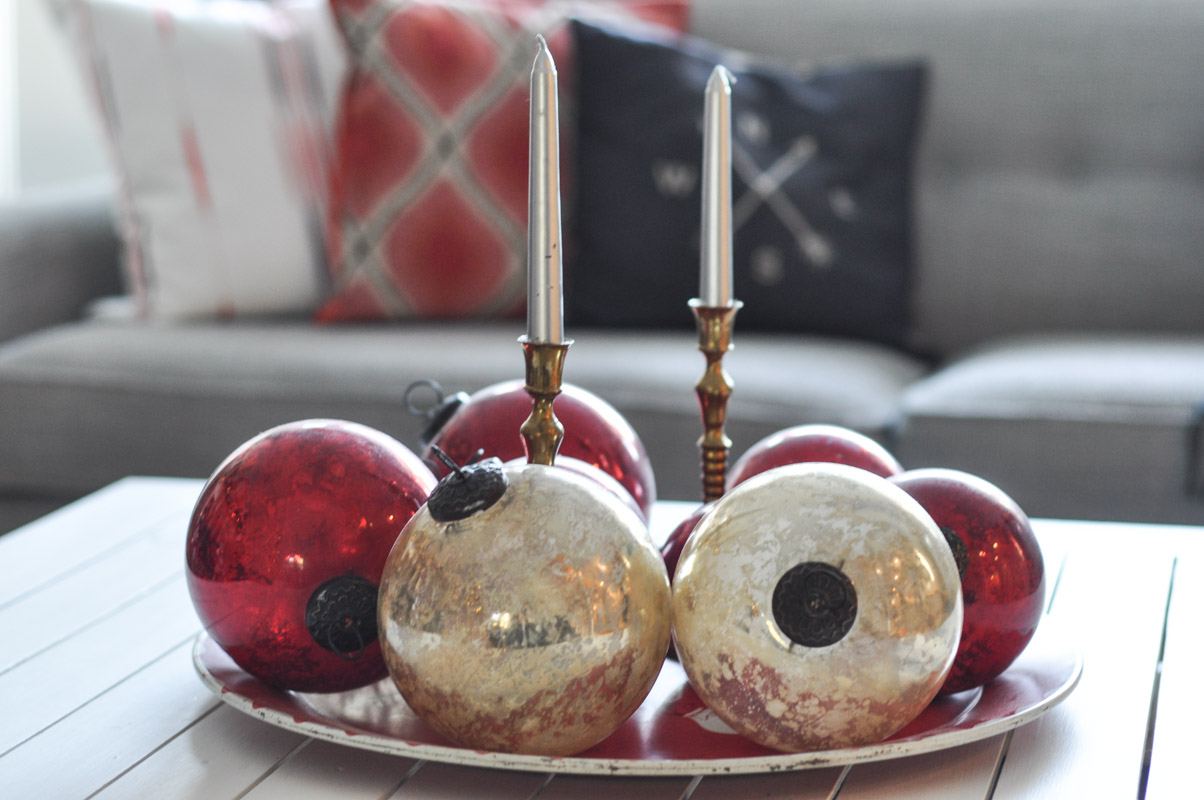 When I bought these over-sized glass balls, I was with my sisters in a Home Sense department store.
I picked one up, and promptly, somehow, dropped it right onto the floor.
Can you imagine what it sounds like to smash an oversized ornament on the floor of a mostly-tiled warehouse-sized decor store?
Yeah. It sounds like that.
My face went scarlet and my sisters wandered away from me in the, "Who is THAT lady?" style of sneaking off.
I apologized far more than anybody needed to, and the sales associate shooed me away to clean it up. I lurked in the aisles for at least five minutes afterwards, waiting for the coast to be clear.
I wanted to buy the rest of them, after all.
I just needed the stigma of being "that tall awkward girl who broke the ornament" to disappear.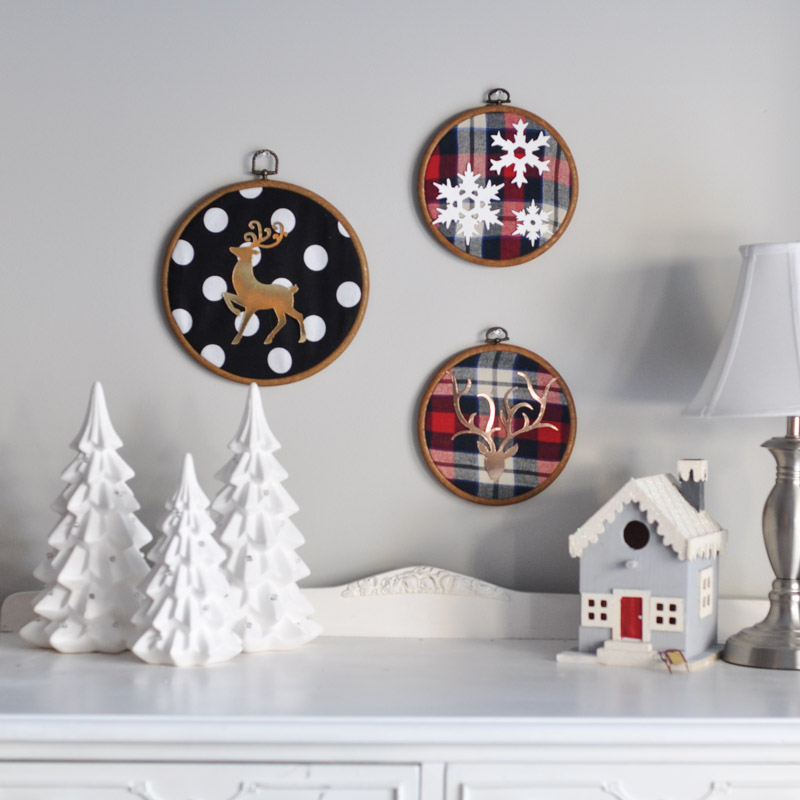 I've quickly fallen in love with the embroidery hoop art and the ceramic Christmas trees – both additions to the gang this year.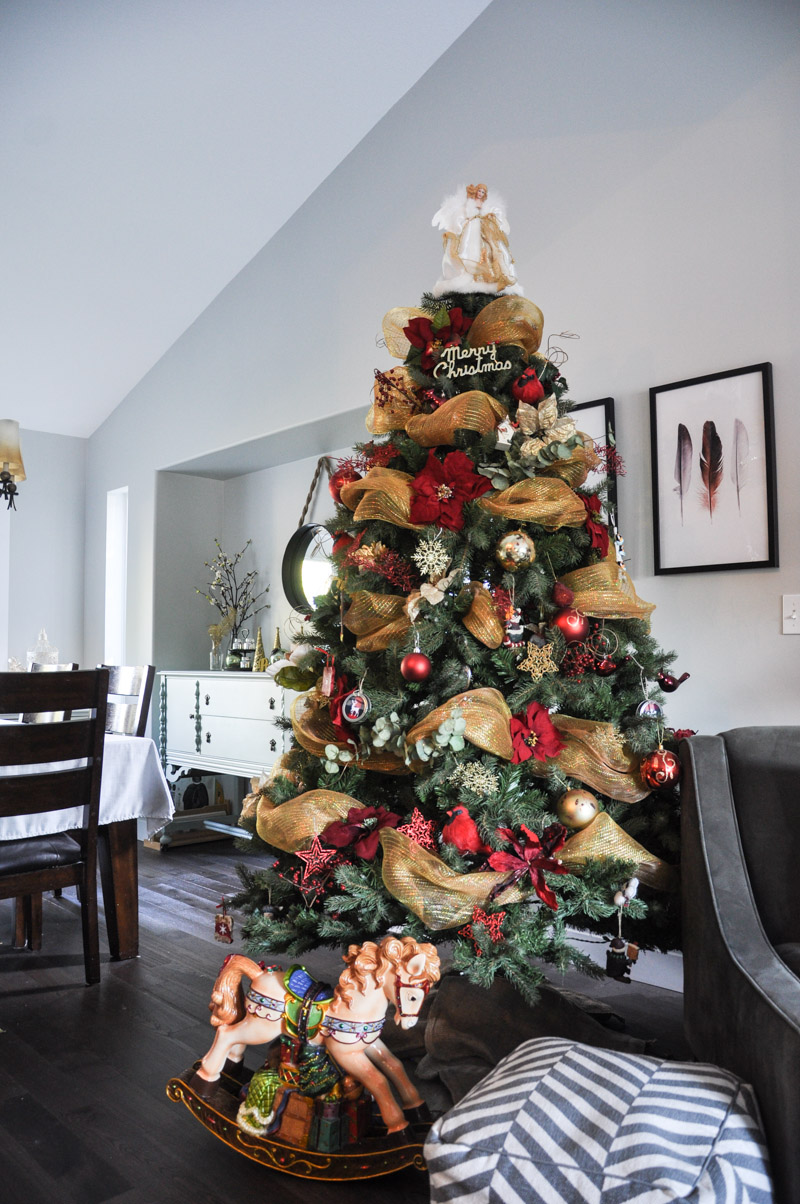 And my tree – oh, my big hard working tree – is adorned with all sorts of bits and bobs.
This is a project that the girls and I tackle. You can see that there are ornaments hung in awkward places. Some are facing inward, and some are clumped together in patches.
But this is the work of two diligent little girls. Ones who impatiently waited for me to finish fussing with the other parts of the decor.
This is their tree.
The flocked snowy fella in the family room is mine.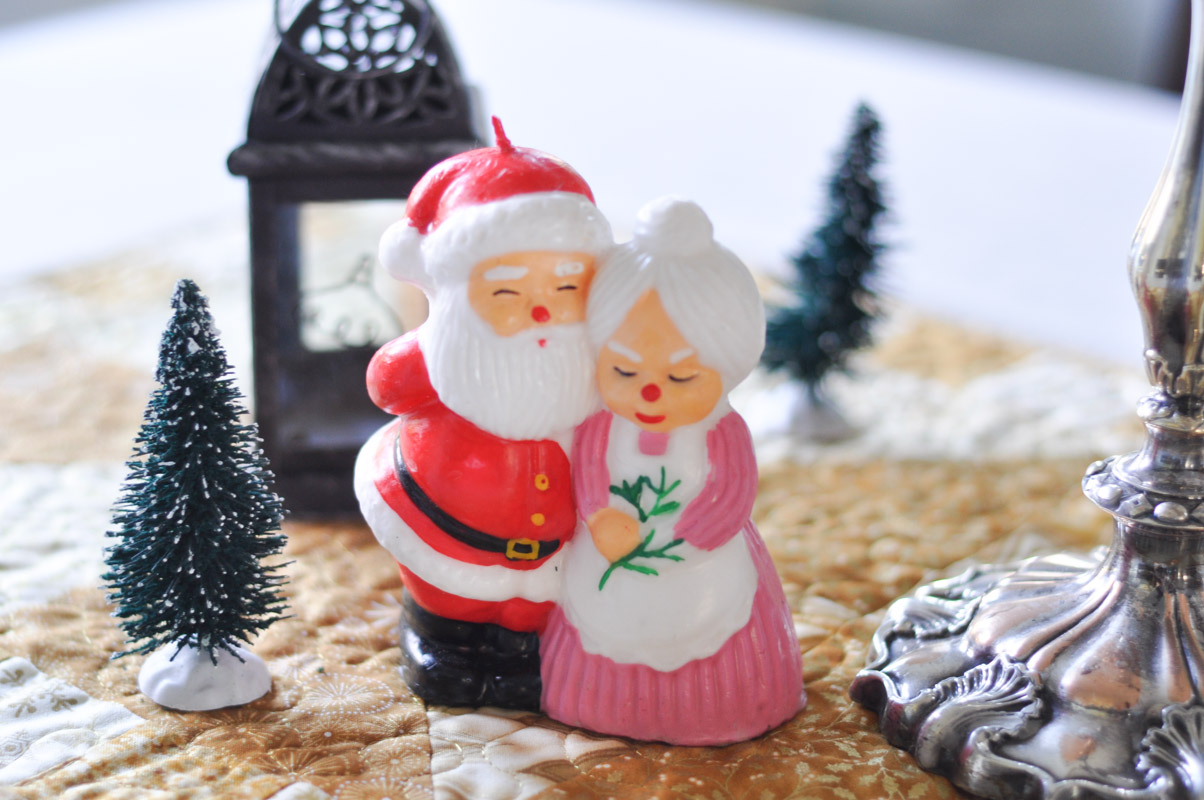 On the dining room table – atop a quilted runner my mother made for me last year – sits this little couple.
I just cannot get enough of vintage Christmas. I can't help myself when I see things in a thrift store or garage sale. I feel as though I need to re-home them.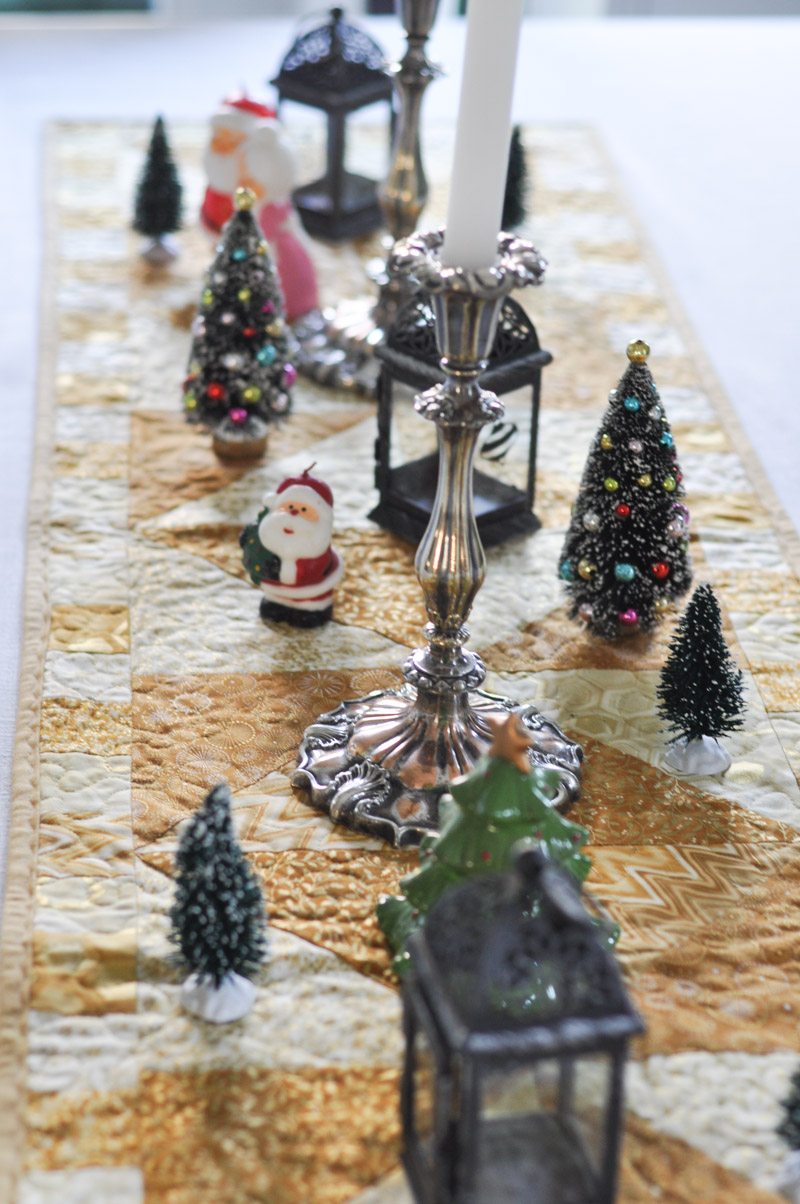 So I do.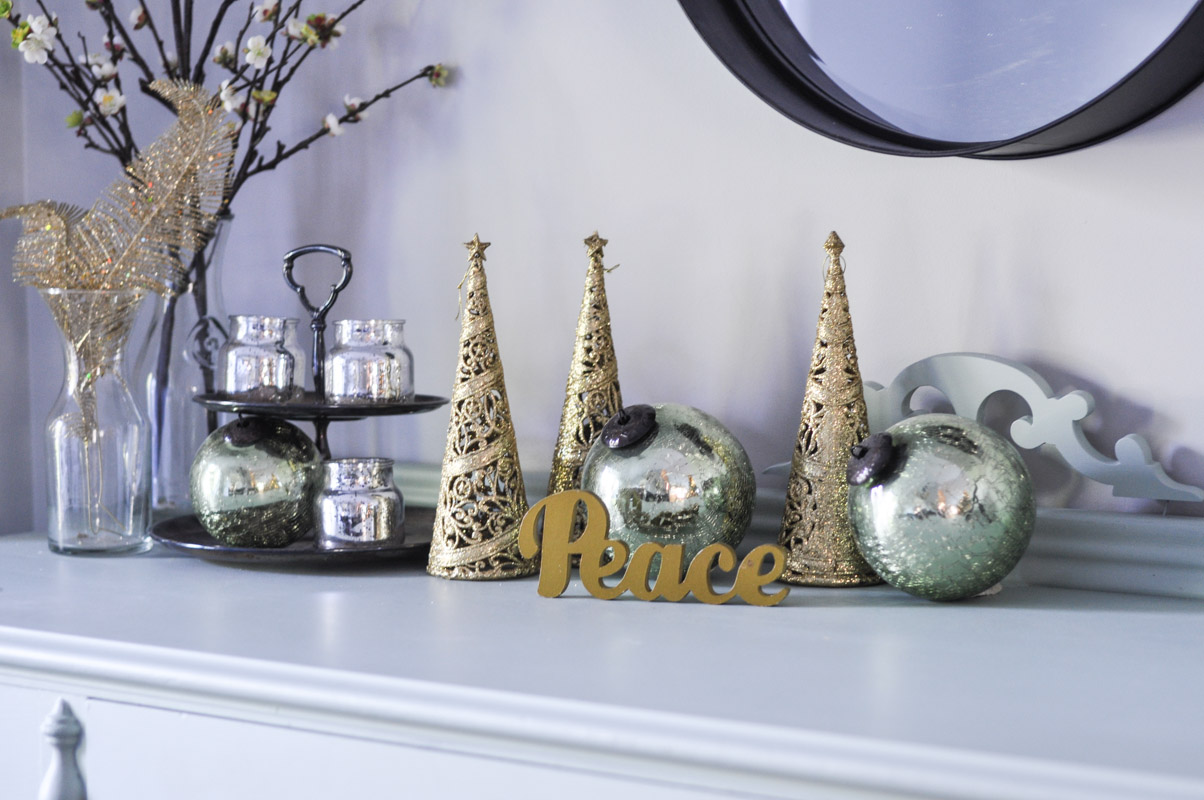 I found this "Peace" sign in among heaps of old Christmas stuff at a thrift store last January. It was a "fill your bag for $10" sale.
Oh yeah, it was a goody.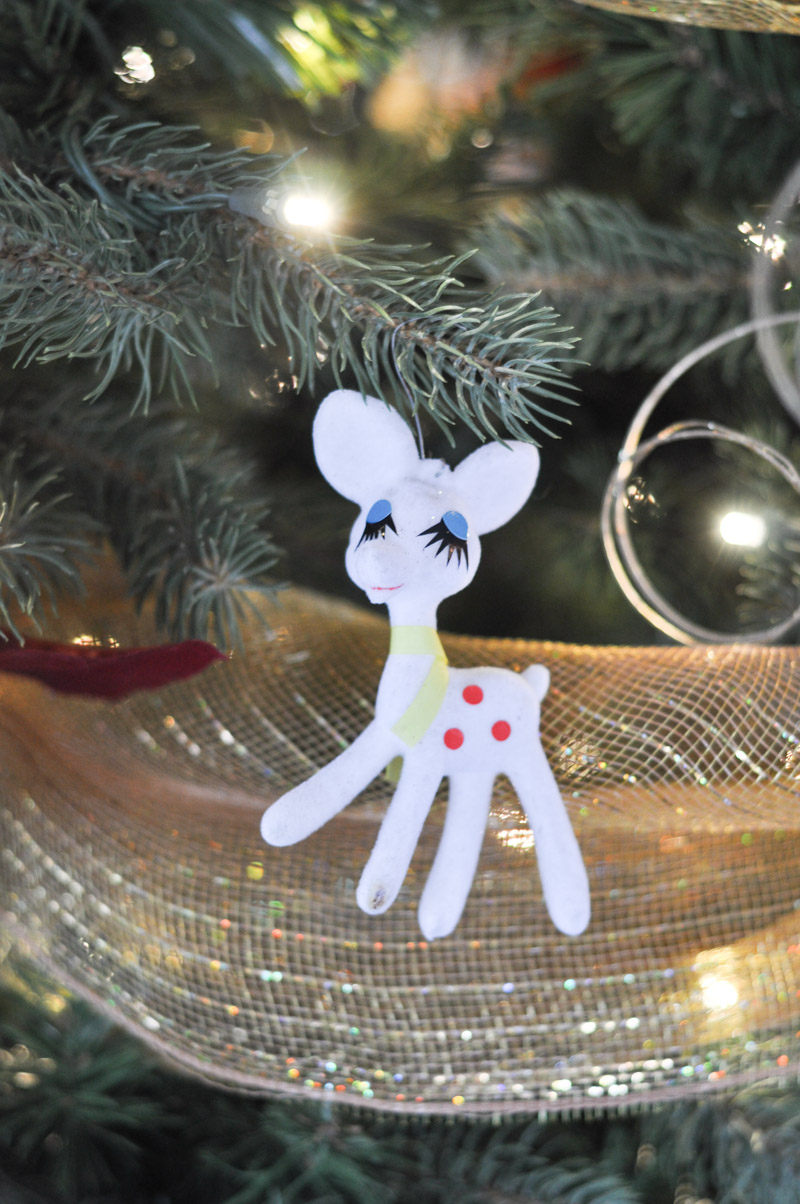 This guy also came home in that bag with me.
Yeah… I don't really understand it either. But he's mine now, so I love him.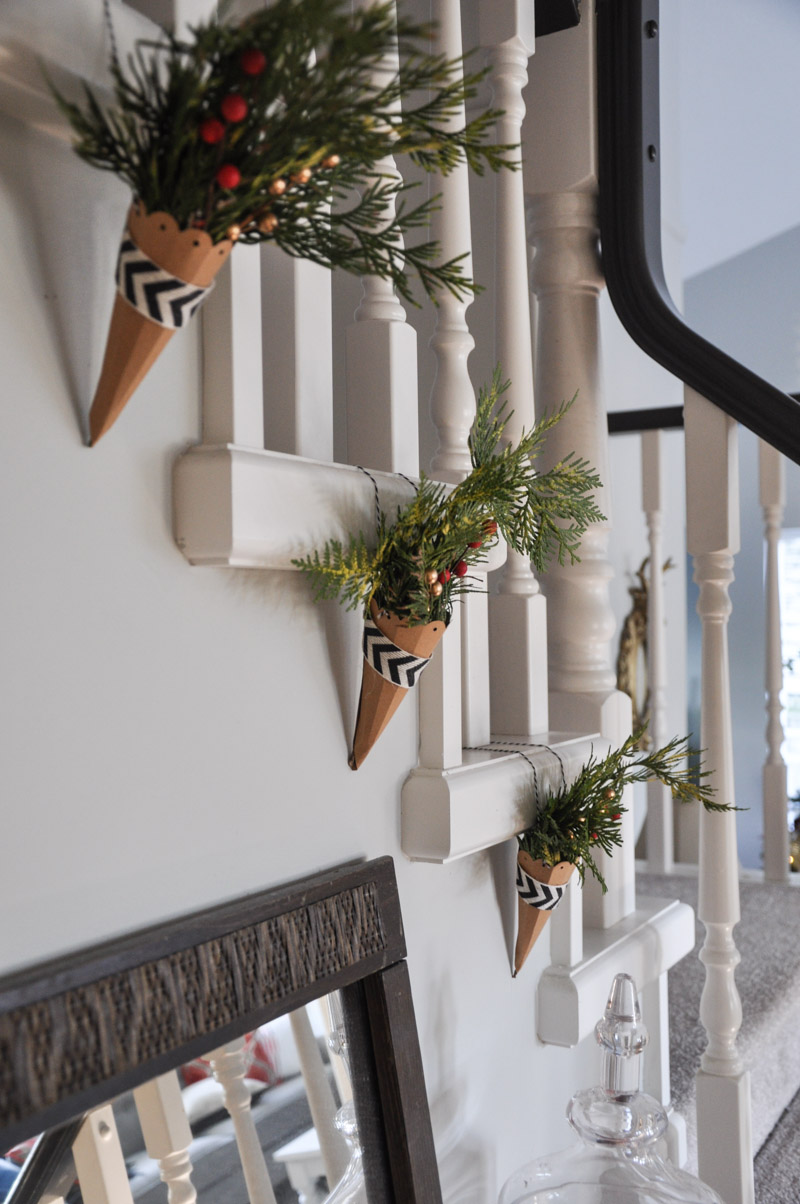 I've tried to fill nearly every space of our main floor with at least a tiny bit of Christmas.
It might be hand-made, or crooked, or old… but it's all been hand-picked by at least one of us. And it's make our home very cozy in anticipation of Santa Claus and his little reindeer.
Before you head off to the thrift store in search of adorable Christmas things, be sure to visit the girls on the Canadian Bloggers Christmas Home Tour!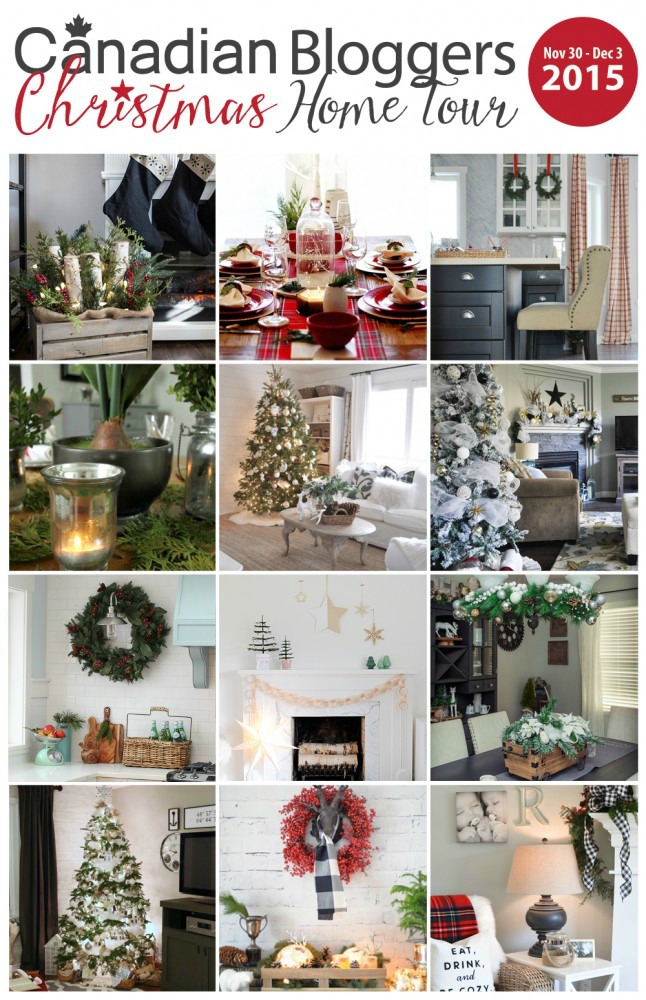 Monday:
Tuesday:
Wednesday:
Thursday: