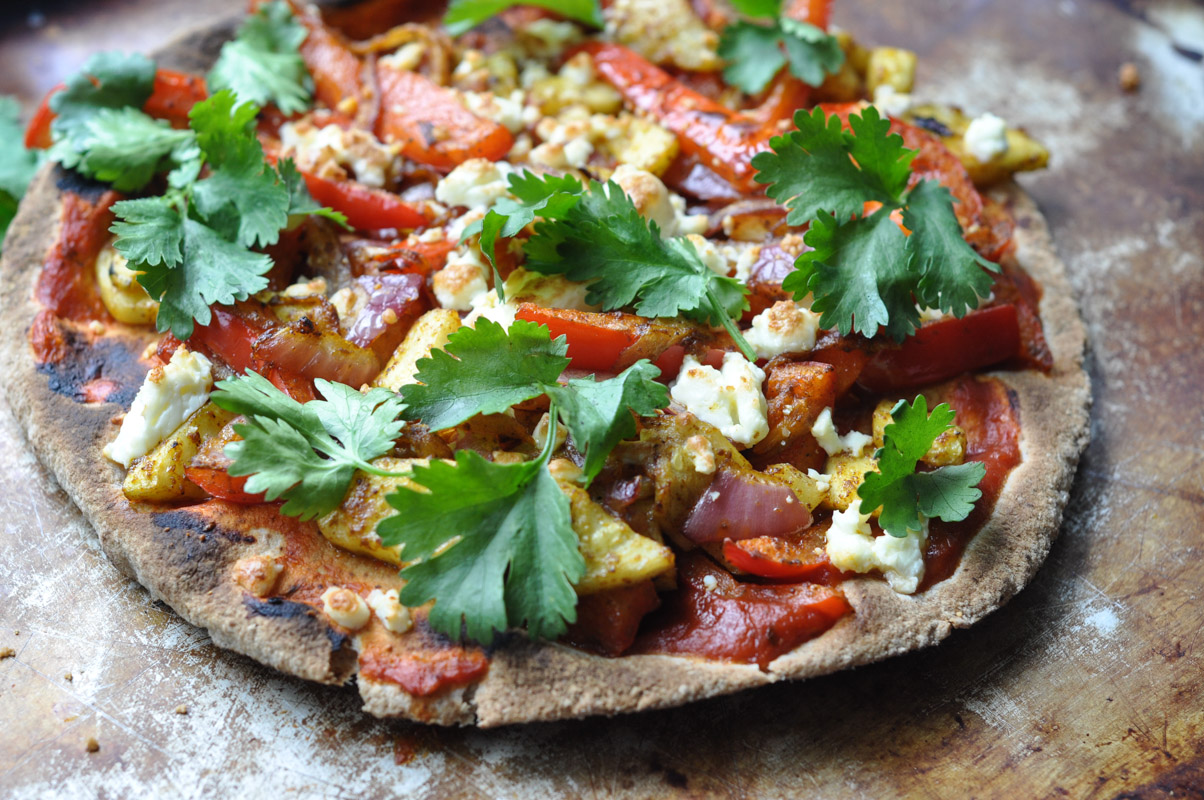 Okay, so I'm using the term "flatbread" pretty loosely here.
They're some of my favourite restaurant fare, but in the picture above – and when I'm doing cheater-pizzas at home – I'm using a pita pocket.
No, it's not even a big fat fluffy greek pita. I'm using its crispier cousin, the thin pita – or pita pocket.
Why am I doing this? Well, for one, you get a nice crispy crust with hardly any time in the oven. And for two…. it's low-cal.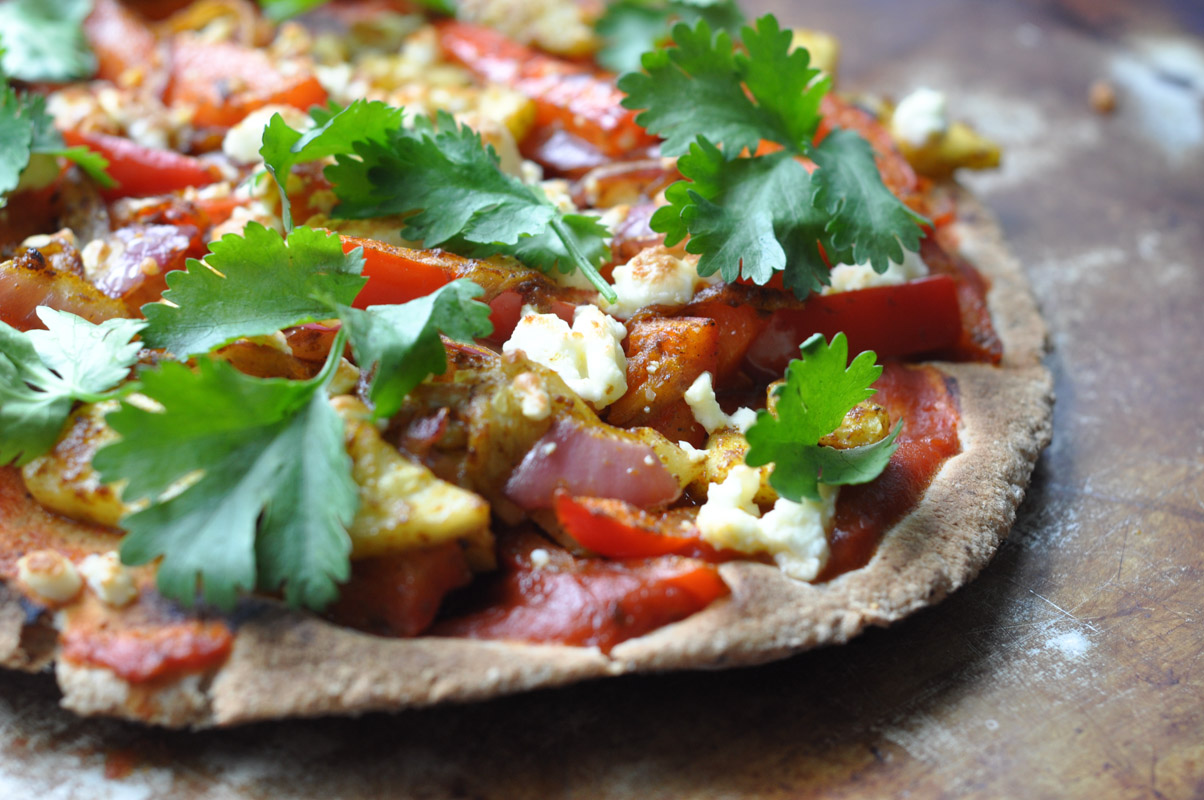 Normally I don't talk about calories on the blog, because I don't think all that much about calories in real life. Of course, I'm aware of what is laden with all of the bad stuff, but I try to let moderation guide my recipe choices, and not numbers.
But once upon a high-school career ago, my girlfriend and I were talking about low-cal ways to get your pizza fix. She told me about "pita pizzas" and how they were a lower amount of points on the Weight Watcher scale than other options.
And so, I started eating them for lunch.
In university, it was dinner (when it wasn't potatoes and desperation).
And I just didn't ever stop. I've made tonnes of moderations on this recipe, and now, I'm sharing it with you. This version of flatbread pizza is a light way to have your pizza fix, all while getting your veggies in.
And it's delicious.
Curried Vegetable Flatbread Pizza
Ingredients
1 pita pocket (or thin pita) - naan or greek pita is a good substitute
1 tbsp Pataks Mild Curry Paste
2-3 tbsp of pizza sauce
Diced veggies - onions, peppers, mushrooms, zucchini, or your favourites
1 tbsp olive oil
Feta cheese for crumbling
Cilantro for garnish
Instructions
Preheat the oven to a low broil (around 350-400 on my oven)
In a saucepan, heat olive oil over medium heat
Add curry paste and stir until fragrant
Add veggies and saute until tender-crisp (about 5 minutes)
On a baking pan, place pita and cover in a thin layer of pizza sauce
Top with hot, curried vegetables
Crumble feta cheese on veggies
Pop in oven and watch carefully until feta is slightly melted and edges of pita are browned
Remove from oven and let rest for 2-3 minutes, top with cilantro
Enjoy!
https://www.suburble.com/2016/06/curried-vegetable-flatbread-pizza.html
I opted to use Patak's mild curry paste in this recipe, as I wasn't going to be diluting the curry paste with any sort of yogurt or cream. This meant that I got a nice kick of spice on the veggies, but it wasn't overpowering.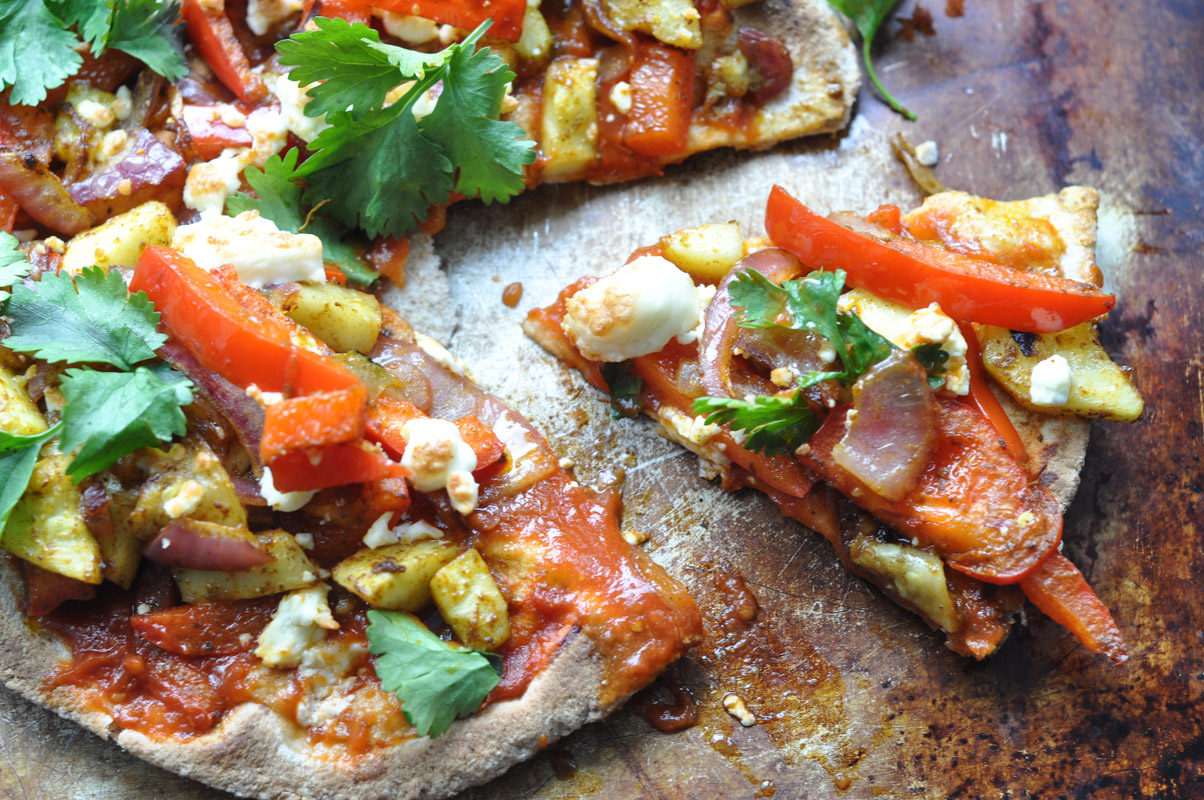 I devoured this recipe while my children puzzled, "But it's not even dinner, mom. Why are you eating pizza?"
I loved how the heaping vegetables made the bites hearty, and the feta added a nice creaminess.
No, I didn't do a total calorie count, but if you do, do you want to let me know what you came up with? I have a feeling that this is going to be on my must-make lunch list for a while now.
Are you looking for more ways to add The Cultured Kitchen to your menu? Check out more Pataks' recipes on Facebook and Twitter.
Disclosure: I am part of The Cultured Kitchen Ambassador program in partnership with Patak's Canada and Blue Dragon Canada and I receive special perks as part of my affiliation with this group. The opinions on this blog are my own.