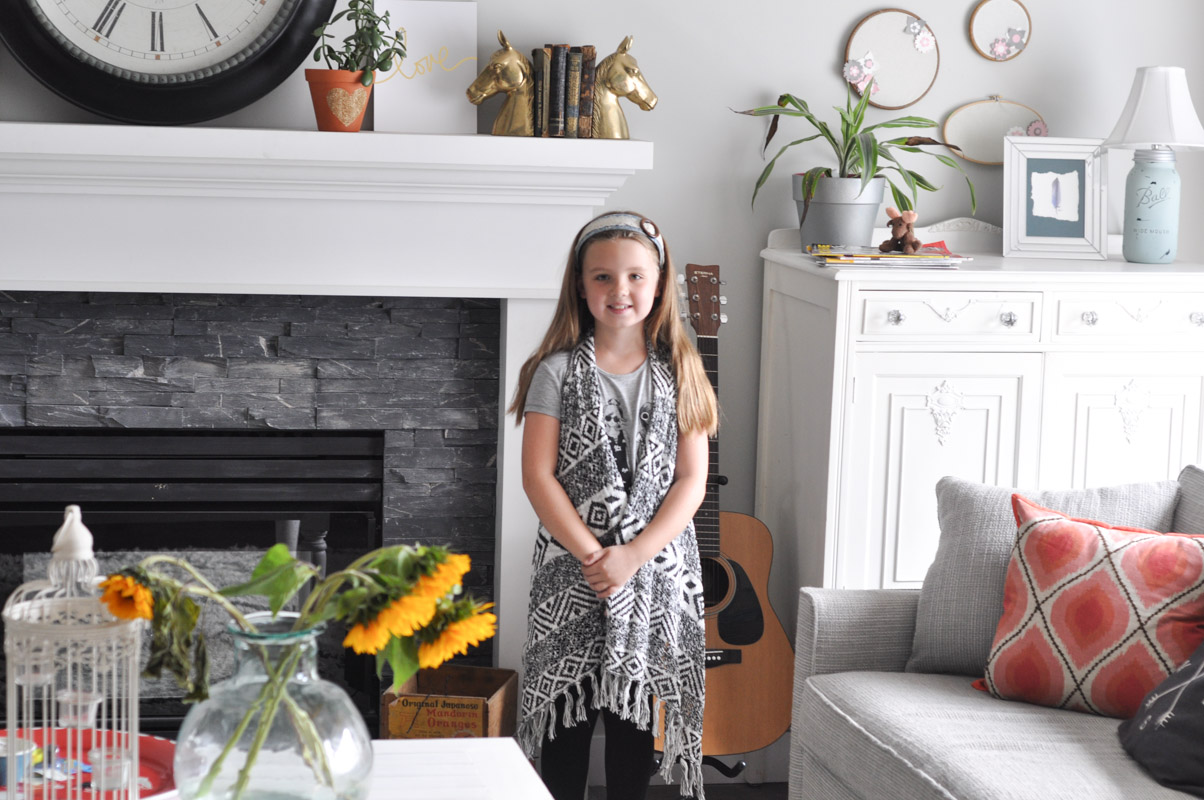 There is a very embarrassing amount of footage on a VHS tape at my parents' house containing at least forty five minutes of me and my sisters giving a Back To School fashion show. There is music and strutting and some pretty cool dance moves/gymnastic attempts/possible fits at the end of the runway. Like all home videos of me at that age, I am a head taller than every sister and fifteen times as awkward. I cringe when I watch it.
So of course, because genetics are a powerful force, the first thing I said to the girls once we got back from Back to School shopping was, "Okay! Let's do a fashion show!"
I can't help myself. It's a disease.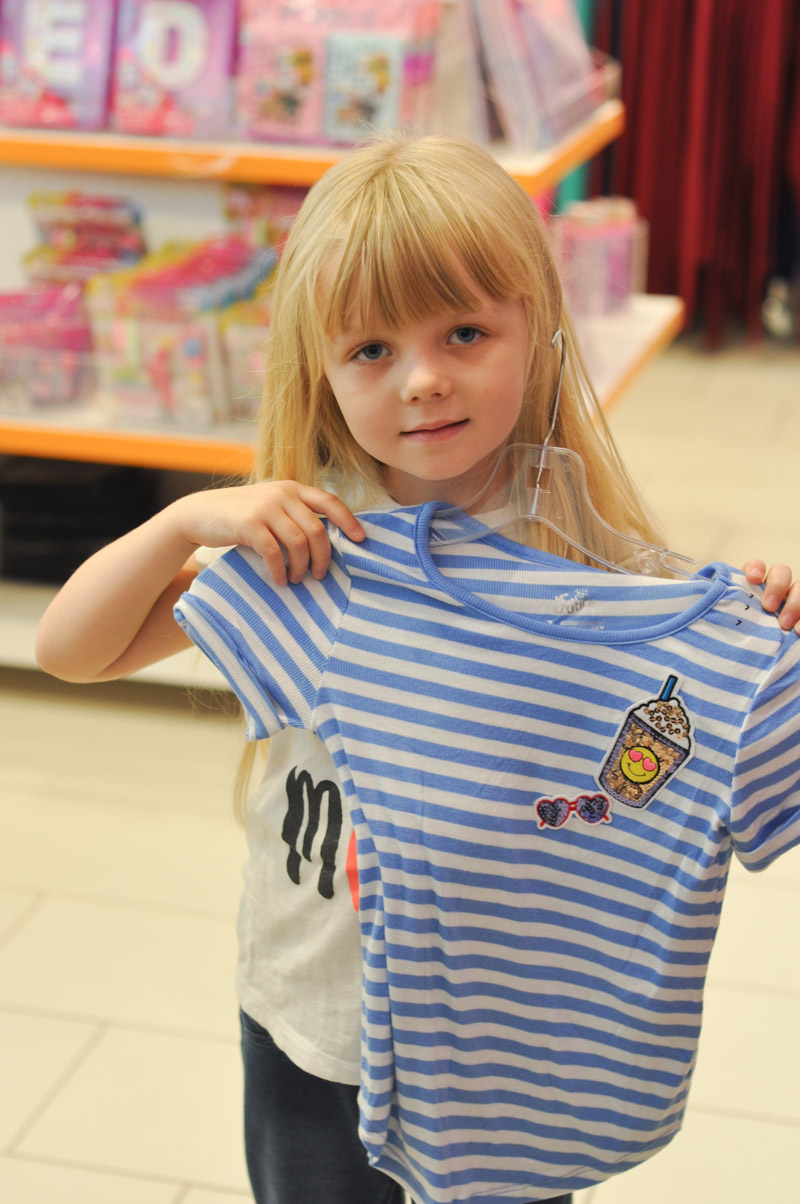 I remember going Back to School shopping with my gaggle of sisters. My mom would pick through the racks of clothes and choose a few stylish sweatshirts, with matching stirrup pants of course. I would always lobby for the sweater that came with a cool accessory – like a necklace or a bubble wand – and she would ask me, "Will you ever wear this outfit, or do you just want the cheap piece of jewelry that comes with it?"
How do you answer that question truthfully?
I don't think you can.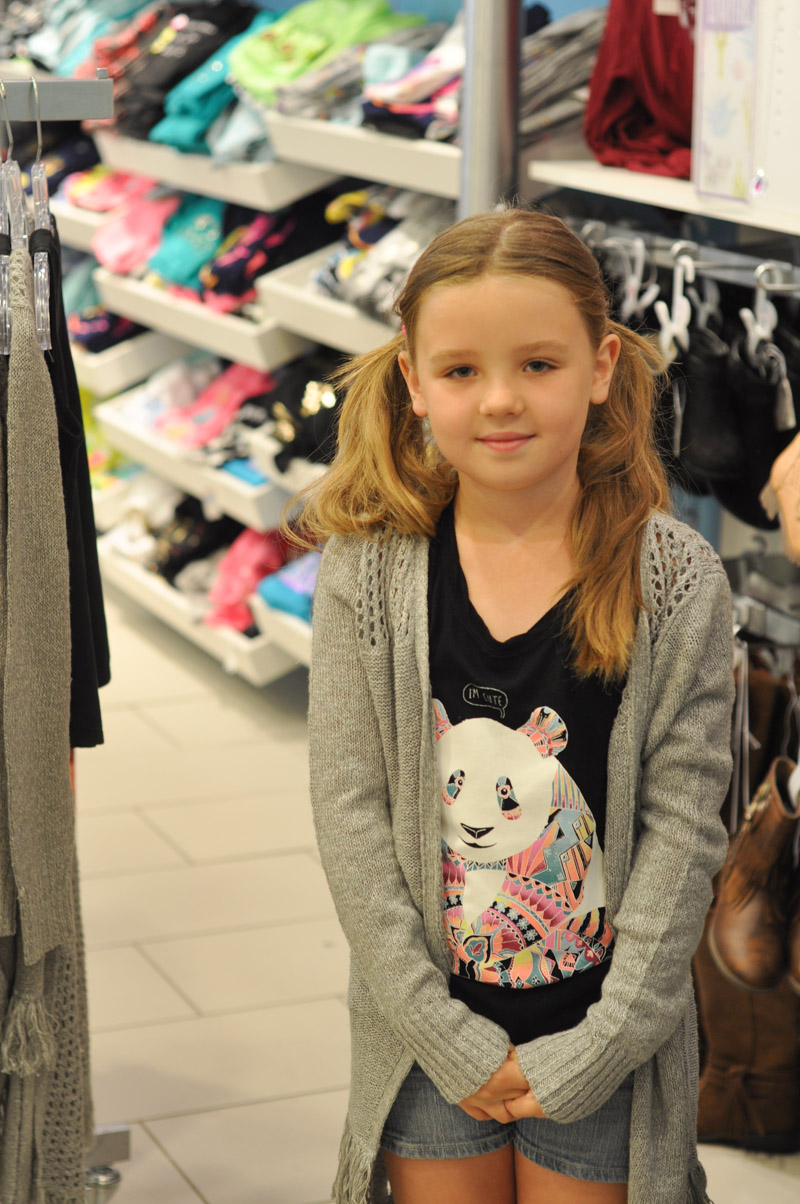 This year, our girls were lucky enough to be treated to a little shopping spree at Justice. For those who perhaps aren't yet in the know, Justice is a store that is for girls sized 6-20, and it is chock-a-block full of clothes that are stylish, neon, covered in Emojis, have to do with unicorns, are sequined, or are leggings.
For Lila, this was like being handed the key to a candy store.
"Justice!?!? I can go back to school shopping at JUSTICE!?!?"
Lucy, on the other hand, was a bit more skeptical.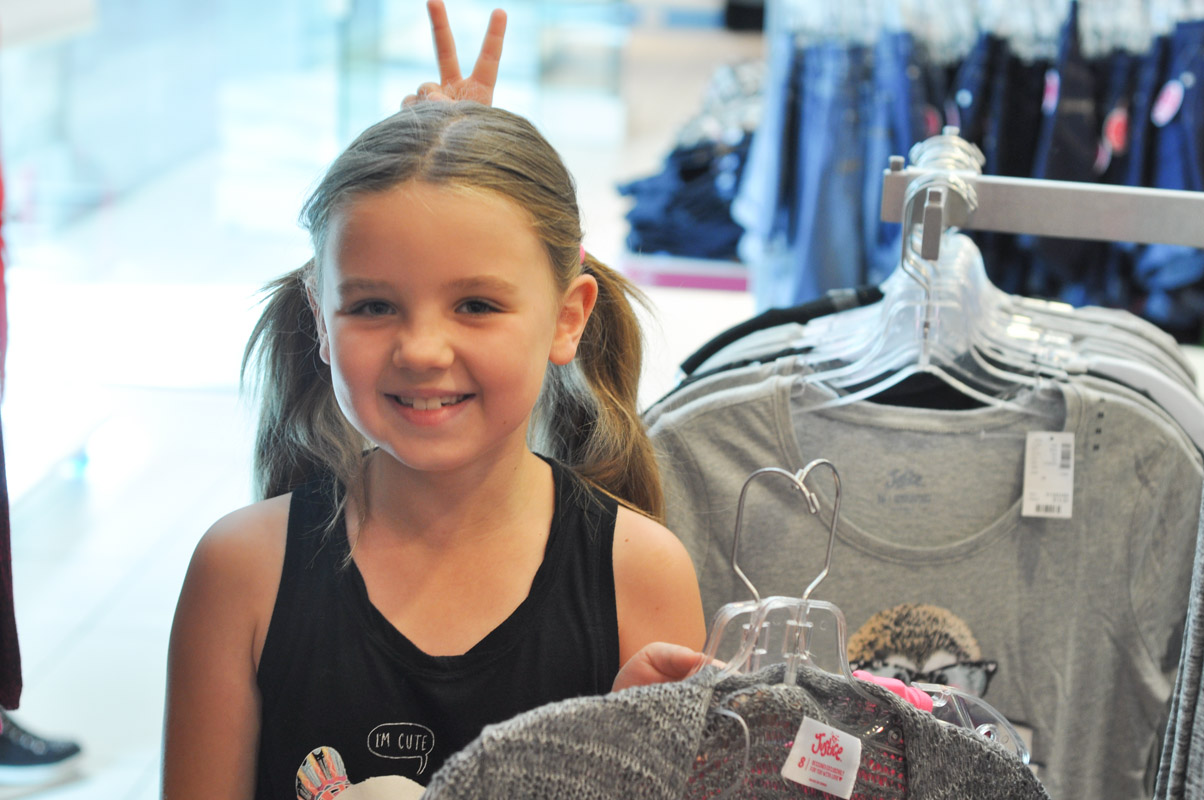 Aren't sisters grand?
Because Lila had always been the kid to covet Justice and its racks of beautiful clothes, and Lucy has been a lot quieter about whether she even CARES about style, I wasn't sure if she would find clothes to suit her.
We walked through the doors of the shop, leaving the din of the mall behind us.
Lila immediately headed towards the long sweater coats and vests.
Lucy paused for a moment….
… and then bee-lined for the t-shirts.
Poop + Poop = King Poop?
She didn't pick this shirt, but she and Lila had quite the giggle over it.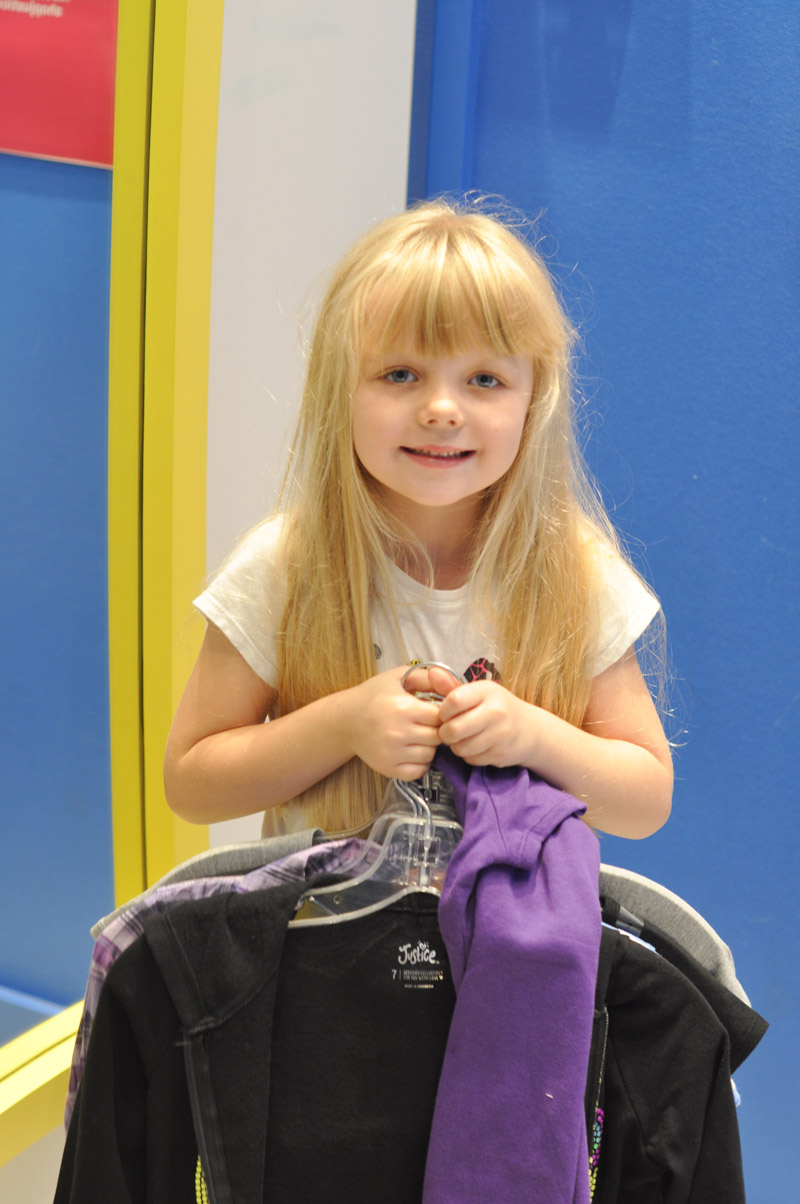 In fact, our not-quite-a-clothes-horse daughter found most of her Back-to-School wardrobe at Justice, and quite happily at that. While Lila oo'ed and ahh'ed over dresses and skirts, Lucy found some sequined t-shirts, a hoody, and some very nice tops.
But of course, you can't make a leopard change its spots. When we arrived home, Lila was very eager to model her looks: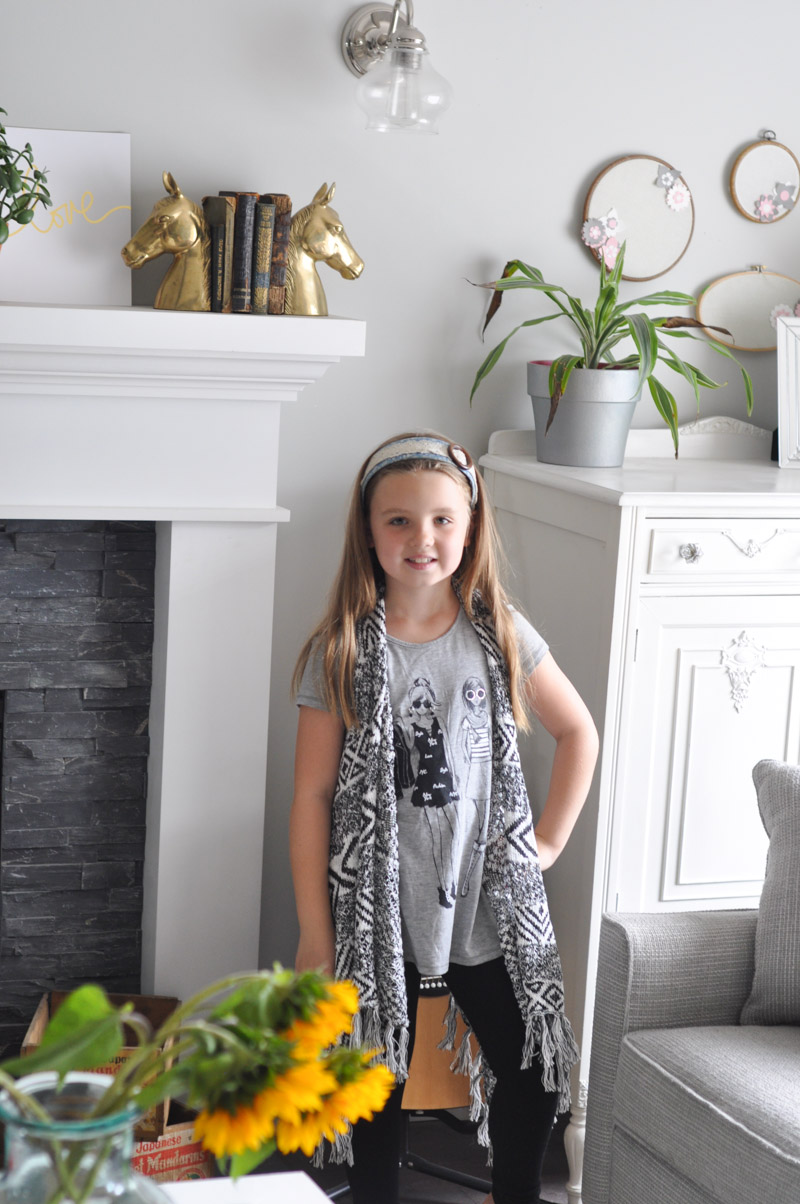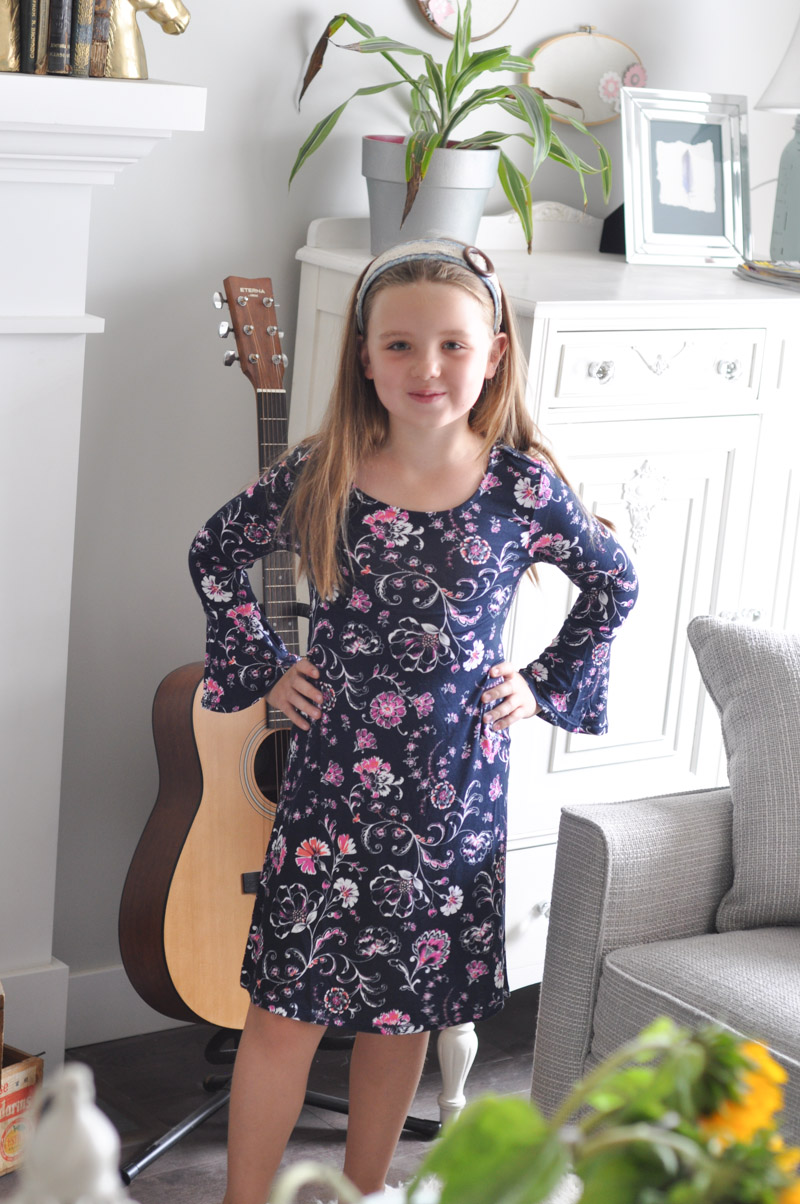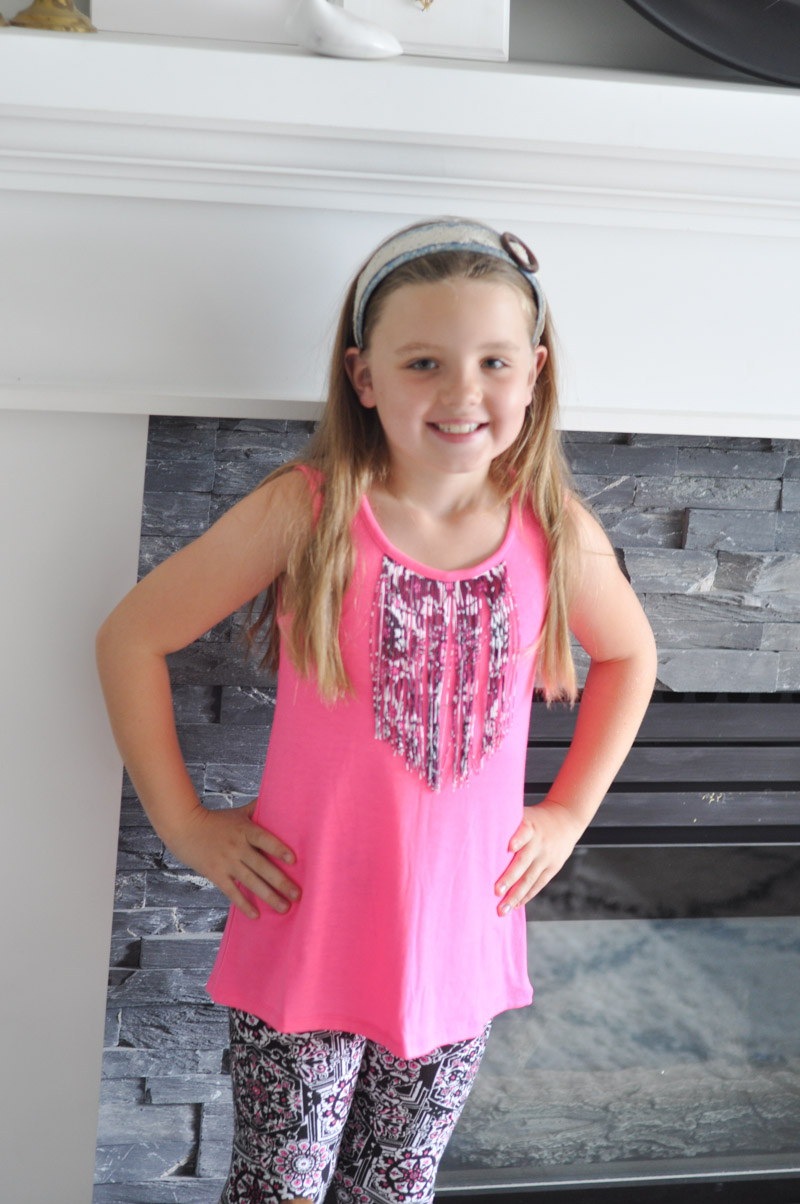 Ummm…. do these come in my size?!?!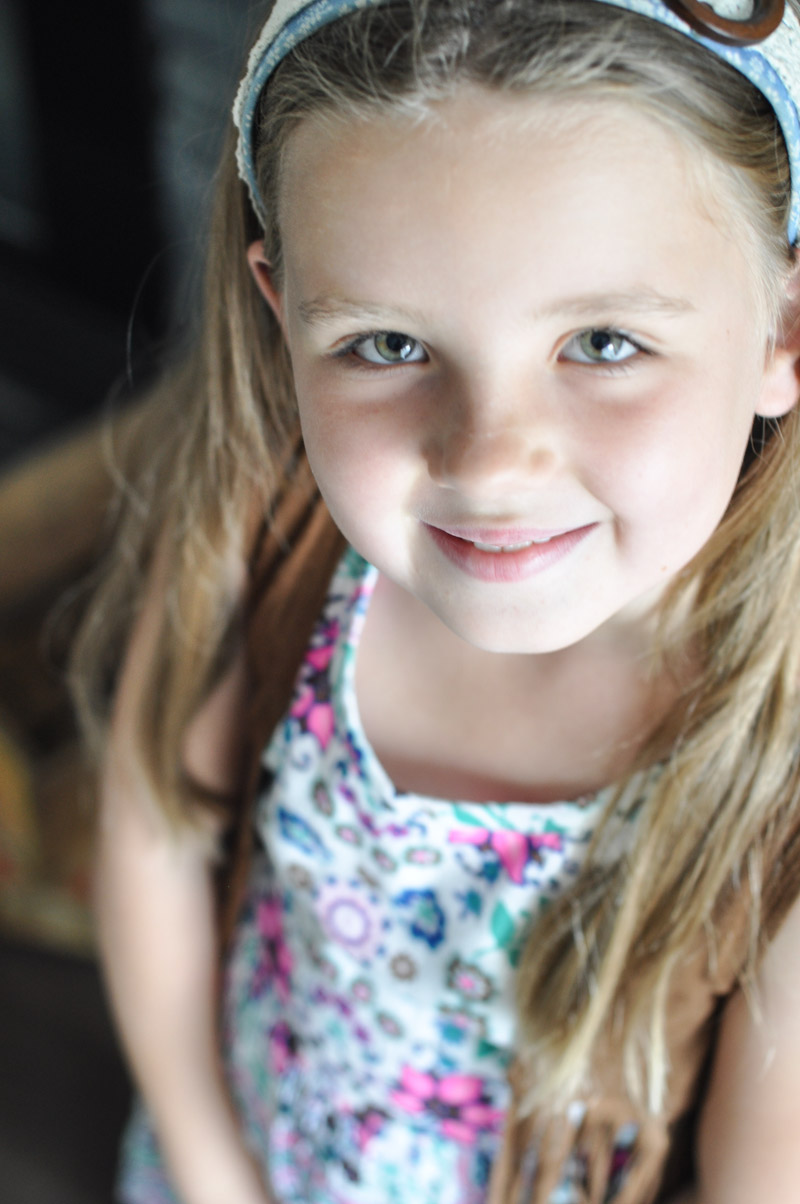 And the child was thrilled to bits.
Lucy, on the other hand!?!?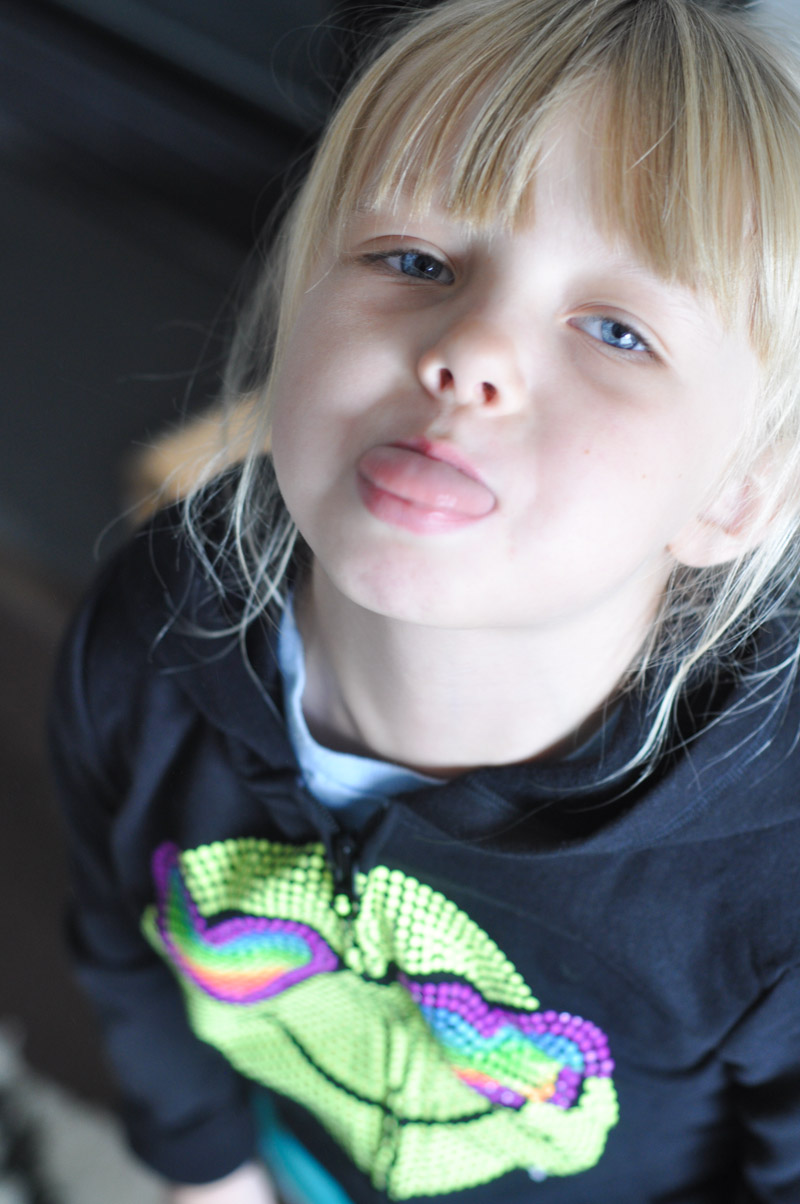 This is how we strike a pose in our house.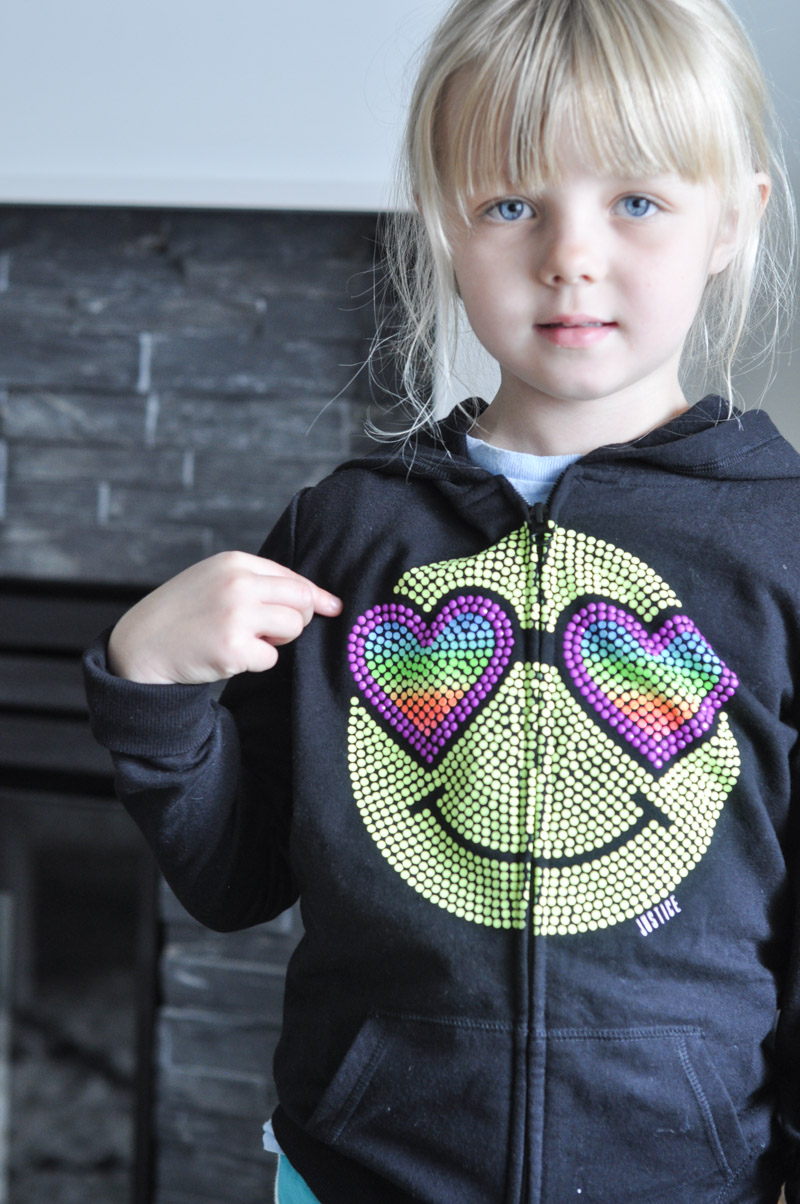 But she still shared her two favourite outfits with me, before she decided she had enough of the whole project.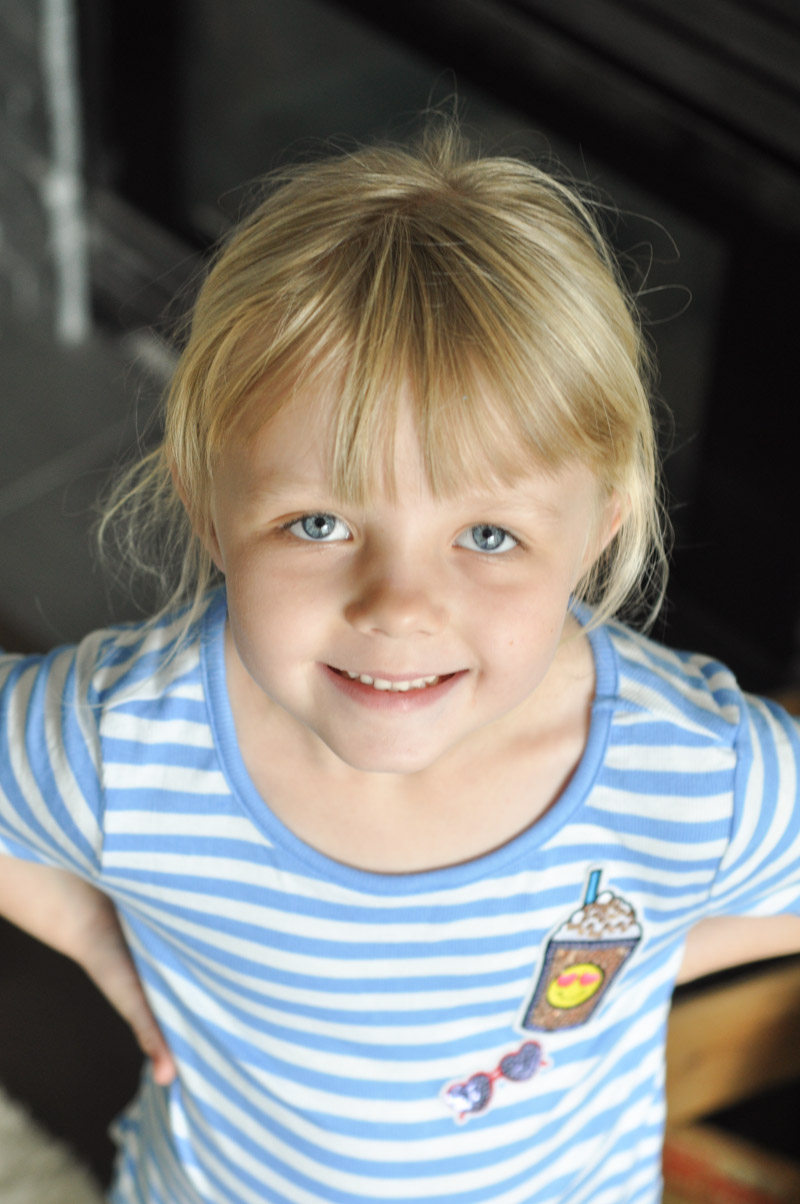 And that's okay. We don't have to dress the same, and we don't have to act the same, and we don't have to BE the same.
That's the beauty of these two little crazy monkeys. They're their own people, and they're not afraid to show it. I'm so proud of them for knowing that so early in life; I hope they carry that confidence with them through their classroom doors.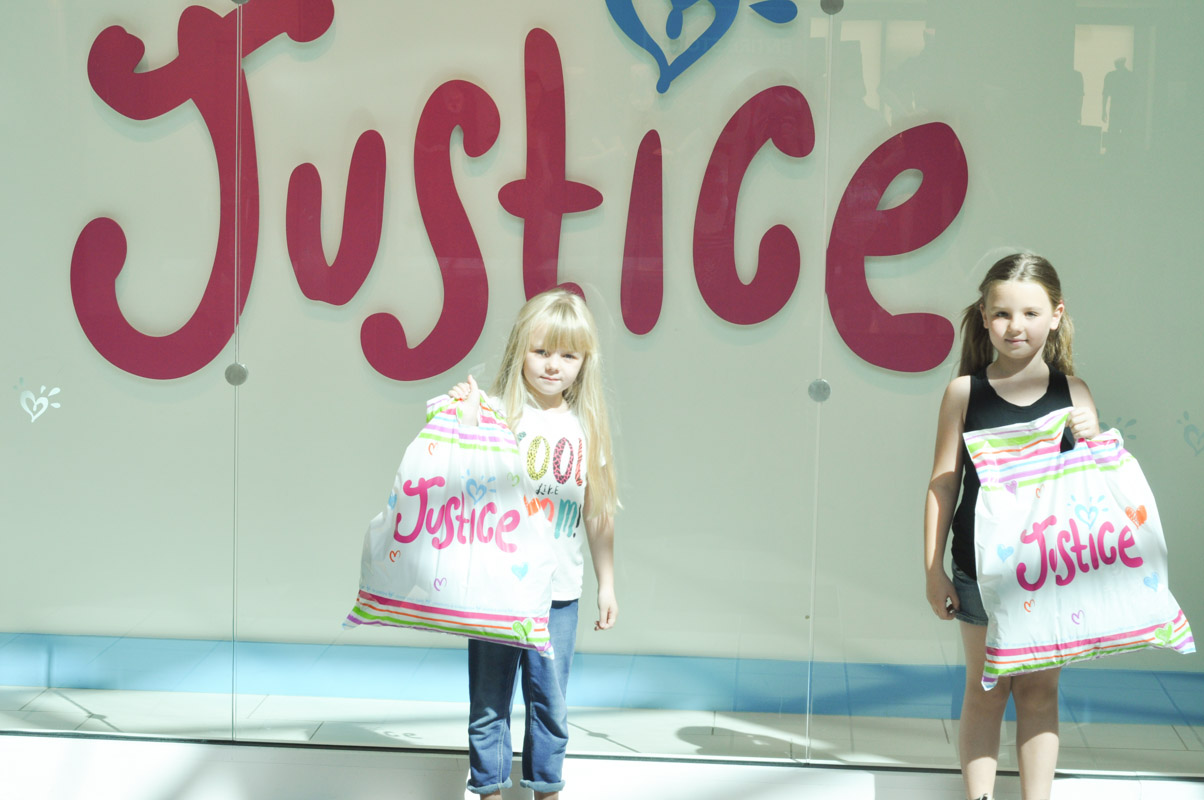 And while I may not be ready for the rest of this Back-To-School business, I know that we're set for clothes! (And they're nice ones at that!)
Are you set for Back-to-School? I'm throwing a last-minute Facebook giveaway TOMORROW – September 1st, 2016 – on my Suburble.com Facebook page. Be there at 10 am PST and enter to win a $100 shopping spree for your own family!
Thank you to Justice for giving our girls the chance to do their Back-to-School shopping with you! I received compensation for this post, however, like all posts, the words, images, and awkward childhood memories are my own.