Yep. I succumbed to temptation.
On our recent trip to the States, I knew that we would be driving past a mall that contained an American Girl store. The store of all-things-hot pink, perfume-scented bathrooms (with doll-holders in the stalls – say what!?!?) and a doll salon with prices starting around $22. The store where reality is immediately suspended and you can convince yourself that yes, it's very reasonable to spend $80 on a balance beam for your doll. After all, how else will she get to the American Girl Olympics?!?
I debated whether or not I would even mention it to Mr. Suburble… but my curiousity got the better of me. I proposed to him: should we visit the American Girl store and have the full "American Girl Experience"?
I use quotation marks because that's how the sales clerk ended our call to me in a melodious tone, "Have a wonderful day and we hope you enjoy your American Girl experience…"
Okay, this is so amazing that it is an "experience"?
We're going.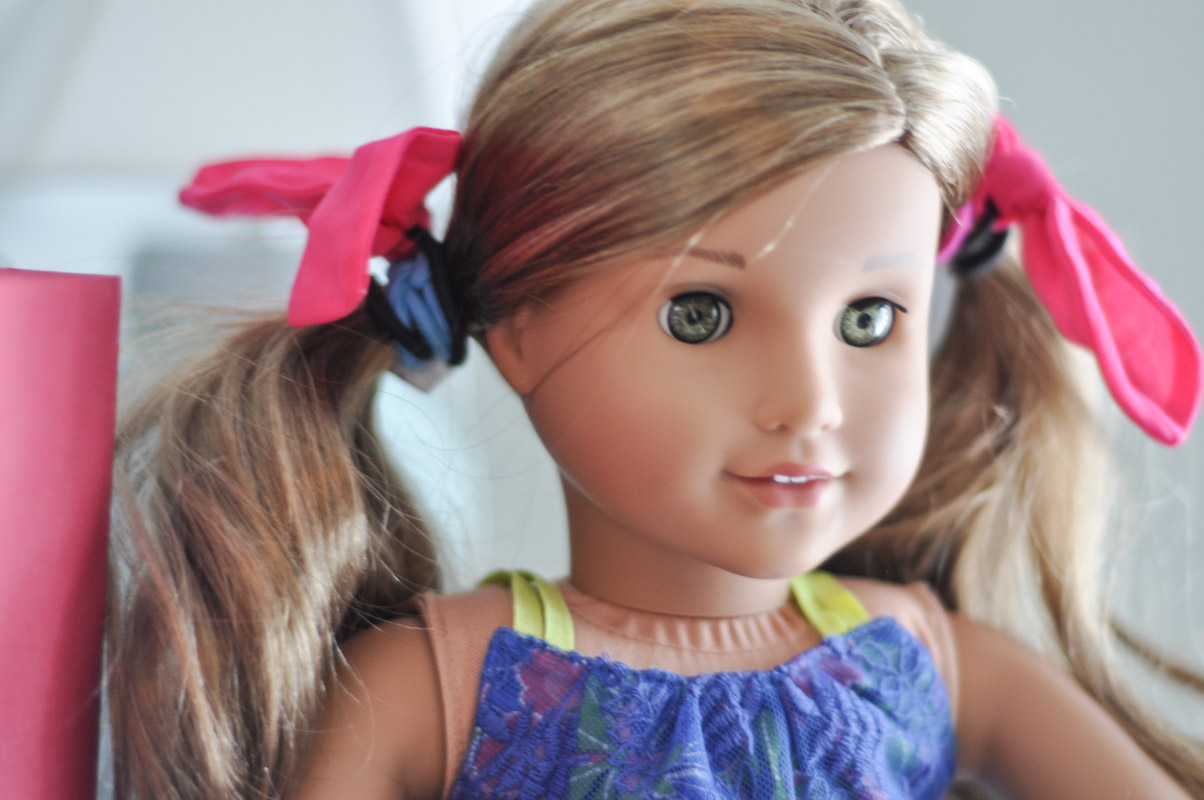 This year, Santa brought a completely authentic, costs-a-mint-and-a-half American Girl into our home. After Lila played with her knock-off version of the doll for long enough to satisfy that she wouldn't just chuck the doll into the closet and leave it to collect dust, Santa decided that a little bucked-tooth AG doll would join our family.
Lucy, who is lukewarm about the whole doll phenomenon, dutifully packed up her own dirty-blonde knock-off and seemed to be just as thrilled as her sister to see what the American Girl store held. I'll admit, I was kind of excited too.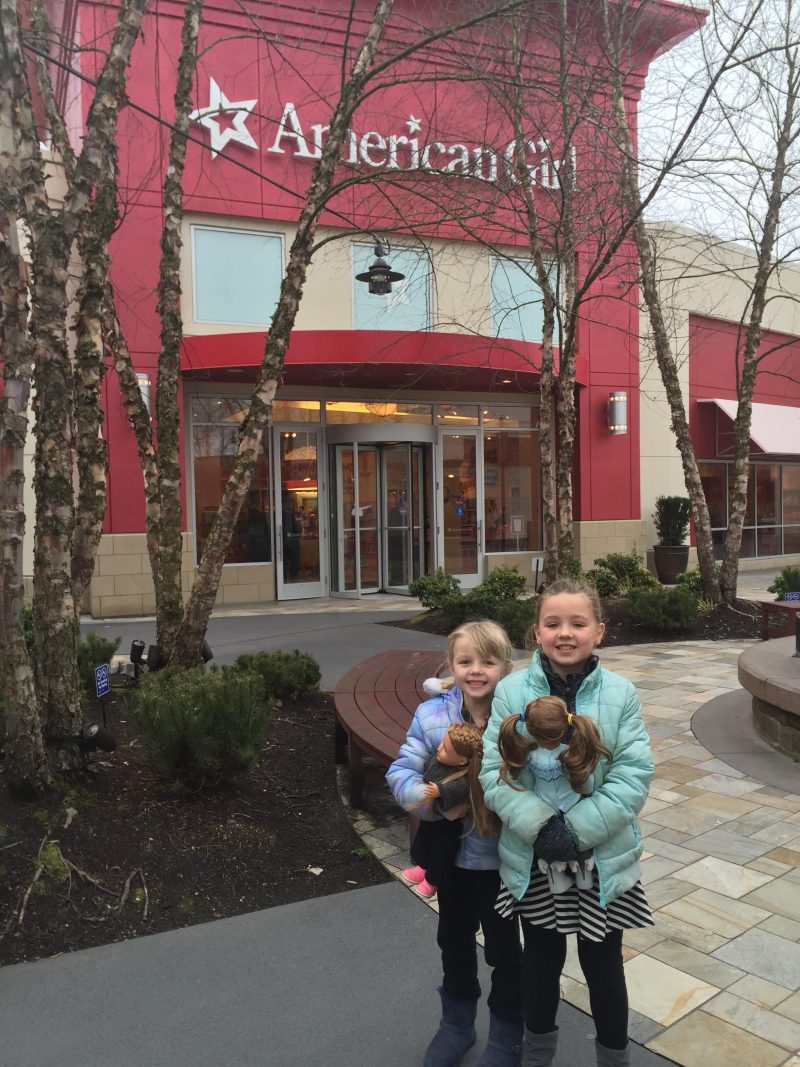 Upon entering the store, I was immediately overwhelmed by the displays. Kept under glass, dolls stare back at you from their museum-like exhibits. Granted, the costs associated with some of the accessories warrant the glass boxes. Displays that weren't protected had obviously seen their share of manhandling. For example, when Lila excitedly showed me the teensy "Allergy-Safe Lunch" in its equally tiny sack, we couldn't find the miniature Epi-pen. No doubt that had walked away with some small pair of hands.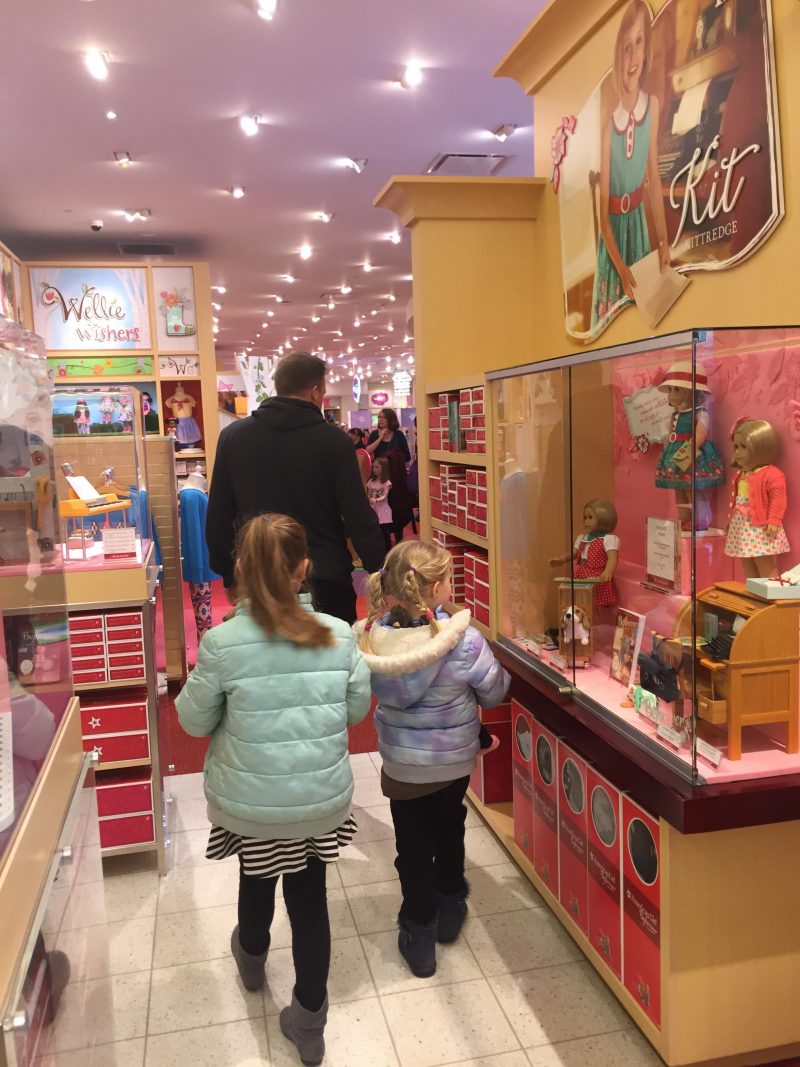 The Budget
In a perfect world, a budget means that you will not spend any more money than you had loudly declared at the beginning of your shopping trip. Your child will speedily compute sums as she makes an easy decision to choose a toy/accessory/hair brush that is full of play value.
And then you have my world.
Mr. Suburble and I set a budget of $30 for each girl. Their eyebrows furrowed and they started counting their fingers as they darted from one glass-enclosed display to another. Mr. Suburble walked behind them for about five minutes and then raised his eyebrows. We buried him under coats and dolls on a bench near the back of the store.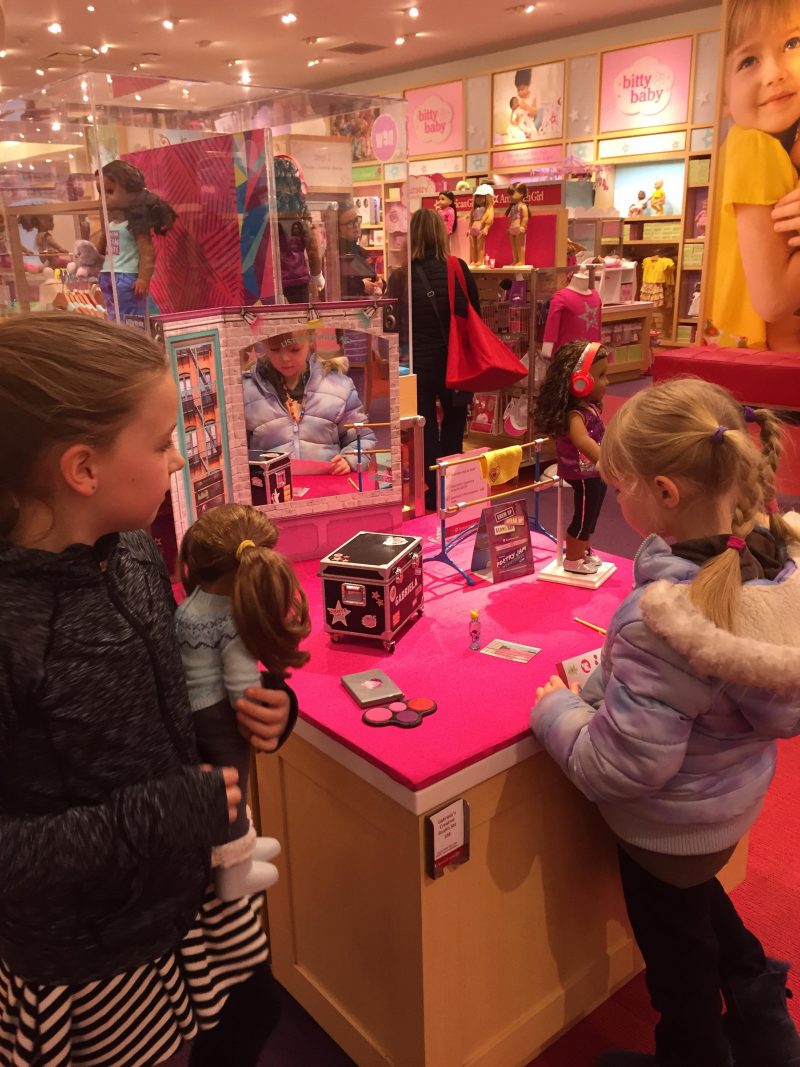 After twenty minutes of agonized faces, poorly done math, and the girls' very best negotiations, Mr. Suburble and I made eye contact. His eyes pleaded, "Let's wrap this up, please….."
The budget quickly got a bit more flexible, and the girls managed to finally make their decisions. Lucy, ever the doll-skeptic, chose a little stuffed dog and carrying case, while Lila chose a teensy-tiny violin that came with a case, music stand, and tiny little music books. She also bought the much-coveted American Girl hairbrush: guaranteed not to wreck the ever-precious AG coiffe.
The Meal
You know what? It's actually pretty reasonable to eat at the American Girl Bistro. The most expensive meal on the menu was about $14, and everyone happily ate their kid-friendly fare in the cozy booth.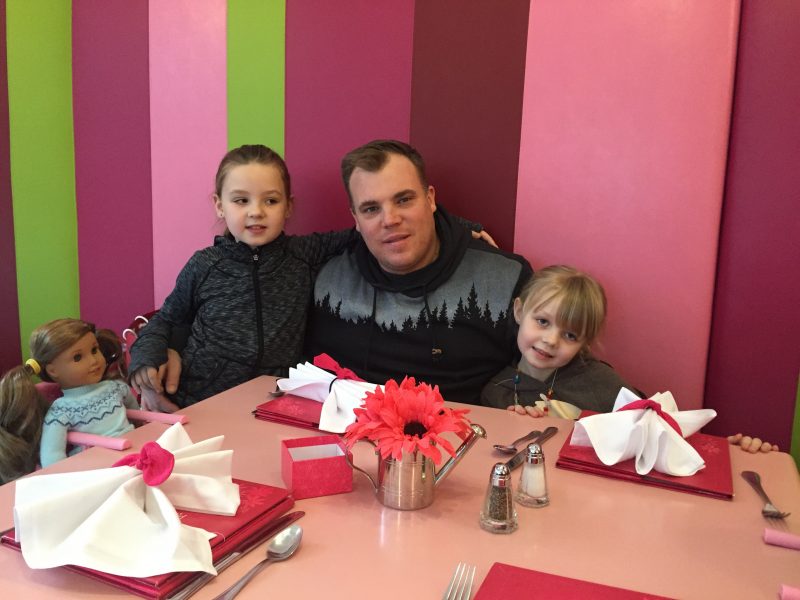 With their dolls safely tucked into their high chairs at the table, the server came over and informed us that the napkin rings were actually hair ties, and they were to be taken home after the meal.
And then, the girls and their dolls became the focus of the meal. The server immediately recognized Lila's doll – Leah Clark – and expressed her relief at seeing Leah in a sweater. "It's so much colder here than it is in Brazil. I'm glad you're dressing Leah warmly!"
Those warm comments melted any trace of skeptical eight-year-old attitude, Lila beamed at the server and nodded her head in agreement. Not recognizing Lucy's not-a-real-American Girl, she asked the doll's name – Makenna – and then asked what the dolls would like to drink.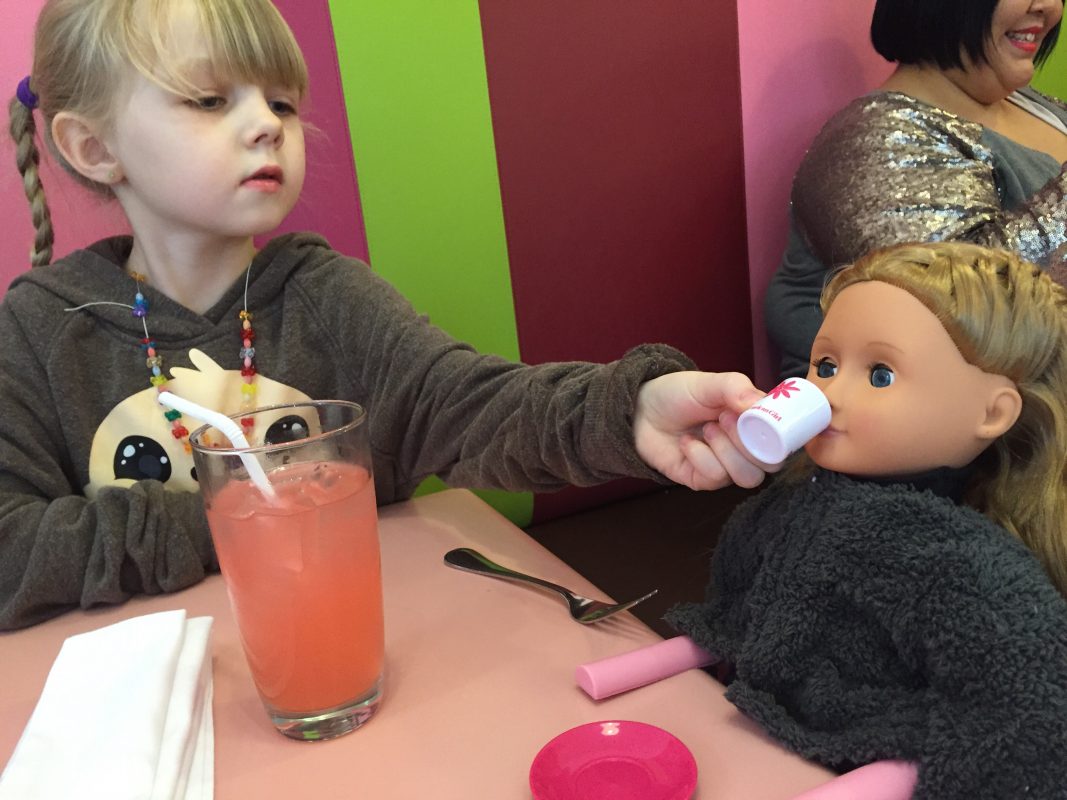 With raised eyebrows, both girls ordered pink lemonade for Makenna and Leah. And when it arrived in tiny doll teacups – to be taken home as well! – they were both tickled with the entire experience.
Our server did not forget either doll's name and constantly checked in on how each girl and their doll were doing.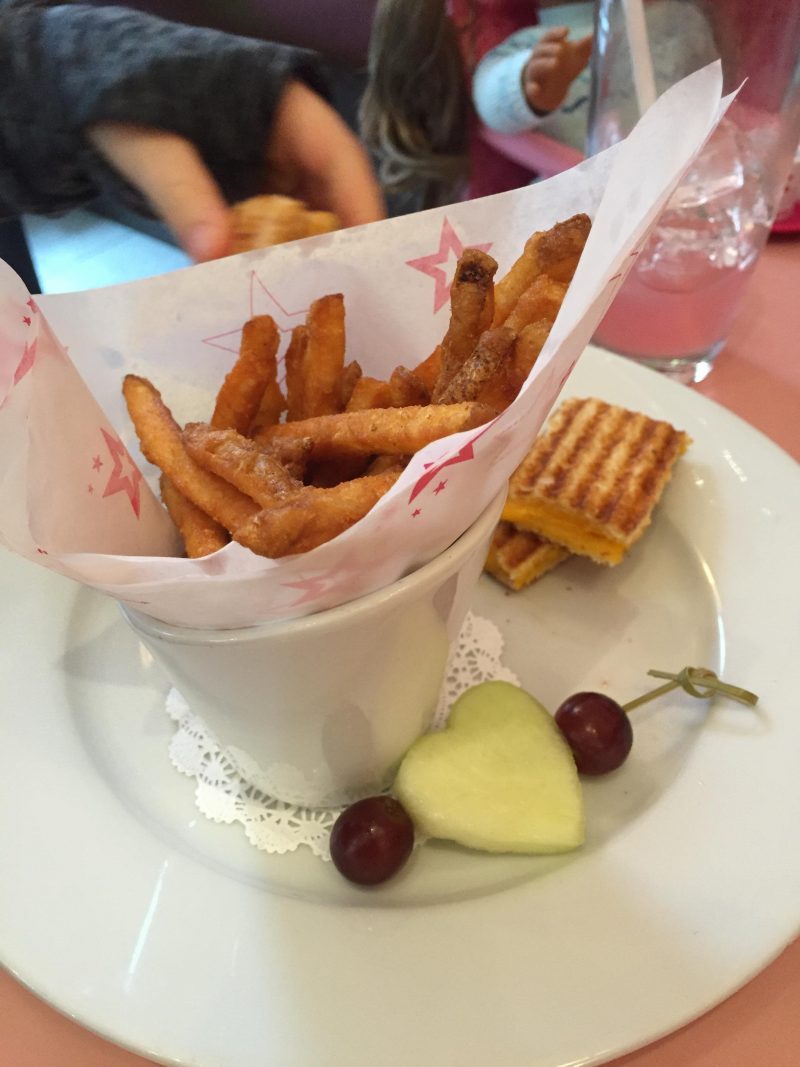 Mr. Suburble and I happily ate our meals while the girls thrilled at every small detail.
Okay, Sunny Salesperson on the Phone, you were right. This is an experience.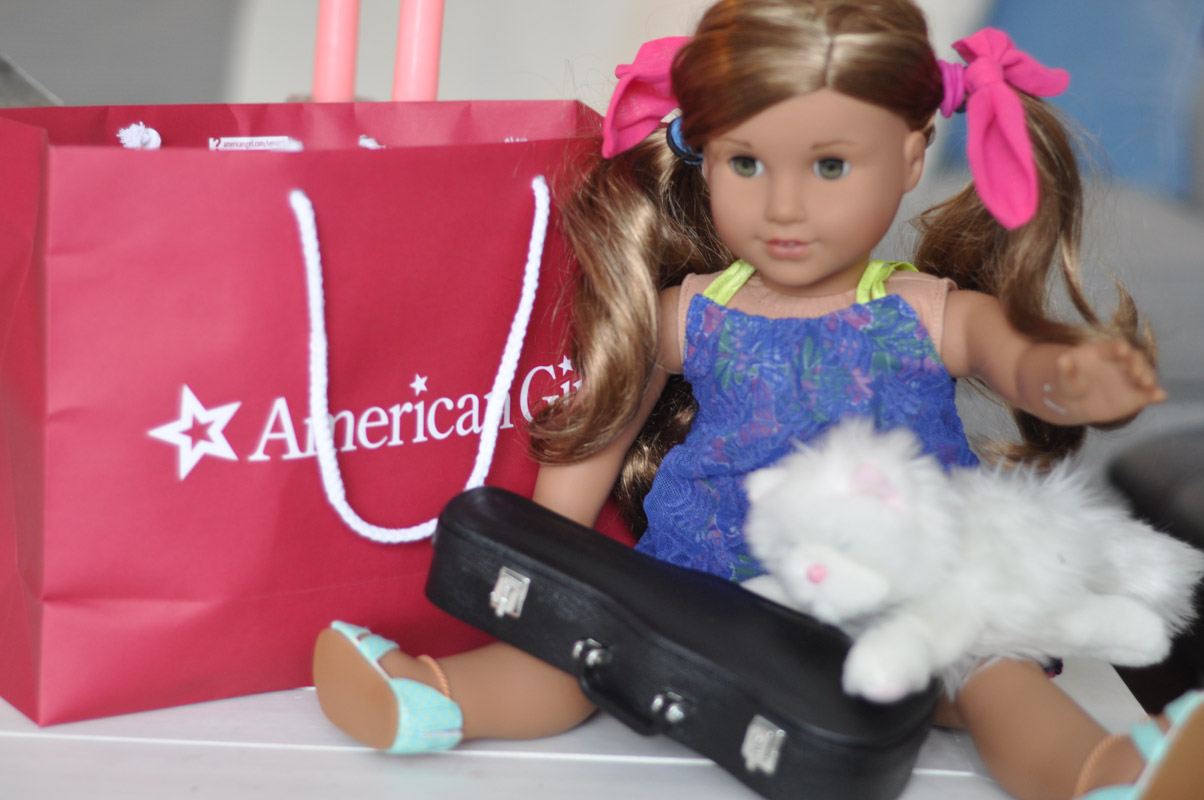 Because I am one of "those moms", I asked for a carrier bag for both girls. They left the store, swinging their bags and clutching their dolls.
Yes, it had cost more than I had anticipated. Budget, smudget.
Yes, Lucy hadn't even bought something for her doll…. she cuddled her stuffed dog for the remainder of the drive.
And yes, as Mr. Suburble described it, it was a "bit of a racket".
But if you're going to support any racket, why not support one that sparks imagination and lets your kid be kids?
I'm grateful that the American Girl store isn't in our neighbourhood, thus it requires a conscious decision to go there, but I am so happy that we went. If anything, it made my heart go pitter-patter over the miniature everything.