Recently, we had a birthday party for a certain eight-year-old in our house. The theme for Lila's shindig was High Tea. Yes, as you might have guessed: I suggested it. And yes, I fussed about and decorated for it. But high tea is a theme that resonates with all of the gals in the Suburble house.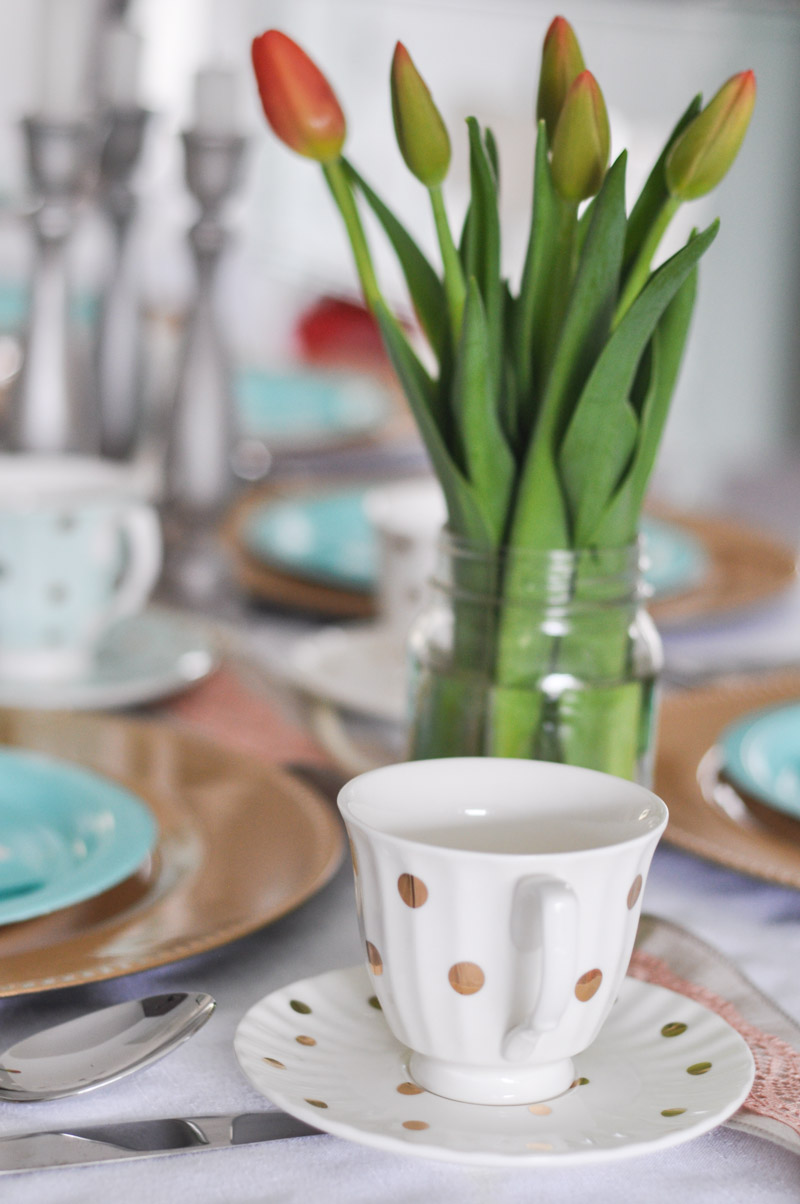 On school days that seem particularly hard – those days where the girls come out of their classrooms looking a bit tired or weary from the challenges of the day – I sometimes suggest that we treat ourselves to a visit at our local tea house. Set inside the front room of a charming little character house and managed by a cheery no-nonsense woman with a Mary Poppins accent, our days are lifted as we drink lemonade from vintage tea cups while licking the frosting of a deliciously overpriced teensy cupcake.
Because there's something special in those short visits – the calm ambiance of the little shop, the decadence of the treats, the undivided attention of Mom – I think it's why the idea of a proper tea party felt good to all of us.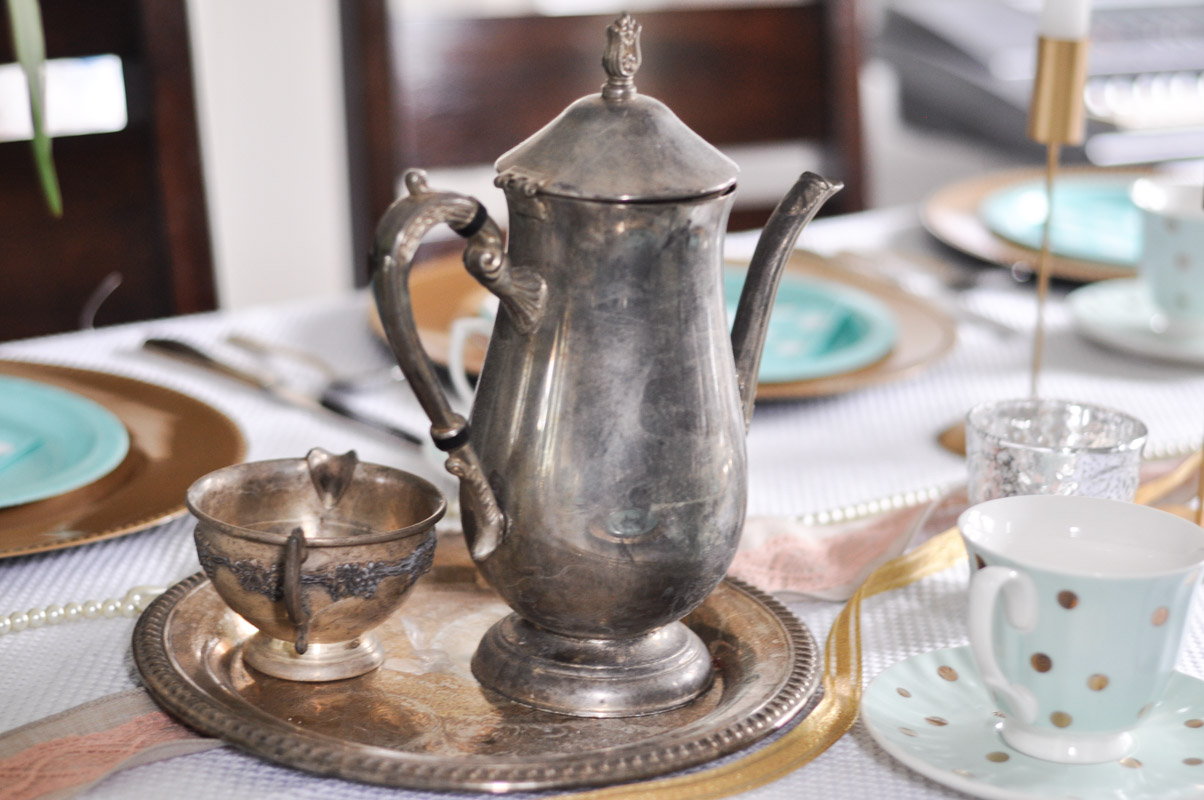 Of course… whenever I plan a party, I start with the same phrase, "We'll keep it small. Just a few friends…"
This is because I am a liar and I like to pretend that I don't know myself.
Our small party of 8 girls quickly doubled to 16.
What can I say? Guest lists were born to grow!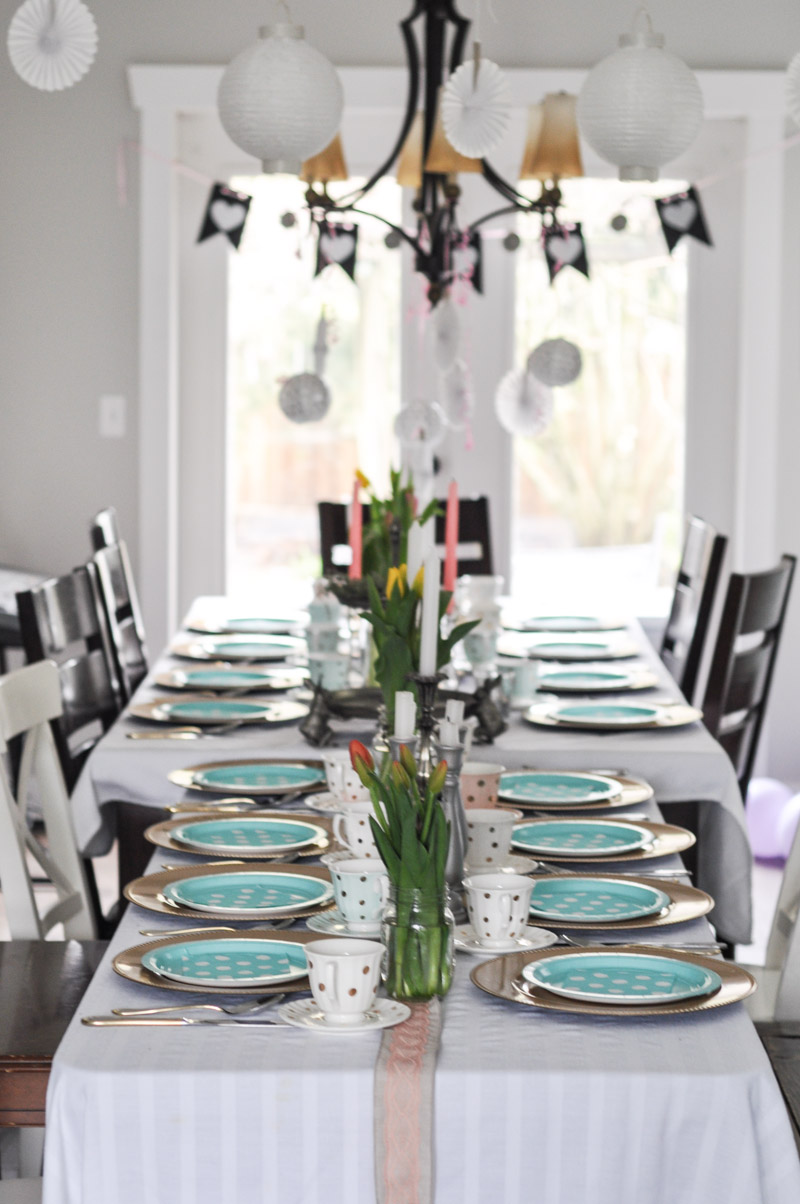 Of course, those 16 girls needed to sit somewhere.
I brought in a folding table and a mish-mash of chairs from around the house and got to work on setting the table.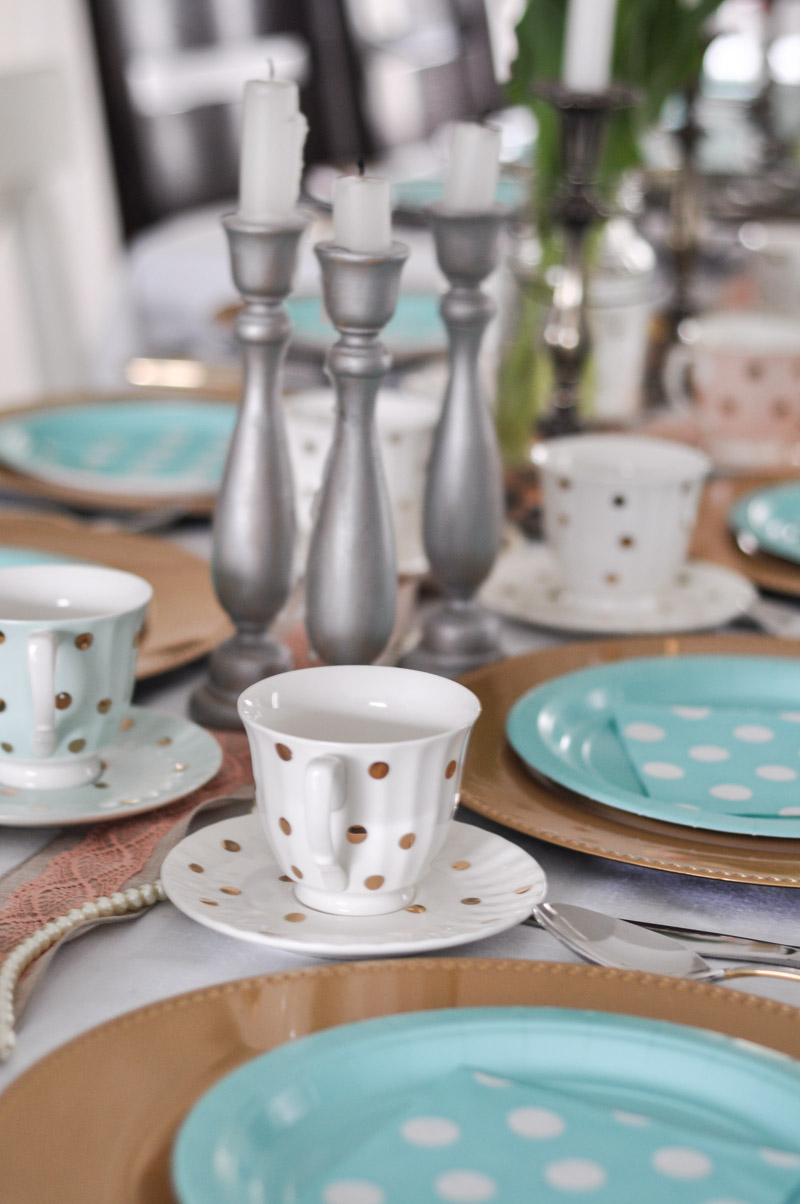 Each table setting featured a little gold polka-dotted tea cup and saucer – yes, I was that lady clattering around Home Sense with 16 teacups and saucers in her shopping cart – waiting to be claimed by a little guest. These became the party favours as well. After being wiped down, I popped a bag of jelly beans into the cup and sent them home with each little girl.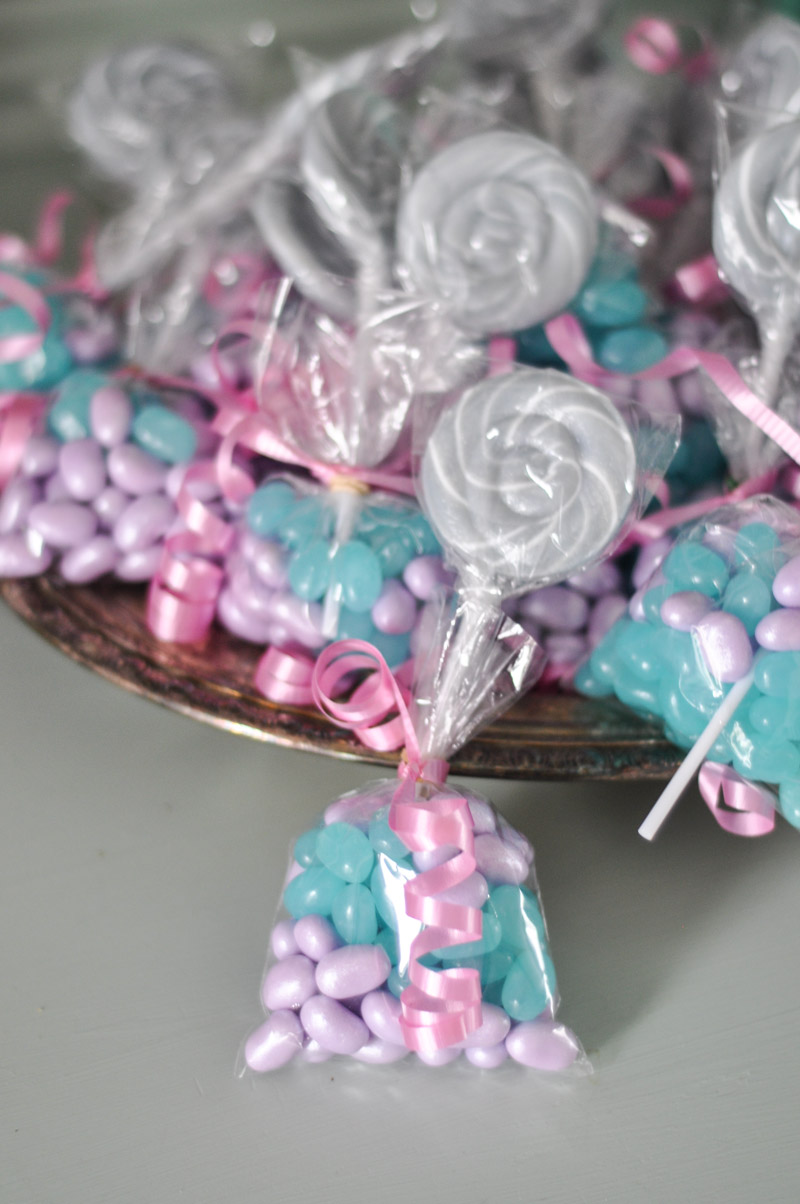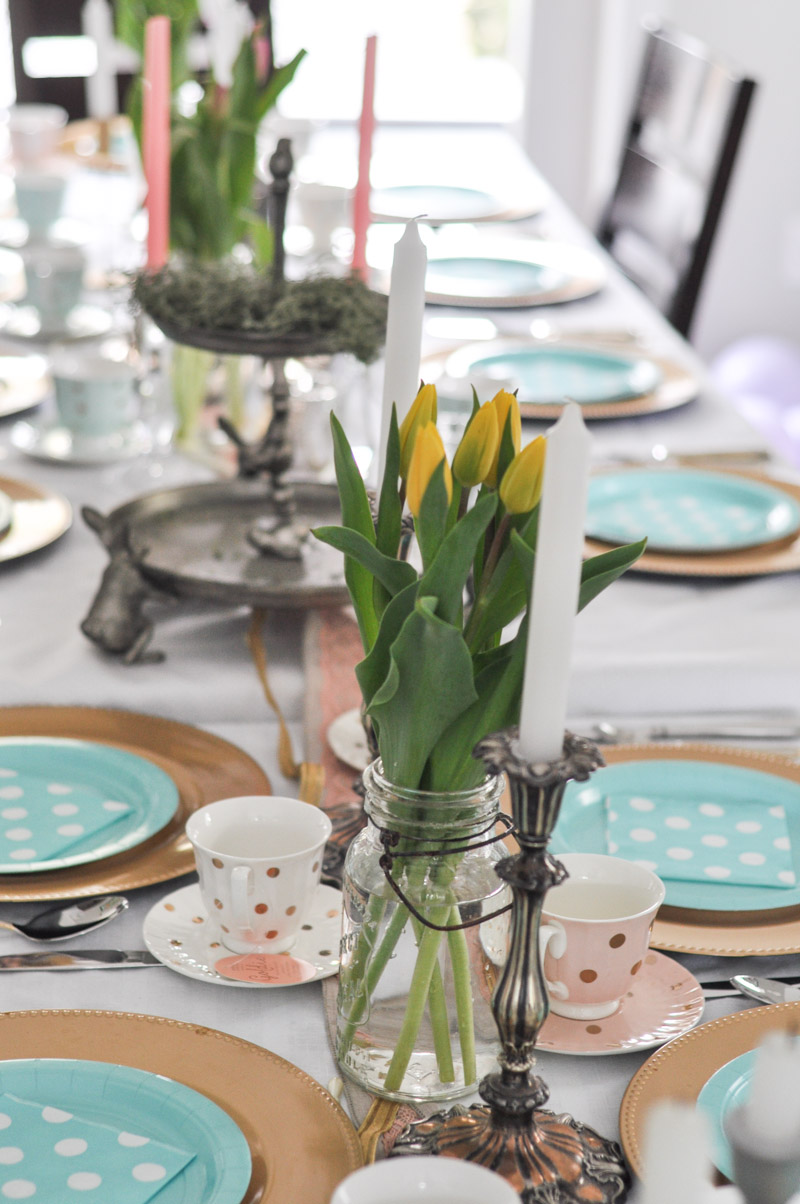 Mr. Suburble fetched bunches of tulips from the grocery store to finish off the tablescape and I stuck them in tall mason jars. Gold chargers dressed up the robin's egg blue paper plates and napkins that waited at each chair.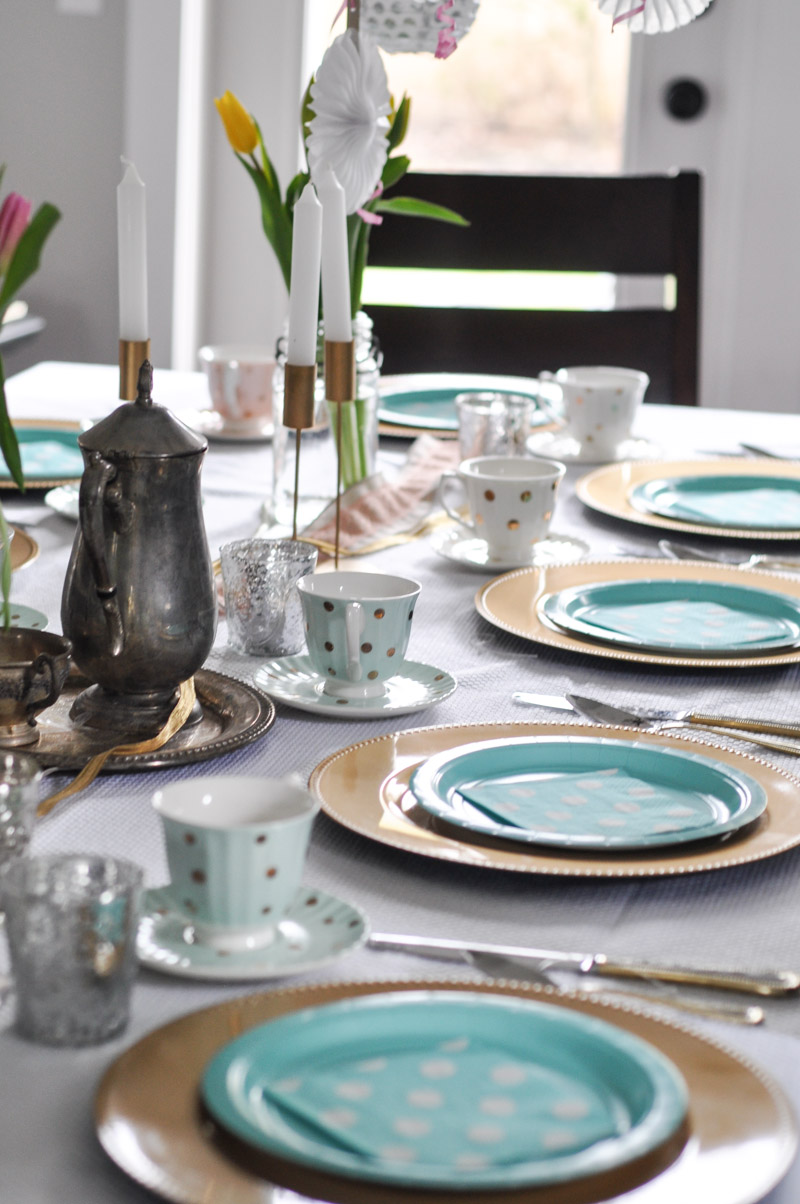 In my heart, I had envisioned tiered trays filled with sandwiches and dainties in the middle of the table. Bt with such a large gaggle of girls, I soon had to admit to myself that "family style" high tea was a logistical nightmare. Instead, we opted for buffet style lunch in the kitchen, and cupcake decorating while at the table.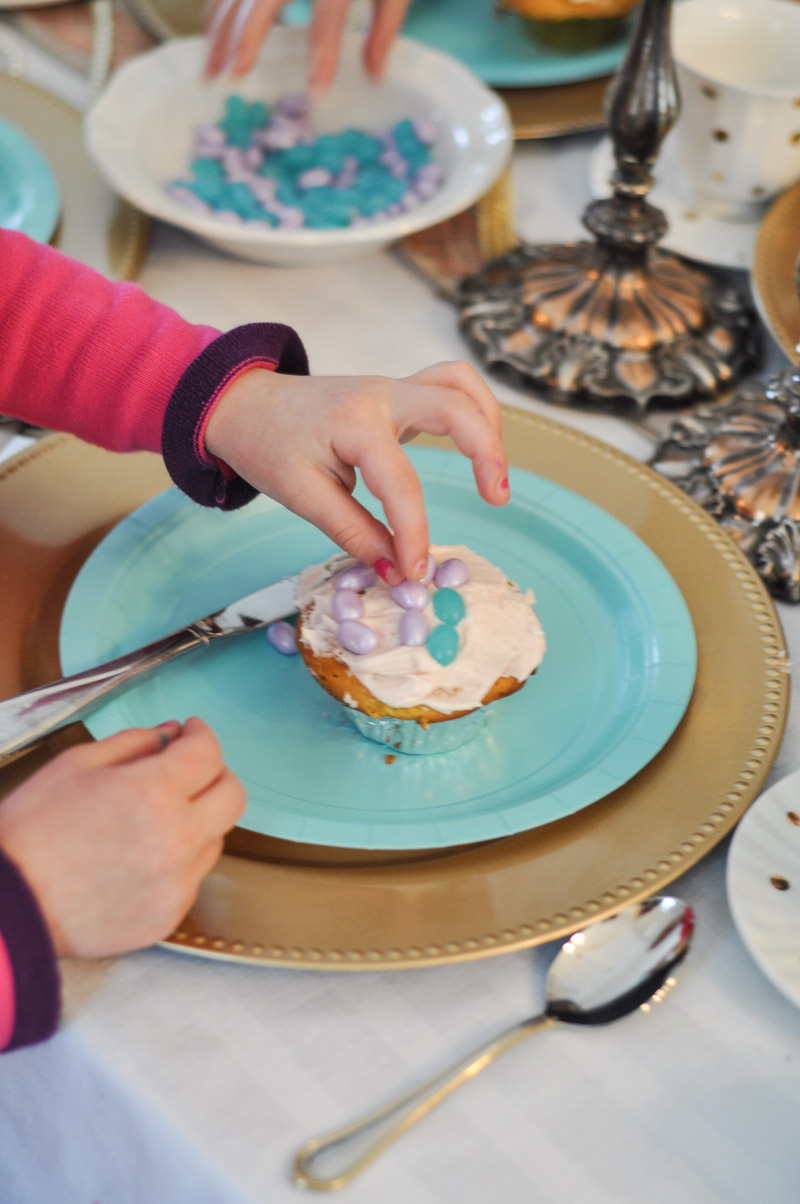 Heavy on the jellybeans, of course!
In my reflection of Lila's birthday, I am so grateful for the women in my life who always show up to lend a hand. As guests were walking through the door, I was hastily putting together the frosting for our cupcake decorating activity. Not thinking about the steps of the recipe, I dumped cup after cup of icing sugar into the bowl as I chattered with guests. My friend, Lindsay, walked into the room and I eagerly passed the job off onto her. "You know how to make this, right?"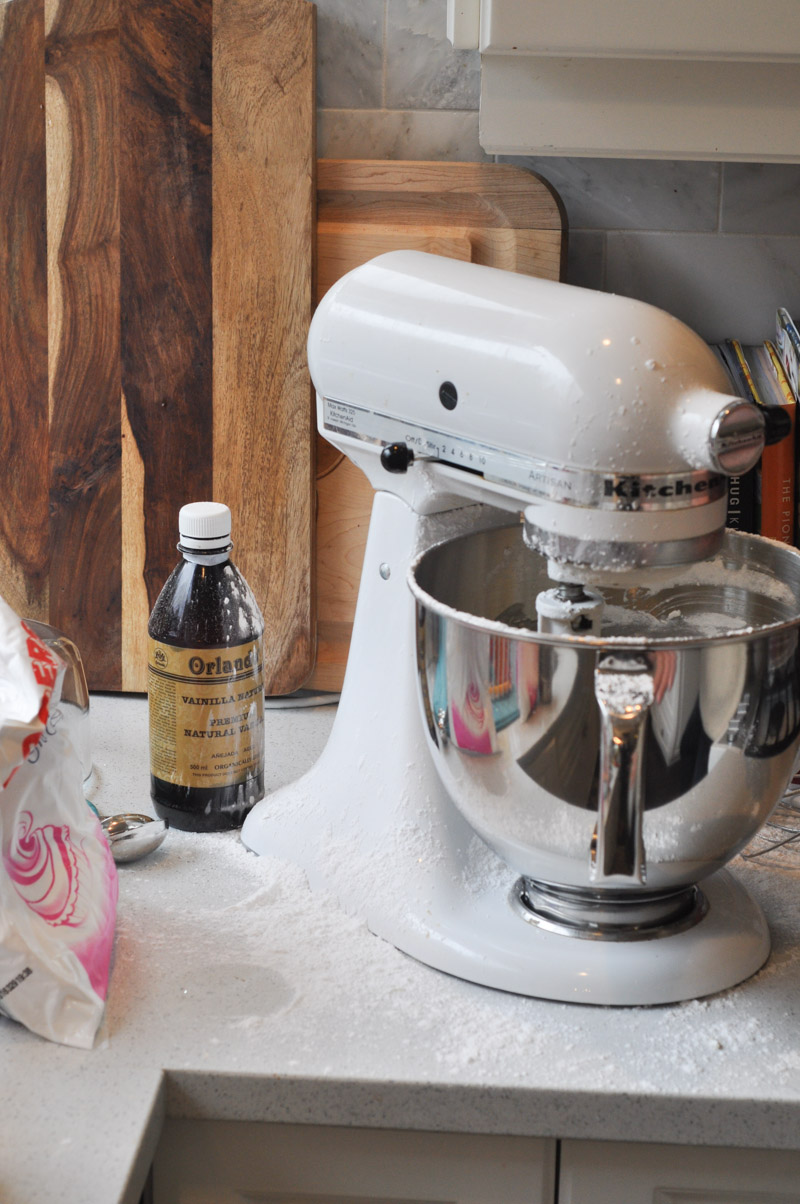 She did the best she could with what she was given. A bowl full of icing sugar and butter that I had neglected to whip resulted in a small snowstorm in the kitchen. After laughing and dusting herself off, she took the brunt of the icing conundrum and got the frosting ready for the guests.
While Lindsay battled the butter to sugar ratio disaster, I turned to the tables waiting in the kitchen. Always the advantageous, I had planned two crafts at the party: top hat fascinators on headbands, and painted photo frames.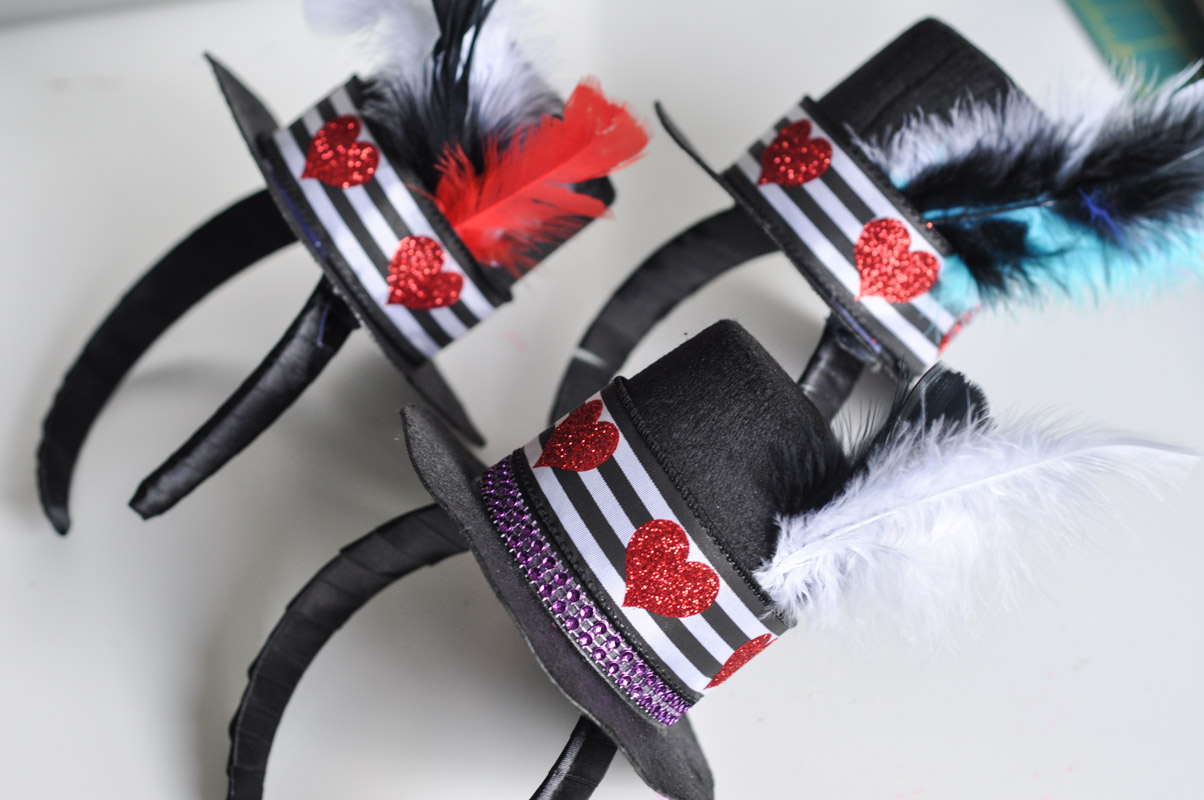 These are the finished product. Are they not ADORABLE?
The trouble is, they need a bit of glue-gun assistance. And somehow, I had forgotten that 7 and 8 year olds do not have the fine motor skills required to not burn the living crap out of themselves.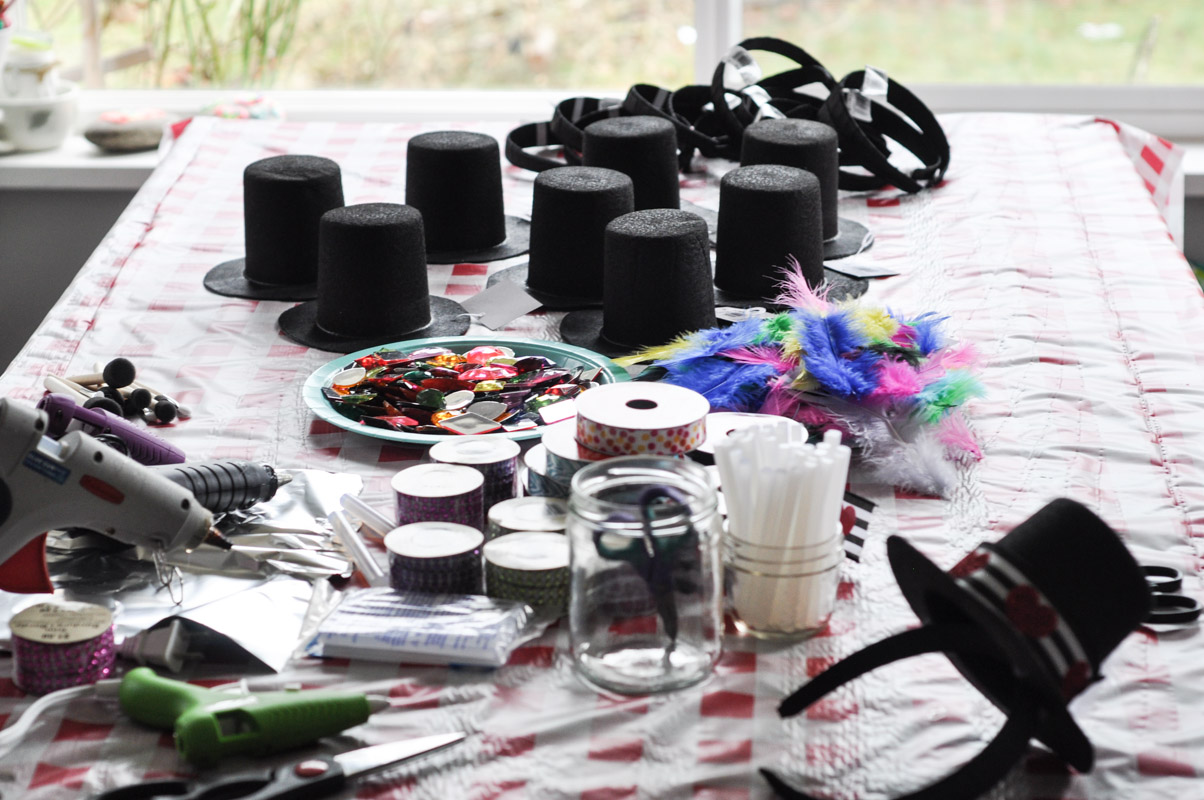 Ignoring this fact, I laid out the table…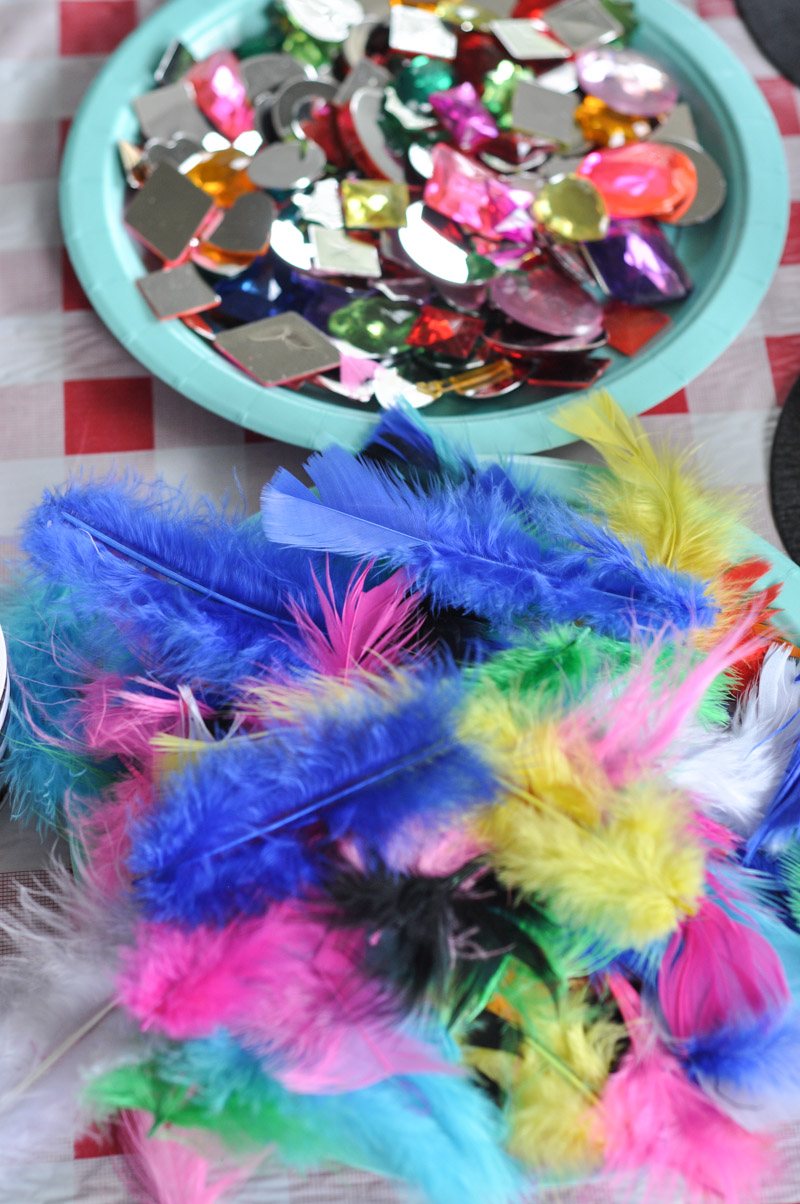 … spread out the bling…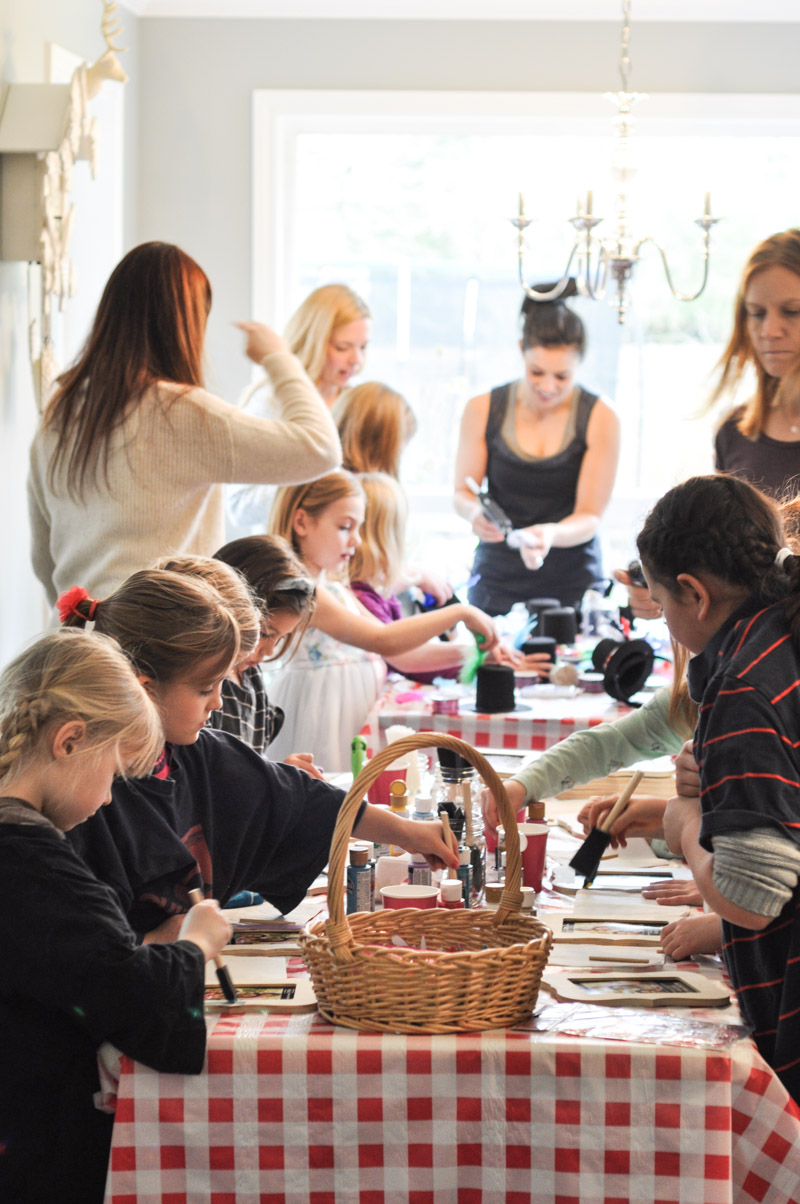 … and then heavily relied on friends to help glue and design and secure little top hats to headbands.
There were a few yelps as hot glue made its way to a mom's unsuspecting fingertips, but by the end of our crafting hour, every little girl had a personalized top hat sitting slightly askew on her head. They each chose a ribbon trim, as well as gemstones and feathers to add a bit of pizzazz to their hat.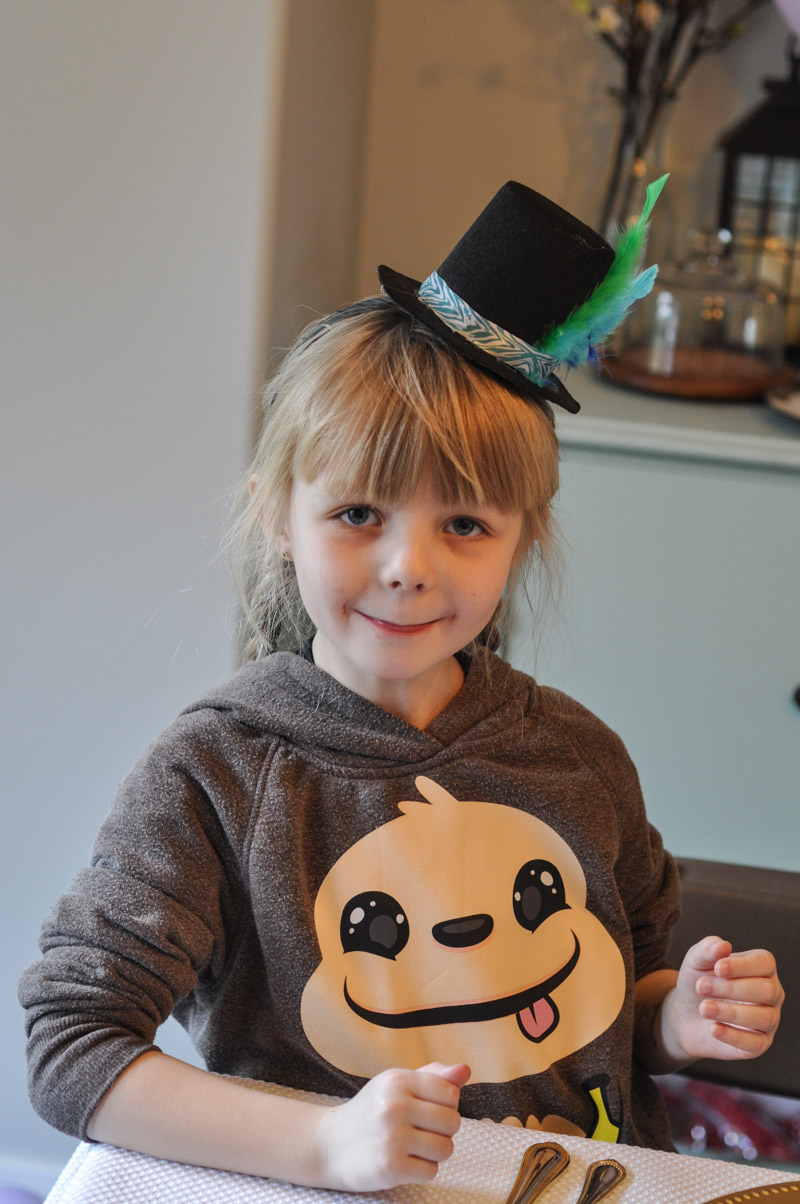 If these kiddos knew more about Alice in Wonderland, they might have fancied themselves Mad Hatters!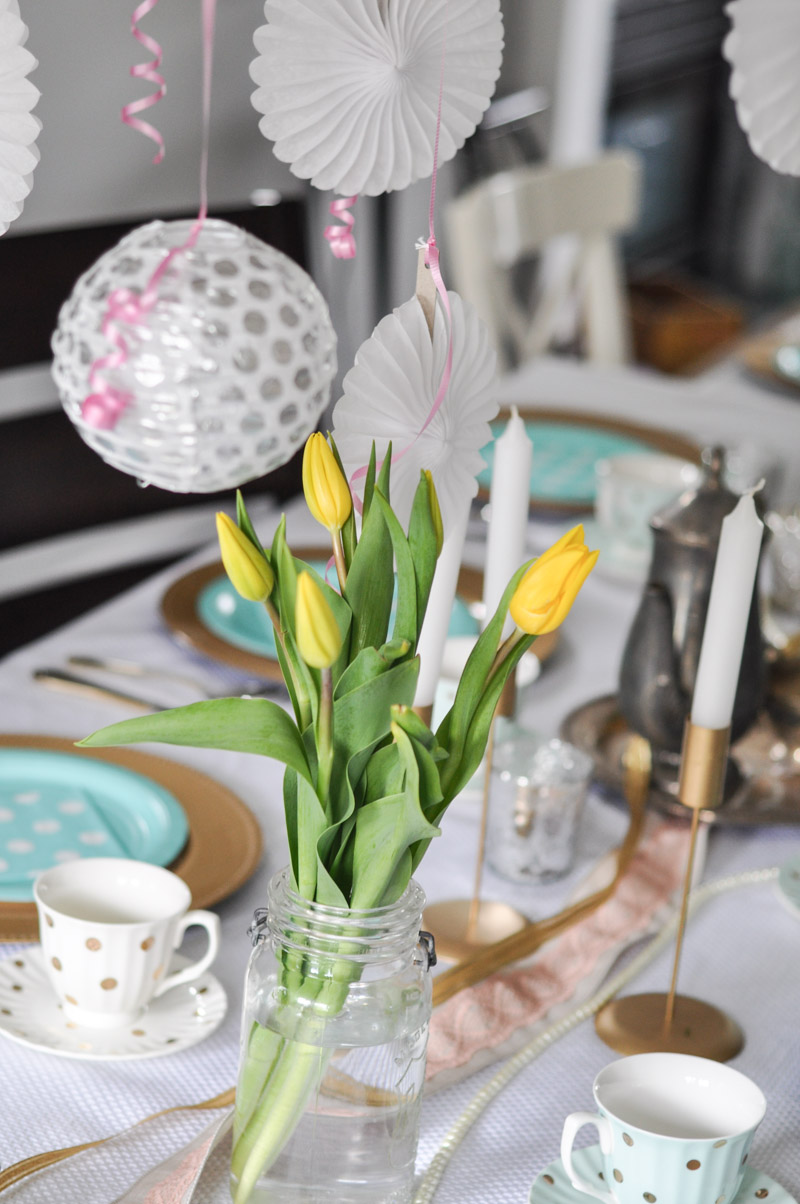 And like all good things, our party quickly came to its close. The dainties were eaten, and the pink lemonade had been sipped from cups.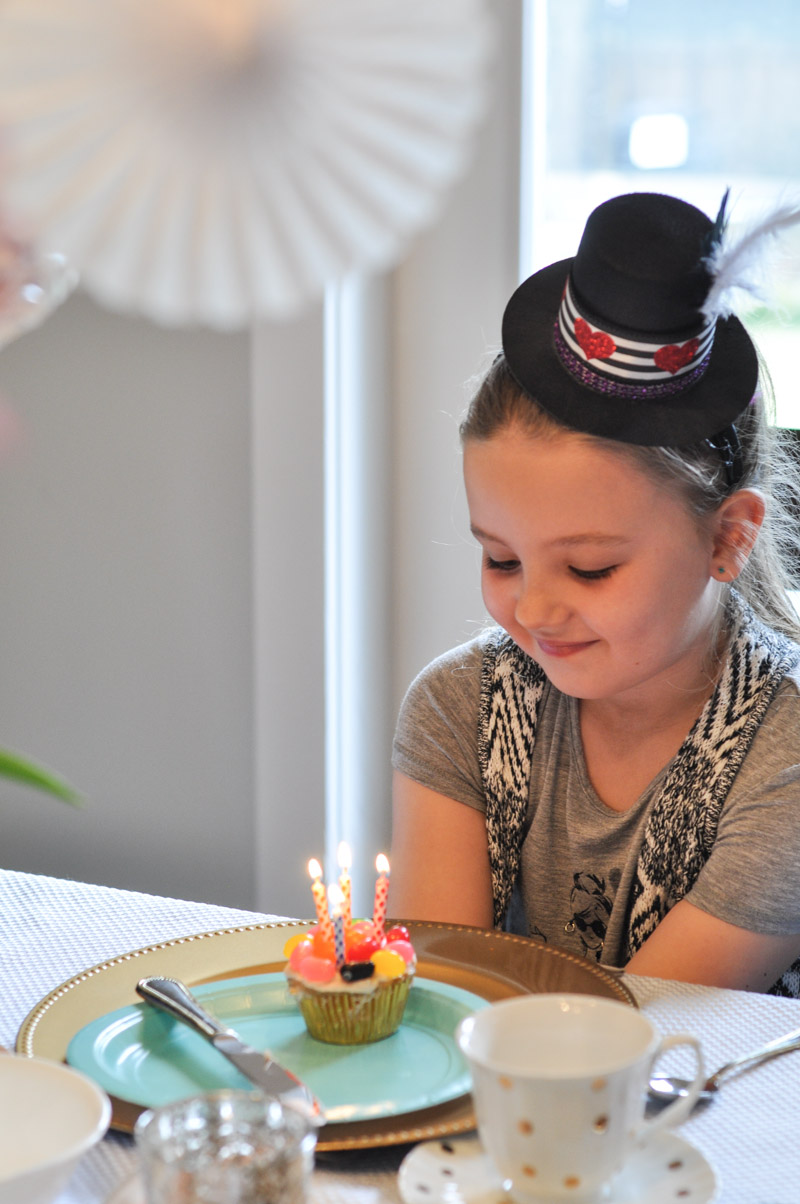 The candles were blown out, and the gifts were opened….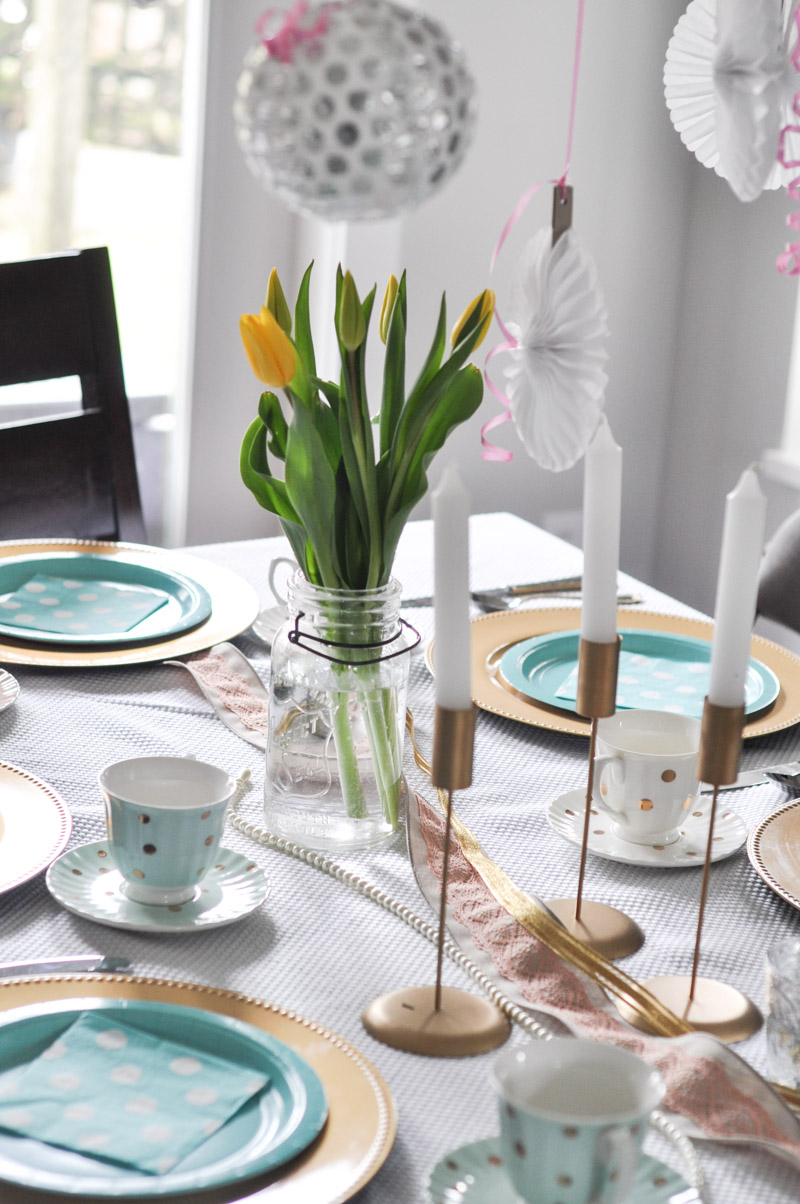 … and this table looked NOTHING like this.
High Tea was a theme that every guest could get on board with. Whether it was decorating a hat, or a cupcake or a picture frame – there was plenty of room for every style and taste. I've heard from parents that the cup and saucer sets are a big hit, and have been used for plenty of drinks and tea parties since they left our house.
Of course, because they have gold polka dots painted on them, they're handwash only…. sorry, parents!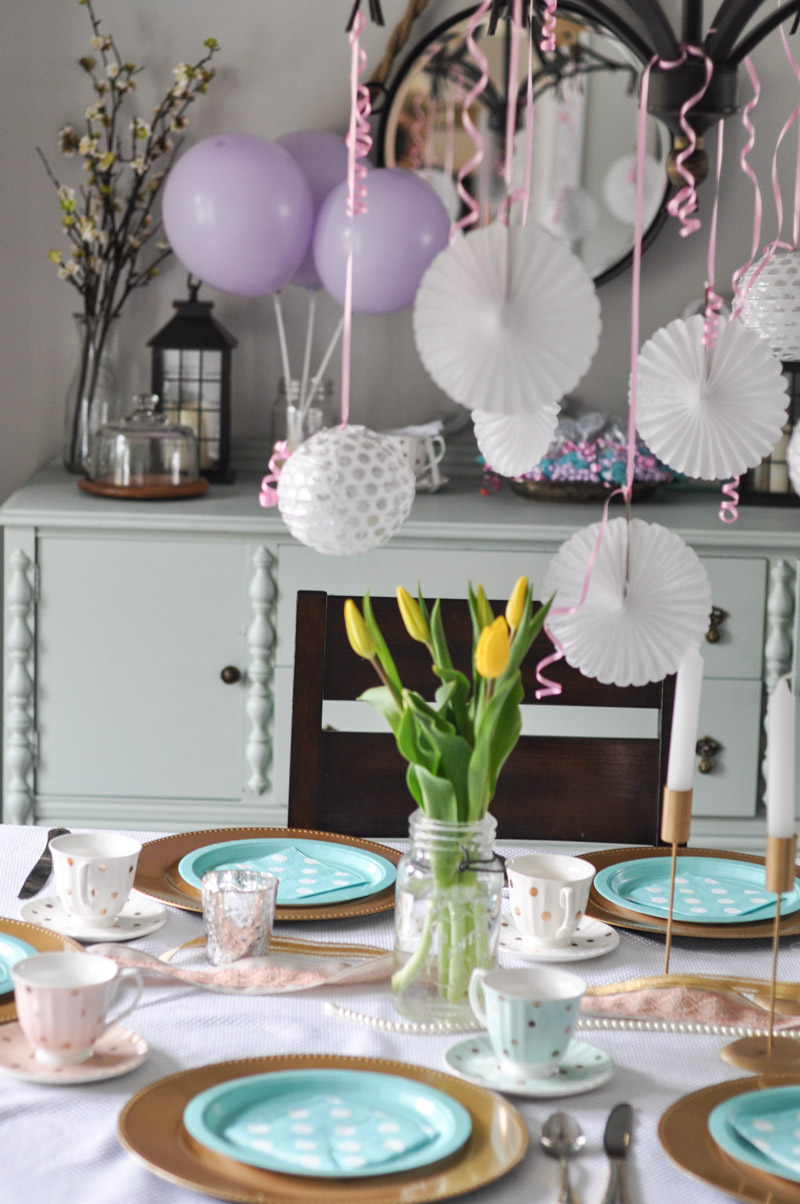 Before we knew it, the guests had skipped out the door, and we were left with gift bags and jellybeans strewn about the room. We all heaved a sigh of satisfaction. It had been a good time with lots of busy hands and babbling girls. It went exactly how we wanted it to.
Coming soon: how to make a top hat fascinator and vegetarian tea party sandwiches (that aren't boring)!