Guys, I can't stop gold-leafing things. I know that I'm probably the last blogger in the world to have caught onto gold leafing, but for some reason, I can't get it out of my head as I move through life. "Well…. wouldn't that look just so much better with a little bit of gold leaf on it?!?!"
Because I've trained my children to be miniature "Yes" men, they always respond to my gold leaf ponderings with enthusiastic, "Ohhhh…. yes, mommy. You should make that GOLDEN!"
Case in point: we were wandering the aisles of IKEA one rainy Sunday. And because nearly everyone else in a twenty kilometre radius had thought that they should do the same, it was a fairly harried "wander". I had managed to scoot us through most of the Marketplace without adding much to my cart when we ended up in the plant/planter section.
I'm in a Yearning for Spring phase. This means that every single plant I see somehow ends up representing promise and "better days" and memories of sitting on outdoor furniture with a cold iced tea in my hand.
Yes, I put a lot of expectations on my plants. They just have to learn how to cope with the pressure, is all.
Anyways, I was getting ready to run screaming for the parking lot, after having been jostled by about fifty different bodies, but then I saw the shelves laden with beautiful-in-their-plainness planters.
And I imagined what gold leaf could do.
Supplies needed to add gold leaf to a planter (or anything else that needs glitzing):
Gold Leaf
Martha Stewart Gold Leaf Adhesive
Painter's Tape
Scissors
Planters (in this case, IKEA Socker)
Paint – Fusion Mineral Paint in Brook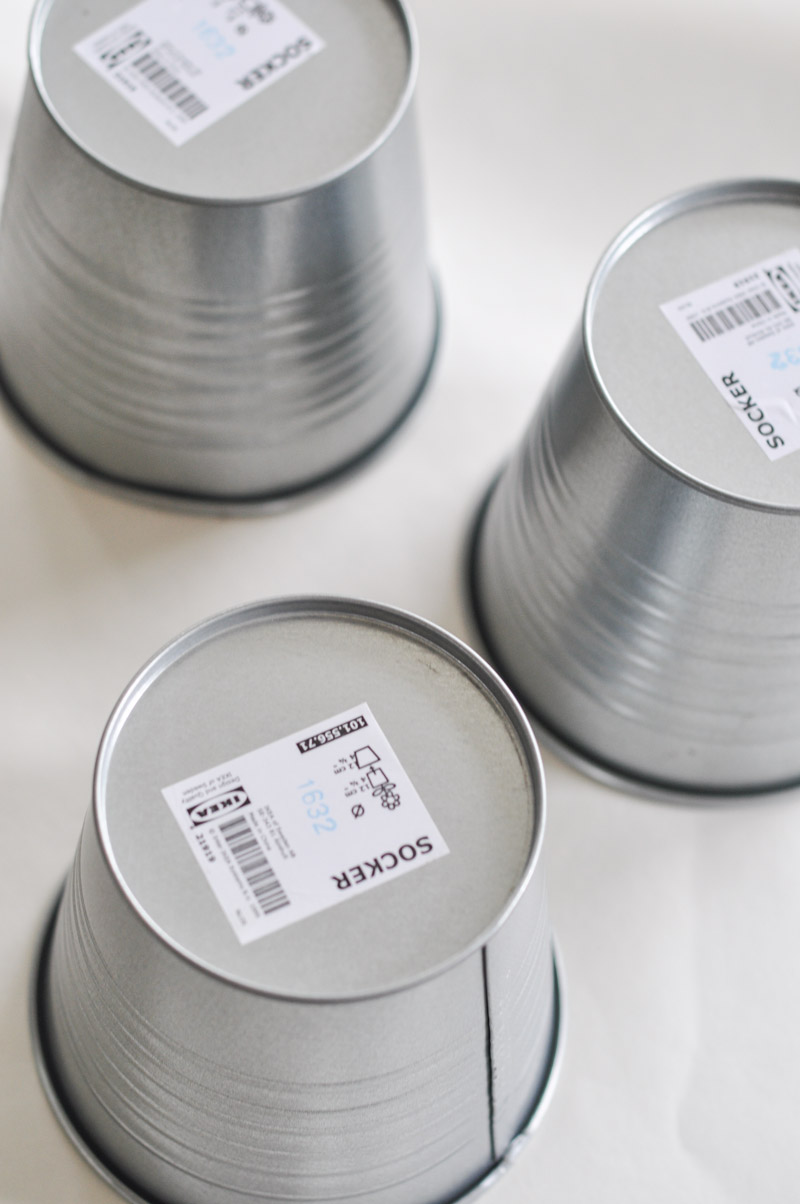 These metal bucket-planter thingies are a dollar at IKEA. I'm so unused to things being that cheap that it alters how money works in my mind.
"A dollar? That's like…. basically free!!!"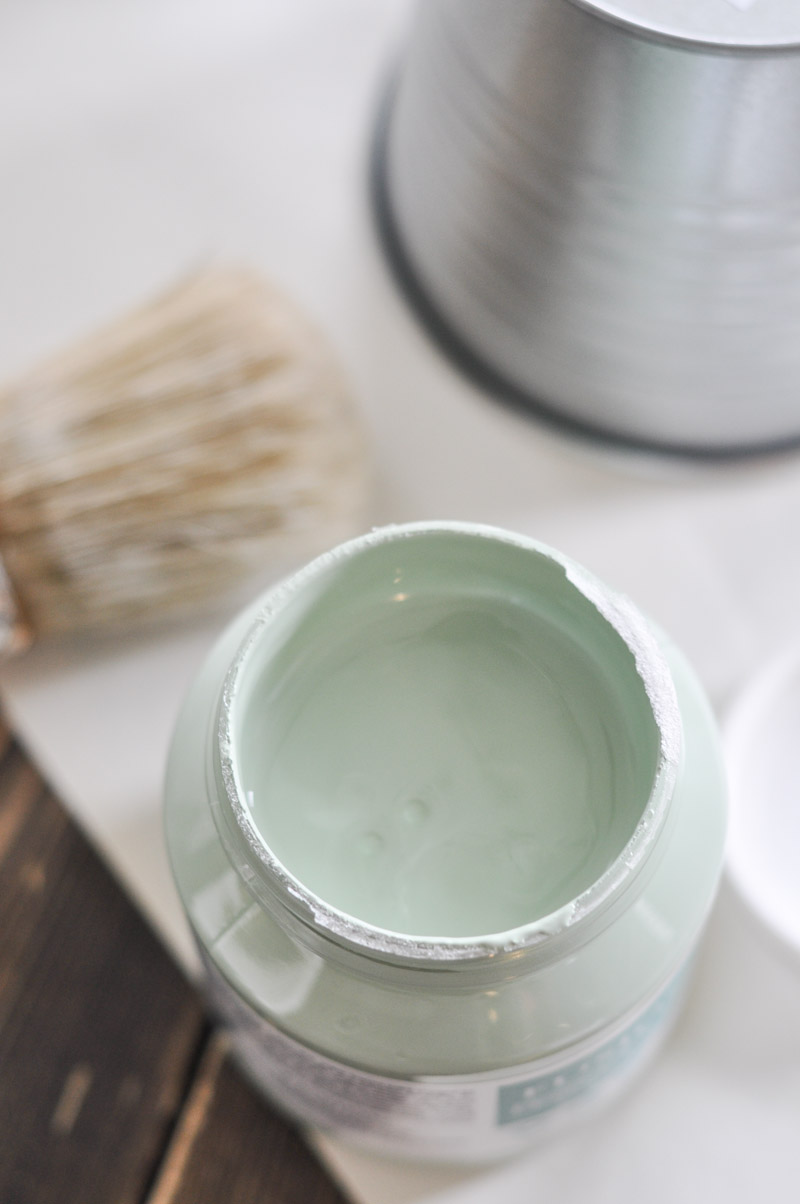 I painted the pots with two coats of Fusion Mineral Paint's Brook, from Michael Penny & Co's line of gorgeous colours.
Because Fusion is fabulous paint, I didn't need to prime the metal. The paint just stuck!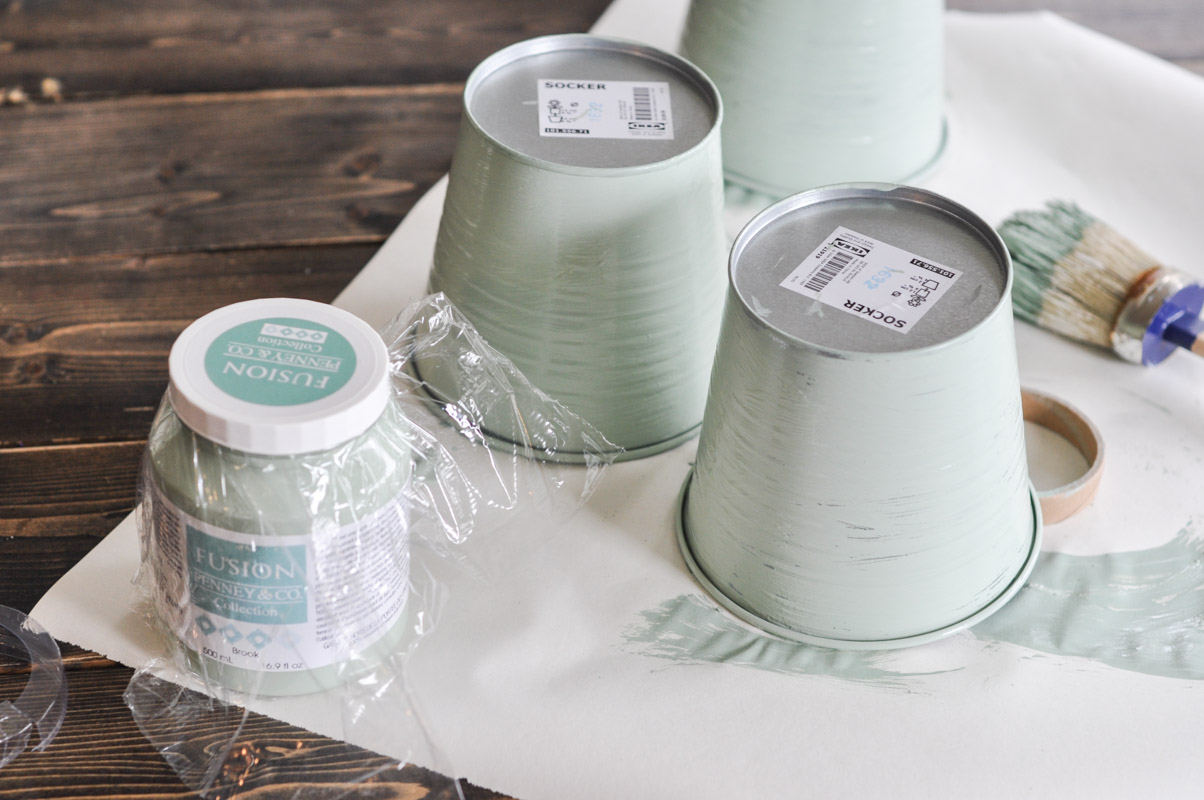 A quick tip – if you're using a pot of paint that has a screw on cap, put a piece of saran wrap in between the cap and the threads. This way, you won't accidentally seal your lid shut with paint.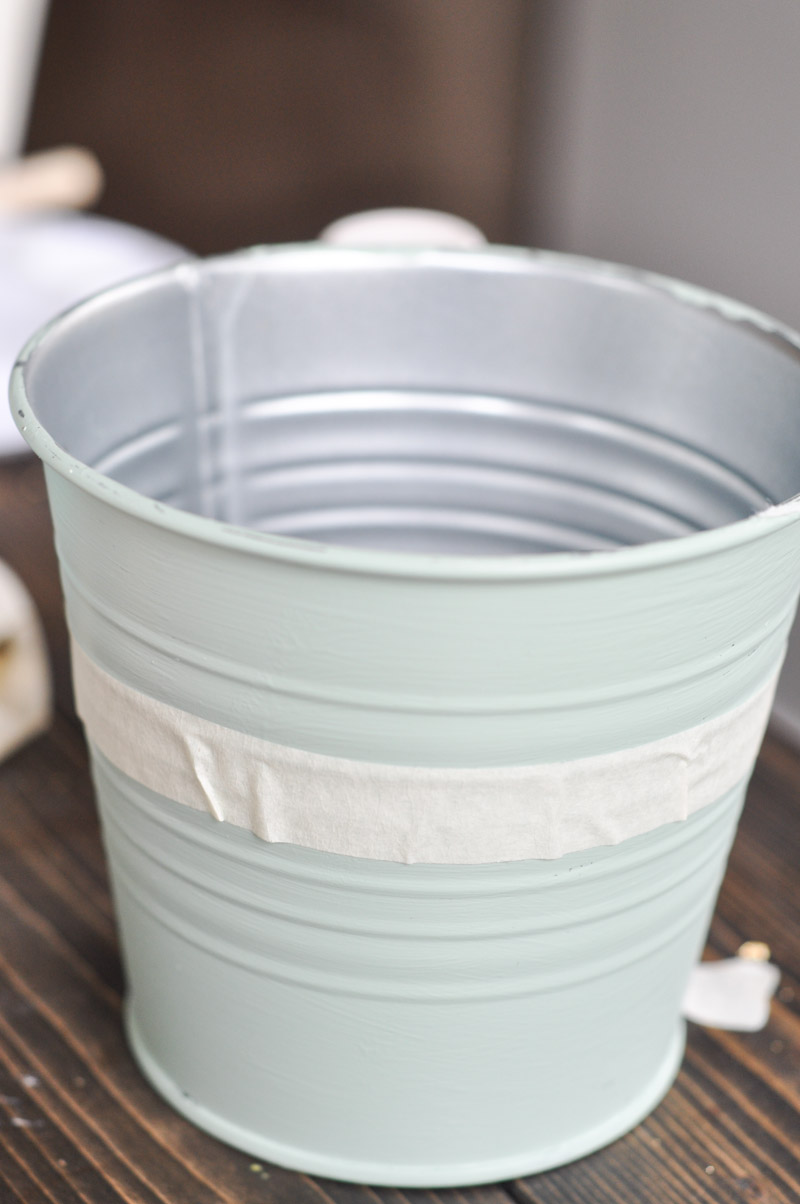 Once the paint was dry, I used a piece of masking tape to act as a border on my planters. I realize that this should be painter's tape, but I couldn't find any, and I also couldn't find any patience.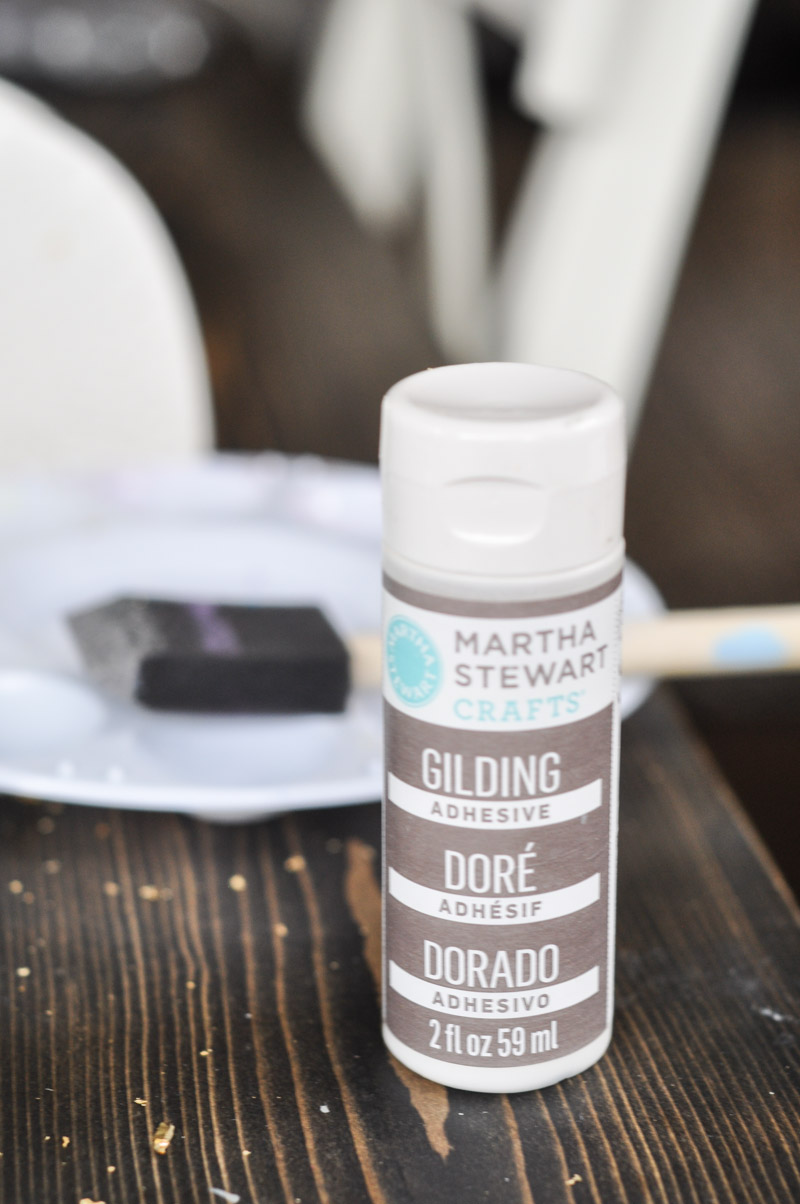 I applied a light coat of Martha's Gilding Adhesive on the portion of the pot that I wanted to be gold-leafed. It's important to have a light touch with this adhesive, but to also ensure that every spot you want to be leafed is covered.
You have to let the adhesive dry a bit until it's tacky, so while I waited, I prepared the gold leaf.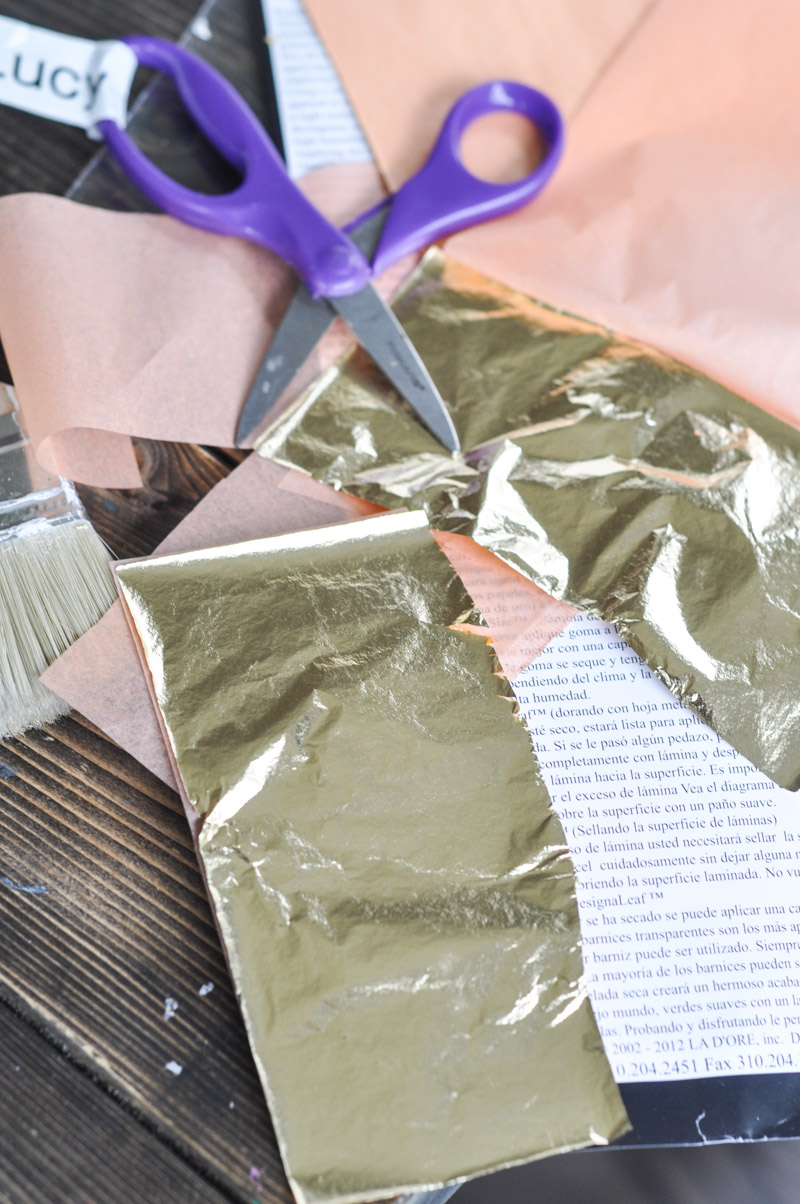 The gold leaf I used comes in a booklet of square-shaped leafing, sitting atop a tracing-paper type of material. I cut it out into rectangles, leaving it on its tracing paper backing.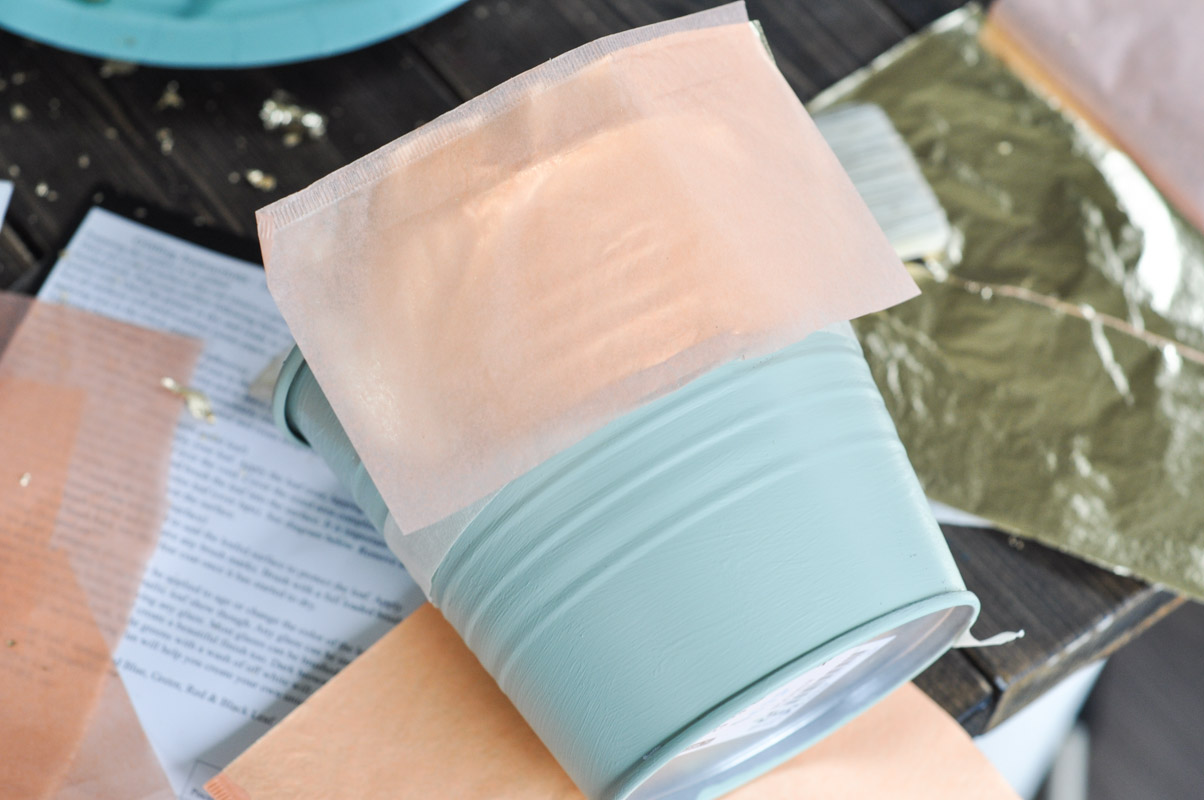 Gold leaf can be a bit clingy and pain-in-the-assy at times, so leaving the backing on helps IMMENSELY when applying it to the tacky adhesive.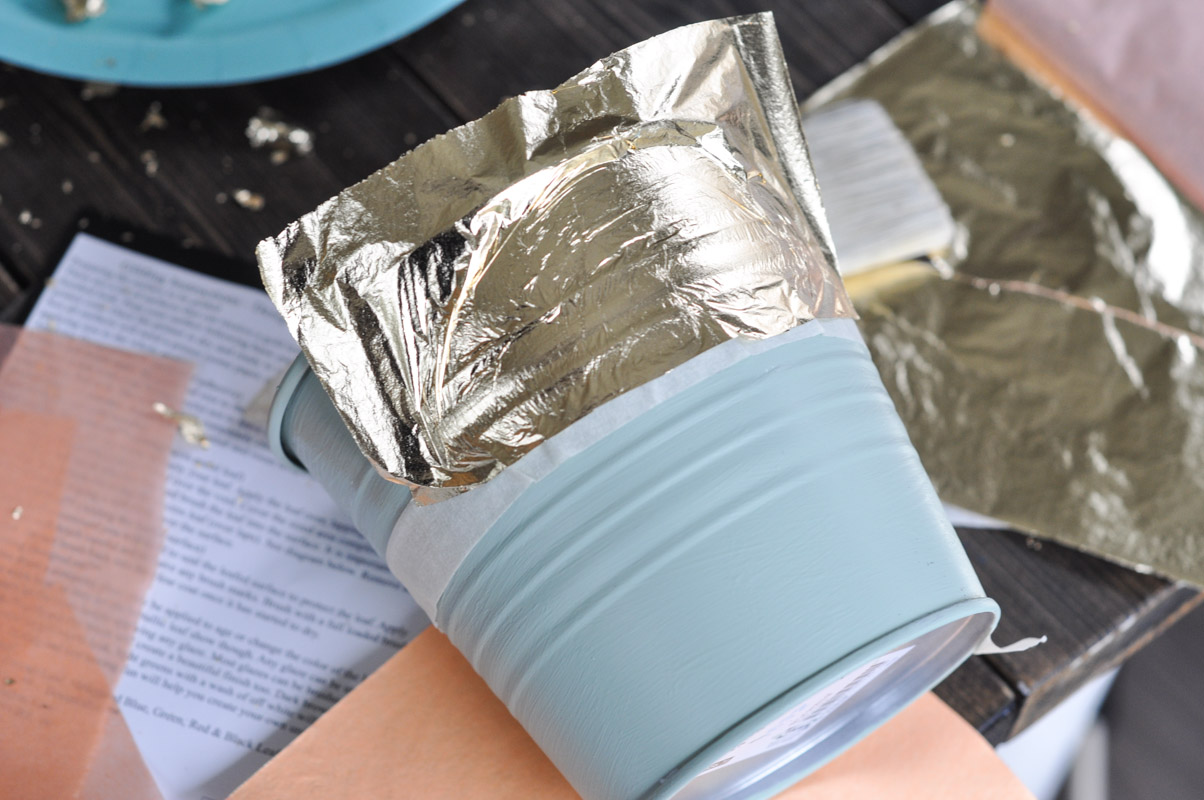 Once applied, I gently smoothed it out with my fingers, and then continued around the pot, adhering gold leafing while being sure to overlap the previous application of leaf.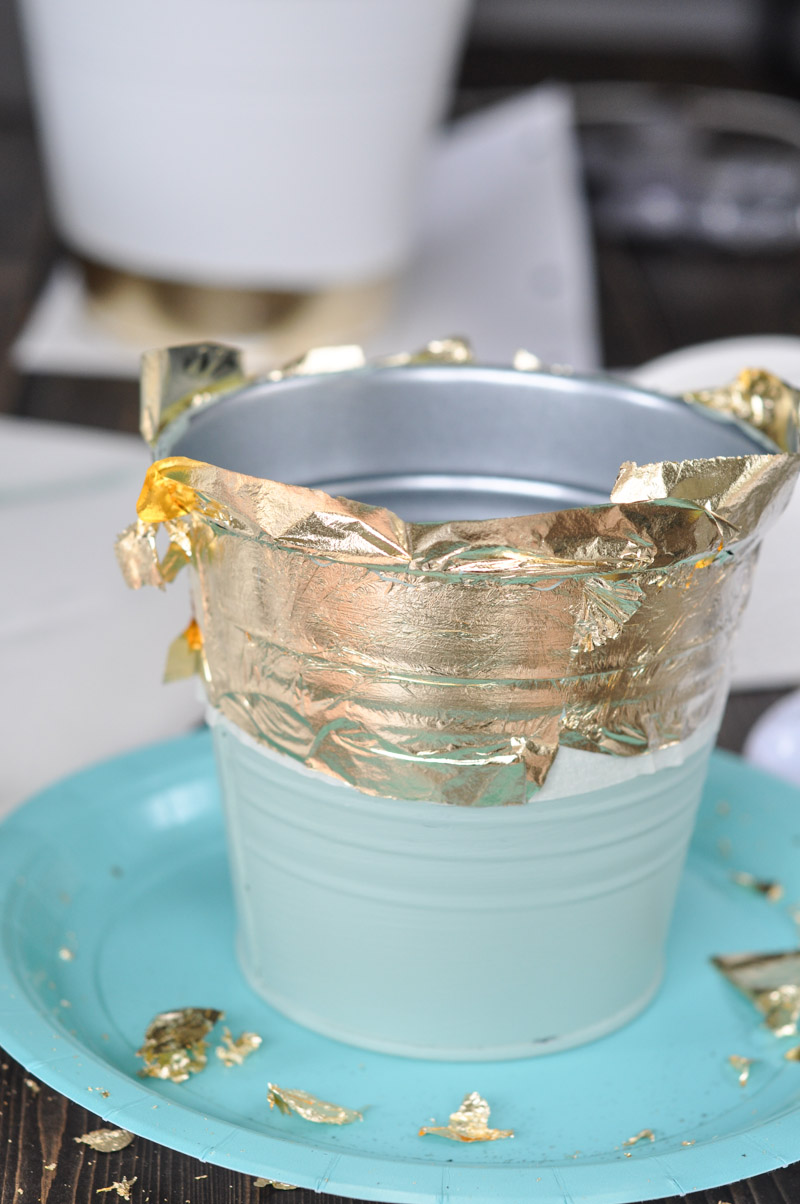 I was left with this.
This is the stage of gold leafing where I'm half hopeful and half "Oh god, I just ruined this perfectly good one dollar pot…. ughhhh….."
But a soft paintbrush will brush away all of the excess leaf, and blend the seams between leaf applications.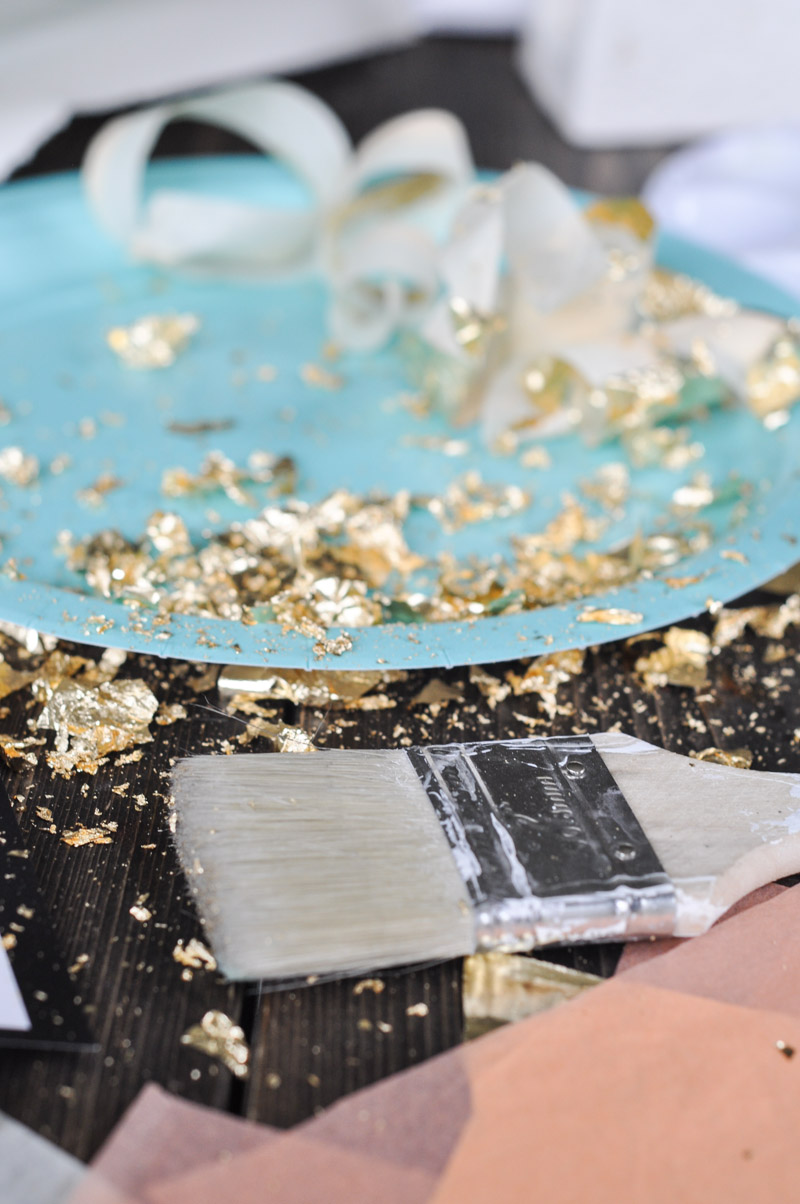 It makes for a hot mess of gold leaf bits all over the place. But once most of the leaf has been brushed away, I carefully removed the tape – brushed those edges a bit more – and then admired my work.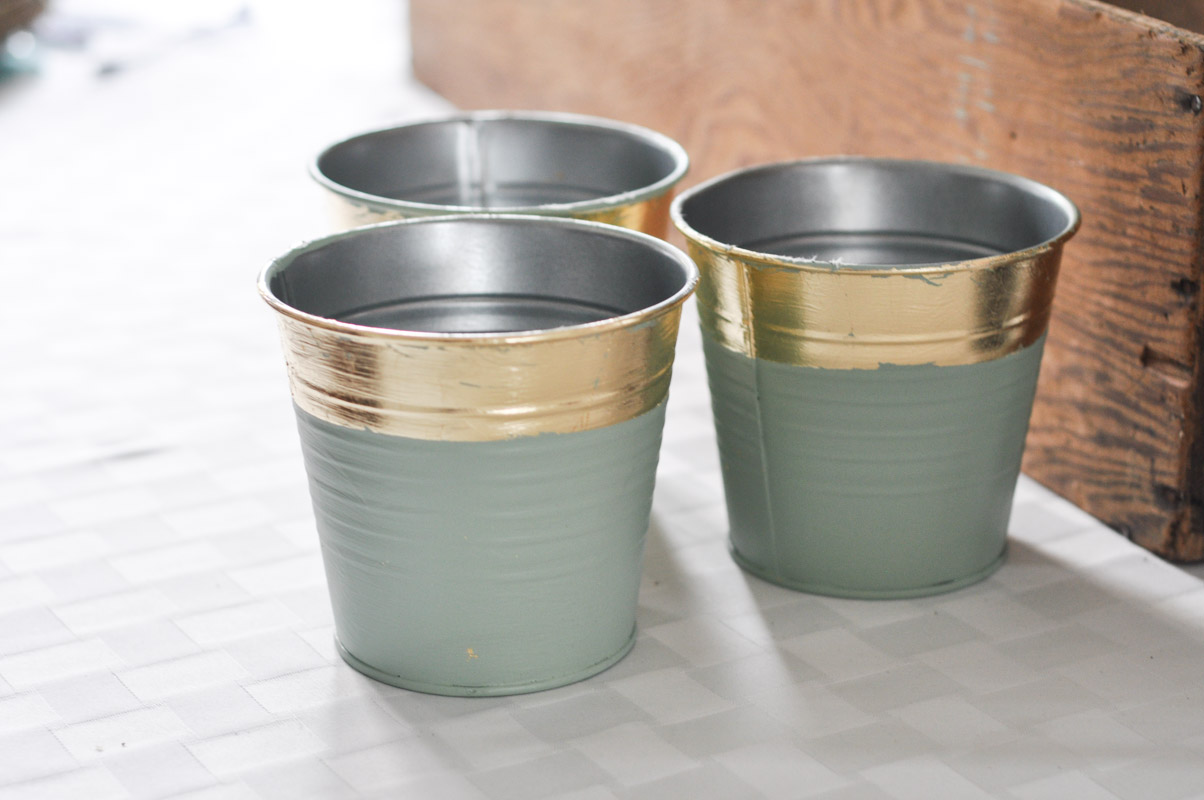 I liked them! They were soft and muted, but still had that little bit of gold that makes them interesting.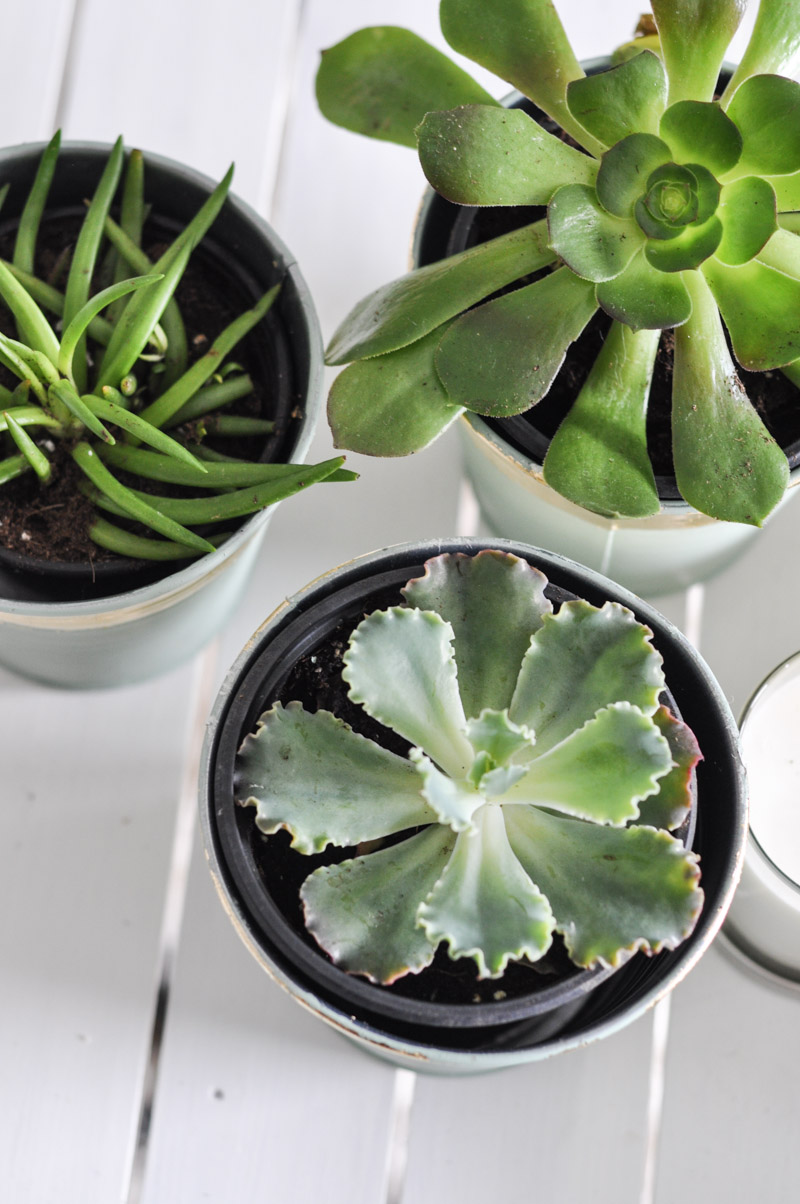 Because I am as predictable as the day is long, I filled them with succulents, also from IKEA.
Guys, did you know how CHEAP the succulents are at IKEA? What the heck? Why didn't anybody tell me!?!?!? I'm going back there the next time I need houseplants.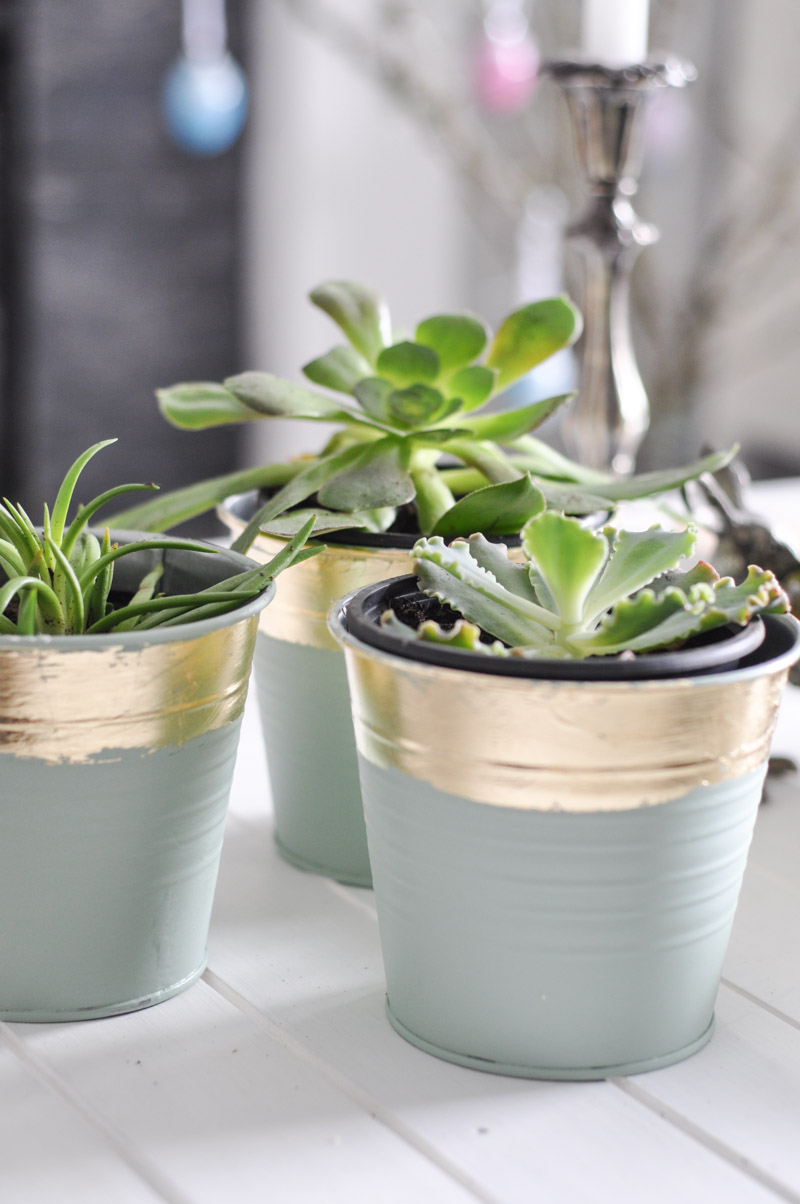 When the springtime sun comes streaming into the window, it catches the gold leafing and makes the pots very glowy and warm.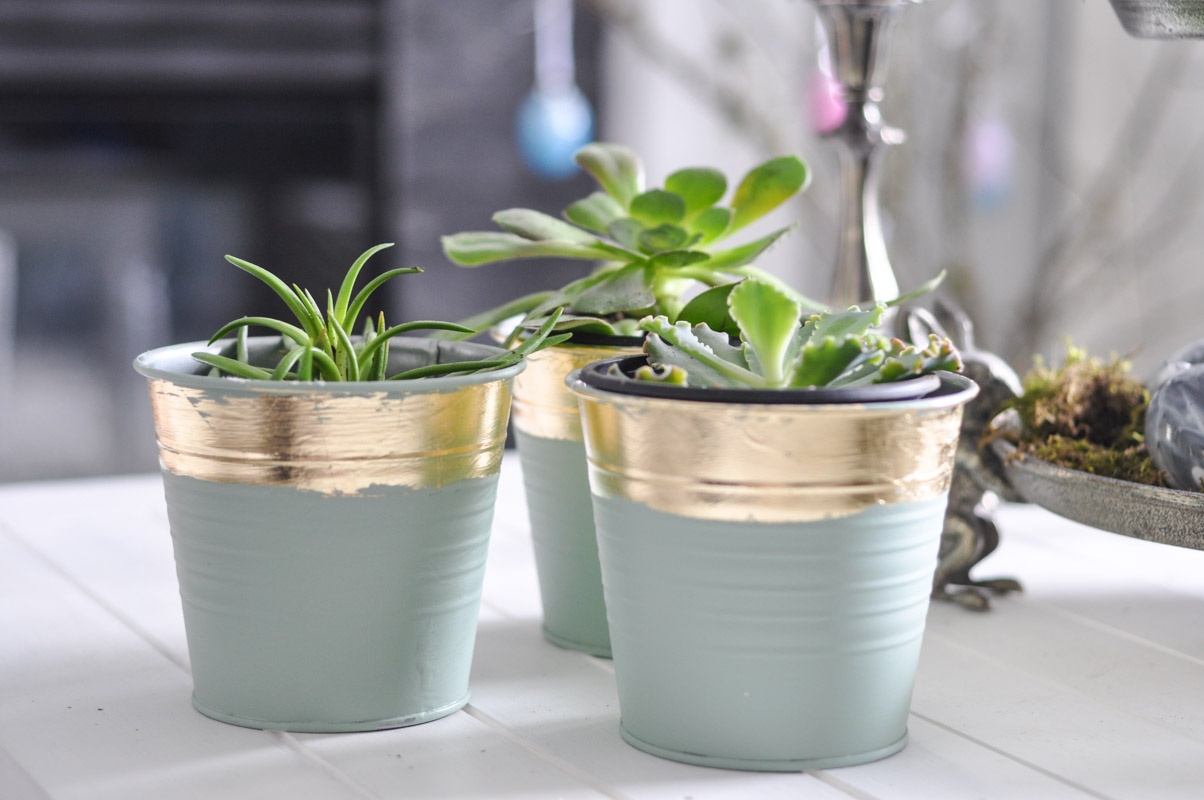 I also have a heap of gold things in my living room, so this little trio fits right in with the crowd.
Gold leafing leaves a bit of a rustic, rough border on the pots, as getting a crisp line is challenging. However, I love the chippy gold look. It makes them just that much more interesting.
Stay tuned for more gold-leafing of things. You know I won't be able to help myself!