As our kids are moving into a more independent, ever-so-slightly-more-sophisticated age, they have fallen in love with board games. While they did enjoy some of the classics as toddlers (Trouble, Candyland, etc), they're now able to play games that both Mr. Suburble and I enjoy as well. And hooray for that! Don't get me wrong, I know that Candyland has its place, but I'll be happy if I don't ever have to play it again.
Each of these games is one that we have purchased and played in our home. I know that slightly older kids may not want the junior version of these games – but we adults (35 and 37, respectively) enjoy them just as much as the kids do!
*Some of these links are affiliate links, meaning that if you decide to buy them, I will receive a small kick-back. That being said, all of these games are 100% Suburble-kid approved.*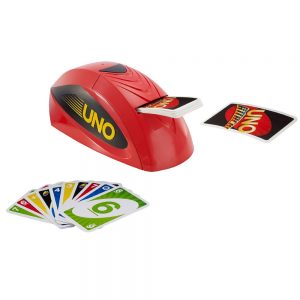 1. Uno Attack
This game is an absolute favourite of Lucy's. She asks to play this game almost every single evening. The card dispenser sends out a random amount of cards when pressed (or none at all), and adds an element of surprise to an already excellent game. The batteries seem to last a decent amount of time, and the unit can be easily taken on trips, etc.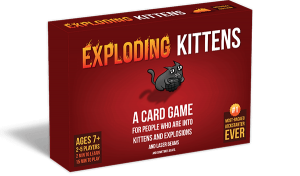 This game is probably the second-most requested game in our house. It was a gift from a very board-game-savvy family, and the kids were immediately intrigued by the name alone. The rules take a few rounds to get the hang of, but then it becomes a fun and strategic game! The cards are detailed and funny, and the premise of avoiding the "Exploding Kitten" is great fun.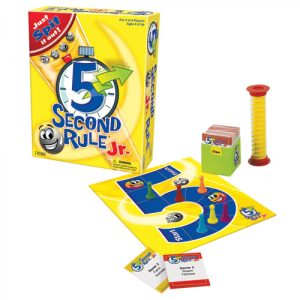 Our kids had played the slightly more sophisticated 5 Second Rule prior to getting this game, but there were a few cards that they had to skip because it was beyond them. This is a quick thinking game that requires kids to answer a question in 5 seconds or less. This game requires reading, but could be an excellent family game night choice!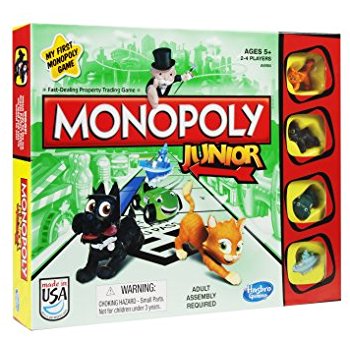 This is my favourite way to play Monopoly! All of the bills are $1, and the game is usually wrapped up within a half hour! I love that it teaches the kids to count money and understand bills/rent, but it's less of a marathon than the original Monopoly.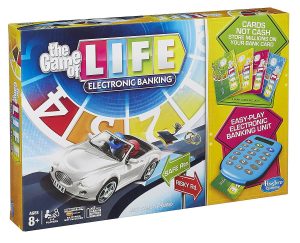 5. The Game of Life Electronic Banking Edition
Again, this is another Lucy favourite. She is OBSESSED with the credit card in this game. The only thing that is not quite the same as the classic edition is that you don't get the little blue and pink pegs to put in your station wagon. But having her own credit card (that stores your kids on it – don't worry, you still get to have a giant brood!) trumps the kid-collection.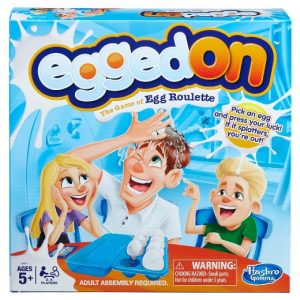 You have to be okay with getting a bit wet with this one. It's a Russian-Roulette game of "is this egg full"? The kids LOVED this in the summer. It's worth the damp bangs.
This game can be played solo and as a pair. I think that both the "air" (so your hand is hovering OVER the colour) and the original version would be equally great. Great for testing memory and making mom look like a fool.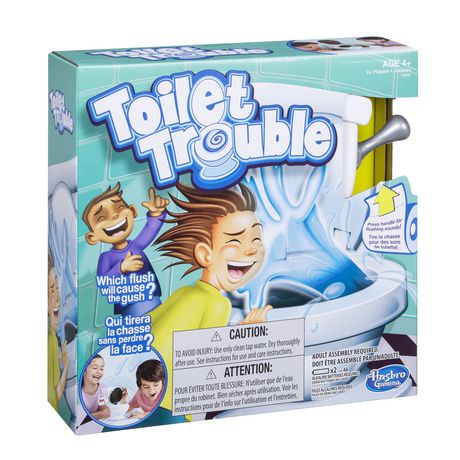 Yeah…. the toilet sprays water at you. The beautiful part of this game is that the kids can set this up and play this by themselves. Our girls often play this with two neighbours, which usually involves everyone getting into bathing suits and collapsing into a heap of giggles. Again, the wet hair is worth it!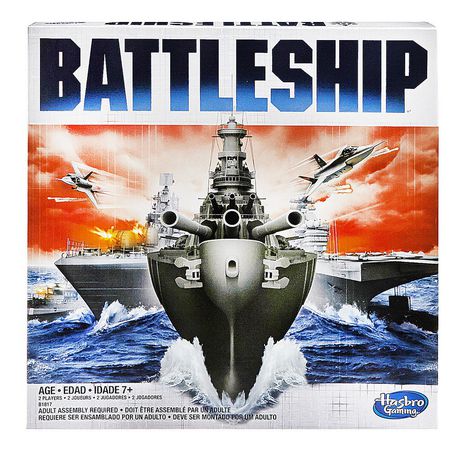 Obviously. This game is fantastic.
We LOVE Spot It, and have played it since the girls were little. It's still a challenge for my brain, and we'll break it out whenever it catches the girls' eyes in the cabinet. You can get all sorts of versions, from Disney characters to the NHL to school, etc, etc. This is also a very portable game.
This list contains our tried-and-true, keep-coming-back-to-them games. We do have other boxes sitting on the shelf that didn't get nearly as much love. Some of them are due to parent reluctance (I do NOT want to put a mouth stretcher thingy in my face and talk… I just don't) and others are because the game was a bit flawed and didn't work like it was supposed to (*ahem* a certain gymnast didn't get his flip on quite right). I'm sure that by the new year, we'll have a brand new list to share!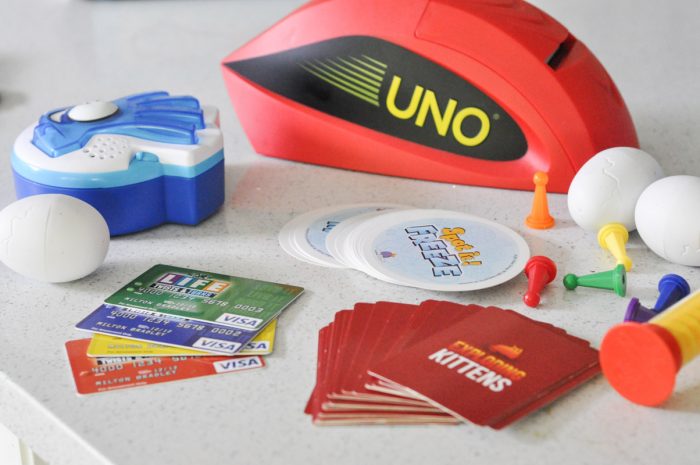 Are there any games that your family absolutely loves? I'll add it to our must-get list!