We've recently returned from a trip to Disneyland. We are a family that typically visits family or camps, and doesn't often take big vacations. In fact, this was the girls' first trip on an airplane!
Because I am not one to just fly by the seat of my pants – I'm a weird hybrid of a Type-B slob who needs Type-A style research and spreadsheets – I asked nearly every single person I knew how they did Disneyland. As a result of this wide-spread survey, I ended up gathering a pretty good collection of tips for a smooth trip to the Happiest Place on Earth.
And while I do appreciate those who are spontaneous, we did meet a family at the hotel who told us that they had only managed to go on three rides during their first day at Disney, and they weren't entirely confident in their decision to spend the money on the trip. A bit of planning would have saved them a ton of grief and doubt.
I'll share each tip that I received (as most of my knowledge comes from the wisdom of other) and who gave me that strategy. I can't take credit for years and years of Disney-advice!
Dress for the walk
Tip from: Everyone
While we were sitting on the shuttle on the way back to the hotel, we overheard a woman who was looking at her pedometer. "We've walked 20,000 steps today!"
And we believed her.
Almost everyone is wearing sneakers and comfortable clothes at Disney. Every second person is carrying a backpack. Backpacks and purses can be brought onto the rides, so function means more than style. I borrowed a crossbody nylon purse with a bunch of pockets, and it was a lifesaver.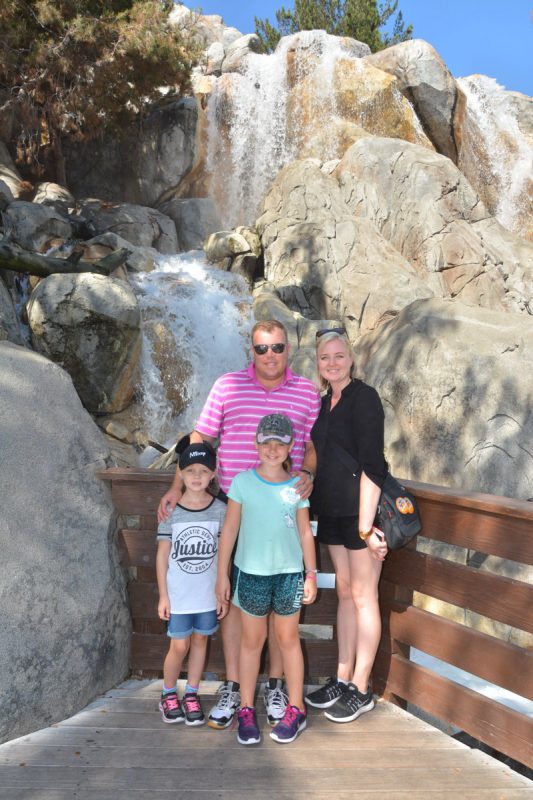 Sensible shoes for everyone!
Consider a Multi-Day Pass
Tip from: Amy
We bought four-day park-hoppers because a) we were going to be in Anaheim for a good chunk of time, and b) adding on another day becomes less expensive. For example, a one-day park pass starts at $97 per person. A four-day pass starts at $290 per person, which gives a family an extra day at the park for only $20 per person.
We did our four days consecutively, and afterwards, decided that perhaps a day in the middle – a buffer day – would have been a bit easier on our legs. There are some incredible beaches that are less than a half-hour drive away; they would be a nice place to spend a day in-between Disney days.
Don't hesitate to rent a stroller!
Tip from: Shawna
My kids are 7 and 8, and we haven't owned a stroller for almost four years. I was hesitant at first about whether or not we needed a stroller, but I was convinced by my friend, Shawna (mother of three), that it would make or break our experience. We rented from City Stroller Rentals – an Anaheim-based stroller rental company that I couldn't recommend enough. Our BOB stroller was delivered to our hotel and left for us at the front desk. It was picked up from the desk on the day we left. Easy peasy.
We chose a BOB because it has a 70lb weight limit, is easy to push through crowds, and it folds down quickly. We had to collapse it to hop onto the shuttle, but otherwise, it was a dream. There is stroller parking EVERYWHERE in both Disney parks, and when we didn't have a kid sitting in the stroller, we were pushing waters and backpacks in it. Lucy even slept in the stroller during the Fantasmic show – a child who hasn't napped in years! – and I couldn't have been more grateful for the stroller during that late-night walk home.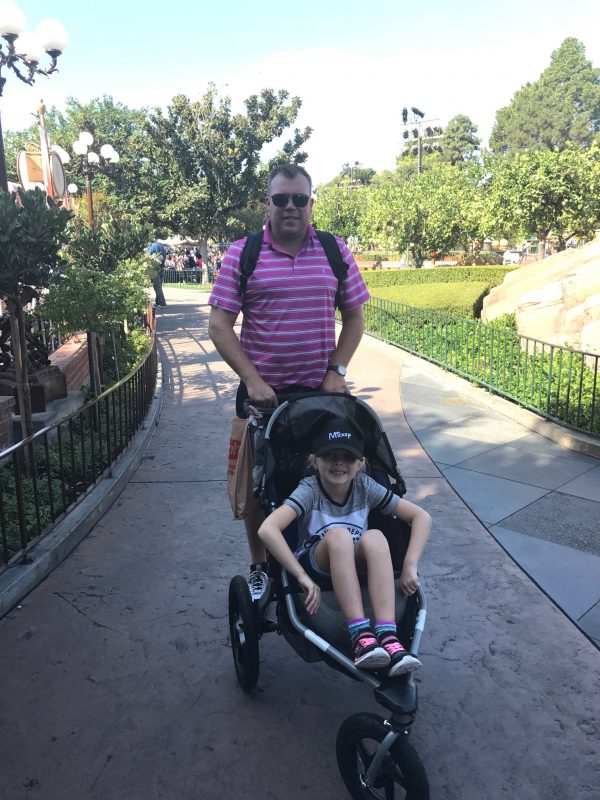 Check out the MaxPass
Tip from: Us!
I wrote a whole post on this amazing way to do Disney. Read it here.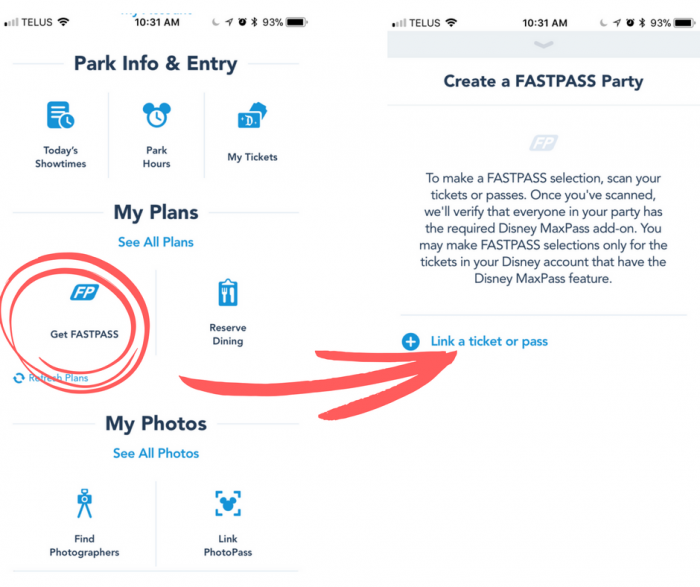 And if you have the MaxPass: Stop those photographers!
Tip from: Us (again)!
Because the MaxPass comes with a built-in PhotoPass for the day, it makes sense to make the most of it. Whenever we saw one of the Disney photographers with a smaller line, we'd get a family photo. This lightened our load by removing the need to carry a DSLR around, and all four of us got to be in the pictures together! I simply showed my PhotoPass barcode to each photographer (can be found in the Disneyland app), they scanned it, and the photos downloaded usually within an hour. SO slick!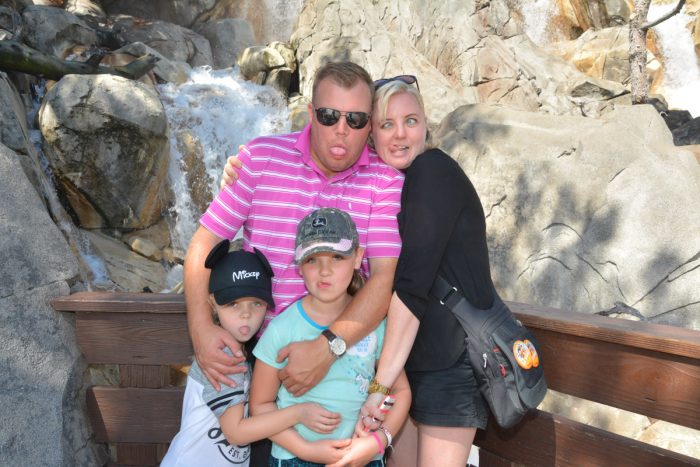 Bring water bottles and snacks with you to the park
Tip from: Shawna & Amy
There are so many delicious drinks and snacks to have in the parks that it may seem like you won't need to pack along any outside drinks or nibbles. But after you've bought a few $4 waters and a $6 churro, you realize that there could be better ways to spend your money at Disneyland. We packed along reusable water bottles (Contigos from Costco) and filled them at the hotel each morning. We also popped a few snacks into our backpack and pulled them out as the kids needed throughout the day. That's not to say that we didn't grab bags of popcorn or a slushie or two as we travelled around the park, but we didn't NEED to buy sustenance. This also left room in the budget for that gotta-have-it reusable Pylon Cup from the Cozy Cone in Radiator Springs.
*ahem* $10 each….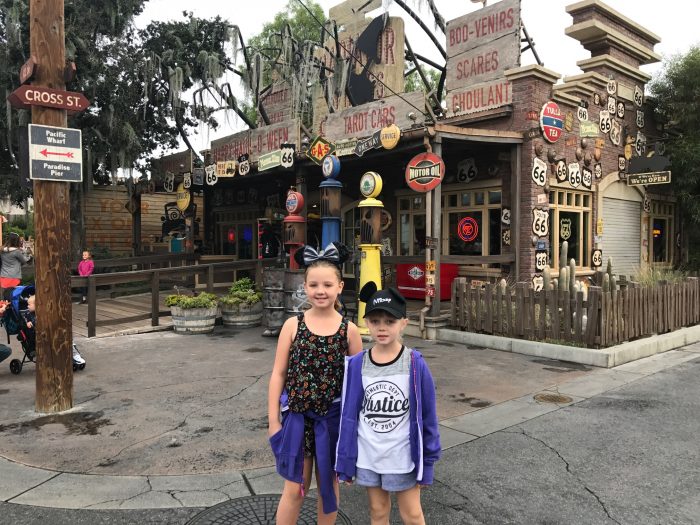 Bring a battery pack for your cell phone
Tip from: Everyone
With the photos, the texting between members of your party, and using the Disneyland App and your MaxPass, your cell phone battery is going to be put to the test. Having a power pack and cord in your backpack will allow for non-stop pics and FastPasses without worry. I might be a bit of a nutter, but I actually renewed my cell phone contract and got a new cell phone before our trip for this very reason. I wanted a good camera, ample storage and a long battery. Mr Suburble's phone is less reliable, and he heavily depended on our backup battery during our trip.
Visit Downtown Disney on the evening before your visit
Tip from: Mr Suburble's Coworker
The night before we planned to take on our first day of Disneyland, we visited Downtown Disney – the shopping/dining district located just outside of the entrance to the parks. Parking isn't cheap – $12 per hour – but if you spend more than $20 in one store in the Downtown district, two hours of parking will be validated for you. Just remember to show your receipt to the clerk in a store and they'll put a stamp on it that you show to the parking attendant.
Downtown Disney set the stage for our visit. We got into the spirit by buying our Minnie ears, a Christmas ornament, and our autograph books. The streets were decorated with Halloween decor, and because there was a Not So Scary Halloween party happening that night at Disneyland, we passed many families who were costumed in elaborate get-ups. By the time we left, we were absolutely humming with excitement about our first visit to Disney.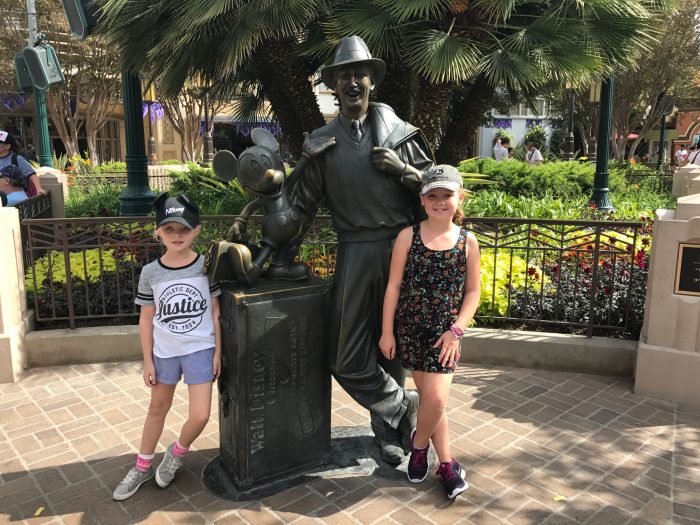 Get those autographs!
Tip from: Tash
My kids have always been a teensy bit hesitant to go up to mascots, and so I was curious to see how they would fare with all of the Disney characters flitting around the park. Enter the autograph books. We bought $7 "official" autograph books from The World of Disney store in Downtown Disney. I had packed two Sharpies in our suitcases – to make autographs more prominent in the book – and the Autograph Hunt had begun!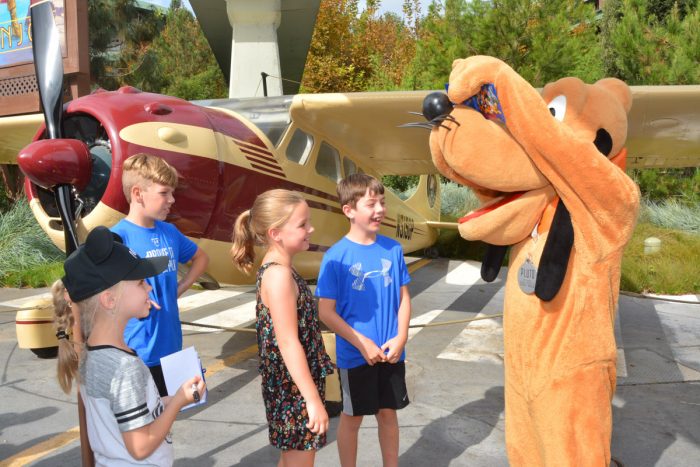 Our very first day in the park began with a cosmic moment – we walked in just as Mickey and Minnie were greeting visitors at the City Hall. Mickey had to leave for his break, but our girls opted to wait for him to come out. His "handler" took notice of the two eager girls and allowed them to greet Mickey in one of the buildings and escort him back out to the square. They were THRILLED.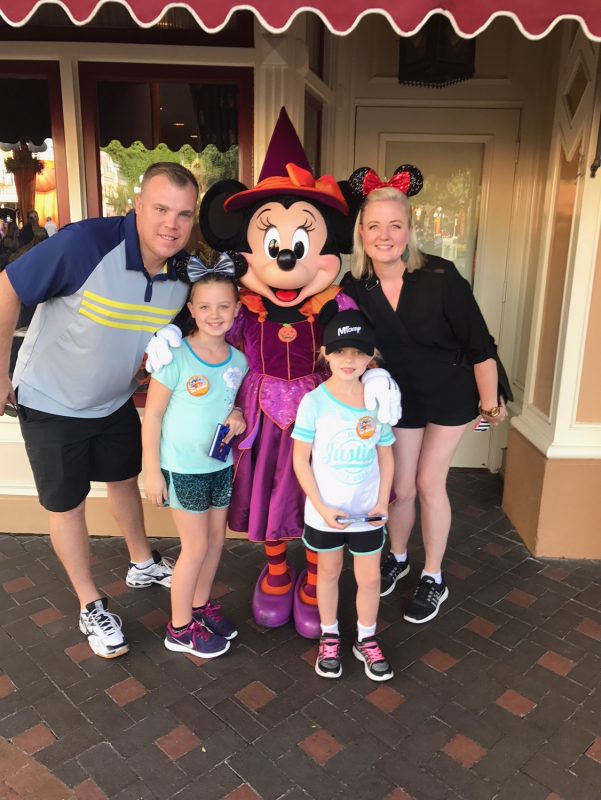 Across the square, Minnie didn't have a long line-up, and so we got her autograph right away. With two signatures under their belt, the girls were ready to face any character.
They even chased this guy through the throngs of people in Fantasyland, books and pens clasped in their hands. And when I mean "chased", I mean, Peter Pan giggled and said, "You'll have to catch me first!" and then SPRINTED through the crowd.
Lila and Lucy were undaunted. They caught up to his dancing feet and got his scrawl on a page in their books.
After some "should we, shouldn't we?" conversation, we reserved a table at the Minnie and Friends Character Breakfast at the Plaza Inn. Eleven characters visited us at our table, signed our autograph books and got a picture with the girls. We also got to eat Mickey waffles and made-to-order omelettes. It was worth every penny!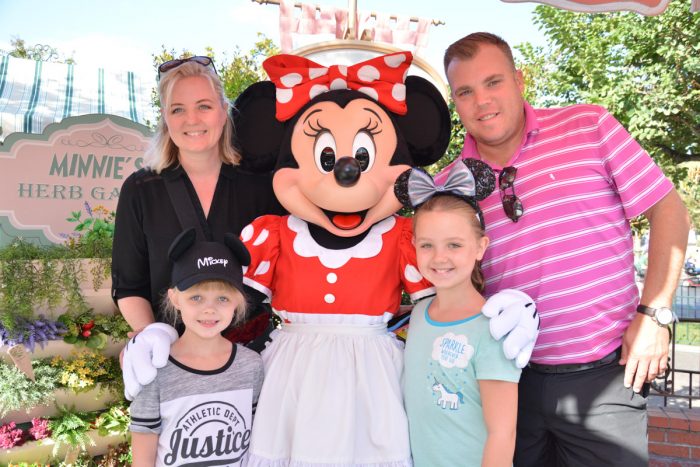 We visited the princesses in Fantasyland (just to the left of Sleeping Beauty's castle, there's a little nook there with a place to line up) – we happened to catch a short line and got to visit three princesses in their individual "rooms". Because we had a MaxPass, we were able to get photos with each princess from the Disney photographers.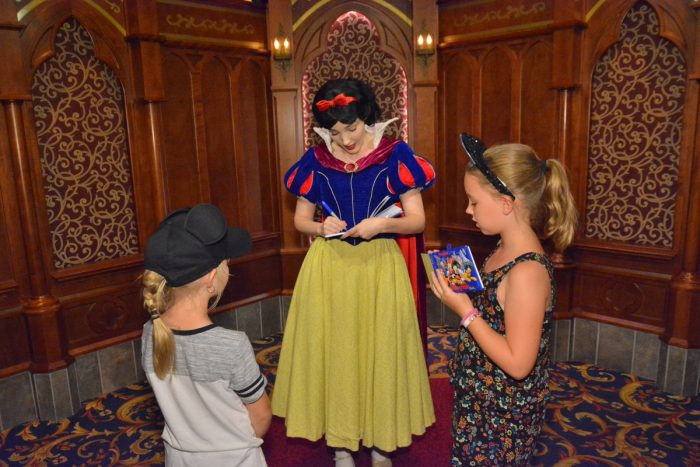 Take in the shows!
Tip from: Marlo
On our very first day, I noticed a group of people surrounding a FASTPASS station near the French Quarter. Intrigued, I ended up walking away with a set of FASTPASSes for the Fantasmic show. The show runs only on weekend evenings in the Fall, we were told. We were naive and showed up for our "reserved seating" approximately 20 minutes before the show. We ended up in the very last section of the reserved seats, behind all of the people who had been there 40 minutes prior.
Mr Suburble was a bit grumbly about our not-so-amazing spots, and then Lucy fell asleep in the stroller. I was feeling pretty guilty about keeping everyone out for this show… and then the lights went down and the show began. Guys, Fantasmic is worth the hype. Out of every show we took in, it remains my favourite. The fireworks, the Fantasia-themed show, the dragon, Mickey in his wizard hat… it was all worth the trouble.
Of course, I'm also the girl who blubbered like a fool throughout the Frozen show in California Adventure Park. When people sing well, my eyes water. I can't help it!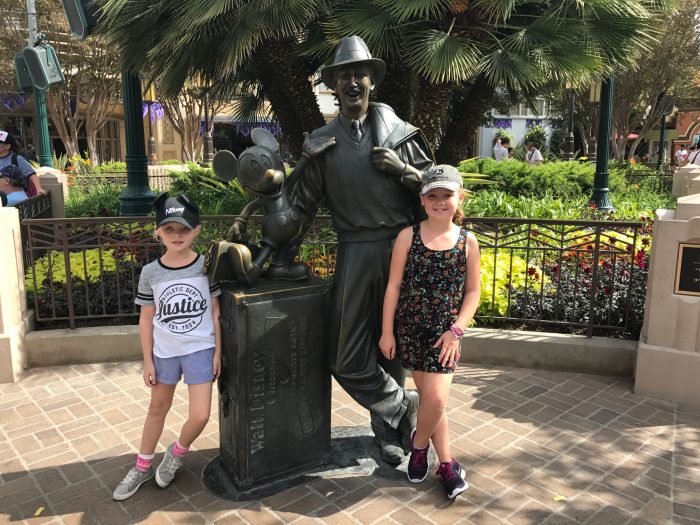 The MaxPass does not allow you to book FASTPASSes for shows – they still require you to grab them from a kiosk. The Frozen show no longer requires a FASTPASS – you just have to line up a bit early to grab a spot.
Visit the Animation Studio in California Adventure Park
Tip from: Katie
I wish I had known about this place at the beginning of our trip. We took in one of the drawing classes and had such a great time! Even Mr Suburble drew a fairly reasonable likeness of a character. The class was short and sweet, the instructor was fabulous, and it was apparent that various people were coming back for their second and third classes. If you have any creatives in your family, the studio is worth a visit.
A Great Place to Stay: The Hilton Homewood Suites
Tip from: Chelsi, Shawna & Katie
This is a just a plug (not sponsored… but hey, if you're from Hilton, drop me a line!) for the hotel we stayed at. It may not surpass the likes of the Disneyland Hotel and its sister hotels, but we really enjoyed our stay here, as have quite a few of our friends. The staff was incredibly helpful, the rooms were the perfect size for us, with a fridge, cooktop and small living room, and the breakfast was delicious. On Monday-Thursday, there is also a "happy hour" from 5 to 7 pm. We didn't buy dinner on any of our weekday nights, as we drank complimentary beer and wine and ate from their array of tapas, soups and salads. We made a point of coming back from the park at 5 pm so that we could eat and drink poolside while the kids swam. The hotel even plays a kids' movie over the children's pool and provides warm cookies and milk in the evening.
Expert-Hilton/Disney tip from Shawna: fill your water bottles in the hotel gym. They have filtered water!
The hotel is about a 10-15 minute walk from the park, but is immediately adjacent to the Toy Story shuttle – shuttles come by frequently and drop off right in front of the security checkpoint to the park. We'd stay at the Hilton Homewood Suites again and would recommend it to anyone.
We'd go back again in a heartbeat.
We have fallen in love with Disneyland much harder than we thought we would. The four days were colourful, exciting and as jam-packed as they could ever be, and the girls have amazing memories from it. There are still some rides that we didn't get to do, and we've put them on the "Next Time" list. I don't know when that next time will be, but I feel confident that we will take Disney by storm the next time we walk into the park.