Disclaimer: I love my children in 1000 different ways. They are inventive, precocious, beautiful and smart. They are sweet, kind and gentle. They are also little terrors when I'm on the phone and I would gladly lock myself in the bathroom while they clawed at the hollow door just so I could get FOUR SECONDS to talk on the phone. 
But I'm pretty sure that's abandonment or something, so I don't do that.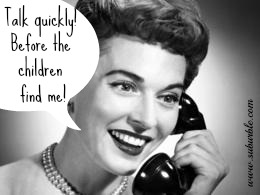 Talking on the phone used to be one of my most favourite pasttimes. I don't live in my hometown (nor where my parents or sisters live) and so there are lots of people that I keep in touch with via phone conversations. When Lila was a baby, I would lie on the couch while she slept on my chest, and I would gab away to my mother, my long-distance friends, and my husband at work. Oh, I was so unsuspecting. So naive.
Now that I have two little girls in the prime of their attention-demanding, manners-deficient lives, phone conversations have changed. The telephone, instead of an escape, has instead become a prime source of embarrassment. My children see the cordless headset cradled in the nook of my shoulder and suddenly, their miniature Mr. Hydes come to the surface, frothing mouths and all.
"She hit me!"
"I want that!"
"Who are you talking to?"
"Can I talk?"
"She hit me AGAIN!"
The person on the other end of the line must envision me standing in a crowded room, or perhaps in the monkey cage at the zoo. The girls then complete their Animorphs transitions and transform into a flock of seagulls, squawking at my feet:
"I'm hungry. I'm hungry. I'm hungry. I'm hungry. I'm hungry…"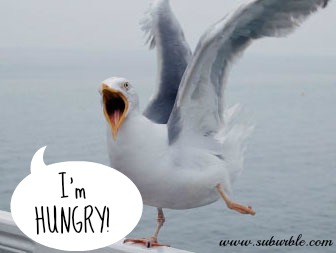 Forget Chinese Water Torture. This is enough to break you. If I'm on the phone with the bank or customer service or somebody important (save us all), I desperately claw through the pantry to find something to keep them occupied. If I'm talking with friends, then I determine how badly I need adult interaction before I cave.
Once the food has been devoured, the intermission ends, and the "Get Mom Off The Phone" show resumes.
"Moommmmmmmmmm….. ? MOM! I need help/more food/this toy/this game/to poop/your-attention-right-now-because-it-has-been-divided!"
And typically, this is the time that the swan-song of the phone conversation is heard on the other end of the line: "I should let you go…"
No! No, I want to talk! But… yeah. I should probably go. I'm bound to lose my patience and say something that I'll regret having broadcast over the phone to you, my grown-up friend, who is sitting in what seems to be absolute silence.
The phone conversation: it's become an endangered species in my house.
I know that there are a million ways to curb this behaviour (and I'm trying them – don't worry) and I know that one day, I will be wondering why they DON'T want my attention any more. But for right now, if we're going to talk,  you'd better text me. Or e-mail me. Or come over.
There are hungry seagulls lying in wait by my phone.