I have to start off this post with a declaration: I love dessert.
I love love luurrrrve dessert.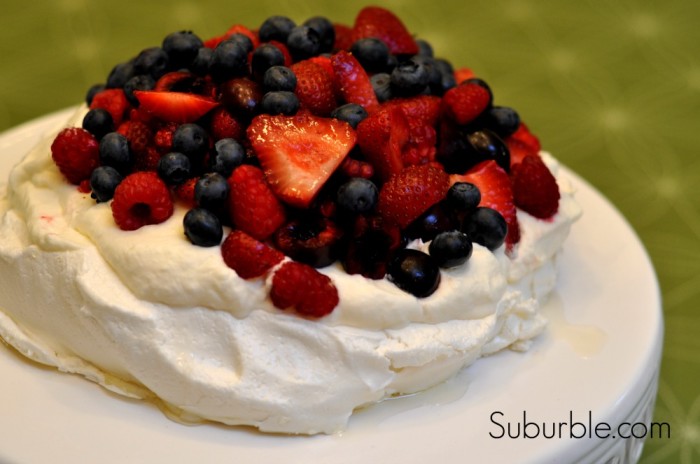 And when my friend, Jon, and I got together this past weekend, he proposed making a pavlova for dessert. I'm sure that my face lit up like fireworks. "A pavlova?!?!? Yes, please!"
Jon is my friend from way back. All the way back to Ye Olde High School Days. And what's funny is that when we were in high school — and in that one messy year post-high school when we were roommates — we always ended up cooking or baking together.
When we were 19, it was pizza and onion rings.
Now that we're – gulp! – 30, we take cooking classes together and try to recreate masterpieces in the kitchen.
He is much more daring than I am. I usually have a bag of frozen french fries in my freezer in case of disaster or overwhelming laziness. I get the feeling that Jon would instead whip up something fabulous or head down the stairs of his apartment to the city streets and eat some fabulous urban fusion-something-or-other food.
Oh yeah. He lives in the city. I – if you look at my header – live in the 'burbs. It's not quite city mouse/country mouse, but when he says, "Urban Outfitters" and I say, "Target" , sometimes our differences are laid bare.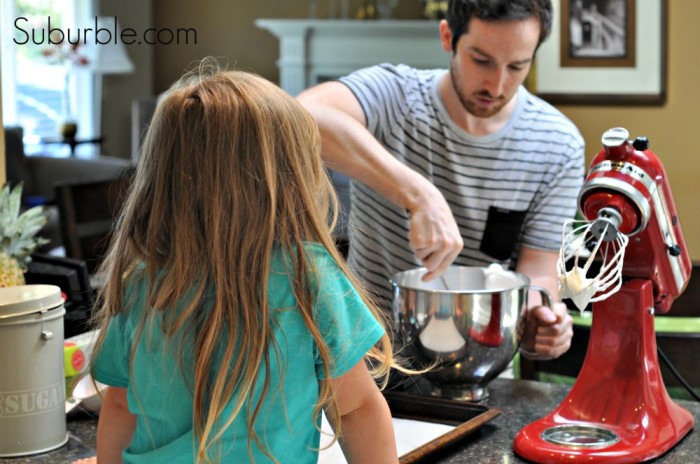 And Lila thinks that he is wonderful. She tails after him whenever he comes to visit. And so when he started working on this – somewhat involved – dessert, she found prime seating in the audience.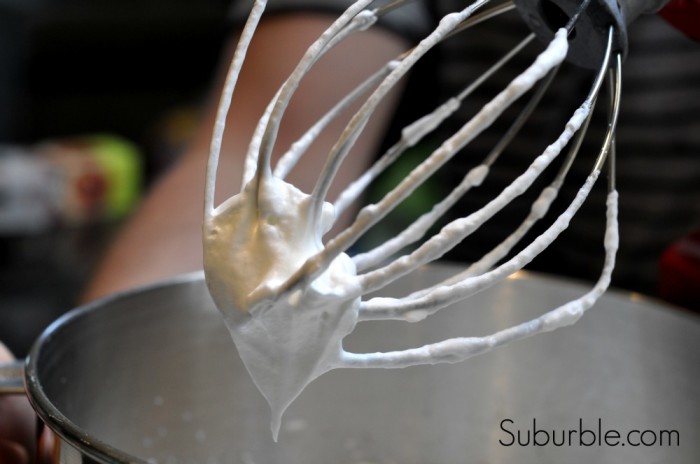 The recipe used for this pavlova belongs to the fabulous Hamptonite, Ina Garten. We didn't change the recipe for the meringue base, so I'm not going to pretend that it's my recipe. You can find it here.
Jon carefully whipped up his egg whites and sugar, in search of the coveted "firm, shiny peak".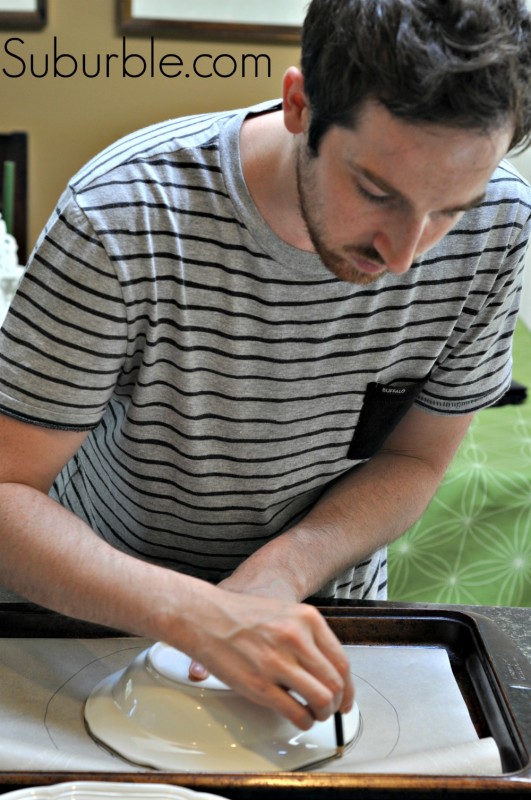 And then we tried to guess the diameter of my dishes. A bowl won in the end. (You need a diameter of about 9 inches. My dinner plates were HUGE, so they were kicked to the curb.)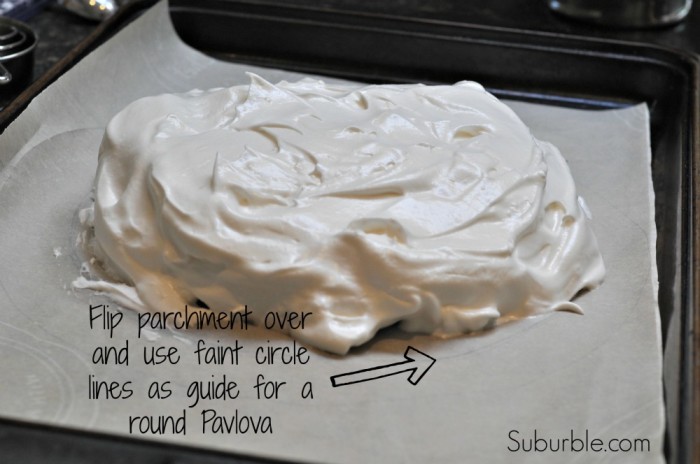 The pavlova was shaped carefully. A spatula painstakingly arranged the folds and creases of the egg whites.
Finally, it was ready…
…to go into a 180 degree oven for an hour and a half! Yeah. I know. Plan ahead when you're making a pavlova. It also has to sit for an hour in the warm oven after it's baked.
(Tip: A family friend told me that she often lets her pavlova sit in the oven throughout the night before a dinner party. Less angst that way, I think)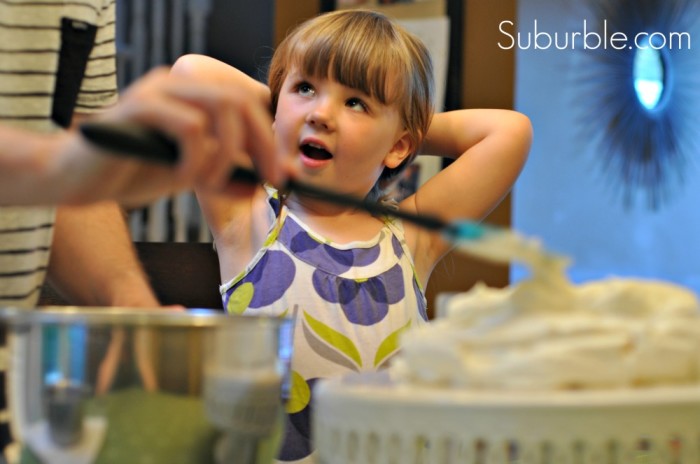 After the pavlova had cooled, we got to the best part of nearly every project: the decorating.
Lila supervised and entertained.
Jon whipped the cream and then dolloped it onto the top of the meringue.
I snapped pictures and got in the way.
Then Jon piled the pavlova high with shiny and juicy berries he had found that morning at the local farmer's market. (It's too awesome, I know. It's like Nigella and Ina stormed the kitchen and sprinkled their fabulousness all over the kitchen like pixie dust.)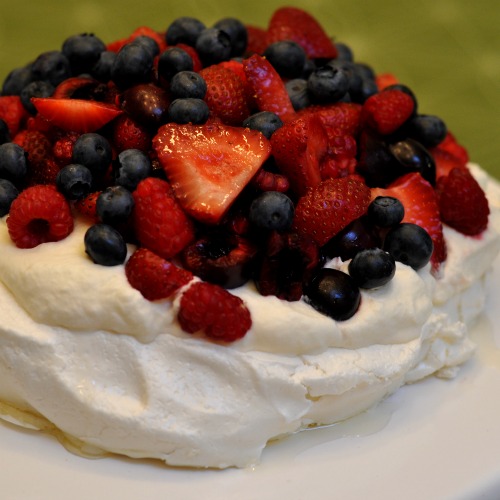 And finally… it was ready. Light and airy and laden with the purples, blues, and crimsons of fresh berries…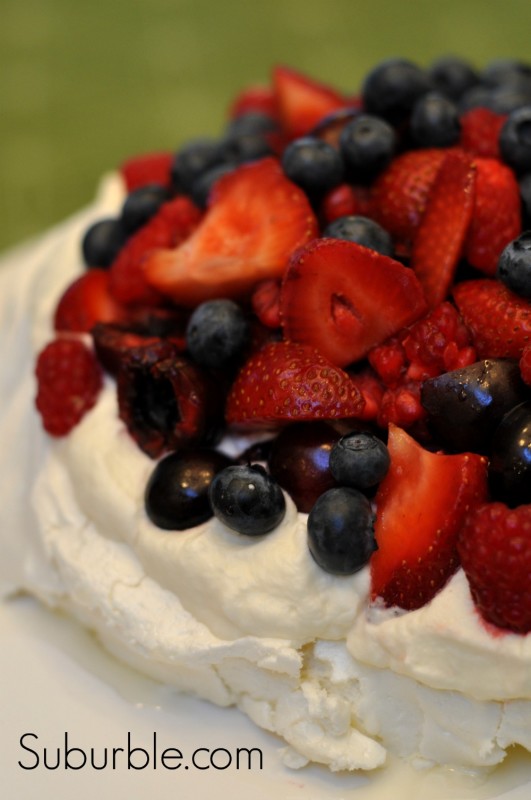 The girls and I danced around the proud dessert and exclaimed, "You made that, Jon! You MADE that!"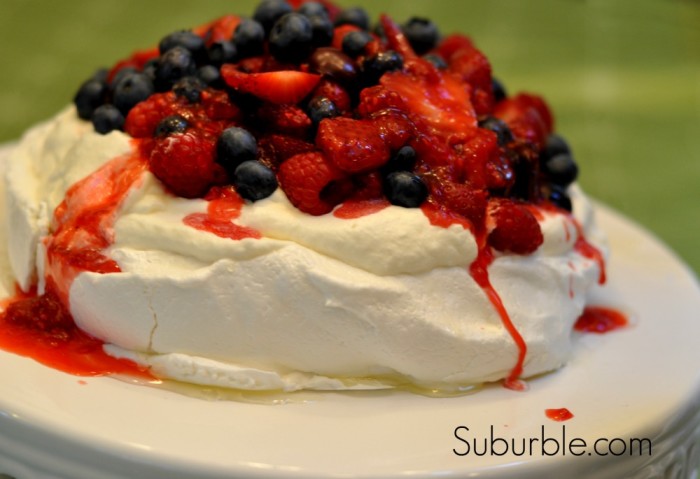 And then he drizzled the coulis. Made from fresh berries, sugar, and a 1/4 cup of water, Jon cooked the mixture down on the stove and then pulverized it in the food processor. The girls squealed with delight at the sight of the syrupy trails flowing down sides of the pavlova.
I took more pictures. And cooed over it. And got out dessert plates and spoons.
Then we ate it. In heaping spoonfuls with big greedy bites and smiles on our faces.
It was delicious and light and beautiful and sweet. The perfect way to end the hours of culinary experiments we had conducted that afternoon. A great way to begin the part of the evening where the kids trip off to bed and the grown-ups sit comfortably in the twilight with glasses of white wine and good stories to tell.
And after all of the dishes had been washed, and Jon had gone back home to his own kitchen, Lila summed it up best: "I really like it when Jon comes to visit."
So do I, little chickadee. So do I.
Don't Miss Another Suburble Culinary Adventure, Follow Along!