This is a sponsored post, meaning that I have received compensation either financially and/or in product. However, the opinions in this post are 100% my own. I wouldn't review something that I wouldn't typically buy or try – It's my promise to you guys!
When I was a little girl – and the resident bossy-pants of our household of four girls, one mom, and a very-outnumbered father – I loved to play "Homeschool". I kid you not – this was a game that I made up and played. Often.
My sisters would be my sometimes-willing students. They would sit in rows (usually perched atop a couch cushion) and would complete the lesson that I screeched at them. I would record notes and create worksheets in my green Note Tote. This green plastic binder was one that I had saved up my money for (earned by picking rocks in the paddock) and was purchased with enormous amounts of pride.
I was a teacher. And I was going to teach these kids whether they liked it or not.
Fast forward 25 years later, and I get to re-live my past. I have my own little pupils running around the house and doing the screeching for me. Though I'm not rapping on easels and hollering, "No talking! Pay attention!" like a certain 6-year-old-tyrant might have, I'm still constantly finding myself wanting to teach the girls.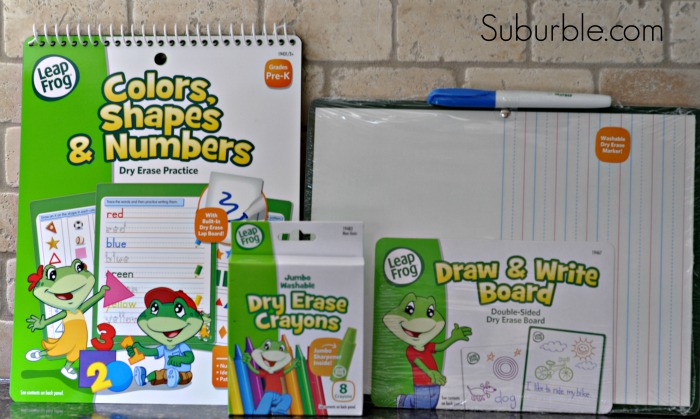 When I got the opportunity to share some LeapFrog Pre-K and Kindergarten materials with Lila and Lucy, I jumped at the chance. When it comes to educational stuff, I dork out hard. Not surprisingly, my career is in education, and any time that I can bring a learning tool into the house, I'm the one clasping my hands and exclaiming, "Isn't this exciting!?!?"
Tracing books? Goal charts? Dry-Erase? It's like music to this mama's ears.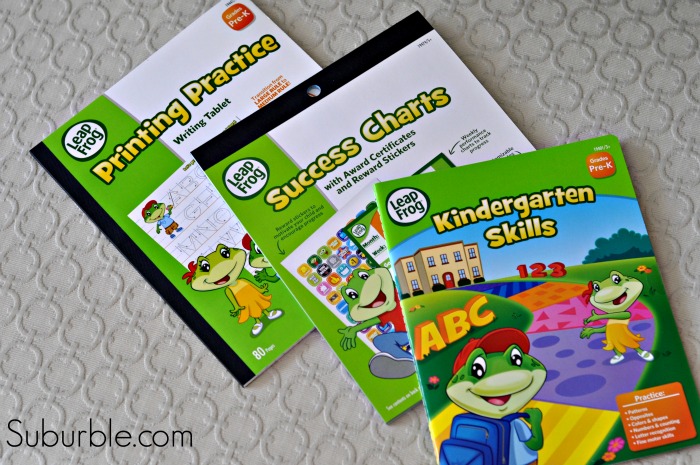 We received a box that the girls immediately tore into. Inside, we found practice books and lessons and flash cards.
The girls were giddy. They're the apples that fell from this tree. Lila exclaimed, "Let's play with this Leap! I want to play Leap!" (I didn't correct her by saying, "It's Leap FROG, actually" – I wanted her to delve into this with excitement.)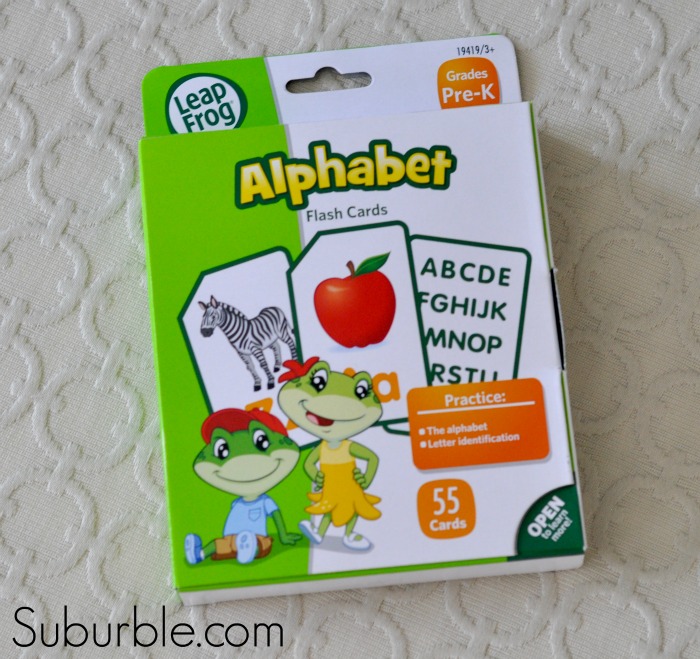 When we opened the flashcards, I was thrilled to see that it contained two sets of the alphabet: one in lower case and the other in upper case.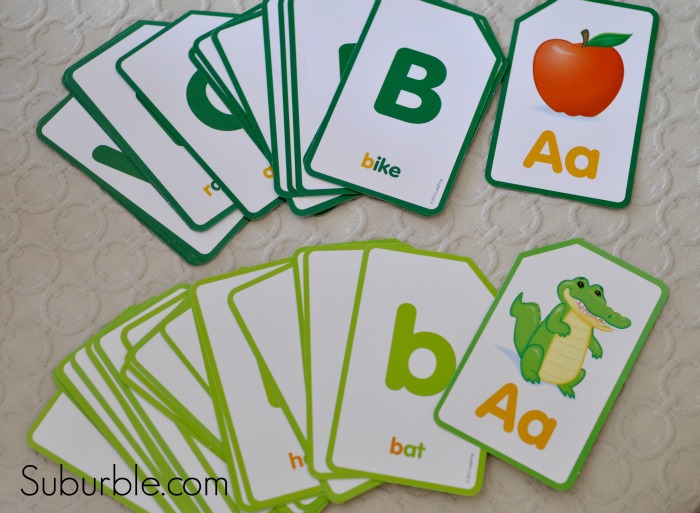 We're so conditioned to teach our children the alphabet in upper case that we often forget about the lower case. It's now being suggested that we teach letters in both upper and lower case right off the bat. No sense leaving one or the other behind – just show them what they're going to be dealing with.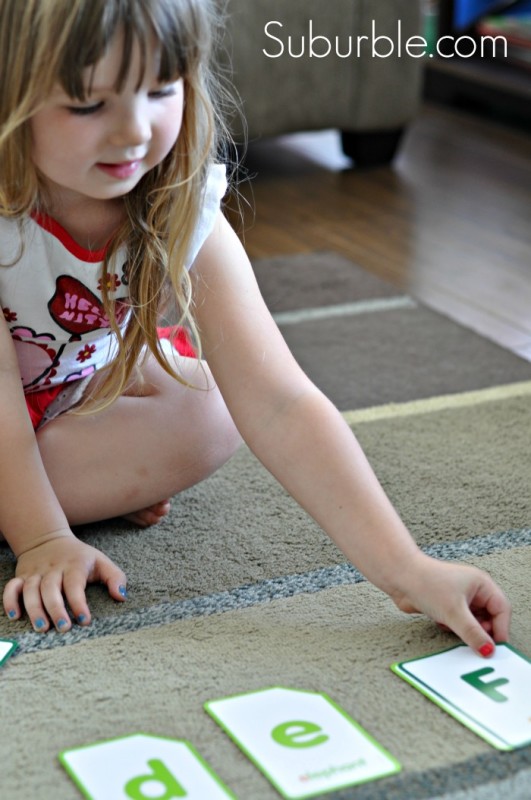 We came up with an awesome matching game. I took a chunk of the alphabet in lower case, and then found the same "chunk" (about 10 letters) in the upper case. I spread out the lower case letters in a grid. The girls were each dealt the upper case letters.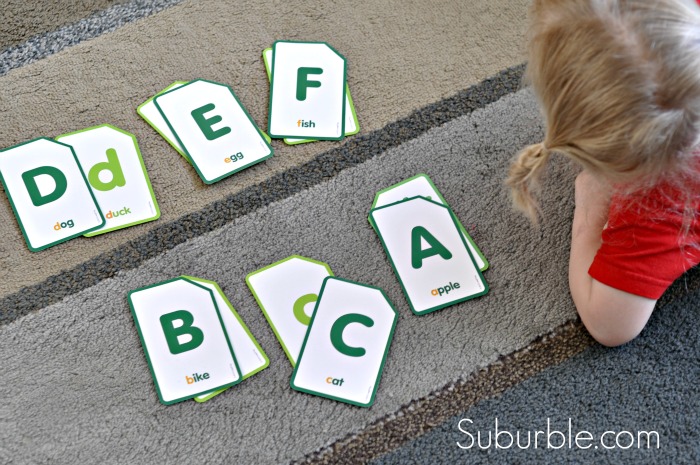 And we matched them. Even though Lila is fairly strong in her letter recognition, there were a few times that she was stumped. And Lucy was able to play, too! By the end of our game, she had learned a few new upper and lower case combinations. It was a great way to practice our letters, but as a game instead of a typical memorization drill.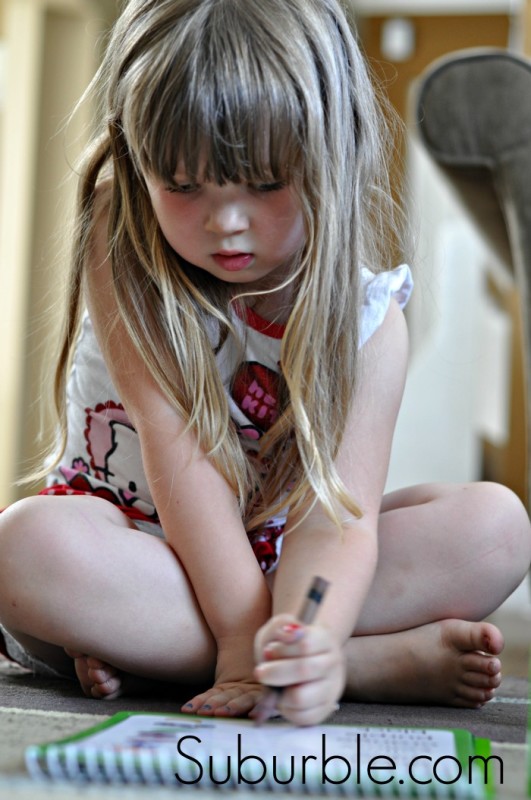 Lila spent a great deal of time practicing in the dry-erase practice book. The crayons intrigued her, and she worked on nearly every page that day.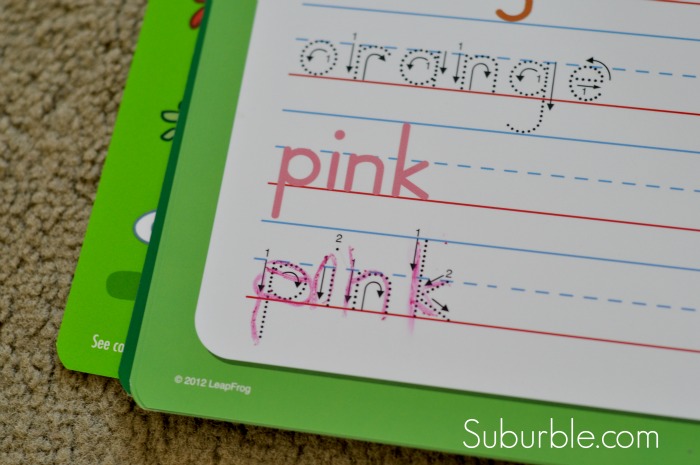 She even took care to match the crayon colour to the colour of each word. She was enthralled.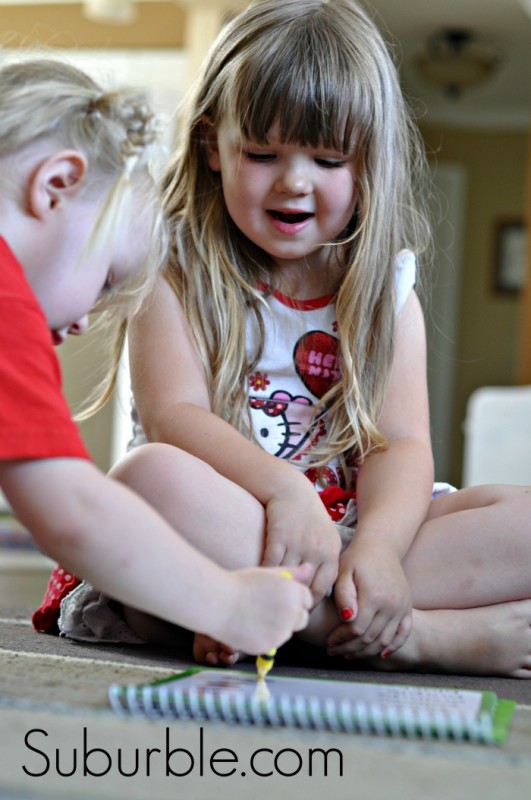 What was even more incredible was the way she guided Lucy through the book. Because Lucy is not-quite-3, she couldn't master all of the pages of the workbook. Lila encouraged her, and helped her to trace each letter (or colour in the bubbles, or make pairs, etc).
I had one of those very strange self-aware moments; it's similar to walking along and then catching your own reflection in a window or a mirror.
Lila was teaching. And teaching with patience and enjoyment.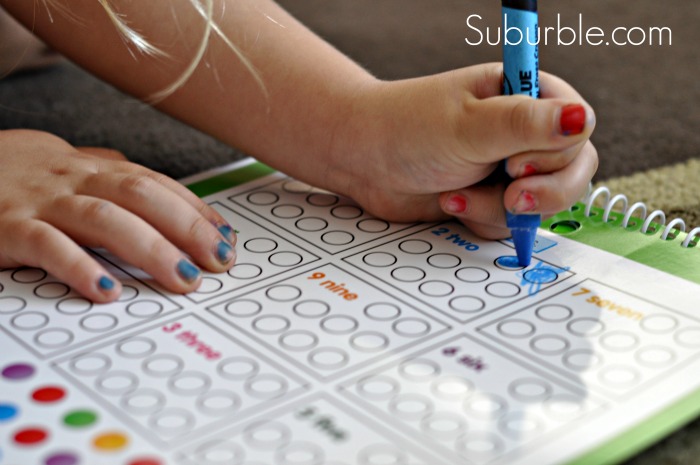 The girls continued to work (and reward themselves with the included stickers) throughout the afternoon. I wandered into the kitchen and started on this home-making business that I'm apparently supposed to be doing.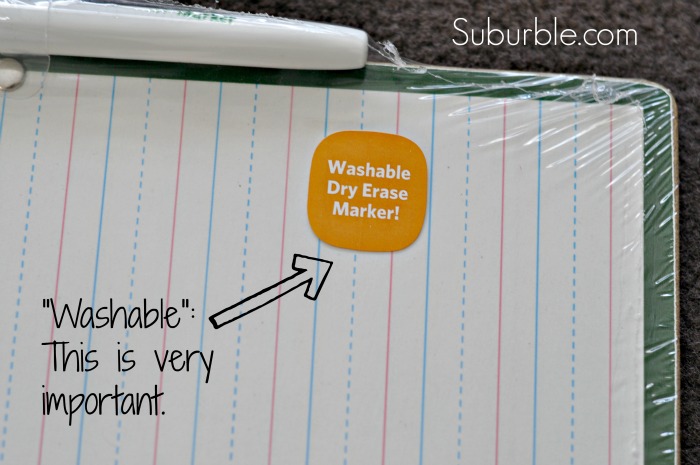 Why did I feel comfortable walking away? Because everything is washable, my friend. This is the magic word of motherhood. For children, it's "please". For mothers, it's "washable".
If you've ever seen the destruction that a 2 year old and a Sharpie can do, then you know what the words "loaded weapon" mean.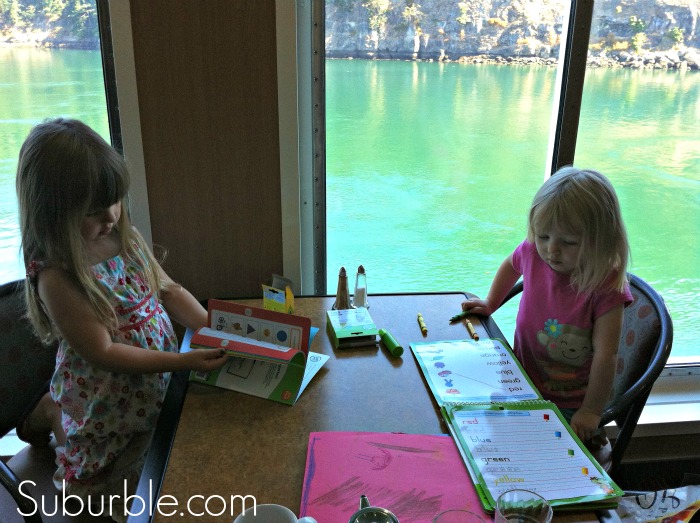 The dry-erase materials were also a huge hit while we traveled this past week. I loved that the book and practice board could be easily wiped down and then re-used. Above, the girls are working on their "Leap!" while we were on a ferry. It was so nice to know that after Lucy had scribbled her writing all over the book, it could then be quickly wiped clean and then handed to Lila for some printing practice. While Lucy worked in her own book, Lila practiced her letters and excitedly rewarded herself with completion stickers.
It was fun. And they were learning. I couldn't ask for more than that.
Despite the fact that we're in the smack-dab of summer right now, I still have that teachery buzz hanging around me. I can't help myself – I love to create a little "school" wherever we are.
And if we happen to be on a boat floating in the ocean, then so be it.
LeapFrog products by MEGA Brands are available for purchase (MSRP $0.99 – $24.99 for children ages 3 and up) at major retailers including Toys R Us, Michaels, Joann, Target, Walmart, Officemax, and Costco. At Target and Walmart, look for them near the stationery and writing instruments, rather than toys or school supplies.