Disclosure: I am part of the Sears Back to School Blogger Campaign with Mom Central Canada and I receive special perks as part of my affiliation with this group. The opinions on this blog are my own.
With the excitement of back to school, there comes the equally (or even more) exciting task of going back to school shopping.
I remember the thrill of walking into a clothing store in August. What can I convince my mom to buy me? Is that shirt with the sarcastic saying on it going to match my new cargo pants?
Yes, my back to school shopping occurred in the height of fashion. If it wasn't slap bracelets and stirrup pants, it was flannel button-down shirts and wide-leg jeans. I was stylin'.
I also had bangs that were cut straight across my forehead (often by myself and with kitchen scissors). It was hard to deny my awesome-ness.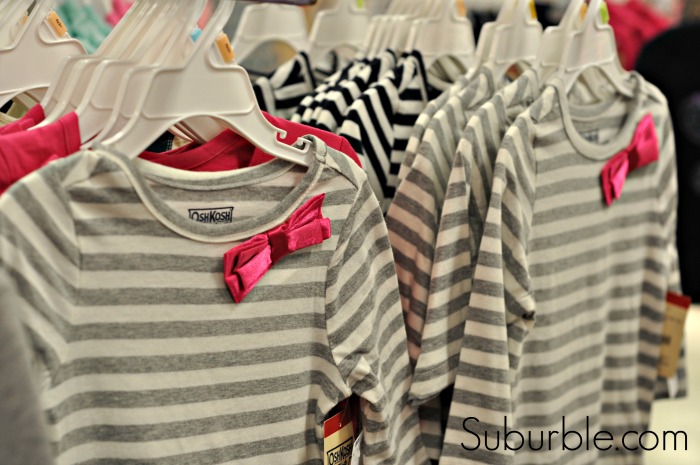 When our family was given the opportunity to shop at Sears for this year's back-to-school clothes, I felt that same happy anticipation (as did Lila – the child adores clothes shopping).
We walked in and saw that there were racks upon racks of clothes just waiting to strut their stuff in the classroom.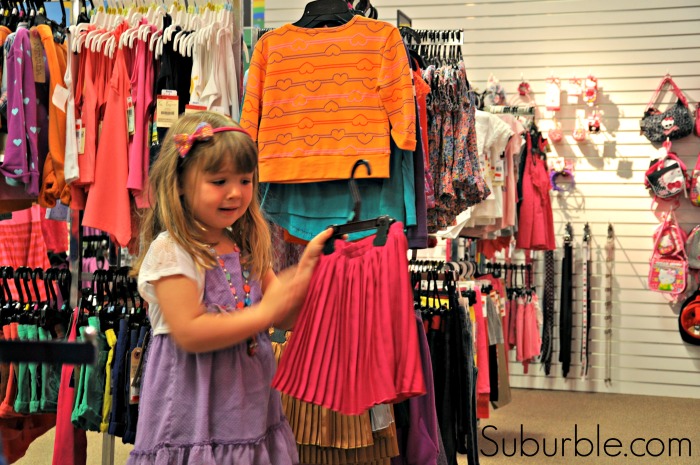 "Mom – do you see this? It's so cute!"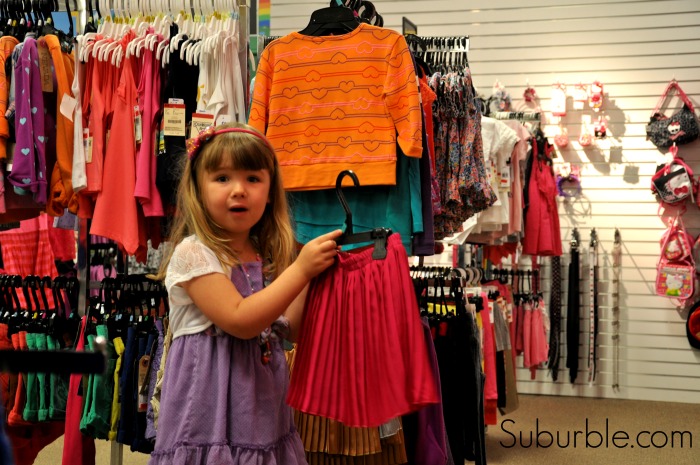 "No… Mom – look. This is SO cute!"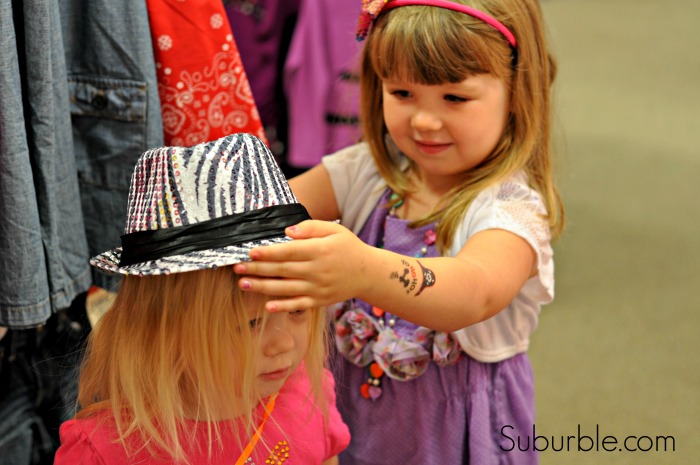 Lila became the stylist for our shop. She grabbed sequined hats and plunked them onto Lucy's head.
And speaking of unfortunate haircuts… let's not talk about the coiffe that Lucy is sporting these days…. what's happening there?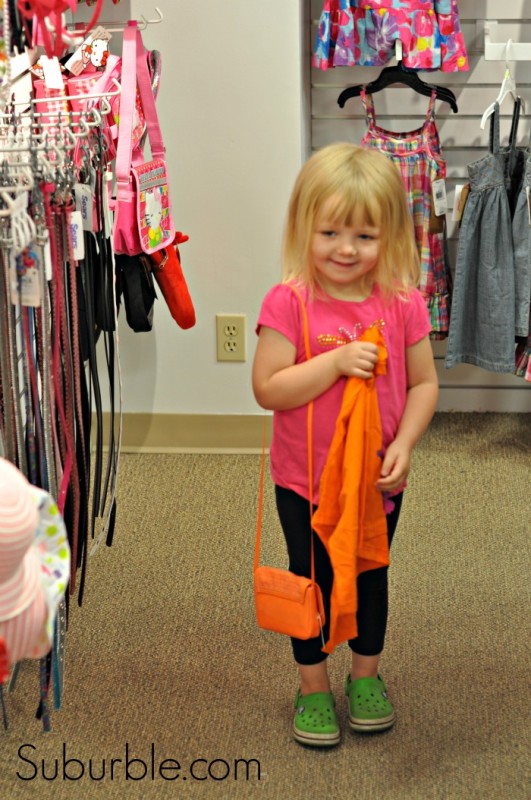 Lila taught her younger sister about coordinating your accessories with your clothes.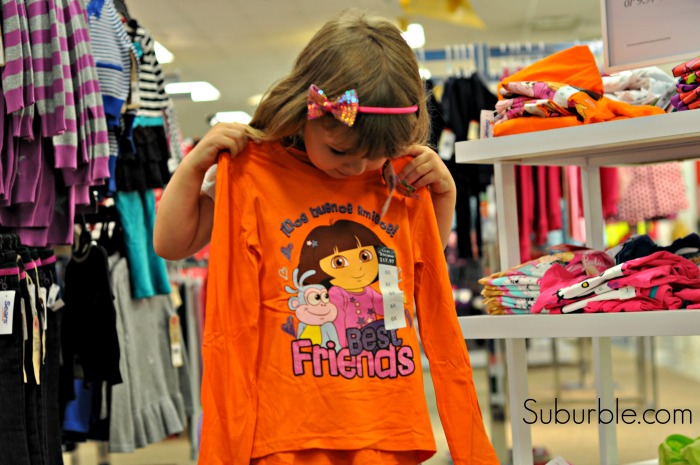 This shirt came home with us in two sizes. Lila exclaimed, "It says "Best Friends" – just like me and Lu!"
Lucy clutched her shirt and carried it around with her. Not because it was a best friend connection with her sister, but because it had Dora on it. She didn't want anything else. Just her Dora shirt.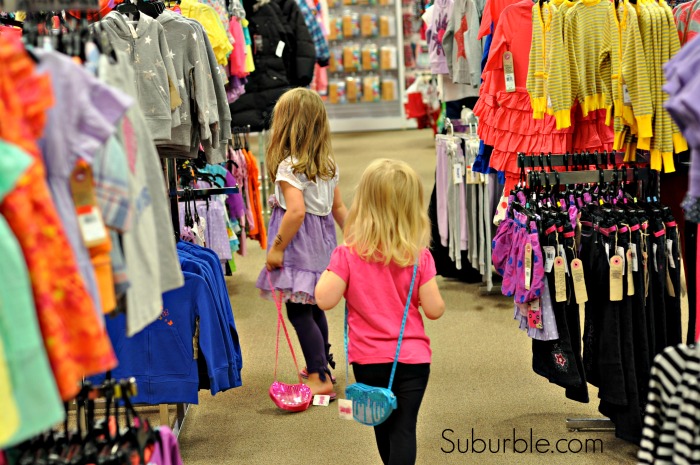 Well, a Dora shirt and a fancy purse. You can't properly shop without a fancy purse, you know.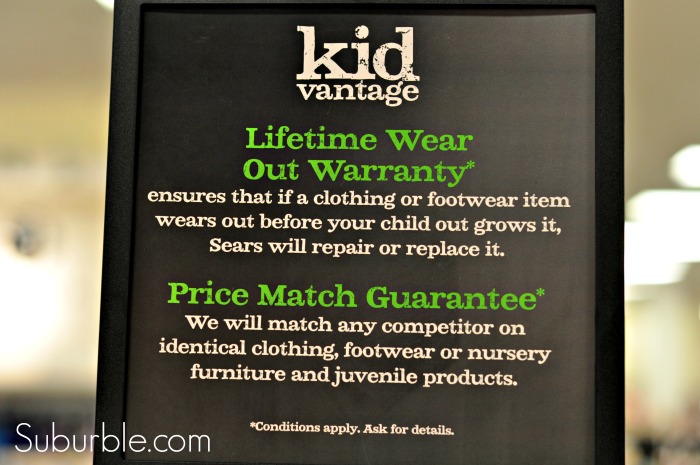 We gathered our purchases and headed toward the checkout. On the top of a rack, I noticed this sign. It's great to know that Sears will back its products and replace or repair them should my child wear out her clothes.
Like her Dora shirt.
And that's possible, Sears. I'm just warning you. It's gone from "like' to obsession.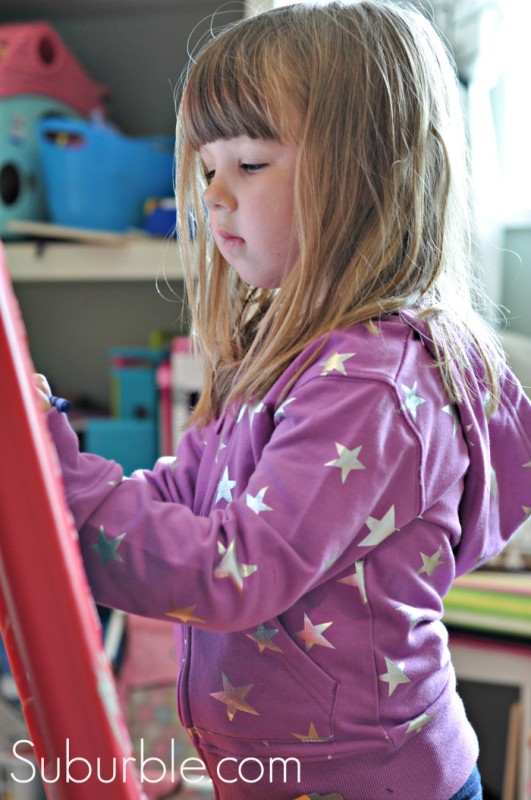 I asked the girls to model their back-to-school clothes, and Lila immediately came up with a theme for the shoot. "Let's pretend we're at school – beacause the clothes are for school!"
(Ever the teacher, that one…)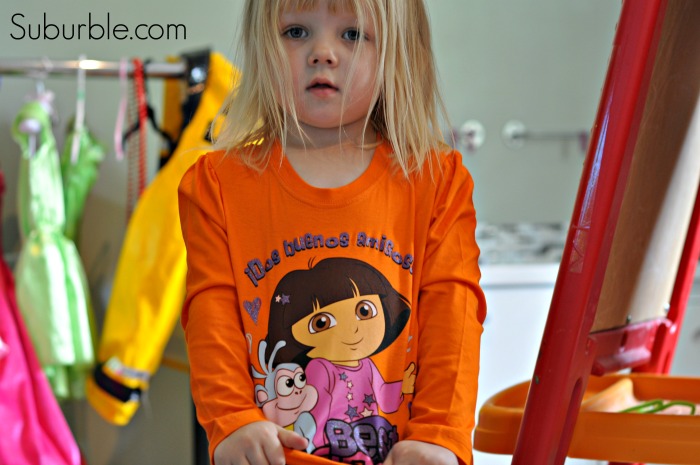 See!?!? Dora shirt fo' life, yo. This child was completely satisfied.
Lucy refused to wear any of her other back-to-school clothes. Not one other article of clothing could touch her body.
I assure you – her I'm Going to Preschool clothes are adorable: leggings with french poodles on them! With a coordinating striped shirt. There's also a polka-dotted hoodie!
Sigh. Not while Dora's in town.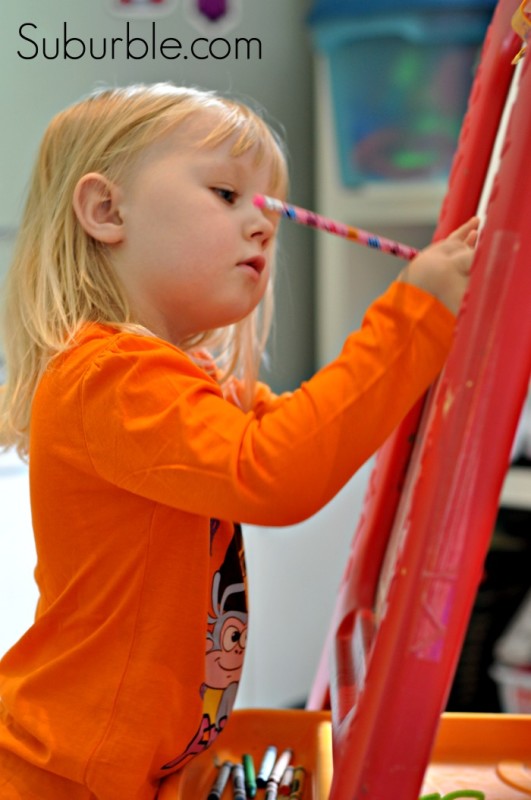 Power struggles aside, she was so happy to be playing school. She took her "work" seriously.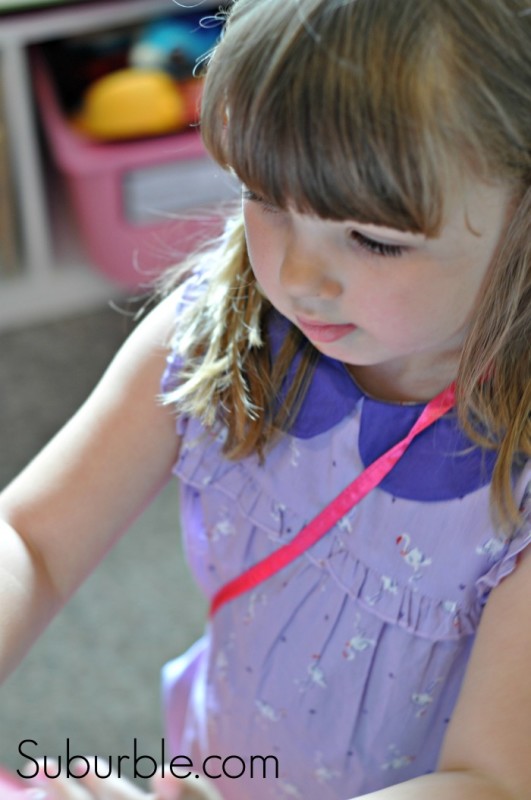 Lila picked out this purple flamingo-patterned shirt herself. "It's like the flamingos at the zoo – my favourite!"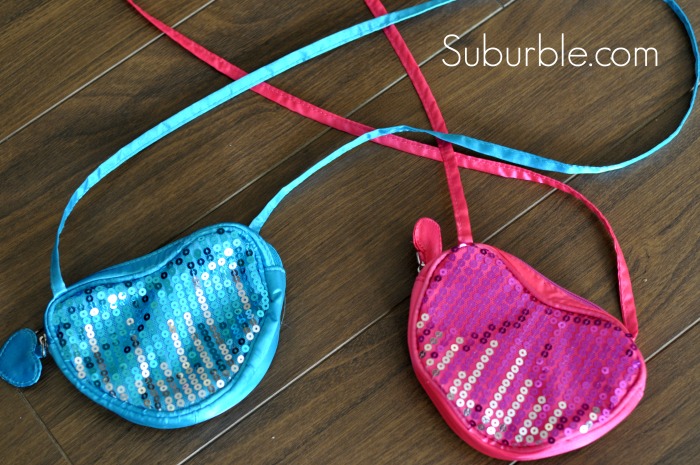 Before we left the aisle of the Sears' clothing department, Lucy – clutching her Dora shirt and her blue sequined purse – looked up at me and asked, "May I have 'dese, mommy? Puhlllleassseeee?!?"
I looked over at Lila, face beaming while holding her new dress, jeans, hoodie, flamingo shirt and her OWN Dora shirt – then back at Lulu – who just wanted a purse and a shirt.
"Okay, Lu. You can have them."
"Fank you, mommy! Fank you! Fank you!"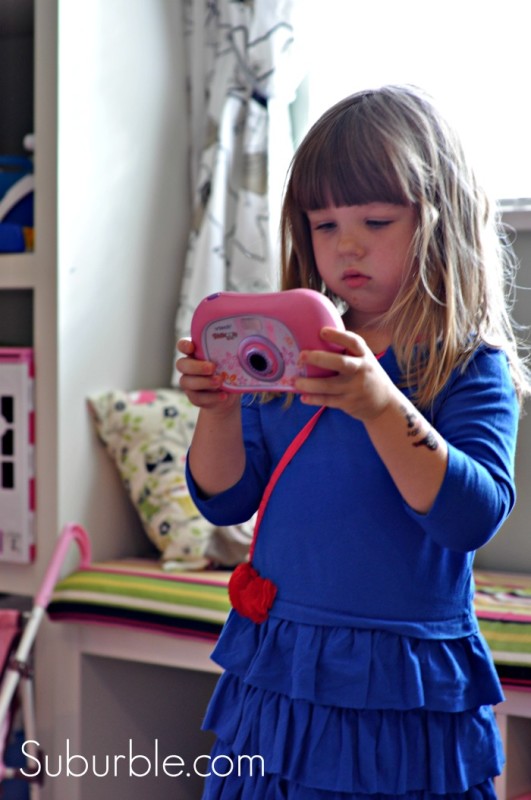 And since we walked across the parking lot that day, they've both worn their purses for every second we've left the house.
Halfway through the time I was taking pictures, Lila picked up a camera and started mimicking my actions. The apple doesn't fall far from the tree. Next thing you know, she'll be snapping pictures of her wooden food arrangements and her latest glitter glue project.
It wouldn't be a bad thing!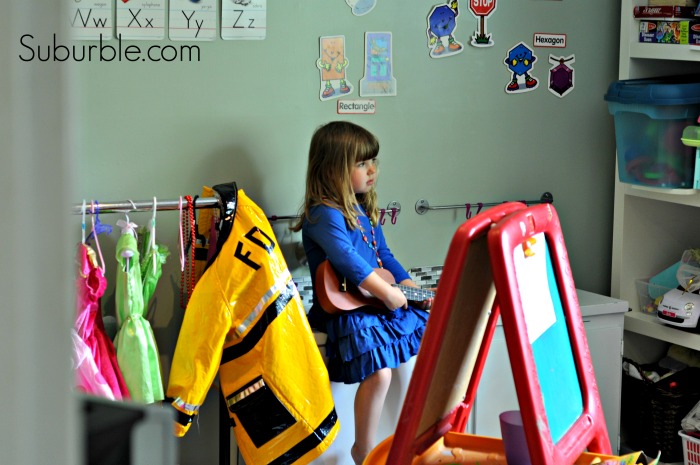 Without having my camera handy nearly every minute of the day, I could have missed snapping this moment: my daughter strumming on the ukulele and singing a song about going back to school. In her carefully chosen, brand new back-to-school clothes.
You can win your back-to-school shop at Sears!
Enter for a chance to win one of five weekly $500 Sears gift card prizes, and 35 daily $50 Sears gift cards to put towards your back to school shopping!
To enter the contest, "like" the Sears Facebook page and click on the contest tab. Click on the entry form and enter your information!
I wish you luck!
And after you've entered the contest, tell me in the comments:
Do you have fond memories of back-to-school shopping? What was one of your favourite back-to-school outfits?
Did you have a horrifying hairstyle? Tell me I'm not alone.