Thank you, Deco Art, for providing this awesome (and fun!) paint for this project!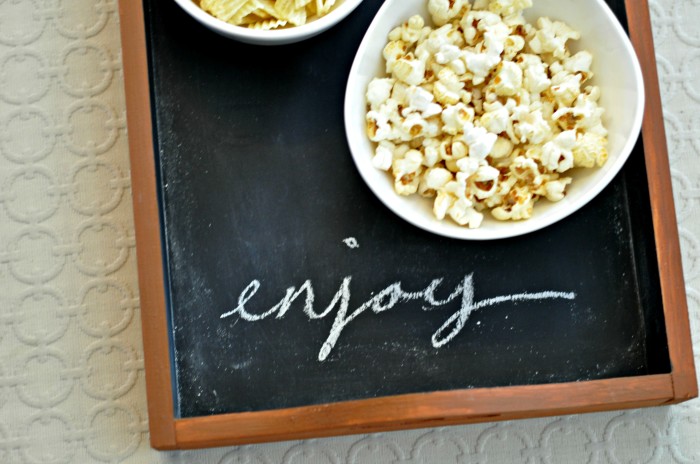 I love chalkboard paint. It is one of my most favourite paints (for all of the obvious reasons). When I found out that it was one of DecoArt's chosen paints for Christmas, I was thrilled!
Immediately, the idea of a chalkboard tray popped into my head. I had seen similar ideas as cheese plates — you know, to differentiate your Brie from your Havarti from your came-from-a-goat-eating-only-purple-clover-flowers cheese — but being a dip-aficionado (believe me, this girl loves her chips and dip!) I thought that a tray might make more sense for our crowd.
And tell me honestly, how often have you (or your partner) been at a food table at a party, and asked, "What IS this?"
Don't witness another person grimacing while eating that spicy jalapeno dip that looks JUST like your world-famous mango salsa. Put it out on a chalkboard tray and label it – with style!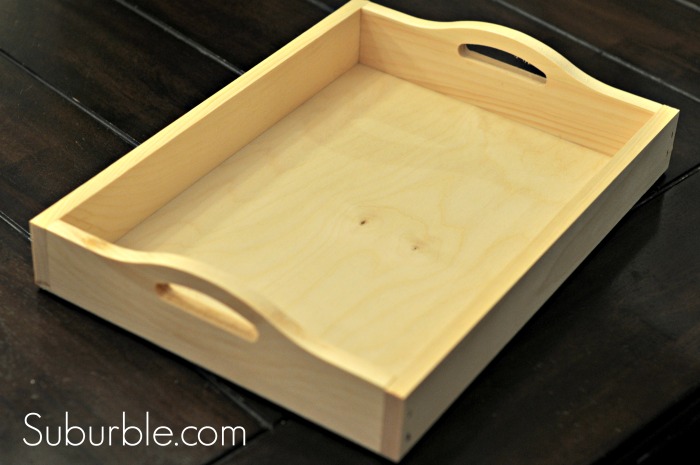 I started the project with an unfinished tray from Walnut Hollow. It's an awesome little piece that was just begging for a bit of paint-love.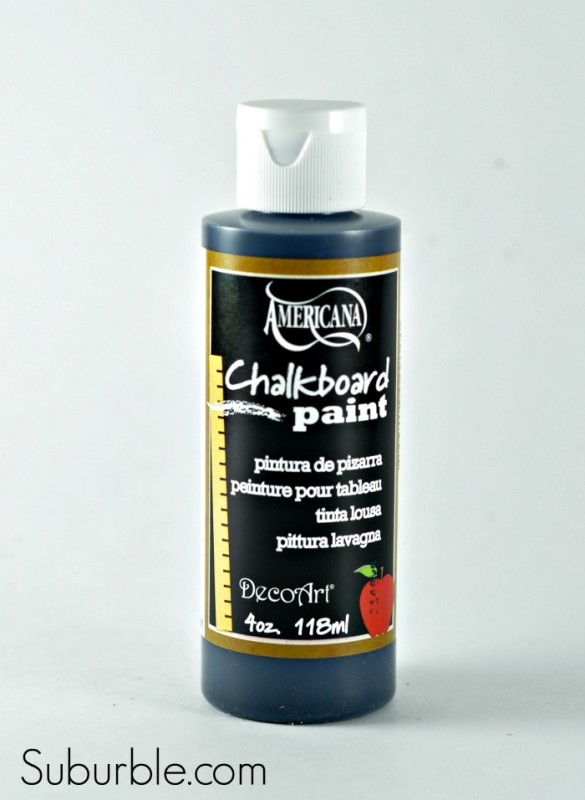 I started off by painting the tray with Americana chalkboard paint. It's really that easy – you just apply paint wherever you want things to be chalkboard-tastic!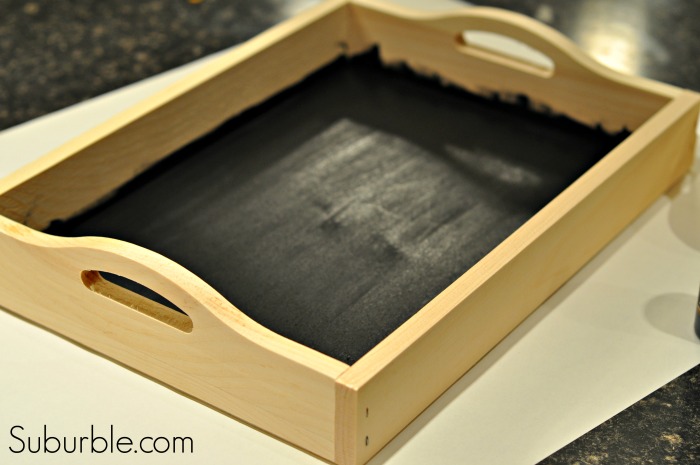 The trick with chalkboard paint is to paint it in one direction and then let it dry (for at least one hour). Then paint another coat in the same direction as the previous coat, and then let it dry for an hour again.
THEN, paint a third coat in the OPPOSITE direction, and let it dry the final time for at least 24 hours. I used a foam brush (the cheapy-cheap ones from the craft store) and I found that it applied the paint quite nicely.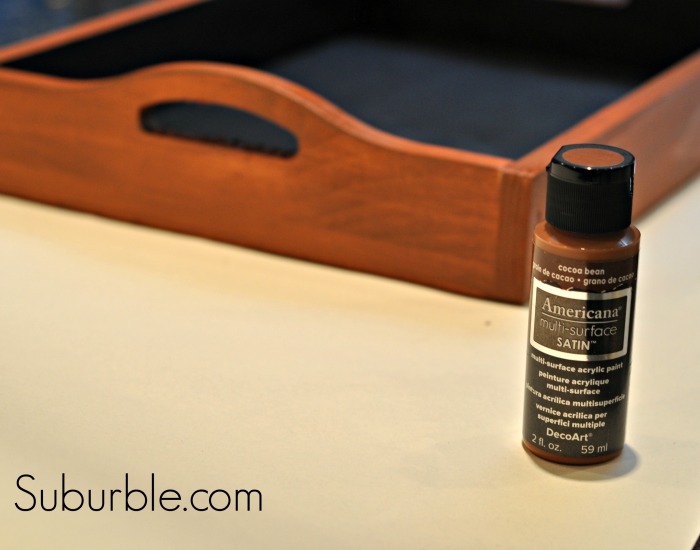 Once the chalkboard paint had cured, I got to work on the remaining unfinished surface of the tray. I used Deco Art's Americana Multi-Surface Satin in Cocoa Bean.
What was such a happy surprise was that this paint goes on with a very similar appearance to a stain. And even better: this acrylic paint is water-soluble and is SO easy to apply!
I applied two coats of paint (with an hour of drying time in between), and was left with a beautiful rich and nutty colour. Three coats would create a more opaque look, if you don't want to see the grain through the paint.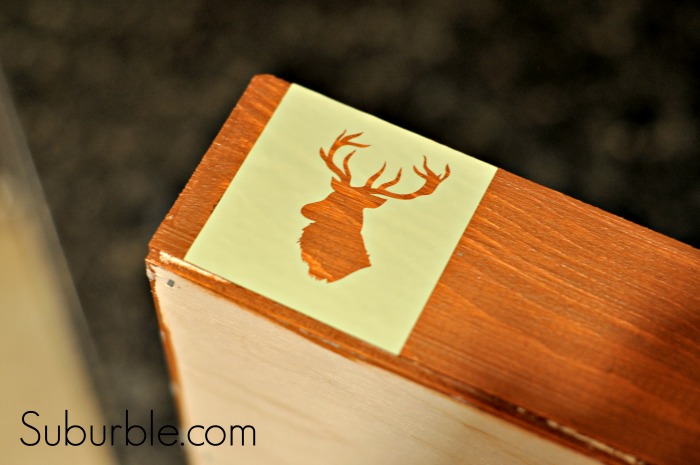 I love stencils (you guys know that!), so I wanted to put a little bit of personality on this piece. From adhesive vinyl, I cut out a deer bust with my Silhouette Cameo. I then used chalkboard paint to paint this dapper little fella onto the side of the tray.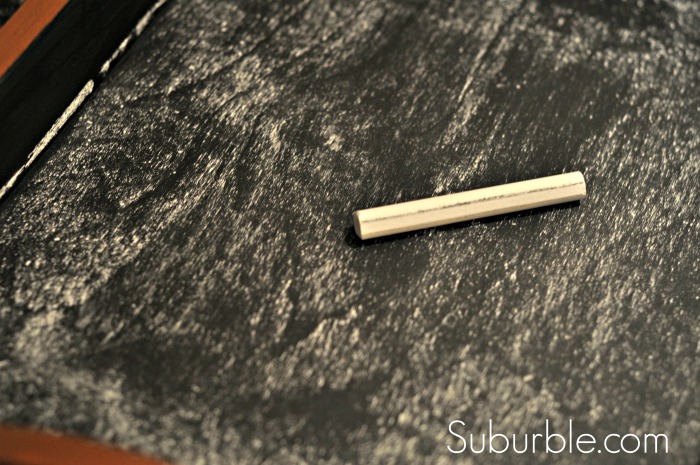 Once the paint had completely dried and I was satisfied with my fabulous little showpiece of a tray, I had to "treat" the chalkboard.
I took a piece of chalk and rubbed it all over the board. Then, I wiped it off with a slightly-damp cloth.
Shazam! The board was ready to showcase a selection of appetizers!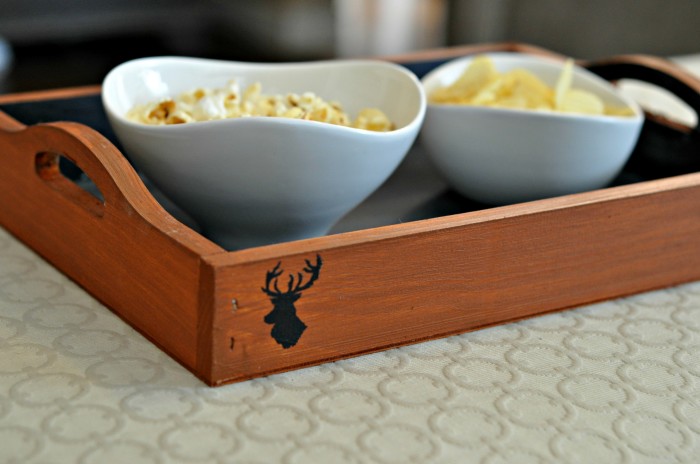 Isn't this little buck so cute? He's not an attention-seeking stencil, like some can be; rather, he's a little surprise for visitors: "Hey gang! Thanks for coming to my party!"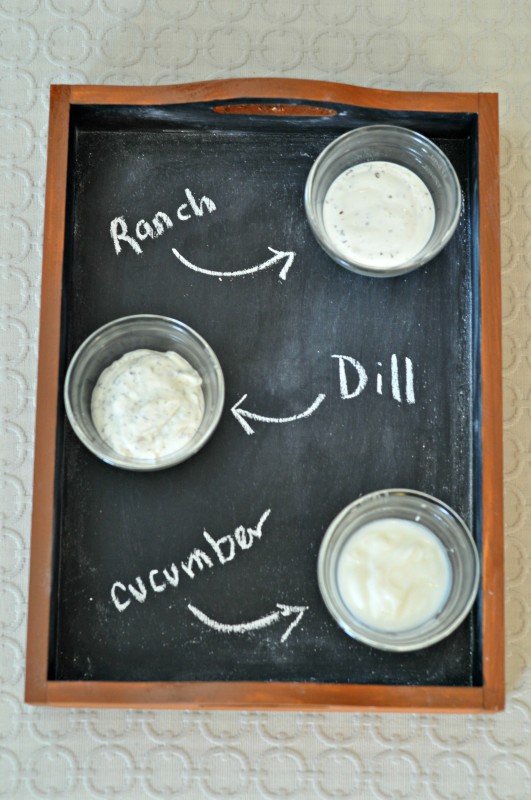 Never let your party guests be confused by the three off-white dips that you're serving. Label them on your chalkboard tray!
And when the party is over, wipe it down with a damp cloth. All clean and ready for the next shin-dig!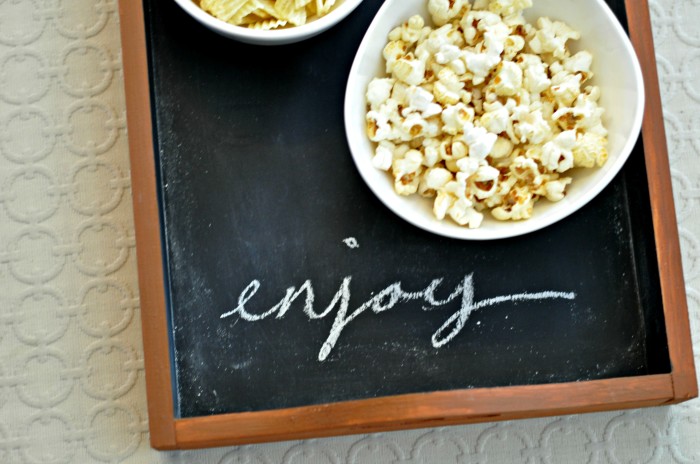 And if you're having a fete where there isn't any confusion over the dips/appetizers, consider writing a little message for your guests. "Happy Birthday, Sam!" or "Merry Christmas!"
Or perhaps just a short and sweet: "enjoy"!
This tray is already one of my most favourite painting projects – and not just because it's practical, but because it's also a piece of decor that adds a bit of excitement to the table-setting.
Can you think of someone who would love one of these trays?
I can.
And they might be finding one under a Christmas tree this month!
Tell me, friends, what would YOU write on your chalkboard tray?