Today, I have something special to share with you. I've teamed up with a group of 12 incredible bloggers to bring you not just one post – but multiple posts – all focusing on the same theme.
These ladies have been a great support to me as I've journeyed through my short time as a blogger. We're all from different parts of the continent, and yet I consider them all to be my friends. We've created a group called "My Favorite Bloggers" (or if you're from Canada, you'll jam a "u" in there so that your conscience can stay quiet!) – and each month we will feature projects, recipes and ideas all surrounding a unified theme!
Before I delve into this month's theme, I'd like you to meet the group: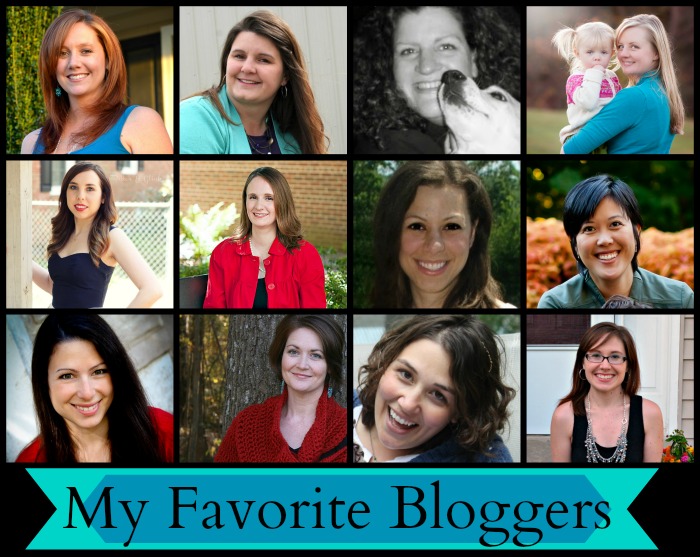 They are, from left to right, top down:
Kristen from One Tough Mother; Sky from Creative Captial B; Marilyn from 4 You with Love; ME! from Suburble; Bethany from Pitter and Glink; Melanie from It Happens in a Blink; Kara from Petal to Picots; ChiWei from One Dog Woof; Sarah from Repeat Crafter Me; Kadie from 7 Alive; Nancy from Small Things with Love; and Amy from One Artsy Mama.
This month's theme is Apples. As Summer's eyelids are getting heavy, and Fall is starting to flex his biceps in preparation for all of the leaf-loosening he's going to be working on soon, apples are going to be ripening on the branches. Doesn't Autumn just scream of apples and leaves and… teachers!?!?!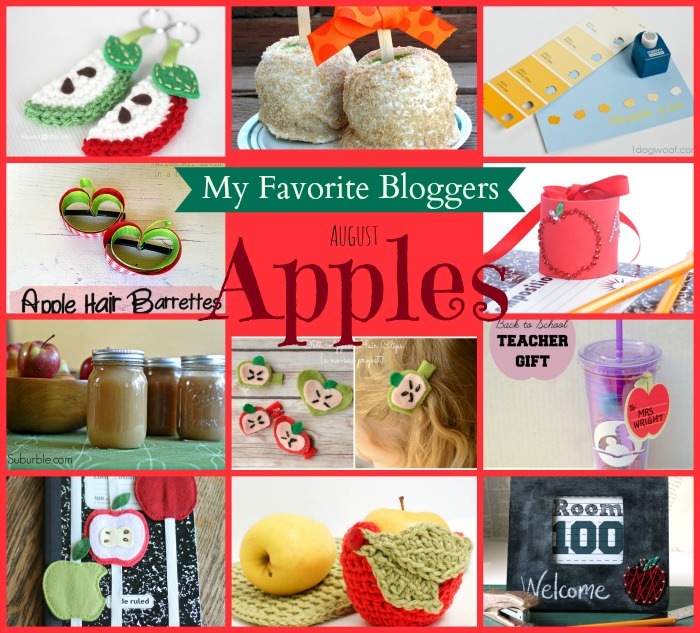 After you've read about my Adventures in Applesauce (and then drooled all over the screen, pinned the image, and called your hubby to pick up a case of apples on his way home from work), please visit the links at the end of this post. There are some fantastic projects just waiting for your hungry eyes!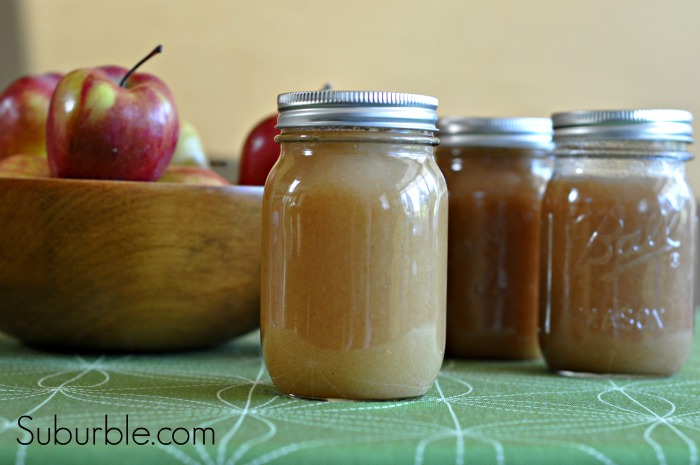 Applesauce is always a huge hit in our house. When they know that there is a jar of this golden loveliness in our freezer, the girls always request it for dessert.
And because I know what it's in it, I let them have some. They holler in excitement; I scoop out big dollops of sauce and think, "It's just apples and water with a tiny bit of sugar. How could I have tricked them so well with THIS?!? Why can't I trick them to clean the playroom?"
Freezer Applesauce
2013-08-08 02:39:29
This is a simple and delicious recipe that is low on sugar (and low on guilt!).
Ingredients
approx 20 apples, peeled, cored and quartered
3 cups of water
1 tsp cinnamon
1 tbsp sugar
Instructions
Combine the apples and water into a pot; bring to a boil
Simmer the apples on low-medium heat until the apples are mushy enough to be mushed by a potato masher
Mash the apples until they resemble a chunky sauce
Put the apple mixture through a chinois strainer (or run through a food processor)
Add cinnamon and sugar to the smooth sauce
Fill jars with applesauce mixture and leave to cool
Screw on snap lid and put jar in freezer. Use within 12 months.
Notes
Look for "No. 2" apples at the produce store (or ask at the grocery store) - they're a great way to get apples inexpensively!
Suburble https://www.suburble.com/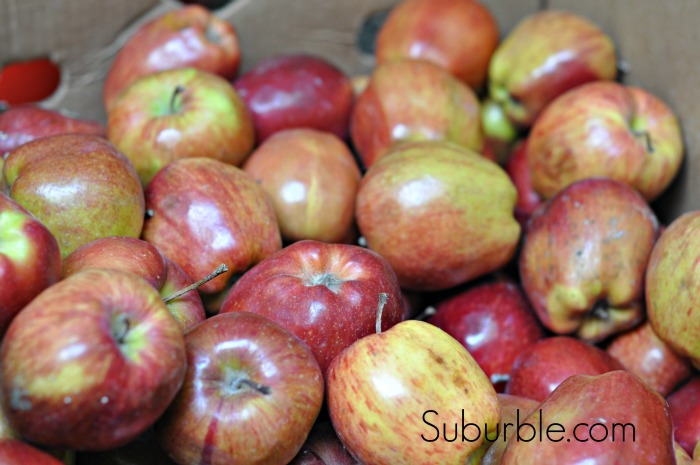 Our local produce store often sells boxes of "No. 2" produce for a few dollars. I bought a large box of apples for $7! Because they're seconds, the apples have bruises and little bumps and marks on them. It doesn't phase me – I'm just cooking the crap out of these apples – they're not an art piece!
I peel, core and quarter my apples before popping them into the pot. I know that some of the pectin is in the peel and core, but it really gets in my way during the "saucing" process. To those who are made of tougher stuff, I say, leave the peels on! Be crazy!
I'll be over here with my naked apples.
Well, semi-naked. I do a bit of a "lazy-peel" of the apples.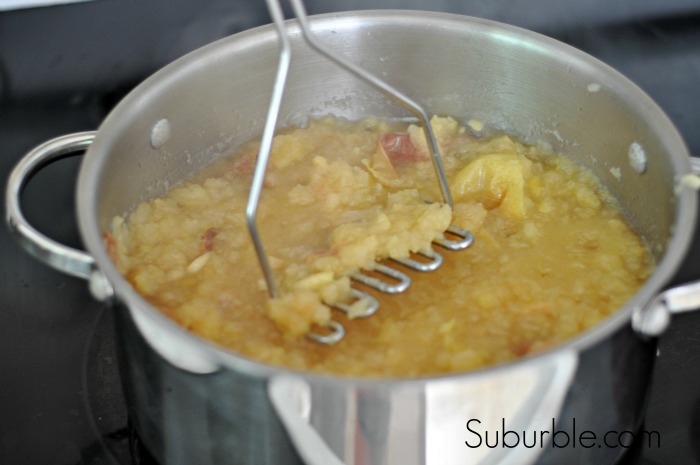 The apples are cooked down with water, until they've gotten mushy enough to be smashed with a potato masher.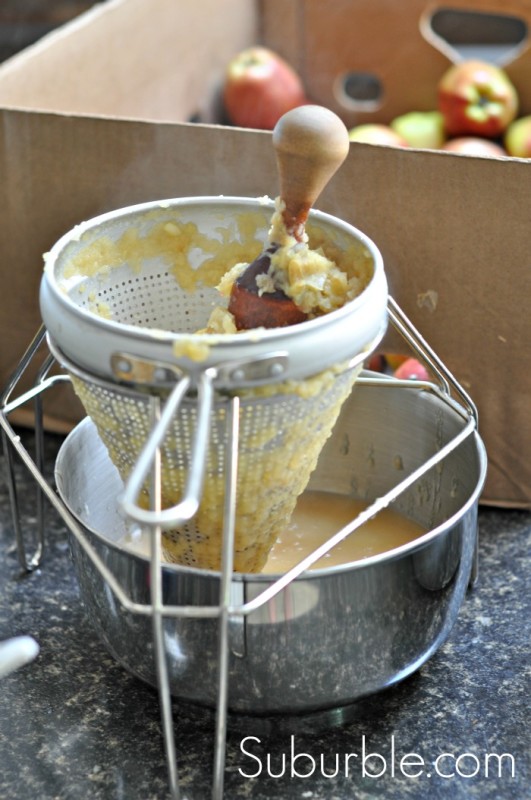 The apples are then run through the chinois strainer. Do you not have one of these yet? Get one! You're going to need it! (Or you can use a sieve and a food processor… but there's something so Little House in the Suburbs about cranking that pestle around the strainer. It's a good bicep workout, too.)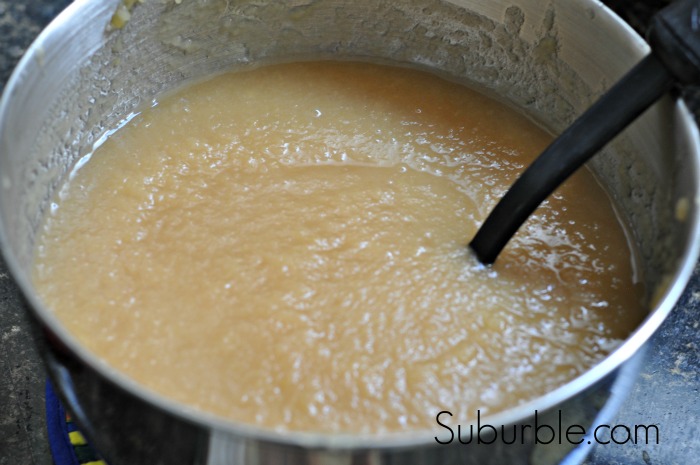 You should be left with applesauce. It's really that simple!
To this, I add a tablespoon of sugar and a teaspoon of cinnamon. I like my applesauce to taste a little bit like apple pie.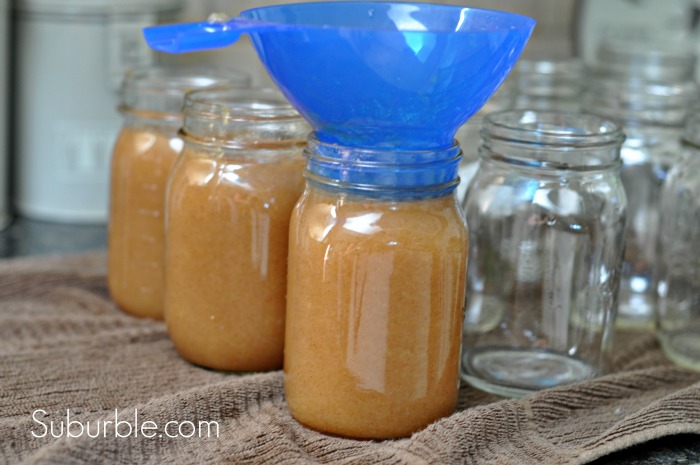 Because this is a freezer recipe, the jars don't have to be sanitized prior to housing the applesauce. Just give them a good wash with hot soapy water. Once the jars have cooled, seal them with lids and rings and then pop them into the freezer. Do your best to use them within the year. (Who am I kidding? It will be gone long before then!)
From my box of apples, I managed to fill 16 jars with applesauce. Already, the girls (and Mr. Suburble) have had heaping bowlfuls of the stuff. My freezer is stocked full of these gorgeous jars, and really, it wasn't all that hard! It's a guilt-free dessert for the family (and if you're saying, "To hell with guilt today", you can warm it up and dump it on a bit of ice cream. It's like apple pie, sans crust!)
Be bold. Buy a case of apples. You know you're going to have to do SOMETHING with that. You can't ignore a whole case.
But before you do that, visit the work of my fabulous group: My Favorite Bloggers. They have some incredible projects worth seeing.