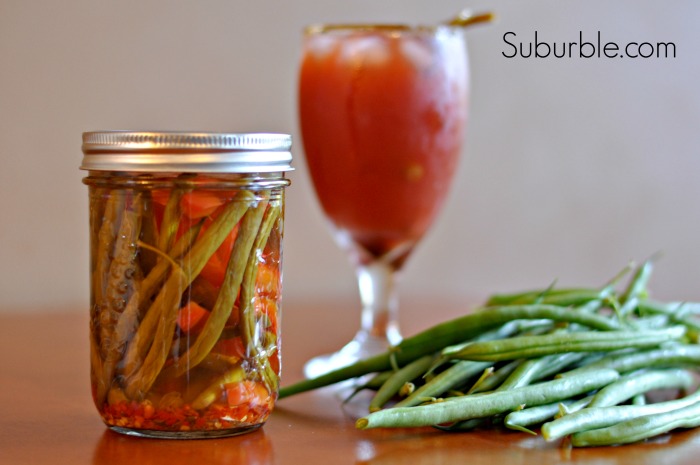 Mr. Suburble and I are big Ceasar aficianados. He makes a Caesar that cannot be beat. I'm sure that if I twisted his arm a little, he'd share it on the blog. Maybe I'll see if I can get it on here this week!
The thing is, you cannot make a Mr. Suburble Ceasar without a pickled bean (or three). And this year, I decided – what the heck, I've got mason jars tumbling out of the cupboard already – let's make some!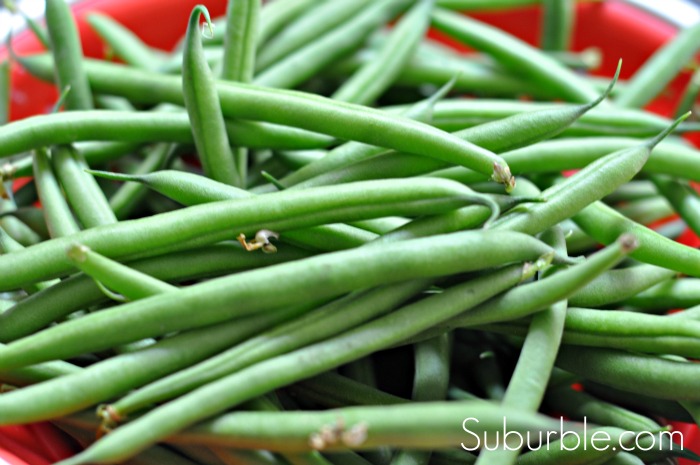 I planted beans in my garden this year. They focused mainly on global domination, and less on producing beans. So I had to take some of Grandma Gardener's bounty. Who can't grow beans? I'm told that they're one of the easiest crops! Sigh.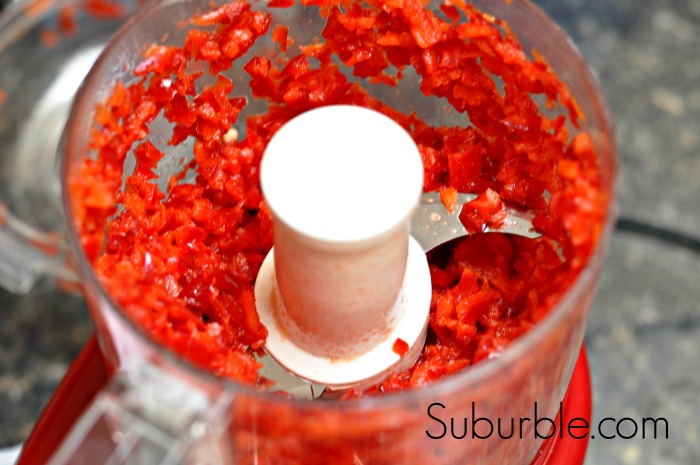 I like my pickled beans to be a little bit spicy. I chopped up some hot red peppers in the food processor. Of course, I very carefully removed their seeds first. And don't touch your face, or your eyes, or your lips or anything you are very fond of after you've handled hot pepper seeds. Even though I thought I had been extremely cautious with the peppers, I ended up having that awful moment where my eyes were streaming with tears and Lila was making concerned faces. Don't touch your eyes, people! I'm serious.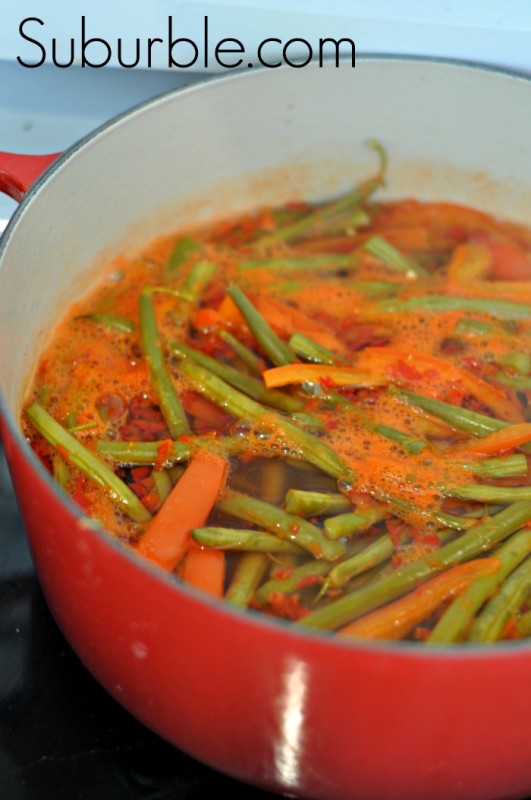 I also added some sliced sweet red peppers to the mix and heated up my pot full of pickling goodness.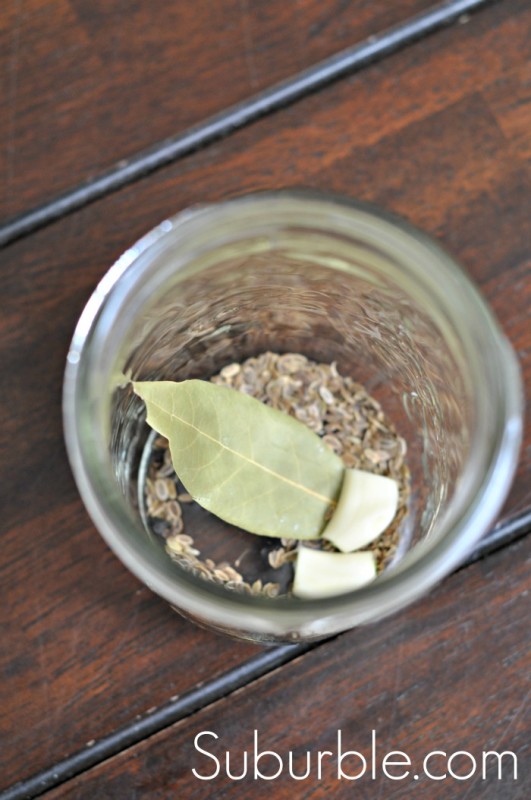 And then the bubbling hot beans were poured into the happily waiting jars.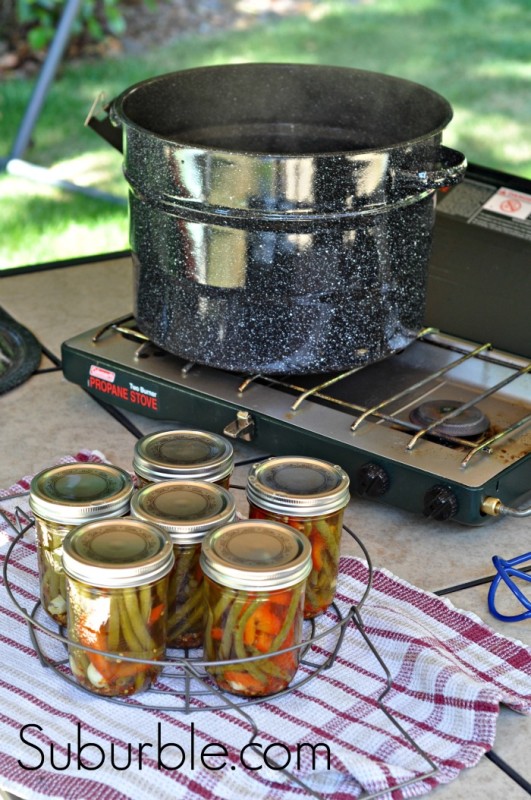 I know that you're going to laugh at my canning set-up. The trouble is, Grandma Gardener has instilled in me a fear of canning on my glass top stove. Even though I'm pretty sure that I wouldn't crack my stovetop, I don't want to have to make the call to Mr. Suburble at work, "Hey hon… so… I might have completely destroyed the stove while I was trying to pickle something. But think of all of the money we saved by canning!"
Errrm… yeah. That probably wouldn't go over very well.
So I can out on my patio. On my green Coleman stove. Powered by little green propane tanks.
Efficiency is in the eye of the beholder.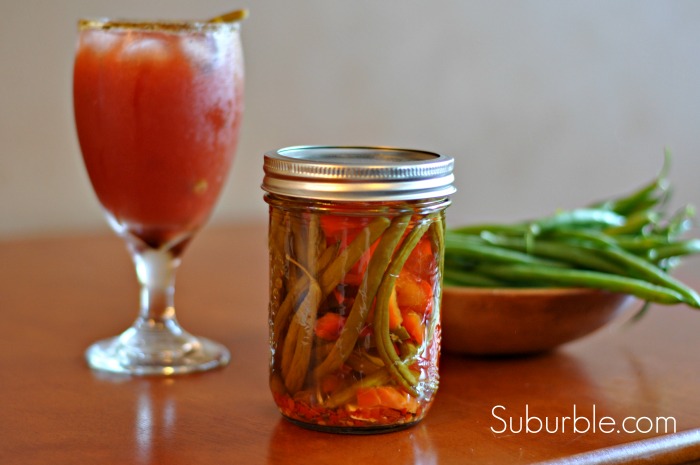 After the cans made that satisfying "Pop!" , they were left to cool for a day. Upon seeing my jars of beans flecked with red, I was eager to have a cold Caesar made by my hunky husband. And happily, they're delicious and the perfect amount of spiciness!
If you want to try your hand at making these spicy little morsels, follow the recipe below:
Spicy Pickled Beans
2013-08-07 02:48:58
These spicy beans are delicious and are great as garnishes for drinks!
Ingredients
4 lbs of green beans
2 large sweet red peppers, sliced thinly
6-8 spicy red peppers, chopped (or put through food processor)
3 cups white vinegar
3 cups water
3 tbsp pickling salt
Peppercorns
3 tsp dill seed
6-12 cloves garlic
6 bay leaves
Instructions
In a large saucepan, combine the water, vinegar, and pickling salt and bring to a boil. Add the peppers (both hot and sweet) and the beans to the hot liquid and return to a boil. Remove from heat.
In the sanitized mason jars, add the dill seed, bay leaf, 1-2 garlic cloves, and 3-5 peppercorns.
Using a jar funnel, spoon the bean mixture into the jars.
Top off the jars with the hot liquid, making sure to cover the vegetables, leaving only a 1/2 inch of headspace.
Put on the hot, sanitized lids and screw on the rings to finger-tight.
Prepare in a hot water bath for 10 minutes. Do not count time until the water has returned to a rolling boil.
Remove jars carefully from hot water bath (using a jar lifter or a jar holder) and leave them to cool undisturbed for 24 hours.
Check the seals of the jars - seals should not be flexible, but should be curved downward. Jars that are not sealed properly must be stored in the fridge and used immediately.
Sealed jars should be stored in a cool, dark place for up to 12 months.
Notes
Always be sure to follow instructions of your hot water canner. Jars should be sanitized (the dishwasher works well for this) and hot when prepared food is being packed into them. Jars and rings should be sanitized in boiling water - follow directions according to manufacturer's instructions.
Adapted from Bernardin Home Canning - Pickled Beans
Suburble https://www.suburble.com/
This is a great way to make use of your prolific bean vines. (Or your mother's bean vines…. not your good-for-nothing wandering bean plants who focused solely on trying to get to the tomato patch next door… flirts…)
We'll be putting more stuff in jars! Don't miss a word of it!
(I know…. how many jars do I own already!?!?)
Follow along!