Disclosure: I am part of the RBC RESP blogger program with Mom Central Canada and I receive special perks as part of my affiliation with this group. The opinions on this blog are my own.
When I was a little girl, I wanted to be a veterinarian.
I know. Didn't every little girl want to be a vet? That, or a marine biologist. I think it's a rite of passage, or something, to want to help animals when you're deciding your career path.
I was dead serious about being a vet, though. We lived on a hobby farm with the gang from a James Herriot novel.
When my fool of a horse broke into the pig feed – and I had to walk him around the field, praying that he didn't colic and keel over – I had a realization: "I"m meant to be a vet… look at me! Walking this idiot horse around at 9 at night, just so his insides don't twist into a knot and kill him! I'm so compassionate and understanding of animals!"
And then I did some job shadowing at a local animal hospital. During the routine spaying of a German Shepherd, my head got light and my stomach dropped. The floor spun. I sunk to the floor in the middle of the surgery.
I had nearly passed out at the sight of ovaries being plucked from their cozy little home. This is pretty common in the Dog and Cat World, from what I understand. Bob Barker wants you to get these bad boys taken out!
Within a month, I was sitting with the counsellor at school, looking at English Literature courses.
But one thing that didn't cross my mind during my ever-shifting career aspirations was how I was going to afford the necessary schooling. I was lucky; my parents had an education fund saved up for me, and I would be able to attend the program and the school of my choosing without facing a financial burden.
It was a gift. A gift with a value that I didn't quite understand until I became an adult with my own two little ones.
Some people say, "I want to give my kids more than what I had." I don't. I just want to give Lila and Lucy the same opportunities that I was given. And it requires a bit of planning.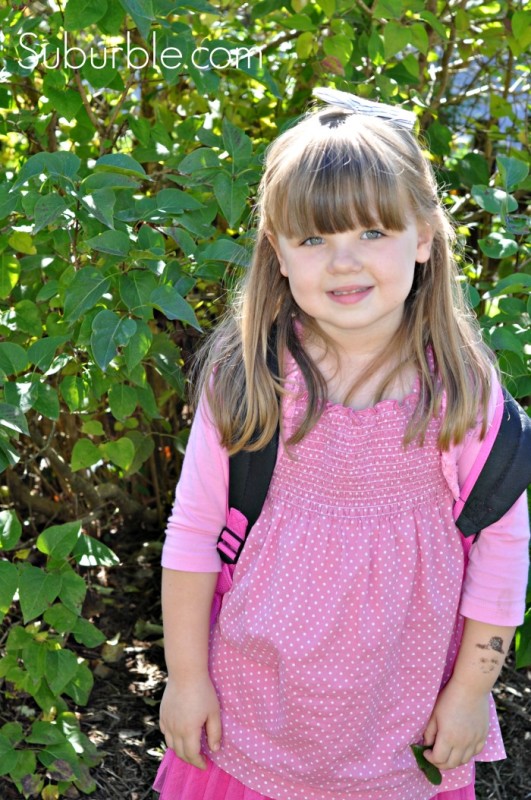 First day of school for Miss Lila. She was so tickled to be going back to preschool.
Because Mr. Suburble and I both had our post-secondary educations paid for by our families, we were able to toss our caps, grab our diplomas and head into the Big Scary World without a certain monkey on our backs: a student loan.
And we are both so grateful that we were able to focus on moving ahead, instead of paying for something that was behind us.
Now that we have two future veterinarians/accountants/electricians/artists living under our roof, we're planning to cover the bill for their post-secondary educations. We sock away a bit of money into an RESP (Registered Education Savings Plan) every month, with the plan that when they choose their paths, there will be some money put aside to help them on their way.
They will be able to select the programs that they want to take, without the worry of mounting costs or huge loans.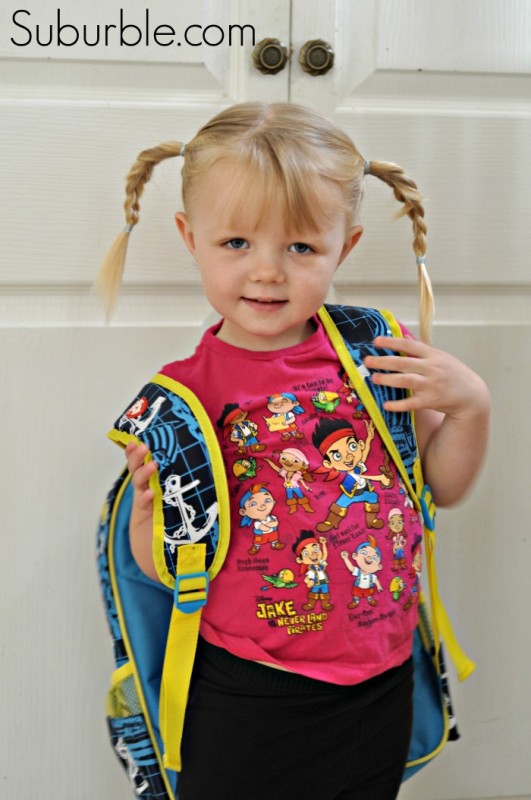 Lucy's first day of preschool – ever. I love her giant backpack. And so does she. She insists on carrying it to class all by herself.
I think that saving for something like post-secondary education can be daunting. Huge numbers – tens of thousands of dollars – get thrown around in conversation. And how can anyone save that much money? Where to even begin?
It's about starting with what you can afford and staying consistent. Royal Bank has the RESP-matic, where funds are automatically taken from your account every month, so that the funds grow without you having to consciously move them over. It's a great way to "force" savings.
What's more, is that in Canada, there is money available from the government for your child's education fund. With the Canada Education Savings Grant, you can earn 20% of your $2,500 annual contribution. This means a grant of up to $500 a year – with a maximum of $7,200 per child – towards their education.
Royal Bank has a graphic that shows that you don't have to put aside a huge amount of money to make a difference.
Even $25/week for 18 years can result in $50,000 waiting for a high school graduate. And if there aren't 18 years left to save that amount of money, there's still time to put away a little something to help make education that much more attainable (and to get some of that government money – why not take it?!?). Consider birthday money, or utilizing some of that "latte factor" money, to jump start an RESP.
RESPs aren't just for the typical four-year university program, either. They can be used for technical programs, non-credit courses, an apprenticeship, or many other educational opportunities. And if the funds don't get used, they can be rolled over into your RRSP.
To learn more about RESPs and how to start putting away a little bit of learnin' money, check out RBC's Education Savings Plan. It's never to late to start saving!