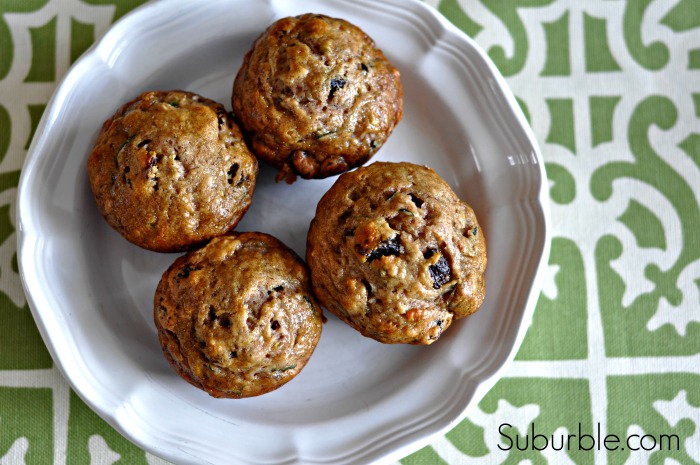 Cold weather is creeping in… I can feel it in the mornings. My toes are cold when I creep down the stairs in search of my kettle. I need my tea first thing in the morning. And what's better with a cup of tea in the morning than a home-baked muffin?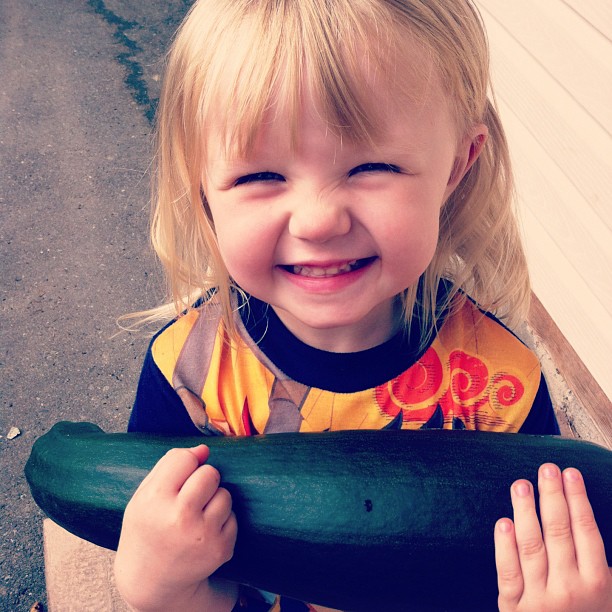 If you follow me on Instagram, you may have seen this massive zucchini that we plucked from our garden.
He was HUGE. And he taunted me. "Use me! Don't let me go to waste! You grew me from seed, remember?"
So I decided to whip up some zucchini muffins.
And then I realized that I was out of milk. Don't you hate it when that happens?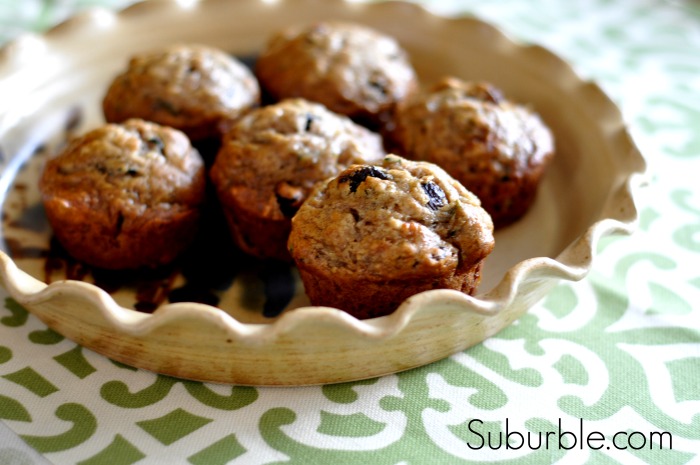 As I stood at the fridge door and sighed, visions of delicious zucchini muffins still danced in my head. So I decided to make do with what I had. I conjured up all of my good ideas and suddenly, our friends, The Lovely Vegan Family, popped into my brain.
Vegans don't drink milk. They surely eat muffins! I will make vegan muffins! Ta-daaaa! I'm a genius!
I stumbled upon a recipe for Zucchini Banana Bread that I used as the foundation for this recipe, but I made a few tweaks in the process. In the end, I was left with moist, delicious muffins that were good for both the omnivores and herbivores alike!
Zucchini Banana Muffins (Vegan-friendly!)
2013-09-05 02:20:59
These delicious muffins are moist, tasty, and vegan!
Ingredients
2 cups shredded zucchini
1 cup mashed ripe banana
1/2 cup applesauce
2 tsp vanilla
3/4 cup sugar
1 1/2 cup flour
1 tsp cinnamon
1 pinch nutmeg
3/4 tsp baking soda
1/2 tsp salt
1 cup raisins
Instructions
Preheat the oven to 350 degrees; grease a 12 cup muffin tin
Mix the mashed banana, applesauce, sugar and vanilla together in a bowl.
Stir in shredded zucchini.
Add 1 cup flour, cinnamon, nutmeg, baking soda, and salt to zucchini mixture and combine.
Stir in remaining 1/2 cup of flour and raisins.
Scoop into muffin tins at 3/4 full
Bake in oven for approximately 20-22 min, or until toothpick inserted comes clean.
Cool and enjoy!
Adapted from IsaChandra from the Post Punk Kitchen
Suburble https://www.suburble.com/
These muffins only used about 1/3 of my gigantic zucchini. The rest has been grated and is waiting to used in this recipe again.
Thankfully, the Lovely Vegan Family came over for a visit today, and I got to share my zucchini-laden creations.
Lucy Vegan (whom we call "Lucy One" ; "Lucy Two" is our own little blondie) sampled one of these muffins and declared them a hit! She even had seconds! Marla Vegan – the mama and master chef of this crew – immediately asked for the recipe.
I call that success.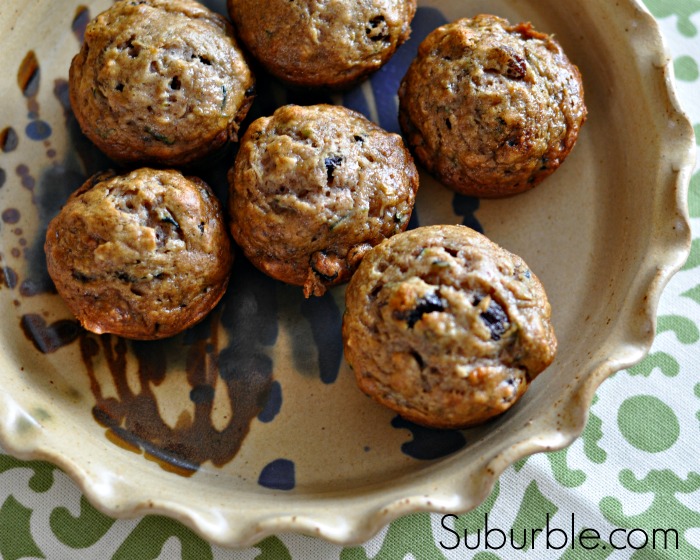 Try these and see for yourself. It's a muffin with a vegetable in it – how can you go wrong?
Don't miss another Surbuble Culinary Experiment! Follow Along!