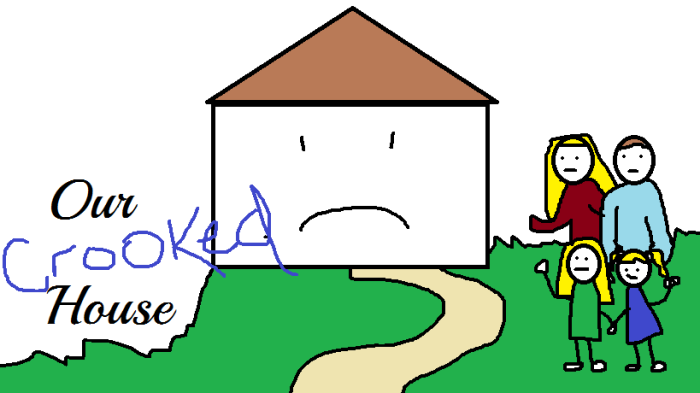 Remember how I excitedly wrote about how we were putting our house on the market? And how I had done all of the things that "the experts" tell you do to do?
How I had bought show towels and everything? How I was closing the toilet seat every. fifteen. seconds!?!?
Well, there's an update. And I'm going to share it with you. Through the power of art.
(This art is a terribly-done homage to the uber-fabulous Amber of Parenting: Illustrated with Crappy Pictures. I don't think she'll care that I'm copying her. My Paint skills are pathetic compared to hers.)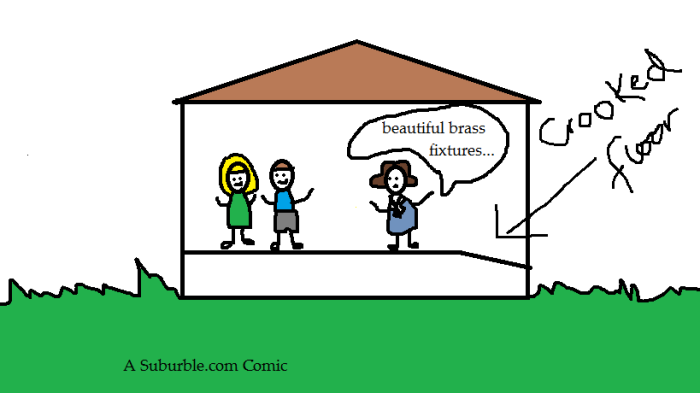 Once upon a 7 years ago, Mr. Suburble and I decided to move from our townhouse (and its dictatorship of a strata council), into a house that had its very own walls.
We had been looking at neighbourhoods that were not at the top of the list, but they were fine. By chance, we decided to see a house in one of our desired areas. It was at the top of our price range, but we decided to go. Why not!?!? Probably won't buy it anyways.
And discovered that the house needed a lot of work. Heaps of work.
A few things that the house had on its Wish List:
– a new roof
– a new furnace
– new flooring
– new bathrooms
– new appliances (the dryer had an "On" button and a timer. That was it.)
– new paint
– new deck
Despite all of that, we wanted the house. It had decent bones. It had a private backyard. It was on a cul-de-sac.
We made an offer that night and started to draw up our renovation plans. In all of this planning, we chose to ignore a certain issue: the considerable slope in the spare room.
Pfffttt… who cares about that? The foundation was structurally sound. We had the paperwork. Not an issue.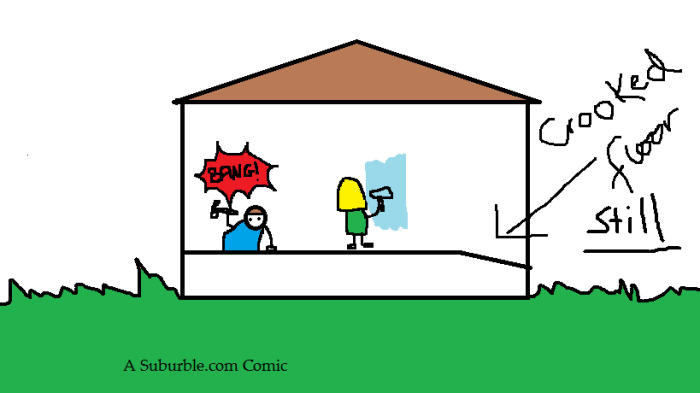 We did the work (over the course of a few years). But we didn't touch the floor. It didn't bother anyone. We didn't even notice it.
Yes, rolling balls would suddenly speed up near that part of the house… but we just turned a blind eye to that.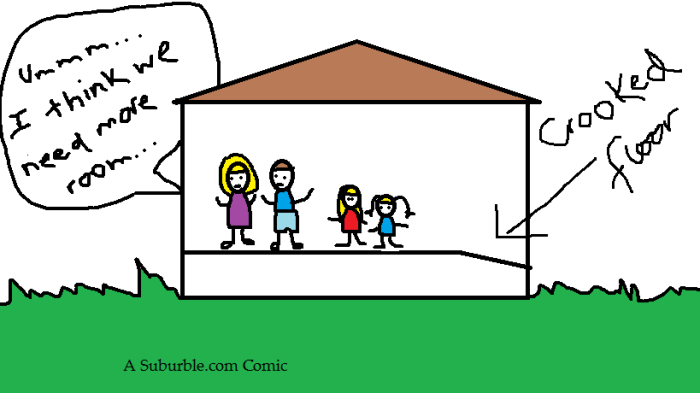 Two kids later, suddenly we realized: our house was a teensy bit smaller than we remembered. And wouldn't it be nice to have a bit more space, and more closets? How else am I going to grow my hoard?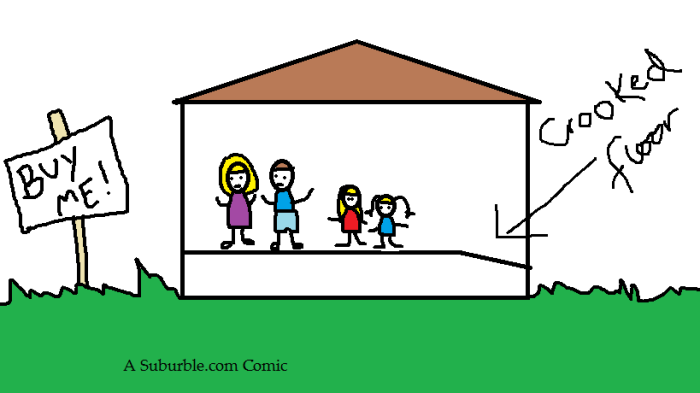 So we put up the sign on our front yard.
And lots of people came for showings. Lots.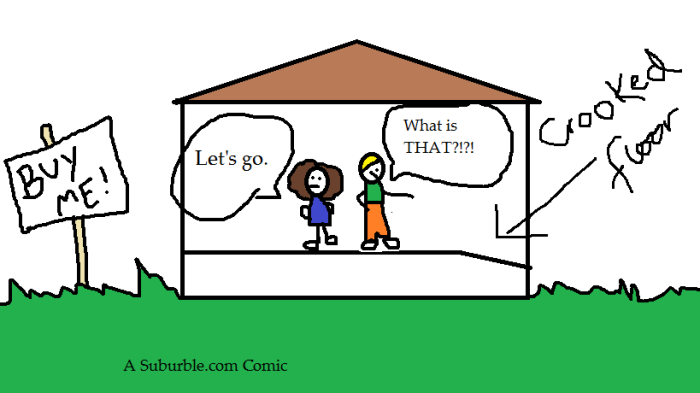 And the feedback was, "It's beautiful! But what about that crooked floor?!?!"
"We don't want a fixer-upper."
"Do they not know that their house is TILTED!?!?"
Mr. Suburble and I were surprised. "The floor? Who cares about the floor? Didn't you see the new bathrooms? What about the fireplace? Don't you like the spray painted animals everywhere?"
Nope. No, they didn't.
They ran away from the crooked house with their tails between their legs.
And after the 26th showing in three weeks, I was done. I was fed up with people who didn't want to buy the house.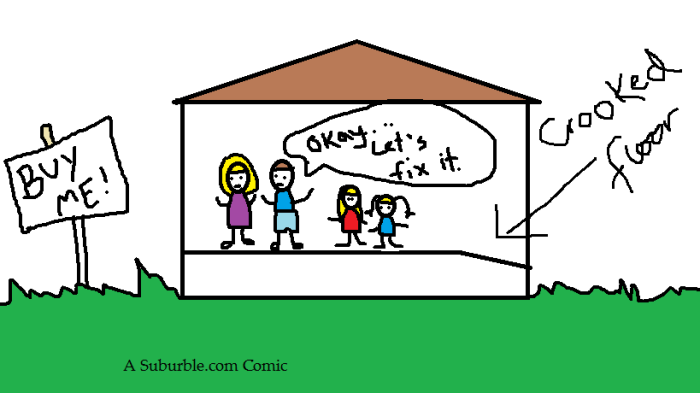 So we're taking a little break from real estate.
And we're probably going to fix the floor.
I know. You're probably thinking, "How impatient are you!?!?"
You're so right. I wasn't very patient.
But it's not the best time to sell a house (and our Aunty Mary told us that – "Sell in the Spring!"), and I REALLY want to do Christmas right. I want to decorate and put tackiness in places where buyers wouldn't want tackiness.
We may fix the floor. We may not. But we've bought ourselves some time.
And we don't HAVE to sell. And that's a good feeling.
Tell me a real estate story, friends.
Or tell me that your house has a fairly-noticeable slope that you didn't care to notice when you bought it.
Yes, it's "Coddle Tara Time". Just do it.