Thank you, Mom Central and General Mills, for sponsoring this post.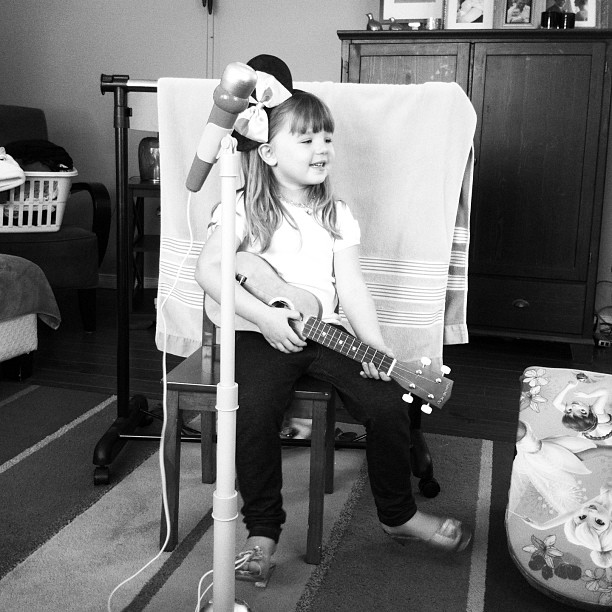 Lila's nature is to perform. If life were a drama class, she'd get an A+ and a personal recommendation written by the instructor:
"Amazing ability to turn on tears at the drop of a hat. Can project her voice farther than anyone else…."
But this incredibly dramatic and bold part of Lila is not one that others often see. In fact, acquaintances and strangers would think that she is a quiet and shy girl.
Until our recent party line.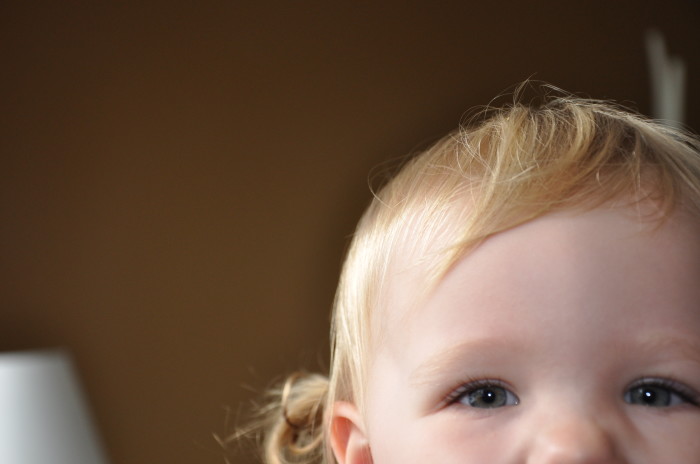 Lila – 18 months old
Lila is in her second year of preschool. On the very last day of every month, the class puts on a mini-concert. They sing all of the songs that they've learned that month, they respond to the prompts of their teachers ("What sound does THIS letter make, boys and girls?!?!"), and they show how adorable and precocious they are to their enamoured parents.
They do this while standing on the party line.
It's a long piece of tape on the floor at the front of the room – a line where every classmate stands, and faces their audience.
Except for Lila.
Lila has not once stood on the party line. In fact – except for one very short song in the middle of last year – she has not even stood near the front of the class.
We would sit near the party line, while Lila clutched my arm, and I did my best to mimic the actions of the teachers and children. See?!? Mommy's doing it! It's so much fun! Do you want to try?
No.
Every month I tried. Every month I would frantically flap my hands around and sing the words, to make up for the fact that Lila would. not. do. it. Not even if you paid her. Not even if you bought her a pony.
Desperation, thy name is Mother.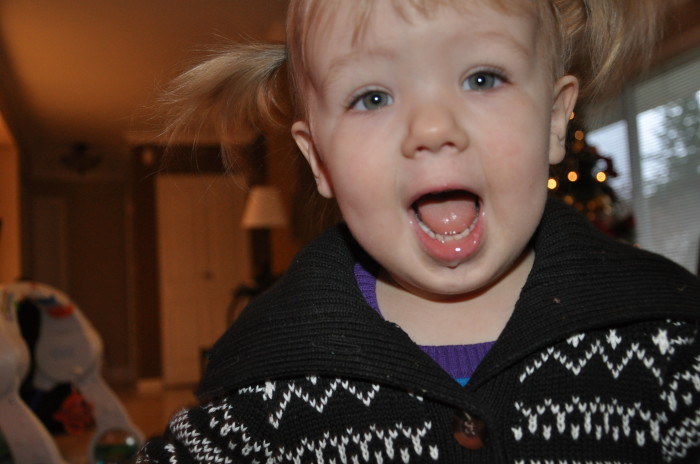 Lila – 2 years old
Then a funny thing happened.
September ended, and a party line was waiting for us. I was ready for the One Woman Show to re-open her act.
Instead, Lila woke up that day and announced, "Mommy, I don't need you today. I can stand on the party line by myself."
I smiled, and said, "Of course you can." I was encouraged, but fully expected to be wiping tears by the end of class.
And then she dropped my hand and took her place in line.
She beamed as she walked out with her classmates. She pinky-waved at me from the front of the class. She sang the songs, waved her arms, and answered questions posed by her teacher. She stood there – for the very first time – without anyone but herself and her classmates.
My mouth hung open, I'm sure.
A mom put her hand on my shoulder during the performance and whispered, "Go Lila!"
The mom next to me said, "Who IS that kid!?!?"
And after the class had ended, parent after parent came over to congratulate Lila. She had done it. Her very first party line. All by herself.
I wasn't the only one proud of her. It seemed as though every parent who knew Lila – who had seen her sit with me month after month – was thrilled for her. It was a collective burst of excitement. This was a first. And it was big.
And how did I feel? It was like the very first time that Lila counted from 1-10 all by herself. The reaction you hear is the one that I had in my head on Party Line day:

Yes, that's how I react to counting to 1-10. I'm not exactly a quiet person…
We've had many firsts in our house. And the funny thing with firsts is that they keep happening. There will be more moments where my kids knock my socks off. Where their abilities suddenly surpass all of my expectations.
And yet that burst of pride is still the same: That's my kid up there. And she's amazing.
Cheerios wants to be a part of your child's "firsts".
They've launched the First Cheerios Mosaic – a collection of pictures of kiddos enjoying their first snack of Cheerios (often a first food for wee ones). What's crazy awesome is that the mosaic is published on a limited edition Cheerios box!
The 2013 First Cheerios Mosaic box is in stores right now – look for it the next time you shop!
Upload a picture of your child's First Cheerio moments to the Cheerios Mosaic, and your child will be on the 2014 box!
And while you're at it, visit Life Made Delicious for a $1 off coupon. Why not save a buck!?!
Disclosure – I am participating in the FirstCheerios blogger campaign by Mom Central Canada on behalf of General Mills. I received compensation as a thank you for participating and for sharing my honest opinion. The opinions on this blog are my own.