Thank you, Great Wolf Lodge in Grand Mound, WA, for making our vacation spectacular!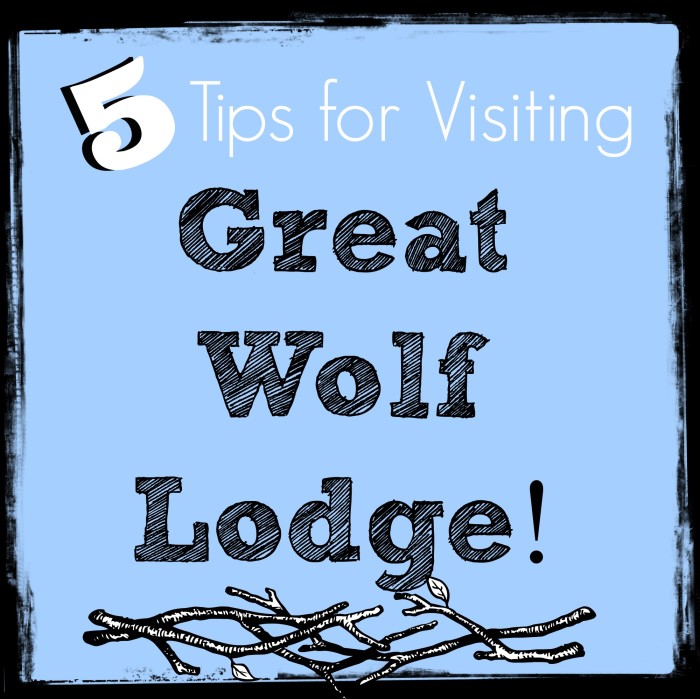 Great Wolf Lodge is a place that has been on our radar for the past few years. I've always had it on my "Places I Want To Take The Kids" list, but I hadn't ever gone farther than that.
And then, at the beginning of November, I got a bit of cabin fever.
Okay. A LOT of cabin fever.
The kids wanted to run around and be wild things. I wanted them to use all of their energy for good, and not evil. And so…
We booked it.
We were going to the Great Wolf Lodge in Grand Mound, Washington!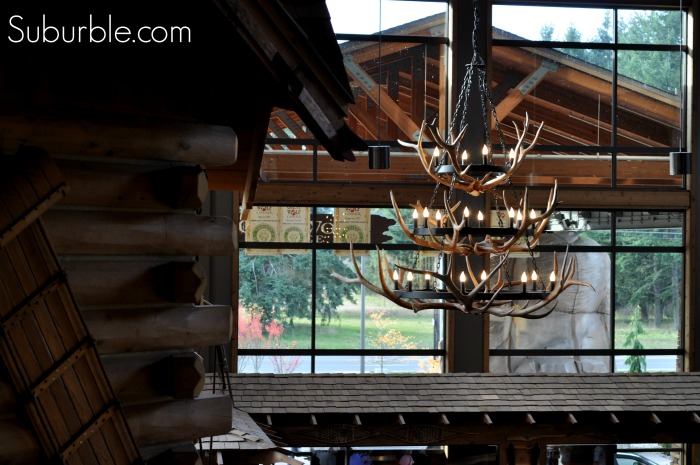 Can I get a "woot woot"!?!?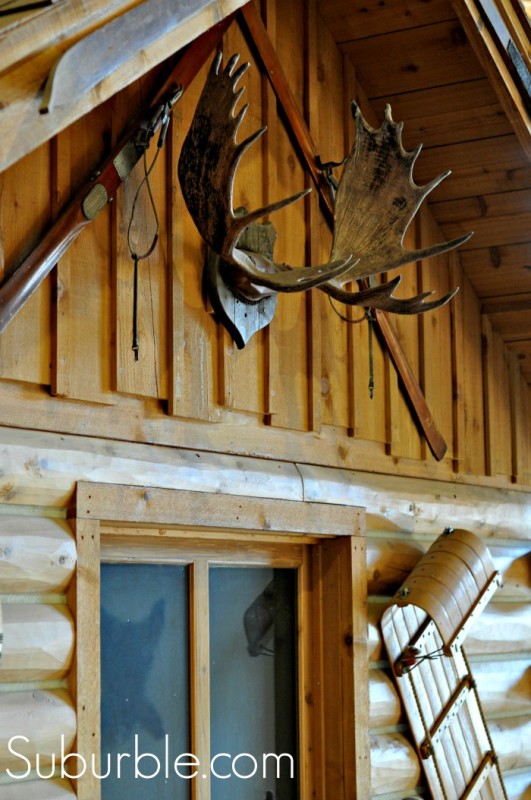 Immediately, we were struck by how "lodge-like" it was. Huge vaulted ceilings, antlers, "stuffed" animals on the wall (that will come to life, if you have the right magic)…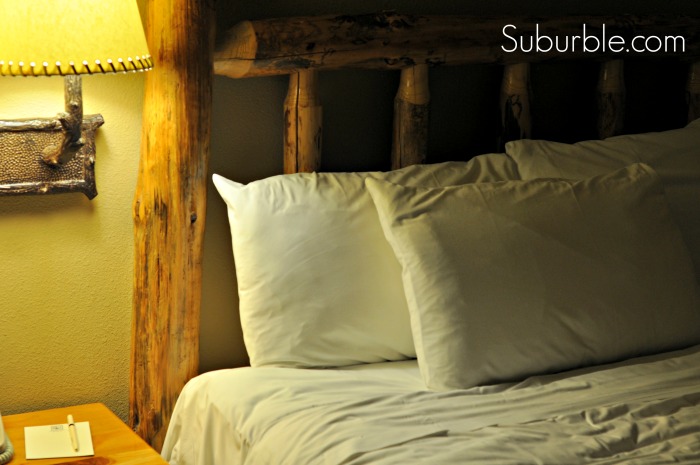 Even our beds were made from logs.
Great Wolf Tip #1: Consider the Grizzly Suite if you're traveling with another family.
This room has two separate bedrooms, along with a living room that contains a fireplace and a fold-out couch. We holidayed with our two cousins and their folks, Auntie Amy and Uncle Mike. The kids went to bed in the rooms, and the grown-ups got to socialize in the living room while the kidlets slept.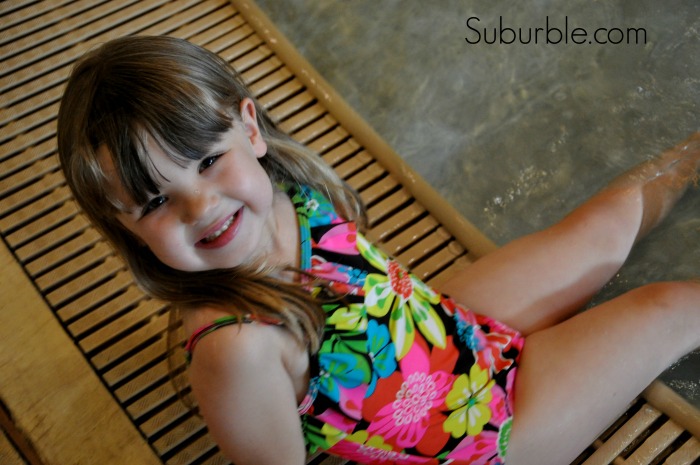 But perhaps the biggest allure of Great Wolf Lodge is the water park.
I'm going to be honest, guys. I was a bit nervous about taking the kids to the water park. My children are a lot of things… but "water baby" is not a description I would put on their child-resumes.
Maybe "water-hesitant kittens"? That might be a better description of their natures.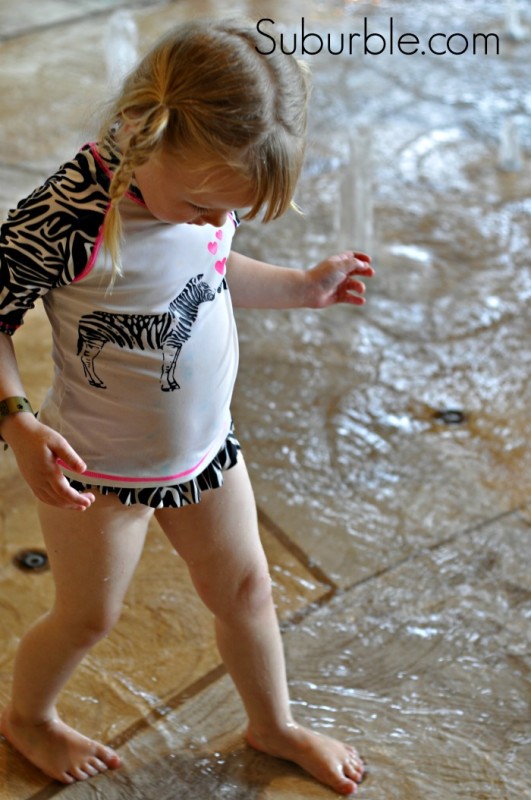 I didn't have a thing to worry about. There were plenty of places for the kids to paddle and frolic and get acclimated to the water.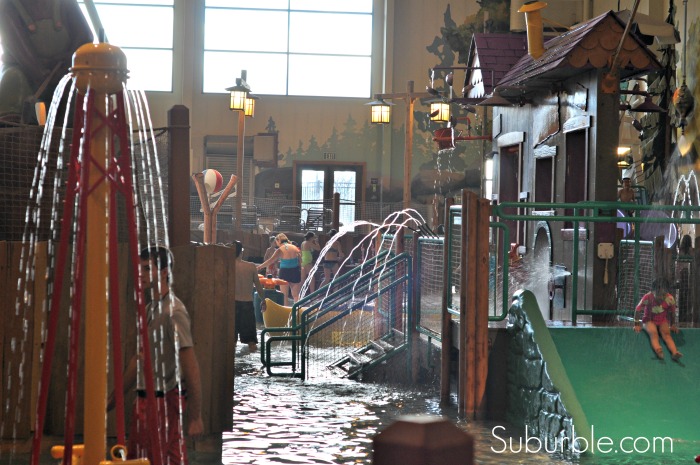 And as they got more comfortable, there were more places for them to graduate to. A kiddie slide… a water spray-thing-a-ma-jig… slightly deeper water…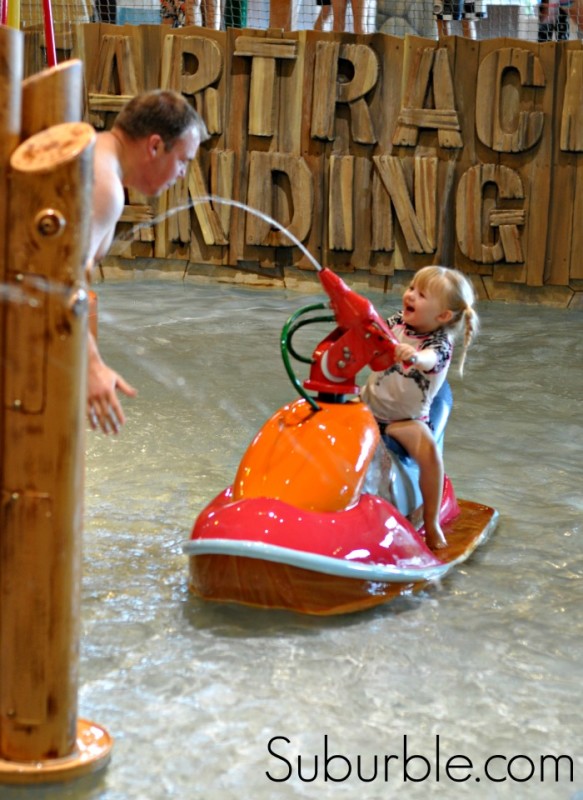 Or water-squirting jet-skis!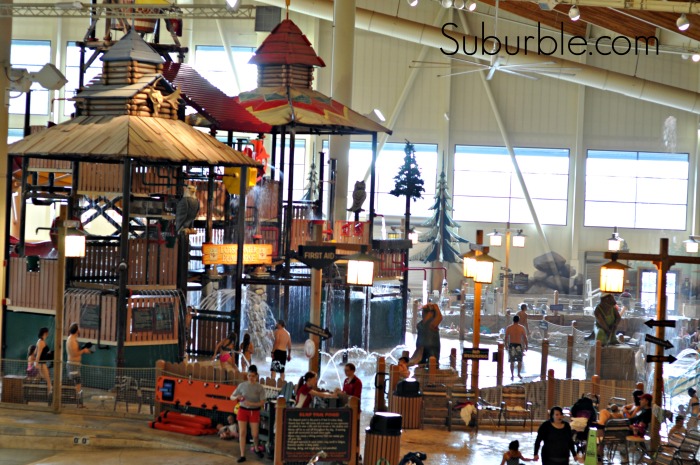 But some were born for the water. And those tadpoles had their own fun…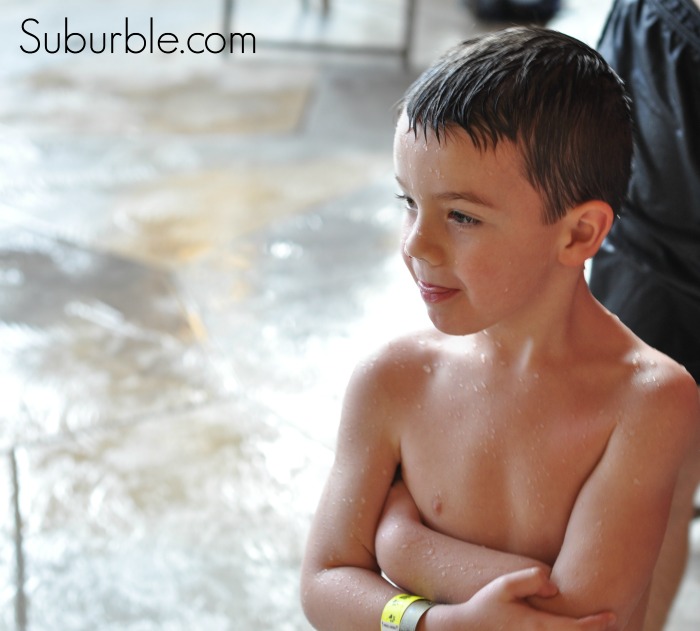 Like Brady, our cousin, who spent hours upon hours traveling down the water slides.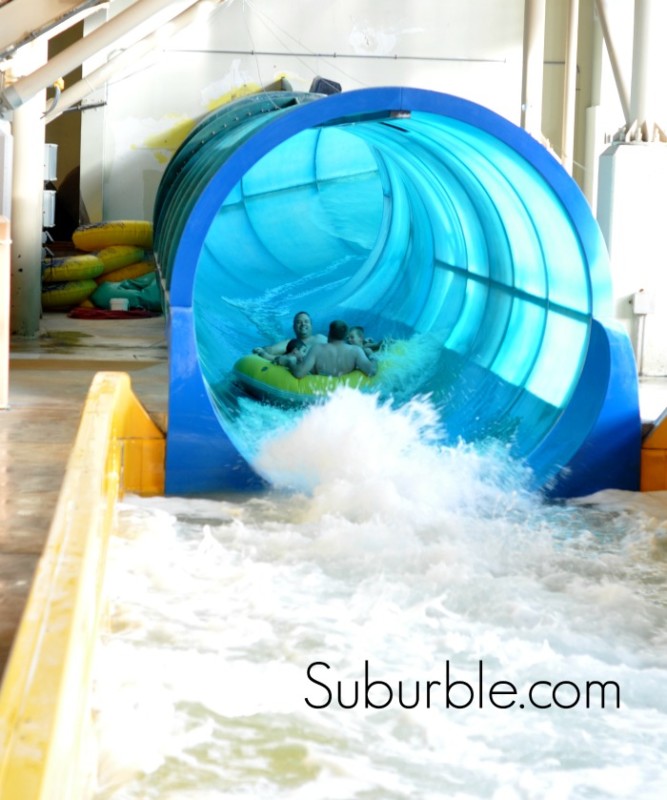 And Mr. Suburble, Uncle Mike, and cousin Lucas – who also made numerous trips up the stairs and then down the slides, too.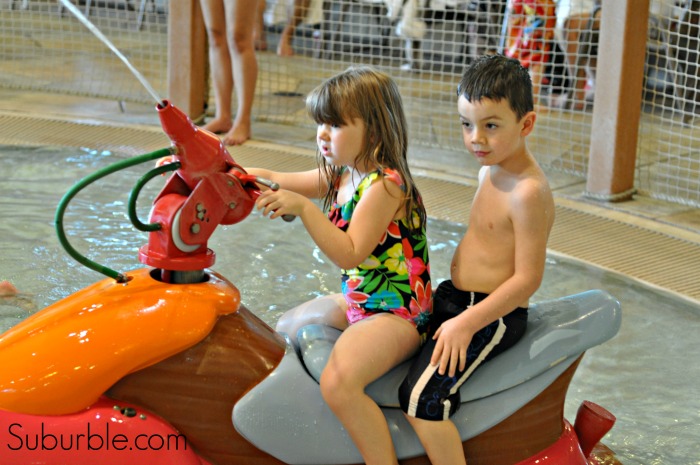 Some were born to ride. Others were born to grit their teeth and shoot stuff.
Great Wolf Tip #2: Bring cover-ups and deck shoes/Crocs for the pool. You will be walking from the pool to your hotel room through corridors that people – in clothes – will be also walking in.
But there is more to do at Great Wolf Lodge than just splash around and whip down slides. There is MAGIC to be discovered!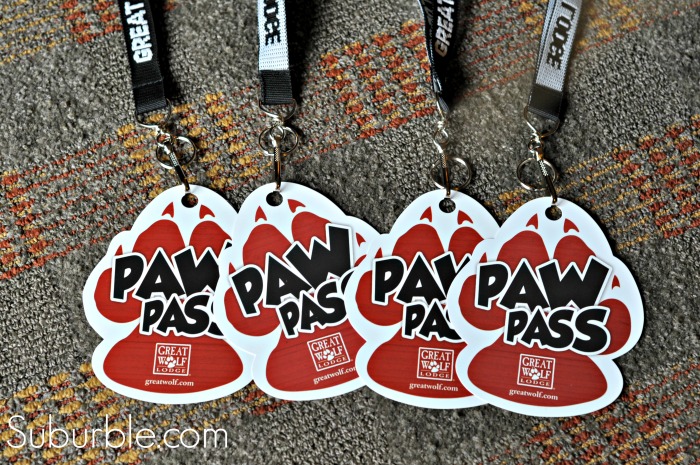 Great Wolf Tip #3: Consider buying one of the Passes, especially if it's your first time at the park.
You get a ton of stuff to do and souvenirs to keep, but for 30% less than you would pay if you purchased each experience individually.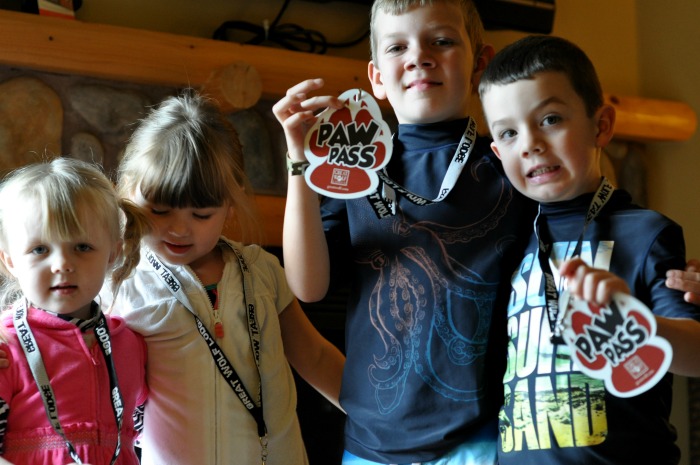 Our kids got the Paw Pass, and holy wolf-a-roni, they loved it. They each got a plastic cup with endless refills, their own character from the Creation Station (similar to Build-A-Bear), a glitter tattoo, credits for the arcade, a MagiQuest wand, and more with their passes. We had a little checklist of things to do at the park, and they looked forward to every single adventure that we would go on.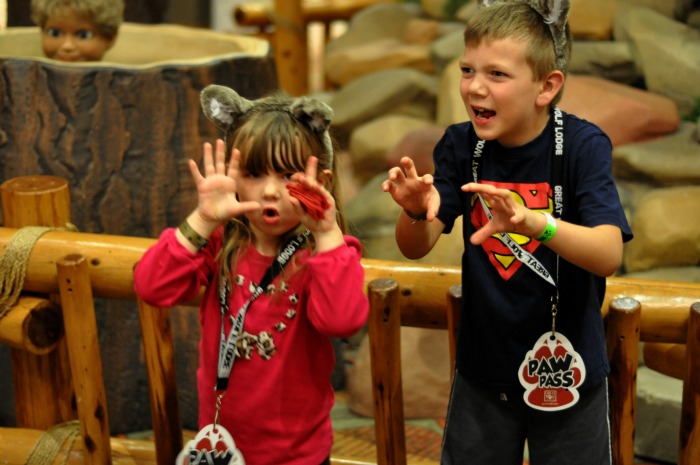 And the wolf pack was decidedly so much cuter with their little ears (one of the things included in the pass).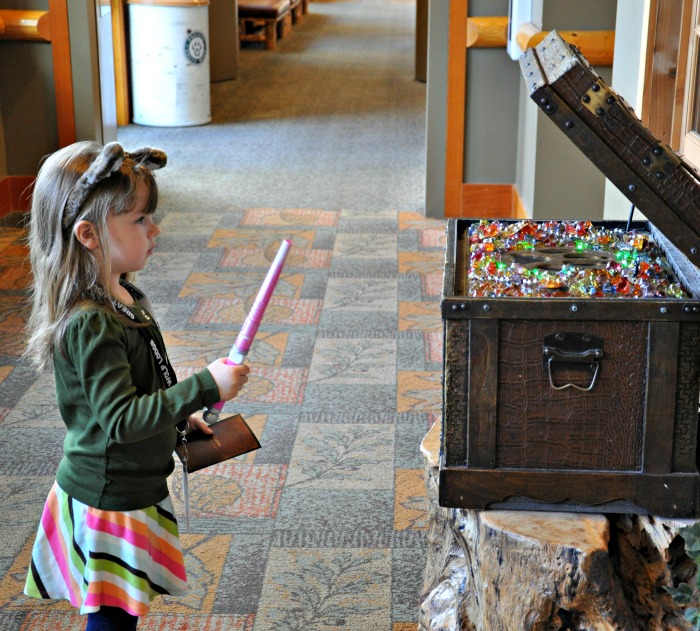 The pass also included a wand and MagiQuest (an interactive game programmed into the wand) for each child. This is a very cool thing. The hotel is literally a giant playground for the kids to carry out their "quests" by unlocking chests, and pointing their wands at interactive pictures and crystals.
I'm always a fan of things that are magical.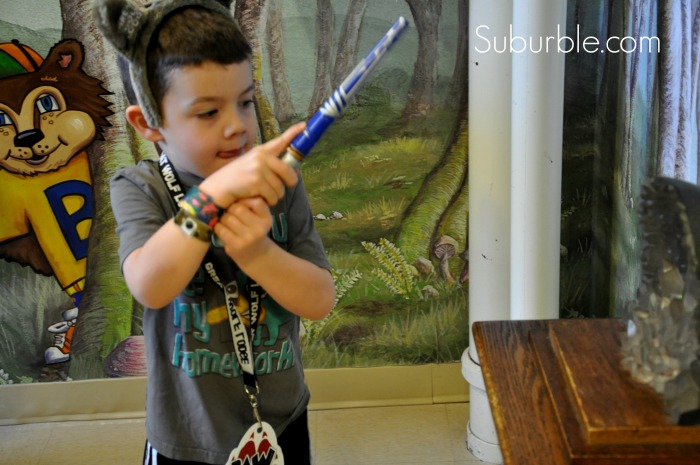 Though some quests may take more concentration than others.
Great Wolf Tip #4: If the buffet is open, eat there!
On the nights that we were at Great Wolf Lodge, we ate at the Loose Moose Cottage buffet. There was a great variety of food (and tonnes of kid-friendly stuff, so you wouldn't have to have that argument of "Why can't we just scrape the red stuff OFF of the chicken and you can eat it?!?" with your kid) and everybody left feeling full and happy.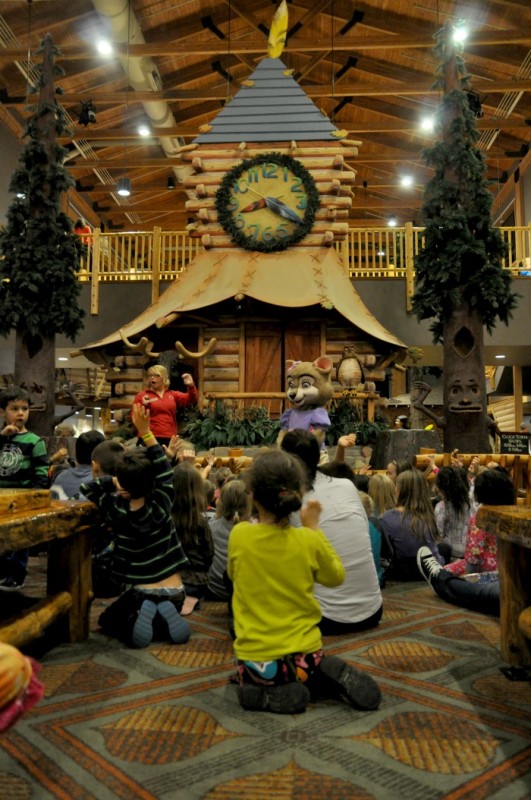 Great Wolf Tip #5: Bring slippers and jammies for story hour!
The girls loved the story-time production (and the visit from Violet – their favourite wolf, they had decided) right before bedtime. It was such a nice way to end the day.
After our three days at Great Wolf Lodge, we were all happy and tired. It was a fabulous time had by all; Mr. Suburble and I have decided that we will definitely be coming back.
And the kids are STILL talking about it.
You know that's a good sign.
Any other tips from Great Wolf veterans? I'd love to hear them!