Thank you, Looksi and Modern Masters, for saving Mr. Rustypants from the metal scrap bin. He's very thankful.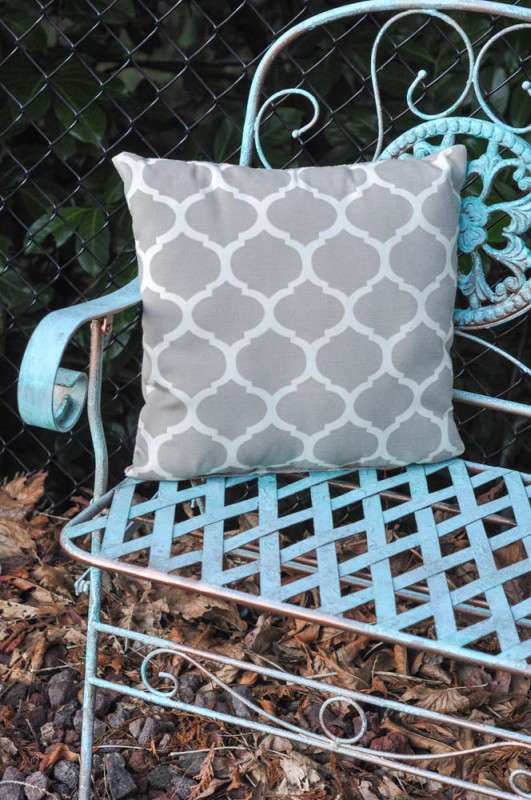 Have you ever neglected something – a piece of furniture, perhaps – that called out for love for YEARS… but you turned a blind eye to it?
Have you watched lawn art rust and decay, all the while convincing yourself, "Hey, this is kind of in, this distressed look. I think this might be even better now?!?"
And you wince as your children play near it… imagining the tetanus shot that is going to be necessary should any one of them graze that "art" you've left in your yard?
Get a load of this baby.
Once upon a time, this was a beautiful bench. I was pretty thrilled to have found it in a sale at a local decor store. I packed it up, brought it home, and let Mother Nature wreak havoc on it for years.
But then I was presented with an opportunity: use Modern Masters' line of reactive metallic paints on a large project.
A project that was feeling rather sorry for itself at the moment. Rusty and whiny and – to be honest – destined for the scrap metal bin.
First, I sanded him (while in a very well ventilated area and wearing a mask. Don't mess with rusty metal flakes, guys. They're not your friends).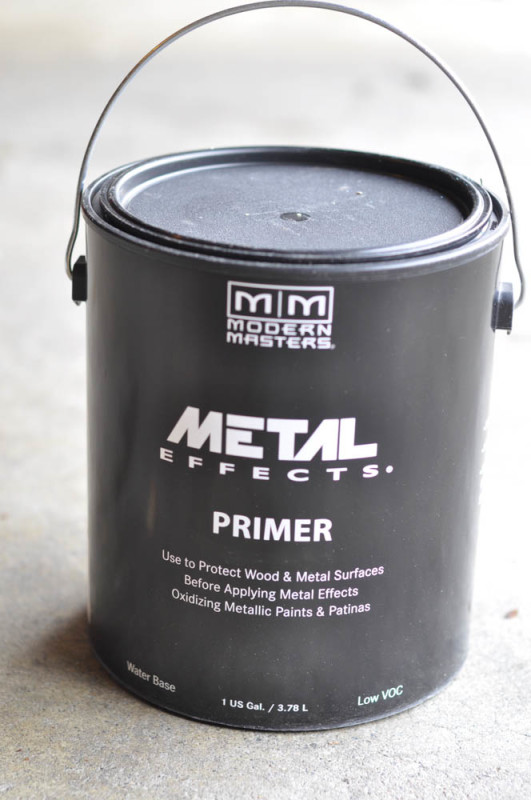 Then Mr. Rustypants came with me to the garage, where I started with two coats of Metal Effects primer.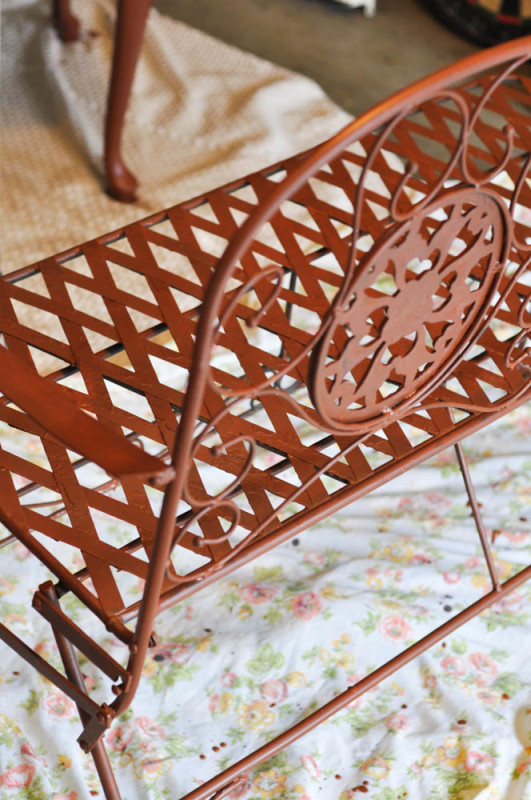 It's tinted red, as the next coat of paint to be slapped on is the Copper Reactive Metallic paint.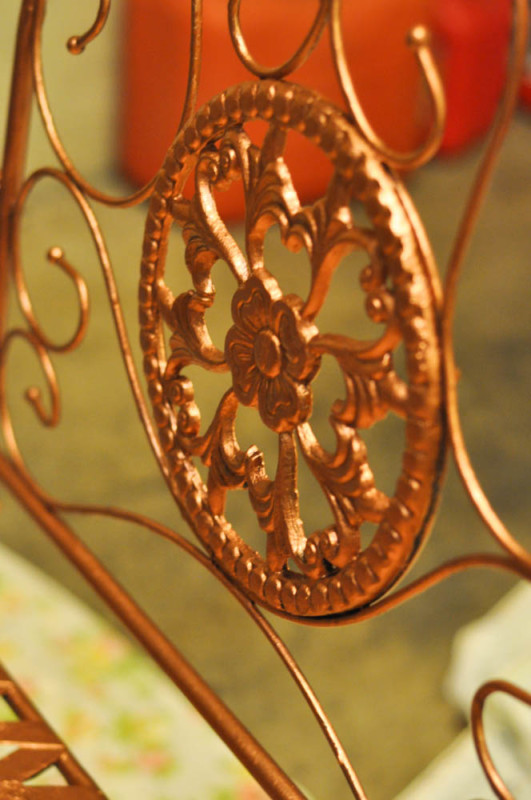 Mr. Suburble said, "You're going to regret having to paint all of that detail."
But I just put my headphones in my ears and got to work. Honestly, it was a bit of catharsis, just painting away… watching the shiny metallic bench spring to life.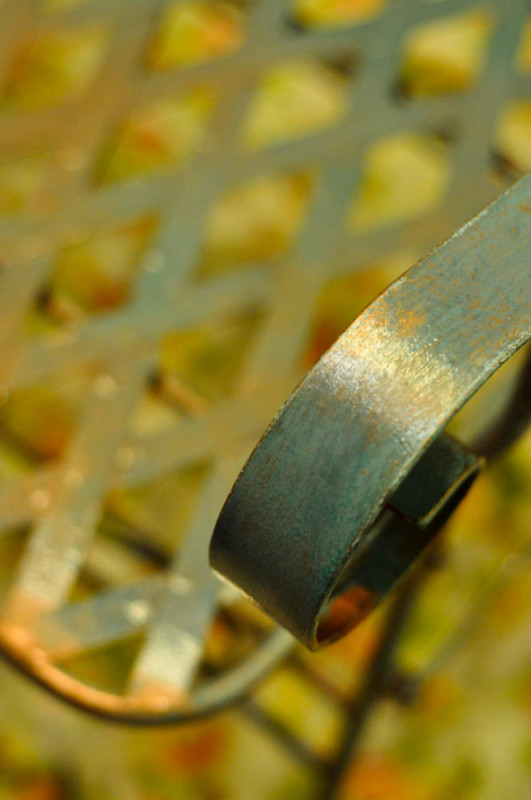 The final step in achieving the weathered patina look on the bench was the most nerve-wracking (but didn't need to be, as it was quite easy). I applied a second coat of the reactive paint on the top of my now-dry first coat. After about three minutes – while the paint was still wet – I sprayed the Blue Patina Aging Solution onto the bench. (I ordered the little spray cap to attach to the bottle of aging solution – I think this might be the easiest way to apply it)
At first, I thought, "This isn't working. This solution is broken…"
But after waiting a few minutes, I could see the blue start to come through. I happily started painting and spraying the remainder of the bench.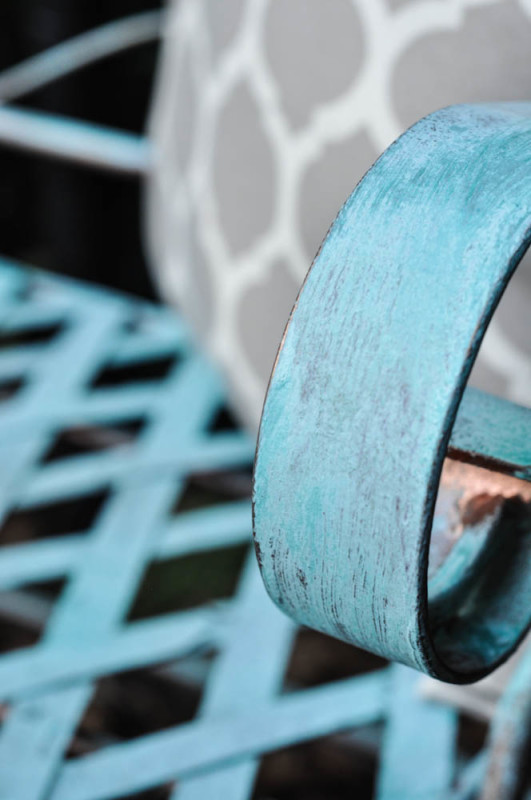 And when it had dried – Holy Old Metal – look at that!!!
It was aged, but in a nice, graceful way.
Not in that angry Junkyard Dog look that the bench had been sporting before.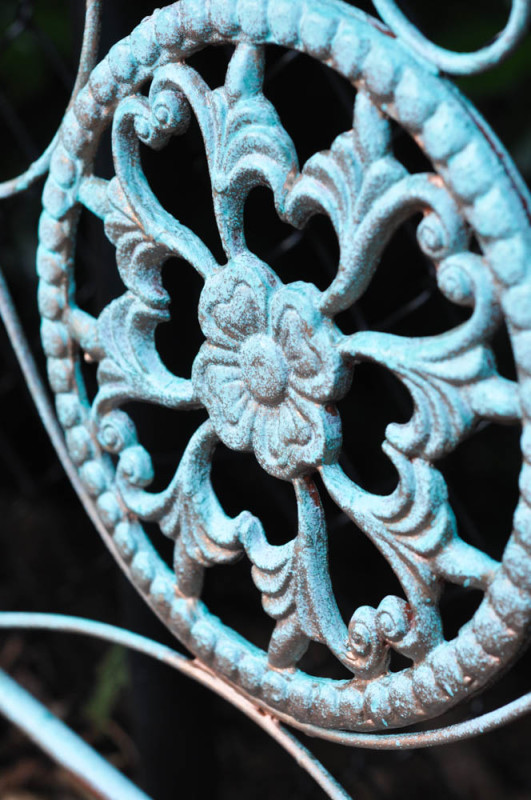 You can see how the patina is showing up sporadically. If you're looking for more of a solid colour, the patina should be applied heavily – and vice versa if you want a more lightly mottled surface.
I loved how it looked in the detailed nooks-and-crannies of the bench. It was a perfect project for this weathered-metal look.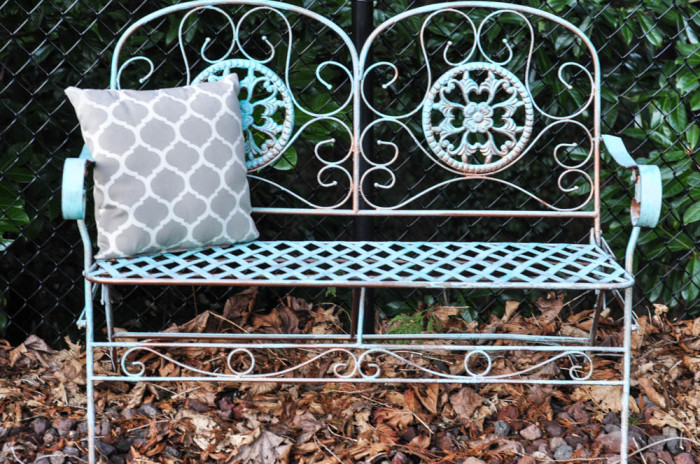 And here he is, Mr. Rustypants all gussied up and properly weathered.
If you like that rusty look, but don't want to have to visit the doctor as a result of sitting on a weathered bench, this paint will also work with the Rust Activator Solution as well. It will give a naturally-rusted look, without the danger factor.
And psstt… I want to show you a little something… You don't need to save this paint for your large projects. You can also use it on smaller home decor: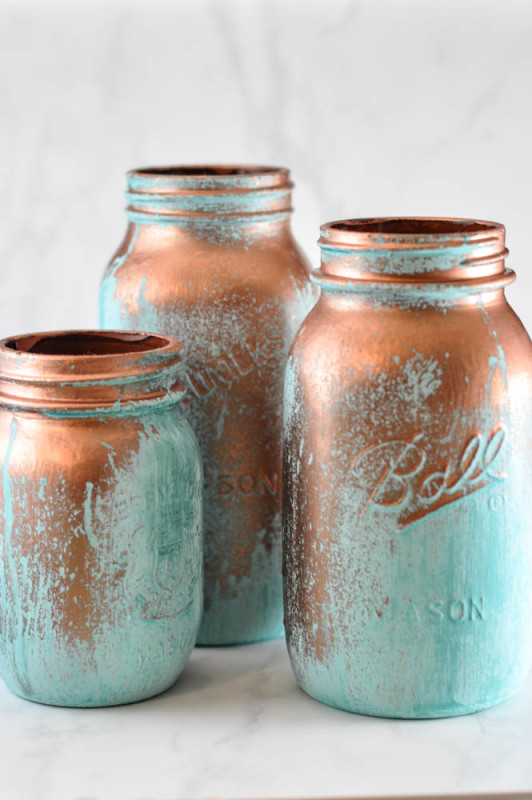 Like these mason jars!
They look like aged metal.
Sidenote: can we invent those? Metal mason jars? Or have they already been invented?
Would you use them as vases? Or as organizers?
The full tutorial will be up next week. Do you love them like I do?
Loving the look of this paint? Hankering to try it out yourself?
Enter to win your choice of one of these two Modern Masters paint packages!
Metal Effects Kit (includes all)
One Pint Primer
One Pint Reactive Paint – choice of color
One 4 oz. Solution or Rust Activator
One Spritzer Cap
One Pint of Permacoat Xtreme [Rust Only]
OR
Metallic Paint Collection
Four 6 oz. containers – any colors
Enter using the Rafflecopter below. Giveaway is open to Canadian and US residents only.
Void where prohibited.
Giveaway will run from January 29th to 11:59 pm on February 4th, 2014.
Good luck, my DIY-fabulous peeps!