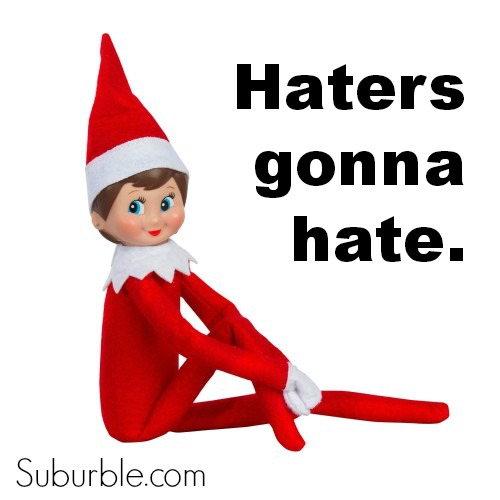 Have you heard of the Elf on the Shelf?
Of course you have. He's everywhere. I can't go on Instagram or Pinterest without seeing his little smirk.
And despite the paparazzi-like photos that exist of him all over the web, he is not all that popular in some circles.
Some people have a little hate on for him. Actually, lots of people. Do a Google search. People are having a jolly old time by slagging the elf.
I just don't get it. I like the Elf. He's magical. He's fun. My kids adore him.
But there are reasons out there to hate him (say some people who own blogs and opinions), and I'm going to share them…. and then I'm going to respond.
1. You don't want to lie to your child.
Okay… what?!?!? That's a lie right there. Do you even HAVE kids?
I get it – you think it's dishonest to create a little person who is popping up all over the house and reporting back to Santa. That's fine. But don't tell me you don't lie to your kid.
Magical creatures aside (Santa, Tooth Fairy, etc), you haven't ever walked into a messy playroom and announced, "Okay… if you don't clean up these toys they're all going into the garbage!!!"
You haven't created "sugar-bugs" that live on their teeth that need to be brushed away?
You haven't said, "We're going to go home if you don't STOPTHATTHISVERYINSTANT!" when you knew that you weren't going home? You weren't going to go home for hours, probably?
Maybe you haven't. Good for you. I'm going to buy your parenting book when I go to the book store to buy my second Elf.
Because I lost the first one.
Yes. That's a true story.
2. It's too much work.
I understand that. But why are you writing whole blog posts about elf-work? Isn't THAT work?
I don't write blog posts about how I'm never going to exercise because it's too much effort. It's all in what you want to do with your time.
Christmas in itself is effort. You can bake everything from scratch, or you can buy it at the bakery. But are you going to speak out against the woman who is making whipped shortbread for her entire neighbourhood?
I don't get it.
3. People get too crazy with it.
See point #2.
Also, see this awesome evidence: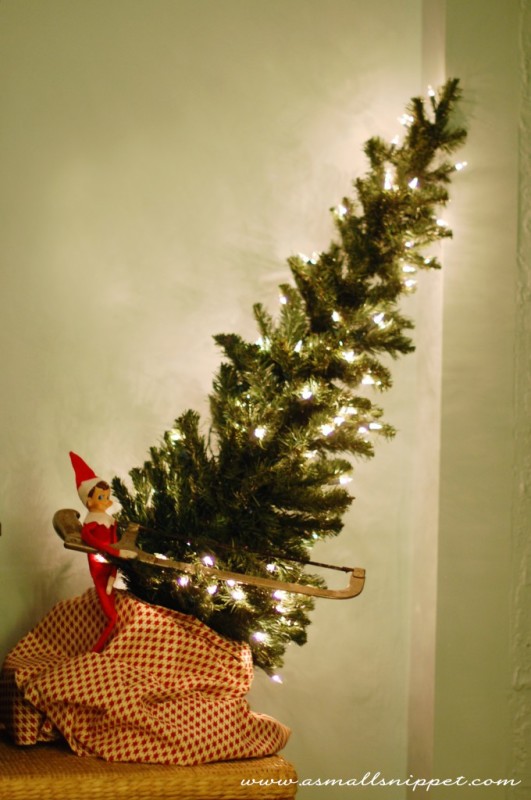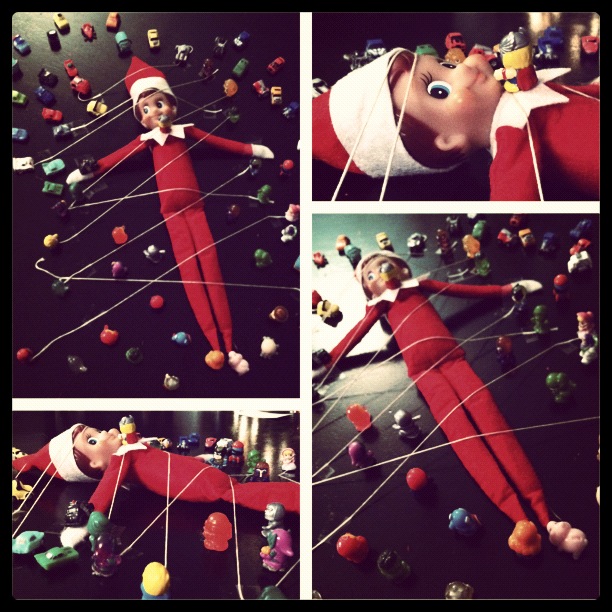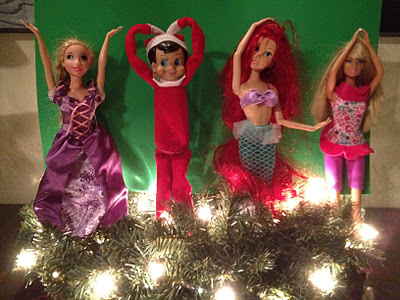 Clearly Candace
Am I going to construct these elaborate scenes?
No.
Well, maybe the YMCA one.
But truthfully, Lila would sob an ocean of tears over the Gulliver's Travels scene. She's only four. She hasn't read Swift yet. I'll wait 'til she's seven and has read the classics before I recreate them with our Elf.
4. I don't want to focus on the negative.
This, I do understand. The elf is basically like a little CIA agent who reports back to Santa every night. And if your kid was being a giant jerk, well then, Mr. Elf trots off to the North Pole with that knowledge.
Except – every family is in control of their Elf's story.
Our Elf is a secret-keeper. Our girls tell him things throughout the day. We don't say things like, "Ooooh… Max just saw you being naughty! NO PRESENT FOR YOU!"
This is mainly because I've seen The Sopranos and numerous mob-movies.
I know what happens to snitches.
Our elf is much more positive-reinforcement. He's a buddy to whisper to. He tells Santa all of the awesome things he saw during the day. And he's pretty laid-back. We like him that way.
5. It's commercialized and expensive.
Welcome to Christmas. You been here before?
If you don't want to buy the "official, comes-with-the-story-book" elf, then make one! Use something else. A stuffed doll. A rabbit. Get creative!
Stop spending your time spewing elf-hatred on your blog and sew/paint/thrift up a little Elf-friend.
And quit hating, peeps. It's Elfism. And they don't have to take it.
6. I'm going to forget and screw it up.
Probably.
I've woken up twice at 1 am in a cold sweat… "I didn't move Max! Oh for the love of…." And I pad downstairs in bare feet and try to get creative in the wee hours of the morn.
Put an alarm on your phone. Make it a habit.
Or don't get an elf. It's like having a puppy. If you're not ready… you'll just end up leaving it chained up to a tree in your backyard. And then nobody's happy.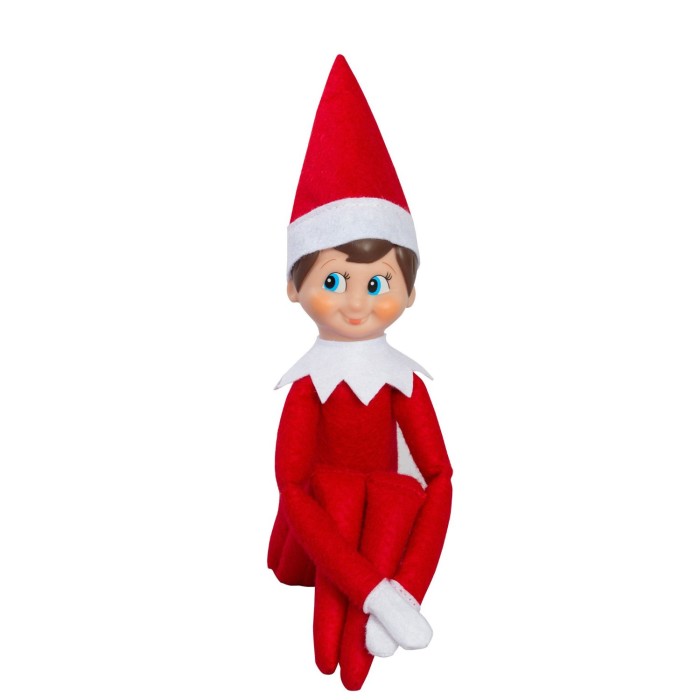 7. You think he's a creep.
This is probably the laziest excuse yet.
First, you have to tell me that you never , ever , EVER use Santa as your super-duper FBI agent. You must not ever have said, "Santa is watching…" because you're just inviting a creeper into your life there. A big one… with a beard. Who comes into your house at night.
Also, you cannot have Facebook.
You – yes you, the parent speaking out against the Elf – a toy that lives in your home and is an inanimate object that cannot even SEE with his fake eyes – think that it's creepy that the Elf is watching the kids during the day?
Then you gleefully post the entire days' worth of photos at the Zoo on Facebook, tagging every single person and/or tree/dog/car in your status update for everyone in your friends list (such as, the person you met at the grocery store, your high school boyfriend, that irritating hair stylist that you don't feel comfortable un-friending) to see?!?!?
Give. Me. A. Break.
Just say that you don't want to put the effort in, and I'll respect you.
Sometimes I don't want to vacuum. I get it.
What about imagination?
I like our Elf – Max – because he is magic. He bring imagination and excitement into the house every single morning. It is amazing to see the girls chatter with him. To see them come up with stories about what he does at night. To see them connect with their creative sides, even if I haven't concocted an incredible scenario for him to be "found in".
Our society is already raising kids who are cynical. Screens are doing the work for them. Imagination should be cherished. It should be cultivated.
And I totally get it if you don't want to buy an Elf, or if you don't want to enslave yourself to a nightly routine of moving him around.
But why the hate? Why knock imagination, people?
Leave the elves alone.
Tell me friends, what do YOU think?
Creeper-little spy? Or magical friend? I want to know your opinons!