Thank you, Patak's Canada and Mom Central Canada, for helping us to spice up dinnertime!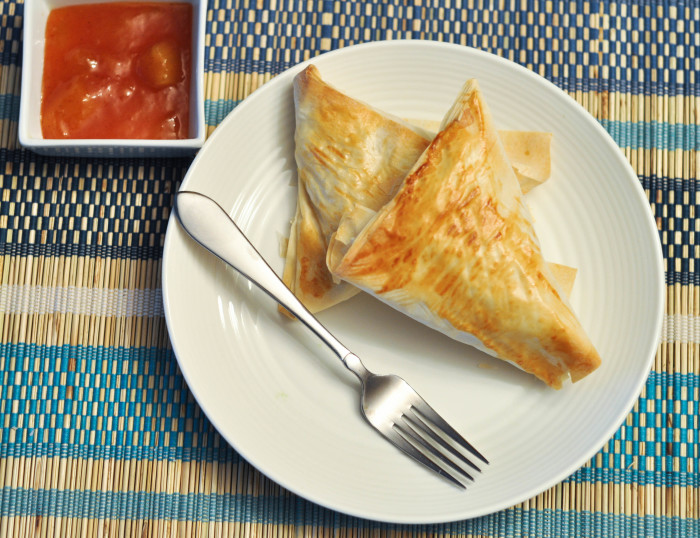 I promised myself that I would get a bit more adventurous in the kitchen this year, and so far, I'm feeling pretty good about this decision.
But good and exciting recipes don't have to be time-consuming or complicated. Sometimes, I like to take a shortcut or two. It's a beautiful thing: making a meal that comes together quickly – and even better – having leftovers that can be popped into the freezer for another day.
I chose to make Samosas this week – one of my favourite Indian sides. The spicy potatoes and peas, wrapped up in a crispy shell: how can you NOT like them?
But, this time, I "cheated". Instead of making the pastry surrounding the samosa, I used phyllo pastry. The result was a crispy shell that I didn't have to fry, but could bake. (I also didn't have to fuss about with pastry in my pre-dinner prep!)
Samosas with phyllo pastry shell
2014-01-03 23:07:23
Ingredients
1 pkg phyllo pastry - thawed
1 tsp olive oil
3 yellow potatoes, peeled and chopped into small cubes
1 cooking onion, diced
1 tbsp ginger, grated
2 cloves garlic - grated
2 tbsp Patak's Mild Curry Paste
1 cup frozen peas
1/4 cup of chopped cilantro
1 egg, beaten
Patak's mango chutney as a dipping sauce
Instructions
Preheat oven to 350 degrees
Ensure that phyllo is thawed, but do NOT roll it out until ready to assemble samosa
Steam or parboil potatoes until cooked
Heat oil in frying pan over medium heat
Saute onion, garlic and ginger until cooked/onions are transluscent
Add curry paste to pan; cook for 2 minutes
Add cooked potatoes to pan, cook for 2-3 more minutes
Add frozen peas - cover mixture and let cook for 5-10 minutes until peas are thawed and hot
Add cilantro and stir
Remove potato mixture from heat and leave to cool
Line two baking pans with parchment paper
Unwrap thawed phyllo and take about 2-3 layers of phyllo
Using kitchen shears, cut phyllo into three long strips
On one strip, place heaping spoonful of filling at strip's end
Fold samosa into triangles, heading up the strip
Place finished samosa on pan
Once all samosas have been wrapped, cover with egg wash (one beaten egg in a bowl - wherever you brush on the egg, the phyllo will crisp up in the oven)
Place finished pans of samosas in pre-heated oven
Cook for approximately 10-15 minutes, until samosas are brown and crispy
Serve with Patak's Sweet Mango Chutney and/or plain yogurt
Notes
Leftover samosas can be placed on a lined tray and put into the freezer overnight. Remove each samosa and place into a ziploc bag for your next Indian feast!
Suburble https://www.suburble.com/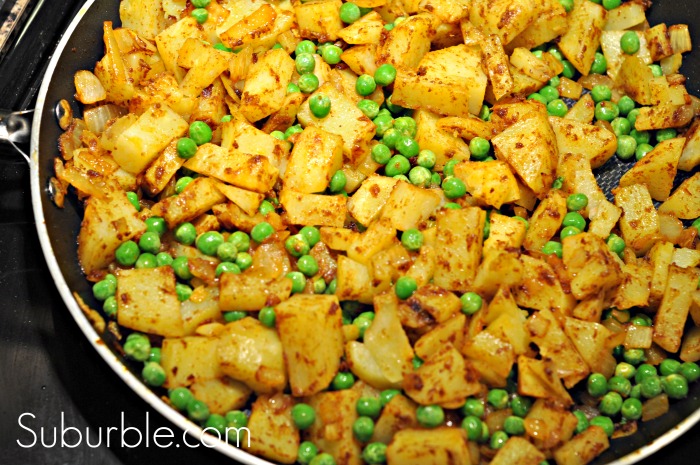 I could eat the filling right out of the pan.
In fact, I did!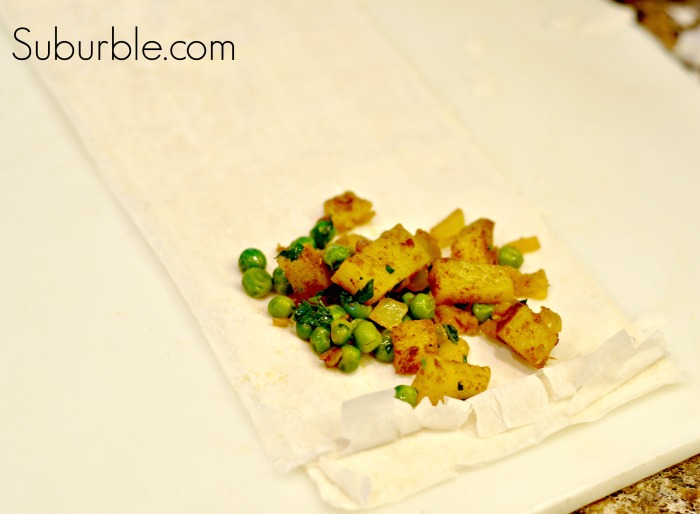 Phyllo pastry – technically – is supposed to thaw in the fridge or on the counter for a few hours.
But – keeping in tune with this post – I like to cheat.
I blast it in the microwave for about 45 seconds – while it's still rolled up – and then let it sit on the counter while I'm making the filling.
It's soft and pliable by then (and isn't a big gooey mess, as some sites warn of; I think that might be a case of TOO long in the microwave).
And do not unroll your phyllo until right before you want to wrap up your samosas. The phyllo will dry up in a matter of minutes, and will just crack and groan as you try to work with it. Leave it rolled up until you're ready.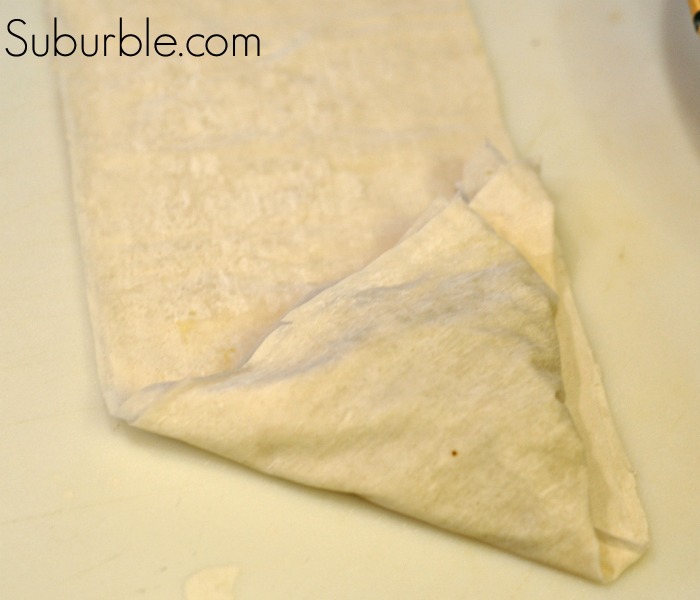 Stuff your samosas with as much filling as your little triangle will hold. Start with one triangle, then fold it back on itself towards the opposite side of the strip. Continue until your samosa is finished.
And try to take only 2-3 layers of phyllo at a time. You're doubling the thickness of phyllo each time you fold a triangle. The focus should be on the filling, and not the flaky crust.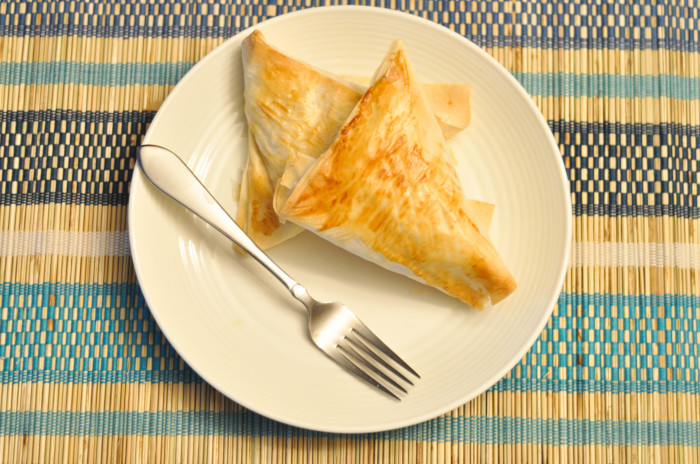 After about 15 minutes in the oven, the samosas are ready to be gobbled up. I like to dip them in Patak's Mango Chutney or in plain yogurt (or why not both? Yummmm….)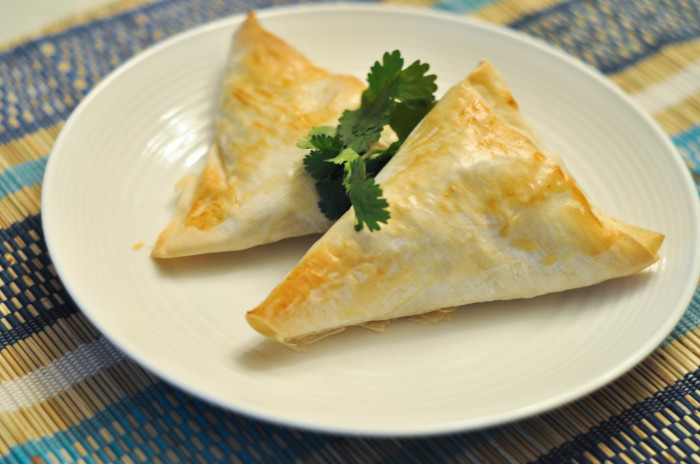 Oh, cilantro. You are just so good.
Extra samosas can be popped onto a lined baking sheet, and once they're cool, you can pop them into the freezer overnight. Once the samosas are frozen, remove them from the pan and pop them into a freezer-safe container. Now you have samosas ready for a quick dinner! Pop them into the oven at 350 degrees for 20-30 minutes and take a jar of Patak's out of the pantry. Instant dinner!
Make these samosas for your next Indian meal (we had these with the Spicy Butter Chicken), but don't fret over pastry. Take the "phyllo" shortcut!
Disclosure: I am part of the Patak's Canada Ambassador program with Mom Central Canada and I receive special perks as part of my affiliation with this group. The opinions on this blog are my own.