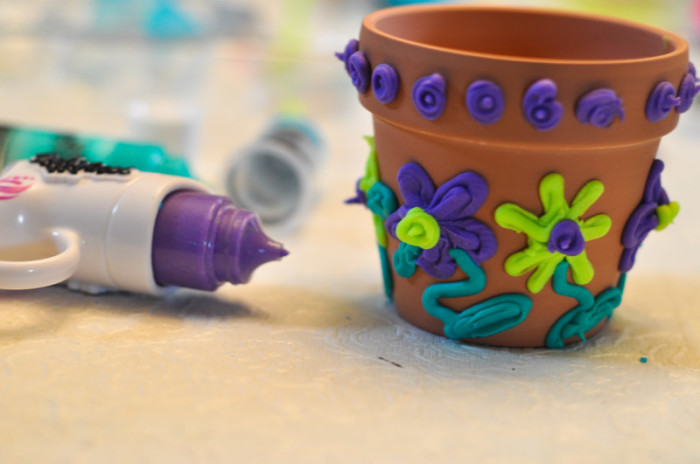 It's hard to deny the fun that is had with Play-Doh. Even as a grown-up, I find myself getting sucked into creating little animals or shapes. I'll be the last one at the kiddie table, exclaiming, "Does anyone see my awesome elephant?"
Meanwhile, the kids have already wandered away.
When I was asked if I'd like to have a little craft-fest featuring Play-Doh's newest line of imagination-ignitors – Doh Vinci – I knew that the girls and I would have a blast. What's even better? Doh Vinci crafts are MEANT to be left out.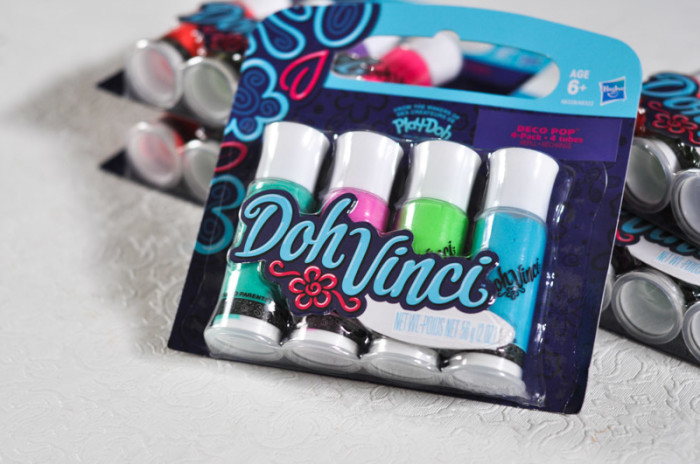 Unlike the typical Play-Doh that has to be put back in the container lest it dry out and ruin, Doh-Vinci hardens and is a permanent decoration. The kids LOVED that.
We gathered up some items to decorate with the Doh Vinci pops. Each Doh Vinci set came with a styler and a selection of "pops" in various colours. The kidlets quickly figured out how to load the pops into their stylers and decorate their little treasures. They added the stamps/shape tips to their pops, but – I think because of their ages – found it easiest to just free-hand their creations onto their projects.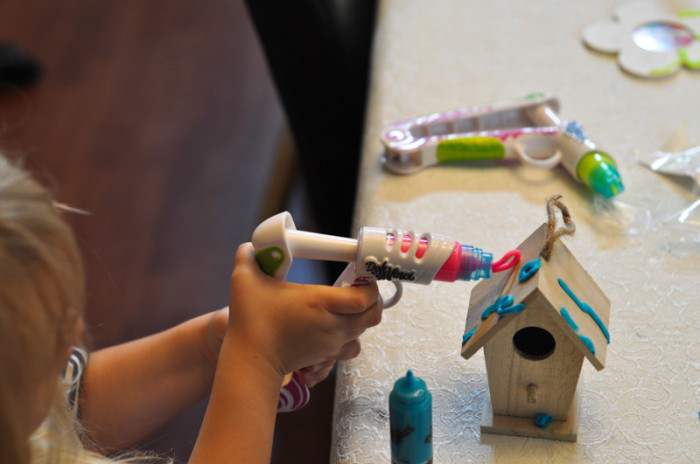 Even Lucy's almost-four-year old hands were able to maneuver her styler.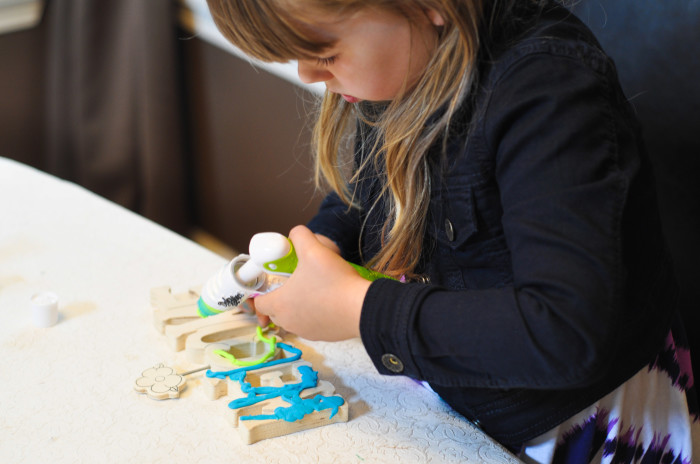 Lila was serious about her decorating. She worked on her Welcome sign and occasionally lifted her head to declare, "I'm going to put this on the door of my new room!"
"Everyone will be welcome!"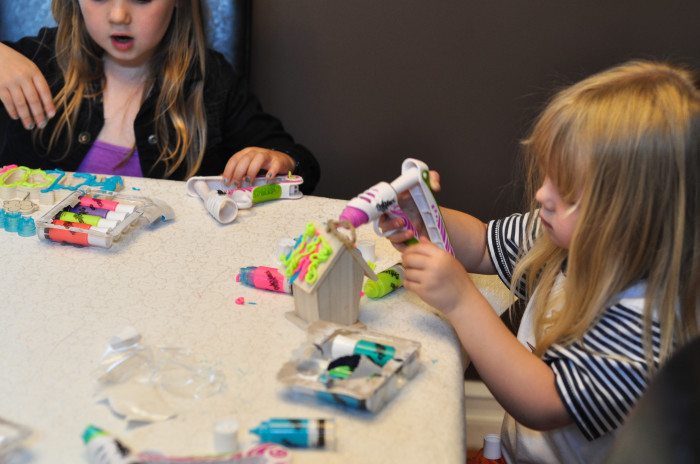 "…. unless Lucy is bothering me…."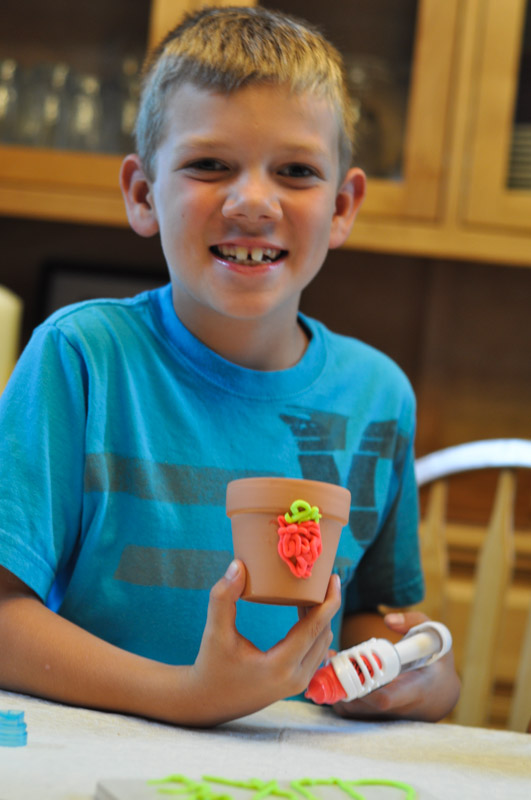 Despite the fact that Doh Vinci is marketed to girls, we knew that there would be two crafters in our house that would love playing with it as much as we did.
Lucas created a strawberry pot – his first project of the afternoon.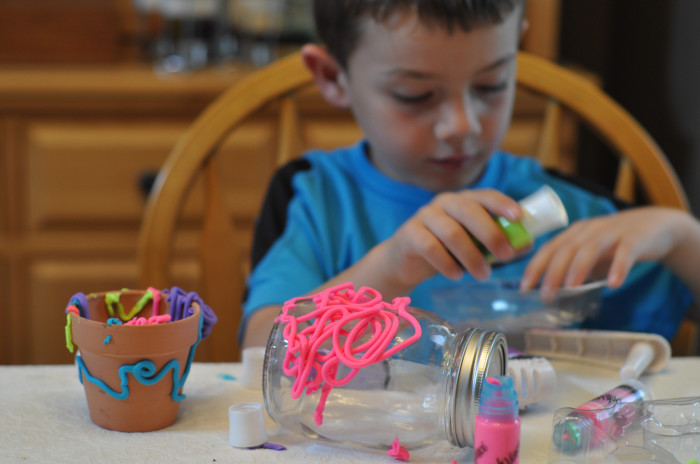 But even for those with a more abstract sense of art – think Jackson Pollock or Kandinsky – the craft party was a huge hit. Brady is much more of a "interpretive art" kid. He had a good variety of colour in his work, though.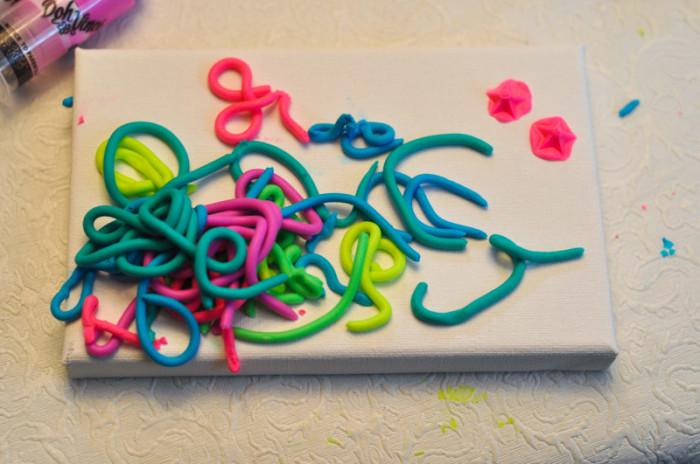 Lucy was inspired to create a piece entitled, "What My Room Looks Like 98% of the Time".
I may have been on the naming committee for that one.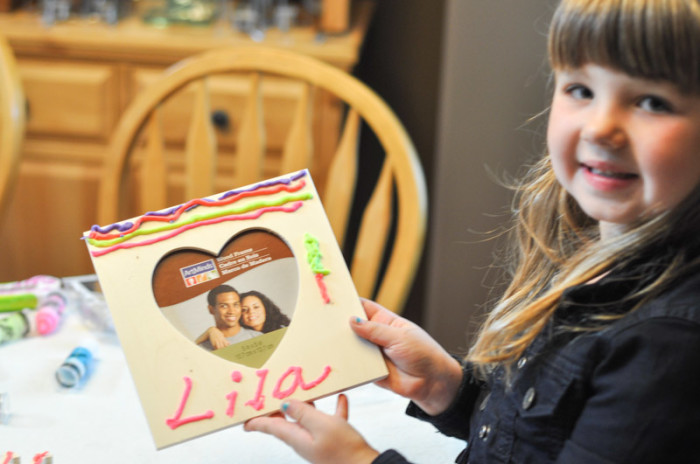 But even for those who are more black and white (such as Lila), the opportunities were endless for her designs. When we ran out of things to add a Doh Vinci-flair to, both Lila and Lucas's faces fell. They wanted to keep going.
We had the colours for a Canucks jersey that couldn't come to life. And shouldn't there be another sign for Lila's door?
I'll be collecting a few more blank canvases for the kidlets. They have been begging me for another Doh Vinci party.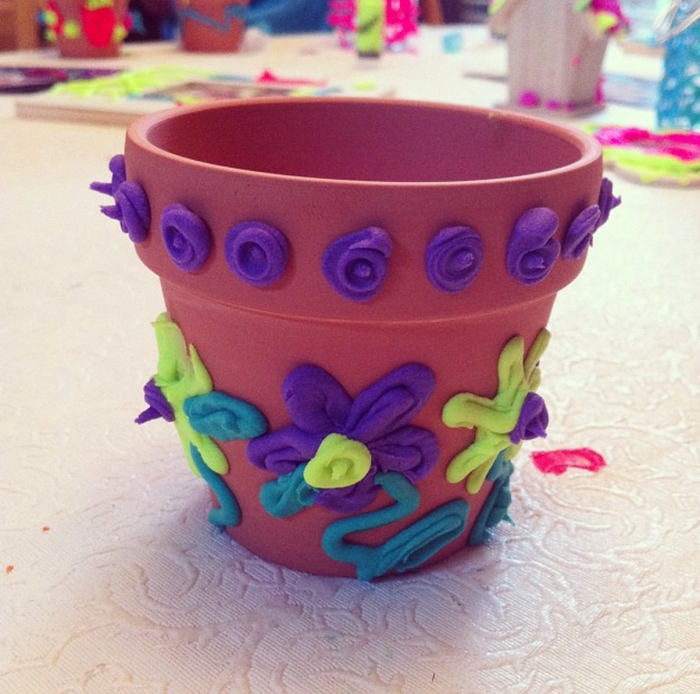 And like any other crafting session with the kids, I had to keep my hands busy. I decorated a flower pot with a Doh Vinci set… and for a little while, I was the quiet one at the table, adding little swirls and leaves to my flowers.
If you're thinking that you might have a brood of little artists who would love Doh Vinci, check out their You Tube channel for inspiration and ideas.
But before you head that way, enter to win your own Doh Vinci Style and Store Vanity Design kit with an extra set of four Doh Vinci art pops!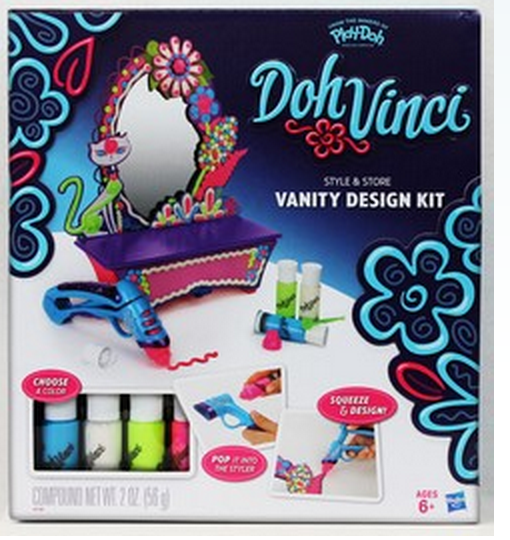 The little artist in your house will be thrilled!
Good luck, friends!
Contest closes on August 17th. Giveaway is open to US and Canadian residents and is void where prohibited.
"Disclosure: I am part of the PTPA Brand Ambassador Program with Hasbro and I receive compensation as part of my affiliation with this group. The opinions on this blog are my own."