I have to warn you. All of the photos in this post were taken with my cell phone, so they're of mediocre (or worse) quality.
The trouble was, I showed up at the house all psyched to start hitting things with a sledge hammer. I had gone to Home Depot. I had bought myself some cute work gloves. I was even wearing close-toed shoes.
And then I realized that I had forgotten my camera. Ughhhhhhh….
The magic of before and after photos is that there needs to be a "Before". My house was only minutes away from becoming an "in progress" photo, so I whipped out the cell phone.
I think that the grainy and poorly-lit images really add to that pre-reno look.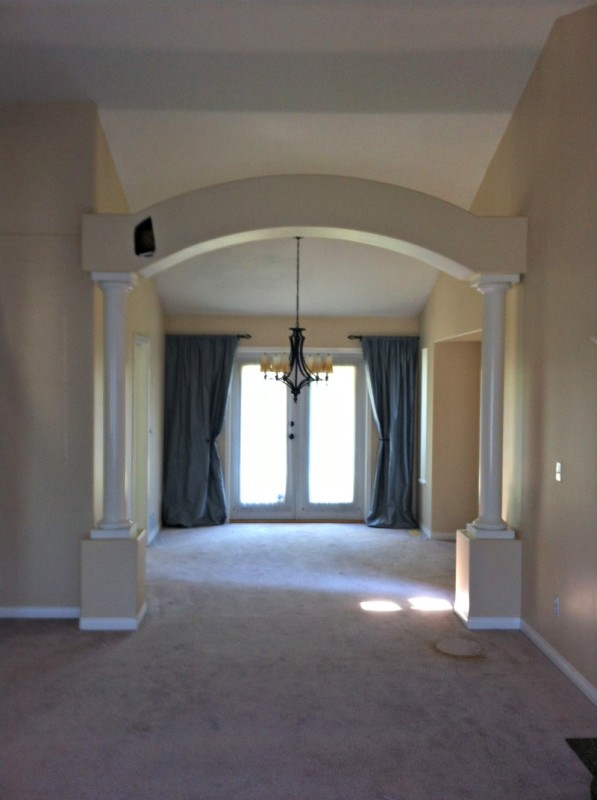 But all that aside – welcome to my new digs!
This is the living/dining room. It's a room that I've always wanted to have.
I know that the trend has gone to great rooms now. And don't get me wrong, I love those too. There's a reason that they're called "great" rooms. It's because they're better than good.
But there's something about the formal living room. It just screams, "Nicer than the Family Room", and "Get out of there, you know you're not supposed to be touching that!!!!"
I want that. That is going to be my project.
Also, in that picture, there is a giant hole in the arch. That is an exploratory hole. Mainly because that arch's days are numbered and I didn't want to find that someone had run wires through the arch and made my life exponentially harder.
Thankfully, the arch was hollow.
It was just hanging out, taking up valuable eye real estate. As in, my eye is tired of looking at that weird, non-structural arch. Go away, Arch.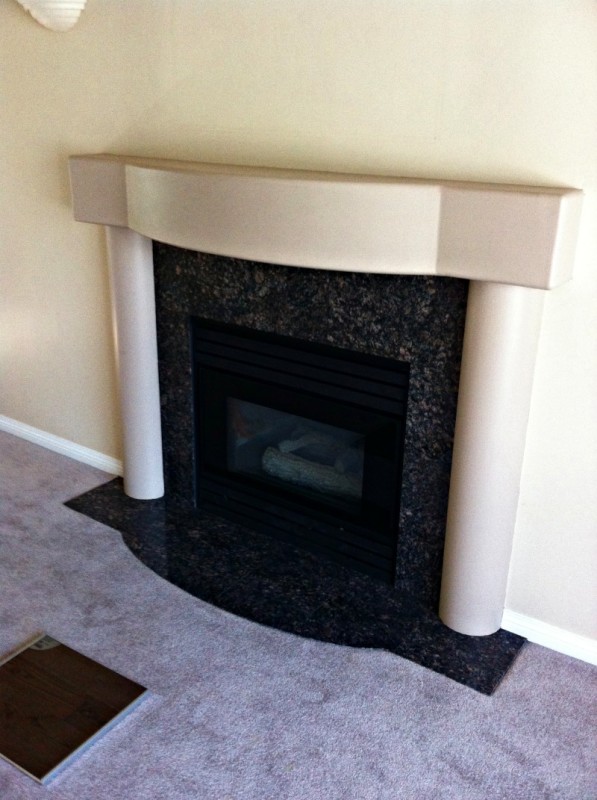 I call this the Golden Girls mantel. It reminds me of something that Blanche Deveraux would have had in her home.
I love me some sassy Rue McClanahan and Bea Arthur, but I do NOT love curved drywall mantels.
Call me crazy.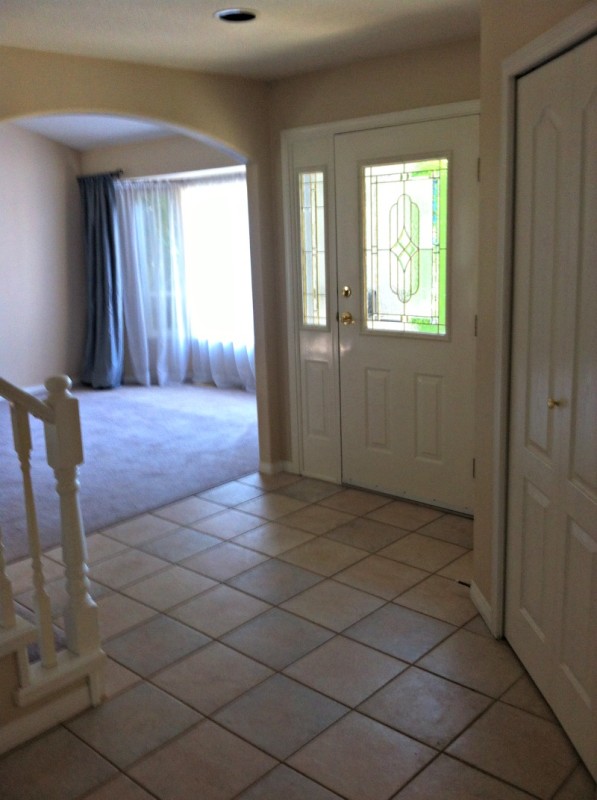 This is our foyer. I don't have much to say about this space except… there's lots of room to come in and take off your coats. I like that.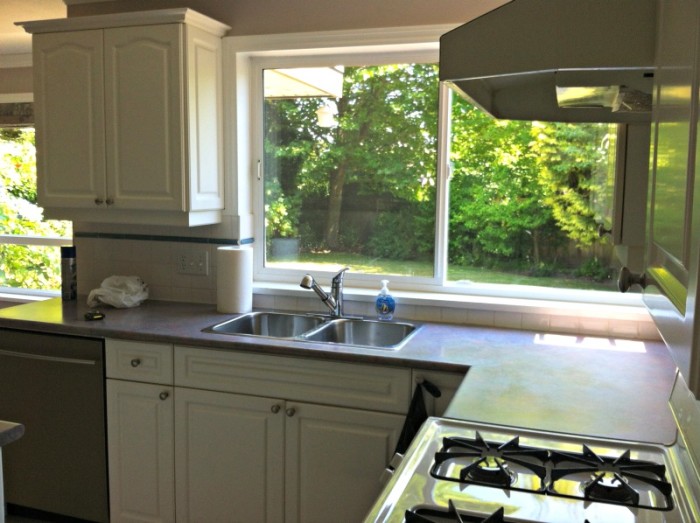 I think that my kitchen might end up being my favourite room in the house. The windows are huge. HUGE.
I imagine standing by the sink, holding a mug of tea, and watching my kids running across the back grass. The backyard has a lot going on (thanks to the diligent and green-thumbed former owner) and if I can manage not to kill everything back there, I know that I'm going to love having a view of the thriving back garden.
I just have to figure out some sort of drapery/blind/roman shade situation.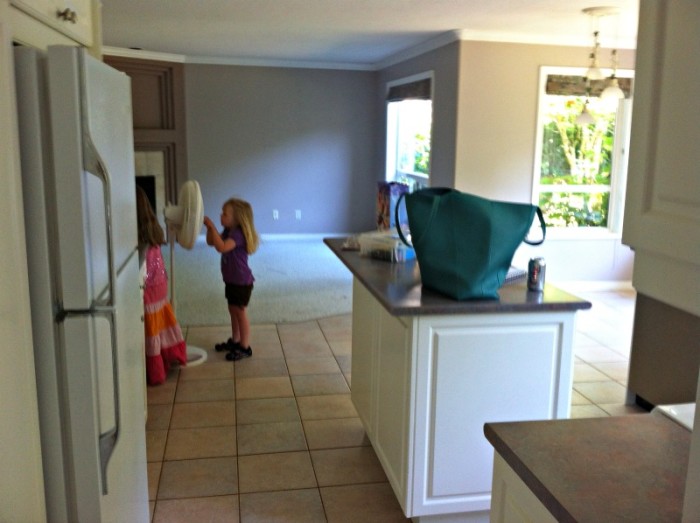 There's an island – hooray! I get the hub of the kitchen back! – and a breakfast nook and family room.
And more big windows. It's very bright in this part of the house.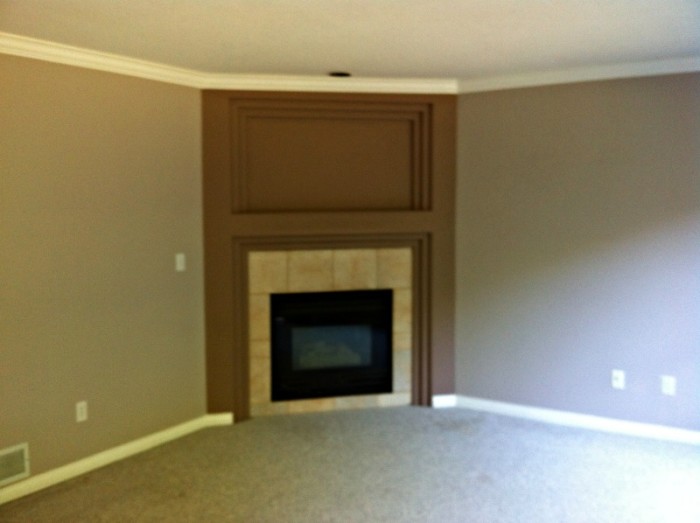 And this blurry photo (sorry, guys!) is of the family room. This is going to be the family hang-out.
I'm also going to be painting that accent wall. The accent wall that screams, "Your picture don't need a frame! I AM a frame…"
You are, accent wall. But we're going to make you less…. accent-y. You're too distracting with your many layers. You aren't an onion. Stop it.
There you have it, friends! This is the main floor of our new space. I hope that these pictures were properly "before"-esque. I can assure you, nothing looks like this anymore. Everything is much… dustier.
I'm so excited to show you all of the changes we've made so far. Next week I'll talk about the basement, and my new-found love of a sledge hammer.
Change is good. And messy.