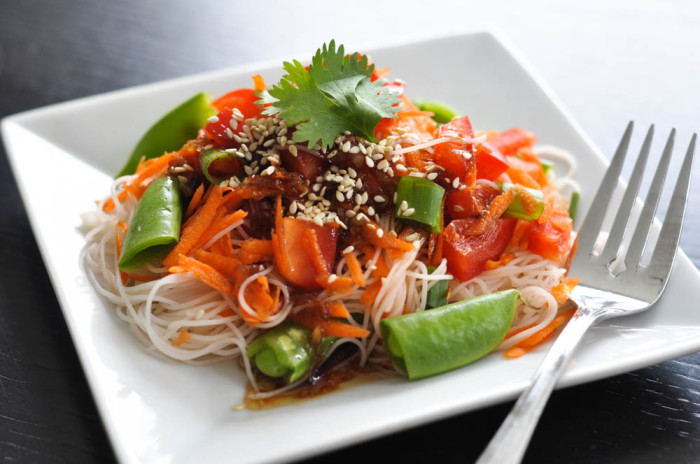 You may have noticed that I'm on a pasta salad kick.
Honestly, pasta salad is where it's at. It's a perfect side for anything you've thrown on the grill, as it's such a cool and fresh dish. And when it's got a bit of zing, then I'm even happier.
I feel like pasta salad makes for the best leftovers… right out of the fridge… still in the bowl…
I'm getting hungry just thinking about it.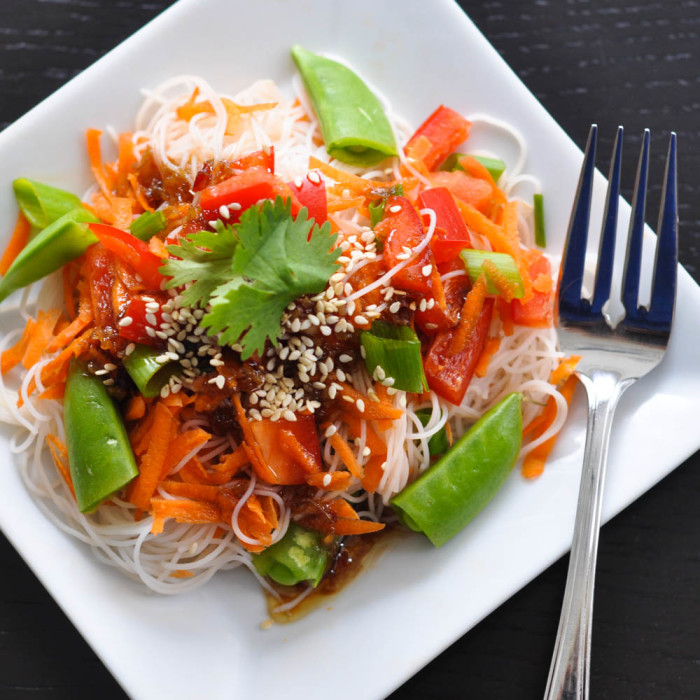 The secret to this salad is the dressing. It's soooo good.
And you know that I'll put cilantro on anything that isn't moving.
So I did.
Thai Noodle Salad
2014-07-05 23:23:30
Ingredients
1/2 pkg of Blue Dragon Rice Noodles
1 red pepper, chopped
1/2 cup green onion, chopped
4 carrots, grated
1 bag of peas, washed and each chopped in half
Cilantro to garnish
Sesame seeds to garnish
Dressing
1/2 cup Blue Dragon Sesame Oil
1/2 cup Blue Dragon Sweet Chilli Dipping Sauce
2-3 tsp soy sauce
1 tsp grated ginger
1/4 cup lime juice
Instructions
Cook noodles according to directions, rinse under cool water and set aside
Mix vegetables together in a bowl and put aside
Mix all of the dressing ingredients together in a separate bowl or cruet, drizzle over vegetables
Because rice noodles like to stick together, plate the salad with the noodles as the base, then put a generous helping of the dressed vegetables on top
Garnish with sesame seeds and cilantro
Suburble https://www.suburble.com/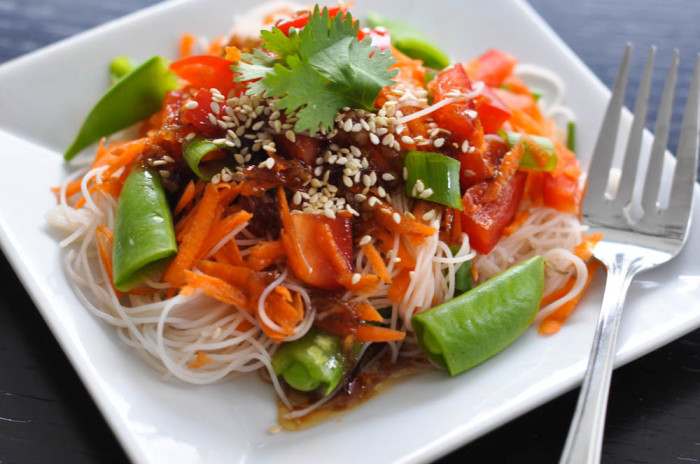 Rice noodles are perfect in this salad, but they are a teensy bit awkward to toss. This is why I plated it with the noodles as a base, then added the dressed noodles. I love the way it looks… especially with the sesame seeds and cilantro as a garnish.
You can also use fettuccine noodles, if you want your salad to be a more traditional pasta salad.
But try the rice noodles… they're so nice and light for a summer dinner.
Hungry for more?
Enter to win one of five prize packs from Blue Dragon Canada until July 26th! Click here to be taken to the giveaway!
Disclosure:I am part of the Blue Dragon Ambassador program with Mom Central Canada and I receive special perks as part of my affiliation with this group. The opinions on this blog are my own.