Well… now I've gone and done it.
I've made piles of rubble and dust out of what was once perfectly operational parts of the house. Renovations are like a runaway train. They pick up speed – and projects – as they hurtle down the tracks.
When Mr. Suburble and I originally put the offer on our house (and planned out our renovations over months), we thought that we would focus on the basement, and maybe put a lick of paint on the rooms upstairs.
That turned into flooring plans. Which turned into moving cabinets. Which turned into countertops, and backsplash, and what the hell… let's do the floor too!
And so… we took stuff out. With gusto.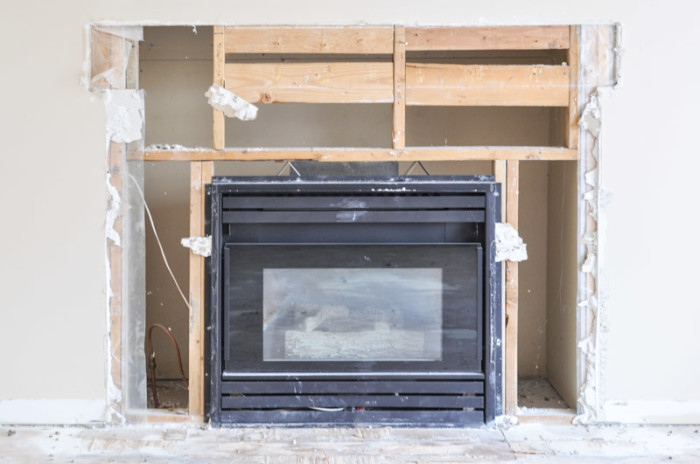 This is the "after" of my efforts.
I happily fired up my reciprocating saw and plugged away at this. And then I realized that this mantel was serious. He wasn't just going to pop off the wall like a weakling. No. He was made of far too much wood, and some decorative plastic pipe. He was going to fight me to the death.
So the crowbar and I got to it.
I know that my edges aren't the cleanest; tidying them up is on my not-so-short to-do list. I am also mantel shopping. And tile shopping. And occasionally sighing as I look at the gaping hole in the wall.
But do you remember what it looked like before?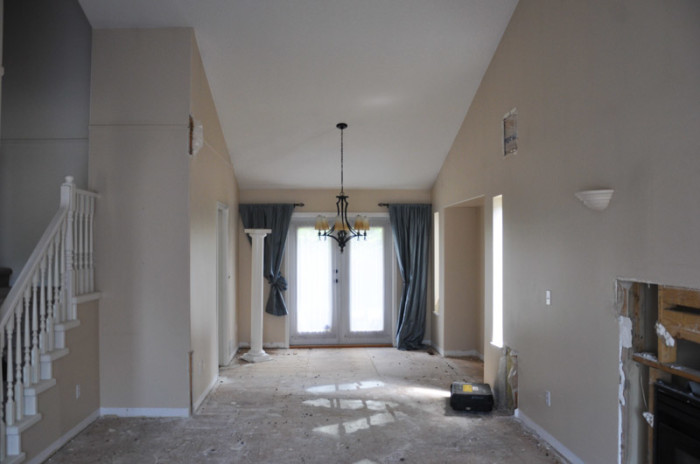 And the arches are gone!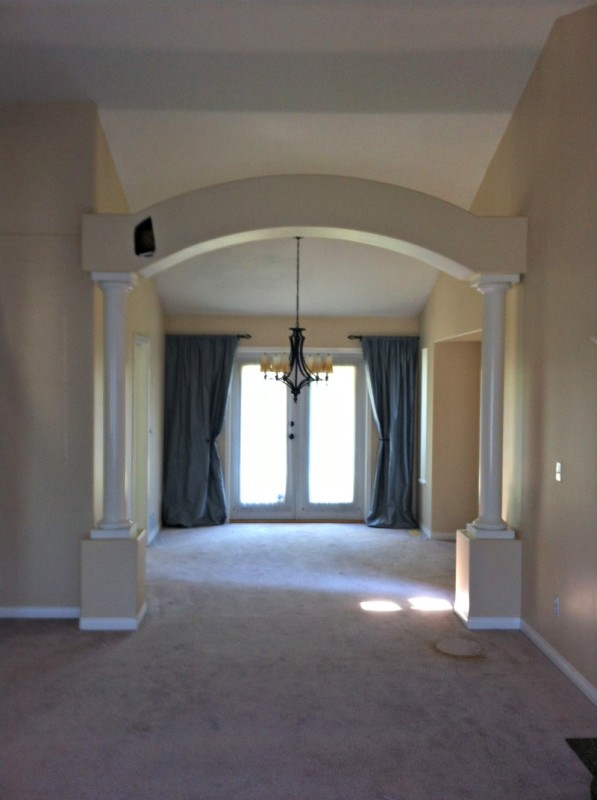 What do you think, guys? Do miss the arches at all?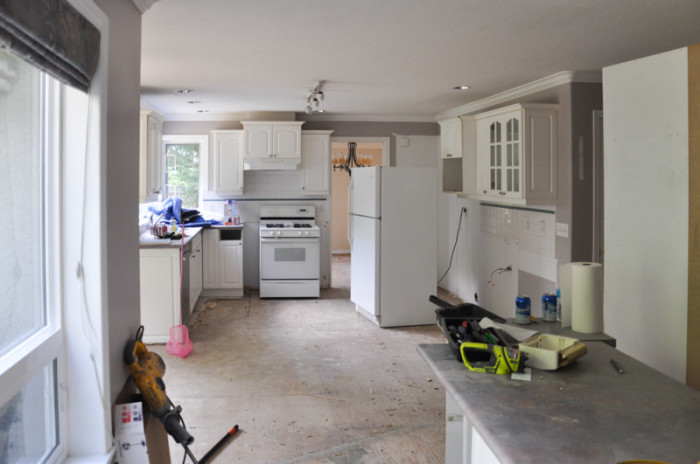 But oh…. we made a mess of the kitchen.
There was 500 sq feet of tile sitting on that floor. Tile that was laid properly.
For those who have ever ripped up floor before, you'll know that properly set tile is basically the worst thing ever. It is heavy. It is unforgiving. And it is a cause for sweat, swearing and various tools.
Mr. Suburble recruited some muscle, and they ripped up the tile in a day. We discovered that the tile traveled under the cabinets. Sob. So the cabinets had to be taken out and shuffled into the family room. We are saving the cabinets – they're white 90s cabinets, but they're in good shape, and can be fancied up with countertop and backsplash – so we have to be careful with them. I don't want the runaway train to take my perfectly good cabinets with it!
And that, friends, is what the main floor looks like. Aside from me destroying the backsplash and making even more mess, this is it.
But things are changing quickly. These next few weeks are going to transform the house. I have so much to share!
And oh, the basement!
We've been digging around down there – literally – and playing with all sorts of good things: jackhammers, pumps, and DRIcore. I'll give you guys a tour in my next post.
So, friends, whaddya think? Have I properly "un-done" this house?