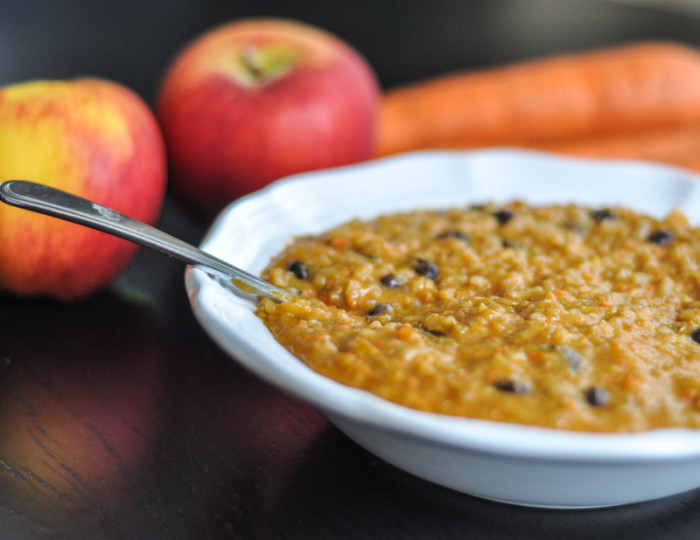 I know that it's probably sinful to say this, but I'm ready for Fall.
I like the crisp air. I love rainboots. And sweaters are really just the most perfect article of clothing ever invented. Second to the yoga pant, of course.
But now it's time to start taking soups. Big hearty soups – the kind that fill you up and warm your bones. The kind that you can have for lunch OR dinner.
And I love a good curry soup.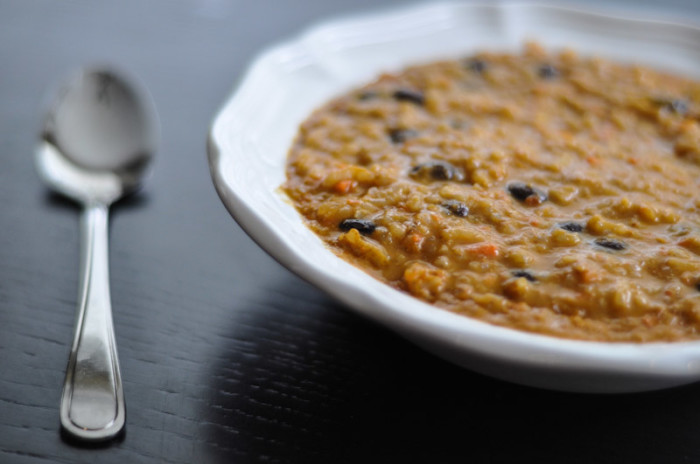 Just recently, Patak's Canada sent us out on a little date night to watch The 100 Foot Journey. It's a movie about a merging – and clashing – of two cuisines – Indian and French. We were asked to let ourselves be inspired by the movie and have that inspiration guide us in the kitchen.
I am not a master of French cooking. I've read Julie and Julia a few times, and I love baked brie, but that's about it. But as I was puttering around the other day, I noticed my Le Creuset dutch oven sitting on the stove. It's my favourite kitchen accessory – ever. And it's perfect for making big batches of sauce, one-pot meals, and soup.
Soup! I'd make soup!
In a French pot. That's a good hybrid of cultures, right? ….
No? I'm reaching, aren't I….
Too bad. This is what I've got, kids.
One of my most favourite soups was introduced to me by my friend, Lindsay, at a little diner in an industrial area of town (and come on, are those not the BEST places to get lunch?). It was mulligatawny soup. And it was gooood……..
This curried bean and carrot soup includes the deliciousness of that mulligatawny: sautéed apples and curry, coconut milk and rice… the sweet and spicy tastes are a perfect marriage. What's nice, too, is that this dish is vegan! Make it for yourself or your vegan posse the next time they come over.
Or if you're an omnivore – put some chicken in it.
Curried Bean and Carrot Soup (Mulligatawny)
2014-09-02 19:56:05
Ingredients
1 tbsp olive oil
2 apples, peeled and diced
3 large carrots, peeled and diced
3 large stalks of celery, diced
1 onion, chopped
4 tablespoons of Patak's Tikka Curry Paste
1 carton Vegetable Stock
1 can coconut milk
1 cup rice
1 tsp cumin
1 can black beans, drained and rinsed
salt and pepper
Instructions
In a large pot, heat the olive oil and Tikka curry paste and cumin - cook for 3-4 minutes
In the same pan, sautee the carrots, onion, celery and apple until cooked through
Add carton of stock, coconut milk, and rice
Let simmer for approximately 30 minutes until rice is cooked
Using an immersion blender, blend ingredients (I prefer to leave them a bit chunky)
Add beans to blended soup
Serve!
Suburble https://www.suburble.com/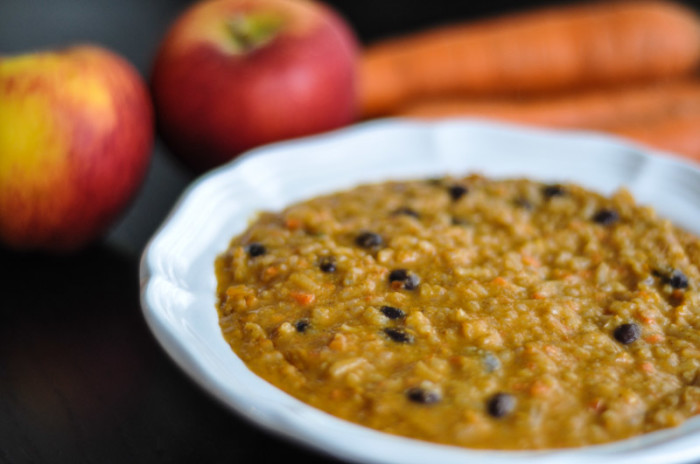 I prefer to leave the soup a bit chunky – it gives a nice texture (especially with the beans) as you eat it. I like to pair this dish with a piece of bread and butter. It's a very filling and tasty soup.
If you're not a bean lover, you can definitely omit them. I just like black beans.

Make this soup and then say French words, "Mais oui!" "Bon Appetit!" "Le sange est sur la branche…"
It's fusion cuisine already!
Disclosure: I am part of the Patak's Canada Ambassador program with Mom Central Canada andI receive special perks as part of my affiliation with this group. The opinions on this blog are my own.