You'd think that choosing light fixtures wouldn't be that hard. With most things-related-to-decor, I can walk into a shop and immediately know: "Yes, I like this." or, "No, this is hideous. Burn it, please."
But lighting?
Lighting stumps me.
In the words of my mother, "Tara… NOBODY is looking up. They just want to be able to see!"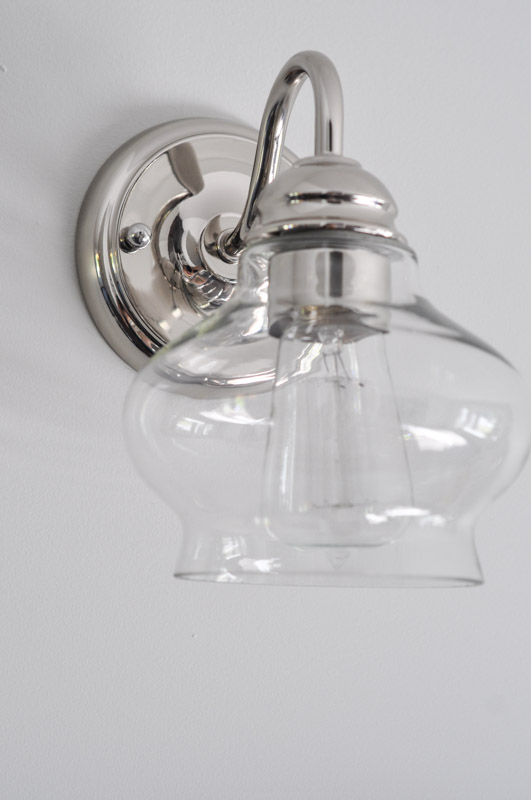 But that simply isn't true. I'm looking up – all. of. the. time. While my brain is 98% renovation and 2% "Do I need to buy milk?", I see lighting everywhere. Clear or frosted? Rubbed bronze or chrome? Big or small? And what about a shade?
Gah! I just don't know anymore.
And the thing is – lighting isn't cheap. Sometimes my taste forgets that I have a budget. I may have wanted the $800 dining room fixture, but my wallet coughed and whispered, "No. You are crazy. Walk away."
The whites of Mr. Suburble's appear when I start talking numbers. "Hon, it's really quite reasonable. The light is $120 – and we only need two."
In his opinion, light fixtures should only cost marginally more than the bulbs. Needless to say, we didn't get those sconces.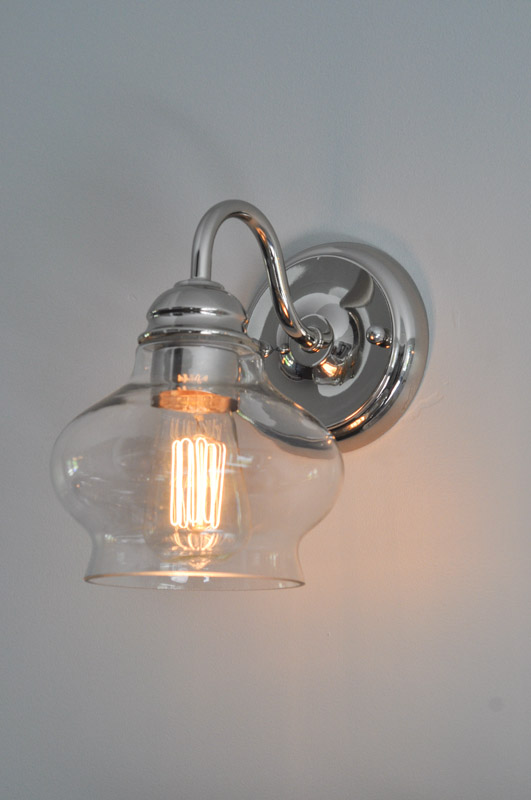 We got these ones. With Edison bulbs! Hooray!
These sconces flank our living room fireplace. I love the clear glass – it lets light flood into the room, and it shows off the fancy "olden-days" bulbs.
(Psst… you can get Edison bulbs at Home Depot, but they sell out fast. If you don't want to pay lighting store prices, get yer butt to your local HD)
These sconces were on sale for $70 each. And I thought they were a pretty good deal… until I stumbled onto these: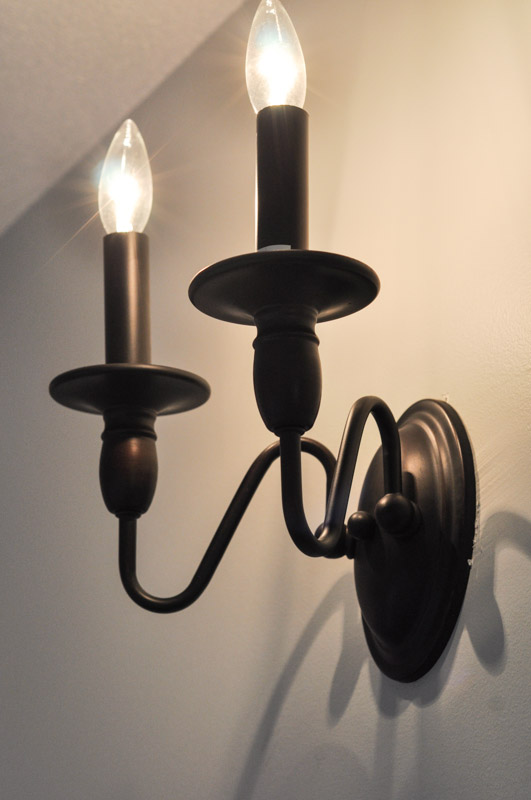 These candlestick wall lights were in the clearance section – for $29 each!
Hello, little friends. You're gong to live with me, now.
I bought three of them and put them in the hallway by the bedrooms. It's nearly impossible to take a good photo of a light fixture up there.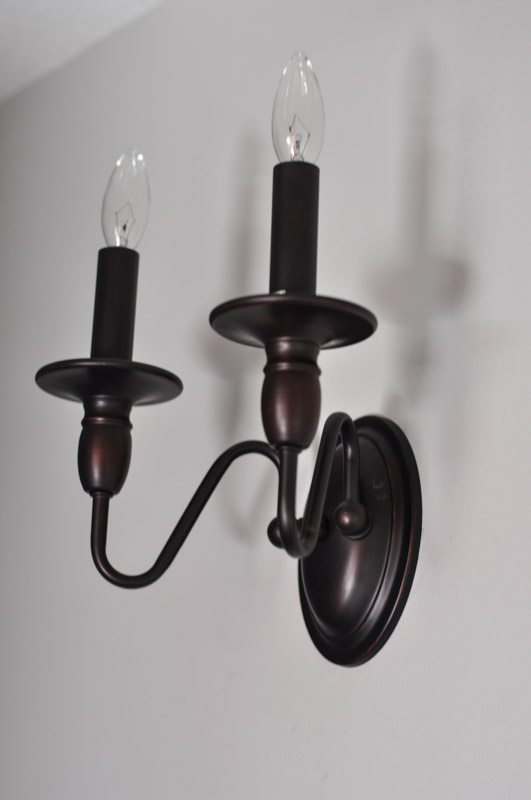 Every angle looks a tiny bit haunted. "Oooooohhhhh…. it's the ghost of the ugly clamshell sconces… "
I may buy little shades for the lights, but for now, I'm leaving them as is. I love the contrast of the rubbed bronze against the light grey walls. I wasn't sure – mixing the warm and cool shades – but in this case, it works!
My last lighting find was a happy accident at Rona (a Canadian hardware store). I noticed these lights on a display wall.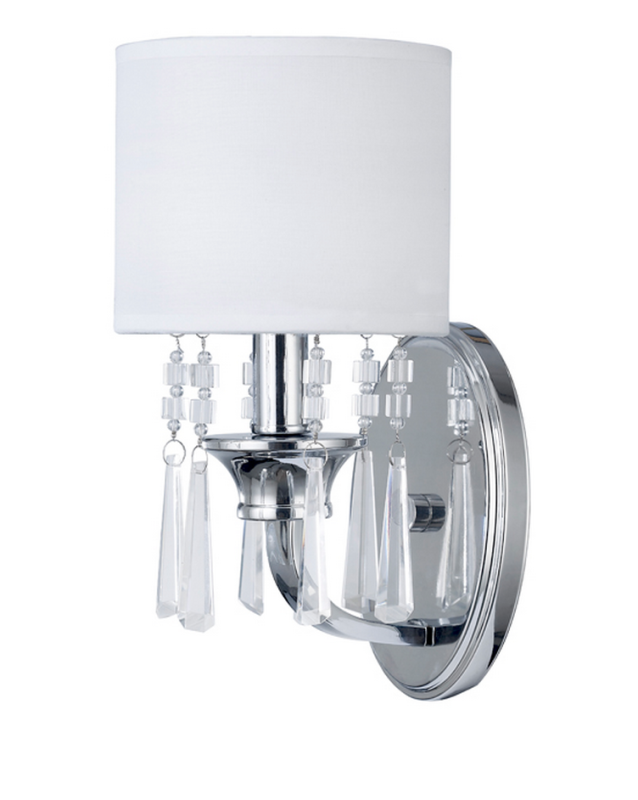 The trouble is – I wasn't a huge fan of the "crystal". It just looked….. cheap.
There, I said it.
But I liked the lines of the fixture itself. So, I climbed up onto the shelf and peeked under the shade. The crystals were just snapped onto the shade – they weren't integral to the fixture itself.
I had an idea.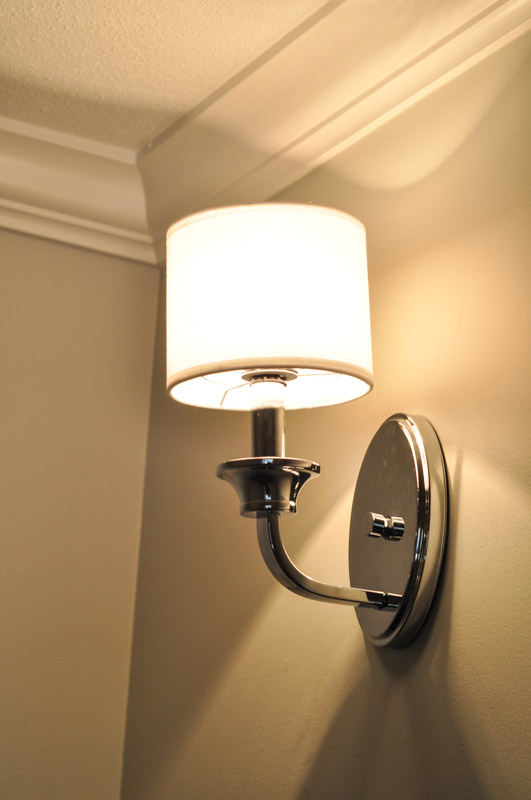 Peace out, crystals. You're not needed here.
I love the way this sconce looks in the powder room. And when we install his twin brother on the wall (we're having a little issue with the other sconce – as in, the box was installed all wonky and we have to fix it), I'll take a proper picture that won't be so poorly lit.
But you get the idea, right? Remove the crystals and instantly, the fixture becomes a classic piece. And for $26 a piece, I was sold.
I feel as though I've made out like a bandit with my light fixtures so far. Granted, I still have a few more to go.
And here is where I need you, fabulous readers – I have a bit of a quandary. And it lives in my dining room.
I've already told you that I'm not allowed to break the bank on this light fixture; it's not small like a wall sconce, either.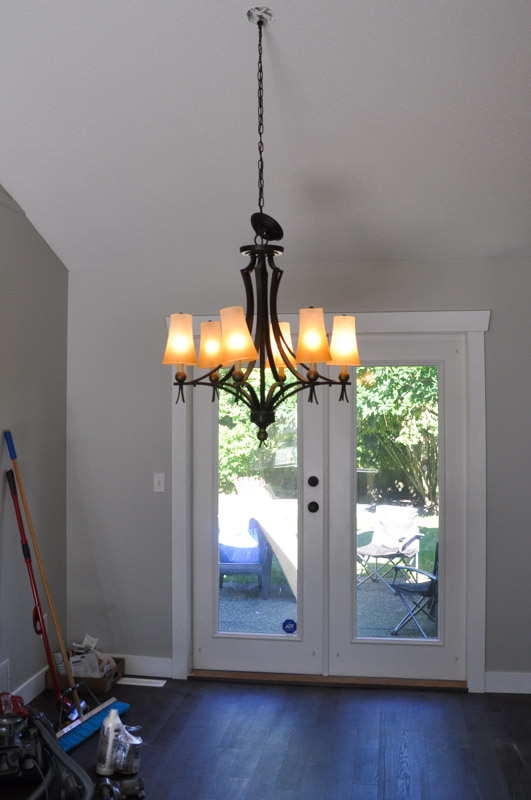 It's this.
Yep. With a crooked shade and warmy-orange shades.
I need help here, guys. I need to find a way to either:
a) transform this into a cool-to-neutral coloured light fixture that rocks my world
b) find an inexpensive replacement that is classic and beautiful in the right scale to the room (even I scoff at that!)
c) live with it; it's not that bad.
or d) take it down in a fit of design-hyperactivity and then live with an exposed box and marrettes for months on end.
What do you think? Should I live with it? Try to paint it? Sigh and just take it down?
Or it my mother right – does nobody look up?