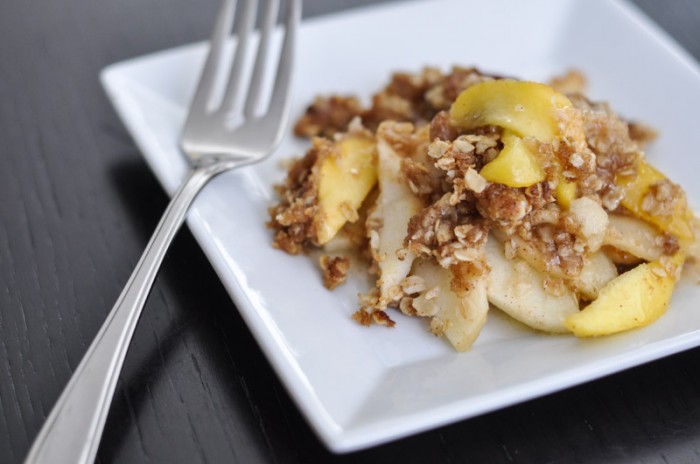 When the weather gets cold, hot desserts become a certain weakness of mine.
Even if it's mid-afternoon, a big dollop of apple crisp on the plate is what you need to warm your bones. And this recipe is incredibly easy! A good apple (or peach, or plum, or whatever fruit you have on hand) crisp gets you the same satisfaction as having pie, but without all of that fussing about with pastry.
With only about 15 minutes of prep time, it's a dessert that you can whip up as soon as you fancy it.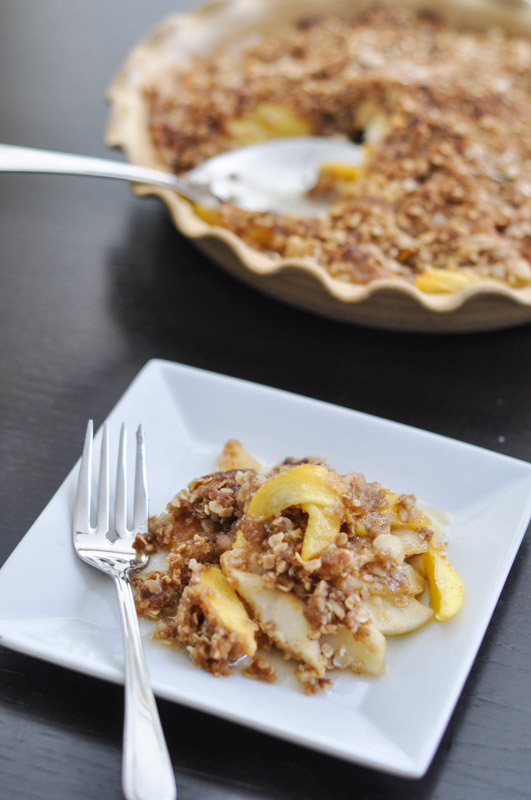 It's pretty common that crisp should be paired with ice cream. The hot and sweet fruit and oatmeal begs to be met with a dollop of vanilla.
But for heaven's sake, make sure it's real ice cream that you're buying off of the shelf. Don't get me started, but once upon a few weeks ago, we accidentally bought "frozen dessert" at the store. Half of an uneaten bowl sat in the sink overnight.
And didn't melt.
That rattled me. Ice cream that doesn't turn back into cream? No thank you very much.
But in this crisp, everything is real. Peaches, apples, sugar. All real. All tasty. And the plates in the sink will be licked clean.
Apple Peach Crisp
2014-10-19 20:59:22
Ingredients
3 cups apples, peeled and sliced
3 cups peaches, peeled and sliced
1/4 cup granulated sugar
1 cup brown sugar
1 cup quick oats
1/2 cup flour
2 tsp cinnamon
1/2 cup cold butter
Instructions
Preheat oven to 375 degrees; grease a pie plate or a 11X7 glass dish
Toss apples and peaches together in a bowl with the sugar and dump into baking dish
Combine all remaining dry ingredients in a bowl
Using a pastry cutter or two knives, cut in the butter until the mixture is made up of pea-sized lumps
Sprinkle the oatmeal mixture generously over the apples and peaches
Bake in oven for 30 minutes; for last two minutes, switch the oven to broil to crisp up the top
Serve and enjoy!
Suburble https://www.suburble.com/
If you don't have peaches on hand, you can also substitute more apples, pears, or nectarines.
Really, go crazy. Empty out the crisper. Use up what you've got.
Sugar and oats are magical things. They can make beautiful music with whatever fruit they've come across.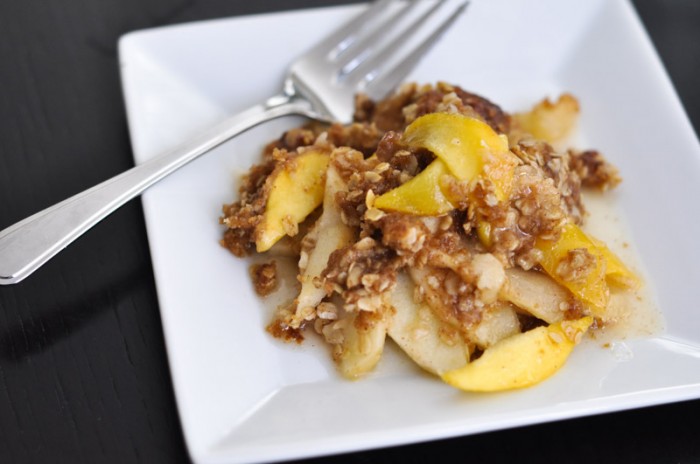 Don't make a pie. Make a crisp!
And then invite me over. I'll help you eat it!
Have more apples to use?
Try this super-easy freezer applesauce recipe: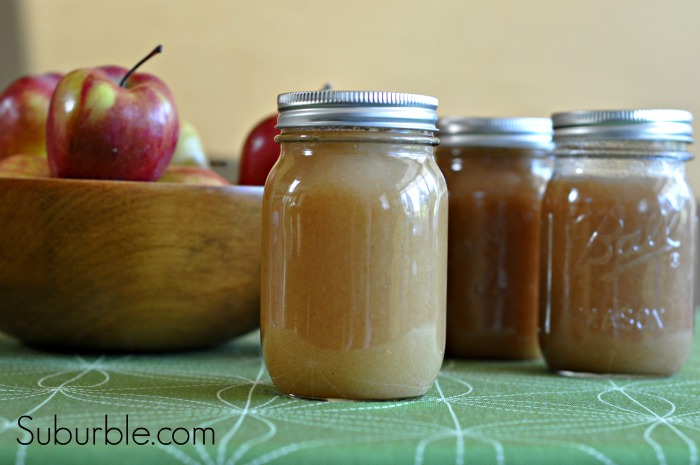 Or follow my dessert board on Pinterest:

Follow Tara @ Suburble's board Recipes – Desserts (yes, please!) on Pinterest.