This post brought to you by Krazy Glue. All opinions are 100% mine.
The girls have been so excited for Hallowe'en. From chatter about Elsa to ghosts to Teddy Bear costumes to candy… it's been non-stop.
And the spookiness has suddenly entered our house this year. The girls are interested in the ghoulish and ghastly. When the idea of decorate our front door hit, I knew that they'd be right next to me, itching to put their mark on on the decor.
These decorations are attached to our door with Krazy Glue and magnets! Our door is metal, and thus, it's magnetic. Decorating the door took minutes, and re-decorating (if you're 4 and 5 years old) can be an hour's worth of entertainment! Regardless of the size of decor we attached the magnets too, our glue lived up to its reputation of being Krazy strong, Krazy fast.
To make your own Hallowe'en Spider Web Door, you need:
Halloween Decor (we found spiders, bugs and webbing at the dollar store)
Craft Magnets
Krazy Glue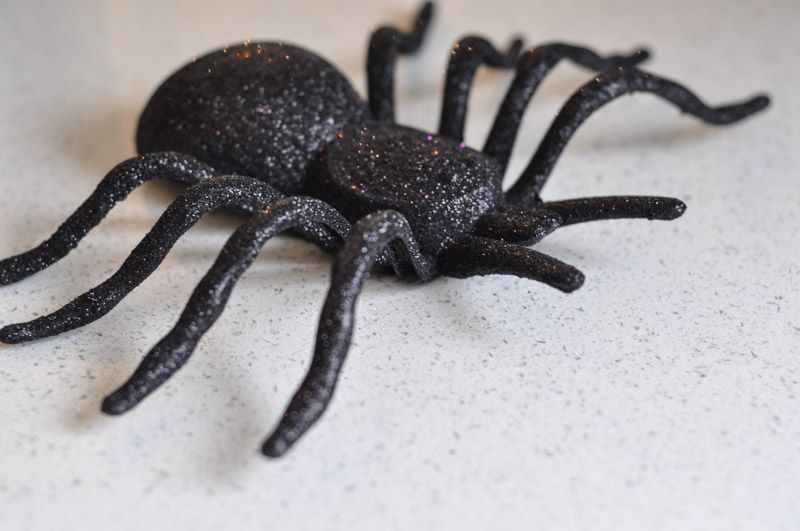 This guy was scary, but glittery. If you're going to be a glitzy spider, you can hang out with me.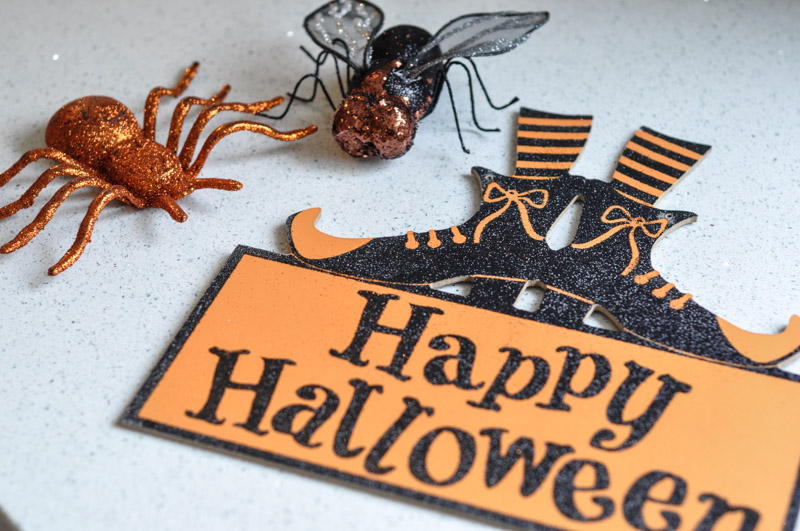 We also found a little sign to hang on the door as well. Lila really thought that it tied everything together. (She's becoming quite the decorator these days).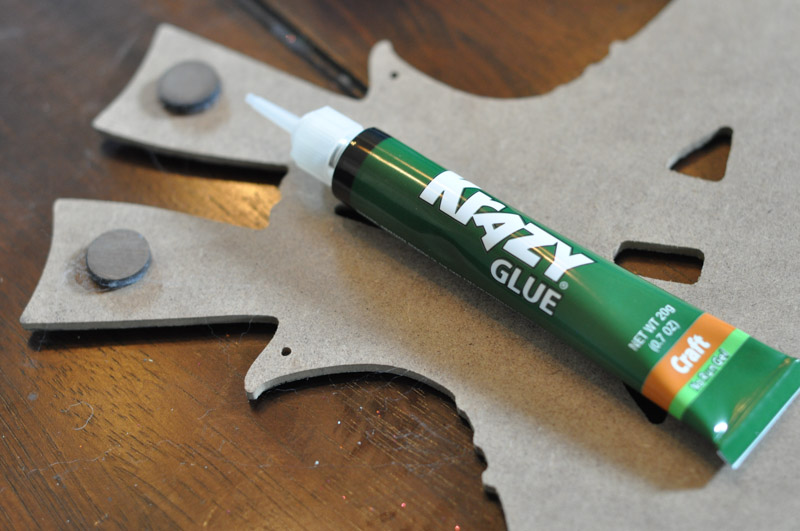 Using a small amount of Krazy Glue, I attached the magnets to the back of the sign and the spiders. It doesn't take much to get the magnets to stick to the wood or plastic, and it was faster than hauling out the ol' glue gun.
I let everything cure for about 4-5 minutes, and then the girls and I got started on decorating.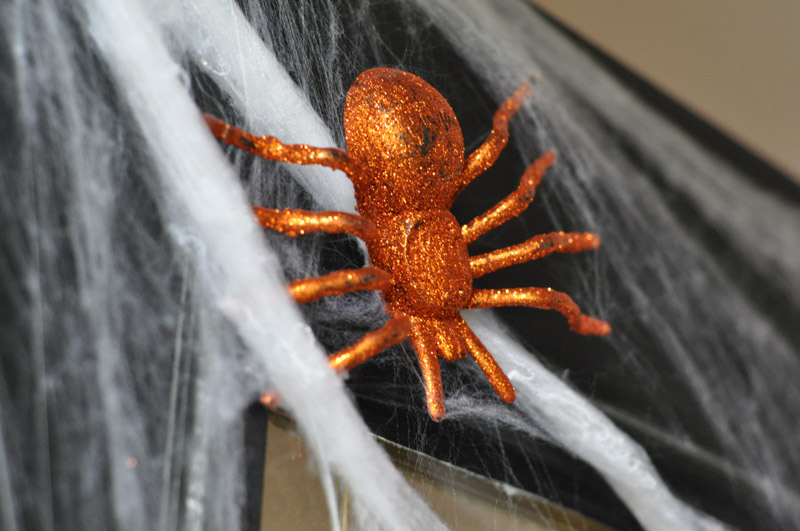 The girls and I decided that the front door needed some webbing. The spiders (and their prey – the flies) would be much more at home in their webs.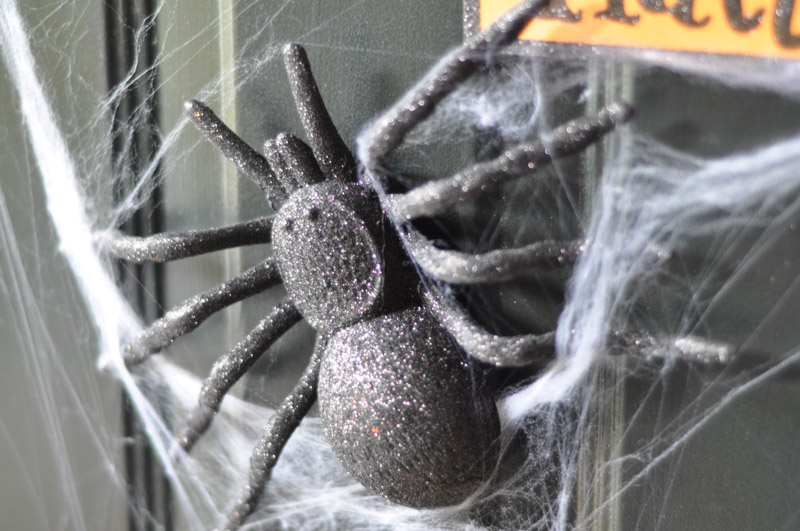 Despite the flashy colours of some of his counterparts, I like the big black glittery spiders. They are ALMOST the most menacing of the door decor gang.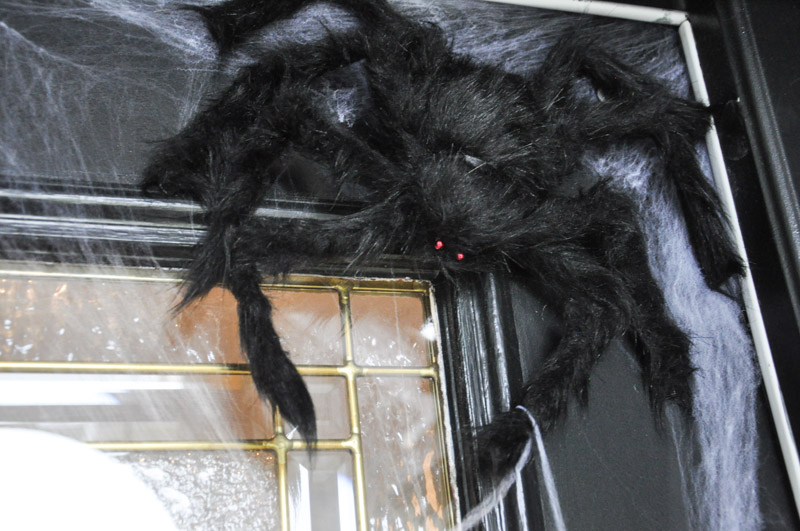 And then there's this guy. With more hair than a dog, and scary red eyes.
Halloween brings out all sorts of weird creatures…
Whipping up these door decorations took next to no time at all. I managed to get through the experiment without gluing any of my fingers together, too! (Though rest assured, Krazy Glue has the Skin Guard formula – so it gives you time to get the glue off of your fingers before they become BFFs).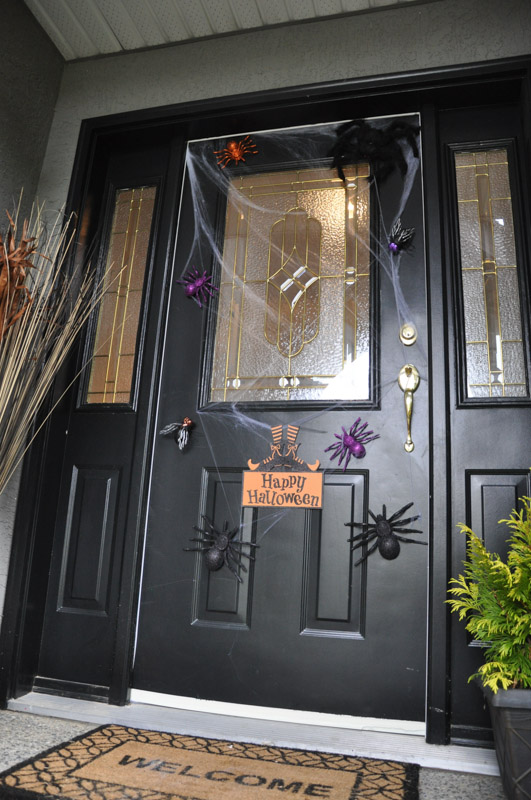 I love that this decor is easy to create, easy to put up, and better still – easy to take down. There is no damage to the door, and the kiddos can get involved.
This was a craft that took minutes to put together and is a great way to dress up the door with little fuss! Krazy Glue is a great tool to help create masterpieces in minutes!