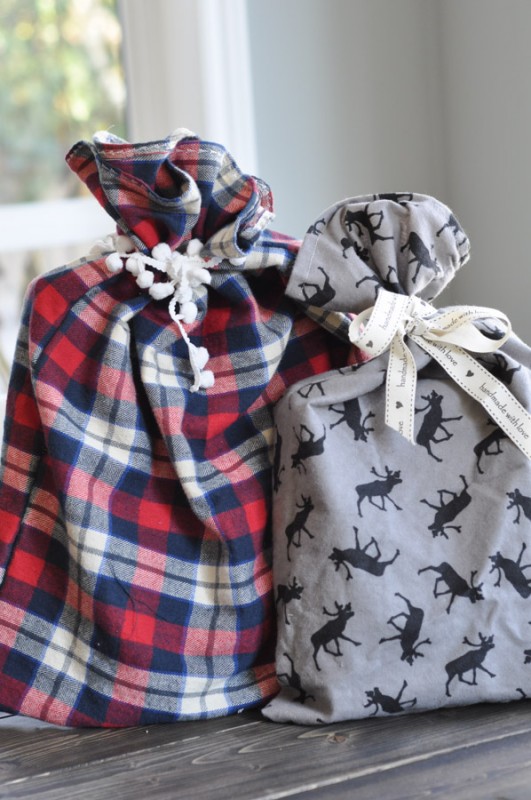 Today's post is a fun one.
I've joined a group of crafty – and Canadian! – bloggers to do a blog hop – but on gift wrap!
Once upon a yesteryear, I got to work in a bed and bath shop owned by a family friend – and the gift wrap… oh my! It was amazing to see the detail poured into make a gift into something spectacular to behold. The end of today's post features heaps and heaps of that inspiration.
And me?
I brought flannel sacks.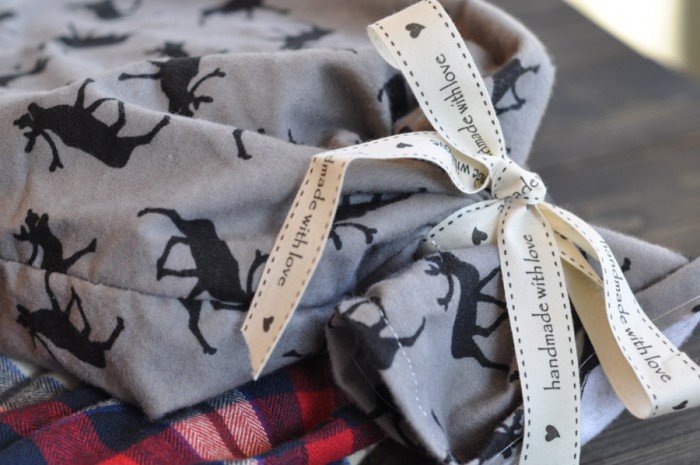 Okay, yes. I know it's not a sprig of holly tucked in burlap ribbon, nor is it satin and beads draped over simple kraft paper.
It's fabric. It's reusable. It's soft.
It's eco-friendly, dammit!
Reusable gift wrap – or "Christmas bags", as my family has called them for nearly twenty years -are simply just sacks that you tie up with a bow. Think Santa, but in a smaller, more individual level. My mom made a huge pile of bags – mostly out of red Christmas fabrics – that we would diligently fold and put away for the next Christmas. It became such a part of Christmas that at one point, most of the gifts under the tree were wrapped with fabric – and the paper wrap came from friends and extended family.
I had been tossing around the idea of Christmas bags this year, and then. JoAnn had an amazing Black Friday sale. I just could. not. help. myself. I drove down and picked up a bunch of fun flannels and quilting fabric in Christmassy patterns. I was not the only person with that idea. It was a 40 minute wait for the cutting table. I eyed women's carts jammed with bolts of Christmas fabric.
After leaving with a bag stuffed full of fabrics, I got home and got to work.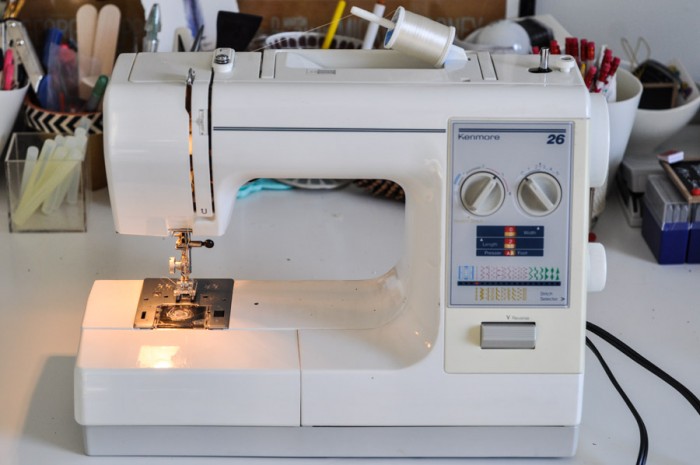 Today's post is all about bringing it back to my family. See this baby? This is my brand, spanking new-to-me sewing machine. It's my mom's old Kenmore; she had this baby when I was a crazy kidlet running around, driving her nuts. My mom is a super-sewer now and has machines that I won't ever be worthy of owning. But when she heard how frustrated I was with my newer, less-user-friendly-and-prone-to-barfing-up-huge-wads-of-thread-everywhere sewing machine, she promised me this machine.
And now that I have it, I can't believe how EASY it is to use a machine that actually wants to do its job.
I won't name names… as I know that the bargain basement version of anything really isn't worth the investment – but my previous machine was awful. I'm sure it needed a servicing, but that would be spending more than the machine cost!
To quote many a nostalgic person holding a broken piece of junk, "They don't make things like they used to."
Or to quote me: "If you can't buy quality brand new, then buy it used. Or ask your mom to give it to you when she upgrades."
Okay – I'm rambling. Back to the bags.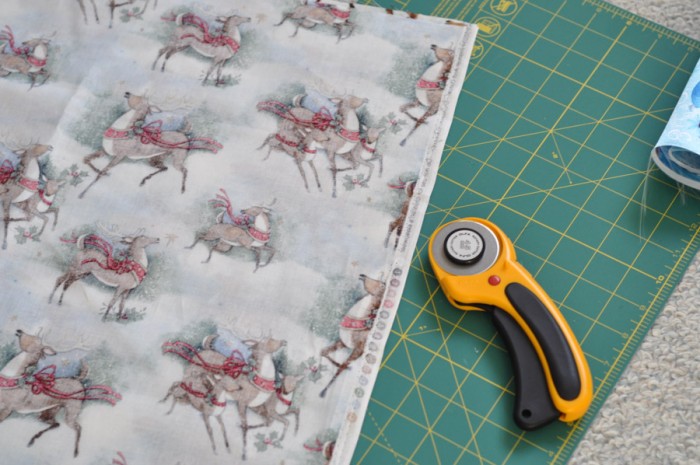 I'm not going to break into a full-fledged tutorial here because it's pretty simple. You essentially make pillow cases, with one end open.
I cut various sizes of "sacks" from fabric, all while considering the packaging that would have to fit within the bags. If you get stuck, think about the size of paper gift bags – those are a good guide to follow.
I placed the right sides of the fabric together and pinned the sides. Then I sewed around, leaving a quarter inch seam.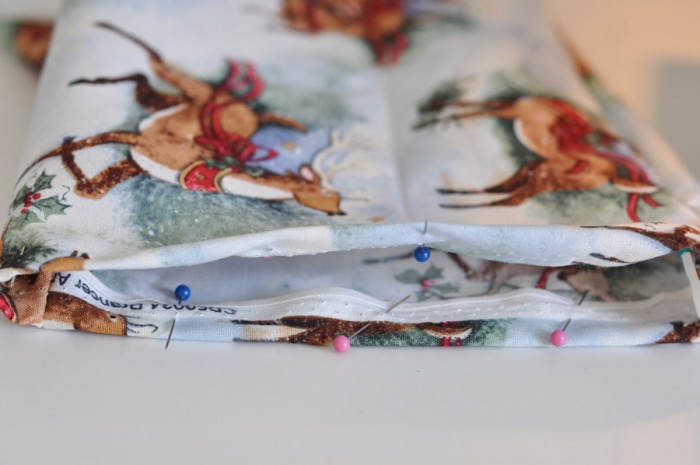 At the mouth of the bag, I folded over the top of the bag about a 1/2 inch and pinned it, just to tidy things up.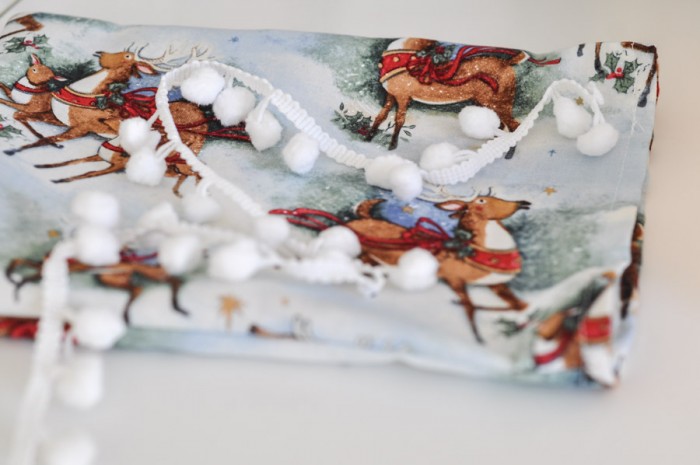 And then I chose my ribbon. May Arts generously sent me some pretty ribbon to play with over the holidays, and this pom-pom ribbon was screaming to hang out with the vintage reindeer.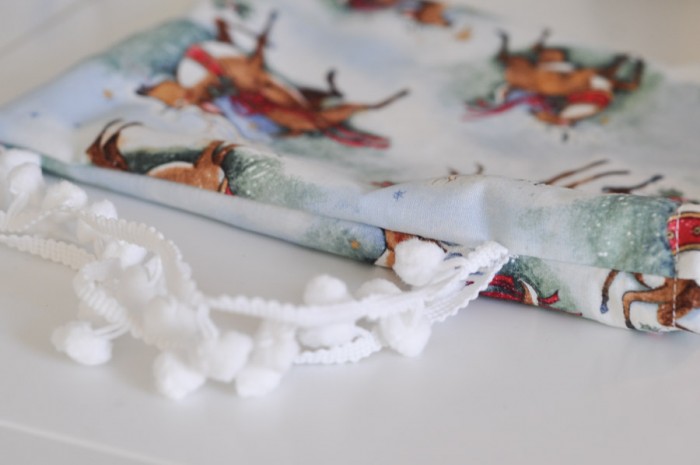 I just secured the ribbon onto the bag with a quick back-and-forth on the sewing machine and voila!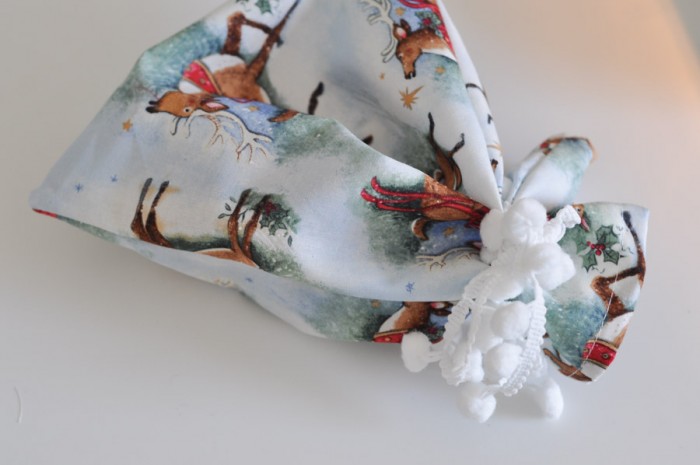 The reusable Christmas bag is done!
(And you won't lose the ribbon – it's attached the bag forever! This is optional if you like to change things up year to year.)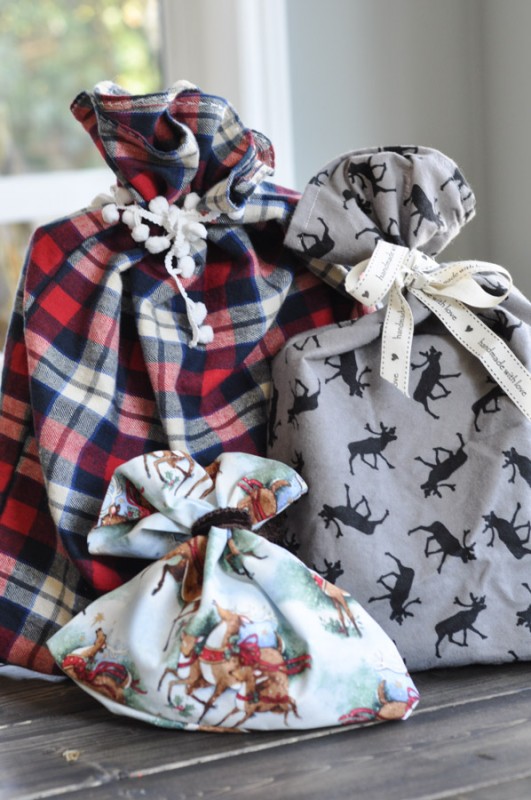 Once I started, I couldn't stop. I whipped up about 8 or 9 bags within about an hour and a half. I stopped when a child wandered in and exclaimed, "Are you done sewing YET!?!?"
There's a couple of yards of Olaf fabric waiting in the craft room. I can't wait to make those bags!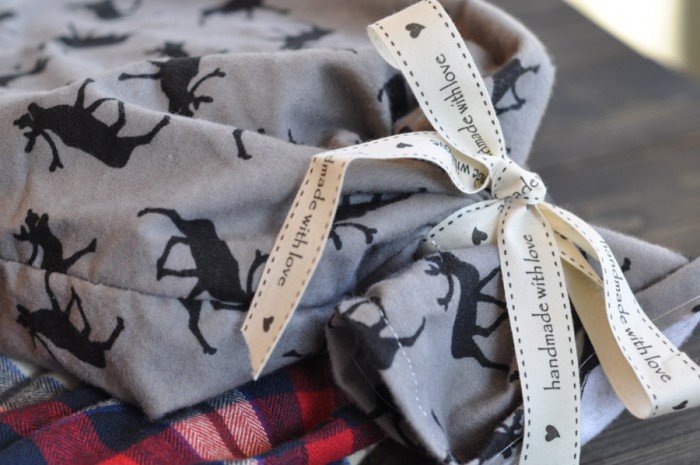 This Handmade with Love ribbon is perfect for my handmade gifts – which will be a-plenty this Christmas. I might also cut out a few White Elephants and put them on bags for those "you didn't know you wanted it" gifts.
And while it may seem like a large investment of time – making reusable Christmas bags during the season where you're already bankrupt on time, but pays off in spades.
Not only is there no huge obnoxious garbage bag of gift wrap on Christmas morning, but it's easy to wrap gifts. You slip the present in the bag, tie the ribbon, and move on!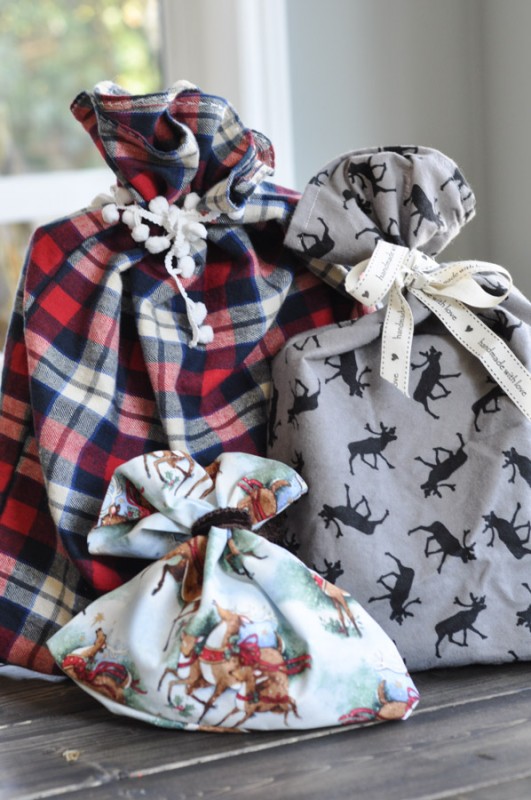 I'll share pictures of the Olaf bags once I finish them. But right now, I'm really excited about these simple little bags. They not only carry on a tradition that we had in our family for years, but they're something that we can carry on for Christmases to come!
But before you go off and buy a couple of yards of Olaf fabric, check out the beautiful handiwork of these amazing bloggers. Don't their gift-wrapping skills inspire?
See what they've been up to this month!