As many of my friends – and Mr. Suburble's eye rolls – will attest to, I have a teensy little obsession with The Mindy Project. I fell in love with Mindy Kaling when she was Kelly Kapoor on The Office. Then I read her autobiography. And THEN she got her own show, The Mindy Project, which is just the most frigging hilarious thing ever.
I'm serious. I've watched the whole series – twice! – on Netflix. After cajoling, prodding and making pleading eyes, I've finally convinced Mr. Suburble to watch it with me. This means that we will either strengthen our bond by laughing over Mindy's one-liners, or if he hates the show…. wellll….. I don't know what will happen. And seeing that his television diet consists mainly of reality shows taking place in Alaska… I should be worried.
But aside from Mindy Kaling's incredible writing and producing of her show, she's also got an amazing set. Half the time I'm watching the show, I'm ogling the decor of her apartment and office.
I did some research and realized that I'm not alone in my "Dr. Mindy Lahiri-decor-love" (Dr. Lahiri is her character, a witty ob/gyn in the wilds of Manhattan). I'm going to share some of my favourite parts of her decor, and where I would find the knock-offs/wanna-bes. I might not have Mindy's rapier wit, but I might be able to have her lamp.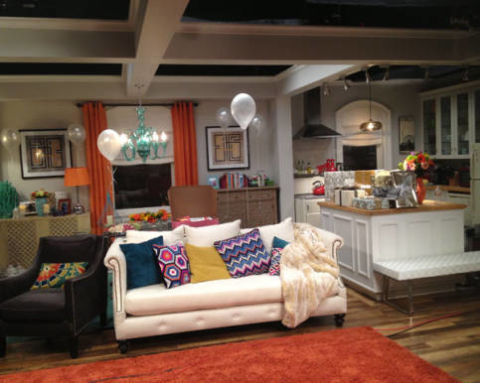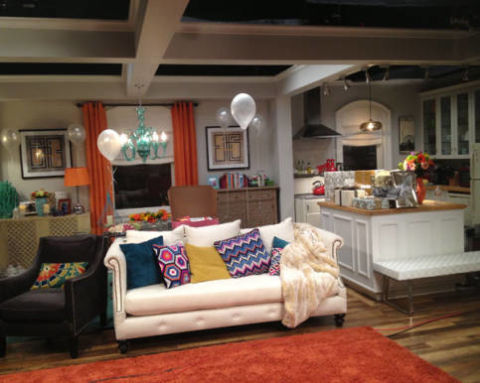 Mindy's apartment is bright and colourful – but isn't over-the-top with its flashiness. Her couch features a crocheted-afghan-inspired pillow, along with various other throw cushions. The colour teal is what brings everything together. A green glass chandelier hangs over the dining room table, and her couches are gorgeous. But a white tufted love seat? Too fancy for this girl. My kids would trash that in about two seconds flat.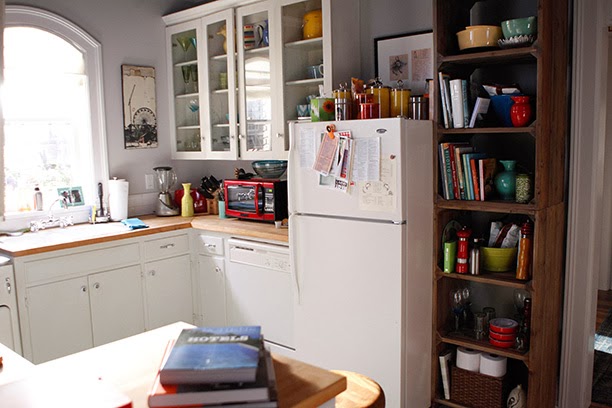 Mindy's kitchen is simple. While it's a spacious Manhattan apartment, the kitchen remains true to her character and is pretty basic. Mindy Lahiri eats apple pies from the vending machine, so cuisine is hardly her focus.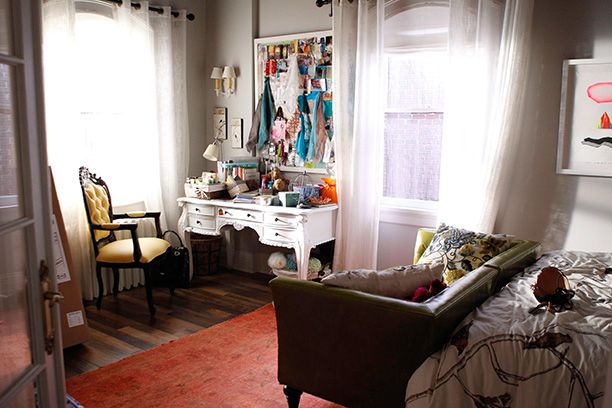 In the bedroom, the dressing table is a painted antique desk paired with a Victorian chair upholstered in yellow. I love how Mindy's scarves become a part of the wall decor by being hung on a large bulletin board.
The bedding in the picture – which changes throughout the series – is also a favourite of mine, and is very feminine. It's Dwell Studio's Chinoiserie.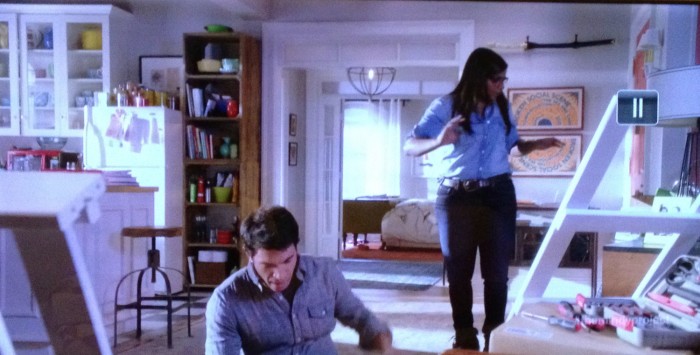 Yeah. Maybe I screen-shotted this whilst Netflix was playing.
And maybe that is a pause button on the right hand side of the screen. Sigh. There aren't many shots of Mindy's apartment on the interwebs.
I love Mindy's Broken Social Scene poster, as well as her Restoration Hardware-esque light fixture in her hallway, and the industrial bar stools in the kitchen.
And yeah, Danny Castellano is pretty easy on the eyes, too, if you like that brusque-super-fit-kind-of-an-emotional-robot guy.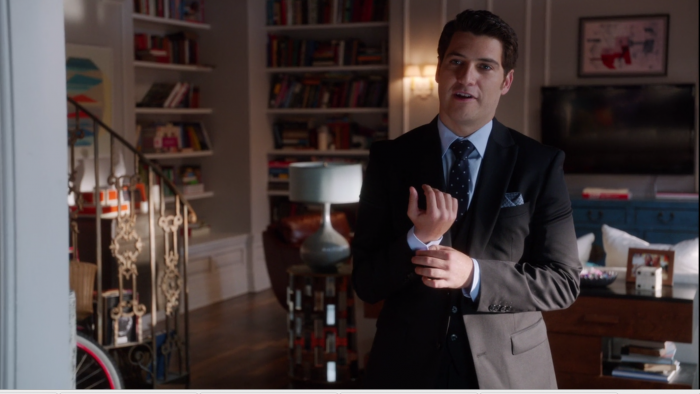 Despite the dapper Peter Prentice in this scene, I'm also loving her ultra-sleek lamp, the spiral staircase-to-nowhere (she uses it like a bookcase) and her dark blue sideboard.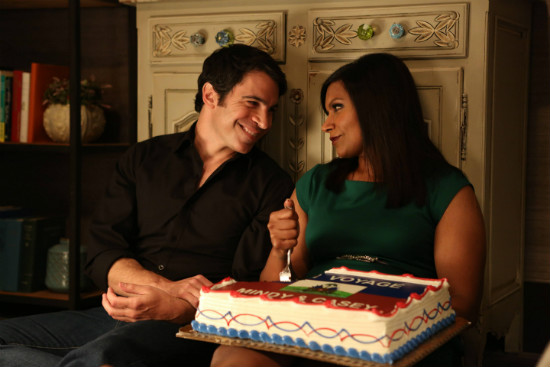 And while this isn't in Mindy's apartment – this is in Danny's bedroom – I love how the mis-matched knobs are used where pulls were previously put. I've seen this done in various not-awesome ways on other furniture pieces, but the way that each knob is completely different on this piece just works.
So yeah. I think I'm done gushing over this gal and her well-designed faux-living quarters. But I think that the use of colour and clutter in this apartment not only makes it seem real, but also a testament to personality within a space.
My house is a LOT of greys. And I love grey. But these punches of colour are inspiring me to ensure that I have that same bit of fun.
I already have a piece in mind for mis-matched glass knobs. It's sitting in my garage right this second.
And because I love the internet and window-shopping, I created a little mood board for my inner-Mindy.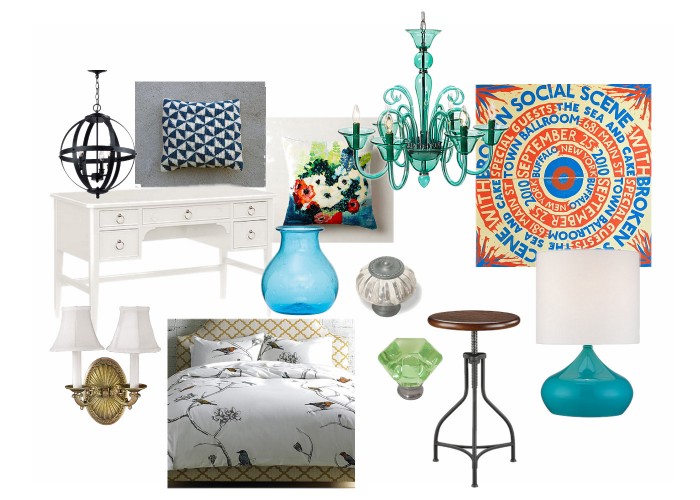 Where to find:
Orb Pendant
Crocheted Pillow
White Desk/Make-up station
Blue Glass Vase
Gold Wall Sconce
In Bloom Throw Pillow
Green Glass Chandelier
Chinoiserie Bedding
Broken Social Scene Poster
Metal Stool with Wooden Seat
Crystal Knobs
Teal Droplet Lamps

If you don't already watch the show – you should. Then you'll know why it's so important to have an inner warrior.
And this will make much more sense. (This is for you, Lindsay):
Okay. Gushing over.
But don't you want that chandelier now?