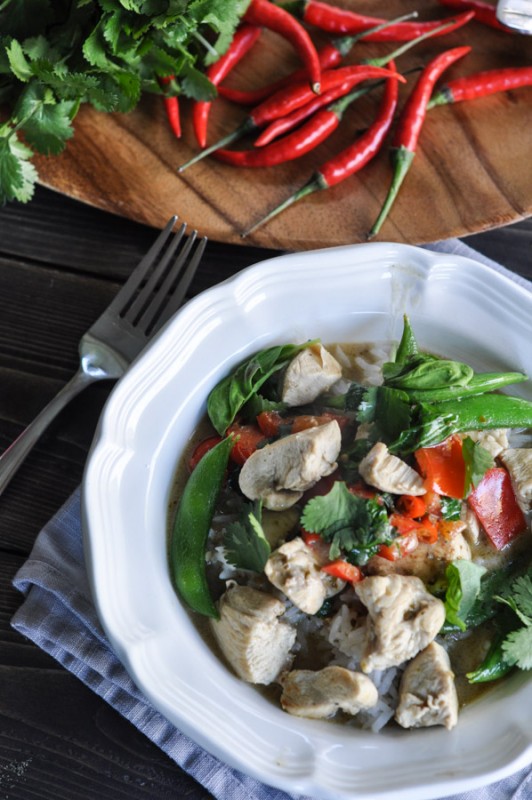 When we first started dating, Mr. Suburble was afraid of spicy foods.
I would suggest that we try Thai or Indian, and he would show the whites of his eyes. He liked what he knew: steak; potatoes; french fries; broccoli and cheese.
But over the years… after realizing the deliciousness of creamy curries and spicy meat dishes, Mr. Suburble surpasses me in the spice department. He won't settle for a mild dish. When my lips are burning and I'm pouring myself a glass of milk, he's happily digging into his plate for more.
I envy those tastebuds. I am a "medium" spice. He borders on "hot".
All of the jokes are crashing into my brain right now. Choose your best and insert it here.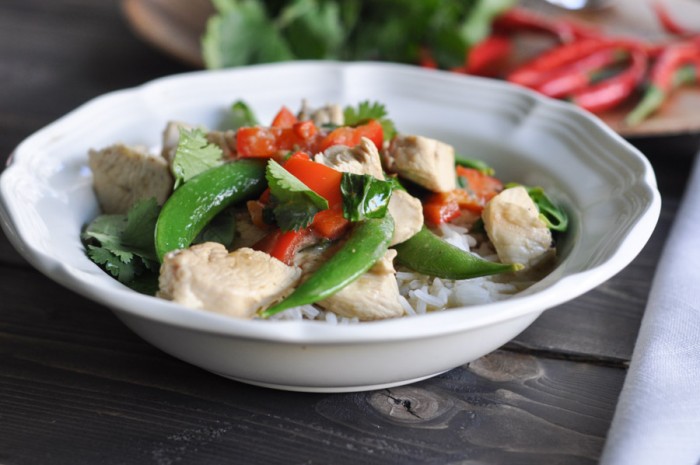 This curry dish uses light coconut milk, and Blue Dragon green curry paste. The curry paste has a "three pepper" rating, which means that it's hot. If you like a milder sauce, just cut down the amount of paste or red chilis. They both add heat to the dish.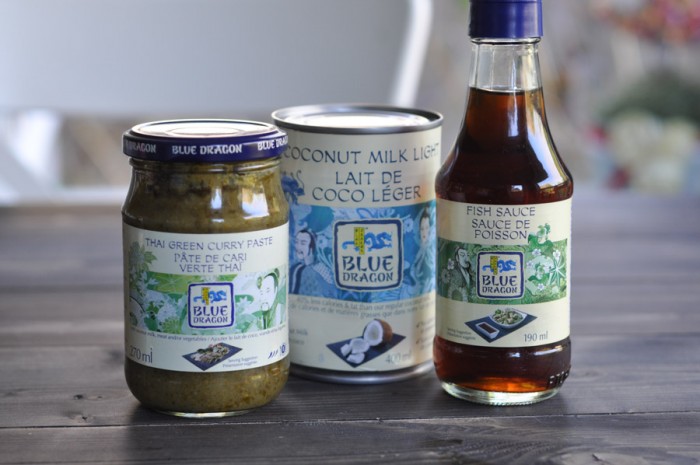 I used light Blue Dragon Coconut Milk mainly because that's what was in my cupboard, but regular coconut milk would be just as lovely. The original recipe that I modified called for both fish and shrimp sauce, but I think that a tbsp of Blue Dragon fish sauce did the trick.
Thai Green Curry Chicken and Rice
Ingredients
1/4 cup Blue Dragon Green Curry Paste
3 boneless skinless chicken breasts, cubed
1 can of Blue Dragon Light Coconut Milk
1 tbsp Blue Dragon Fish Sauce
1 cup of snap peas
1 cup of red peppers, diced
2 Thai red chilis, diced
1 cup fresh basil leaves
1/2 cup fresh cilantro
1 tbsp lime juice
Instructions
Heat the green curry paste in a saucepan over medium heat
Add the chicken and sautee for 3-4 minutes, until all sides are browned
Add coconut milk and fish sauce; stir and then let simmer for 8-10 minutes (until chicken is cooked through)
Add peas, peppers and chilis. Cook for 3-4 minutes more
Add lime juice, basil and cilantro and stir
Serve with rice and garnish with a few fresh cilantro springs
https://www.suburble.com/2015/02/thai-green-curry-chicken-rice.html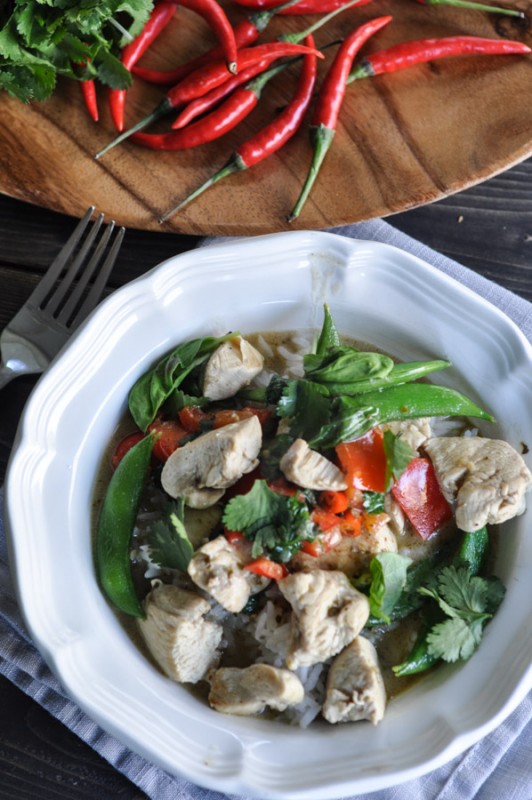 This recipe was a hit with both myself and Mr. Suburble. The coconut taste was there, but not overpowering, and the spice was just right.
I thought that the addition of fresh cilantro – because I love cilantro – was perfect as a garnish. Always more cilantro. There can't ever be too much.
If you're looking for more spice for your dinner table, check out The Bamboo Room. Or visit Blue Dragon on Facebook or Twitter.
I am part of the Blue Dragon Canada ambassador program and I receive special perks as part of my affiliation with this group. The opinions on this blog are my own.
** This recipe is modified from the Green Curry Chicken Dish found in Style At Home Canada, October 2014