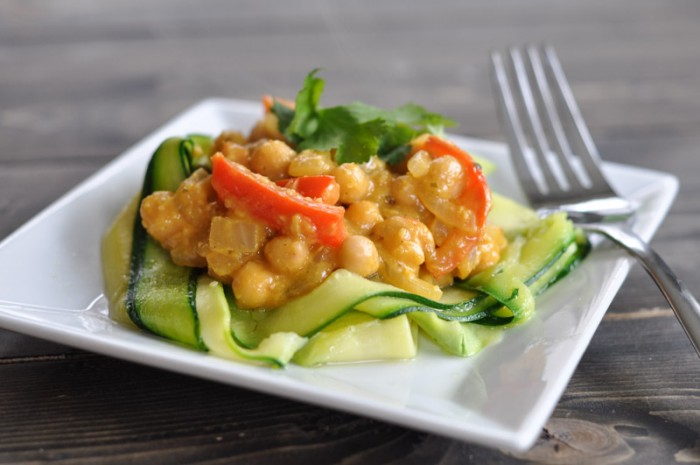 This month, as part of my partnership with Patak's cooking sauces, I was challenged to make a gluten-free dish and share it with my readers. Gluten free living is something that I've been very aware of, but haven't really had to work within its constraints – until recently.
In the past couple of months, I've met and befriended a neighbour whom has to live a gluten-free lifestyle. She keeps a separate toaster, separate peanut butter and jam, and separate foods from her family. Cross-contamination is a very real issue for her. And when we get together, I'm instantly plunged into that section of the grocery store – that small, but growing, gluten free section.
But many gluten-free foods live outside of that tiny little haunt of specialty products. Every single Canadian Patak's product is 100% gluten free. When a company can claim that, it means that there isn't any worry of cross-contamination in the products' creation. You're safe.
I decided to whip up a dish that I've been meaning to experiment with – zucchini noodles. I've had some friends rave about them, but due to Mr. Suburble's raised eyebrow, I stayed away – until now.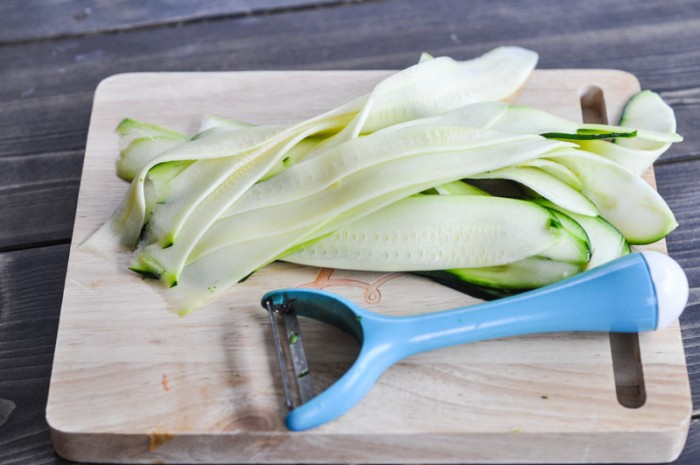 Most zucchini-ribbon experts on the internet call for a spiralizer to make zucchini noodles. I don't have one of those (gasp! Get thee to Amazon, you crazy lady!), so I used my trusty Y peeler.
It worked pretty well; I think I can live without a spiralizer for now.

Because of how thin the zucchini ribbons are, you have to watch them carefully in the frying pan. I'd say that mine were done within only a few minutes.
Chickpea Korma with Zucchini Noodles – Gluten Free
Ingredients
1 jar Patak's Korma Cooking Sauce
2 tsp Olive Oil (or Avocado Oil)
1 red pepper
1 small cooking onion
1 can of chickpeas
3 medium zucchinis, ribboned
Salt and Pepper
Cilantro (optional)
Instructions
In a frying pan, heat up 1 tsp of oil
Add onion, red pepper and chick peas - cook until onions are translucent and pepper and chickpeas are slightly softened
Add jar of Korma sauce and let simmer for 15 minutes on low
In a separate frying pan, heat 1 tsp of oil
Add zucchini ribbons and season with salt and pepper
Lightly sautee until softened, but not falling apart - approximately 3-5 minutes
Plate with zucchini ribbons first on the plate, then topped with the korma mixture. Add cilantro for garnish.
https://www.suburble.com/2015/03/chickpea-korma-with-zucchini-noodles-gluten-free.html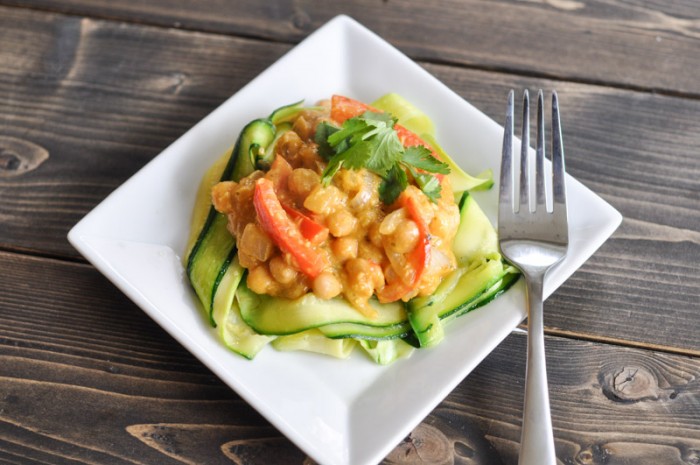 This dish was very quickly devoured. I can't believe how tasty it was. Of course, I garnished with cilantro. I can't help myself.
I should just grow the stuff this year.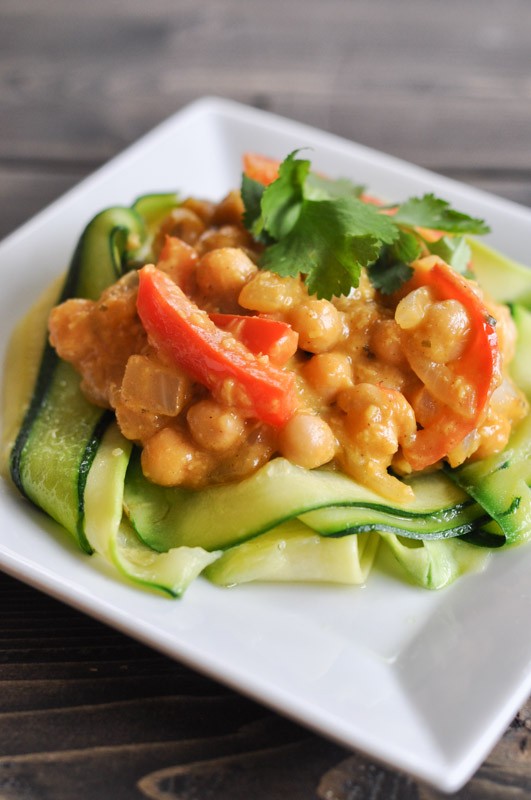 If you're looking for a quick and easy gluten-free meal, grab a jar of Patak's Korma sauce and get cooking!! It's so colourful, even my zucchini-fearing Mr. Suburble wandered over to take a closer look.
Find many other great Indian recipes on Patak's Good Korma – a collection of fabulous dishes.
I am part of the Patak's Canada ambassador program and I receive special perks as part of my affiliation with this group. The opinions on this blog are my own.