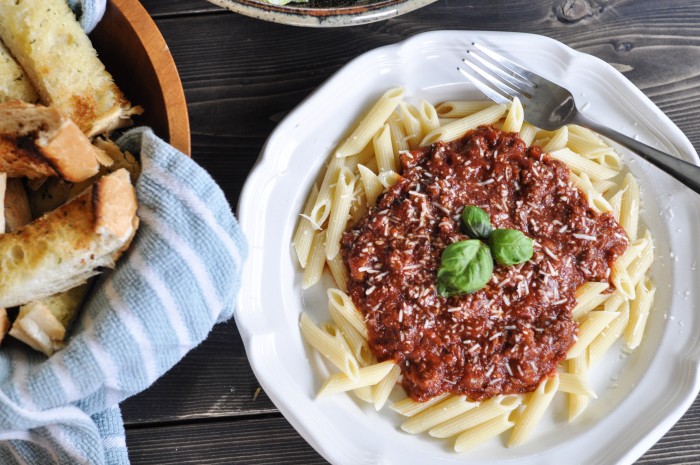 Spaghetti is a go-to meal in our family. There's something for everyone on the table, whether it's the main, the sides, or the delicious garlicky bread that goes with.
It's carbs with tomatoes. How can you turn your nose up at it?
I got the chance to try out a slow-cooker spaghetti sauce using Campbell's soups and crushed tomatoes. I was pleasantly surprised with how nice the taste was. And I loved that I could pop the sauce into the slow cooker in the morning and let it simmer all day, without worrying about burning the sauce or forgetting to stir it.
I'm having a love affair with basil these days – ever since I brought a pot of it home from the grocery store and agreed not to die immediately – and the addition of the Tomato Basil and Oregano soup in this recipe is a good one.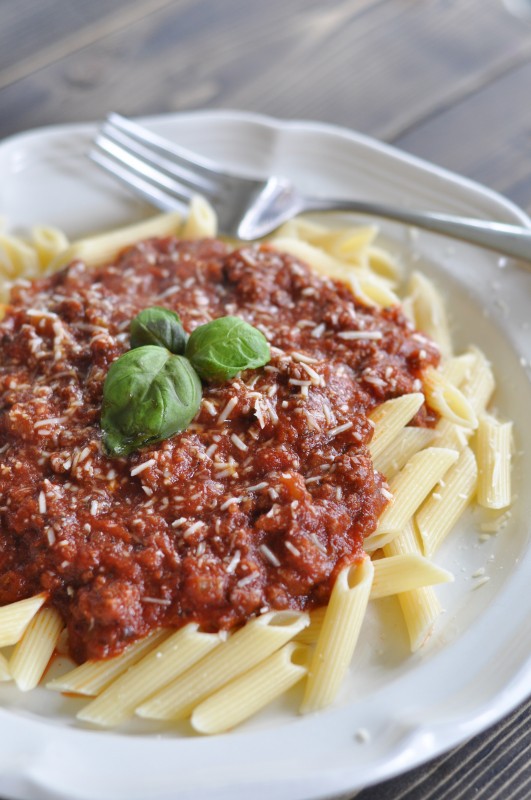 Perfect for those nights when you're out until dinner time (or playing in the yard and just don't want to come inside), this recipe is a hit.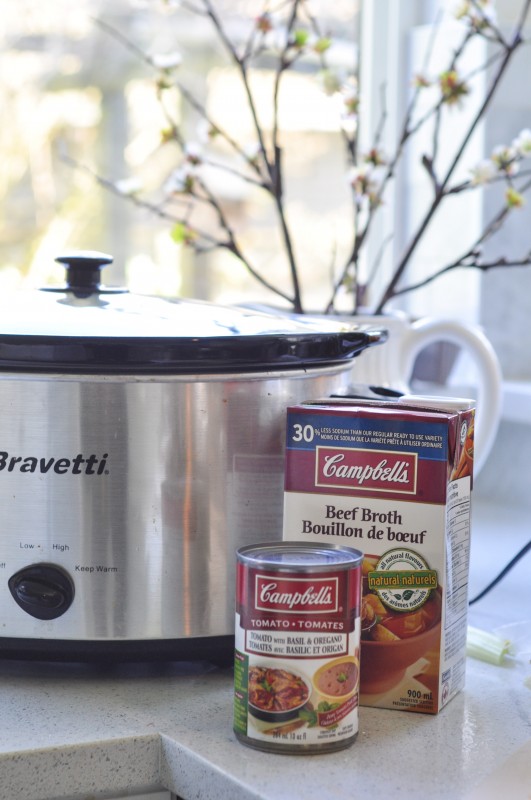 Slow Cooker Spaghetti Sauce
Ingredients
1 lb (454 g) lean ground beef
1 medium onion, chopped
1 carrot, chopped
1 rib celery, chopped
1 garlic cloves, chopped
1 can (284 mL) CAMPBELL'S® Condensed Tomato with Basil and Oregano Soup
¼ cup (60 mL) tomato paste
1 can (796 mL) crushed tomatoes
1 cup (250 ml) CAMPBELL'S® Ready to Use 30% Less Sodium Beef Broth
1 tbsp (15 mL) dried oregano
¼ tsp (1 mL) ground black pepper
1 bay leaf
parmesan cheese, grated, if desired
Instructions
1. In a large skillet brown ground beef over medium-high heat until there is no visible pink. Add onions, carrots, celery and garlic and cook for a further 3 to 5 minutes or until vegetables are soft.
2. Stir in soup and tomato paste until combined. Transfer contents of pan to slow cooker. Add remaining ingredients (crushed tomatoes, broth, oregano, black pepper and bay leaf) to slow cooker, cover, turn slow cooker to low setting and cook for 6 to 8 hours. Stir to combine, remove the bay leaf and serve with parmesan cheese, if desired.
https://www.suburble.com/2015/03/slow-cooker-spaghetti-sauce.html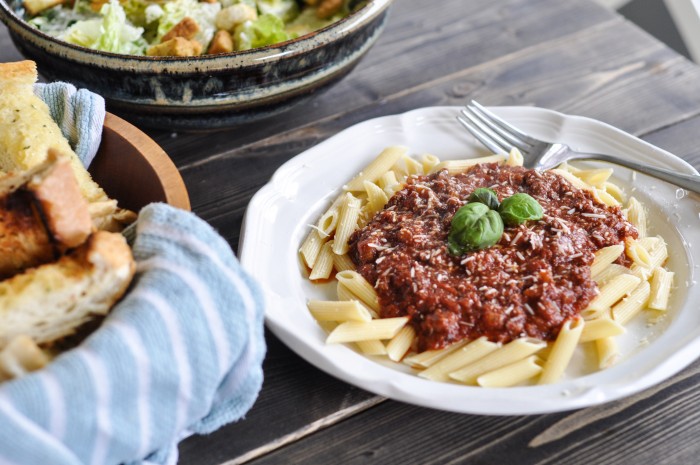 If you're looking to dress up the recipe, add some italian sausage to the sauce. It's Mr. Suburble's favourite.
If you're looking for more simple to make, easy to love recipes that your family will agree upon, check out Campbell's Soup for inspiration! Or better yet, there is a new mobile app available to peruse while you're making your shopping list!
Disclosure: I am part of the Campbell Company of Canada Ambassador program with Mom Central Canada and I receive special perks as part of my affiliation with this group. The opinions on this blog are my own.