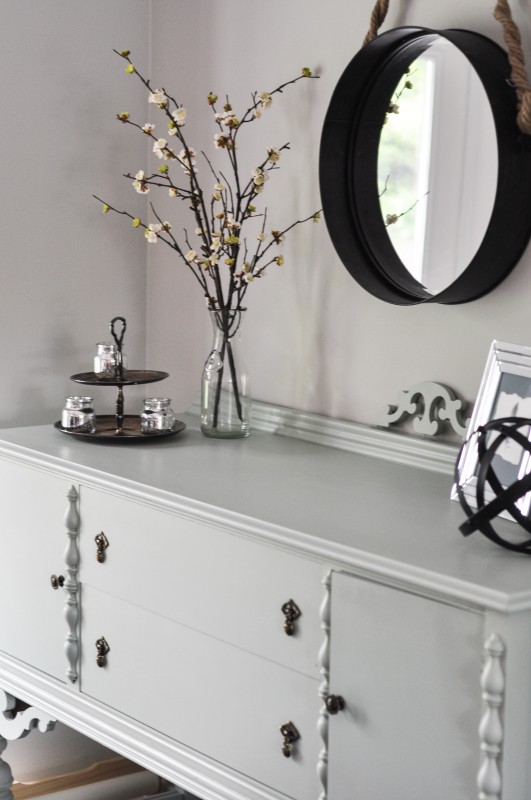 When we first moved into our house, I had a vision for our dining room. It had a little nook – a punch-out, some might call it – that was begging for a piece of furniture. As our last house only had an eat-in kitchen, and no room for a hutch or a buffet, this was the first opportunity I had to scout out a piece for a dining room.
I was a diligent little Craigslister. I scoured the ads every day, searching for the perfect piece to take on.
And then, I found it: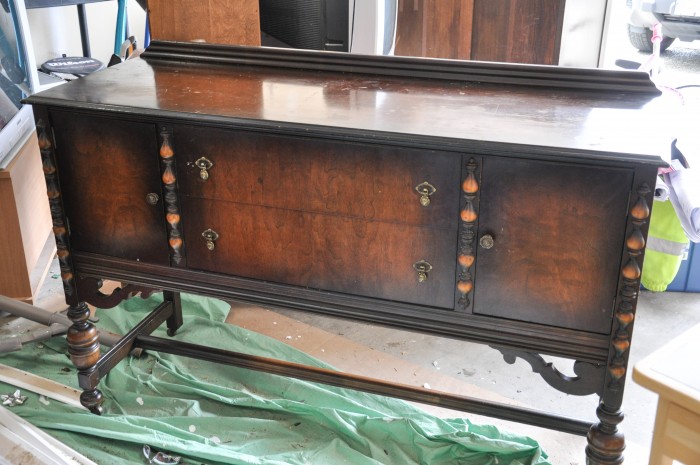 It lived about an hour away, and had only been advertised for sale for about two hours.
It also came with a china cabinet and a table and chairs.
I tried to negotiate with the seller. Would she let me take the buffet and cabinet, and leave the table and chairs? And whether she was shrewd businesswoman – or just had a great set of furniture – she said, no, they stay together, and there are people who are willing to pick it up right away so hurry up and make up your mind, girl.
So I caved. And Mr. Suburble – sweet man that he is – drove an hour and loaded up a borrowed flat deck full of furniture: half of it we didn't need.
Our garage was chaos, and Mr. Suburble, despite his best efforts, was doing a not-very-good-job of being patient with me. Finally, we sold off the table and chairs, and I had the room to start working.
I've been working with Fusion paint – an amazing Canadian company run by the fabulous Jennylyn Pringle (I met her during a junking trip a ways back, if you remember) – and the colour I chose couldn't have been more perfect.
This is Inglenook.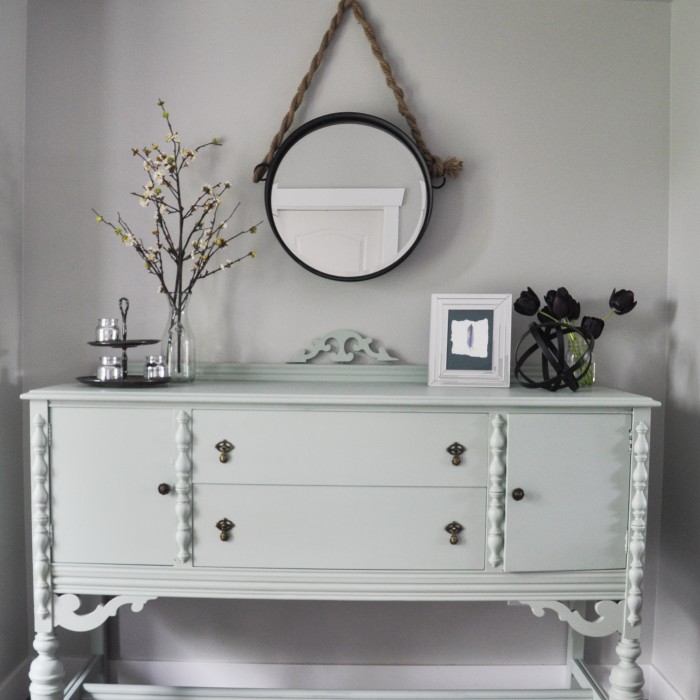 It's the perfect grey-green colour, and it completely brightened up this piece.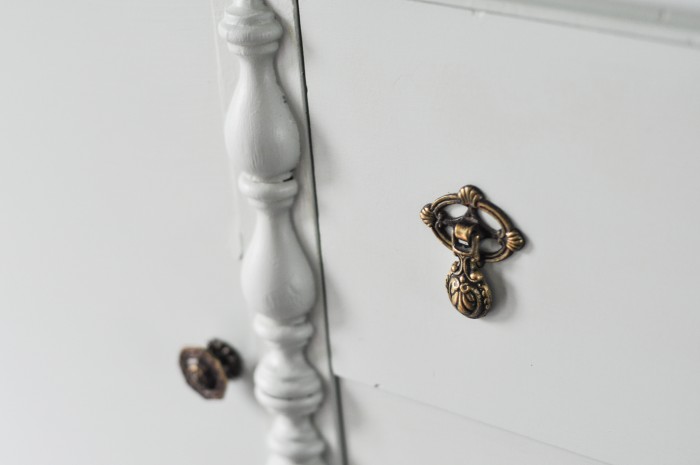 I kept the original hardware. I think that the dark brass finish is a lovely compliment to the colour. The detailing of the pulls is perfect when partnered with the simplicity of the piece.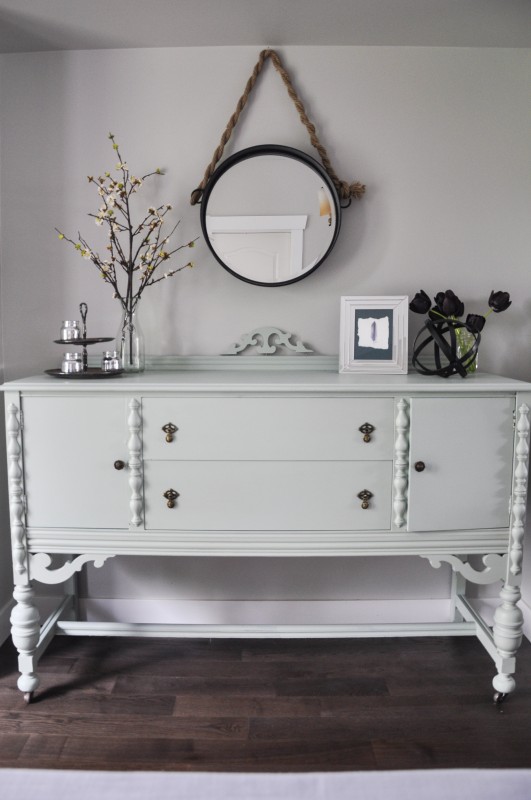 I lightly sanded the piece with my palm sander, and then applied two coats of Inglenook to the buffet. Even though Fusion doesn't need a topcoat, I opted to go with the beeswax finish – just because my kids are going to be bopping around this piece.
And until a child has painted a piece of furniture herself, she doesn't understand the labour of love behind it.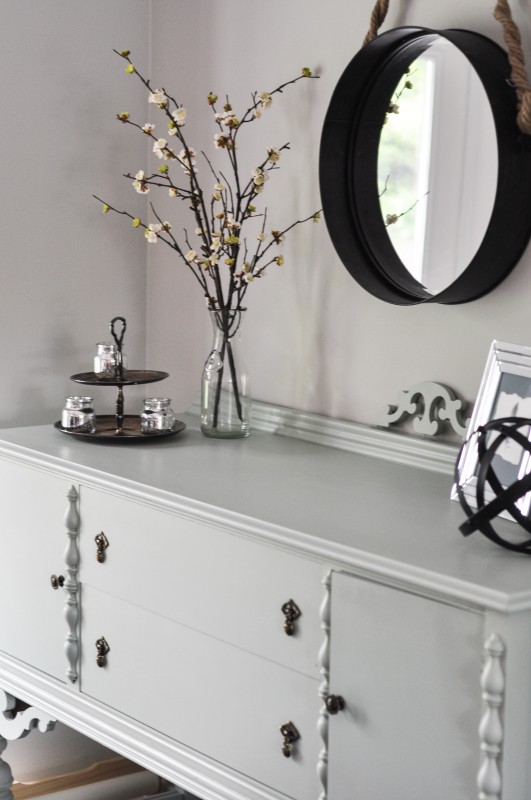 It was sheer coincidence that on the day that I finished this piece, I wandered into a local decor store that – sadly – is closing its doors next month. I picked up the picture frame, Restoration Hardware-esque mirror, and the metal ball/orb-thing-a-ma-jig to style the top of the buffet.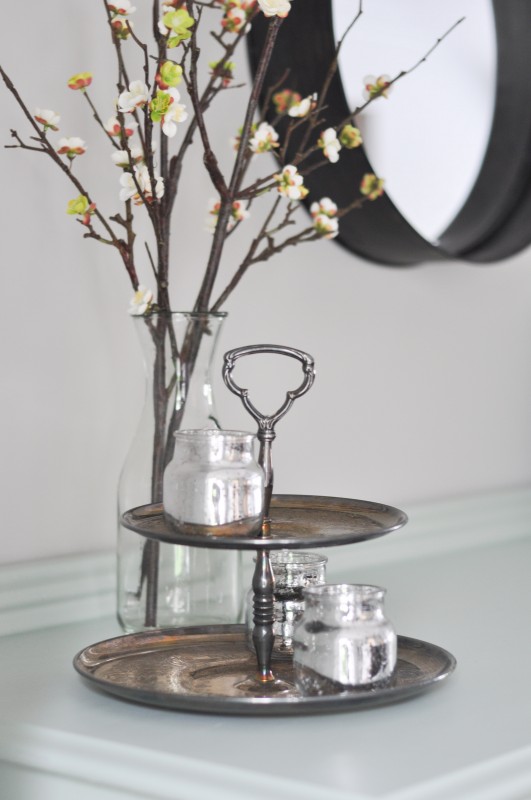 This tiered tray is a thrift store find – it's actually very tarnished brass. I can't bring myself to clean it – I love the patina of it.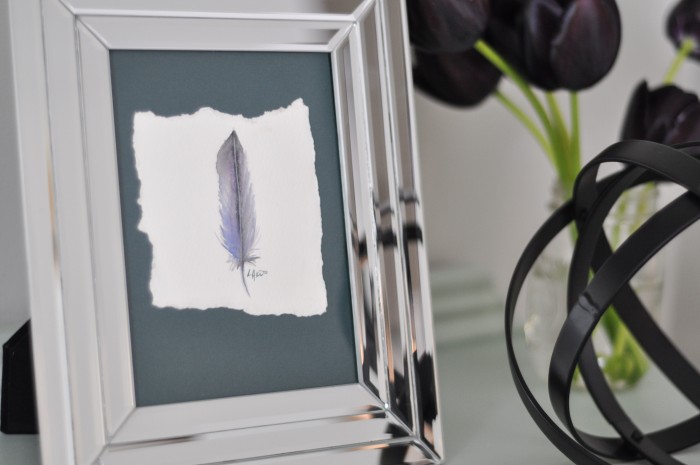 This little feather artwork is a watercolour done by Lucy of Craftberry Bush. She gave this to me when we met at Haven last summer. I am very much in awe of Lucy's talent – from painting to styling to photography – and hope to add some of her artwork to our walls this year.
But until then, this sweet little feather reminds me not only of wonderful people like her – but of some of the incredible opportunities that this dear ol' blog has given to me.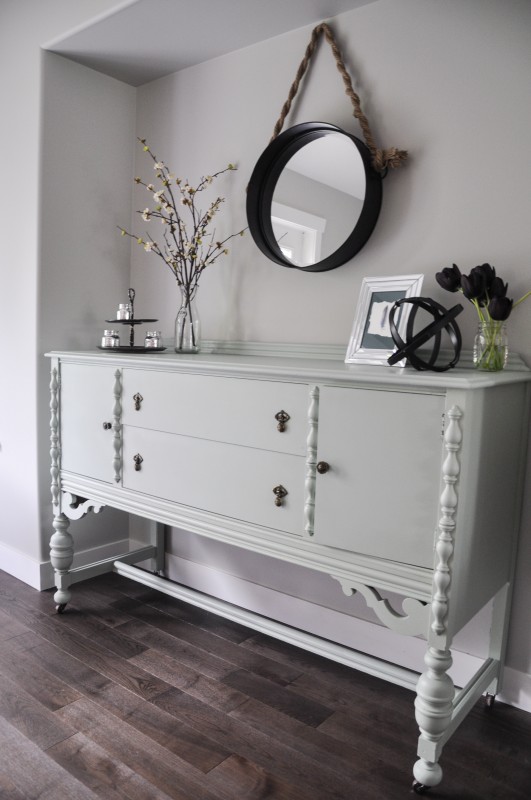 This piece has jump started that itch to "paint all the things!"
… and garage sale season is starting…
Poor Mr. Suburble.