The lovely people at HomeRight have let me play with the Finish Max paint sprayer, and I've fallen in love. Thank you, guys, for giving me even more reasons to save furniture from the curbside!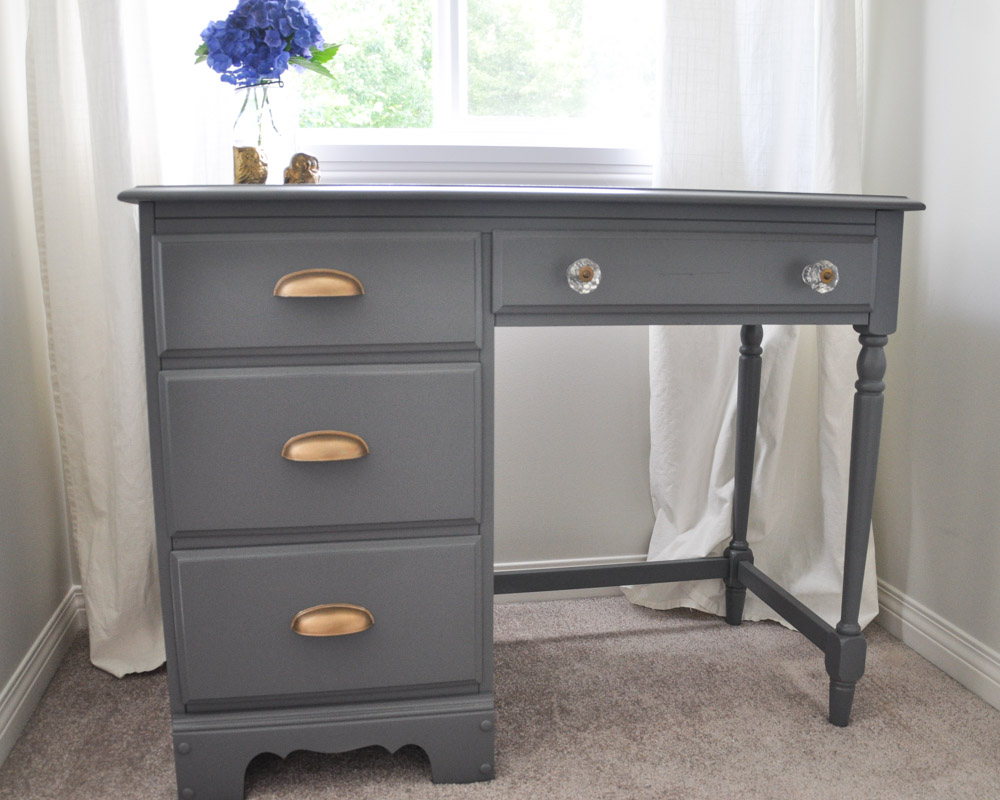 This grey beauty was once not so beautiful. It was actually something reminiscent of the furniture I remembered from my girlfriends' childhood bedrooms.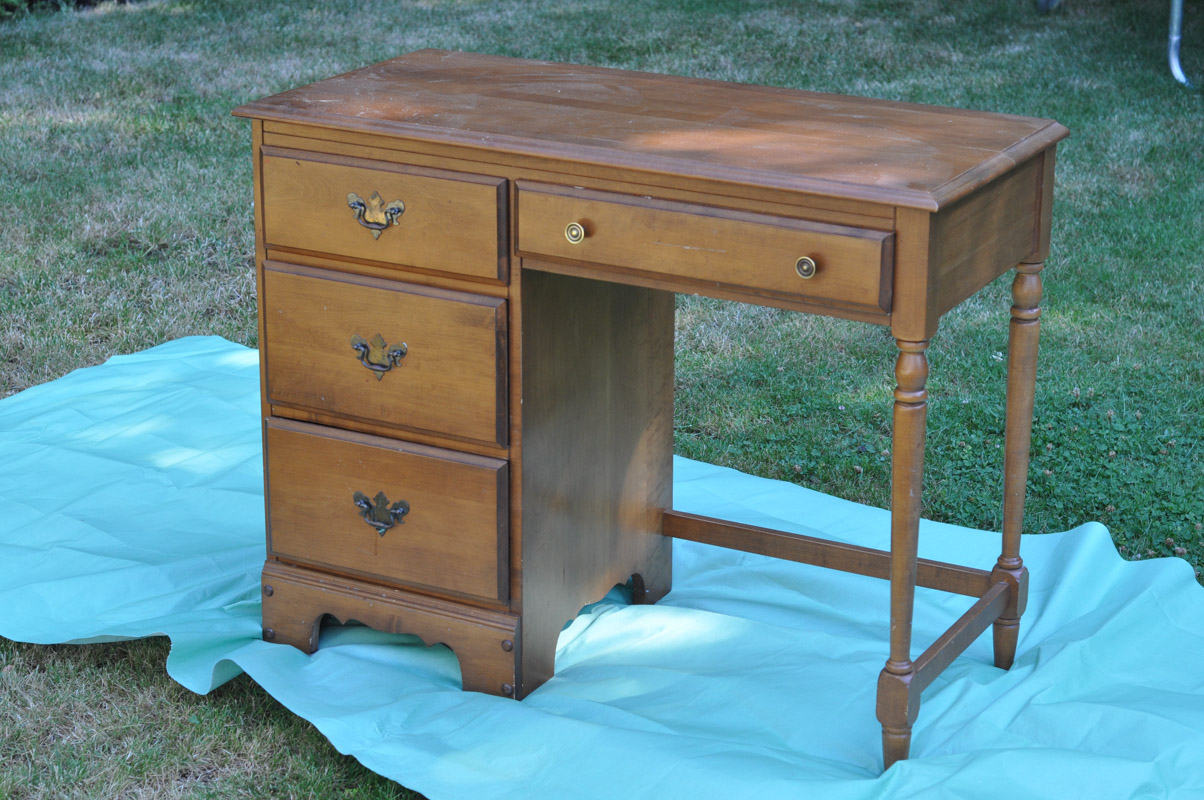 Yep. This is quintessential 12-year-old girls' bedroom furniture. I can already imagine a few stickers plastered on the top of it. There needs to be at least two Lipsmackers and a small spray bottle of The Gap's Grass in the top drawer. And maybe a diary in the bottom one?
I didn't choose this piece for my daughter's room though. I chose it for our master bedroom.
We have a little nook in our master bedroom that I've been thinking would be just perfect for a desk. I often work late into the night on the computer after the kidlets are tucked into bed and the rest of the house is quiet, and it's nice to be upstairs while I do that.
Mr. Suburble is still doing some schoolwork in the evenings (that man, the eternal student), and having a place to sit without distractions of a television or bouncy children makes studying that much smoother.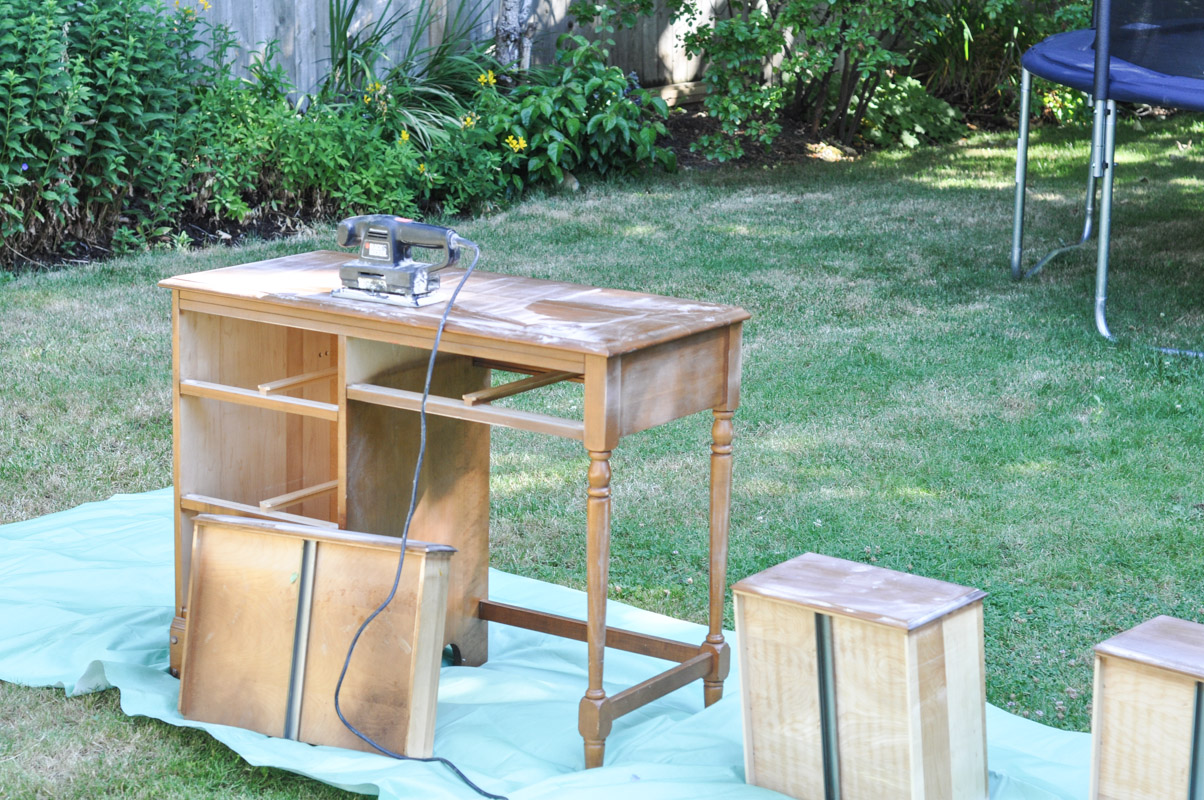 I got right to work.
The desk first got a bit of a back-scratch. I gave it a healthy sand with 180 grit sandpaper and then wiped it down with a damp cloth.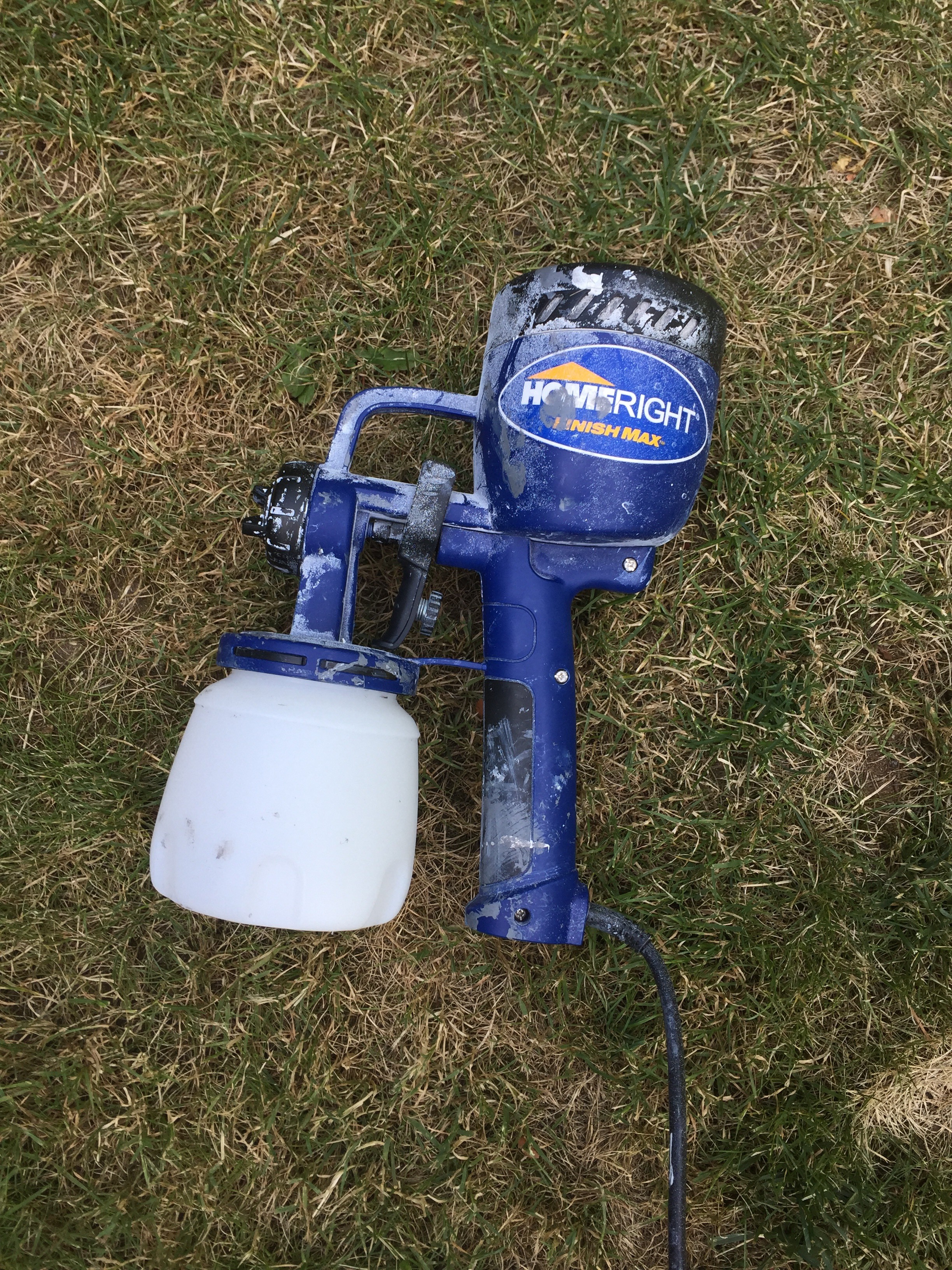 The next step was to break out this little baby: the HomeRight Finish Max. After having painted out the girls' playhouse with this handy little sprayer, I knew that this would make the desk-job quick and painless.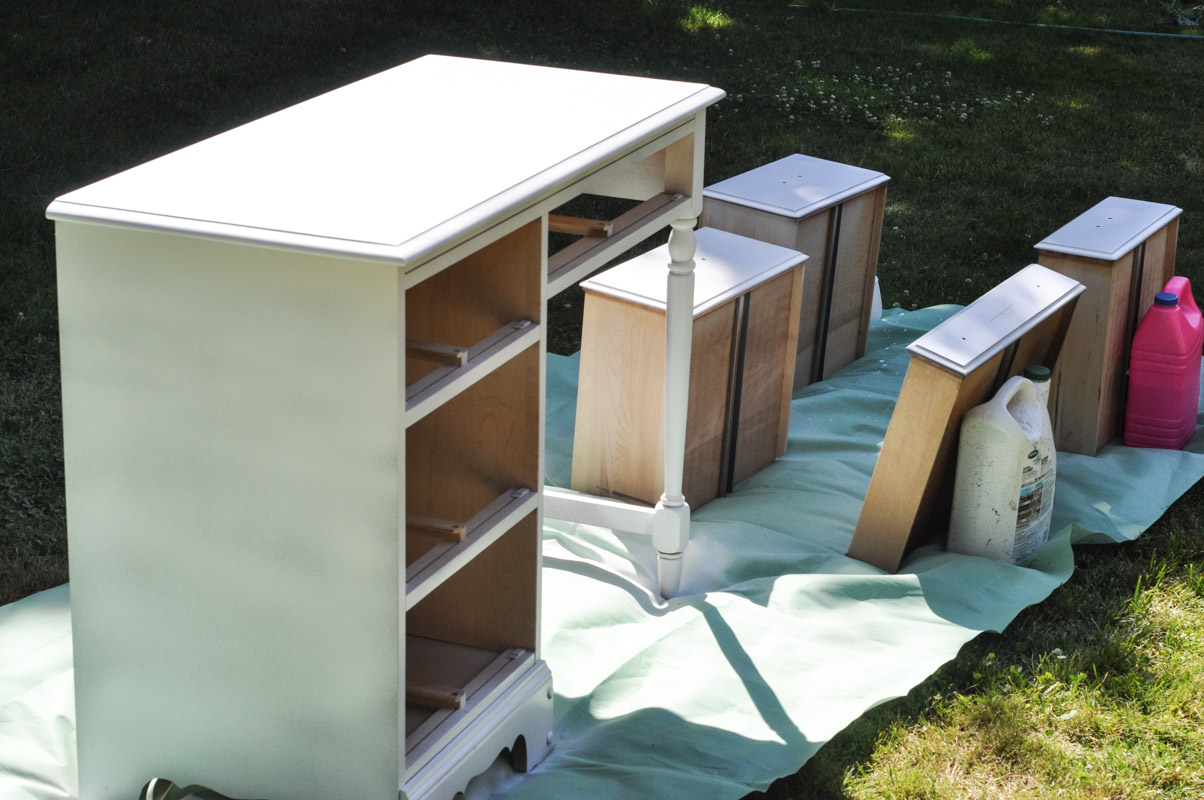 The first coat was of primer. I wasn't sure if the original finish on the desk was going to resist the paint – despite my sanding – but I didn't want to take a chance. I've been burned before.
I followed the directions on the primer and thinned it by only about 10%. It covered nicely and left a good "grabby" finish for the paint.
And then, I got swept up in my life and painting and completely forgot to take a picture of me spraying the grey paint onto the desk. That's what happens when you're using a paint sprayer.
It goes by all too quickly.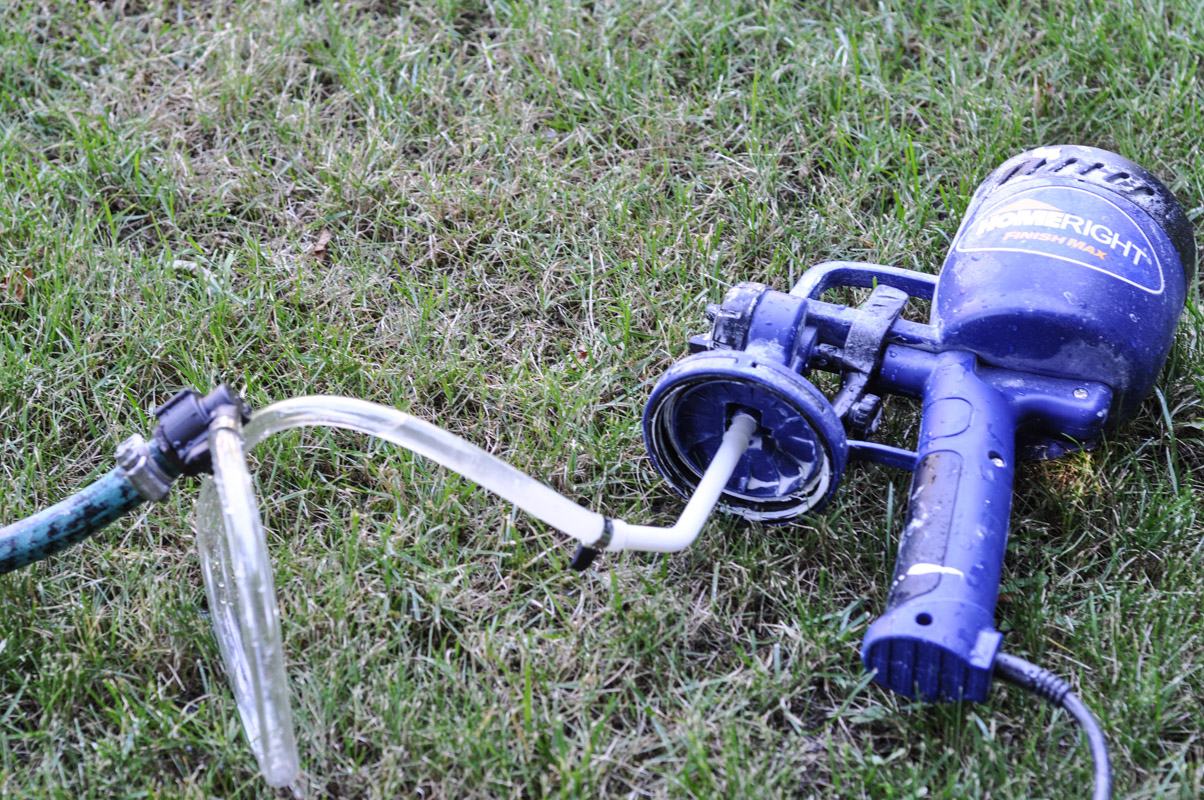 But I did remember to take a picture of cleaning out the paint sprayer between primer and paint. The RapidClean attachment for the sprayer makes short work of the job. I blasted out the primer and cleaned everything up.
Then, using the provided funnel – I thinned out the paint until it matched the suggested consistency. I sprayed two even coats of Behr's Antique Tin onto the desk and drawers.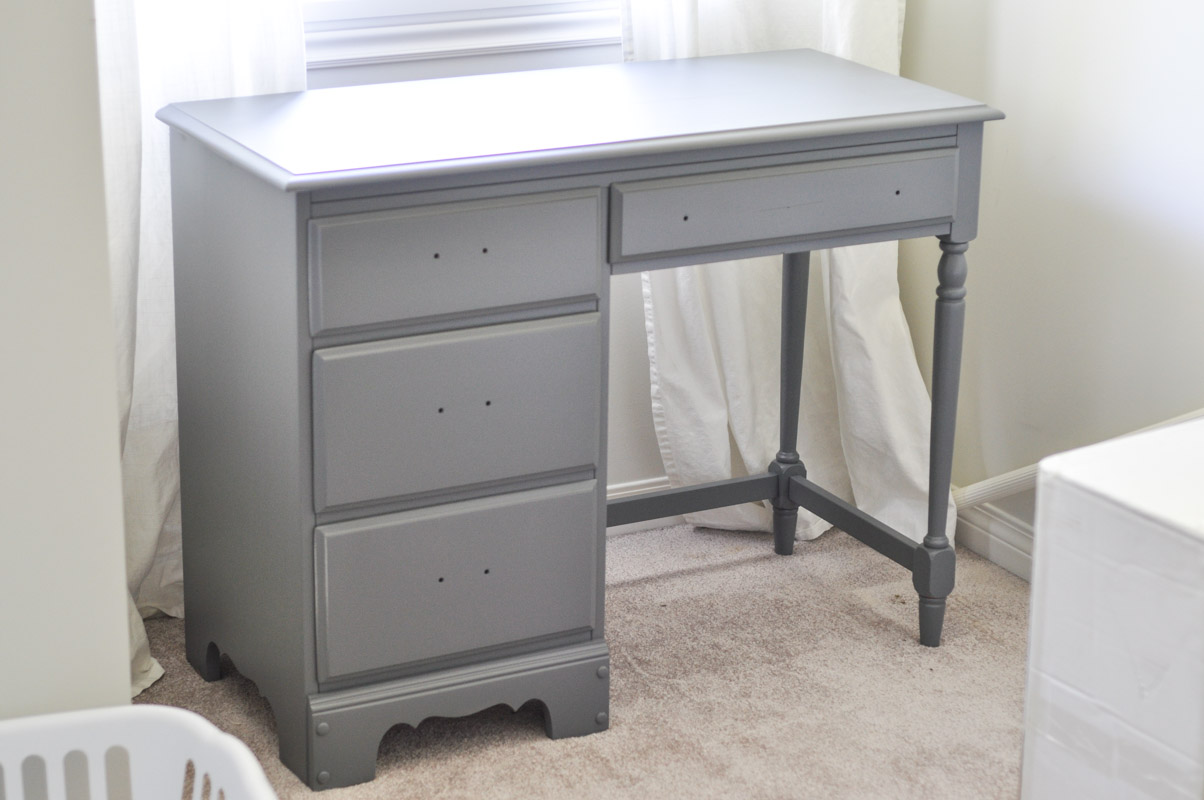 This was the result.
The little desk was already greatly improved. But no outfit is complete without accessories!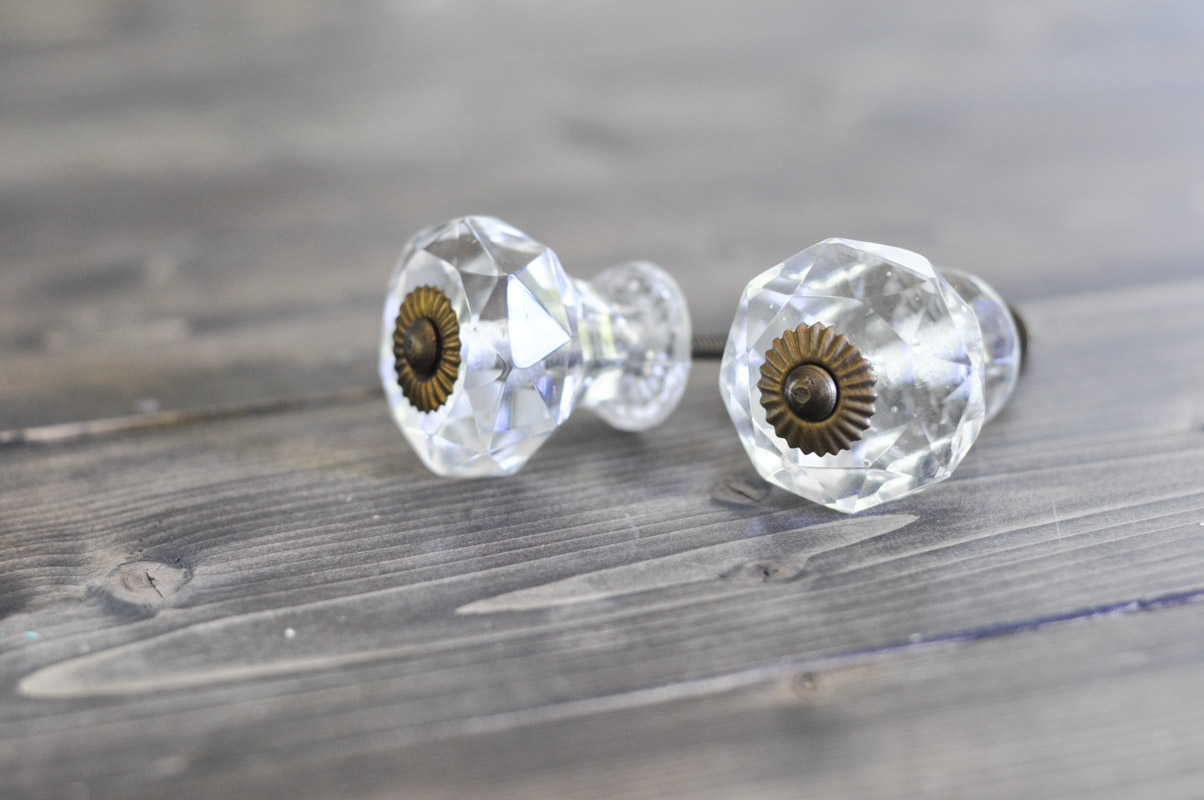 I found these crystal knobs at a little furniture shop in town. They used to live on a green dresser. After walking into the shop and seeing them… then walking past them four times and wishing they could be mine…. I knew I had to ask the shop owner if they could come with me.
And she said yes!
(Lesson learned: don't be afraid to ask!)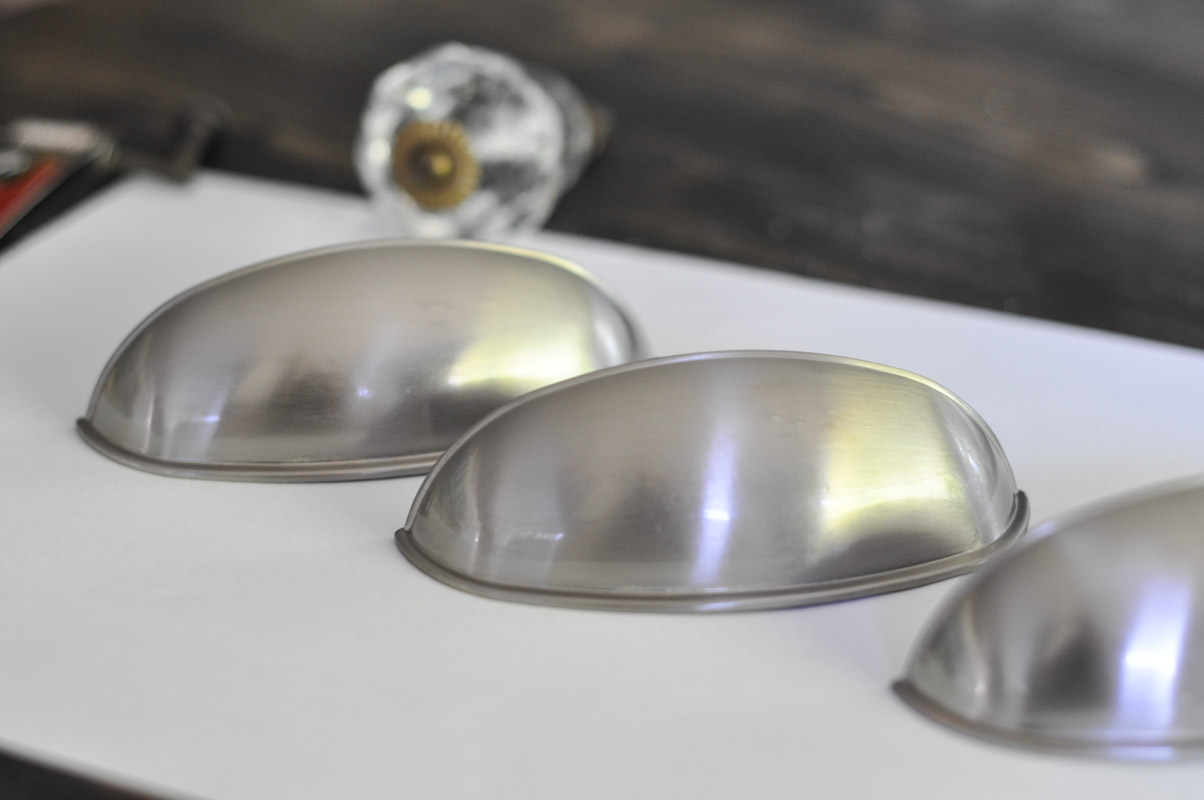 The cup pulls that I already had didn't match the gold accents in the crystal, so I decided to try Rub n' Buff for the first time and give them a new look.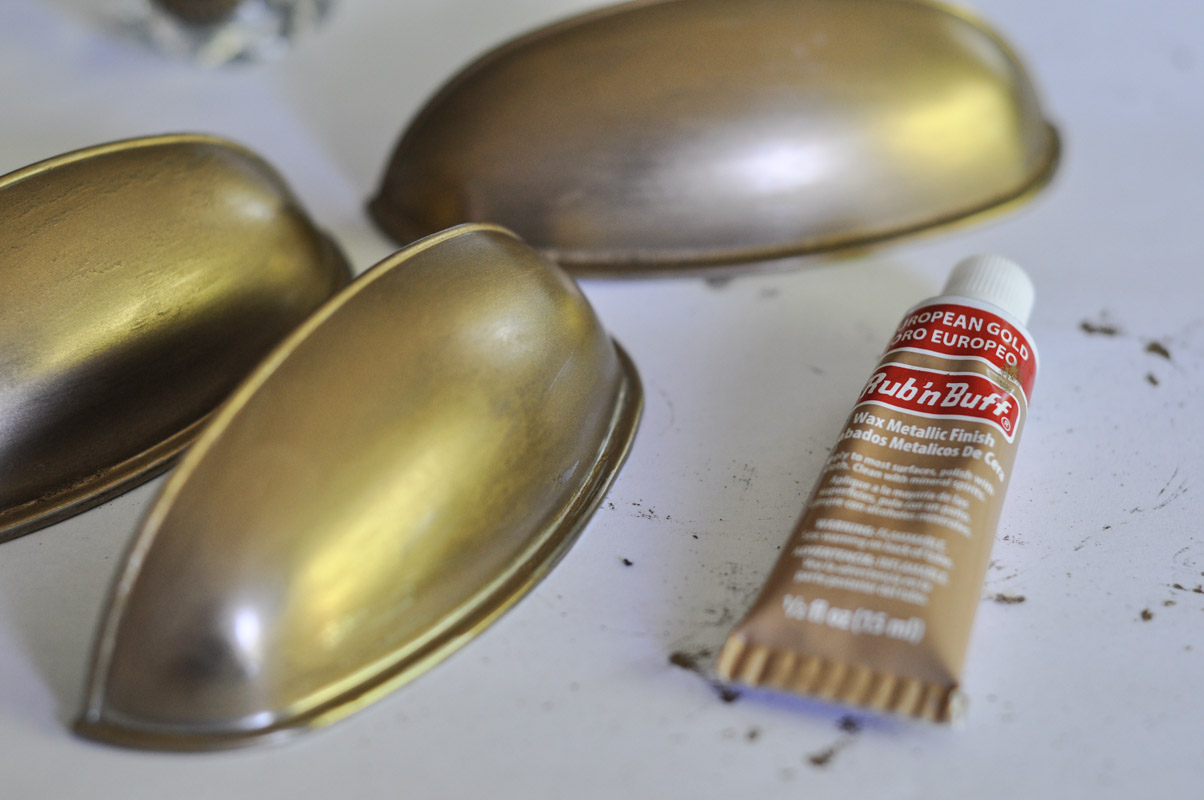 It took me a couple of coats to figure out exactly how to get a smooth surface with Rub n' Buff, but I was pretty impressed with the results. I used my finger to get an even coat, and lightly buffed each cup pull. Once they had sat overnight, they were ready to go onto the desk.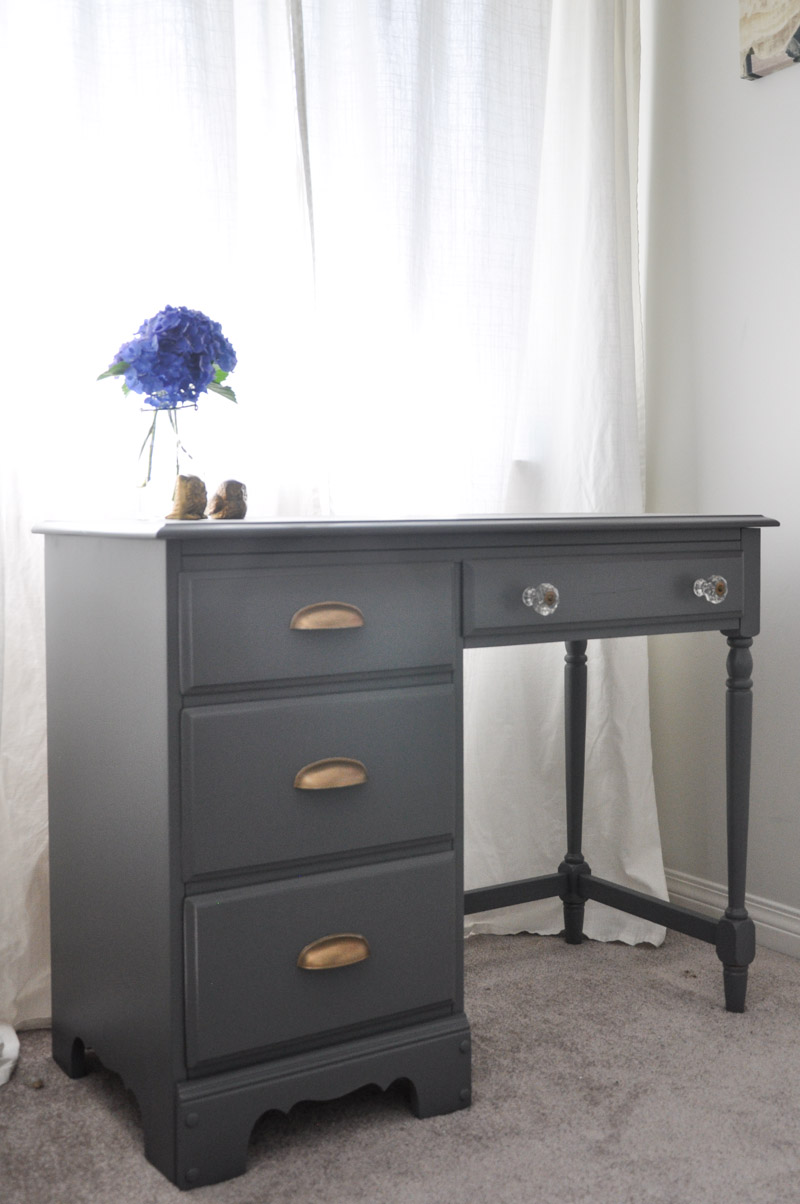 And here she is, in her newly painted and gilded glory!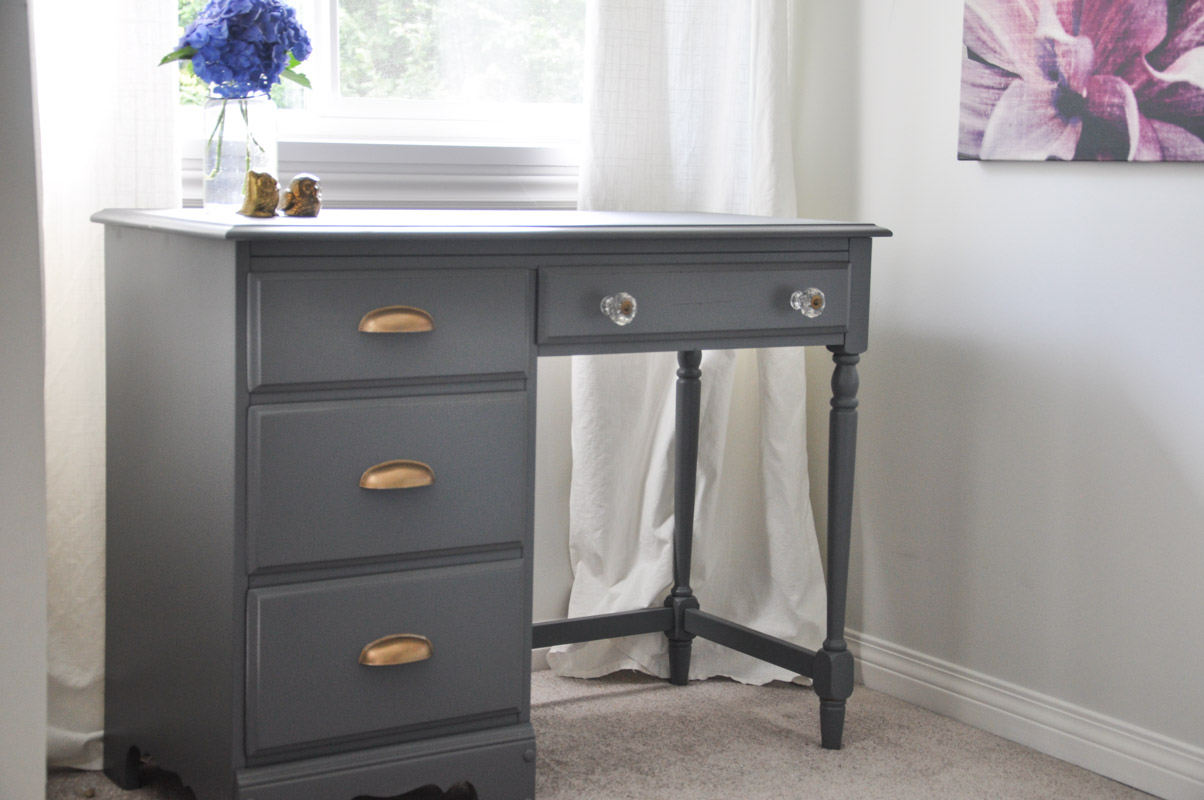 I love the way the colour accents the scrollwork on the legs and how the gold hardware stands out.
So long, drawers full of Crash Test Dummies CDs and unicorn stickers….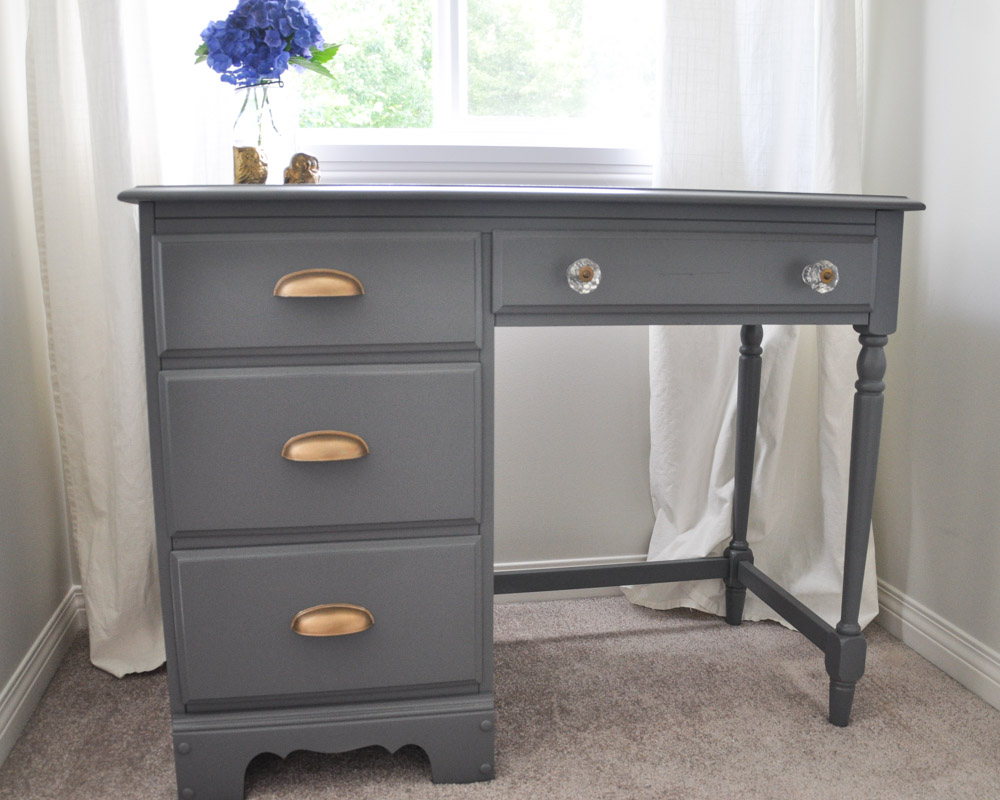 … hello quiet workspace of the teenage gal who grew up.
But she still likes unicorn stickers.
And he still has baseball cards.
We're just better at putting them away.