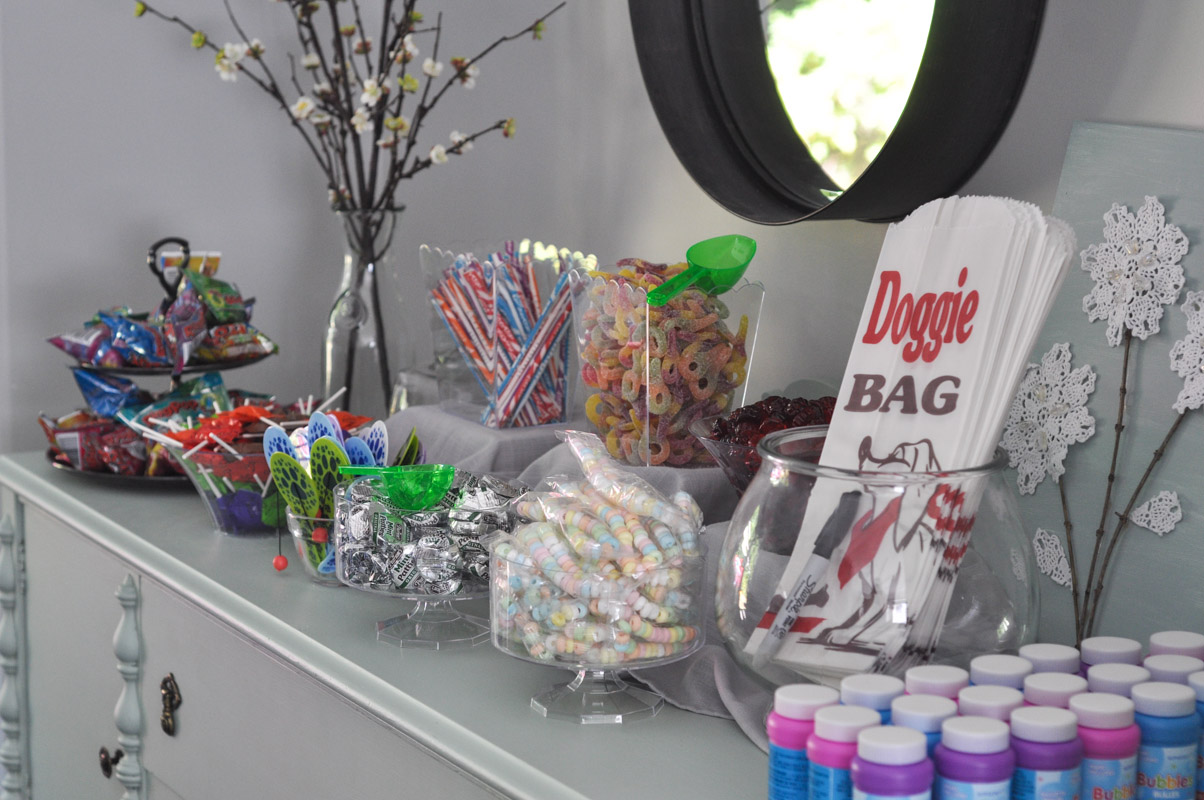 This summer, we had a birthday party for our Lucy. The youngest of our pack, her summertime birthday parties are always a great reason to throw a backyard shindig…
… and invite parents to stay on as well.
Yes, I'm that lady in the neighbourhood. I like to have summertime parties that do double-duty. Not only do the kids get to run around like wild things and indulge in sugar and snacks, but grown-ups can grab camping chairs and drinks from the cooler and can spend the afternoon visiting in the backyard.
I got the feeling that this year might be the last one that can be an "everyone" party. Lucy's tastes – which have always been definite – are getting even more specific. And a no-adults-invited party could very well be the theme for next summer. We had to savour this one.
Speaking of specific tastes, I asked Lucy what theme she wanted for her party. Without a second thought, she said, "Puppies. I want a puppy party."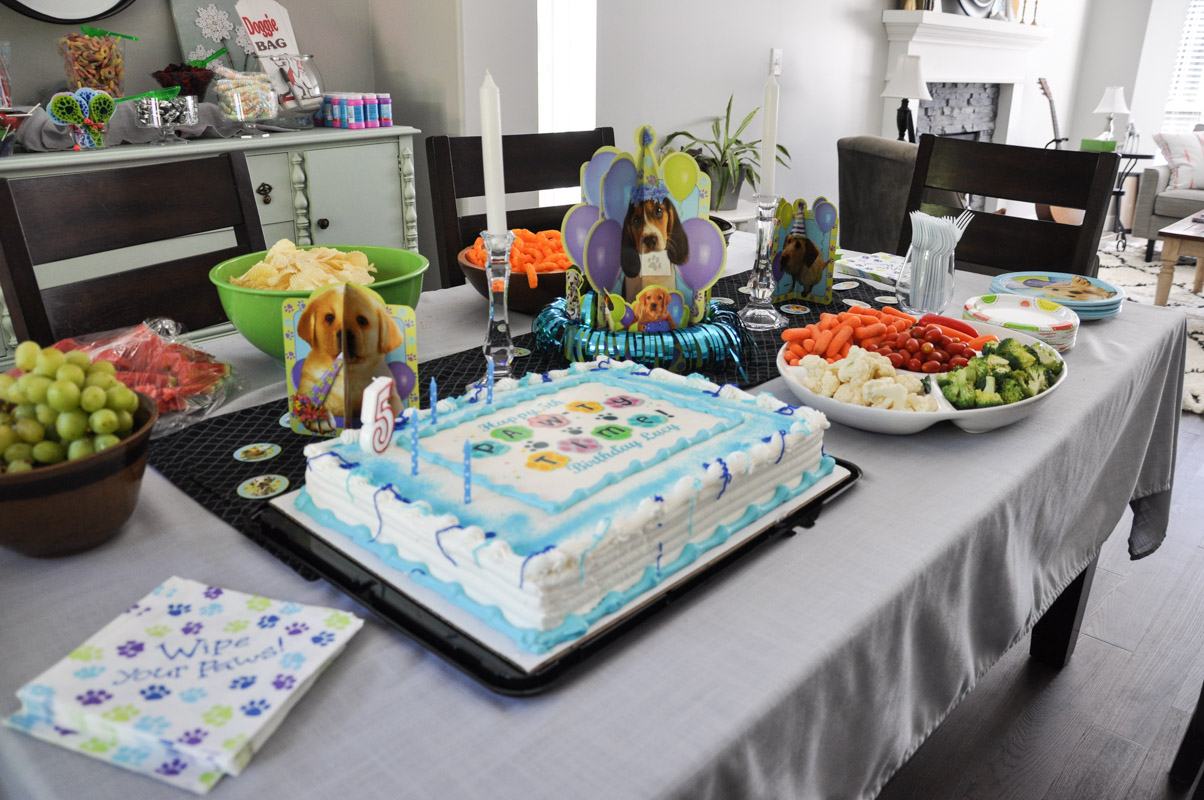 Well, okay then.
The beautiful thing about this party was that it was not a ton of work. In between camping trips and getting my life somewhat organized, I got this party easily sorted with the help of my friends: Online Shopping and Costco.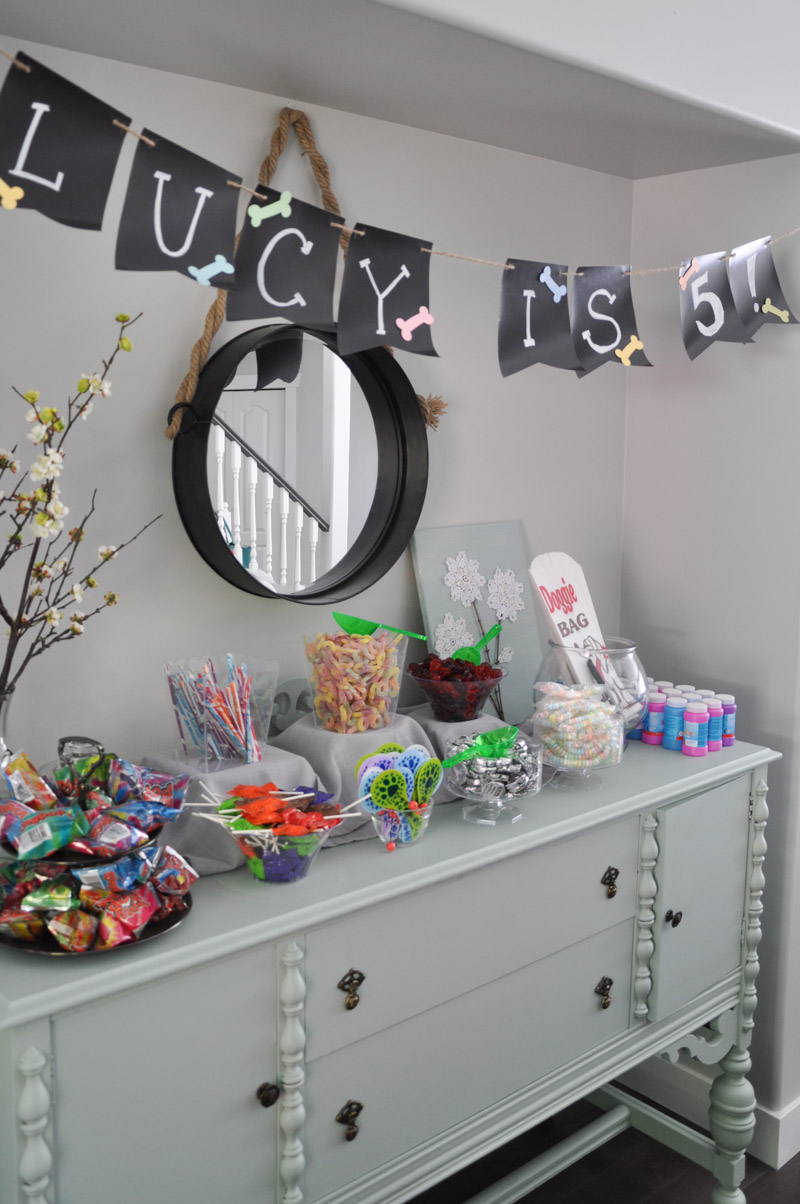 Because we had an age range of 2-9 years old at the party, I was hard pressed to come up with a goody bag scenario that would please everyone. But then I thought back to my 9 year old self and remembered my love of all-things-sweet.
The goody-bag candy bar was born!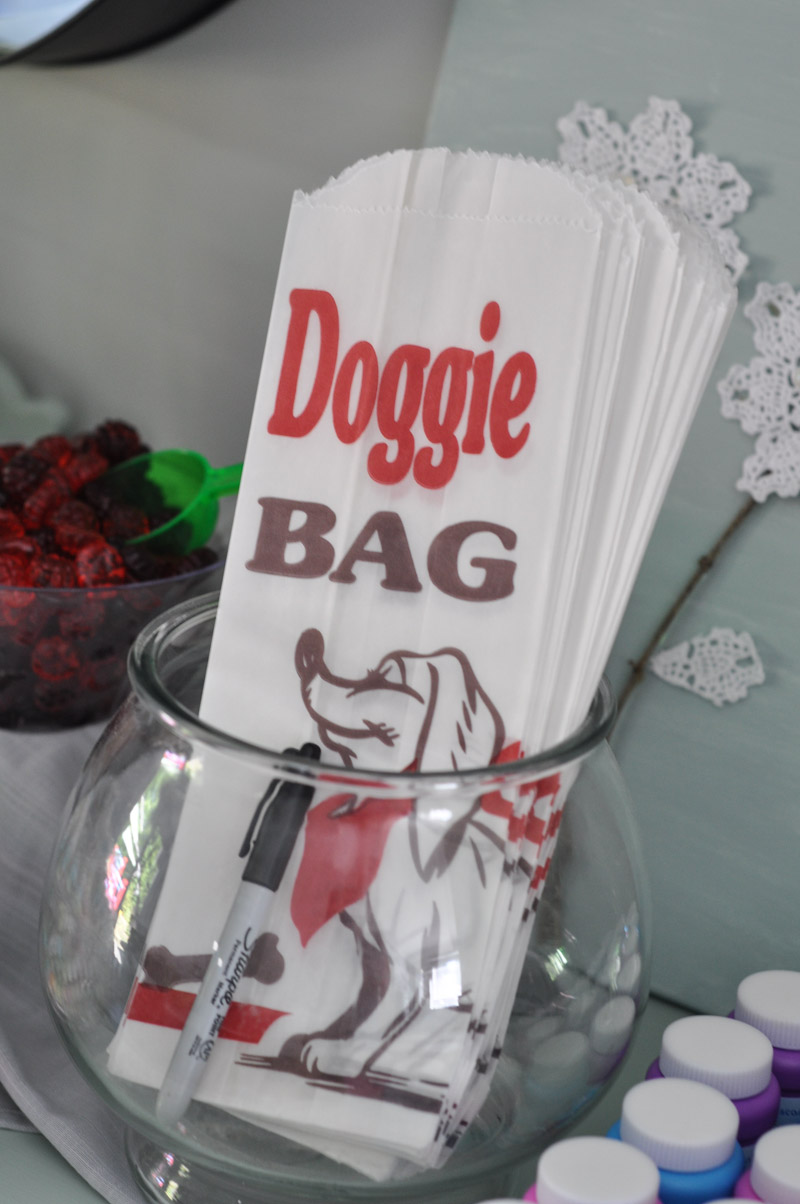 Guests could grab a "Doggy Bag" and fill it to their heart's content.
My favourite was the mint patties. Most of the dads grabbed handfuls of the Swedish Berries.
Not this girl. Yuck.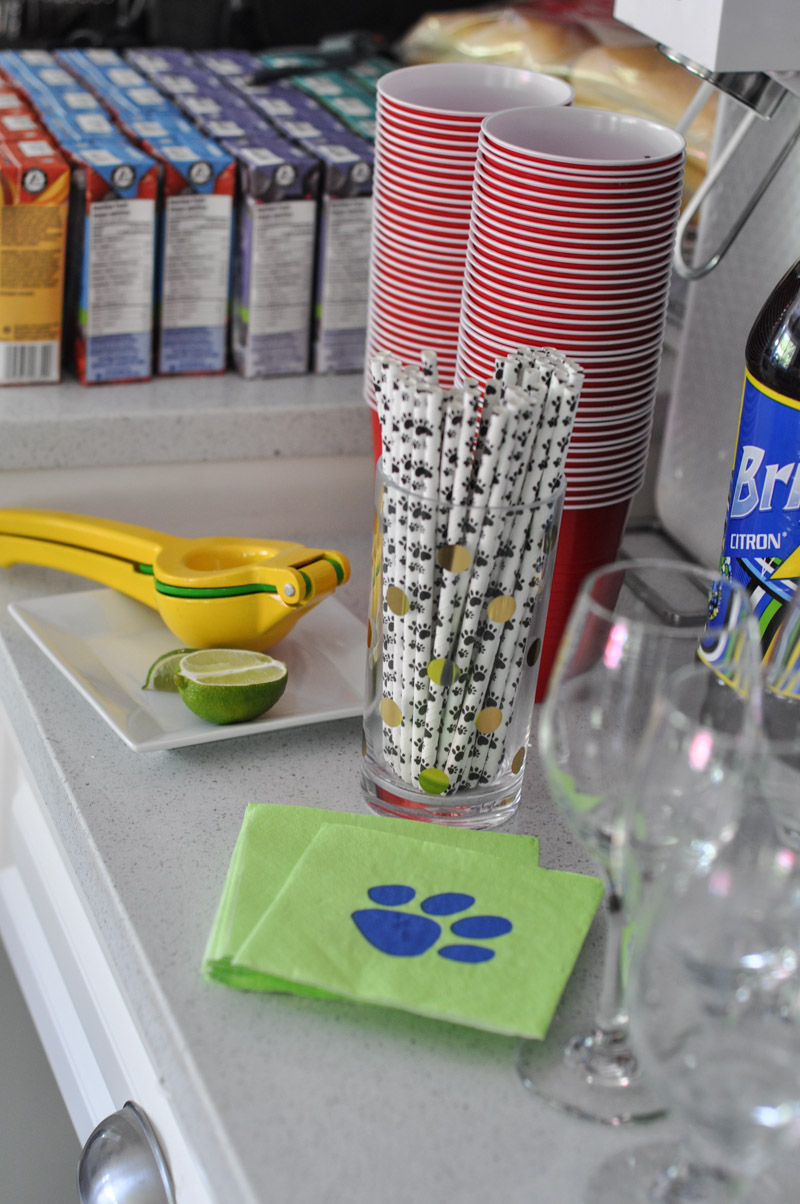 Paw print straws and napkins sat at the drink station.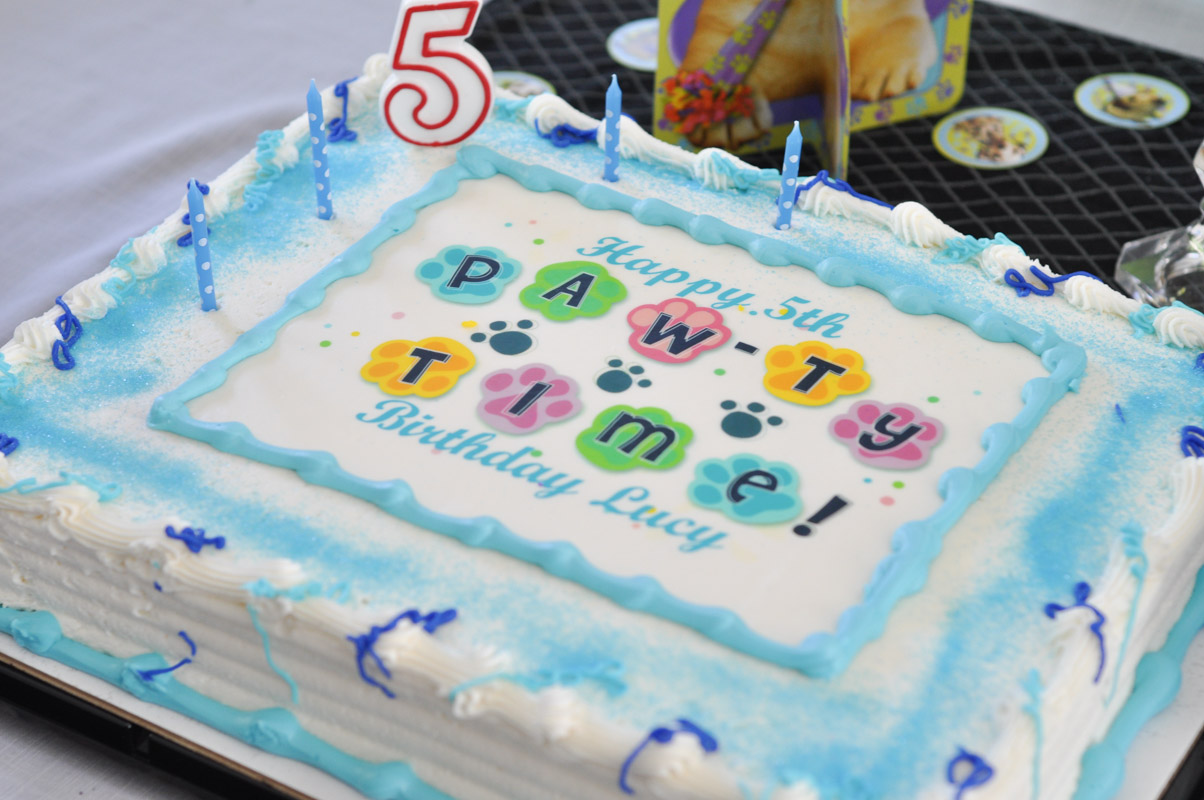 And the cake – le gasp! – was from a grocery store.
It was fabulous. And as a self-professed TERRIBLE cake decorator, this saved me heaps of time. I will admit, I could probably handle the weird squiggles of blue along the sides of the cake, but the overall finished look was just perfect for me and my kidlet.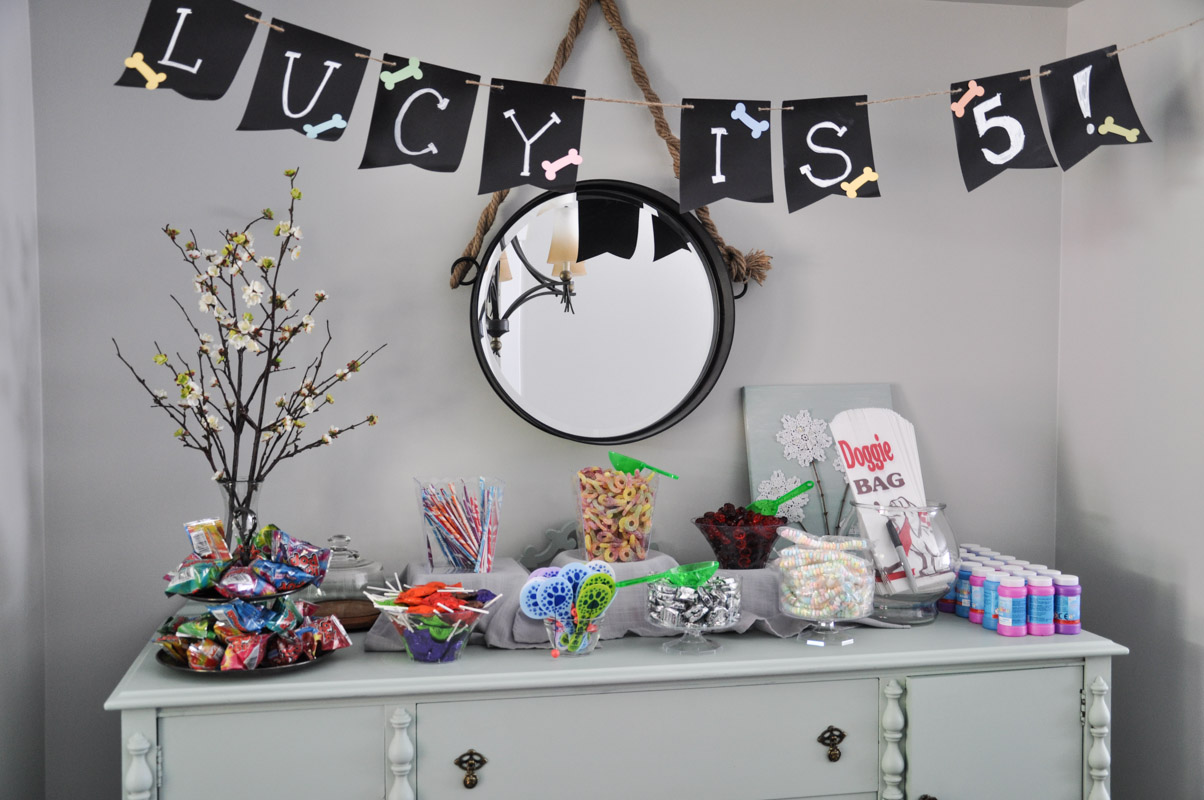 This party was refreshingly simple and easy to put together. The kids bounced on the bouncy castle. Parents laughed and ate potato salad.
And I sat and laughed with them. It was a beautiful thing.
DIY is my motto and I love it. But sometimes the motto wants to put its feet up with a glass of wine and talk about The Mindy Project with its girlfriends.
After the icing had been licked off of fingers, and the last family called, "Goodbye!" through the backyard gate, we had another little project.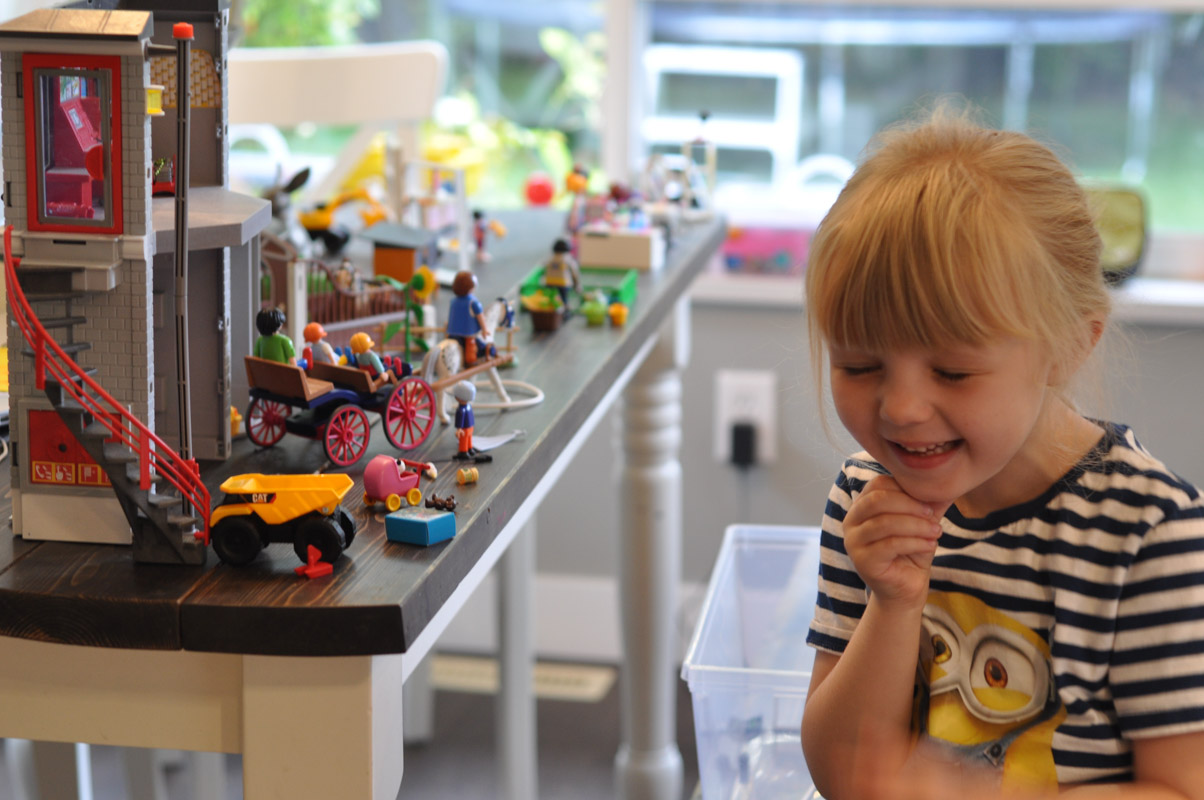 …. well yes, playing with our new Playmobil village that grew across the kitchen table… but also:
Our thank-you cards.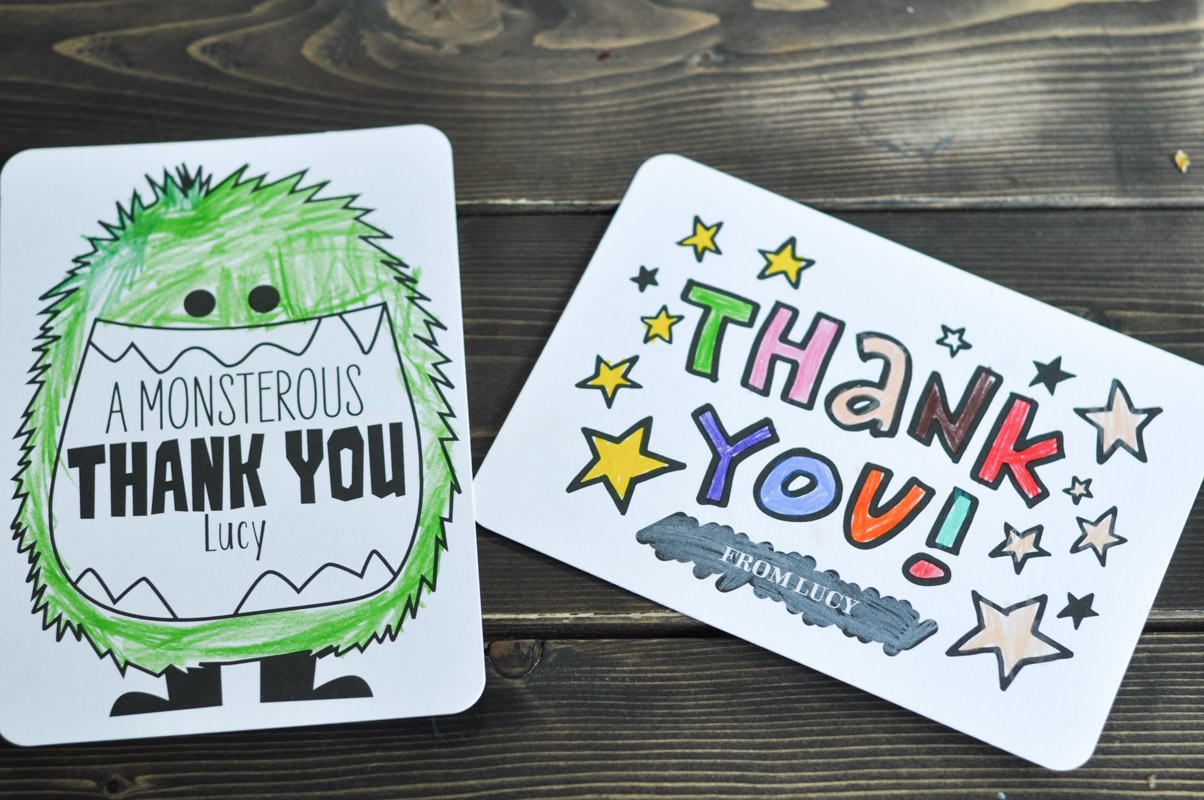 This kind of DIY I can delegate to my children. And they LOVED it!
First, are these not the cutest things you've ever seen? Lila helped her sister to colour in the cards.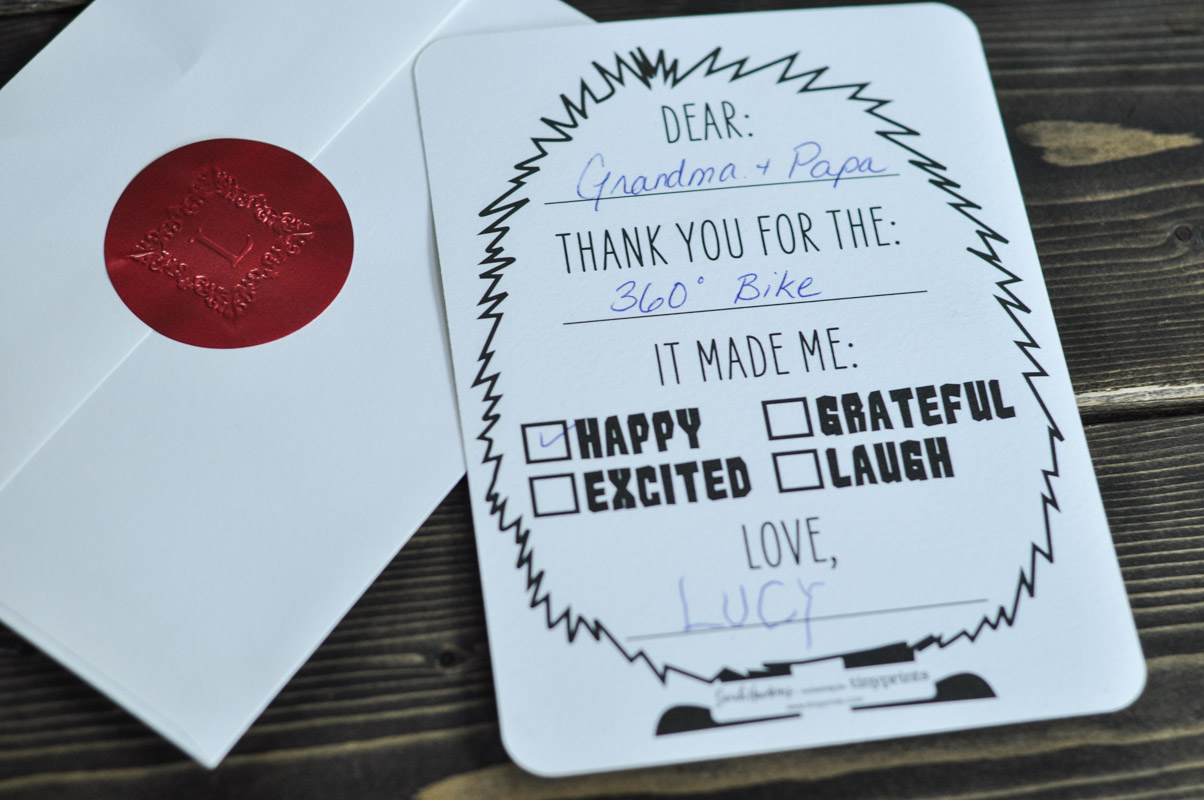 And Lucy dictated to me what to fill in on the back.
What I love about this is that the act of appreciating a guest's presence (and presents) is savoured after the party. Yes, the counters have been wiped and the guests have gone home, but that doesn't mean that we can't say a sincere, "Thank you" for coming and sharing this day.
I think that this is a great lesson for our kids. A minute of thankfulness is never a wasted one.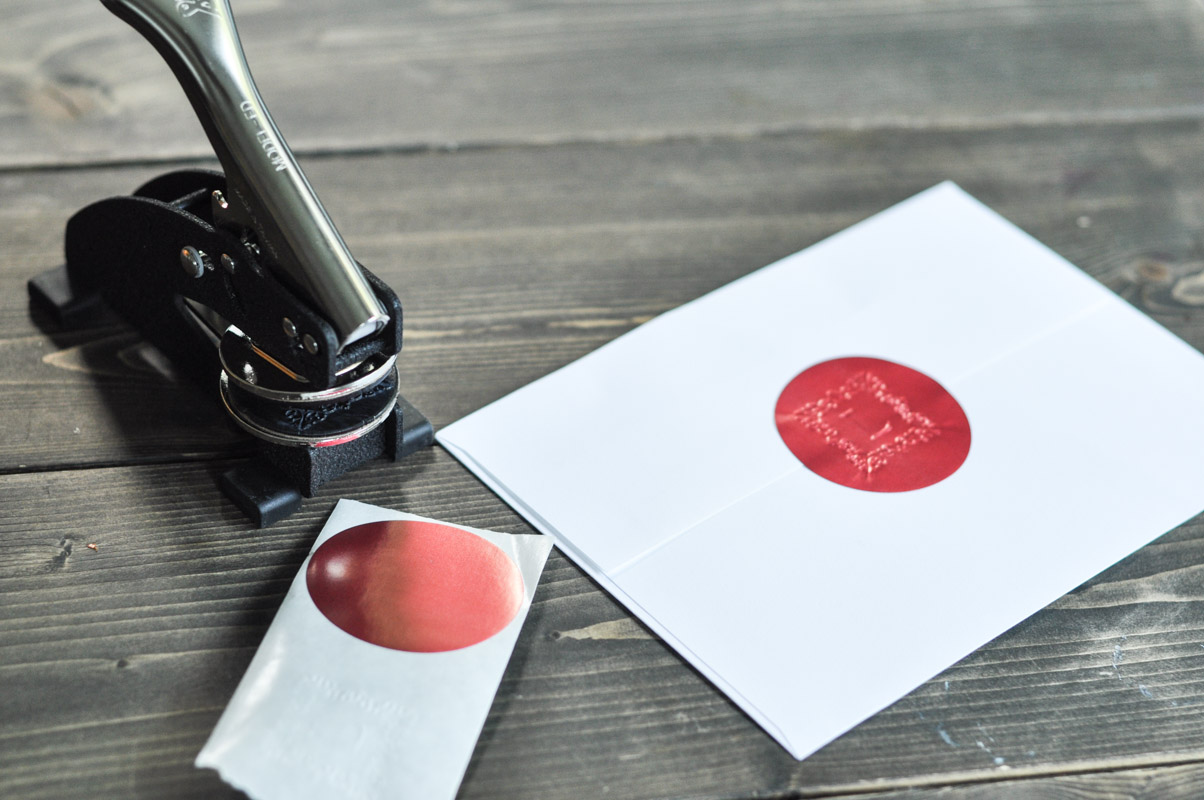 Because I am obsessed with stationery (and will be forever. Teachers cannot resist office supplies.) – I got the girls an embosser with their shared initial on it.
They can seal up their envelopes with a bit of style.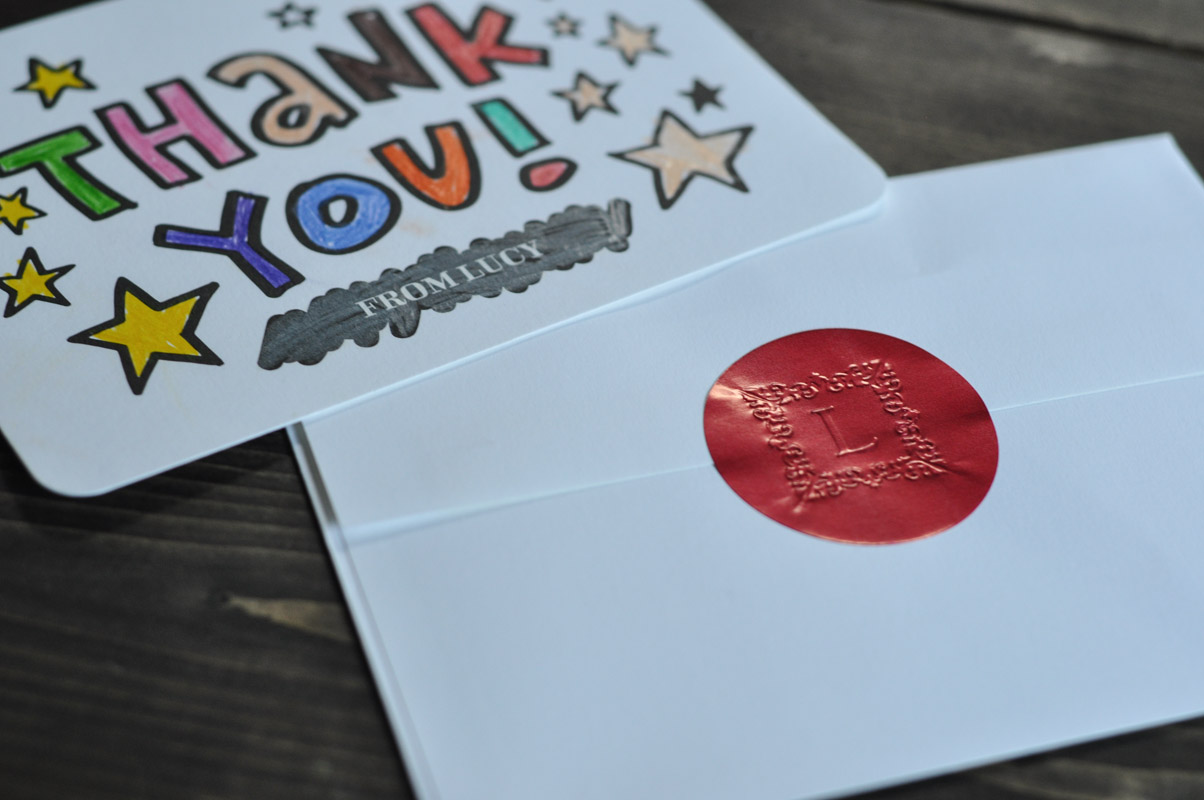 Tell me this is not the cutest thing.
Lila already wants to write a hundred letters and send them to everyone because of this embosser. And I just might let her do that.
Our not-so-DIY birthday party was a huge success, and if anything, I think it was because of the tone we set for it.
We expected everyone to have fun – and they did.
We expected a sugar rush or four – expectations met.
And we wanted to thank everyone for celebrating our sweet Lucy – and so we did.
You can't ask much more of a 5 year old's puppy party than that!
Source list:
Puppy Party Decorations – Party City
Candy Bar Containers and Scoops – Party City
Miscellaneous Candy – Costco
Doggy Bags and Paw Print Straws – Amazon
Cake – Safeway
Thank You Cards – Tiny Prints
Embosser and Red Seals – Tiny Prints