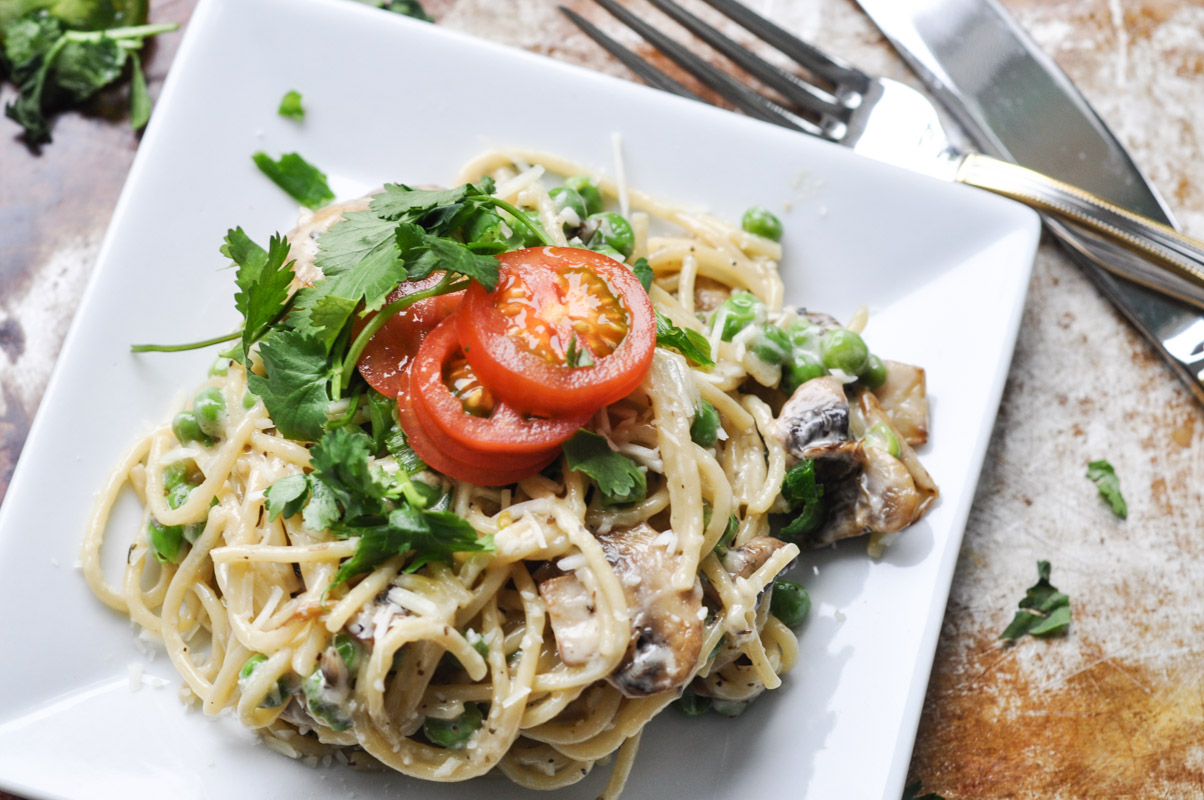 I usually have a few "emergency meal" ingredients in my pantry. A jar of alfredo sauce is a quick way for me to whip up an easy meal without having to break a sweat.
But this month, I was sent a box of Catelli Smart pasta and a recipe card from Chef Michael Allemeier for quick and easy alfredo, and I felt a bit foolish. It's just as easy to make alfredo from scratch than it is to crack open a jar and dump it into a pot.
And the alfredo from scratch is made from fresh ingredients, which makes this mama even happier.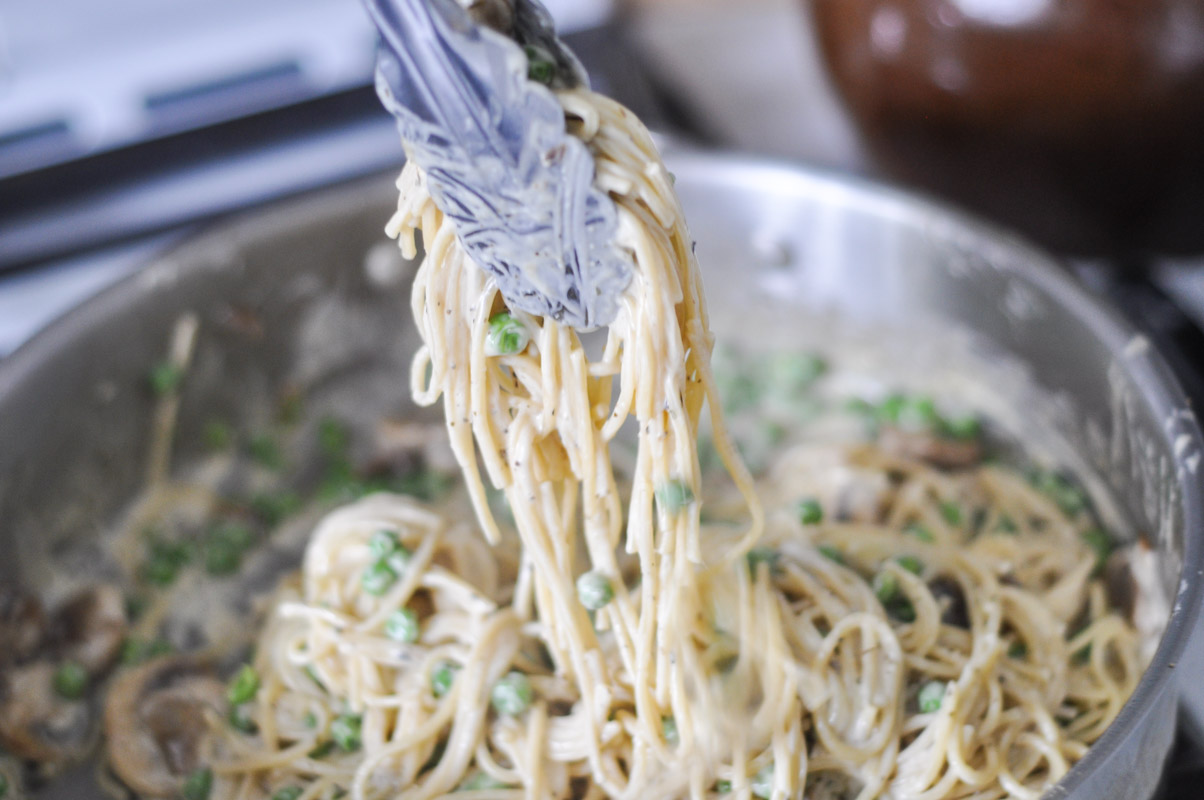 What I love about this basic recipe is that you can add pretty much whatever veggie you want to the pot. Frozen peas, mushrooms, peppers, or broccoli – whatever is in the crisper will work!
I opted to add mushrooms, fresh garlic, peas, and a few slices of fresh tomato and cilantro to this dish. The reason?
I had it all in my fridge.
Ingredients
1 pkg Catelli Smart Pasta (I used spaghetti)
1 tbsp olive oil
375 ml whipping cream
2 cups frozen peas
1 cup sliced mushrooms
1 cup shredded parmesan cheese
1/3 cup green onions
1/2 tsp ground nutmeg
Salt and pepper to taste
Tomatoes and cilantro to garnish
Instructions
Prepare spaghetti according to directions on package, drain and put to the side
Heat large frying pan over medium heat with olive oil
Sautee mushrooms and garlic until mushrooms are tender and garlic is fragrant
Add whipping cream and return to a simmer until it reaches desired consistency
Add parmesan cheese, nutmeg and green onions and bring to a simmer. Taste and season accordingly. Add spaghetti to the sauce and toss until coated.
Serve with tomatoes and cilantro and maybe a little sprinkle of parm! Enjoy!
https://www.suburble.com/2016/02/simple-alfredo-sauce.html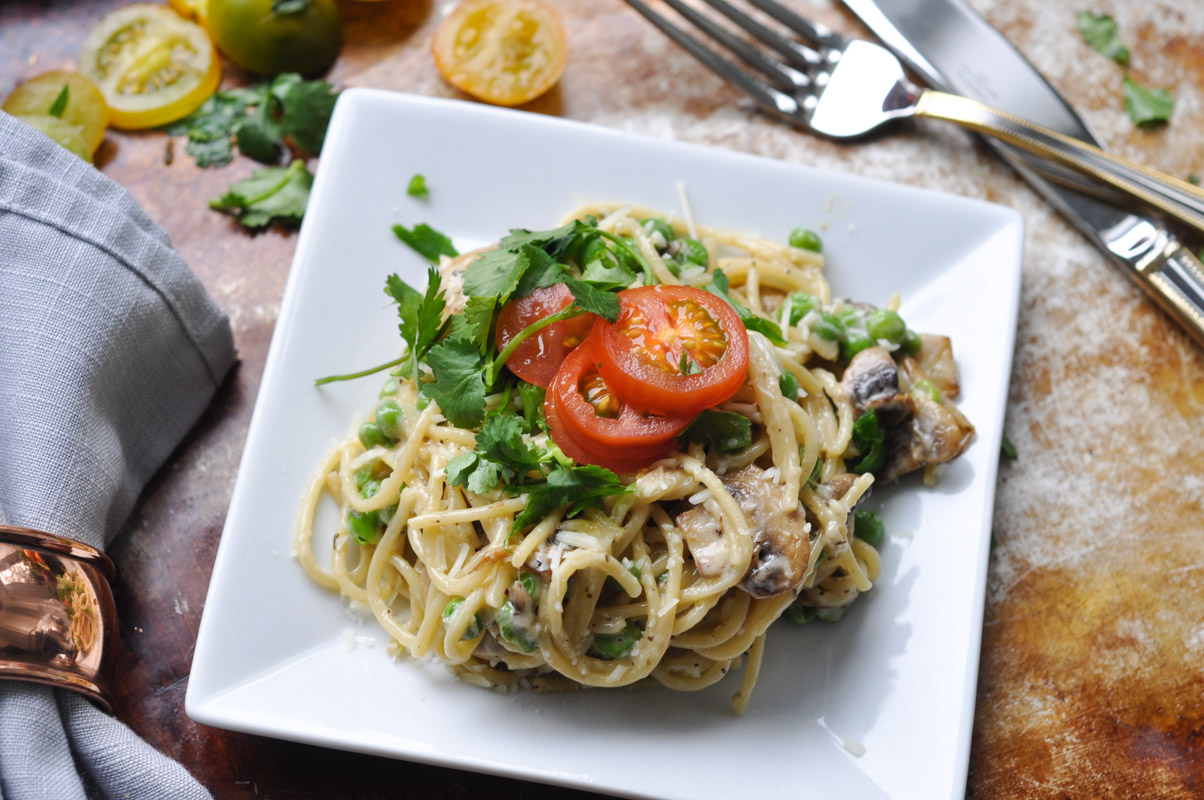 Now that I've learned that this basic, easily-modified sauce takes no time at all, I won't be going back to the jarred sauces again.
Now I'm going to experiment with chili flakes. A spicy alfredo is our future, I'm thinking!