I try my very best to clean without chemicals in my house. This means that oftentimes, Mr. Suburble walks into the bathroom and declares, "Ugh, are you cleaning with vinegar again? It reeks in here!"
But sometimes, it takes a little more than some vinegar and a sprinkling of baking soda to get the grime off of life.
And while I love me some elbow grease, it's also nice to have the right tools around.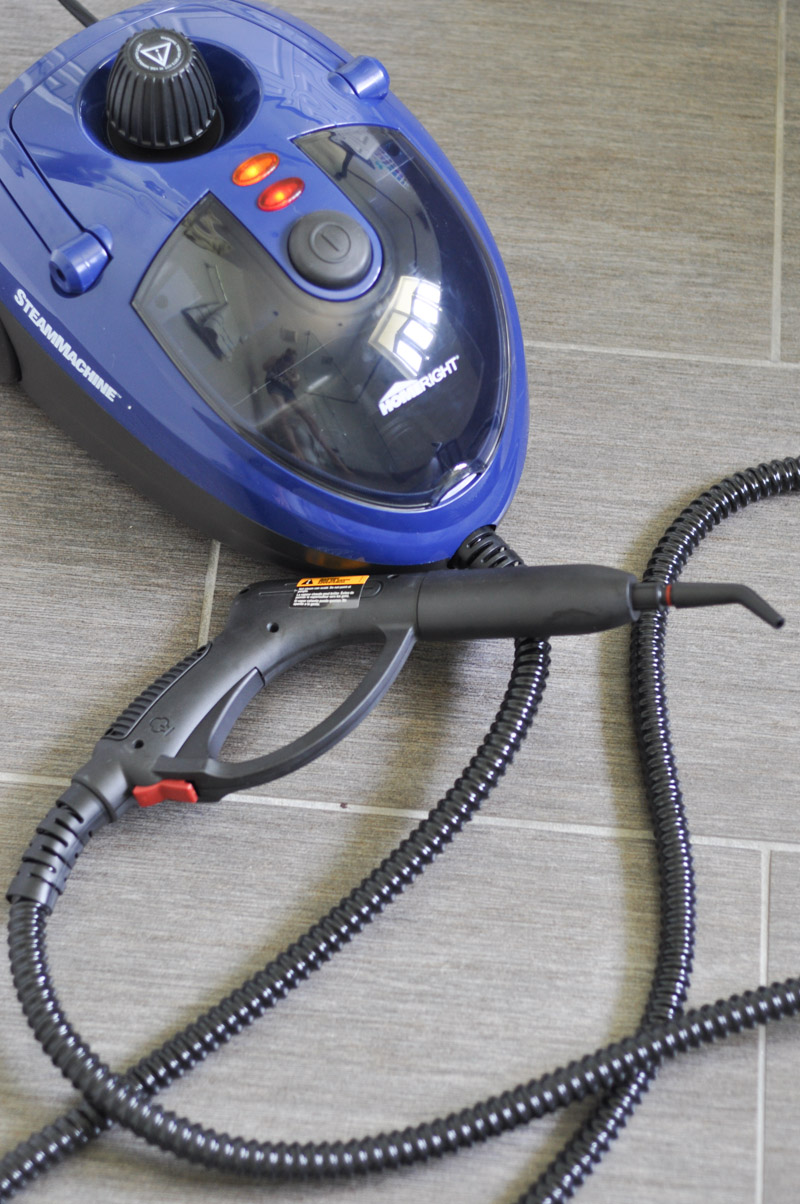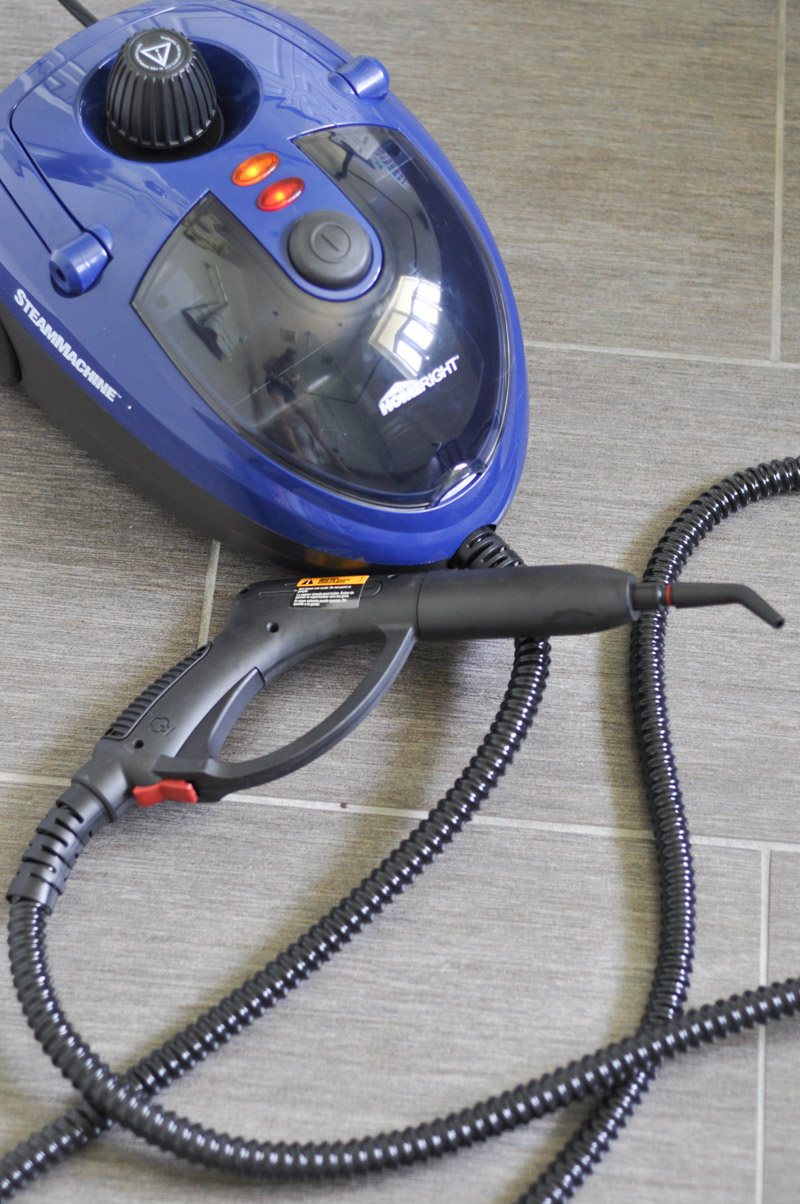 A little while ago, I was sent the Homeright SteamMachine to try out around my house. It comes with quite a few attachments – both wire and plastic brushes, a steam mop, a wallpaper remover, and more – and works with just water. No solutions or chemicals needed!
I unpacked the steamer and used it right away in my shower stall. We have white tiles with white grout, which always seems like a good idea during design-time, but it also means that you have to be super-diligent when it comes to soap scum and grime in the grout lines.
Laziness comes back to haunt you with white grout lines.
I was pleasantly surprised. The steam cleaner made short work of the cleaning, and I had steamed/scrubbed my shower stall in no time!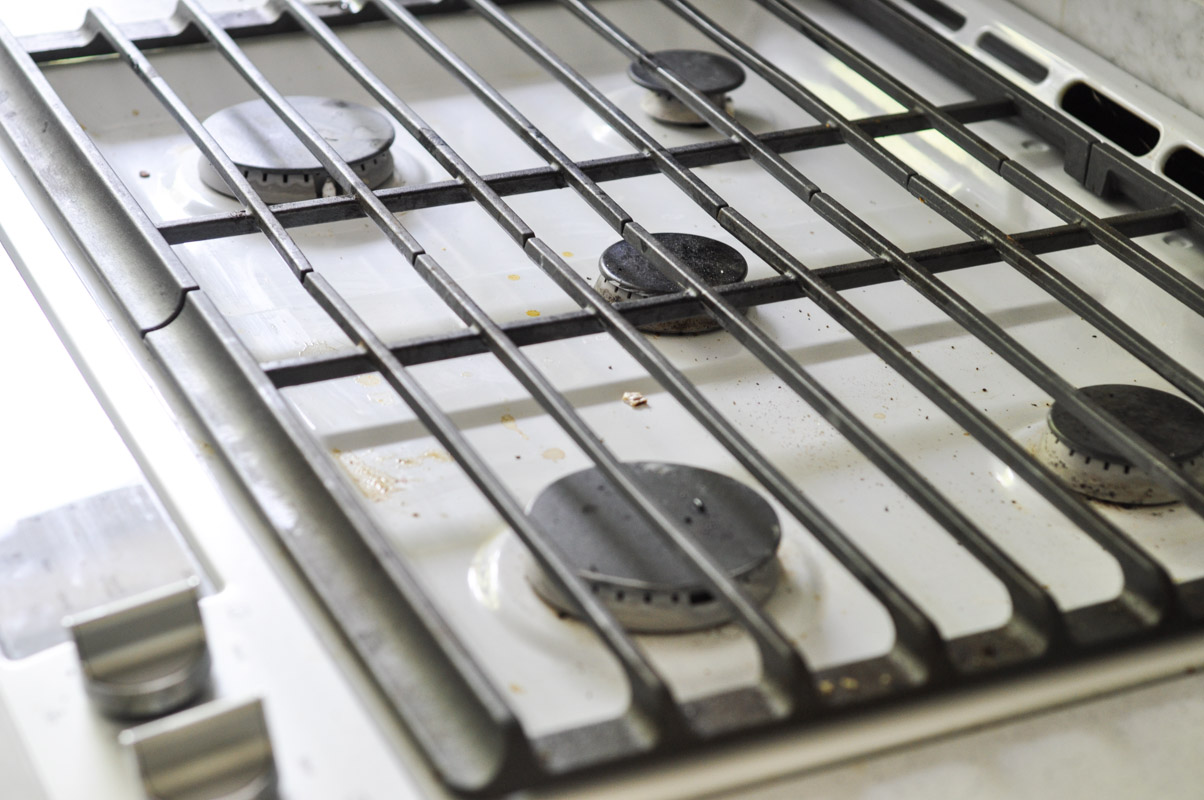 The next place I headed was the kitchen. I love my white gas range – but it does show all of the splatters and bits of food that fall through the cast iron grates.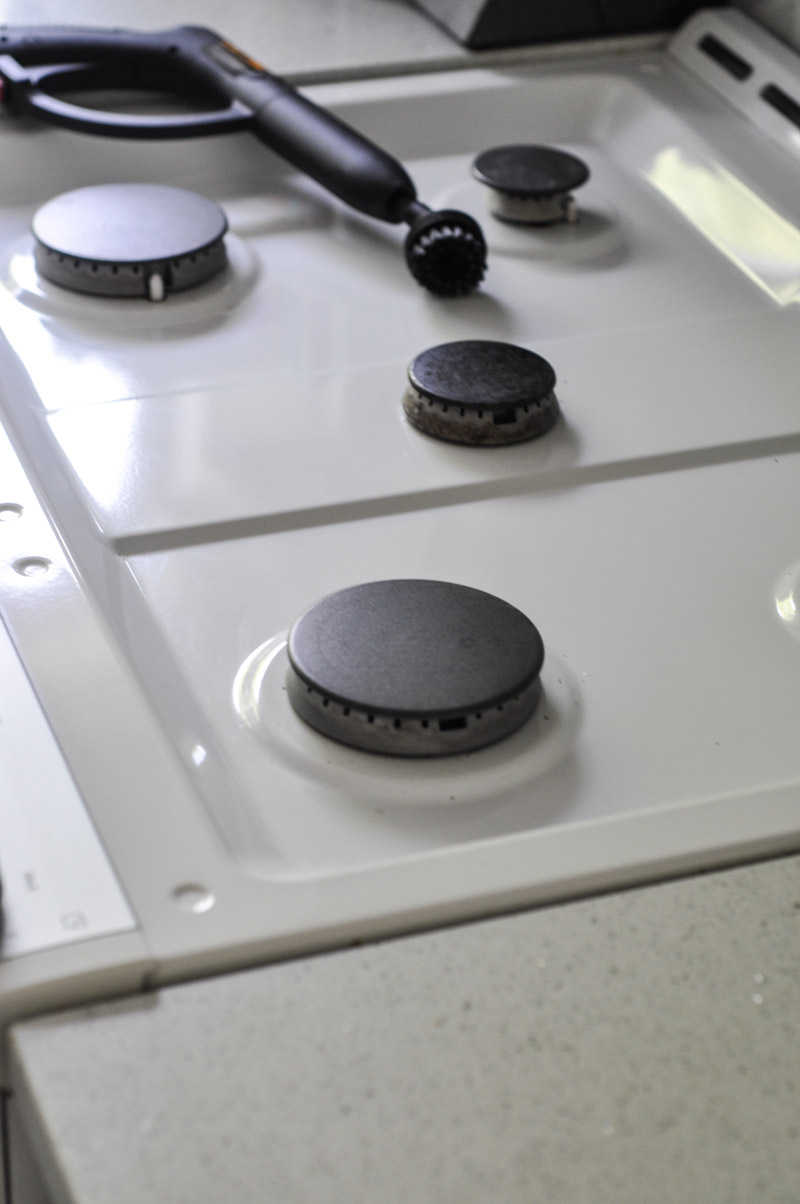 I attached the plastic brush attachment and went to work. The blast of steam loosened the bits of food and sauce, and the plastic bristles scrubbed without scratching.
A word of warning: the wire bristle brush is serious about its job. Use it on surfaces that can handle a good scour and won't get scratched. Otherwise, you're best to use the plastic brush for your tough scrubs.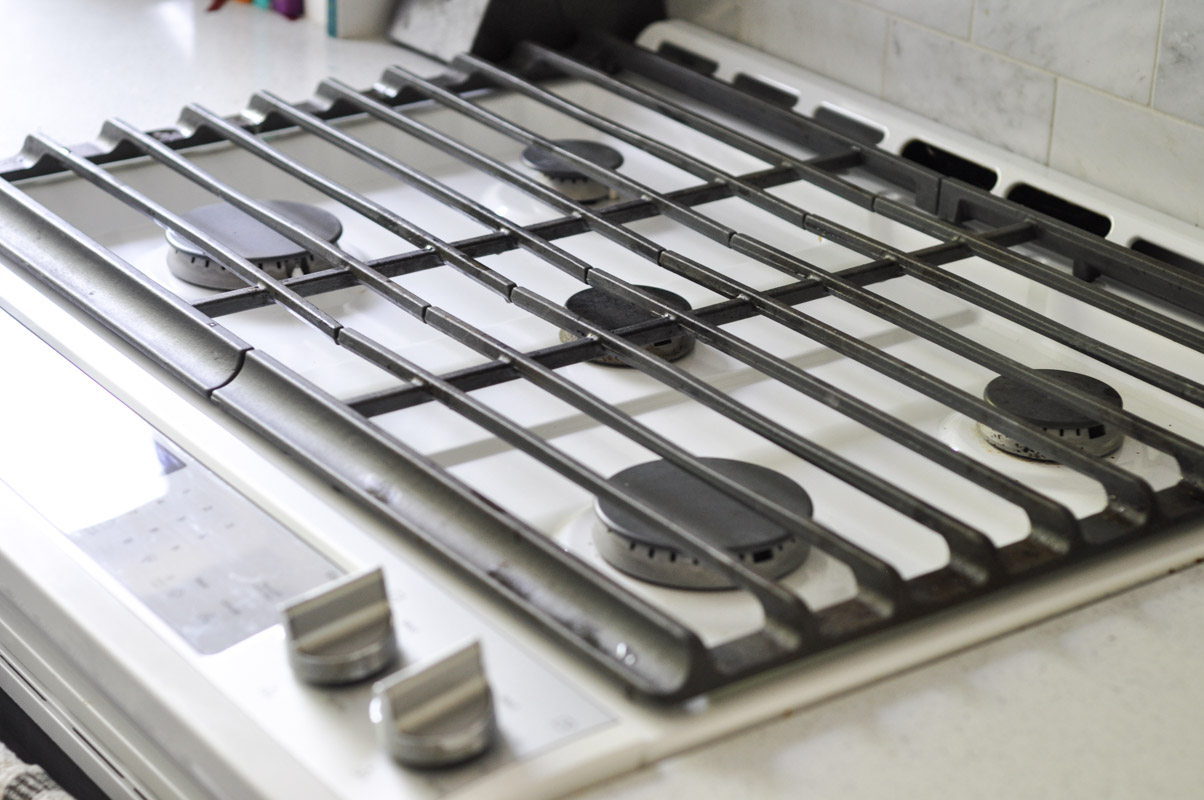 Now that the stovetop was clean (and I hadn't used more than my Steam Machine and a cloth), I moved into the powder room.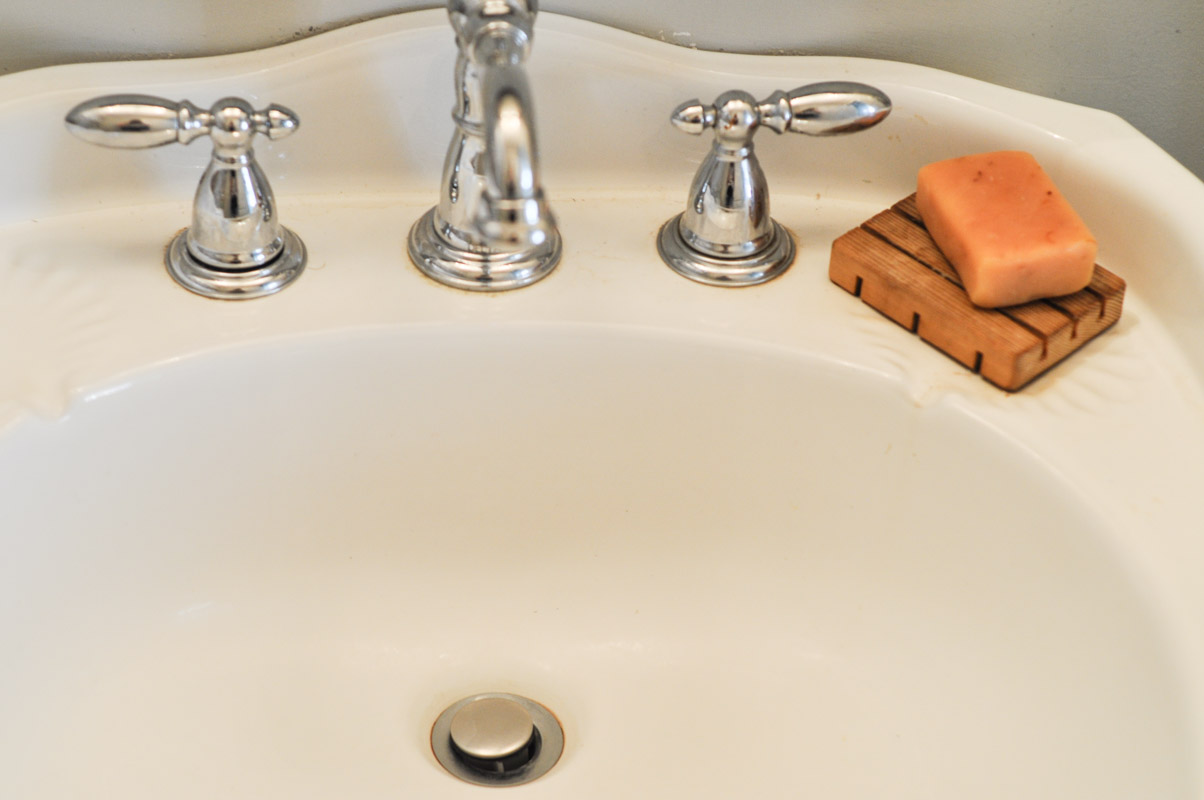 And now I'm posting a picture of my grody sink.
Our powder room sink sees a lot of traffic, and as a result, it gets pretty gross after a little while. There's often a bar of soap there too, which does mean that there is a bit of slop resulting from lathering up.
The three-piece faucet also collects grunge around the bases, which usually takes a good scrub.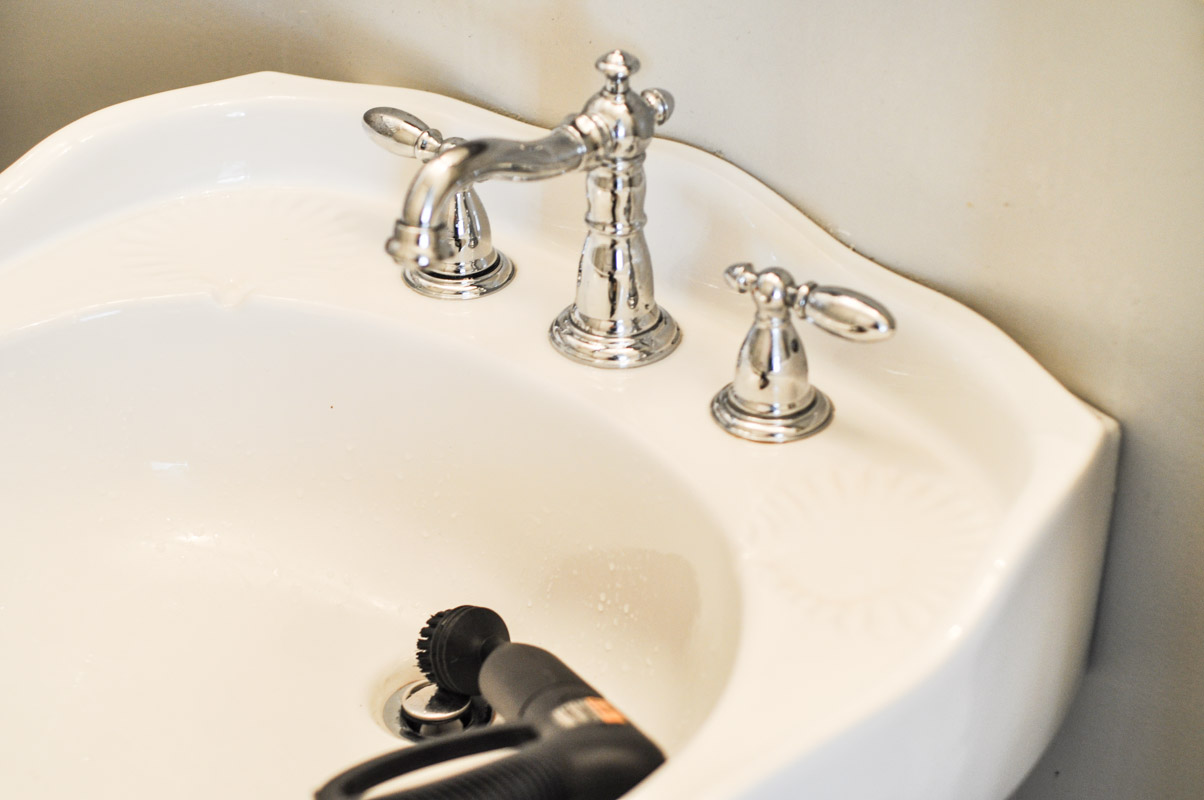 The SteamMachine had the sink clean in minutes. All of the soap scum and dirt was loosened quickly and easily, and the steam worked as a natural anti-bacterial. Homeright claims that the SteamMachine will kill 99% of all bacteria with its super-hot steam.
Considering what we know about anti-bacterial soaps and cleaners, I'd much rather use the power of heat than chemicals that we know aren't good for us.
With the SteamMachine, I've washed windows, steam-cleaned floors, blasted grossness around toilets and taps all over my house, and have scrubbed grout clean. It's my go-to when the grime is too great for my vinegar and baking soda combos.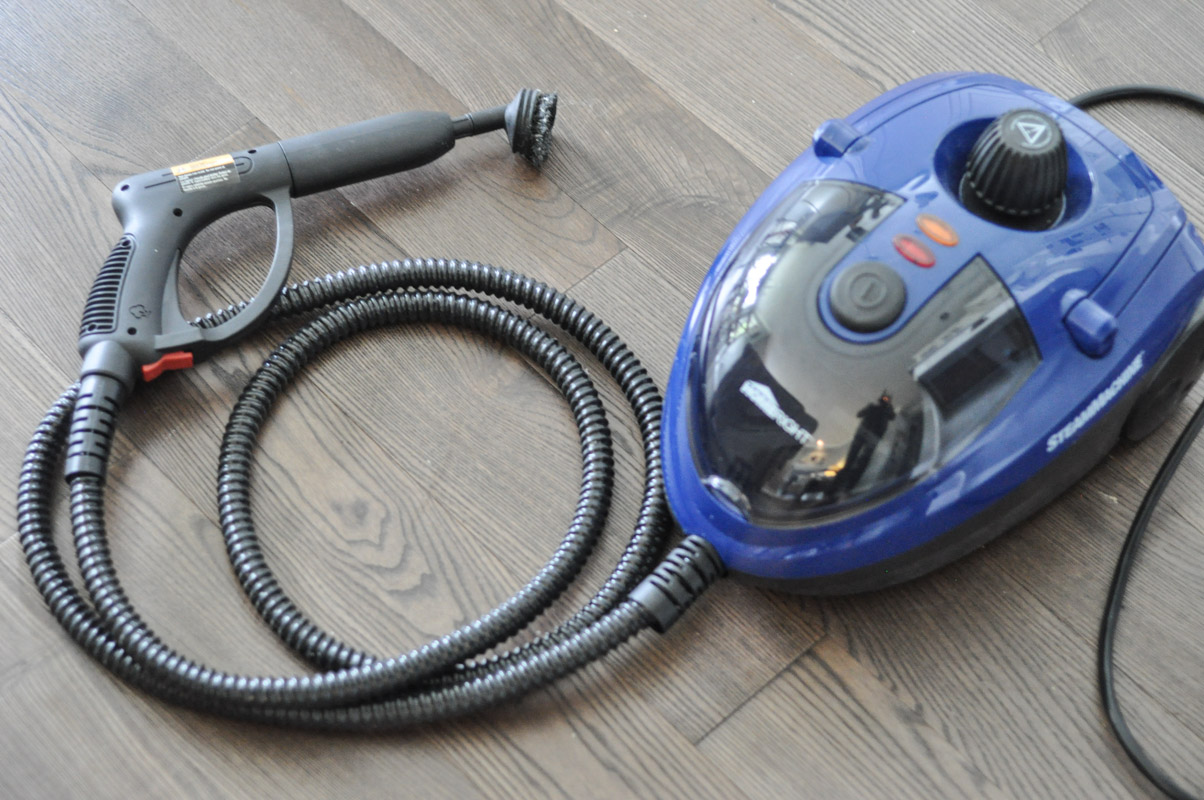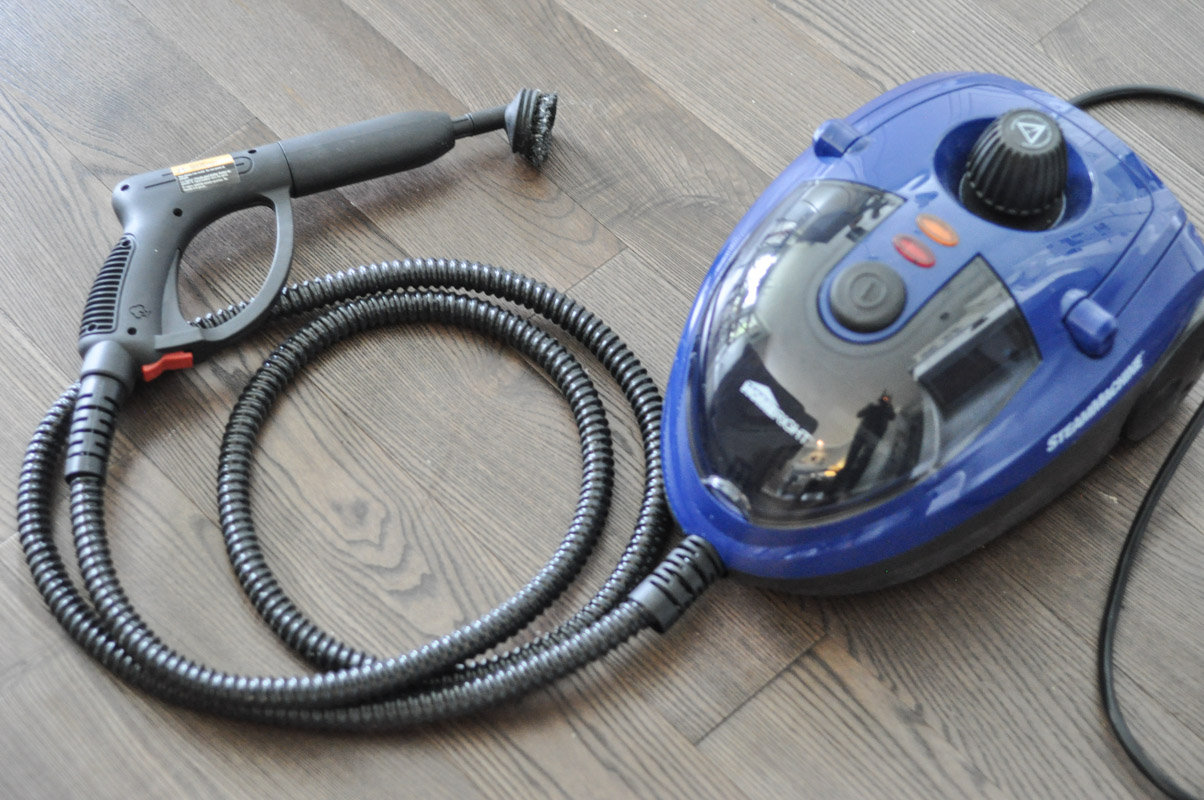 Because Spring Cleaning is upon us, HomeRight would love to give a lucky Suburble reader the chance to own their own SteamMachine to make the deep cleaning that much easier. Giveaway runs from today until Tuesday, March 15th at 11:59 pm. Open to American and Canadian residents. Void where prohibited. HomeRight is responsible for prize fulfillment.
Good luck, friends!