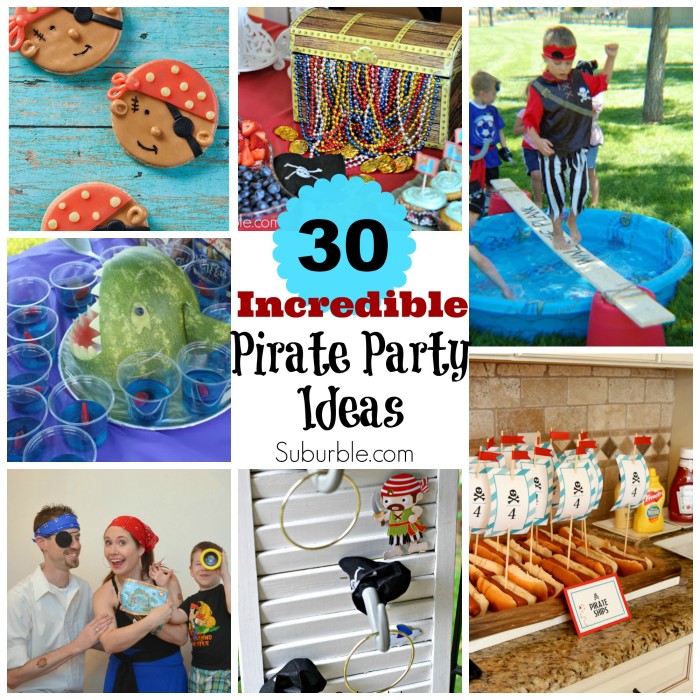 We're wrapping up Pirate Party Week on Suburble, but I didn't want to leave without sharing the ultimate collection of Pirate Party Inspiration! I've gathered 30 fantastic ideas to make your Pirate Party a success.
Grab yer eye-patches and yer parrot – and start planning your Pirate Party Extravaganza! (And pssst… Hallowe'en is coming – wouldn't a Pirate themed costume party be fantastic? Consider it!)

In planning a successful pirate party, first, you need to invite your young mateys: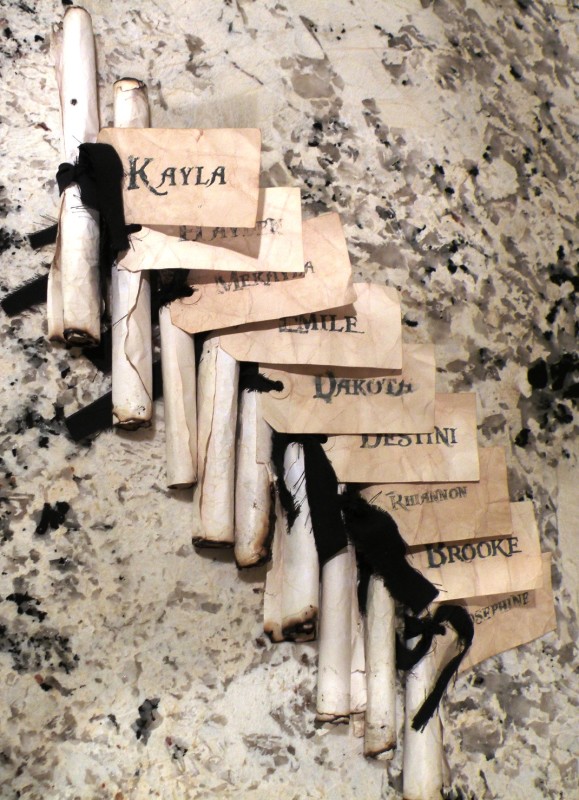 Consider these fantastic invitations created by Project Possessed. Don't they do a great job of setting the tone?
And once your guest list is finalized, it's time to decorate!
(This is possibly my favourite part of any party)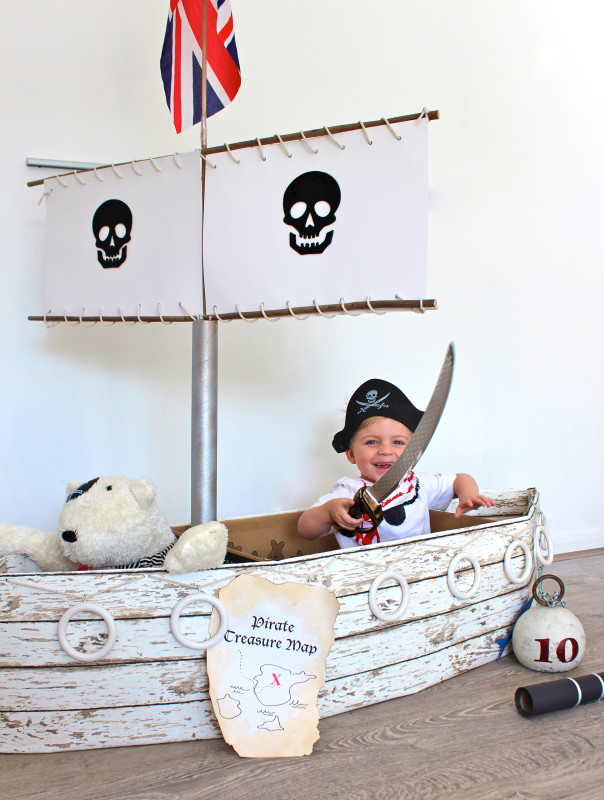 From a cardboard box, create a fantastic pirate's ship as shown on Kate's Creative Space.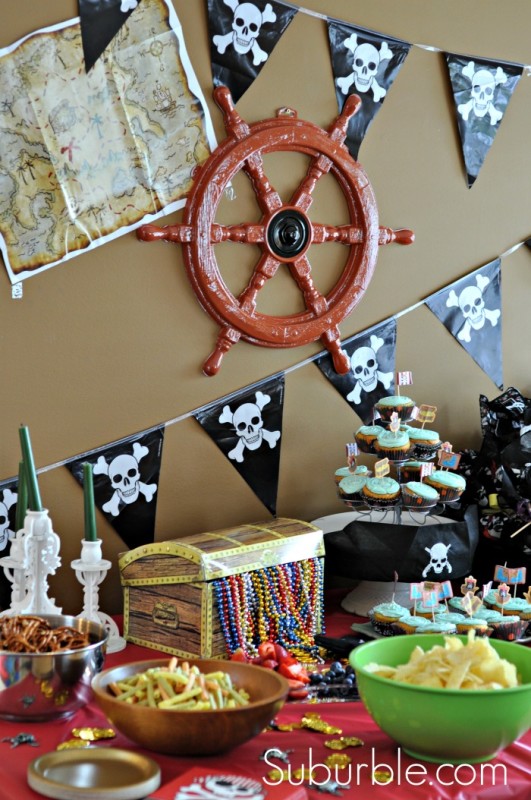 Use decor found at the party store (and the dollar store) to set the tone for your party, as seen in one of our recent party posts.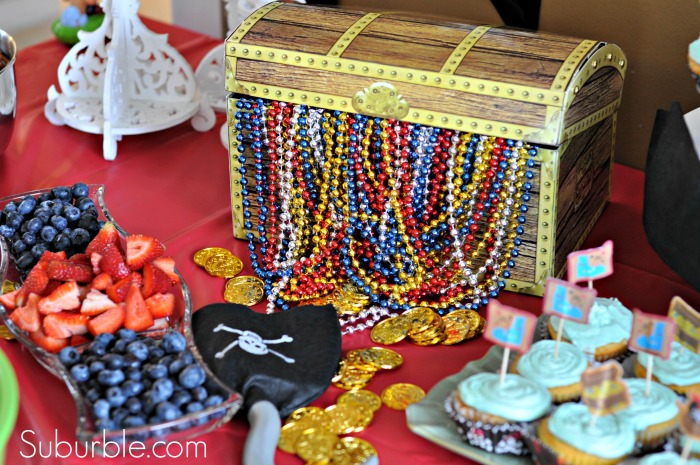 Use party necklaces and plastic gold coins (or chocolate ones, if you're daring!) as table decor, like we did on our food table!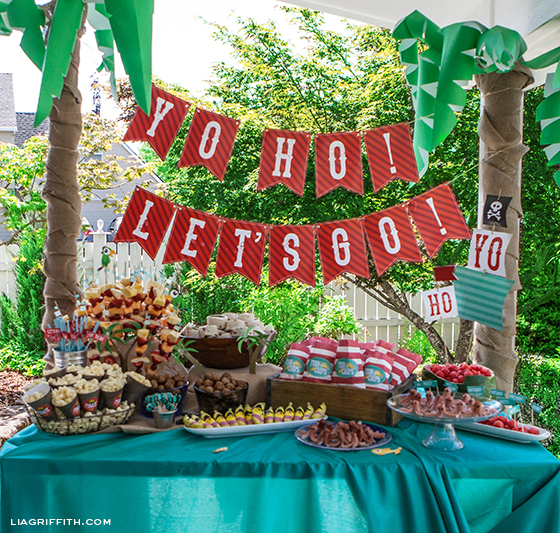 Use bunting and creative ideas (like turning posts into palm trees) to create a phenomenal food table as seen on Lia Griffith's blog.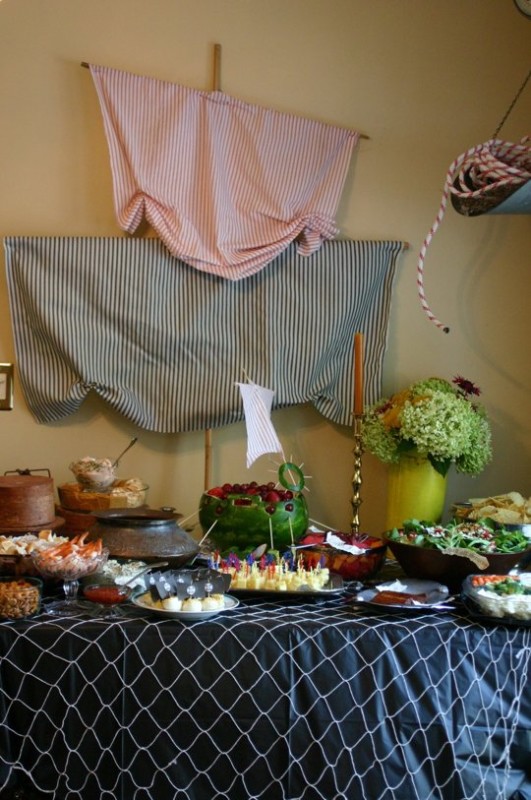 Or use netting and bed sheets to make a faux pirate ship in your party room, as is shown in Fletcher and McKeon's party featured on Apartment Therapy.
Once you've set the stage, and you're ready to plop some goodies down on the fabulously decorated food table, consider some of these "pirate treasures":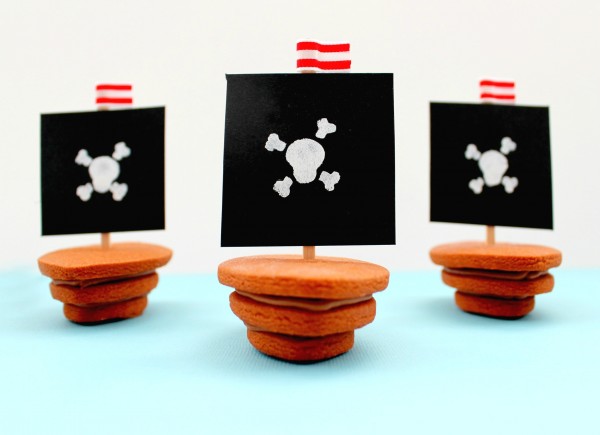 Create these simple, yet fantastic, pirate ship cookies, as shown on The Sweet Adventures of Sugarbelle.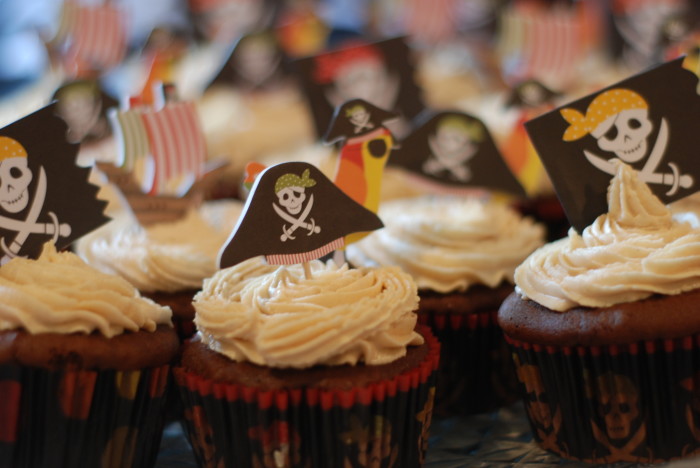 Use festive cupcake toppers to dress up the dessert, like Alli did on An Alli Event.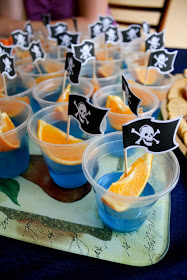 Create orange slice "pirate ships", like Megan did on Food and Whine.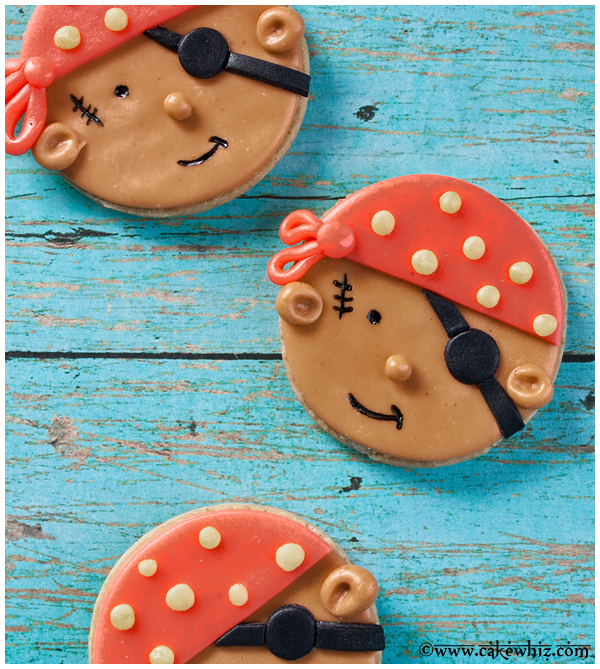 If you've got the talent (or the contact info of someone who does), consider these gorgeous pirate cookies as a treat or favour, shared on Cake Whiz.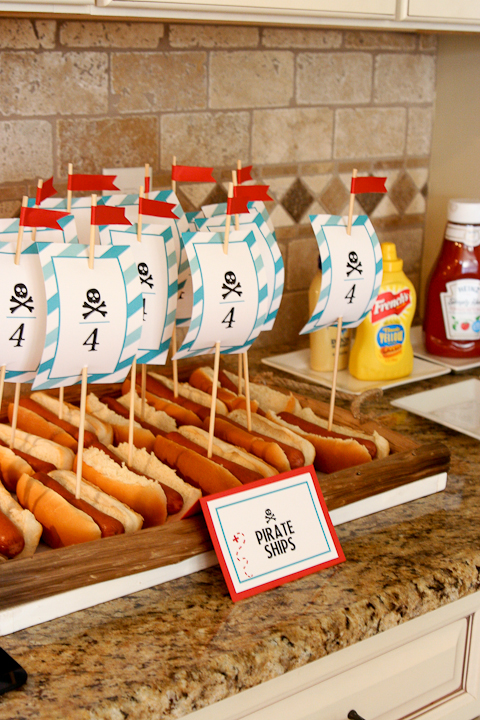 Hot dogs never looked so good! Turn them into pirate ships, as seen on Pizzazzerie.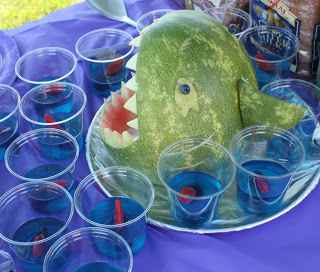 This carved watermelon shark would make a fantastic showpiece on the table (but is still edible!). Head over to Stitch To My Lou to learn how to create it.
Once the room and food are ready for the party, keep the guests entertained with some fun Pirate-themed games: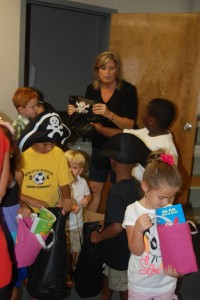 Consider a pirate treasure hunt, as Alli led on An Alli Event.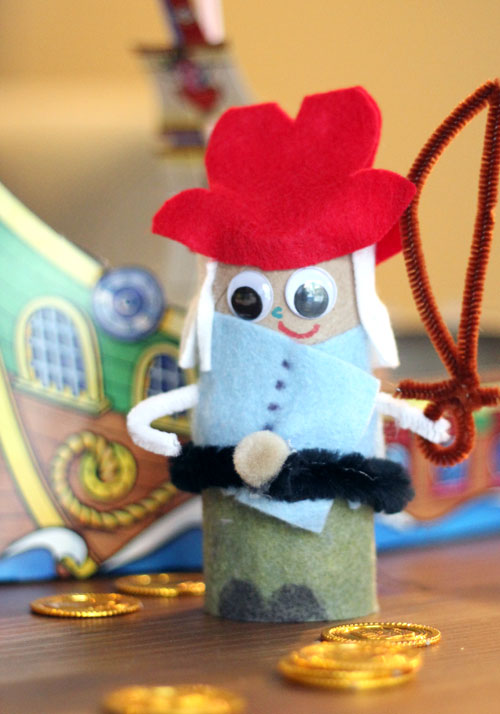 Create a toilet paper tube pirate, as shown on Visual Meringue.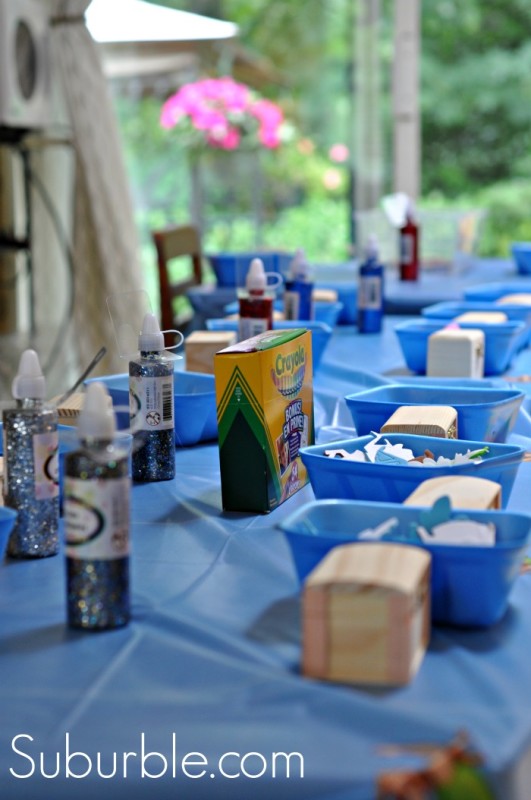 Put out dollar store wooden treasure chests, and have the kids decorate their own make-and-take favour, as we did in our pirate party.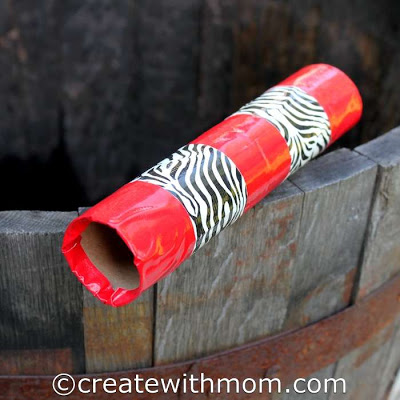 Kids can make their own telescope from toilet paper tubes, like the gang did on Create With Mom.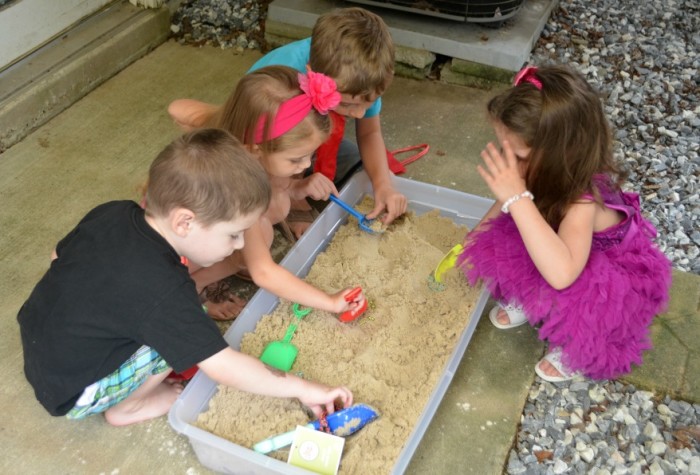 Digging for buried treasure is a great pirate-themed game! Check out how at One Artsy Mama!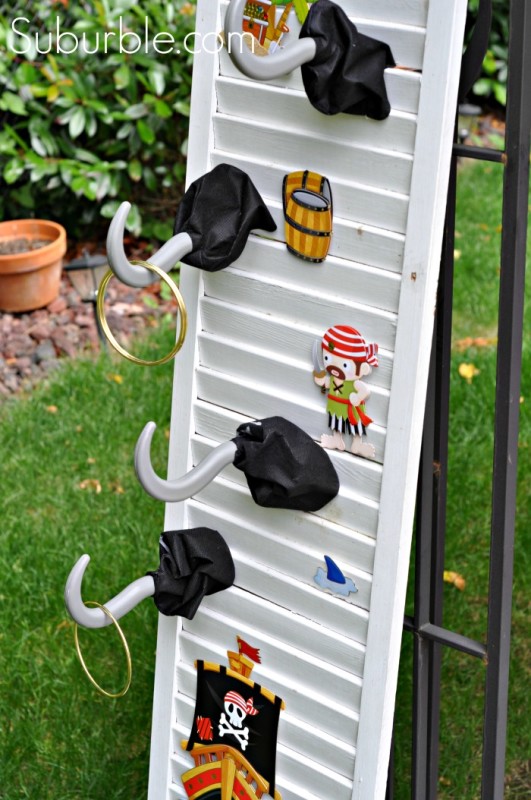 Create Captain Hook's Ring Toss with dollar store items, like we did at our pirate party!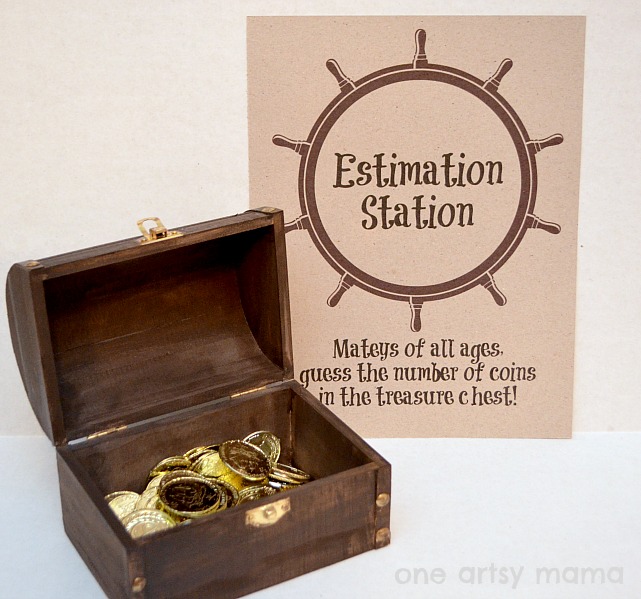 Have the kids participate in a gold doubloon guessing game, like Amy did on One Artsy Mama!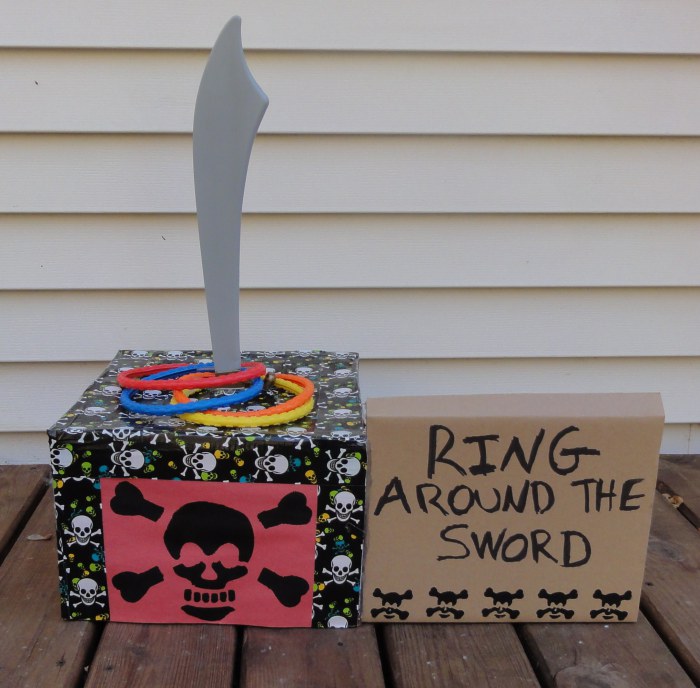 Play Ring Around The Sword, as seen on Creative Inspirations.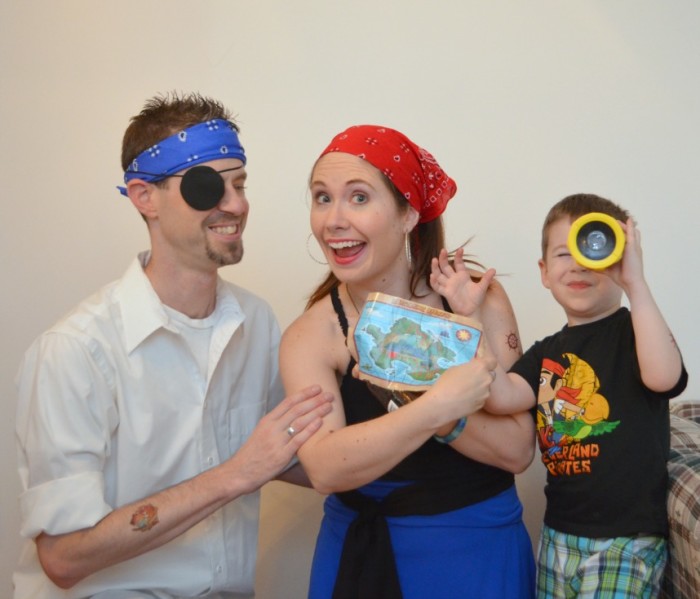 Provide costumes and have a Pirate Photo Booth, like Amy (and her adorable family) did on One Artsy Mama.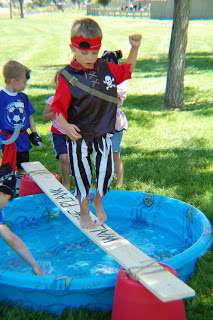 Have the kiddos "walk the plank", as shown on Sweeten Your Day Events.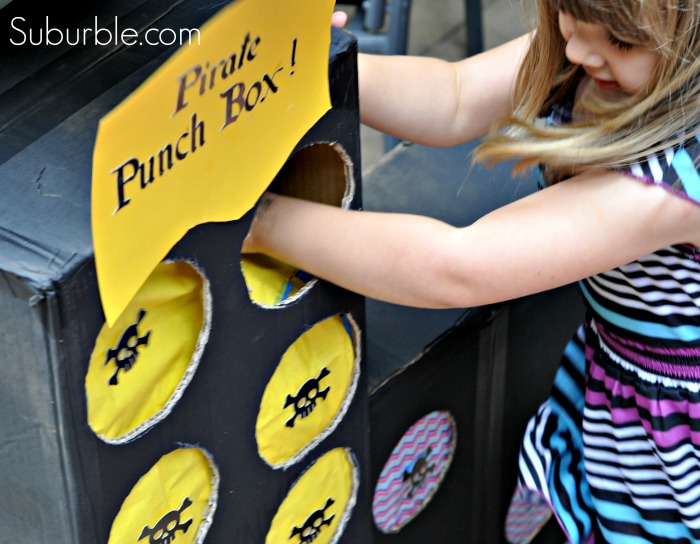 Entertain kiddos (and grown-ups) of all ages with a Pirate Punch Box! See how we made this!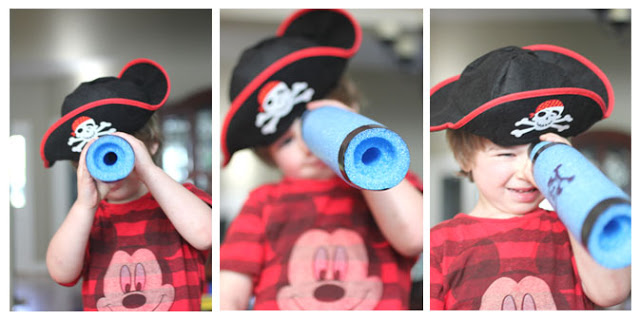 Have the kids create pirate telescopes from pool noodles, like Sarah did on Repeat Crafter Me.
And when the games have ended, and the food is gobbled up, it's time to send the wee pirates home. Give them one of these favours as they head out the door: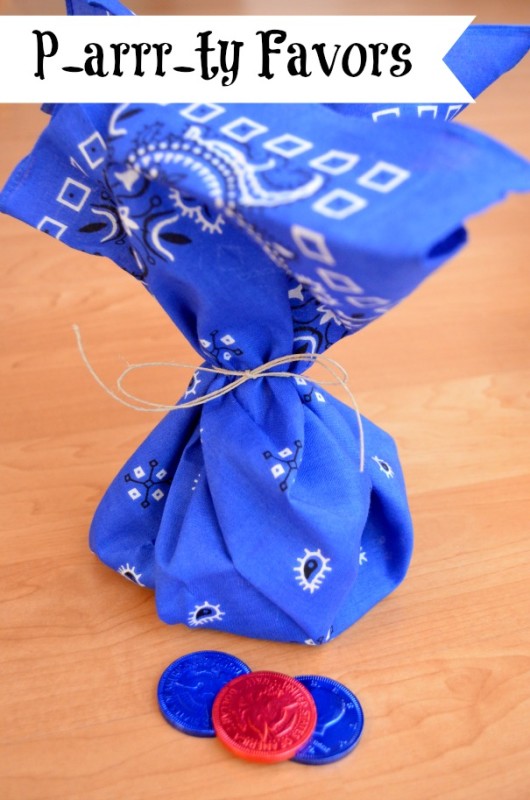 Tie up the pirate goodies in a bandana for pirate style! Head over to One Artsy Mama to learn how!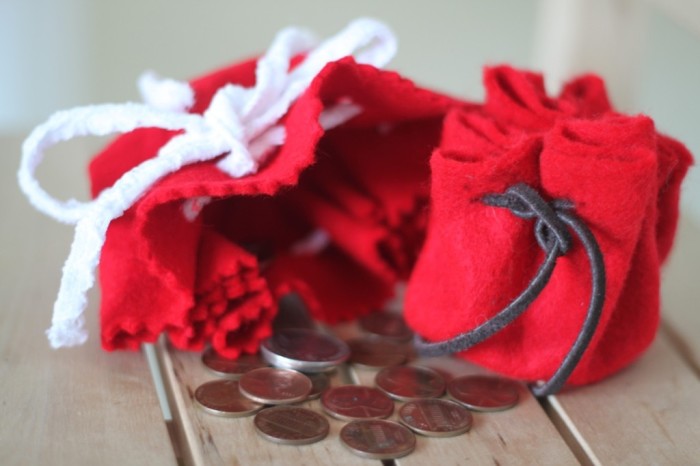 Or maket his simple felt drawstring bag, as shown on Creative Dish.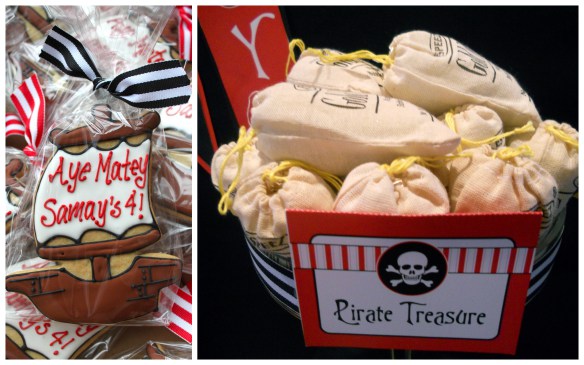 Festive cookies or burlap sacks of "gold" are also fantastic favours. Head over to Tutus and Toads to see their pirate loot!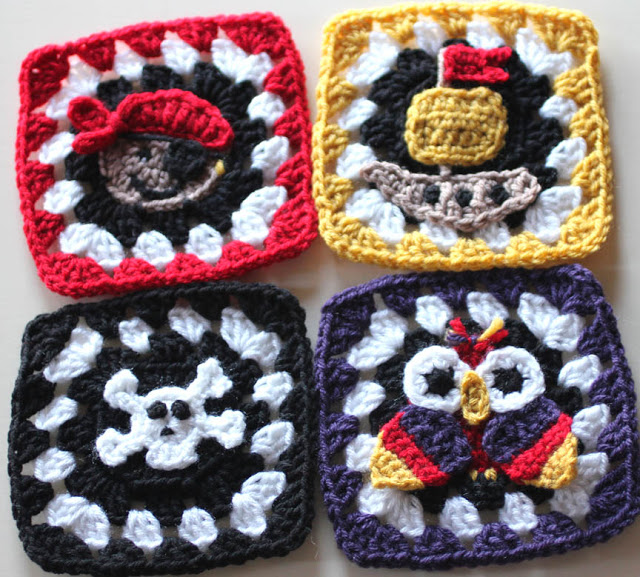 And these fabulous crocheted granny squares could be easily incorporated into loot bags, into the decor or even as part of a pirate themed gift. Head over to Repeat Crafter Me to get your hands on Sarah's free pattern!
By now you should be feeling pretty inspired! Pirate Parties are so much fun (and there are so many ways to celebrate them)!
Head over to my Pirates and Mermaids Party Pinterest Board for even MORE inspiration!
I'll be adding to it as great ideas come my way!