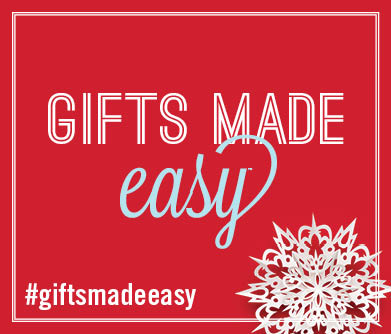 We live in a neighbourhood that has a small shopping village in its core. In it, there is a small grocery store, a gas station, an Italian restaurant, and a Shoppers Drug Mart. And while we visit each of these stores regularly, I'm going to tell you why we do the most multi-tasking – especially in the holiday season – at Shoppers.
Our Shoppers Drug Mart is open until midnight. This is awesome if you realize that you've run out of milk, if your three year old has spiked a fever at 9 pm, or if your husband starts feeling a bit self-conscious about his "Movember" 'stache. Just For Men is sitting on the shelf, ready to work its magic, at 10 at night.
I'm not even making that up. Mr. Suburble is rockin' the Tom Selleck these days.
But Shoppers is also a handy spot to pick up a few Christmas gifts along with the milk and diapers in your cart. I am so excited to talk about these presents because I've been happily purchasing them for the past few years.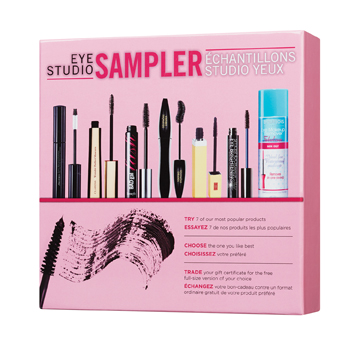 This is the Eye Studio Sampler Kit. I LOVE this! I have given and received this kit for the past two years.
And I'm looking forward to receiving it again. Hint, hint, Mr. Suburble.
This kit features sampler sizes of six high-end mascara brands. This year's kit also comes with eye makeup remover (this is very handy when you've got that "never gonna come off" waterproof mascara happening). What's even more awesome is that tucked into each box is a gift certificate for a full-sized product of one of the samples. Try, and then buy!
This kit is one of my most favourite gifts to give – mainly because it's pretty much a crowd-pleaser. The mascaras are fantastic, in a colour that everyone can wear (black), and allow the receiver to choose her own favourite. You can't go wrong.
If you're shopping for a gal who loves makeup – or the girl who loves to indulge in designer names – then this gift is for her. I've given this gift to four different people, and every time, they've been thrilled.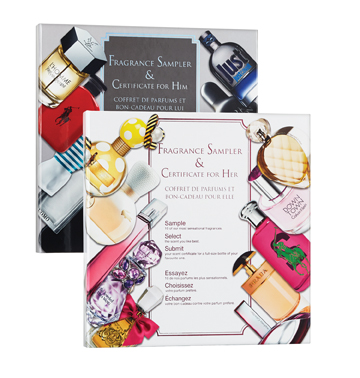 Or maybe you're buying for someone who loves to smell fabulous. Perfume is such a delicious and luxurious gift.
But buying a fragrance for someone can be a risk. What if your nose doesn't agree with theirs?
Then a Fragrance Sampler kit is the way to go. These kits – in both men's and women's scents – offer ten different sample-sizes to try out, along with a gift certificate for a full-sized bottle. These perfumes are designer brands – LaCoste, Prada, Calvin Klein and more. I actually bought this for Mr. Suburble last year, and it was so nice to have him choose his own "signature scent". How could someone not enjoy wearing each scent and choosing their favourite?
Well, unless you're buying for a tween. In which case, just buy this: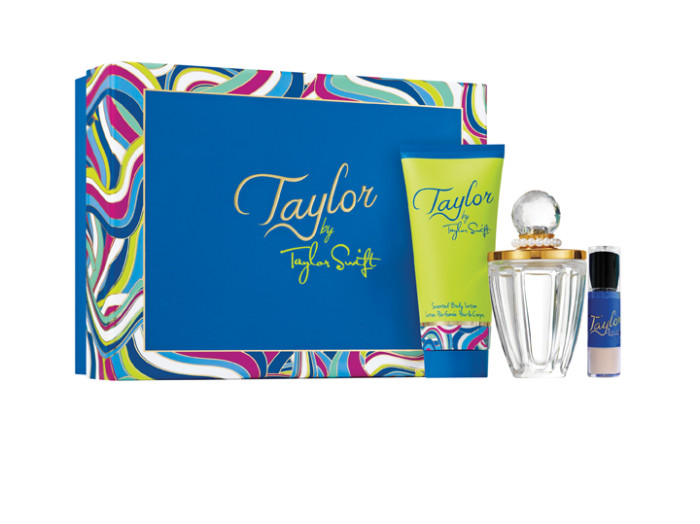 "Our song is the slamming screen door…"

Oh, what?!? Okay. I'm back now.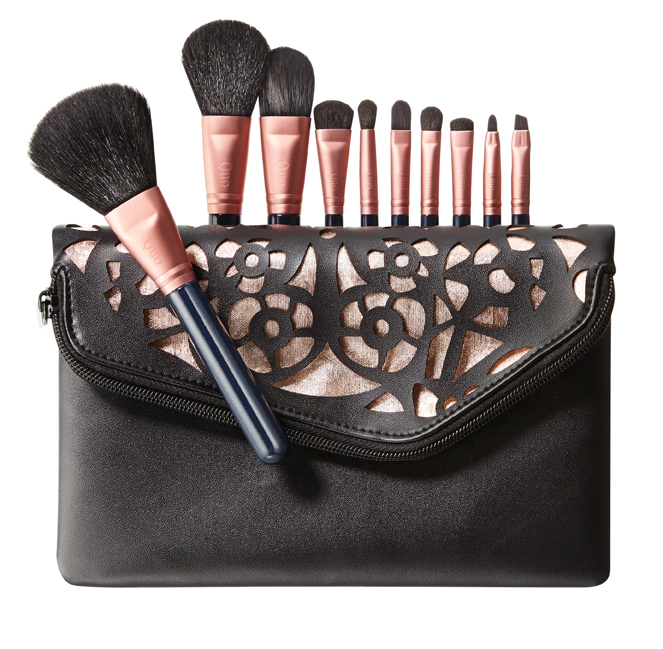 If you're buying for the fashionista – or a girl who loves her makeup – you can't go wrong with brushes. I love a good set of brushes – it makes such a difference when you're dolling yourself up each day. This Quo set features 10 gorgeous brushes and a cosmetic bag. You might think I'm crazy, but I use about 6 brushes every day during my makeup routine. Don't scoff, makeup-fans. The first time you put your foundation on with a brush, you'll see what I'm talking about.
You'll never go back.
These gifts and more are available at Shoppers Drug Mart this holiday season. Each one of these would be a welcome addition under our tree. Head over to the Shoppers Drug Mart website to see all of these exclusive gift sets.
And I'm going to tell you now – this is a tip! – the Eye Studio sets just about always sell out at our local Shoppers. Pick them up early in the season.
And the next time you're picking up some toilet paper and toothpaste, browse through the gift section – nothing like multi-tasking to make your day even better! Some products will have a free gift with purchase – get them while quantities last!
What's more, Shoppers Drug Mart is featuring an Advent Calendar on their Facebook page that features new products and multiple giveaways! Check it out right now and like them!
Thank you, Shoppers Drug Mart and SheBlogs Canada, for letting me wax poetic about my gift giving ideas! Mr. Suburble – did you see those hints up there?
No, I'm serious. Did you see them?