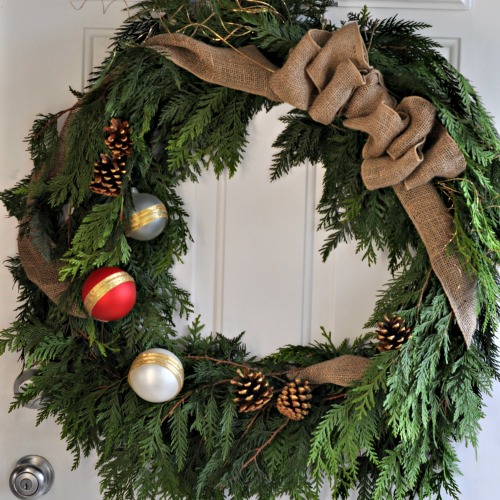 Today's post is one that I have been looking forward to. Not just because I "harvested" bits of tree and turned it into a wreath (that was actually a good time, especially since the cedar trees weren't really mine… it was a "clip and dash" operation in my neighbourhood) – but because this post is a part of a great big Wreath Hop.
15 Canadian bloggers have joined together (along with the very generous May Arts, who provided us each with ribbon for our projects) to show off their wreath-making skills. Once you've checked out my holiday wreath, please head to the bottom of this post and visit some of these other fabulous blogs. There is heaps of talent and inspiration for the taking!
But first, let's talk about how you, too, can make a rustic, over-sized cedar wreath. This was actually surprisingly easy, despite the fact that I constantly wondered what on earth I had signed myself up for.
It all started when I couldn't find a live wreath in the few stores I had popped into. "Forget it. I'll just make my own."
How hard could it be?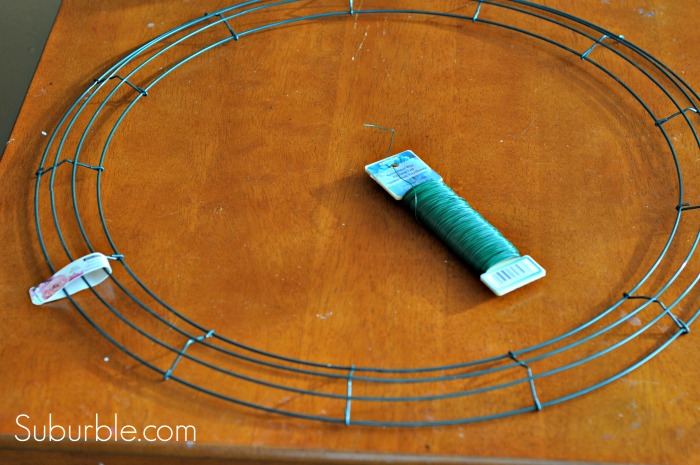 I picked up a wreath form and floral wire at the craft store. I was ready to go!
And I was nervous. I needed this to work!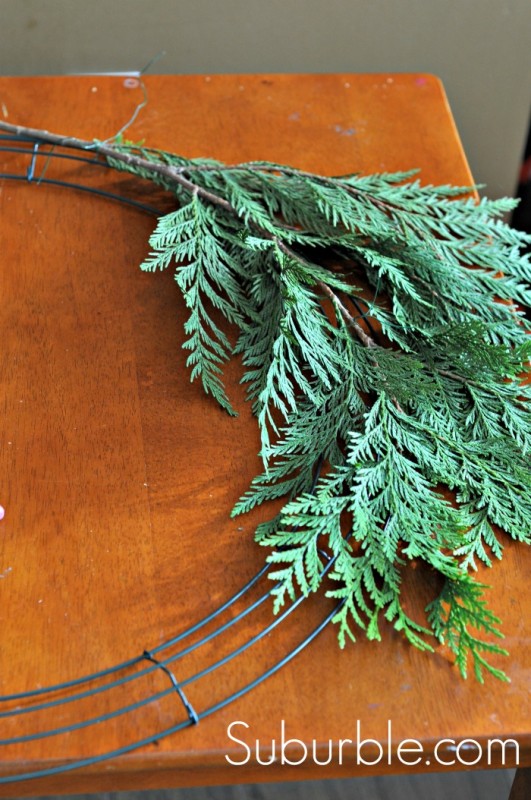 If you follow me on Instagram, you would have seen the picture of Lucy and I with our cedar bough loot. We went on a walk with clippers and a large shopping bag. Thank you, generous neighbours who own cedar trees with low-lying branches (who are also totally unaware of what I have done)!
A tip: wear gloves when handling cedar boughs. They can irritate your skin and/or leave little scrapes and cuts. Just trust me. I may have some pretty rough looking hands right about now.
Cedar boughs have a natural curve to them – let them guide the direction that you place them on the wreath. Secure each cedar bough to the form with floral wire. In order to cut the wire, will need to have either some massive scissors that you don't really care about, or wire cutters. Honestly, wire cutters are probably best.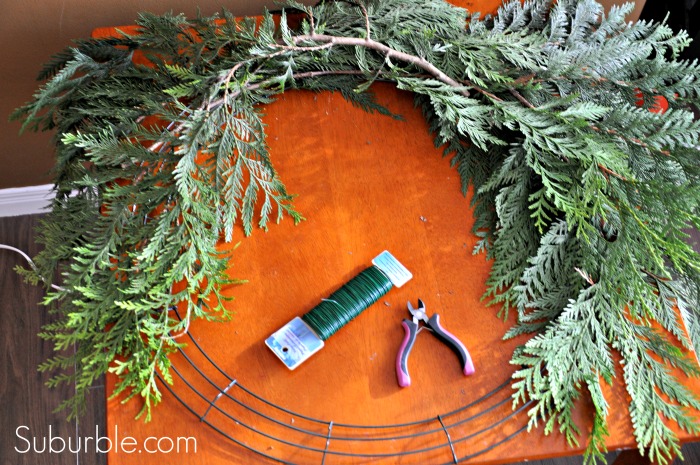 Can you see how the boughs want to follow the circle? Don't force them to go another way. You'll just end up with a cowlick in your wreath.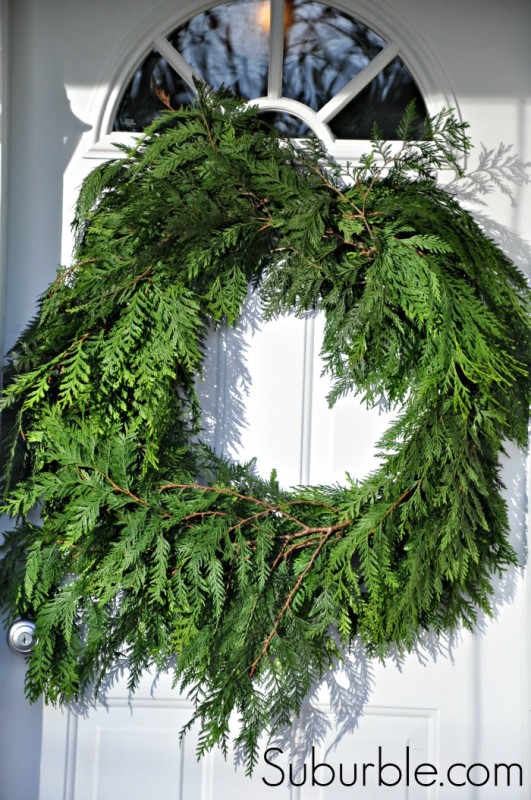 Don't get scared by this! Like Mr. Suburble did – he was all, "Errr… Tara… it's a little BIG, don't you think?"
Yeah, it was. It was huge. And unruly. And looked like a tree barfed up a wreath and then planted it on my door for a laugh.
It was clipper time. Give your wreath a little trim. You can go very close to the form and keep it tidy, or you can go a bit rustic and unruly.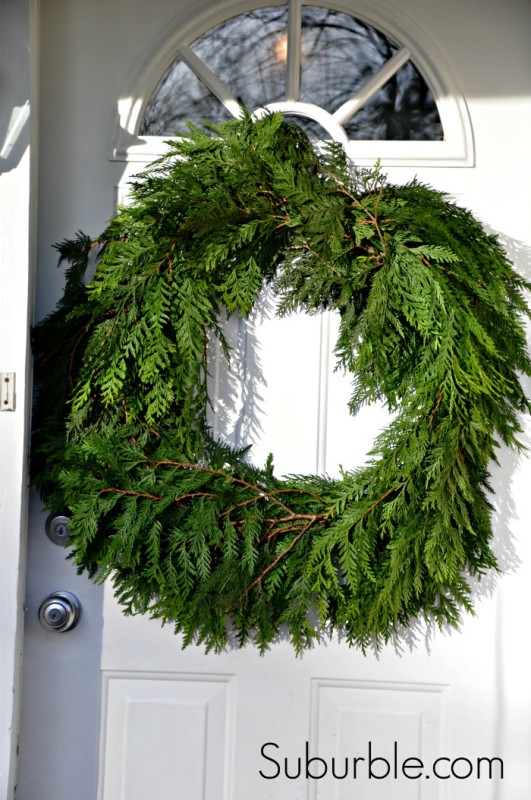 I decided to keep it a bit rustic.
You'll notice that I already have the wreath hanging on the door while I trimmed it. This is to be sure that the boughs are hanging naturally, and so that I could see any bald patches or weird branches sticking out of places. It's easiest to do the trimming (both literally and the figurative "trimming with ornaments") with the wreath being hung up. You will be able to secure your ornaments and bows knowing exactly where they will rest.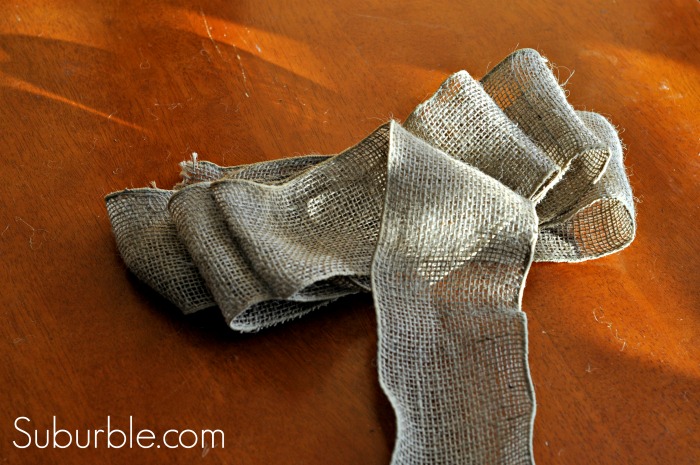 I chose to use this awesome burlap ribbon from May Arts. It's wonderful stuff, and just the perfect width for a big puffy bow. I used KariAnne's tutorial from Thistle Wood to make the bow for my wreath. I'm not even going to pretend that I had the faintest clue of how to make it until I visited her blog.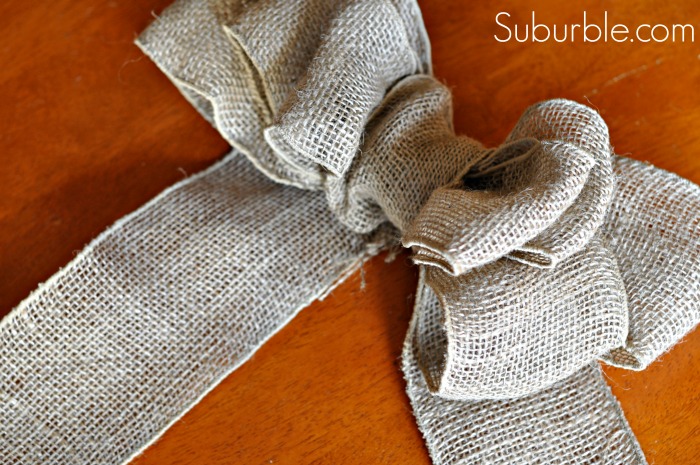 When I wrapped the burlap around the middle of the bow, I ran the remaining length of ribbon (about a meter's worth) through the back of it. This way, I had a bow with two very large "tails" to be draped in the wreath.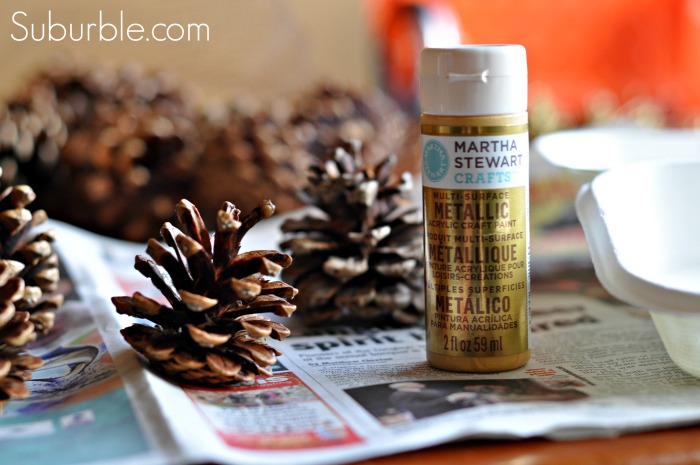 At the same craft store that I bought the form and the floral wire, I also bought pinecones.
I know…. I bought pinecones.
But these are the big, happy pinecones. The ones in my neighbourhood hit the ground with solid "thuds" and look like tiny little tree turds.
Not exactly wreath-tastic.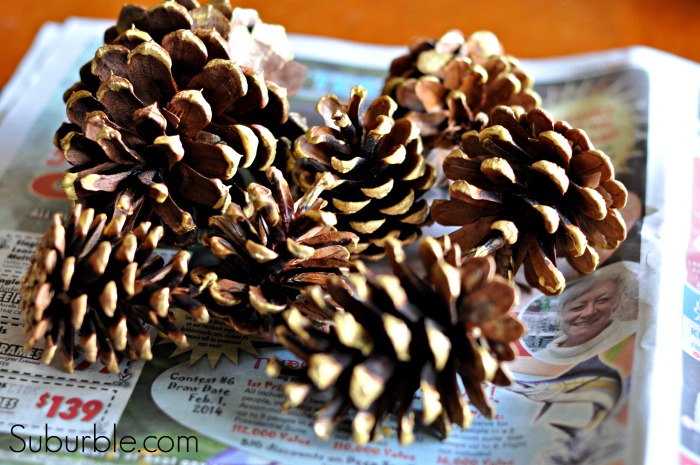 I painted the ends of the pinecones with Martha's metallic gold paint. This added just a bit of "ka-pow" to the otherwise brown-brown-brown pinecones.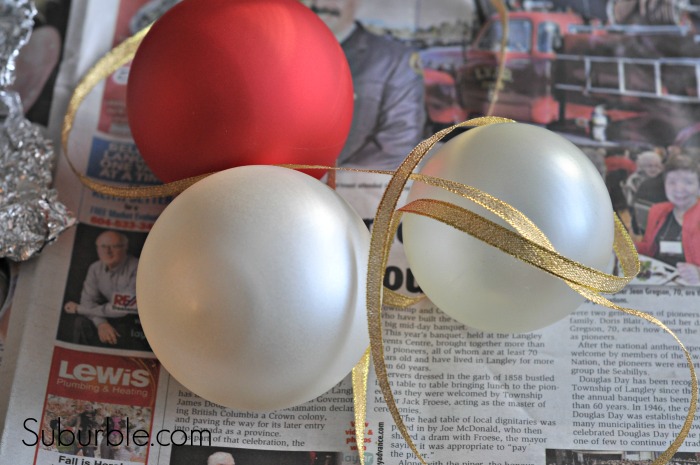 I also chose this fabulous gold ribbon in my haul from May Arts. I decided to use it as a little accent on my plastic Christmas balls (snapped up at a thrift store).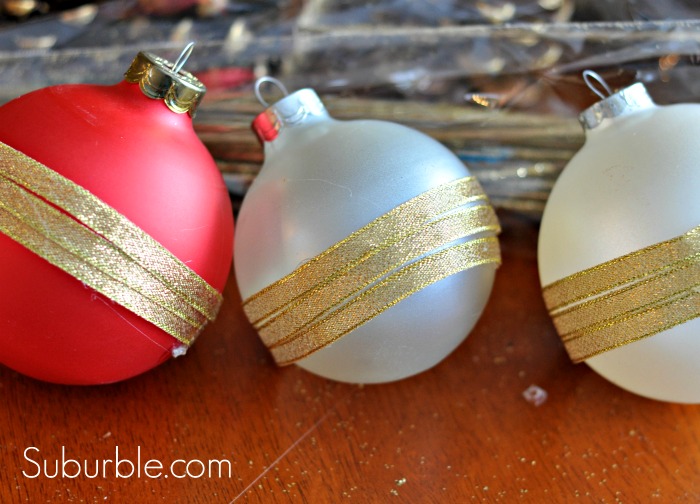 A bit of hot glue, and suddenly, these formerly boring balls had disco belts! They were wreath-ready.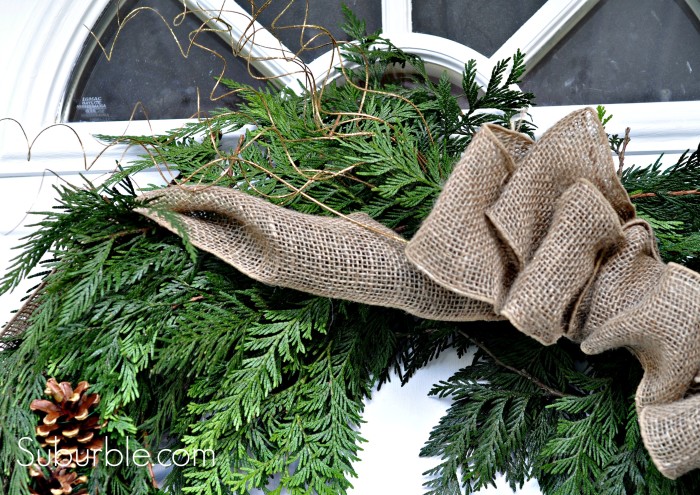 The final touch to the wreath was to add some gold curly-cue glittery branches typically used in floral arrangements. I love how they spray out and add a bit of interest to where the bow is attached to the wreath.
And there's glitter. You can't go wrong with glitter.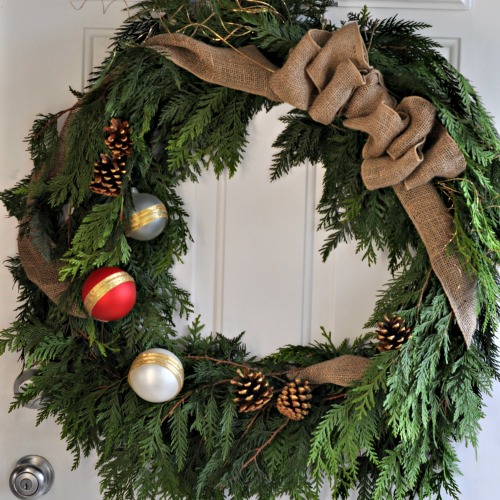 And this is the green beauty in her finished glory. I love how over-sized and country it is. The burlap bow is the perfect focal point, but there are still little bits of glitz throughout the wreath.
I didn't want to over-do the decorations in this wreath, as I really wanted it to have a rustic feel.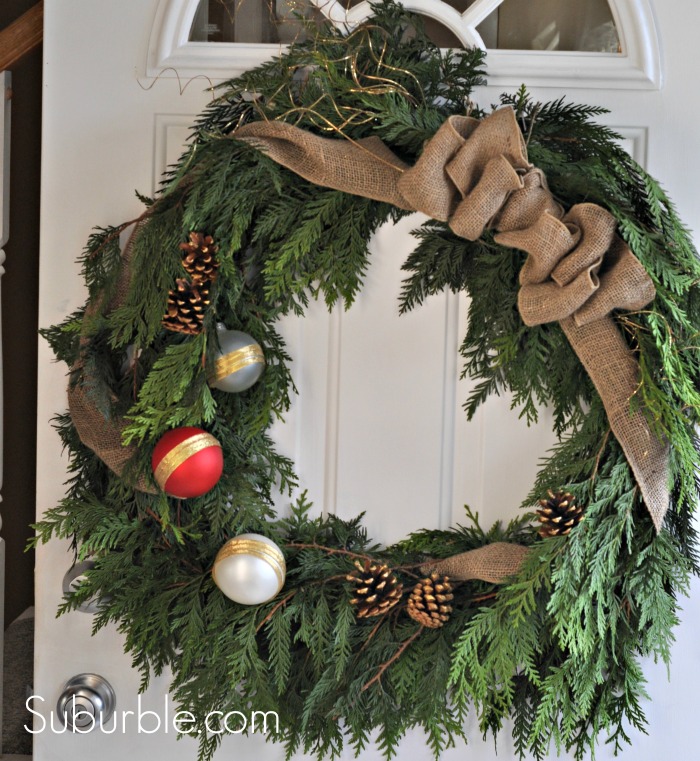 And you know what?!?! This project was very inexpensive and will continue to be. Once the holidays are over, I'll remove the cedar boughs and save the form for next year.
Here comes the fun part! There are even more gorgeous wreaths and tutorials for your perusal!
Check out the projects created by these amazing bloggers (from left to right, they are):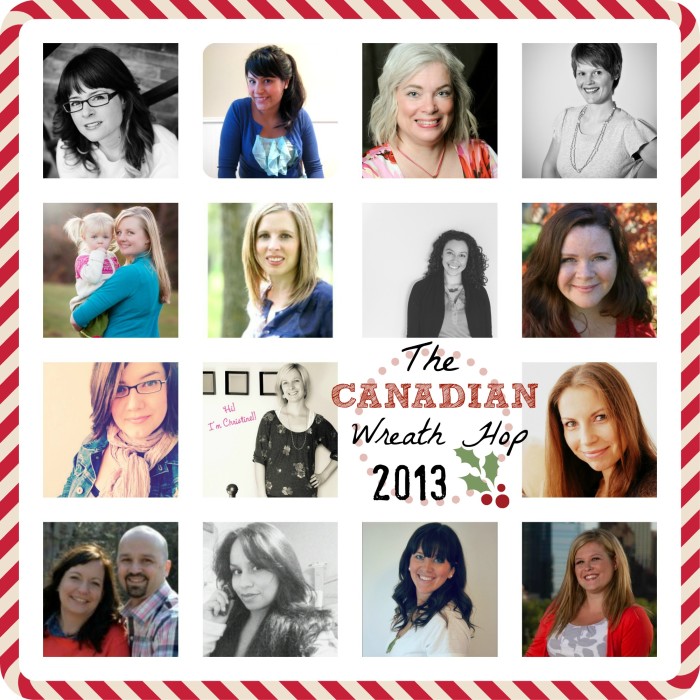 Jo-Anna from A Pretty Life In The Suburbs
Thalita from The Learner Observer
Angie from Echoes of Laughter
Virginia from Fynes Designs
ME!
Shauna from Satori Design for Living
Kelly from A Swell Place to Dwell
Stephanie from Garden Therapy
Becky from Sketchy Styles
Christine from The DIY Dreamer
Alex from Northstory
Shannon from AKA Design
Ingrid from Now At Home Mom
Gemma from The Sweetest Digs
Brooke from Brooklyn Berry Designs
Click on each link to see what they've created – there is SO much inspiration here!
Are you making a wreath this year!?!? Out of what? How?
Tell me more… I may have developed an addiction!