My children are notoriously picky eaters. It's no secret.
And when I say this out loud, I laugh at Old Tara.
Old Tara read books about baby food. Multiple books, actually. Old Tara said things like, "I'm not going to let my kids get away without trying various foods. I'll save their meals for them. When they're hungry, they'll eat."
Oh, Old Tara. Why did you say those things out loud?
Dumb-dumb.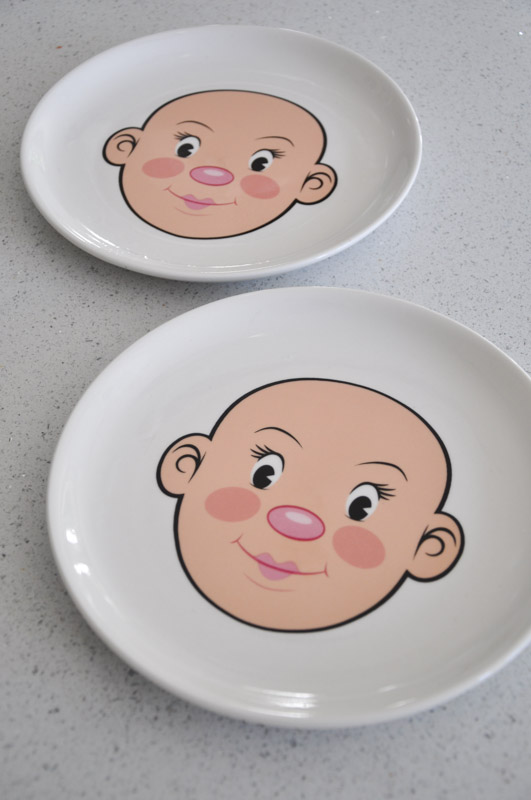 I was recently approached by Uncommon Goods – an incredibly fun and unique online shop – and they asked if I would like to showcase something from their Gifts for Women or Gifts for Children collections.
I won't lie. I was really excited. I've been to their site multiple times.
And it was hard to choose just one thing.
Then, I stumbled upon the Ms. Food Face plates. I thought of Lucy and Lila. And I thought of how they often cry, "I don't like that!" without having eaten, seen, or tasted the food in question.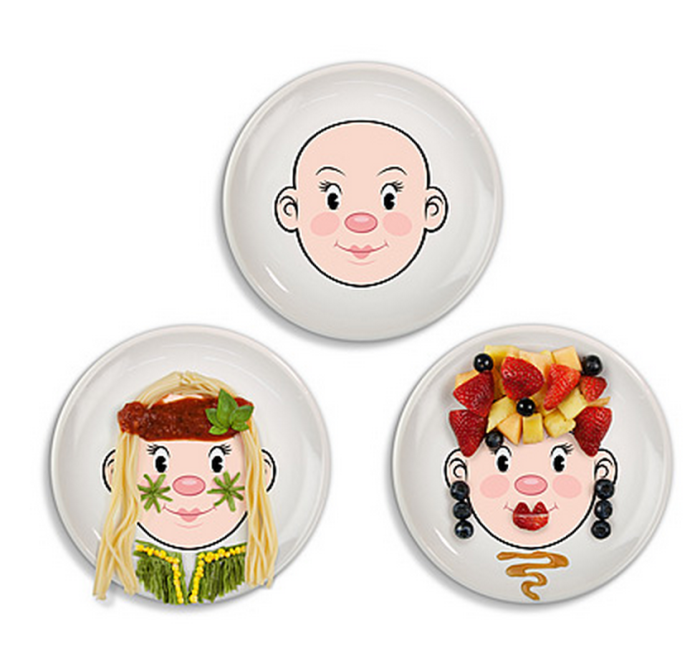 Maybe they would change their tune when their food was presented as a face?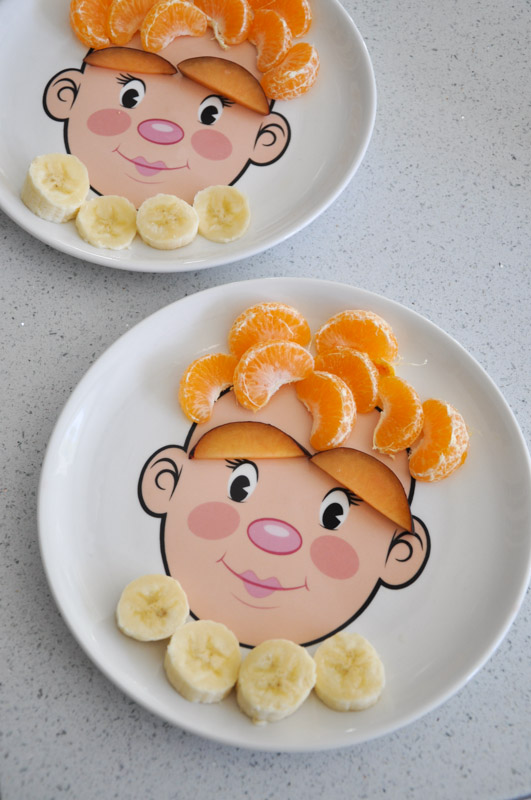 They were amazed when I set these fruit faces down in front of them.
Lucy started laughing.
Lila was puzzled. "Are we allowed to eat these? Mom, are you sure?"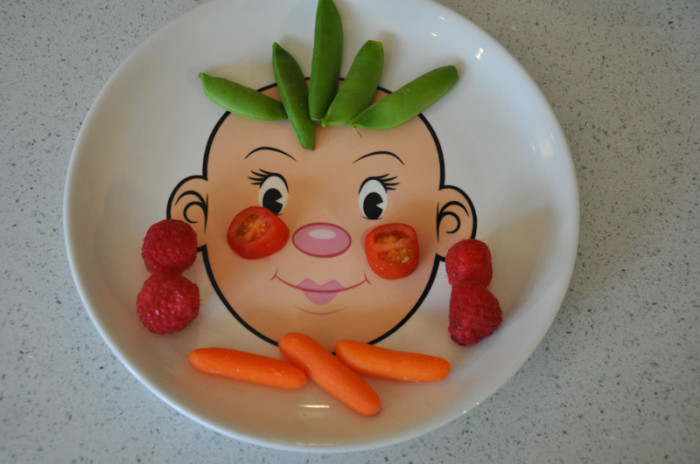 This shot (sorry it's so poorly lit) was an afternoon snack. They girls adore the Food Face plates. I love that they're not plastic, but ceramic – they'll hold up well to washing and multiple uses.
The most important part? Lucy ate a carrot, people. This is big.
I can't wait to dress up some dinner plates. If either one of my children eats a red sauce or potatoes, I'm going to do a happy dance.
But the girls weren't the only one to get a treat from the Uncommon Goods gang; I also got to pick out a little something for myself.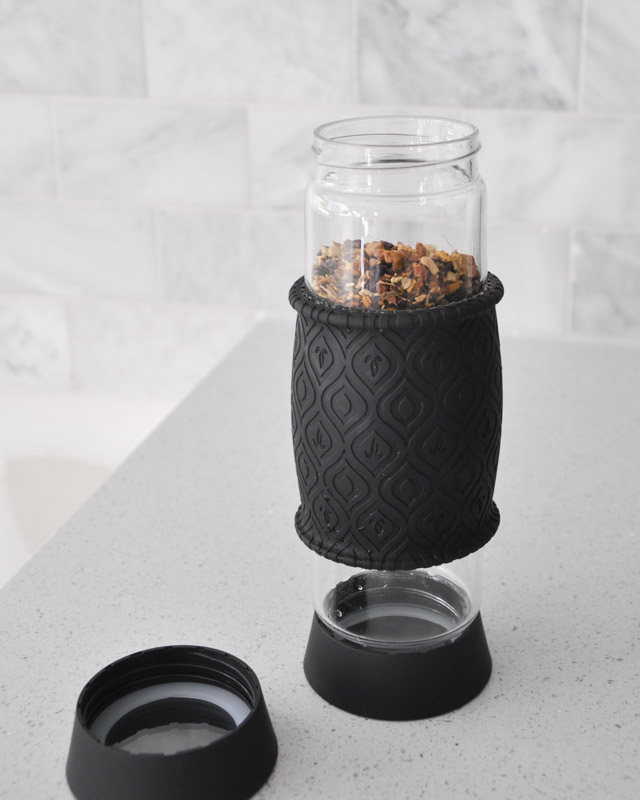 I chose the Tea 2 Go glass tea infuser. It looks impressive, doesn't it? At first, I was like, "Errrm…. how do I use this?"
But I quickly figured it out: on one end, there's a place to put your loose tea or your tea bags. There is a built in filter right there to hold everything in. In goes the boiling water, the cap goes back on, and you gently turn the infuser back and forth to run the water through the tea.
With a built-in sleeve and screw caps, the tea is ready to go with you.
This is fabulous for me. I'm a tea fanatic, and have recently started dabbling in herbal teas.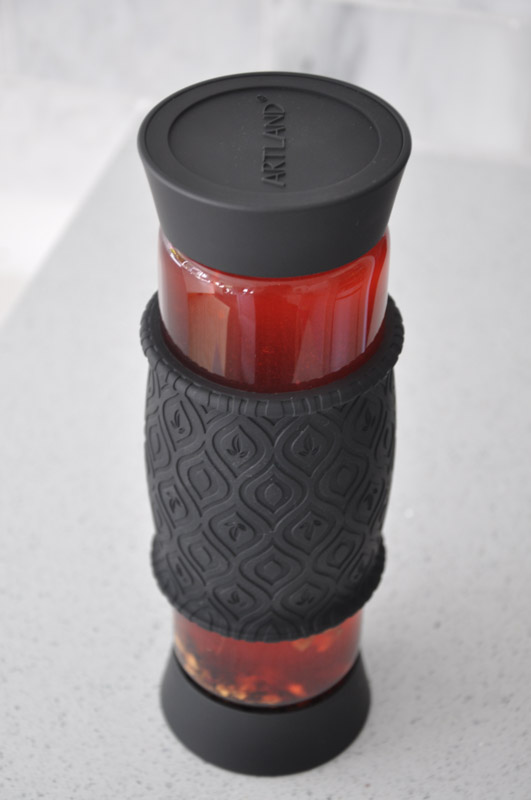 Which is why my tea is this colour.
You would have gasped at the colour of this tea once I poured the milk in (yes, I'm a sinner – I put milk and a bit of honey in all of my tea). It was reminiscent of Pepto Bismol. But it was delicious.
The Tea 2 Go kept my tea hot for a long time. I could easily grab this in the morning, drop two kids off at school, get groceries, and still have hot tea. I've been filling it and drinking from it lazily throughout the morning. I love it!
The girls and I have had lots of fun playing with our food this week. The Ms. Food Face plates come out nearly every day. And with the colder weather (and crazier schedules) just around the corner, I'll be grabbing my bright pink tea in my glass infuser on the way out the door.
Check out Uncommon Goods for more fabulous gifts for the special people in your life. Or for you! Treat yourself, you gorgeous thing!